Greetings and salutations everyone and welcome to another blog here on BlueCollarBlueShirts.com. This time, I'm back with a book review, as I take a look at "Messier", as written by former NY Time scribe, Jeff Z. Klein. (For those looking for my past book reviews, check out: https://bluecollarblueshirts.com/book-reviews/ )
After talking about Mark Messier and the book named after him, I'll have a few updates regarding previous stories covered on this site, including stuff on Alexis Lafreniere and Mitchell Miller. I'll give you the teaser on Miller here – it's my belief that cancel culture is going to send this kid into a dark downward spiral. That said, it's tough to have sympathy for the guy too.
As noted on past blogs on this site, with the NHL off-season pretty much settled, and with nothing to do but await the start of the 2021 NHL season, it's my plan to fill up space on this site by reviewing books and watching old games. (For my DeLorean blogs, which covers monumental games from Rangers history, check out: https://bluecollarblueshirts.com/delorean-blogs/ )
In the main event of tonight's blog, I'll be looking at "Messier", a book which was gifted to me by the first reader of this site, in the one and only Travis Jackson. You may have heard about him and seen this picture before on this site:
When it comes to Mark Messier, my personal memories of him come through the eyes of a pre-teenager. When Mark Messier first came to the Rangers, where he made his Broadway debut during the 1991-1992 season, I was only nine years old. At the time, I knew the name of Mark Messier, and how big of a move it was for the Rangers to get him, but it's not like I can say I watched the peak of his career in Edmonton.
Quite frankly, not many Americans, no matter what their age was at the time, could say they saw the bulk of Messier's glory years with the Oilers. After all, it's not like the NHL had an American television deal at the time. In addition, the internet wasn't around and it's not like you could watch out-of-market games every night, from the comfort of your own home.
For older Ranger fans of the time, while they were all aware of Messier's talent and how Messier was the catalyst in ending the Islanders dynasty from the early 1980's, the only time Ranger fans could ever see Messier on TV was whenever the Oilers played the Rangers or during the Stanley Cup Final. You just didn't have the access to follow the entire league, at least not visually and in real-time, during those days. Newspaper box scores and coverage from hockey magazines would have to suffice.
It must also be stated here, for New Yorkers, hockey was never treated with any relevance or prominence, even in an era where the greatest player of all-time, in Wayne Gretzky, was plying his wares. If you turned on WFAN 660, the local 24/7 sports radio station, the only out-of-market athlete you'd ever really hear about was Michael Jordan, and even then, it was about how Michael Jordan was owning the Knicks.
As the author of this book, Jeff Z. Klein, argues – the only time hockey ever got any major talk in New York, was during and after the 1994 Stanley Cup Final. Even the Islander dynasty didn't get much play from the press, and later on, when the Devils won their Cups, they got even less print. When it comes to hockey in New York, the only time hockey will get big headlines and back covers, is whenever the Rangers do something. And isn't that the way it should be anyway?
What really drew me to this book, besides the reviews off of Amazon.com, was that when it comes to Mark Messier, I feel my knowledge of him is basic. I can't profess to have seen any of his Oilers games. Later on in life, while I have seen clips of those Oiler Stanley Cup Final wins, it's not like I followed those seasons, nor watched those Stanley Cup Final series in full. In fact, when it comes to Messier's days with the Oilers, the only clips I have seen are off of some old Messier DVD's (DVD's that are talked about in this book) and a few old games (which are clipped) on the NHL Network.
As a kid, like many, my introduction to Mark Messier, who is a Top 10 All-Time player in anyone's book, was when he came to the Rangers. That said, nearly some 30 years later, while I can remember watching some of those games and highlights, it's not like I have the recall to remember anything that vividly, outside of what eventually happened in 1994 and the games I personally attended from that era. While today, here in 2020, before going into this book, I knew all the stats, knew all the stories and knew all the beefs, I was hoping for this book to illustrate some gaps from my memory and present what it was like when Messier came here. The book did a good job of doing that for me.
The story of the 1994 Rangers and the aftermath, at least for me, is well remembered and known. What I also remembered, and knew, was how the Rangers were trying to court Joe Sakic after being eliminated in the 1997 playoffs. While the book doesn't really dive into the Sakic end of things and how that helped facilitate Messier's departure from New York, the book does talk about how the Rangers got cheap with Messier.
Prior to the buy-out of Henrik Lundqvist, this was something I always talked about on this site – Mark Messier lived up to his promise, helped win the Cup for the Rangers and three years later, the Rangers showed him the door, all because Messier wanted a few bucks more, in a NON SALARY CAP ERA OF THE NHL! Conversely, Lundqvist won nothing in 15 years, in the salary hard cap era, but was treated better than Messier ever was. Go figure. So um yeah, I still wear my #11 jersey to this day, while my #30 jersey collects dust in my closet!
Again, remember this as I write these words – the world was much different in 1997 than it was here in 2020. While the internet was now around in 1997, it's not like you could watch out-of-market hockey games either. When Mark Messier went to Vancouver, I rarely saw him play. Keep in mind, Vancouver is not an American-friendly TV team, not only because it's Vancouver, but because of the time difference too. While I would track Messier, I didn't see Messier. I also didn't see most of the newspaper clippings of that time, although I was aware that things weren't working out, especially after Vancouver brought in Mike Keenan and dealt former captain Trevor Linden to the Islanders.
Messier's time in Vancouver is another subject that drew me to this book. While Jeff Z. Klein does a good job of recapping these three "lost years" (even if Messier would never consider this period of time to be "lost") I felt there was stuff missing from this time in this book. At times during this book, the stuff about Messier's time in Vancouver came off like a Wikipedia entry, mixed in with newspaper headlines. That said, maybe that's all there was to it. I just had a hunch there was more that could've been said.
When Messier returned to the Rangers, starting with the 2000-2001 season, I was 18 years old. My memories of Messier from that period of time are much better, obviously, since I was older. While this period of time were the "Dark Ages" for the Rangers, whenever I think about Messier's second stint in New York, this image always comes to mind:
This book was published in 2003, meaning that Messier's last season with the Rangers, and Messier's eventual retirement, is not included in this book. (The book did predict a potential lockout for the 2004-2005 season though. Great job Mr. Klein!)
Also not included in this book, a book that deals with Messier's focus on family, is Messier's marriage and how he started a family after his playing days. A quote that is included in this book, is how Messier found relationships, endorsements and other non-hockey endeavors to be a distraction, which is why Messier never pursued these opportunities when playing. (Messier would have several sponsorships/endorsements during his career, but it was limited, as opposed to other league superstars of his time. Messier would also date several supermodels during his playing days, but those relationships were short-lived and the bulk of them took place during the off-season's.)
If anything, when I got to the end of this book, I was immediately on Amazon, to see if the author released an updated version of this book, with new additional chapters, as a postscript/putting a bow on everything. Sadly, no such book exists.
With this little introduction out of the way, before I dig deep into this book and tell some more Messier stories, I want to share with you some of the highlights of this book, at least highlights from my perspective. With a book published from 2003, I don't think the publisher or author will care if I push this book and share these pages. (And if the publisher or author happens to find this blog, please don't sue me for sharing these pages!)
The following pages appear in "MESSIER", as written by Jeff Z. Klein and as published by Triumph Books:
Thanks for this book @travjax7 #messier #nyr pic.twitter.com/GwEktgNysz

— BlueCollarBlueShirts (@NYCTheMiC) October 27, 2020
---
A shame that Jeff Z. Klein doesn't cover hockey anymore #nyr #messier pic.twitter.com/oNPblMMN5z

— BlueCollarBlueShirts (@NYCTheMiC) October 27, 2020
---
The good old days? #nyr #messier pic.twitter.com/vYbHuMQQL3

— BlueCollarBlueShirts (@NYCTheMiC) October 27, 2020
---
Still true, 17 years later #nyr #messier pic.twitter.com/L7OB3i7WpR

— BlueCollarBlueShirts (@NYCTheMiC) October 27, 2020
---
When minor league hockey was huge #nyr #messier pic.twitter.com/P390h9E0OM

— BlueCollarBlueShirts (@NYCTheMiC) October 27, 2020
---
Keen observation by Doug Messier #nyr #messier pic.twitter.com/fSb6N3E7kg

— BlueCollarBlueShirts (@NYCTheMiC) October 27, 2020
---
Messier comes home #nyr #messier pic.twitter.com/1bIrKnr5m2

— BlueCollarBlueShirts (@NYCTheMiC) October 27, 2020
---
This book reminded me of this family connection #nyr #messier pic.twitter.com/TfOWrQd1sJ

— BlueCollarBlueShirts (@NYCTheMiC) October 27, 2020
---
Family has always been important to Messier #nyr #messier pic.twitter.com/Vl6dRVuOzn

— BlueCollarBlueShirts (@NYCTheMiC) October 27, 2020
---
I knew I liked Mess for a reason lol (settle down it's a joke)#nyr #messier pic.twitter.com/nnCUq30gPP

— BlueCollarBlueShirts (@NYCTheMiC) October 27, 2020
---
You love to see it #nyr #messier pic.twitter.com/ZGVFkr0vYK

— BlueCollarBlueShirts (@NYCTheMiC) October 27, 2020
---
More appreciation for Sather & more on differences between 99 & 11 #nyr #messier pic.twitter.com/y6sFMHBlEm

— BlueCollarBlueShirts (@NYCTheMiC) October 27, 2020
---
Messier got the first Conn Smythe for the @EdmontonOilers , 99 got the second #nyr #messier pic.twitter.com/a6VYBGw4Xw

— BlueCollarBlueShirts (@NYCTheMiC) October 27, 2020
---
DWI's and smashing parked cars would never fly today #nyr #messier pic.twitter.com/dvpW2eHN0t

— BlueCollarBlueShirts (@NYCTheMiC) October 27, 2020
---

This book leaves no stone unturned, including Messier's paternity suit #nyr #messier pic.twitter.com/lroopfaS4C

— BlueCollarBlueShirts (@NYCTheMiC) October 27, 2020
---
The NHL has always been a sucker for a fraud businessman #nyr #messier pic.twitter.com/oS2llAzZev

— BlueCollarBlueShirts (@NYCTheMiC) October 27, 2020
---
A pretty big day in Rangers history. Oilers history too. #nyr #messier pic.twitter.com/adVaH2OGk5

— BlueCollarBlueShirts (@NYCTheMiC) October 27, 2020
---
This book argues that @RonDuguay10 was the last real celebrity the Rangers had until Messier debuted #nyr #messier pic.twitter.com/sIQQYHw2Vd

— BlueCollarBlueShirts (@NYCTheMiC) October 27, 2020
---
The @nypost has been known to sensationalize , including Messier & Madonna rumors #nyr #messier pic.twitter.com/MyztmQsDcp

— BlueCollarBlueShirts (@NYCTheMiC) October 27, 2020
---
The low-point, off the rink, for Leetch #nyr #messier pic.twitter.com/jkZEUpEHoT

— BlueCollarBlueShirts (@NYCTheMiC) October 27, 2020
---
The Cup #nyr #messier pic.twitter.com/IyaroRCpeA

— BlueCollarBlueShirts (@NYCTheMiC) October 27, 2020
---
You gotta love @RudyGiuliani no matter what the stupid media and @nbcsnl says about him today. A NYC icon and hero, just like Messier. #nyr #messier pic.twitter.com/OIrlWOqjZW

— BlueCollarBlueShirts (@NYCTheMiC) October 27, 2020
---
As the author states, once you hit the apex, There's nowhere to go but down #nyr #messier pic.twitter.com/2XvLa0BoV5

— BlueCollarBlueShirts (@NYCTheMiC) October 27, 2020
---
I've heard these Nedved stories before, but at the time, I didn't know about it #nyr #messier pic.twitter.com/JuecTFhGht

— BlueCollarBlueShirts (@NYCTheMiC) October 27, 2020
---
Reunited #nyr #messier pic.twitter.com/gWKoNra54u

— BlueCollarBlueShirts (@NYCTheMiC) October 27, 2020
---
"Relentless carouser" Lol #nyr #messier pic.twitter.com/7kgege6J2b

— BlueCollarBlueShirts (@NYCTheMiC) October 27, 2020
---
M$G has always put more focus on the losing & pathetic Knicks than they have with the Rangers. MSG treated Messier like crap at the end. For whatever reason, MSG sure loves their championshipless athletes. #nyr #messier pic.twitter.com/FjObEH7NCd

— BlueCollarBlueShirts (@NYCTheMiC) October 27, 2020
---
New captain and breaking tradition. Messier's start in Vancouver was off to a rocky beginning. #nyr #messier pic.twitter.com/Y7aD9ycsfI

— BlueCollarBlueShirts (@NYCTheMiC) October 27, 2020
---
What a great Mike Keenan quote #nyr #messier pic.twitter.com/oGB1PTjhgO

— BlueCollarBlueShirts (@NYCTheMiC) October 27, 2020
---
Child support and the captaincy of the Canucks #nyr #messier pic.twitter.com/2Kh5W7jgcI

— BlueCollarBlueShirts (@NYCTheMiC) October 27, 2020
---
Sex scandals #nyr #messier pic.twitter.com/upm2JUeUvO

— BlueCollarBlueShirts (@NYCTheMiC) October 27, 2020
---
Messier wasn't as well liked in Vancouver as he was in NY #nyr #messier pic.twitter.com/wgrua3V44U

— BlueCollarBlueShirts (@NYCTheMiC) October 27, 2020
---
9/11 is covered #nyr #messier pic.twitter.com/eJnvVkCZjH

— BlueCollarBlueShirts (@NYCTheMiC) October 27, 2020
---
20 years ago, NYers respected the NYPD, FDNY & their politicians. Then liberalism happened. #nyr #messier pic.twitter.com/jhqw6DcHQv

— BlueCollarBlueShirts (@NYCTheMiC) October 27, 2020
---
Up front, I found this book to be extremely valuable. I've read other books on Messier & other books about Messier's time in New York, and none of those books can compare to this one. That said, the author was at a huge disadvantage too, because as Jeff Z. Klein opens up with – Mark Messier is an extremely private person. There's even a story in this book where Messier blew off someone who would eventually become his personal assistant, due to this man's friendship with Mike Richter. (Sultie Captan. I wonder what he's up to today?) There's also another story in this book, that during a pregame skate, how Doug Messier was making friendly conversation with the author. When the author told Messier's dad who he was, Doug Messier bid Jeff Z. Klein adieu and sat in a different section of the arena.
I should also tell you this too – 17 years later after this book's release, there hasn't been a book dedicated to Messier since. With autobiographies being all the rage these days, Messier has opted not to do one. As fans, we lose out, but for Mark Messier, the human, I get it.
I know I've told these stories on past blogs, but this site is always getting new readers, so I'll share this again too. When I was kid, all the way up to about the age of 19-20, I would go with my friends to get autographs at the Nassau Coliseum and at Madison $quare Garden. In all my times of seeing Messier, he would usually duck out and not sign. (And because I want to be positive here, the person who always stopped for everyone, even if it burnt an hour or so of his day every game? Saint Adam Graves. For my Adam Graves blog, check out: https://bluecollarblueshirts.com/4720/ )
And real quick on Graves here, I didn't know this at the time, (I would eventually learn this later in life) but the book brings up the tragic deaths of Graves' father and child. As I think back, I can't remember a time where Graves never stopped to talk to us fans and autograph things. This guy had so much going on, yet never showed it to us fans, at least us younger fans who didn't know what was going on. The man, as I have been saying for years, is a saint and deserves a statue outside of M$G. In addition, it also makes me hate those 40+ year old creeps from that time, who would have 565665675768575765 things for Graves to sign, as these people would then sell these items.
In all my times where I saw Messier, me and my friends were able to get him to sign an autograph once, and we must've seen him or seen him driving out about 25-35 times. At the time, guys like Gretzky and Leetch did the same thing. We just figured Messier was busy and when you're a big time millionaire, you had other things to attend to. Again, it's why when I think back to these days, I can't say enough good things about Adam Graves. In the current day, Graves has dedicated himself to the fan base and to the less fortunate. Again, SAINT GRAVES is the proper title for #9, a jersey I'm proud to still wear to this very day!
This book recaps Messier's entire childhood and career, until the 2003-2004 season. There are several themes that run throughout the book, with one of the biggest being Messier's devotion to his own family. From his own father, Doug Messier, who nurtured and made Mark Messier the player he turned out to be, to his mother & siblings, Mark Messier always put his family first. The other big theme of the book was Messier being an extremely private person. The author even brings up the few rare one-on-one interviews Messier gave throughout his career, as a personal Messier interview was as rare as seeing a solar eclipse.
As someone who enjoys the history of the game, the author does a great job of expanding on notable moments in NHL & hockey history, during several passages in "Messier". Doug Messier's minor league career was brought up, and the author is quick to point out how minor league hockey was much bigger and more important in Doug Messier's day than it was in 2003. (And even today.)
In comments that would offend some soy boy fans of today, the author spares no kindness, when talking about European players vs North American players. There are stories in this book, where the author argues that Messier was not a fan of Swedish or European players in general. Of course, a lot of this stems from an era where international games were more important than they were today. You also didn't have the abundance of Europeans and Russians in the NHL, when Messier first started, than you see in today's era of the NHL either. While Messier's NHL career is the main topic in this book, the author recaps all of Messier's international games, as a member of Team Canada.
After trying to delve into Messier's personal life, a task that's hard to do, especially since Messier wouldn't be part of this book (or any other book since) Klein gets into Messier's career. Klein talks about how Messier's father allowed Mark to forgo his education, and chase a professional hockey career. Messier would start his pro career in the dying days of the WHA and after the NHL/WHA merger, Messier would find himself along Wayne Gretzky, a Wayne Gretzky that would become Mark Messier's best friend.
All of Messier's time with the Oilers is meticulously broken down, both on and off the ice. For fans looking for "dirt" or drama, it's brought up how Messier used to drink and drive all the time, and even crashed a Porsche into a bunch of parked cars. In hockey happy Edmonton, the local PD's would turn a blind eye, especially during the peak of the Oilers Cup runs.
The author would tell the famous story, about the 1983 Stanley Cup Final, and how the Oilers saw the Islanders all banged up after their victory. A year later, the Oilers learned from the Islanders, and would dethrone the Islanders, enroute to four Stanley Cup victories in six years time. (A fifth Cup would come in 1990, with Gretzky gone and with Messier as the captain.)
The author also takes a look at Messier's teammates and friends at the time, and brings up how cocaine was frequently used. While not naming names outside of Grant Fuhr, a Grant Fuhr that publicly admitted to his penchant for booger sugar, the author suggests that Messier may have been using it too, without directly saying it. (No one wants to get sued!)
When it comes to Messier's best friends on the team, the author states that during his Edmonton days and into the latter days of his career, Messier always maintained close relationships with Kevin Lowe and Wayne Gretzky.
Of course, the topic of Wayne Gretzky vs Mark Messier is a topic that's discussed throughout the book. While many people may know this, it's worth stating here that while Gretzky was the greatest player hockey ever saw, he never won a Cup without Messier. Stylistically, the two couldn't have been more different. Gretzky brought a sense of finesse and art-form to the game, while Messier embraced a Gordie Howe style, a style where if you were in Messier's way, you were taking an elbow or stick to the head. While this book paints Messier in a positive light, the author also doesn't shy away from some of Messier's dirty tactics, tactics that you'd only see in the North American game. (Which could be the root of Messier's disdain for some of his European teammates, including Petr Nedved, a Nedved I've talked about ad-nauseam on this site.)
Gretzky leaving for LA is talked about in this book and how this led to Messier becoming the captain of the Oilers. Eventually, Messier would later find himself in the same boat and in the cheap pockets of Oilers owner Peter Pocklington. In turn, Messier would head to New York, where he would look to embrace a new challenge and try to snap the 51 year Cupless drought of the Rangers.
Messier's first stint with the Rangers is talked about in-depth, including how Messier lent a helping hand in getting then-head coach Roger Neilson fired. Eventually, Mike Keenan, a coach that many players despised, but Messier thrived with, was hired. By now, you know the rest – the Edmonton Oilers won their sixth Stanley Cup! I kid, I kid!
(Of note, as mentioned on previous blogs, during my trip to Edmonton, many Oiler fans told me that they refer to 1994 as the Oilers Sixth Cup. I was hard pressed to argue against them!)
All of Keenan's nonsense is talked about in the book. More intriguing, was the talk about the Rangers after 1994, including the lock-out that hurt the sport and the arrival of Petr Nedved, a player that Messier didn't respect. Of note, when it came to non-Canadian Rangers, Messier enjoyed a close bond with both Brian Leetch and Mike Richter, as you'd probably expect and knew. The author would go on to argue, that Messier's fondness of both Leetch & Richter, would later hurt Team Canada in international games against Team USA.
The NYR arrival of Wayne Gretzky is talked about and all of the hysteria and hype from that time. Unfortunately, this reuniting only lasted for one season. Messier, who had a clause in his contract to renegotiate his deal if the Rangers won the Cup, was thought to be old by M$G head honcho Dave Checketts. In turn, Messier, after being courted hardcore by then Canucks owner, John McCaw, would find himself in Vancouver.
When it comes to Messier's time with Vancouver, this was the part of the book that had me giddy. I really wanted to learn more on this, but I really didn't learn anything here that I didn't already know. Trevor Linden, knowing the potential backlash he would get, would surrender the captaincy to Messier. Messier would want his own guys and questioned Vancouver's ability to win. This would lead to hiring and firing of Mike Keenan and three years later, Messier would be back in New York. He'd also be known as one of the most hated men in Vancouver, even to this very day.
And this is where I laughed a bit and thought of the irony. Glen Sather's name pops up throughout this book. I don't know about you, but in my opinion, Glen Sather was horrendous for the Rangers. Hell, I even made this picture and wrote a blog about why Sather was one huge error for the Rangers:
In the same way that Messier was heralded a hero and achieved god-like status in both New York and Edmonton, Sather was also held in that same regard, among Oiler fans. However, like the way Canuck fans hated Messier, to this day, most Ranger fans hate Glen Sather. Ironically, I attended Glen Sather Night at the old Rexall in Edmonton, back in 2015. While I wanted to stand up and jeer the guy, I couldn't be that one asshole doing so, as Oiler fans gave him a hero's welcome! I definitely understand Sather's legacy in Edmonton, but needless to say, he was one major bust in NY. To this day, he's the longest tenured GM in the history of NYC sports, to not win a championship. Father Fink Glen Sather!
Messier would be questioned by both his Vancouver teammates and Vancouver media. When Brian Burke took over in Vancouver, the writing was on the wall. After three years of misery, the first three consecutive years of Messier's career where he didn't make the playoffs, Messier was back in NY. Sadly, no one knew at the time, that after 1997, Messier would never play in the playoffs again.
From this point in the book, the author recaps Messier's next three years with New York. The biggest topic during this time was how Messier and the Rangers handled the 9/11 tragedy. Needless to say, this brought back bad memories and it was a reminder of what the world was like back then. If you're young and don't remember 9/11, here's the gist of it – no one knew what to expect next. The phrase "uncertain times" never carried as much weight.
In a feel-good story, the story of how Mark Messier wound up with the FDNY helmet on opening night is talked about at length. This story in the book will have you cheering and will bring a smile on your face.
The book eventually concludes with Messier approaching his last season and the idea of him becoming the next coach of the Rangers. As mentioned earlier, the book also predicted a lock-out for the 2004-2005 season, a lock-out that pretty much ended Messier's career. That said, Messier was 43 years old at the time, but the lock-out pretty much ended the idea of Messier continuing his career.
After this book was published, Messier would finish his career and then be lauded with accolades. His number #11 would be retired by both the Oilers and the Rangers. In 2007, in his first year of eligibility, he would be inducted into the Hockey Hall of Fame.
Messier's legacy is undisputed. He's one of the greatest players in NHL history. However you rank him, he has to be in your Top Ten. He has an NHL Year-End award named after him. Many consider him not only to be the best captain in the history of hockey; but in all of sports in general.
To this day, Messier is third all-time in points scored, with 1887. (Gretzky & Jagr are above him.) He has 694 goals, good for ninth all-time. He's also third all-time for assists, with 1193 apples. He's also second for games played, with 1756 games under his belt, with only Gordie Howe having played more games. (1767).
No one can dispute Messier's place in the Hall of Fame and his impact on the sport. He's arguably the greatest Oiler ever, although some may put Gretzky as first. (The case for Messier is the 1990 Stanley Cup victory.)
When it comes to Rangers history, a recency bias may put Messier as the greatest center and Ranger of all-time. Of course, by now, you know I think Frank Boucher is the greatest Ranger of all-time. Others may argue for Rod Gilbert, but when it comes to Rangers of the last 50 years, I think Brian Leetch deserves to be known as the greatest Ranger of all-time, a sentiment that Messier continues to echo to this very day.
All in all, I thought "Messier" was a great and fascinating read. I took a lot out of it. Another thing I took out of it? It's a shame that Jeff Klein doesn't write about the Rangers today!
I also thought it was interesting how Klein harped throughout the book, that most Ranger fans were white and blue collar. While he's not wrong, that's a statement that would make people cry today. In a statement that's true today, while most Ranger fans may be white, most of the blue collar fans are watching these games at home today, as due to supply & demand and corporate backers, you don't see many blue collar fans in the lower bowl of M$G these days, pre-pandemic.
As mentioned, I've read a bunch on Messier. This is the best book on Messier of the lot. All we can do now is hope that Messier does an official autobiography, as if there's any criticism of this book, it's the fact that the author has to use newspaper clips and assumptions of what Messier was thinking at various points in his career.
In closing, a big thank you to Travis, who hooked me up with this book. I still have to do a blog on all the cool stuff Travis recently gave me, as he's currently downsizing his collection. Of note, Travis knew, that out of anyone he knows today, only I would appreciate a Tim Taylor (not that one, HO HO HO) signed stick!
You can currently pick up "Messier" for $1 used, off of Amazon. Here's the link:  "MESSIER"
Final Thought: This book is well worth your time, even if it's 17 years old.
---
In closing tonight's blog, I wanted to chime in with some rapid-fire thoughts, with some updates on previous stories covered on this site. Of course, to check out my previous blogs, check out the archive of this site. And as usual here, here are my last few blogs, in case you missed them:
---
---
---
---
---
After my long diatribe full of news and opinions on Mitchell Miller from Wednesday night, on Thursday, 10/29, the Arizona Coyotes severed all ties with Mitchell Miller. The Coyotes running away from this PR nightmare was such a big story, that mainstream outlets, such as CNN, Fox News & other news sources, all covered this story.
Here's the statement that the Coyotes publicly released, courtesy of https://www.nhl.com/coyotes/news/coyotes-renounce-rights-to-mitchell-miller/c-319543540
FOR IMMEDIATE RELEASE:

Thursday, October 29, 2020

GLENDALE, ARIZONA — The Arizona Coyotes announced today that the club has renounced the rights to Mitchell Miller. Miller was selected by the Coyotes in the fourth round (111th overall) of the 2020 NHL Draft.
"We have decided to renounce the rights to Mitchell Miller, effective immediately," said Coyotes' President & CEO Xavier Gutierrez. "Prior to selecting Mitchell in the NHL Draft, we were aware that a bullying incident took place in 2016. We do not condone this type of behavior but embraced this as a teachable moment to work with Mitchell to make him accountable for his actions and provide him with an opportunity to be a leader on anti-bullying and anti-racism efforts. We have learned more about the entire matter, and more importantly, the impact it has had on Isaiah and the Meyer-Crothers family. What we learned does not align with the core values and vision for our organization and leads to our decision to renounce our draft rights. On behalf of the Arizona Coyotes ownership and our entire organization, I would like to apologize to Isaiah and the Meyer-Crothers family. We are building a model franchise on and off the ice and will do the right thing for Isaiah and the Meyer-Crothers family, our fans and our partners. Mr. Miller is now a free agent and can pursue his dream of becoming an NHL player elsewhere."

"I fully support our decision to renounce Mitchell Miller's draft rights," said Coyotes' General Manager Bill Armstrong. "It was a unique situation for me not being able to participate in this year's Draft and we were going through a transition with our scouting department. Mitchell is a good hockey player, but we need to do the right thing as an organization and not just as a hockey team. I'd like to apologize to Isaiah and the Meyer-Crothers family for everything they have dealt with the past few months. I wish them all the best in the future."

The Coyotes top priority is to be a leader on diversity, inclusion and equity and the club will continue to work with numerous local organizations including Best Buddies, One Step Beyond and the American Special Hockey Association to support people with intellectual and developmental disabilities. In addition, the Coyotes and the Arizona Coyotes Foundation will look to partner with local non-profit organizations fighting bullying and racism.

---
Making matters worse for Mitchell Miller, was that his own college, in the University of North Dakota, followed suit and released the following statement via Twitter:
Let's break this all down, looking at the easiest thing first. The University of North Dakota (UND) is allowing Mitchell Miller to remain a student, if Miller chooses to remain one. Miller just won't be able to play hockey there. For Miller, his NCAA career is over before it even gets started, should Miller remain at UND.
I have no insight or sources on what I'm about to say next, but if Miller wants to remain a student, in these conditions & times, Miller may not be subject to public ridicule by his peers of the student body. After all, during this pandemic, with colleges using ZOOM and other technological gizmos to connect professors and students, the traditional class room setting isn't what it used to be. With social distancing laws in effect, there are no college parties, whether it be of the frat or non-frat variety. So when it comes to being a student, Miller's face won't be paraded all over the common grounds of any college campus.
If Miller decides he wants to pursue a collegiate hockey career, UND has set a precedent here – "you can be a student, but you can't play for us." What college, in this cancel culture GOTCHA world, is going to give Miller a chance to play hockey for them? As mentioned, Miller is front-page mainstream news and any college Miller is looking at will know who he is.
Furthermore, in the event that some college would even entertain the idea of allowing Miller to suit up, would the NCAA come down on that college for doing so?
At the end of the day, Mitchell Miller is considered toxic. I can't see any college taking a risk on him, just because of the PR nightmare it will bring on. No college wants their name plastered over every website and newspaper, as being the college that gave a racist who bullies disabled kids a second chance.
Just think about it. If you personally were the Dean, the President or the Athletic Director of any college, would you stick out your neck, career and reputation for Mitchell Miller, a Mitchell Miller that hasn't shown any remorse for what he did? And let's not forget how all of these NCAA colleges rely on sponsorships and donations for their programs. You think any head, of any college, will risk their cash inflow for Mitchell Miller? I don't think so.
When it comes to the decision UND arrived on, I get it. It should also be mentioned that they followed the lead of the Arizona Coyotes. After all, UND knew what Miller did, but waited until Arizona renounced Miller before making their decision.
Here's my issue – prior to abandoning Miller, the Coyotes knew what Miller was about. After all, the Coyotes previously admitted they knew all about Miller's past, as talked about last blog. Furthermore, the Coyotes released the following statement, THREE DAYS PRIOR to renouncing Miller: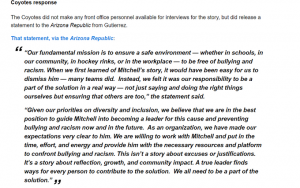 What this tells me, and what it should tell you, is that the Coyotes had no problem with Miller. However anyone feels about Miller and his pro career is up to them. That said, just three days prior to their renouncement of Miller, the Coyotes were all-in on him. The Coyotes wanted to work with Miller. Miller was going to be their project. What changed in 72 hours? Easy – cancel culture wouldn't allow Miller to have a second chance.
Again, whether or not Miller should've even been drafted is another story, a story that everyone will have their own opinion on. Some will say that Miller should never get a chance. I see that argument. Some will say that America is all about second chances and Miller was only a kid when he committed his heinous crimes. I see that argument too. As I said on my last blog, I don't see a right answer or solution here. Even worse, there's no winner in any of this.
If you get anything out of this from me, it's that I'm telling you I don't know the right answer here. Some feel that they have the right solution to all of this. In my opinion, this story is just too tough to have concrete answer on what should happen.
What bothers me about the Coyotes renouncing Miller is the cancel culture aspect of this story. The Coyotes were willing to give Miller a chance, no matter how you feel if that was a right or wrong decision on the part of the Coyotes. The fact of the matter is the Coyotes were willing to give Miller a second chance. Instead, because of cancel culture, the Coyotes put their tail between their legs, sat up for the woke crowd and barked for public brownie points after cutting ties with Miller. That's just a crock of shit to me.
Simply put – the Coyotes didn't do anything heroic, courageous or profound here. The Desert Dogs became the latest bitch of the cancel culture crowd. The Desert Dogs fell in line to the demands of cancel culture. Ironically, like a dog retrieving a newspaper, the Desert Dogs not only retrieved a newspaper here, they asked cancel culture to write a new headline – THE COYOTES STAND UP FOR JUSTICE! That sentiment couldn't be any further from what actually happened.
For the Coyotes to pretend that they are some sort of paragon of virtue here, well that is just incredulous and fake news. What is sad, no matter how you feel about Miller & his crimes, is that at 18 years old, four years after admitting to his crimes & repaying his debt to society (even if his debt deemed by a court was very low, at least in my opinion) in the blink of an eye, both his NCAA & NHL careers were taken away from him.
Just like UND & the college world, after this precedent that Arizona just set, what NHL team is going to sign this kid right now? The mainstream cancel culture leeches are out there, with drool dripping off their chin & fake rage pouring out of their fingertips. Any American team, college or professional, that even thinks of giving Miller a second chance, well that team will be taken straight to the stake, with a fire already blazing.
For Miller, if he ever wants to play professional hockey, it seems like he'll have to try to do so overseas. I don't even think Canada is an option, which is why I say "overseas" here. An 18 year old kid, who just a week ago was a college athlete & an NHL draft pick, is now considered untouchable. His life is wrecked. Then again, is this just poetic justice and "eye for an eye" here, considering the torture and disgusting things Miller did to Isaiah Meyers-Crothers? It very well may be. Once again, there's no winner here.
And to just expand my thoughts here, who knows if a career in Europe or Russia is even possible? With Europe & Russian leagues in-play already, who is going to add this kid to their roster now? With COVID restrictions, who knows if it's even possible for Miller to go overseas right now either? In addition, it's not like Miller has a "superstar" reputation, so why take the chance on him? And let's not forget that the European & Russian game is much different than the American/Canadian game that Miller knows. Even if Miller had superstar talent, there would be a huge adjustment period for him.
Unfortunately, and I don't want to say that I'm predicting this, I think this story only gets worse. How long before Miller, now having everything taken away from him and feeling devoid of life, self-harms himself or even worse – thinks of suicide? Depression is real and while Miller is no saint, he's now at rock-bottom, before his life even got a chance to get started. If I was close to Miller, I'd want someone around him 24/7. Am I exaggerating or trying to sell you false goods here? I don't think so. And to compound matters, while Isaiah Meyers-Crothers will most likely ultimately get over what happened to him, what happened to him is much worse than what Miller is experiencing right now. Again, no winners in this story at all.
In closing on this topic, if Miller wants to be a criminal and look for a second chance, may I suggest the National Felony League? In a league that's been teflon and is the only entity in America to laugh in the face of cancel culture, the NFL has employed murderers, rapists, dog killers, child beaters, drug dealers, man-slaughterers and intoxicated drivers. I'm sure the NFL can squeeze in room for someone who bullied a disabled child too. As the adage goes, if you are talented and can play, it doesn't matter what crime you committed. Just make sure to not hit the quarterback too hard, or else it's a 15 yard penalty – the most offensive crime you can commit in the NFL today.
---
In an update to the Alexis Lafreniere/Team Canada World Juniors Tournament story, NHL.com published the following, over at https://www.nhl.com/news/lafreniere-hockey-canada-wjc-camp-roster/c-319545014:
Alexis Lafreniere, chosen by the New York Rangers with the No. 1 pick in the 2020 NHL Draft, could still be added to the 46 players invited to take part in Hockey Canada's national junior team Sport Check selection camp.
The camp is the final step in picking the team that will represent Canada at the 2021 IIHF World Junior Championship. Forwards Quinton Byfield (Los Angeles Kings, No. 2, 2020) and Kirby Dach (Chicago Blackhawks, No. 3, 2019 NHL Draft), and defenseman Bowen Byram (Colorado Avalanche, No. 4, 2019), who each are hoping to be a part of an NHL roster this season, were on the list of invitees released Thursday.

"We've had discussions with the Rangers and have had preliminary discussions with the Chicago Blackhawks," said Hockey Canada chief executive officer Tom Renney. "With respect to the Rangers, [general manager] Jeff Gorton and I had a good chat. It gave Jeff the opportunity to understand our timetable of what might be coming up with respect to this camp, for example, and well beyond that."

The selection camp will take place at Westerner Park Centrium in Red Deer, Alberta from Nov. 16-Dec. 13.

"I know [Renney] sent a letter to NHL general managers this week informing them of our roster announcement and our intention is that we would reach out to each of the general managers that have players on this list and have that conversation," said Scott Salmond, Canada's senior vice-president of national teams. "Just so they understand our plan, and we understand theirs, and then come to some form of an understanding."

The NHL still aims to play a full 82-game season, which is targeted to begin on or around Jan. 1, 2021. Salmond said he and Blackhawks GM Stan Bowman agreed that Dach would be returned to Chicago if the season starts by then.

"If [Chicago] is not playing, he will remain with the national junior team, so we've made a commitment back to Chicago and we're appreciative of them loaning him for camp," Salmond said. "As much as I'm sure people are hoping that the NHL starts on Jan. 1, there's probably a few people on this call that hope it starts Jan. 6 or a little bit later."

Lafreniere, a 19-year-old voted the most valuable player and best forward at the 2020 WJC after he scored 10 points (four goals, six assists) in five games to help Canada finish first, signed his three-year, entry-level contract Oct. 12. He is expected to play a top-nine role for the Rangers this season.

"[Gorton] was certainly open-minded to the idea but hoping that his player would have the opportunity to join the NHL team in New York, as of now actually, to begin skating with the club," Renney said. "I've indicated to him that I would circle back within about 10 days to see how things are sitting and what things look like for [Lafreniere] joining this camp and beyond.

"At this point in time, that's where it stands right now, respecting that they have a job to do, too. I'm sensitive to the fact that we'll give them time to get their feet under them as well, as an organization with [Lafreniere]."

The 2021 WJC, to be held Dec. 25 to Jan. 5, 2021, will be played entirely at Rogers Place in Edmonton without fans in attendance in a secure-zone bubble, similar to what the NHL used for the Stanley Cup Playoffs.

There are two entry points for Lafreniere to join Canada, since enhanced measures around testing and team protocols will be in effect due to concerns surrounding the coronavirus.

"The first entry point to the bubble is Nov. 16 (in Red Deer) and the second entry would be Dec. 13 in Edmonton," Salmond said. "The only player that we are missing is Lafreniere, so if he was to be loaned to us later, he would be able to enter the bubble with the rest of the international teams and with our team in Edmonton.

"He'll quarantine for four days [in Edmonton] and come out of that on Dec. 18 in preparation for our two exhibition games (against Sweden and Russia). Right now, we're only talking about the potential of adding one player, and that would be on Dec. 13 if he doesn't join us on Nov. 16."

---
As the story above states, while there is a chance Lafreniere suits up for Team Canada for the WJC, it seems highly unlikely. The only way I could even see Lafreniere playing in this tournament, is if the NHL season is postponed from its tentative start date of 1/1/21 to February of 2021, just like the AHL. That said, even then, I think the Rangers want to groom Lafreniere and don't want any distractions. In addition, while the NHL bubbles were proven successful this past summer, is it really worth the health risk? It's not like Lafreniere has anything left to prove. He's already the number 1 pick and his NHL career, and not a juniors tournament, should be the only priority.
In another update, and in an update that can be tied into Lafreniere a bit, are the threads that Lafreniere will be wearing next season. As talked about on past blogs, the Rangers will have a new third jersey, which is rumored to be an updated look of the old Liberty Head jersey. On Thursday, "Icethetics", who covers all the official swag & gear of the NHL, tweeted out the following:
First *official* reference I've seen to the Reverse Retro jersey series as well as a new "Power 31 Collection." #ReverseRetro #NHL #JerseyWatch

Seen in text at the bottom of the Jerseys page for some (but not all) teams at https://t.co/rUNduKuOpU.
s/t @NoahJennings20 pic.twitter.com/COd5BqhuP5

— icethetics (@icethetics) October 29, 2020
If you read the above tweet, it could be interpreted that the Rangers may actually have FOUR jerseys next season. That would make sense to me, as these teams come up with new revenue streams, in an effort to recoup losses from last season and this upcoming season. However, as Icethetics went on to say later, the "Power 31 Collection" could just be a line of apparel featuring hats, hoodies, jackets, shirts, etc. Let's just see if these SHOP.NHL.COM 30% off coupon codes will work on this merchandise, come Black Friday!
---
If you haven't already, subscribe to this blog for the next update:
Moving forward on this site, next week features the arbitration cases of Brendan Lemieux & Ryan Strome. Once we get news on that front, I'll comment on those stories here. I feel like I've written a lot about both Lemieux & Strome recently, so I'm just looking forward to saying these are done deals, as we all look ahead to next season.
Aside from those stories, I'll have more book reviews & DeLorean blogs as the off-season continues. I'm also still working on my own book, so I may take some time to do that. (The formatting is a Father Finker!)
As always here, thanks for reading and…
LET'S GO RANGERS!
Sean McCaffrey
BULLSMC@aol.com
@NYCTHEMIC on Tweeter and on Parler
Follow the BlueCollarBlueShirts.com Facebook Group by clicking this link: https://www.facebook.com/groups/1564026407193056/