What's up everyone and welcome to another blog here on BlueCollarBlueShirts.com. I know sometimes I say I don't want to go too long here, but wind up going 6000+ words anyway. However, after tonight's game, I really don't want to waste any more time on this team tonight!
After dropping yesterday's game to Columbus, the Rangers hopped on a plane back to NY, where they will play their next 6 games. If they keep up the style of play that they displayed tonight, the Rangers have a good shot at being 1-10, with two points, before traveling to Montreal on October 28th.
I don't mean to keep saying I told you so, but really, the Rangers struggles don't shock me. I didn't think they would be THIS bad, but I did see them as a second wild card team at best. I already discussed why I thought the team wasn't any good in previous blogs. In fact, what a perfect way to transition to the PLUGS portion of this blog. In case you missed out, here are my most recent blogs:
---
---
---
---
---
The Rangers have the most home games, out of all of the 31 NHL franchises, to start the 2017-2018 season. In turn, the Rangers are squandering points left and right. It's not like they are losing to the Pittsburgh Penguins of the world either. (That happens Tuesday.) Instead, after tonight's loss to the Devils, the Rangers have now lost to the two worst teams of last season. The Avalanche were the worst team in the Western Conference last year. The Devils were the worst team in the Eastern Conference last year. The Rangers have now been handled by both of these bottom of the barrel teams.
Last night, in the Columbus blog, (link above) I talked about how the Rangers have ran into some hot goalies. Tonight, as usual, the opposing goalie turned in a Vezina level performance. For the second straight game at home, the best player of the game was the opposing team's back-up goalie, this time in Keith Kinkaid. While the Rangers did themselves no favors in the final forty minutes of this game, Keith Kinkaid kept the game at 0-0, after an intense first period.
With tonight's 3-2 loss to the NJ Devils, it only gets worse from here. Take a look at the upcoming schedule for the next 30 days:
Tue, Oct 17

vs

Penguins

Thu, Oct 19

vs

Islanders

Sat, Oct 21

vs

Predators

Mon, Oct 23

vs

Sharks

Thu, Oct 26

vs

Coyotes

Sat, Oct 28

@

Canadiens

Tue, Oct 31

vs

Golden Knights

Thu, Nov 2

@

Lightning

Sat, Nov 4

@

Panthers

Mon, Nov 6

vs

Blue Jackets

Wed, Nov 8

vs

Bruins

Sat, Nov 11

vs

Oilers
As I talked about in my Filip Chytil blog, once the Rangers got past the Blues & Avalanche, the schedule heats up. I didn't expect the Rangers to lose to the Blues or the Avalanche when I wrote that blog, but that's the way the cookie crumbled.
Look at the next five games, which are all at home:
Pittsburgh Penguins – I would be more shocked if the Rangers won this game, than if Pittsburgh scored double digits.
NY Islanders – Islanders always come to play. Maybe their physicality will wake up these cupcake Rangers. This is another tough game.
Nashville Predators – last year's Western Conference Champions will be all over the Rangers like Harvey Weinstein on a 20 year old blonde.
San Jose Sharks – they are kind of in the same boat as the Rangers. They had their Cup appearance and it's been a decline ever since. They are still a tough out.
Arizona Coyotes – the Coyotes are struggling and KING RAANTA has been going through injuries. However, you know Derek Stepan will be fired up and will want this win.
When you look at all the games a month from now, it isn't pretty at all. Rangers always struggle in Montreal, especially if Lundswiss is playing. The Golden Knights have looked good, in their rookie campaign. The Lightning always own Lundswiss. The Panthers may be a winnable game, but they might have the same theory about the Rangers. The Blue Jackets have shown us what they can do. The Bruins always play the Rangers tough. Then the Rangers draw the Oilers, who feature the best goalie/center tandem in the league!
If you even want to look further ahead, after the Oilers, you got the Blackhawks, the Blue Jackets again, the Senators and the Hurricanes. It's not inconceivable that the Rangers are donzo by Thanksgiving.
If there has been one thing consistent about all six Ranger games this year, it is that they don't play a full 60 minutes. Tonight was another example of that. The Rangers played a balls-to-the-wall first period, and then after that, they took the night off. It kind of killed the narrative I was going to use for this blog.
If you read last night's blog, I talked about the team not playing in front of Hank at all and how they are sick of Hank burying them in the media. In the first period, the Rangers out-shot the Devils 14-3! Nothing was getting to KING PAVELEC! (And really, if you're one of these twitter 'tards who have to give me your spiel about who and who isn't a King, please go fuck yourself. Maybe you will find a sense of humor while you're exploring your bunghole! And wow, I just did a "South Park" and a "Beavis & Butthead" reference in this blog. Maybe I'll work in a "Doug" and "Ren & Stimpy" reference next.)
No wonder why these blogs go so long…
Anyhoo, the Rangers dominated the first period, but it was 0-0. That said, (there ya go) it was inspiring. The team showed up. However, so did Keith Kinkaid. While Kinkaid looked great, you figured he could only keep it up for so long. We would never find out, as the Rangers never came close to matching their intensity and desire for the rest of the game. To be fair, Kinkaid went on to have a good game, but the Rangers came no where close to challenging him, like they did in the first period.
For twenty minutes at least, the Rangers supported their goalie, moved the puck and did all the good rah rah stuff. It just went out the window once the teams went to the locker room for the first time.
As usual, here's the ESPN.com box score, followed by my recap/review/ramblings:
1st Period Summary

Time
Team
Scoring Detail
NJ
NYR
No scoring this period
0
0
Time
Team
Penalty Detail
0:43

Damon Severson: 2 Minutes for Slashing
5:02

Rick Nash: 2 Minutes for High-sticking
13:18

Pavel Zacha: 2 Minutes for Slashing

2nd Period Summary

Time
Team
Scoring Detail
NJ
NYR
5:31

Rick Nash (1)
Assist: David Desharnais
0
1
10:21

Adam Henrique (2)
Assist: Brian Gibbons
1
1
16:41

Miles Wood (3)
Assists: Ben Lovejoy, Will Butcher
2
1
Time
Team
Penalty Detail
7:55

David Desharnais: 2 Minutes for Slashing
16:58

Rick Nash: 2 Minutes for Elbowing
20:00

Chris Kreider: 2 Minutes for Roughing
20:00

Kyle Palmieri: 2 Minutes for Slashing

3rd Period Summary

Time
Team
Scoring Detail
NJ
NYR
1:00

Drew Stafford (1) (Power Play)
Assists: Will Butcher, Nico Hischier
3
1
19:03

Kevin Shattenkirk (2)
Assist: J.T. Miller
3
2
Time
Team
Penalty Detail
0:40

Anthony DeAngelo: 2 Minutes for Cross checking
2:28

Brendan Smith: 2 Minutes for Cross checking
8:08

Ben Lovejoy: 2 Minutes for Hooking
Goaltending Summary
New Jersey Devils Goaltending

Player
SA
GA
Saves
SV%
TOI
PIM
K. Kinkaid
31
2
29
.935
60:00
0

New York Rangers Goaltending

Player
SA
GA
Saves
SV%
TOI
PIM
O. Pavelec
19
3
16
.842
57:17
0
Before the game, AV once again went into his hat and created his line-up. However, a new name entered the mix, as Jesper Fast returned to the team, coming off his injury/surgery. The Fast move seemed to come out of nowhere. While it was known Fast was getting ready, you would think it would've been announced a day or two before his 2017-2018 debut. Instead, an hour before game time, Fast was inserted into the line-up. I gotta wonder – was this a panic move from AV? Is Fast truly 100%?
While it was nice to have Fast back, what was more surprising than Fast's ho-hum return, was the fact that AV went back to 11 forwards and 7 defensemen. While you knew Cracknell or Carey had to be scratched to make room for Fast, AV scratched both of them, along with defenseman, Steve Kampfer. AV kept his normal four defensemen, of McDonagh, Staal, Shattenkirk and Skjei. AV then dressed Holden, DeAngelo and Smith.
In my newest line that I say all the time, I've always been an AV defender, blah blah blah. Just check the past blogs. I'll spare you the oration on my thoughts on AV. You've read it. If you haven't, just check out the archives of this site.
That said, (my other go to line) I thought Tony DeAngelo was the worst defenseman on the ice tonight. However, he played 16 minutes. Staal (9:24) and Holden (9:41) received the short end of AV's stick.
Again, I've always defended AV, but it truly feels he is just throwing crap at the wall and seeing what sticks. There is no rhyme or reason for all his juggling. In six games, Ryan McDonagh, the anchor of the defense, has now played with 4 different partners in 6 games!
In more head scratching, Rick Nash was on the third line. The highest paid skater on the team is on the third line. Don't forget the new D-pairing, that I talked about last night, the $12 million plus third D-pair, in Shattenkirk and Staal. Even for me, an AV defender, I don't know how these moves are explainable.
The MSG networks, like MSG themselves, were a skeleton crew tonight. I'll explain why MSG was a skeleton crew at the end of this blog.
With Sam Rosen off, presumably to do something football or Jewish related, John Giannone, FROM THE PROJECTS IN BOONTON, called the game with Joe "I want a Henrik Lundqvist Sex Doll for My Birthday" Micheletti. Ron Duguay had the night off. I'm a big fan of Doogie, but the games where Doogie isn't around, we get more of the buddy-cops, in Steve Valiquette and Al Trautwig.
Steve Valiquette had a weird night. While he is always busting Al's balls, and that stuff does entertain me, fans on Twitter were accusing him of being drunk. For starters, alcohol consumption is in my wheelhouse. In the same way Vally can break down a goalie or pull out his spreadsheets to talk stats, when it comes to booze talk, that is my department.
In my professional opinion, there was no way Vally was drunk at all. Buzzed? Maybe. His eyes did look a little red, but he could've been crying watching this crap or maybe Al had on some skank skunk ass bullshit cologne, that he bought off the streets, outside of MSG.
Valiquette even acknowledged having an off night at the end of the broadcast. If this was an off night and he was drinking, keep feeding him booze, because I thoroughly enjoyed his work tonight. He's at his best when he's loose, which is why I like the stuff with the rigid, "I'll call your parents" Al Trautwig.
There was a segment, during the second intermission, where Vally stumbled over his words, broke Al's balls and then told Al people are laughing at this at home. I'll raise my hand, I was entertained.
Listen, if the Rangers are gonna suck all season, give me this type of stuff. Don't sell me false promises and hope. Just say the team blows. No team is great every season. I rather the MSG guys laugh along with me in misery, than lie to me.
I just spent 500 words on Vally and Al. This tells you two things – this game sucked and this is why these blogs go long.
As the woman beater Aroldis Chapman was giving up the game winning hit to the Astros, the Rangers & Devils renewed their BATTLE OF THE HUDSON (what a terrible moniker) rivalry.
On an aside, what a terrible sports weekend for me. The Rangers & Yankees both lost. Twice. The Oilers are currently losing. Knowing my luck, the Giants will pull out a last second win over the Broncos on Sunday night, to ruin their chances at the number 1 pick in the draft. Never in a million years did I think the Giants would suck so bad this season. Ugh.
The Rangers were all over the Devils in the first period, but could not score. The Rangers got two PP's, but couldn't finish. At least they weren't giving up odd man rushes and breakaways left and right, although they would later give up a breakaway, while on the PP, in the third period.
Two things about the defensemen in this period. Kevin Shattenkirk, before the game, said he wasn't the type of player who would block shots. I can hear John Tortorella right now, "No shit, that's why we won last night." The other point I'd like to make is on Brady Skjei, who had a beast of a first period. He hustled three strides behind a Devil, (name slips me right now) to break up a shot opportunity. Skjei also wasn't shy with the puck, and got off three quality shots. If my memory serves me right (I was drinking all game, can you blame me?) unfortunately, all his shots stopped after the first period.
Kinkaid just had a highlight reel of a first period, first stopping a picture perfect feed from Fast to Skjei. He would later stop Kevin Hayes on what looked like a sure fire goal.
The Rangers, despite their offensive firepower, couldn't light the lamp in the first. Some of it was their own doing. For example, Shattenkirk was wide open. Miller gave him a pass that would've been a picture-perfect one timer, except that Shatty is a righty. Sweet pass if it was for McDonagh though.
However, after a great first period, the score remained 0-0. The Ranger highlights stopped here, despite two goals being scored later in the game.
The second period, saw the Rangers try to continue their pace, but I don't know if it's conditioning or what, they just hit a wall after Rick Nash scored his first goal of the season. I'm not with the team every day. I'm just a fan that likes to talk about the team on the internet. However, they just looked tired. They exhibited pure lethargy.
After completely stealing a goal from Kevin Hayes, Kinkaid would finally break, as Nash scored after a short cross ice (Vally would call it east-to-west) pass from Desharnais. 1-0 good guys, with 15 minutes remaining in the period. From here on in, the rest of the period was all Devils.
I had to laugh – Rick Nash was the one saying that you can't finger point after a loss and that it's a team game. Lundqvist was the one blaming everyone under the sun last night. Now, here with Lundqvist on the bench, as King Pavelec made his first start of the season, Nash scores and the Rangers were playing great. It's a shame this didn't continue for the entire game.
As has been the story of this season, turnovers were the factor in another Rangers loss. I think DeAngelo, who saw his Eagles beat the Panthers on Thursday night, was channeling Cam Netwon, as his passes were intercepted all over the place. Gibbons forced a Rangers turnover and found Adam Henrique for a top shelf, over the right shoulder of Pavelec, goal. 1-1 game.
The Rangers defense continued their free fall, even giving Miles Wood a clear path to the net, that somehow he fucked up. It was a fortunate break for the Rangers. However, Wood would still make the score sheet.
With under four minutes to go, Butcher fired a shot. It deflected off Ben Lovejoy's stick and then deflected off Wood's stick. I don't even know if Richter could've stopped that one. It was just one of those weird hockey goals. And really, this happens to bad teams far more often than not. The Rangers have been on the receiving end of some bad/fluky goals, but it's also because they are giving up these chances too. The Rangers are just a bad team, and the faster you accept that fact, the less these losses will hurt.
Chris Kreider (is he going to wake up this season?) & Kyle Palmieri played patty cake to close the period. Both would be boxed to start the third. This is where you miss a Tanner Glass, because these Rangers are soft. I didn't expect it to happen, but the Rangers needed this to start the third period:
I know the league is different, even from five years ago, and I know the coaching & personnel are different too, but god damn, these current Rangers are fucking soft. The most physical player is the smallest guy on the team, in Mats Zuccarello, who despite adding more flair to his jersey with the "A", has looked largely invisible since the Toronto game. A good fight wakes up a crowd. There is no one on this Rangers team who can throw dukes. Again I ask you – Carey & Cracknell or Jagr & Glass?
At the end of 2 periods, bad guys 2, Rangers 1.
For the first time this season – I wrote the Rangers off, despite nearly 19+ minutes remaining in the game. We've now entered the "I've seen this movie before" zone. Tony DeAngelo took a stupid cross checking penalty 40 seconds into the period. 20 seconds later, Drew Stafford is celebrating a goal, as he danced all around Pavelec's doorstep. 3-1 bad guys.
Oh and by the way, young stud & the number 1 draft pick, Nico Hischier, assisted on this eventual GWG. He logged 17 minutes of time and looked well for the most part. I can't say I watched every second, of each of his shifts, as you really can't do that on TV, but from what was aired (much easier to track players live), I thought he was ok. Not bad for 18 years old!
If you don't count a late 6 vs 5 goal from Kevin Shattenkirk, who scored with under a minute to go, this was the third straight game that the Rangers offense produced 1 goal. I don't know of any Stanley Cup Champions that win every game 1-0.
Ironically, the Rangers would outshoot the Devils, 14-4, in the third period, but I never felt Kinkaid was ever truly challenged. At 3-1, I was truly checked out of the game. I didn't think there was a shot in the hell the Rangers would come back.
I have now had enough, when talking about this game. Rangers lose 3-2. It's gonna be a tough season folks.
With the game recap out of the way, there are three topics I want to talk about, before moving ahead. They are, the #FIREAV people, rebuild talk and how M$G fucked over their fans tonight. Here we go:
I have unpopular opinions. I know this. Sometimes I troll people with my opinions, just because it always amazes me how someone could get so worked up about someone they don't know & their opinion. I don't like Lundqvist or his contract. That makes people mad. In the same vein, people don't like Alain Vigneault. I do like AV, although he's been all over the place this season. That said (last time) if someone wants to say all this crap about him and wants his job, it doesn't affect my day. Everyone is entitled to their opinion. At the end of the day, we all want the same thing, but we just have different ideas on how to get it done.
With the Rangers 1-5, many Ranger fans want AV out of here. To be fair, these same people, who I have labeled the #FIREAV people, have been calling for AV's head for some time. Just as I predicted Lundqvist would never win a Cup, these people have predicted that the Rangers will never win with AV. At the end of the day, their scapegoat is AV, mine is Lundqvist & his contract. There are members of the fanbase that fall into both circles and there are people in the fanbase who think AV & Lundqvist are fine.
Here's the deal, whenever I ask someone who would they rather than AV, they don't have an answer or say Lindy Ruff. What has Ruff won? There's a reason why he's an assistant coach right now. No one would hire him to be a head coach. Mark Messier is also a popular answer, since he threw his name into the mix in 2013, after the Torts firing, but really, is he the best man for THIS team?
I think Messier, if he still wants to coach (remember, not all great athletes are great coaches. Larry Bird is really the only exception, as most great coaches are ex-players who learned coaching from sitting on the bench.) would be better suited if the Rangers accepted a rebuild. Messier's knowledge would be better imparted on a bunch of new moldable (is that a word?) talent, such as Boo Nieves, Filip Chytil, Lias Andersson, Vinni Lettieri, etc. Mark Messier isn't going to be able to help out a Marc Staal or a Rick Nash, at this stage of their careers.
With Messier, you also run the risk of a larger than life guy, who outshines his team. Messier is the greatest captain to ever play any sport. Having him behind the bench? It would be really tough for his players to live up to his image. I mean, when I hear Ranger fans dog Callahan or McDonagh, as captain, is it because Callahan or McDonagh aren't good in the role, or is it because they are being compared to Messier?
To me, I really don't think it matters who the coach is. With this current roster, I don't even think a in-his-prime Scotty Bowman could win a Cup with this roster, which brings me to….

You know my spiel already, because I've said it a million times all summer and before this season. You can't halfway rebuild a house. The Rangers are trying to win and rebuild at the same time. Can you please tell me what sports franchise, in any sport, where that's actually worked? I'll save you the Wikipedia and Google searches – it's never happened. By doing this one foot in, one foot out shit, it's actually backfired worse than I thought. I figured the Rangers would be a middle of the pack team, but instead, they currently share the cellar with some other woeful teams. Not acceptable, especially for a team that raised ticket prices once again this year.
As long as Henrik Lundqvist and Marc Staal are on this roster, the Rangers aren't in full blown rebuild mode yet. There might be a better chance that Lundqvist shaves his head, before leaving the NY life, but if a trade, to say a Pittsburgh or Chicago was possible, would he take it? Sure, there's contract stuff and you'd have to make it work with the salary cap, but is Lundqvist going to waste the rest of his career with a team that has no shot of winning?
My fan idea? Rebuild all the way. Bring up all the young guys from Hartford. Do what you have to do to get rid of Hank and Staal. I'd even try to get rid of Smith and that contract, which might be easy for a contender looking for defensive help. As I said last night, if the Knicks wanted some star guy that was under contract internationally, they would be given the money to buy that player out. It's time to get CZAR IGOR here and let him get acclimated.
You ready for this one – my coach for the rebuild? Mike Keenan. I know, I know, I know, he was a cocksucker and a liar on the way out, but you can't ignore his will to WIN, which is all I give a fuck about. You also risk young players crying, while playing for him, but maybe he weeds out the weak.
I don't think these Rangers are conditioned or tough at all. Keenan would change that. These Rangers need a taskmaster. I know Keenan has been out of the league for a while and is older, but he's also still coaching and wants that last NHL run. What better way to end his career, with another Stanley Cup, with the New York Rangers? Yes, I know this opinion will be unpopular, but really, this team needs to start all over. The Rangers core had their run and FAILED. You can't just keep chipping away on it and keep putting new paint over it. It needs to be stripped, primed and painted all over again. Do the job right, not half-assed.
Another reason why I want Keenan is because I was watching AV's press conference and I wanted to cry. He says the same shit over and over, but nothing has changed. Show some fucking emotion man. I get he's professional and soft spoken. He's a nice guy. I get it. Trust me. However, I kinda miss the Torts press conferences of old, who would drop the f-bomb, call someone out and show you that he gives a fuck. I'm sure AV cares, I don't question that, but for the first time in his Rangers tenure, I have no defense for him, nor see the logic, in his myriad of moves.
I'll tell you what, Keenan, CZAR IGOR & the young talent in Hartford, or the stuff I'm watching now? I'll take the former any day of the week.
Don't call this a panic reaction either. The Rangers suck. It's time to accept reality folks.
The Rangers have the most expensive tickets in the league. They now have this tier pricing system, which allows them to put their dick in your ass, just a little bit deeper. Tonight's game against the Devils was one of the Rangers dicking for ass moves, as a Saturday night, plus hosting a rival team, meant ticket prices were much higher than usual.
For many fans, who work 40 hours Monday-Friday, a Saturday night game is all they can attend. The Rangers reward for the working man is to raise prices on you. For many Ranger fans, they can't afford to sit in the lower bowl, which was largely empty all night, due to most of those seats being corporately owned. Weekend games are usually light, because the corporation people aren't going to the game after work. You can also add the Yankees game as a reason for the bad attendance.
I guess I should be clear. The Rangers claimed a sellout tonight. While I'm sure every ticket was purchased (Many sport franchises, if there are under 300 tickets available, they will "buy" the tickets themselves, then redistribute them, as way to keep their sell-out streak going) not every seat was filled.
However, imagine being a fan, on a budget, who could just afford a seat in the upper 200's or 400's (blue seats). Even worse, imagine being a season ticket holder in that section. For the money you pay for that same seat all season, you're watching everyone else sit for cheaper on non-rival/Saturday nights, and if this losing continues, tickets will flat-line on the secondary market. However, the Rangers already got your money sucka!
If you really want a kick in the gonads, compare what you're paying for your season seats, compared to comparable seats in other markets. You're paying way too much for a so-so view. For the money you're spending with the Rangers, you would have your cock (or vagina, for my female readers) blown, 10 minutes away, at the Rock.
So if you're a regular schmuck like myself, and attended tonight's game in the 200's and 400's, you might get thirsty. (Some people eat at games, but that interferes with my drinking.) You might say, "Hey, I think I want a nice cold beer to enjoy with this terrible hockey game." As you got up from your seat and made your way to the concession stand tonight, you saw this: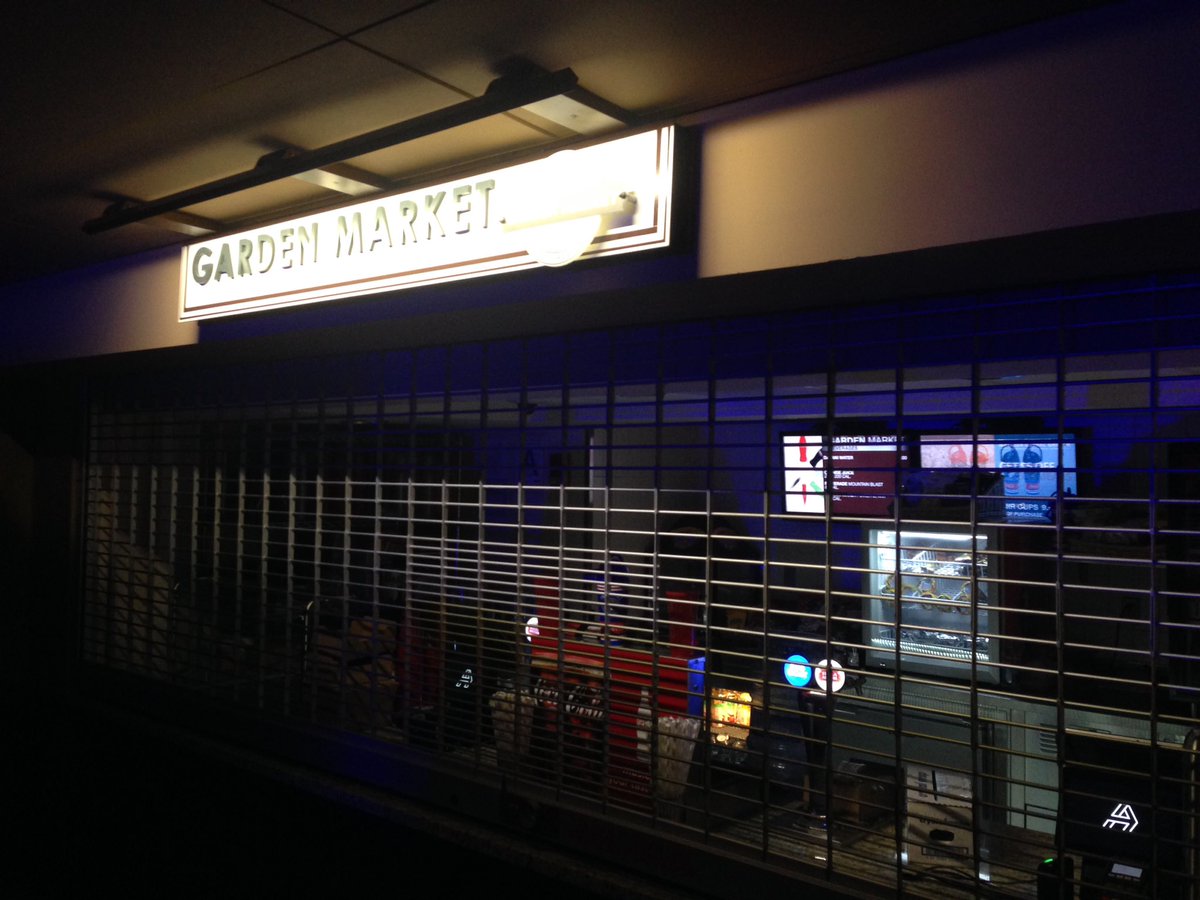 Thanks to @scottyhockey and to BCBS roving reporter @fixxser for the pictures.
As you can tell from the above, here are three different concession stands, located throughout the building, that were CLOSED. If the Rangers are claiming a 100% sell out, what sense does it make to shut down all these concession stands?
I had the typical "YOU ARE A FAYKE FAN GAY FAGET GO ROUT FORE THE EYELANDERS!" tweets, when I said that The Rock blows away M$G.  Guys, leave M$G. M$G, as a fan experience, blows, when compared to other arenas. I get the history and all that crap, but for the fan experience, M$G is very lacking. Between being shoulder-to-shoulder to take a piss at intermission (other arenas have wider rotundas and more bathrooms) and closing concession stands for no reason (For example, in Montreal, NJ, CHI, CAL, etc, I never waited more than 2 minutes to get a beer.) the Rangers do not give a fuck about us.
Seriously, in these blue collar sections, the Rangers shut down the beer and food. Do you know what was open in the bougias seats? FUCKING SUSHI.
Sometimes I ask myself, how do I still root for this team? I guess it's ingrained in me. My grandfather, who had season tickets, when he was alive, used to tell me about the 1940 Stanley Cup win. My father had season tickets for 25+ years. It's a family thing. However, I can't put my head in the sand with this team – they make it really tough. The losing is only part of it. As a fan or season ticket holder, there is no appreciation like you get with other clubs. There's no incentive at all, to have season tickets.
It truly is upsetting. The corporate greed, which has been there for some time, would rather shut down a concession stand, than pay someone $10, $12, $15 an hour, because they know fans will walk elsewhere.
I already told you, I am only going to a few select home games this season, after going to 35+ games for the last 6 seasons. (Previously, I had a full time job and also was running wrestling shows all over the east coast, so I didn't have much time to attend live games, plus the whole lock out thing and not having money before that.)
I attended the home opener. I also have ticket to the Oilers game (duh), the Thanksgiving game, the Christmas game and the Jean Ratelle game. If I go to anything else, it's because I went after work and did the Stubhub trick. I'm saving my money for roadtrips, because even if the team is bad, I always have fun seeing new places. It's part of why I stayed in wrestling as long as I did – I enjoyed the travel & seeing how others lived.
The end of the month gets good for me, as I'm going to Montreal. Once I get back, I'm packing my bags again, as I'm going to visit friends in Florida and catch those two games. Then in January, it's Vegas.
I guess for me, and for you too, we all have to decide how we're going to support this team. It's a shame they don't make it easy.
I've rambled on long enough.
Rangers return Tuesday night, as they try avoid giving up a touchdown & a field goal to the Pittsburgh Penguins.
Please Ranger fans, you don't have to like Sidney Crosby, but please save me the CROSBY SUCKS shit. He's still the greatest player in the league until Connor McDavid knocks him off. We would all cry tears of joy for just one Cup. Crosby has 3.
Prep yourself for a long season guys.
See ya Tuesday.
Win or lose, as always….
LET'S GO RANGERS
Sean McCaffrey
BULLSMC@aol.com
@NYCTHEMIC on the tweet tweet