Note: As usual, this is gonna be a long one, but I promise you'll enjoy it if you stick with it!
What's up everyone and welcome to another blog here, on BlueCollarBlueShirts.com. The "Delorean", aka the flashback Ranger game review blogs that I've recently done, have been a hit. The Rangers vs Broadstreet Bullies blog was the most read blog, on this site, all summer long. I'm glad people like these (long as hell) blogs, because it takes time to do them, considering each game is about 2+ hours (equivalent to the first period of this game) to watch.
I am not aware of what type of web traffic other Ranger fan blogs do. I would imagine the news sites do more, because there's a reason to go there every day. With this blog, I post updates randomly, outside of regular season/playoff game reviews. When you come here, you know it may take a while to read one of these things. I know I go long, but that's part of the charm. I know no one is doing what I do here! That said, due to the length of these blogs, I have heard people click on the same blog several times, and pick up where they last left off.
What ever which way you choose to enjoy these blogs, I'm glad that you do. Through this site, I have met some great Ranger fans. Quick side-bar – it's funny how you never meet "your haters", which for me, would be the Lundswiss fan basement boys, in real life. They are quick to snap pictures of you, when they see you at a game and then post them anonymously on Twitter. I'm just glad none of those people ever caught me in a "pick and flick!" Listen, if you want an autograph, just ask!
Recently, several other fan blogs have been doing articles on Lundswiss, asking the question, "Has Henrik Lundqvist Peaked?" I mean, are you fucking serious? NOW, you wanna do a blog like that? At least credit me, when you're stealing all my points, points that I made three years ago and took all the heat for! However, I've been vindicated with the recent poor play of Lundqvist and the rise of Cam Talbot. (You know, the guy who set all types of team records for the Oilers this season & finished 4th in the Vezina voting.)
When it comes to other sites like that, I don't know how people can read those blogs (usually their blogs are 6 paragraphs long. I've done headlines longer than that!) and take anything out of them. Whether you agree or disagree with my opinions here, at least you know everything is well thought out and I state my case without leaving no stone unturned.
So where am I going with all this? I just said in my last blog (plugged below), that I don't consider other sites/blogs competition, because for starters, no one is making money on this. After all, this is just a hobby for me and anyone can click any link they want, whenever they want! I just wanted to use this space here, at the top of the blog, to thank the readers of this one.
As stated, when it comes to web traffic, I know the Ranger news blogs have to post higher numbers than this blog. I really don't put much care/thought into site traffic, because if I did, I would break these blogs up into 8 parts. You get 8000+ ad-free words in your one click here, as opposed to 78078707 clicks for 50 total words & more ads elsewhere.
In the 4 seasons I've been doing this, I'm starting to learn more about the readership of this blog. This blog skews to an older male demographic, as opposed to the younger crowd, that other sites get. The twitter world is mostly younger, which is why you have all these kids in their mother's basement telling you how Lundqvist is the best of all time, but can't tell you who Patrick Roy is, let alone Terry Sawchuk. You have these twitter fans who will tell you that the Rangers started in the 60's with Rod Gilbert, there was a run in the late 1970's and Mark Messier captained the team to a Cup in 1994. Oh wait, that's the actual New York Rangers themselves. HELLO NYR – RETIRE FRANK BOUCHER'S NUMBER 7 ALREADY!
Why this little mini-rant? Simple – I don't know the web traffic others do, and it's a pain in the ass just to find out my own. While I enjoy the writing aspect of blogging, I hate everything else, such as web design, HTML coding, graphics, etc. However, the quality of fans, that read this blog, is just amazing. Recently, some of you, again, the older crowd, have been sending me books, DVDs and old programs, for review & for my own enjoyment.  In other words, people, previously known as strangers, are sending me things in the mail, because they want to see what I'll say about them. That's pretty cool and not only do I appreciate that, I respect that.
And really – these gems from the Rangers time capsule aren't expensive. I could get all these things for under $10 on Amazon or eBay. However, it's the idea that several of you, actually took time out of your day to deal with a post office and think, "hey, this would be cool to read about", is what gets me. To me, time is more valuable than money. You can always get money back, you can never get time back.
Speaking of time, I got the DeLorean time machine all fired up, as this time, we travel to April 10th, 1982, for a game between the Rangers & the Flyers. <Cue the "Wayne's World" time machine/flashback music.>
However, before moving along, it's PLUG time. Here are some recent blogs I've done, in case you missed them during this slow summer:
---
---
---
---
---
---
As previously noted, reader Mike Jurkowski hooked me up with a bunch of old Ranger games, from his collection, on DVD. As I was deciding which game to sit down with next, reader Travis Jackson sent me this old program from 10/18/81. With today's review being a game between the Rangers and Flyers, taking place on 4/10/82, this program was a perfect companion piece for this game.
Before taking off in the time machine and getting to the game, I want to make a few comments on this program. This program was tremendous. It's simply stunning, how this program in 1981, was much better than the programs of today, which run you $10. With today's programs, it's really 90% ads, a few blurbs about some players, a paper insert with the line-ups and pictures of the roster. This program from 1981 was like a magazine. Sure, the booze, cigarette and airline industries had plenty of face time, but you had some great articles about players too.
I know in today's world, information can be found instantaneously while scrolling on your phone and sitting on the toilet. Fans needed programs and HOTLINES (remember those?) to get information that you didn't get from your tabloid of choice at the time – Newsday, the NY Post or the Daily News. These programs from this era were in-depth, with tons of news and insights.
This program specifically, was released at the start of the season, so you had stories about what guys were doing in the off-season and how they were getting prepared for the 1981-1982 season. What also impressed me was the quality of the overall production. The pages were slick (Travis had a well-maintained copy), the pictures were clear as day, the stories were hard-hitting and you didn't feel like you wasted your time or money when you finally got to the Marlboro Man on the back cover. Let me share some photos from this program with you, so you can get the general idea. (For more photos, check out my twitter @NYCTHEMIC)
I hope by sharing this program, it helps to give you a frame of reference, as I look at this 1982 playoff game, between the Rangers and the Flyers.
To give you even more information about the time period, the following comes from ThePeopleHistory.com:
Cost of Living 1982
How Much things cost in 1982


Yearly Inflation Rate USA6.16 %
Year End Close Dow Jones Industrial Average 1046
Interest Rates Year End Federal Reserve 11.50%
Average Cost of new house

$82,200


Median Price Of and Existing Home

$67,800


Average Income per year

$21,050.00


Average Monthly Rent

$320.00


Cost of a gallon of Gas

91 cents


New Car Average price

$7,983.00


US Postage Stamp

20 cents

More Prices Examples


Tomatoes Lb

39 cents


Bag Cheese Puffs

89 cents


Loaf White Sliced bread

50 cents


Commodore Vic 20

$299.95


Satellite Receiver

$245.95


Walking / Jogging Machine

$199.95


GMC 1500 Pickup

$5,400


Sony 19 inch Color TV

$499


Outdoor Gas Grill

$199.95
What stands out the most to me is $500 for a 19 inch box tv!!!!!! Now look at the price of the GMC Pickup. For eleven 19 inch box TV's, you could get a brand new truck! Imagine if that pricing structure worked today? How about spending $200 for a "walking machine"? Walking is free motherfuckers! I also like that this website thought that adding the price of "bag cheese puffs" aka CHEETOS, was worth mentioning!
In the music world, here's your Billboard Top 10 list:
While the disco era was at its height in the last DELOREAN blog that I did, disco was dead in the 80's. While everyone knows Joan Jett's "I Love Rock N Roll", how about the GO-GO's? For as much as people bitch and moan about women not breaking into fields and being taken seriously, women dominated this week on the charts, and that's without one of my favorites, in BLONDIE! If you watch this music video, note the hair styles and clothing from not only the band, but the audience too.
You know what else happened on April 10th, 1982? I was a whopping negative two months, three days old. I would be busting out the womb, right after some other NY team won the Stanley Cup that year. While I'm always down to do these history/flashback game blogs, one of the reasons I've stayed away from the early 1980's is because of the fucking Islanders.
As you can see from the above video from the game I'm about to eventually review some time today, Ron Duguay, known to be a lover not a fighter, would dirty himself up when needed!
Just some information about the two teams I'm about to talk about in this game, as shown above in the pictures from the program, the NHL re-aligned themselves. It feels like the NHL has done this realignment about 789686 times in these last 100 years. (Yes, I'm aware of the Original 6 era, just go with it.)
Every team in the Patrick Division, sans the Capitals (Who cares, they would've lost in the second round anyway!) made the playoffs. As much as it pains me to write this, the Islanders were coming off of 2 Stanley Cup wins and won the President's Trophy in 1982, with 118 points.  The Rangers came in second place with 92 points, with the Flyers coming in third place with 87 points. As a result, the Rangers and Flyers would meet in the first round, for the right to play the Islanders in the second round. At the time, it was a foregone conclusion that the Islanders would easily defeat the Penguins in their first round match-up. (Ironically enough, the Penguins pushed the Islanders to five games, in their best of 5 series, as all first round series were best of 5's. It would take an overtime game 5 John Tonelli goal to win the series.)
Of note, elsewhere around the league, this guy named Wayne Gretzky seemed like he could play the game. This was the season that 99 scored 50 goals in 39 games. Gretzky also set the mark for most goals in a season with 92, shattering Esposito's 76 goals single season record. Gretzky would finish with 212 points in the 1981-1982 season. To this day, Gretzky remains as the only player in NHL history, to crack 200+ points a season. Eh, not too shabby!
For the Rangers, goaltending has always been key in their success. Going into the season, the Rangers were going to rely on John Davidson, the backstop of the 1979 Stanley Cup Finalist team, to help push the team to another run. Unfortunately, by this time, JD was shot. To replace/fill the void of the injured JD, the Rangers would trade for Eddie Mio, during the middle of the season.
Oh, and here's a fun fact: an 18 year old named John Vanbiesbrouck would make his NHL debut this season, playing one game. He was still 4+ years away from becoming the number 1 goalie for the Rangers.
The Flyers, with the days of the Broad Street Bullies long gone, were still led by Bobby Clarke, who was winding down his career by this point. (He would play two more seasons.) As Dryden predicted in his book, "The Game", the BSB style of the Flyers wouldn't last long. Dryden would also predict that the Islanders would be the next great team, but I don't think anyone predicted what the Islanders were going to accomplish. In this current world of free agency, hard salary cap and no player loyalty, it's really tough to envision another team ripping off four straight Stanley Cup victories. The current Pittsburgh Penguins are halfway there, and who knows, while they may win the East this upcoming season, just like 35 years ago, there is a team out there in Edmonton, looking to start a dynasty of their own.
By this point in 1982, both the BSB back-to-back Cup runs of 1974 & 1975 and the 1979 Cup loss by the Rangers were distant memories. For the Rangers & Ranger fans, this was a low point in Rangers history. While this era of Rangers were a perennial playoff team & nowhere as bad as the teams from the World War II era, the fact was that the Islanders were far superior than the Rangers. It was a punch to the nuts every spring for Ranger fans.
For 5 straight years, the Islanders dominated the NHL, winning four straight Cups and finally losing to Edmonton, during their "Drive for Five" season. In the 1981 playoffs, the year before this game I'm about to review, the Rangers went all the way to the semi-finals (In today's terms, the Eastern Conference Finals), before getting swept by the Islanders.
The Flyers had their own problems with the Islanders, as they were beaten in 6 games in the 1980 Stanley Cup Finals, by the soon-to-be-named Fishsticks. The year after, they lost a heartbreaking 7th game, in the quarterfinals, to the Calgary Flames.  The Rangers and Flyers, who had a storied history with each other, even with the Flyers only being around for 15 years at this point, both struggled, with the juggernaut, that was known as the NY Islanders back then. Both the Rangers and the Flyers, had their own personal animosities with the Islanders. The winner of this Rangers/Flyers, best of 5 series, was looking to extract revenge on the crap from the Coliseum.
On April 10th, 1982, the Rangers and Flyers were tied 1-1, in their best of 5 series, as each team split wins at the Garden. In the first game at the Spectrum in Philadelphia, one of these teams would be one game closer from moving on, while one team would be forced into a must-win situation.
3000 words before getting into the game review itself. I think that's a new record for me! Ugh, I'm sorry guys, I just wanted to set the time and the stakes for you!
With all that said (easy and brief for me to say), let me open the door for you, so you can sit shotgun, as I take the Delorean for another spin, this time to April 10th, 1982. It's Game 3, of the first round, in a best of 5 series between the Rangers and Flyers. Let's Go!
(NOTE: I'm doing this review as if I'm a 35 year old living in 1982, in the same style that I do my reviews of today. Ironically in April of 1982, I was negative two months old!)
What's up everyone and welcome to another blog here on BlueCollarBlueShirts.com. Tonight, I'll be looking at Game 3 of this first round match-up between the Rangers and the Flyers. Going into this game, with the series tied at 1-1 and the next two games in Philadelphia, I was extremely nervous.
Thankfully, thanks to Cam (There's just something about that name. I wonder if 35 years from now, if the Rangers will make a huge mistake by trading a guy named Cam? Hmmmm…) Connor, the Rangers have a chance to close out the series tomorrow night, in Filthadelphia.
As I sit here on Saturday night, the Rangers have just defeated the Flyers 4-3, to go up in the series 2-1. With Game 4 tomorrow, at least I can sleep easier now, because at the very worst, Game 5 will be in MSG, if the Flyers somehow pull it off on Sunday.
If you remember a blog that I wrote in 1974, (Linked at the top of this blog) I talked about the crazy Flyer fans and how these idiots take these games too seriously. My friends and I were debating about renting a bus and going to this game, but we felt it would be easier to watch it at home and save the money from trying to get blood stains out of our new $40 Ranger jerseys.
This game, like most Ranger/Flyer games, wasn't for the weak at heart. Before jumping right into it, let me give you the official box score, which I got from this 976 line, called "Hockey Reference Dot Com." What the hell does dot com mean anyway?
Penalty Summary
Goalie Stats
Rk
Player
DEC
GA
SA
SV
SV%
SO
PIM
TOI
1
Eddie Mio
W
3
31
28
.903
0
0
59:47
| Rk | Player | DEC | GA | SA | SV | SV% | SO | PIM | TOI |
| --- | --- | --- | --- | --- | --- | --- | --- | --- | --- |
| 1 | Pete Peeters | L | 4 | 30 | 26 | .867 | 0 | 0 | 59:19 |
I enjoyed at the beginning of this game, how the announcers (Jim Gordon and the recently retired & replacing Bill Chadwick, Phil Esposito) talked about how bad the referees have been. The Rangers have only won two games with Bruce Hood & his crew this season. The "FUCK THE RANGERS" button was first created in 1926 and here in 1982, nothing has changed!
As usual, this game started off hairy, with the Flyers finishing off all their checks and harassing Eddie Johnstone in the open ice. Eddie Mio played the net safe to start this game, as he didn't want to risk anything.
Ron Duguay, the leading scorer for the Rangers this season, won a key faceoff, early in this game, in the Rangers defensive zone. It's funny, before the first fight of this game, the announcers were talking about how the referees must maintain control of the game between these two teams. Fat chance!
I could understand in the beginning of the NHL on TV, and through the seventies, how it might be tough for TV producers to figure out how to put a running game clock on the screen. But shit, here in 1982, we can't get a running clock? In this new era of advertising in hockey, can't they get CASIO or TIMEX to sponsor a running game clock?
While the Rangers would go on to win this game, the referees, who were chastised by the announcers, before the game even started, for being horrible, really fucked the Rangers over big time. These referees need to be thrown out of the league, YESTERDAY! As I said, you know it's bad, when the announcers are openly defecating on the referees, on the air,  before the puck was even dropped. The referees earned their shit, when they tossed Ron Duguay from this game, just minutes in.
During a broo-ha-ha (I don't know if that's how you spell the word, but you know the word when you read it like that), that the referees let get out of control, between random Rangers & Flyers, Bob Hoffmeyer cowardly attacked Ron Duguay. Check out the video yourself, that I taped off of my VCR, with my new JVC 500 pound camcorder:
Bullshit call on @RonDuguay10 – kicked out of the game on 4/10/82. He's a lover not a fighter! #nyr pic.twitter.com/94fLe4oTg8

— BlueCollarBlueShirts (@NYCTheMiC) August 13, 2017

ARE YOU FUCKING KIDDING ME?
Not only was this barely a fight, considering the history between these two teams, but the referees thought kicking Ron Duguay out of this game, was the same thing as kicking out career scrub, Bob Hoffmeyer? What kind of trade is that? The referees may as well wear orange stripes, instead of white stripes, to go with their black stripes! How do you do this in a playoff game? I am sure my rage, would be even more intense right now, if the Rangers lost this game. You should've seen me when the Rangers were down 3-0 after this shit.
Seriously, what is the NHL and these ASSHOLE referees thinking? They already let other scrums, in this game, go penalty-free. I understand they are trying to curb the violence, but how do you eject the Rangers best scorer with a goon? As the announcers said, why not have every fourth line or third pair defenseman make a run at every star Ranger? Why not trade Al Hill for Barry Beck? If these referees are working tomorrow's game, I'm going to need a lot more Schlitz to get through these games.
Back to this game, which already started on a BULLSHIT note. As I said, the Rangers won, but still, this can not happen and these refs need to be held accountable. Seriously, Doogie for Hoffmeyer? This is supposed to be a fair and balanced hockey game. Keep in mind, people pay and tune in for stars too. Would you toss Joe Montana out of the Super Bowl?
Even better, right after this – Sittler crosschecked Vadnais in the face. No call.
I am being told that, without the "expressed written consent of MSG", I'm not allowed to talk about this game. Sue me. You can have my 5 ton TV. I'd like to see Craig Patrick carry it out himself!
While fans love these violent games, and I get it, but sometimes, you know, you want to see hockey too. That said, you gotta let things go a bit, especially in the playoffs.
The Rangers would get the first powerplay of the game, after a roughing call on Glen Cochrane. Little late for that call. Stop me if you heard this before – the Rangers came up empty on the PP. I will never understand doing a dump and chase while on a PP, but yet that's what the Rangers, under Herb Brooks, did here, on the first PP of the game.
Of course, after all the dilly-dallying on the PP, Flyer Bill Barber, gets the puck, skates around with the puck, as if he's going for a wrap around, but finds Bobby Clarke streaking in front of the net. Clarke tapped the puck in easily by Eddie Mio, for the first goal of the game, 5 or so minutes in. 1-0 bad guys.
Keep in mind – Duguay is out of the game because of incompetence.
Immediately after the Flyers got the short handed goal from Bobby Clarke, Robbie Ftorek took an interference penalty. Unbelievable.
As Cochrane came out of the box, the Flyers then went on the powerplay. This of course led to a Flyers goal, this time from Behn Wilson. All it took, was a bunch of traffic and bodies in front of Mio, and Wilson slapped the puck by. Mio couldn't see if a plane was coming at him, nevermind a puck, with all the humanity in front of him. 2-0 bad guys, with Duguay gone, but plenty of time left.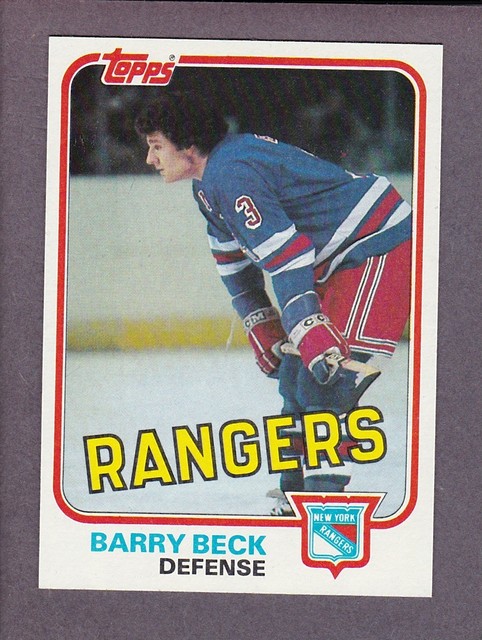 This game kept moving into the out of control territory, as several Flyers kept messing around with Nick Fotiu. No calls, of course. Seriously, did the refs have money on this game?
The Flyers, whose best days are long gone, kept using their goon tactics, but that type of hockey has been cracked down on and it doesn't work anymore… unless the refs are in your pocket. I don't mean to keep harping on it, but I've never seen such incompetent officiating. You know it's bad, when Gordon & Espo, are discussing this topic, in-depth, all game, as well.
With the Rangers down 2-0 early, most of the first period was skate around a bit, whistle, and break up a scrum. Yet Duguay gets kicked out. Ugh.
Marsh and Sittler, of the Flyers, would later take penalties, with Allison of the Rangers, taking one too, which led to a 4 vs 3 Rangers PP. If you thought the Rangers scored on the PP, you don't know the Rangers! And it's not like Pete Peeters, in net for the Flyers, was that extraordinary either.
I've heard rumblings from Ranger fans saying "SHOOT THE PUCK BARRY!" Someone should tell him to not shoot the puck, at the boards, from his blue line, while on the Rangers PP!
Worth mentioning, Cam Connor was slashed right in front of the Flyers net, during this Rangers PP. No call.
Eddie Mio made the best save of this game, and perhaps the most important, with the Rangers down 2-0, as he made a split-legged glove save on Barber. It was a save that kids dream of, when playing on ponds, while growing up.
This first period, which felt as long as both Godfather movies put together, would suffer another delay, when a Flyers fan stole a Rangers stick. It was that type of period.
Immediately after making a perfect glove save, the Flyers won a faceoff in the Rangers defensive zone and Brian Propp easily put the puck past Eddie Mio's five hole. 3-0 bad guys. Not going to lie, I was ready to move past this game and hope the Rangers win the next two. It was like the Rangers were playing against two teams on the ice, and with Duguay out, it seemed the Rangers had a minimal chance of pulling this out.
After a few more penalties and more lost chances on the PP, for the Rangers, this marathon first period mercifully ended, with the Flyers leading 3-0. While the Rangers would make the comeback, I don't know if they would've made the comeback if they were down 4-0. That Mio robbery on Barber was crucial. Perhaps just as big, was Mio making sure the Flyers didn't add a late one, while on attack, in the final 30 seconds of the period.
Just to give you how long the first period was, there were 90 minutes of penalties doled out and it took an hour to play.
After a never-ending period from hell, the second period would be all Blueshirts, as the Rangers scored three goals of their own.
Both teams would start off the second period with long shots and it looked like the Rangers would never get close to the net at all.
However, after off-setting penalties to Beck & Wilson, the Rangers breathed some life, with a goal from Mike Rogers. Here's another one of my JVC camcorder videos:
Backhand that bitch Mike Rogers! pic.twitter.com/I4aRVu7WGY

— BlueCollarBlueShirts (@NYCTheMiC) August 13, 2017
Whether Peeters was playing too confident or what, I don't know, but it's very rare that you see a backhand goal from red dot. However, whether you want to call it puck luck or Rogers seeing his opportunity, in either event, number 27 for the Rangers made this a 3-1 game. One goal down, two to go for the good guys!
The Flyers would look pissed off after the Rogers goal, but Mio made some big saves to keep it a two goal deficit. The Rangers also woke up, with Tom Laidlaw making several rushes to the Flyers net.
The Rangers got another break, with another powerplay opportunity, this time after a Ken Linseman slash. Finally, the Rangers would capitalize, as Reijo Ruotsalainen (I had to open up my Rangers program, that I purchased from earlier in the series, to get the correct spelling of his name, not gonna lie!) would add the Rangers second goal of the tilt. His goal would come after several shots from him on the PP. Check out RR's (That was easier) goal yourself:
Ruotsalainen (spell that 3 times fast) scores! pic.twitter.com/odHcRrLR2j

— BlueCollarBlueShirts (@NYCTheMiC) August 13, 2017
While you can debate if the first Rangers goal was "puck luck" or someone out of position, there was no doubt about the second goal. It was puck luck. RR blasted one, it deflected off Marsh, took a knuckle ball bounce and squeaked through Peeter's legs. Hey, you can't score if you don't shoot, right? 3-2, bad guys, but you could smell the fear and piss coming from Filthadelphia Flyers and their fans. To be clear, when I say fans, I mean the people sitting in the seats, and not the referees.
From this point in the game, both teams kind of buckled down, with both Mio and Peeters making big saves along the way. Each team would get another PP, with both Vadnais and Holmgren drawing two minute minors. Each team's PK would step up and keep this game as a one goal game.
A scary part came towards the end of a Flyers PP, as Mio went down. It looked like Holmgren caught Mio with his stick. The trainers immediately rushed to the ice to check on Mio and his eye. However, it looked like Mio was caught in the cheekbone. Unlike a baseball player, Mio shook it off and stayed in the game.
With under a minute to play in the second period, Don Maloney would tie this bad boy up. Let's roll the video tape!
Don Maloney with some clean up work pic.twitter.com/vkJzJnzUr9

— BlueCollarBlueShirts (@NYCTheMiC) August 13, 2017
After deftly taking a pass from Mike Rogers, Don Maloney was able to handle a tricky puck and make this game 3-3. While this goal may look like an easy one, I thought the shot was tougher to pull off than it looked. Either way, the Flyers blew a 3-0 lead, as the Rangers added 3 goals in this second period.
With twenty minutes remaining, Rangers 3, Flyers 3, series tied at 1 a piece. See ya fingernails!
The third period would make your asshole pucker, as each team had several chances of putting this game away. The Rangers even started this period on a 3 on 2, but turned the puck over. It's easier to breathe now, but when the minutes of this period were winding down, you just thought, "WHAT IF?"
I really enjoyed the play of Mike Rogers in this period, as I thought he was solid defensively and helped to make several big clears. He also had a good look on a deflection, which Peeters was able to stop. It also amazed me, how Peeters stayed up on his feet during crucial times in this game. He didn't make himself bigger, by crouching, which I found odd.
Mio would be challenged a lot in this period, as he would make a huge game-changing save on Ronnie Flockhart. This would've been a different game if that puck saw twine.
As the period entered the final ten minutes, you could feel the pressure in the air. To quote pro wrestling announcers, you could cut the tension with a knife. I know how me and my friends felt. We had to be reminded to breathe. I'm sure Flyer fans felt the same. Even the announcers started talking about overtime, which seemed "jinxy."
However, with the game having only 70 seconds left, and after a huge save from Mio in regulation, this happened:
Game over, @CamConnorNHL wins it! Full retro game review on 4/10/82 coming soon to https://t.co/pbL0K5NsMb pic.twitter.com/HJWk2v36c4

— BlueCollarBlueShirts (@NYCTheMiC) August 13, 2017
With the Connor goal making the game 4-3, good guys, and with under 70 seconds to play, the Flyers got edgy and pulled Peeters. Flyer fans were furious, after seeing 4 straight Ranger goals, as debris littered the ice, just like the water coming out of their tear ducts.
The last twenty seconds of this game felt like an eternity, between the timeouts, Flyers winning draws and Mio making saves. However, with 8 ticks left, Tom Laidlaw lifted the puck towards the Flyers end and the game was over. 4-3, the good guys, is your final!
All in all, the Rangers won a nail biter, 4-3 tonight, making the series 2-1, in favor of the Blueshirts. However, this game was much harder than it needed to be, when Bruce Hood and his Flyer gang of officials, decided to toss Ron Duguay for Bob Hoffmeyer. With the Flyers desperate tomorrow, I'm hoping that the NHL sends a new crew down for Game 4, because you can't have referees tossing star players over bullshit, especially when they let other stuff slide.
With the Penguins beating the Islanders tonight, making their series 2-1 Islanders, perhaps there is a tiny chance that the Penguins pull off the impossible and unseat the Stanley Cup champions in their series. However, before looking at a likely match-up with the Islanders in the second round, the Rangers must finish off the Flyers tomorrow night.
All in all, this was a great game for the Rangers squad. This game could've got out of hand early, especially down 3-0 and without their top scorer. However, the Rangers hung in there, kept chipping away and with Mio making big saves down the stretch, Mio allowed Connor to win it.
I don't know about you guys, but I need another beer! See you tomorrow for Game 4. As always….
LET'S GO RANGERS!
I hope you enjoyed this trip down memory lane. For many of you, it's your first time experiencing the 1982 Rangers. I know for me it was.
I am glad these retro reviews have been a big hit amongst BlueCollarBlueShirt.com readers, because I have a great time doing them. It sure helps the summer move along!
As far as the next retro "Delorean" blog, I'm not sure what and when it will be. I've gotten requests to do something from 1994, but that feels so cliched and easy. I saw 1994 live and remember most of it. (I was 12 at the time.) Sure, the game will look different to me as an adult and I would appreciate it more now, but the MSG Networks seems to only run 1994 games during the Rangers off-season. I rather go further back and see stuff I haven't seen before. Yes, 1994 was great, but come on, it's been done to death already, a million different times, by a million different people.
I guess I should also repeat here, as I said in my last two retro blogs, I never know who is reading this. One day, it turned out that relative of Frank Boucher found this site. In that same vain, I'll put this out there – if anyone has the 1940 Rangers vs Toronto Cup Finals games on DVD, like Charlie Sheen & sex, I'll pay for it. I've seen clips, but never an unedited full length game from that series.
These three retro blogs, that I've now done, have covered three different eras. In 1974, I looked at the GAG line and Giacomin. In 1979, I looked at the "Hockey Sock Rock" Rangers. In 1982, there was a lot of turnover from the 1979 team, which happens. I mean here, in 2017, there is a lot of turnover from the Rangers team that won the ECF in 2014.
With the preseason a month away, I would like to squeeze in one more retro game blog and I would like to cover a different era. Too bad I don't have any games from the 50's or 60's on DVD! I don't see any full games on Youtube either, unless I'm not searching correctly. I do have several other games from the 80's on DVD, but all those years end the same way – with a shitty team winning the Stanley Cup. Fuck the Islanders!
I've been trying to do Thursday morning book review blogs all summer long, while posting these retro game reviews on Monday morning. Another reader, who wishes to remain anonymous, sent me a Mike Keenan biography, after I expressed interest in hearing Keenan stories in my Jeremy Roenick autobiography review. However, this Keenan biography was published in 2000, which means the book is severely dated and could use a sequel.
I plan on reading the book on the LIRR to & from work this week, so maybe I'll review the book and fill in the gaps for Thursday's blog. There's also other Ranger news to get into and I'm sure I can make a few more Lundswiss jokes too!
In closing, let me wish Sam Rosen a happy belated 70th birthday. I know 70 isn't that old in today's world, but with all his money from the NFL and the NHL, you have to wonder when he will call it quits on his Hall of Fame career and enjoy his family in his twilight years. I'm not trying to show Rosen the door, I just know for me personally, if I was set for life, I would rather enjoy life than work!  Rosen will always be an icon for the Rangers, but I believe that John Giannone could carry the load, once Rosen decides to give up work for his family. Time will tell.
We are a month away from preseason and if you're like me, you're chomping at the bit to get started. While I don't see the Rangers winning the Cup this season, it doesn't mean I'm not rooting for it. Once we get closer to the preseason, I'll do the usual crap that you will see everywhere else, such as prediction blogs, previews and opinions. However, I promise those blogs will be like nothing you read anywhere else. I can guarantee that!
Until next time….
LET'S GO RANGERS
Sean McCaffrey
BULLSMC@aol.com
@NYCTHEMIC on the tweet tweet