Greetings and salutations everyone and welcome to another blog here on BlueCollarBlueShirts.com. Ready for the playoffs? I know I am!
There are three regular season games remaining for the New York Rangers, their final three of their first 82-game season since the 2018-19 campaign. All three of these games will be played at M$G, as the Rangers host the Hurricanes (Tuesday), the Canadiens (Wednesday), and then close off with the Capitals (Friday) – where the game with Washington has the potential of becoming a "playoff preview."
After all of that, the 2022 Stanley Cup Playoffs will commence, where as of this writing – we don't know who the Rangers will be hosting. We'll find out for sure on Friday night.
As talked about throughout last week, and on Saturday too; the "worst" that the Rangers can do is finish in second-place of the Metropolitan Division. Most likely, that's where they'll finish.
The Rangers, who got no help from their fiercest rivals over the weekend, the New Jersey Devils and the New York Islanders; still have an outside shot of finishing in first-place, but admittedly – it seems unlikely.
The first-place Carolina Hurricanes, who lost starting goaltender Frederik Andersen last week during a game in Colorado, haven't let that injury derail them. In fact, the complete opposite has happened, as collectively, the Canes have all stepped-up in light of their starter's absence.
After coming back and embarrassing the Devils on Saturday afternoon, and behind "no-name" rookie goaltender Pyotr Kochetkov too; the Canes started former Ranger Antti Raanta on Sunday at Belmont, as the former #32 in blue is now currently the defacto starter for Raleigh's hockey team. However, Raanta, like Andersen himself, received an injury during the game.
Tied at 2-2, and with Kochetkov now in net, the Canes scored three unanswered goals (where two of these three goals were empty netters) and defeated the Islanders 5-2.
As a result, the Canes, with their 112 points, have increased their first-place lead over the Rangers (108 points) to four points.
Also as a result, the only way the Rangers can now finish in first-place is if they can win their final three games, and should Carolina lose to the Devils in their season-finale on home ice (Thursday).
And after watching Carolina's win over the Devils on Saturday – it's hard to imagine the Canes dropping their final game of the season to these Newark losers – especially at home.
As everyone and their mother knows by now, the Rangers will host the Canes on Tuesday night. If the Rangers don't win in regulation, their second-place finish will be cemented.
Should the Canes win on Tuesday; admittedly, the Rangers game against Montreal won't mean as much.
However, Friday's finale with the Capitals will remain as a high-stakes affair – as it could determine who the Rangers play during the first round.
And of course, while first-place would be nice; at the end of the day, it doesn't mean much. It would be a nice accomplishment, but there are bigger goals ahead – you know, that hunkin' big piece of silver known as the Stanley Cup.
---
Should things stay the status-quo, and the Rangers finish in second-place; then they will either host Sidney Crosby's Penguins or Alex Ovechkin's Capitals during the first round of the playoffs.
As I've been saying all along (and as head coach Gerard Gallant has been saying ever since the Rangers clinched a playoff spot) – I don't care who they play. None of these eight Eastern Conference teams are going to be easy outs. Hell, I would be shocked if you saw an Eastern Conference first round series end in five games, much less a sweep.
If I had to choose the Rangers' opponent, in a hypothetical "gun-to-my-head" situation; as friend of the blog Mike "The Esquire" successfully argued (that's why he's an esquire!) to me – I guess I'd rather see the Rangers play the Capitals, and for one reason only – there is a league and official bias for the Penguins.
Conspiracy theory talk? Perhaps, but one can't ignore how the officials call Penguin games.
We've seen these officials mar games this season against the Rangers, where despite having to play two teams from the animal kingdom on the ice, the Penguins and the Zebras – the Rangers have overcome all of it. The Rangers' lone loss to the Penguins this season, a 1-0 affair, saw the men in stripes sway the final result.
Still, and with that said, I'm sticking to my guns – I don't care who the Rangers play.
The Capitals may present the least path of resistance, but it's not like they are going to fold like a cheap Sieve Vagistat suit either.
As Gallant and his team have said all season – they have to take care of their own business and handle their own end.
Another thing Gallant has said this season, and in regards to home ice? This: "It really only matters during a Game 7. You can gain momentum by winning game one of a series on the road."
And I don't think that I have to remind you the last time the Rangers had home ice during a playoff series; nor their last outing during a home ice Game 7 neither. The less said, the better!
Speaking of the Rangers and Gallant; after taking Sunday off, the Rangers reconvened for practice on Monday, where the organization, and their fans, received a bunch of good news.
---
Back on the ice during Rangers' practice on Monday were Filip Chytil, Andrew Copp and Kaapo Kakko.
Tyler Motte, as mentioned before, most likely won't be available until the playoffs, where that could mean anything – first-round, second-round, Eastern Conference Final, and the granddaddy of them all, the Stanley Cup Final.
Of the three returning Rangers, it sounds like Chytil and Copp will play against Carolina, pending the a-okay from the Blueshirts' medical staff. Kaapo Kakko may need one more day before returning.
It should be mentioned, that in the past, Gallant, when easing returning players back into his line-up; the bench boss usually doesn't play these guys in back-to-back games. That's not to say that he won't do so this week, but it's something to consider/understand.
When it comes to Chytil, Copp and Kakko; of the three, you'd like to see Kaapo Kakko get back in there as soon as possible, just because he's missed so much time already.
Andrew Copp, a veteran, should be fine if he needs another day or two off. Filip Chytil, whose kryptonite is staying healthy, should also be fine once returning. It's just about staying fine once he's back on the ice.
Of course, it's all about the big picture, so if these guys are "only" 99.9% healthy – there's no reason to play them, especially with Carolina pretty much having first-place clinched.
Here was Monday's edition of "TURK TALK," where the head coach echoed what I've been saying on this site:
---
Gallant opened up his chat with the media by saying that he doesn't 100% know if Copp, Chytil and Kakko could play on Tuesday, as he's awaiting approval from the trainers. However, just the fact that these three were practicing is encouraging, as the Rangers try to get as healthy as possible for the playoffs.
Gallant, who did seem irked at some of the negative line of repetitive questioning, said that these final three games aren't meaningless. After all, no one wants to limp into the playoffs, and the Rangers still have a chance at first-place too.
As he always does, Gallant preached his "one game at a time" mantra, and wouldn't reveal his hand on who will play during the final three games. Gallant did say, that come playoffs, he'll go with whatever line-up that gives him the best chance to win. (Duh.)
While he didn't say it outright, this much is known – CZAR IGOR and THE BULGARIAN BEAST will split the next two games, as the head coach never plays a goaltender on back-to-back nights. We just don't know who will get Carolina and who will get Montreal.
(My guess – Igor vs Carolina, Georgiev vs Montreal. Might as well go with your best hand.)
This wasn't brought up, but it should be interesting to see who starts on Friday night, during the final game of the season.
Do you go with Georgiev against the Caps, a team who could potentially be the Rangers' first-round opponent? By doing so, you'd give Igor one last day of rest, as you have to think that #31 will be in net during every single game of the playoffs. Or do you let Igor get one last game, in an attempt to keep him firing on all cylinders? We'll find out Friday!
---
This week begins "Award Week" for the Rangers. The Steven McDonald Extra Effort Award will be the first award given out, as the Rangers will announce the winner on Tuesday.
As mentioned about 7896786869 times on this site (I don't think anyone has written more words about this award than yours truly) – I think Chris Kreider wins it. Then again, maybe we will see co-winners for the second time in the 34-year history of the award, with CZAR IGOR and Chris Kreider getting the nod.
Of note, the only time we saw co-winners win this award took place in 1990, when goalie John Vanbiesbrouck and team captain Kelly Kisio were honored for their efforts during the 1989-90 season.
Fast-forward to today, and we could have another goalie, and the unofficial captain of the team too, co-win the award.
Following the McDonald presentation on Tuesday night; during Friday night's blog, I'll announce the winner of the 2022 Frank Boucher Trophy.
Once those two awards are decided, we'll soon hear the winners of the Players' Player award, the John Halligan award, and the new one, the Rod Gilbert award.
(For more on all of these awards, and my predictions on who will win them, check out: https://bluecollarblueshirts.com/42022/ )
---
Finally, when talking about awards, we already know that CZAR IGOR will be winning the Vezina Trophy.
On Monday, we found out that Chris Kreider is up for a year-end award himself, as he was nominated as a Bill Masterton Memorial Trophy candidate.
For all of the candidates, check out: https://www.thephwa.com/2022/04/25/phwa-announces-2022-bill-masterton-memorial-trophy-nominees/
Ironically enough, there are several members of the Rangers' alumni also receiving nominations for the Masterton Trophy, including Antti Raanta (CAR), Jack Johnson (COL), Marc Staal (DET), Anthony Duclair (FLA), Kevin Hayes (PHI) and Brian Boyle (PIT).
Strangely enough, Carey Price (MTL), who has barely played this season due to personal issues and injuries, has been nominated. Ditto Jack Eichel (VGK).
As far as who I think wins it? I think Ryan Getzlaf (ANA), who is now officially retired, wins the Masterton. More times than not, the winner is usually a sentimental favorite and I see Getzlaf, after an amazing career, getting his just due.
---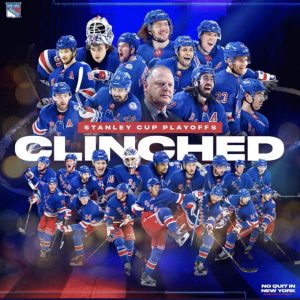 It's the FINAL COUNTDOWN of the regular season for the Rangers, where the main goal is getting out of this week healthy. Obviously, these guys can't change the way they play, so there will be a lot of finger-crossing and knocking of wood throughout Rangerstown, USA.
When it comes to the topic of resting players – the players hate that. They want to play. As Jacob Trouba recently said – "you never know when you've played your last game." The money may be guaranteed, but health is not.
Previously, Gallant has said he'll continue to use his regulars – unless they ask for a game off.
I know that many fans, and even the beat writers, would like to see Adam Fox, and the other three players of the quartet of starting defensemen, get a breather. However, if the players are at 100% and want to stay in their groove – then I have no problem with them closing out the season on the ice.
As I wrap-up this short blog tonight, who else just wants to get past this week and wishes they had a fast-forward button?
WE WANT THE CUP!
PLUGS TIME!
---
On Monday night, our pals at "The Blueshirt Underground Show" returned with a new episode. To watch/listen, click the play button below:
---
My first plug of tonight's blog – the mandatory plug for my book, "The New York Rangers Rink of Honor and the Rafters of Madison Square Garden".
As mentioned previously, the book is now available in hardcover, in paperback and in Kindle formats. To purchase a copy of the book, visit this link:
https://www.amazon.com/Rangers-Rafters-Madison-Square-Garden-ebook/dp/B09CM5N2WD
For those still looking for signed paperback versions of the book, I have re-ordered more copies. I now have a few signed copies for sale at $25 a pop (includes shipping price) through me directly. Here is all the information on that:
---
Here are my last few blogs, in case you missed them:
---
---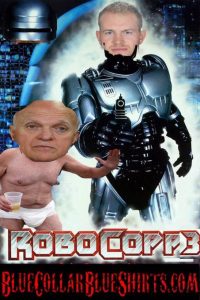 ---
If you haven't already, subscribe to this blog for the next update:
---
Up next: the big one. Rangers vs Canes, Tuesday night, at M$G. Tune in early for the Steven McDonald Extra Effort Award presentation.
As always here, thanks for reading and…
LET'S GO RANGERS!
Sean McCaffrey
BULLSMC@aol.com