Greetings and salutations everyone and welcome to another blog here on BlueCollarBlueShirts.com. Bring on the Penguins. Bring on the Capitals. Hell, bring on both of them at the same time! After all, the Rangers are used to playing two teams at the same time anyway – where once again on Tuesday night, the Rangers had to deal with a suspect and grossly incompetent NHL officiating crew.
I start off tonight's blog by taking a crack at the zebras; where I'm also under the assumption that if you got close to any one of them after this game, then their heads would have reeked of fresh asshole. That's where their heads resided all game.
However, while the officials were brutally horrid on this Tuesday night at M$G; they weren't the sole reason for the Rangers' 4-3 loss to the Hurricanes. To say otherwise would be lying.
While the men in black-and-white didn't help matters, it's not like they were the reason for the Rangers' 0-3 power-play. Furthermore, nor were they responsible for the injuries that both Andrew Copp and Artemi Panarin received in this game neither.
There are a bunch of different lede stories that I, or anyone else recapping/reviewing this game, can go with.
The potential headlines you'll see all around Rangerstown, USA are the following:
— The Carolina Hurricanes have won the Metropolitan Division.
— The Rangers will finish as the second-best team of the Metropolitan Division.
— The officials sucked.
— The Rangers lost both Copp and Panarin at the half-way mark of this game. And since I don't want to tease anyone, I'll say it right now – both are fine and didn't return to the game for precautionary reasons. I'll have more on this at the end of tonight's manifesto, including the encouraging comments that Gallant made during his post-game presser.
— Once again, a no-name rookie goalie that you never heard of before, this time Pyotr Anatolevich Kochetkov (rolls off the tongue nicely, doesn't it?), who channeled his inner Patrick Roy and who had a strong showing at "The World's Most Expensive Arena." Isn't that always the case?
— The Rangers "NEVER GIVE UP" attitude, where despite trailing by three goals late into the third period; they continued to play hard until the final horn, and scored the final two goals of the game. They made it exciting.
— Tony DeAngelo becoming the most hated opposing defenseman by Ranger fans, where he's now carved out a spot for himself between Denis Potvin and P.K. Slewban.
These are some of the headlines and stories that I could've opened up with tonight. Instead, I think the main story is all about the unofficial captain of the team, #20 himself, Christopher James Kreider.
---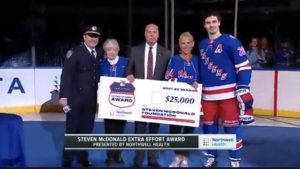 On a night where Chris Kreider won the Steven McDonald Extra Effort Award, an award that Adam Graves has won five times (most in franchise history); Kreider scored his 52nd goal of the season, where he's now tied with Graves on the franchise leaderboard for the second most amount of goals scored by a Ranger during a single-season. Jaromir Jagr (54) awaits.
To just jump ahead a bit, here was the 2021-22 Steven McDonald Extra Effort Award presentation:
Chris Kreider has been named the winner of 2021-22 Steven McDonald Extra Effort Award Presented by @NorthwellHealth! pic.twitter.com/tSDUfmGuP2

— MSG Networks (@MSGNetworks) April 26, 2022
---
I'll get into this more during the GAME REVIEW segment of this blog; but while Kreider was obviously overcome with emotion when hearing his name announced as the winner – he really had to fight back the tears during the first intermission, when Dave Maloney interviewed Kreider and asked him what this award meant to him.
Kreider, the longest-tenured Ranger of them all, and who knew Steven McDonald on a personal level; "CK52" knows what the award means. During his intermission interview, he was shaking and almost at a loss for words, as he tried to process everything.
As noted on this site during the past few weeks, you had multiple candidates for this award – CZAR IGOR, Adam Fox, Jacob Trouba, Mika Zibanejad, Barclay Goodrow, Ryan Lindgren, Ryan Reaves, and the list goes on-and-on.
However, it was truly fitting that Chris Kreider finally won his first Steven McDonald Extra Effort Award. It certainly was deserved.
While pro sports are a business, this was real.
Just watching Kreider receiving the award, and then later talking about it – you felt his emotion dripping off of your television screen. There was nothing phony about this at all, as Kreider's reaction was genuinely authentic and raw.
If this night wasn't big enough for Kreider – he then scored the first Rangers goal of the game, his 52nd, to tie Adam Graves. It all felt like poetic harmony, that is, except for the final score – where in the grand scheme of things, the 4-3 loss is pretty meaningless.
You'll always remember Kreider's 52nd goal and his Steven McDonald Award. Come the playoffs, you'll forget about this game.
Sure, like you, I wanted the Rangers to win this game. They didn't. I'm over it. It's all about the playoffs, where Chris Kreider will try to lead his team to the Holy Grail, enroute to what hopefully will be his second Stanley Cup Final appearance.
The lone leftover from the 2013-14 team, and the heart-and-soul of this 2021-22 team – Chris Kreider is at the peak of his powers.
Better than that – he's not one of these egomaniac athletes, or a blowhard, just like any member of the Brooklyn Nets.
As noted repeatedly on this site, Chris Kreider is a great guy, both on-and-off the ice, where a lot of his charitable endeavors go unnoticed. He never looks to publicize his work, nor is he ever looking for a pat on the back neither.
That's why it wouldn't shock me, that come tomorrow, when the Rangers present the first ever "Mr. Ranger Award," in honor of Rod Gilbert, an award to honor the philanthropic efforts by a Ranger – it will be Chris Kreider, once again, with the spotlight shining on him.
And spoiler alert – I think you'll see Chris Kreider's name pop-up again during this award season – especially when I announce the 2022 Frank Boucher Trophy winner this Friday night.
---
So that was Chris Kreider, who I'll have more on soon enough.
At this time, and as a result of all Metropolitan Division games played on Tuesday night, here are the updated Eastern Conference standings: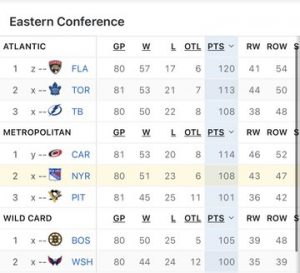 The Carolina Hurricanes, the team with the six former Rangers (and at about 1/10th the price the Rangers once paid these guys, as these Blueshirt alumni have turned into role players for Raleigh's team), have won the Metropolitan Division. However, they'll enter the playoffs with either Antti Raanta or their new goalie, Pyotr Kochetkov, in net – where after seeing Kotchetkov's last three games (a road sweep of the Devils, Isles and Rangers) – that may not be a bad thing.
For the Rangers, their next two games, standings-wise, are meaningless. Second place is secured. For them, it's all about staying healthy and being ready for the playoffs. That's also what Gallant preached after the game too.
However, on Friday night, when the Rangers host the Washington Capitals during Game 82 of the season; there is a chance that game will determine their first-round opponent.
A win over the Capitals could mean that the Rangers will see Pittsburgh during the first week of May. A loss to the Capitals could mean that the Rangers will play at least their next four games against Ovechkin's boys.
While the head coach, nor the players, will ever admit publicly who they'd prefer – to me, and as I've been saying all along – I don't care. However, and as noted last night, perhaps the Capitals present the least path of resistance – only because of the way these officials call Penguin games.
And while we won't know how it all shakes out until the playoffs commence; Alex Ovechkin is currently out in Washington, while goaltender Tristan Jarry remains on the IR in Pittsburgh.
For the Rangers, it will be the same old song-and-dance – they'll have to take care of their own business and handle their own end. I think they will.
---
At this time, let's get into the pregame news and interviews.
At 5PM, two hours prior to puck drop, head coach Gerard Gallant met with the media. Here was the afternoon edition of "TURK TALK":
---
Gallant wouldn't reveal his line-up during his chat with the media, where he said that Kakko, Chytil and Copp were all going to be game-time decisions. However, the head coach did confirm that CZAR IGOR would be getting the nod in net. This also means that Alexandar Georgiev will be in net against Montreal.
Come game time, Chytil and Copp were in, while Kakko remained out. It's believed that Kakko will return on Wednesday night, against Montreal.
As far as anything else, Gallant said what we all think – CZAR IGOR should win the Vezina Trophy.
---
Here's what "The Turk" went with for this "Viktor Stålberg Tribute" game:
FIRST LINE: Kreider/Zibanejad/Vatrano
SECOND LINE: Panarin/Strome/Copp
THIRD LINE: Lafreniere/Chytil/Goodrow
FOURTH LINE: Hunt/Rooney/Reaves
Defensively, we had this:
FIRST D-PAIR: Lindgren/Fox
SECOND D-PAIR: Miller/Trouba
THIRD D-PAIR: Nemeth/Schneider
And in net, CZAR IGOR
---
BOX SCORE time.
The following information and graphics come from the new world-wide leader in NHL coverage, ESPN.com:
SCORING:
PENALTIES:
TEAM STATS:
GOALIES:
| | | | | | | | | | | |
| --- | --- | --- | --- | --- | --- | --- | --- | --- | --- | --- |
| SA | GA | SV | SV% | ESSV | PPSV | SHSV | SOSA | SOS | TOI | PIM |
| 34 | 3 | 31 | .912 | 26 | 1 | 4 | 0 | 0 | 60:00 | 0 |
| | | | | | | | | | | |
| --- | --- | --- | --- | --- | --- | --- | --- | --- | --- | --- |
| SA | GA | SV | SV% | ESSV | PPSV | SHSV | SOSA | SOS | TOI | PIM |
| 36 | 4 | 32 | .889 | 21 | 3 | 8 | 0 | 0 | 57:20 | 0 |
---
The M$GN broadcast featured the return of Sieve Vagistat, who was back after a two-game absence and to the delight of nobody – except for maybe his family, who was probably happy to have him out of the house.
Also back was Henrik Lundqvist, who as usual, was superb behind the desk.
Lundqvist talked about the playoffs and what this game meant, where he said "it's important to be in the moment and to improve in every little area." Vagistat, who has to horn-in at every opportunity, then said, "IT'S A DRESS REHEARSAL HANK, PLEASE LOOK AT ME AND TELL PEOPLE THAT YOU KNOW ME!"
(Okay – I made up everything after the word "rehearsal," – but you get the point.)
And for a guy who says a lot of STRANGE (hi Mike and Derek) things – here's Vagistat talking about "dress rehearsals."
To add to the stupidity, Vagistat then started criticizing the greatest NHL goalie of the last five years – Andrei Vasilevskiy. I'd like to hear #88's thoughts on Vagistat's legendary career of 46 games.
After a commercial break, we returned with a shot of the glass inside of M$G, where some 40 year old loser had a sign that said, "IT'S MY 40TH BIRTHDAY, I'M SLICK, CAN I HAVE A STICK?" I'm not making this up. I was hoping that Ryan Reaves would slash this guy low, and castrate him in the process.
As always stated on this site – FREE STICKS, PUCKS, EQUIPMENT, WHATEVER – ARE FOR THE KIDS, NOT FOR GROWN ADULTS. If you need such trinkets, go buy them.
Once Dave Maloney came on, he talked about a recent conversation that he had with Mika Zibanejad, where #93 told him that his favorite playoff memory was the 2017 win over Montreal, and where his least favorite playoff memory was that series with Ottawa. No shit.
Maloney also brought up a great point about Mika's new teammate, Frank Vatrano, where Maloney said that #77 employs a shoot-first mentality; where Mika's former wingers, both Pavel Buchnevich and Mats Zuccarello, were pass-happy. Maloney then said that Mika has adapted to his new winger with no problems. I'd say!
Up next was another #ASKHANK segment, where I was hoping that someone would ask – "how many times did Sieve Vagistat take a peek at you while you were in the shower?"
Funny enough, M$GN actually aired another humorous question instead – "if John Giannone and Sieve Vagistat were thrown off of a cliff, who would you save if you could only save one of them?" Lundqvist didn't answer this question in the way I would have, as #30 said he'd save Vagistat. I guess this makes sense, as Lundqvist wouldn't want to lose his favorite cheerleader, where Lundqvist then went to say that Vagistat is a big dancer. (Not shocked.)
In a serious question and response; Lundqvist said CZAR IGOR's record after losses is impressive and gives the Rangers an edge during the playoffs. Lundqvist was then quick to add, that collectively, as a team, the Rangers all play well after losses. Let's hope so on Wednesday night – as no one wants to limp into the playoffs.
---
As the pregame show started to wind down, Lundqvist talked about his support of the NYPD and the respect that he has for them. He's always been this way, as even during the start of his career, he'd wear NYPD hats in the Rangers' locker room.
Lundqvist then talked about what the Steven McDonald Extra Effort Award meant, but as he was really getting into it; Vagistat had to interrupt and say, "McDonald knew my name too." Classless. I wanted to hear from a guy who actually knew McDonald, and won this award twice, rather than listen to another Vally BS war story.
After some brief face time with Sam Rosen and Joe Micheletti; we then had the Steven McDonald Extra Effort Award presentation, where Kreider won the award for the first time.
And while this is an observation, and not a critique/indictment – it's a shame that the Rangers couldn't win on this night.
Similar to the night where Kreider scored his 50th; once again, because of a loss, the new "CK52" couldn't really celebrate his accomplishment, nor the McDonald win, as much as he'd like to. However, this is all stuff that he can reflect on during the summer, where I think he'll enjoy it more then, rather during the heat of the moment and following a loss.
(Kreider would later say all of this after the game.)
GAME REVIEW time.
---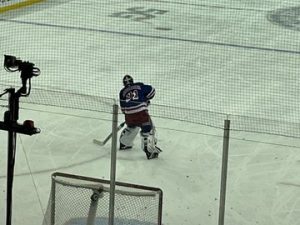 In game of two halves, a loss that's easily explainable; the two goalies were absolutely fantastic during the first period, where as usual – CZAR IGOR stood tall among all.
If there was anything alarming about the Rangers tonight, something that you can't blame the officials or injuries on; it was that once again, the Rangers were dreadful at the faceoff circle.
The Canes nearly doubled-up the Rangers at the dot tonight, by a final tally of 37-20. And while I don't have the stats in front of me; when it comes to zone faceoffs, it felt like Carolina won 95% of those too.
The Rangers top two centers, Zibanejad (7 of 19) and Strome (2 of 11), combined, only won nine of the thirty draws they took. Those numbers are putrid. And in a one goal game, despite everything else – these never-ending zone faceoff losses just bury the team. It also led to a goal allowed too – where that one goal was all the difference.
After Jordan Staal won the first faceoff of the game; the M$G crowd was extremely lively. The McDonald presentation gave them extra juice.
So did Tony DeAngelo – who was unmercifully booed out of the building tonight, where the boos were much louder tonight than they were two weeks ago.
I know I said this last game, and I know I've said this in the past too – just like Pavel Buchnevich, I'm over the Tony DeAngelo stuff. It is what it is – you can't cry over spilled milk. It's over. Plus – I'm happy with the Rangers team of today.
That said, I still don't know why the hatred for DeAngelo has reached to Potvin and Slewban levels. But if fans want to boo him to kingdom come, so be it. He's now plays for the enemy.
All I know is that DeAngelo has been very complimentary of both the Rangers and their fans since his dismissal; but whatever the case, fans at M$G (and on social media) don't want to hear it. And since he's no longer a Ranger, and also plays for a divisional opponent – go ahead, boo your hearts out. However, boo Brady Skjei too, as he was dirtier than DeAngelo on this night!
The Rangers had the upper-hand at the onset of this game, where goaltender Pyotr Kochetkov (PK for the rest of this blog, as his name gives my spell-checker an aneurysm), was forced to stop a Kreider shot at the one minute mark. PK would then stop both Miller and Goodrow too.
After a Filip Chytil turnover at the blue line; at the 3:44 mark, CZAR IGOR denied Teuvo Teravainen from a foot away, a save which kicked off the "IGOR, IGOR, IGOR" chants.
Following the save, Sam and Joe talked about the importance of Andrew Copp in this line-up (how prophetic) and about the ex-Rangers in the Carolina line-up, where they did bring up the boos that DeAngelo was receiving.
K'Andre Miller made a bunch of great defensive plays in this game, where on three separate occasions, he broke up a streaking Seth Jarvis. This first display of defensive wizardry took place with fourteen minutes remaining.
After PK stopped Kevin Rooney; with 13:12 to go, Niederreiter rang a puck so hard off of the post, that even Sam Rosen heard it.
A minute later, Frank Vatrano was boxed for tripping his fellow #77, Tony DeAngelo, while the Rangers #77 was behind PK's net.
This Rangers' penalty kill was the CZAR IGOR show, where he was credited with four saves, and where I thought the official scorers were tight – as I thought that #31 logged six saves during these two minutes.
Following a Copp-to-Goodrow missed connection on a two vs one odd-man rush; Igor went into Vezina mode, where he stopped two shots a piece from both Jarvis and Niederreiter, where he made four saves within a time-span of ten seconds.
Once the Rangers' kill was successful, CZAR IGOR stopped Brady Skjei for the first time, the first of four shots that the former Ranger sent towards the Rangers' netminder.
With 7:03 to go, we had a turning point of the game.
During this time, Artemi Panarin did his "Harlem Globetrotter" act, where he skated around untouched for about thirty seconds or so, as all the Canes could do was flail away. At the end of it, Panarin found Mika to the right of PK for a one-timer, but the Canes' goalie came up with a huge save. Had this puck went in, M$G would've exploded, as they were already going nuts after watching "The Breadman" razzle-and-dazzle.
With 4:18 remaining, we had our first bout of official ineptness, as the men in stripes falsely accused Ryan Reaves of a holding penalty on Brady Skjei. It was obvious, both during real-time and on replay, that it was Skjei who held "The Grim Reaver."
Not only was #75 and M$G irate (with the crowd also belting out chants of "ASSHOLE" at the officials); but Gallant was fuming too.
During this penalty kill, the Rangers PK1 and PK2 units did the heavy lifting – although Igor once again was credited with four saves. (Igor made eight shorthanded saves tonight.)
Following the kill, Brady Skjei blatantly hooked Mika with 1:42 remaining. This Rangers' man-advantage would be the first of three scoreless power-play attacks.
During this power-play, and before the first period expired; Brendan Smith hooked Ryan Strome – no call.
Between the bad calls and the no calls, this would ultimately lead to an ugly conclusion, as the officials lost control of the game and were way over their heads.
After twenty minutes, we remained scoreless. CZAR IGOR had 14 saves, while his Russian comrade had 11 stops.
---
It's a shame – I can't find a video of Kreider's intermission interview. However, if you can find one, it's well worth your time. This is where Kreider almost broke down, when talking about how much the McDonald award meant to him.
In his most poignant comment, Kreider, while trying to keep the water works at bay, said, "I can't be more grateful, especially to share this moment with the McDonald family."
Also during the intermission, Kreider's former teammate, Henrik Lundqvist, summed it up perfectly – "Kreider deserves it."
---
Come the second period, Zibanejad lost another draw to Staal. The Canes then killed off the final eighteen seconds of the Rangers' power-play.
Twenty seconds later, Staal hooked Trouba.
The Rangers' PP1 unit looked better here, with Kreider, Strome and Fox all having great chances; but to his credit, PK denied all comers.
With both teams now 0-2 on the power-play and now back to full-strength; with 16:33 to go, Necas tripped Goodrow. The Rangers were back on the power-play again.
PK would immediately make two saves on Kreider. Then, with 1:15 still remaining on the man-advantage, Trocheck tripped Fox, where even Sam Rosen could see this was a bad no call.
Right after the Canes killed off their third penalty of the game, where during it, Sebastion Aho won a 1 vs 3 puck battle, which then forced CZAR IGOR to make a stone cold save on Teravainen; with 12:55 to go, it was Trocheck, who should've been penalized earlier, who scored the game's first goal, as he buried a one-timer after a pass from Skjei.
This goal was "playoff vibe" score, which means it took just one mistake for a puck to wind up in the back of the Rangers' net.
While maybe the word "mistake" isn't the right word, as perhaps the phrase "unfortunate incident" is better suited; K'Andre Miller lost his stick, he couldn't defend, a forward didn't give up his stick, and boom – 1-0 bad guys, just like that.
With 11:44 to go, PK stopped Ryan Lindgren. It was around this time that Sam and Joe noticed that both Andrew Copp and Artemi Panarin had left the Rangers' bench for the locker room. Neither one of Strome's wingers would return, but as noted earlier, and as I'll have for you at the end of this write-up – both are fine and will be good to go for the playoffs. However, I wouldn't pencil them in for tomorrow, and even if they are 99.9999999% healthy on Friday – I wouldn't play them then either. BIG PICTURE!
Down two forwards for the remainder of the game, this is when Carolina pretty much took over, as they consecutively strung along multiple elongated attacks.
Within a time-span of just ninety seconds; CZAR IGOR added 5-6 saves to his totals.
Following Igor's magic, and with 8:44 remaining; the officials continued to make a mockery of the game, where they ignored two trips on Adam Fox. The officials were right there, but I guess their fantasy league opponents had #23 in their line-ups tonight.
With the second line decimated, the Rangers first line pressed the issue, but PK was able to come up with saves on Vatrano, Kreider and Mika.
After a Rangers icing, and with 6:12 to go; Jordan Martinook scored after a shot on goal from former Rangers alternate captain Derek Stepan. 2-0, bad guys.
Once again, the Rangers (Mika) lost a d-zone draw, and within seconds, the puck was behind Igor, on a shot that he had no chance on.
On the next Rangers possession, and with tensions rising; both Barclay Goodrow and Ian Cole went at it. This was a short scrap, as both wrestled each other down to the ice and popped right back up. Once getting back on their feet, the officials immediately broke the fight up.
While it is tough to deem a winner here; it was Cole who had the bloody lip following this fracas, while Goodrow's face was left without a mark.
As the two goalies continued to exchange saves, and as you thought this game's result had been decided; with 3:04 to go, we saw Kreider become "CK52":
KREIDER gets 52 off a one-handed feed from Vatrano pic.twitter.com/u1BuRew2b1

— x – Rangers on MSG (@RangersMSGN) April 27, 2022
---
This goal was first set-up by CZAR IGOR, who made something like a gazillion saves (I may be exaggerating) preceding it. Once Igor finished up, Vatrano won a battle at the boards, got the puck up to Kreider, and "CK52" went forehand-to-backhand, to put the Rangers on the board. 2-1, bad guys.
On the next Rangers' shift, a shift from the third line, they swarmed PK, but no score. Right after that, and following a turnover from Patrik Nemeth (I suspect Justin Braun plays tomorrow), Teravainen scored with 1:41 remaining.
This goal, a deflating goal, as you could hear the air being sucked out of M$G after it; pushed the scoreboard to 3-1, bad guys, as the Candy Cane was able to backhand one past CZAR IGOR.
In another display of how wretched and incompetent these officials were; with 4.8 seconds remaining, Skjei high-sticked and tackled Mika, and multiple times at that. No call. Adam Fox immediately rushed to defend his center and was met by Niederreiter, as the two took off-setting roughing penalties.
If that wasn't enough, once the period concluded, Tony DeAngelo allegedly slashed K'Andre Miller. M$GN didn't show us a replay of this (nor did they ever show us what ailed both Copp and Panarin), but Sam and Joe said it happened and you could see that #79 was upset during the aftermath.
If DeAngelo wasn't hated already, he was most certainly hated now; but I don't think he minds playing the role of a heel anyway.
At the end of two periods, we remained 3-1, bad guys, where if the Rangers weren't going to win this game, I think I can say the following and speak for many – I was just hoping that Ryan Reaves would go after DeAngelo.
After all, if the Rangers were going to lose, at least go out in fashion and give the fans something to cheer about!
---
Just 32 seconds into the final frame, Sebastian Asshole (nickname credit to "Roc" of "2 Guys, 1 Cup") scored. 4-1, bad guys.
Obviously, this goal was the dagger, and another dagger because of a Rangers' faceoff loss. (It's amazing how the ANALytical community says that faceoffs don't matter.)
From this point on, this game was a drag to watch.
The Rangers would miss the net, the Canes would get the puck and the Blueshirts had a tough time responding. In fact, the bulk of this period was boring, sans for the end.
To fast-forward here, as the first 12-13 minutes aren't much to write home about; with 6:48 remaining, K'Andre Miller tapped a puck towards his partner, Jacob Trouba, while #8 in blue was near the blue line. Trouba blasted a puck at PK and the vulcanized rubber caught Jesper Fast along the way, then went into the net. 4-2, bad guys, where even the Rangers weren't celebrating this "A-Rod" goal.
That said, what looked like an "A-Rod" goal would soon become bigger than that.
As the referees let anything and everything go, including Smith going at it with Lafreniere; with three minutes remaining, Gallant pulled Igor.
After Mika smashed a puck off of PK's mask, and as the Rangers went into pass, pass, pass mode too; with 1:11 remaining, Gallant used his timeout after PK made a clean save. Nine seconds later, and following a rare Rangers' zone faceoff win; Lafreniere put on the moves to bring the Rangers within one. 4-3, bad guys.
Now down by one, and with the possibility of stealing a point; the Rangers lost the faceoff at center ice, which in turn, burnt a costly thirty seconds off of the clock.
With 37 ticks remaining, the Rangers finally regained possession of the puck and pulled CZAR IGOR again.
After a puck went into the netting with 12.7 seconds to go; the Rangers grabbed a loose puck. Vatrano whiffed and Kreider had a shot blocked. 4-3, bad guys, held up as the final.
---
As far as my overall thoughts about the game – it is what it is. Sure, I would've loved first place, but that was always a cherry on top – and not the main course.
I think what shouldn't be lost, is that for a team that was without both Panarin and Copp, had to battle referees, went 0-3 on the power-play, and against the best team in the division – the Rangers only lost by one goal. They played right to the very end. That's all you can ask for, considering the circumstances.
Here's Gallant's post-game presser, where he said that both Copp and Panarin are fine:
---
Gallant said what you'd imagine – there was no reason to keep the dinged-up players in the game, even when the trainers said that both could go. Gallant said he'll need them for next week instead.
Gallant also admitted, that with the standings now what they are, he'll change his approach to these final two games of the season. Hello McKegg, hello Hajek, hello Brodzinski, and hello Gauthier.
However, I do think that he will give Kakko the final two games, as #24 needs to find his groove before the playoffs commence.
Somewhat as a surprise, Gallant also said that while he isn't disappointed with a second-place finish, he was really gunning for first. However, it's all over now, and it's all about next week, as the Rangers finish out the string at M$G.
PLUGS TIME!
---
Following tonight's game, "2 Guys, 1 Cup" returned with an all-new episode, where I'm being told it features two deep rants. I haven't listened to it yet, but I will after publishing this blog!
To listen, click the link below:
Episode 43: F Sebastian A$$hole

Roc 10 min rant ✅
Live Lafreniere Goal ✅

Lengthy discussion on whether or not these players feel pressure, and if so, where would it be coming from. #NYR #HockeyTwitter https://t.co/CSF4LXzNO0

— 2 Guys 1 Cup Podcast (@2G1CRangers) April 27, 2022
---
My first plug of tonight's blog – the mandatory plug for my book, "The New York Rangers Rink of Honor and the Rafters of Madison Square Garden".
As mentioned previously, the book is now available in hardcover, in paperback and in Kindle formats. To purchase a copy of the book, visit this link:
https://www.amazon.com/Rangers-Rafters-Madison-Square-Garden-ebook/dp/B09CM5N2WD
For those still looking for signed paperback versions of the book, I have re-ordered more copies. I now have a few signed copies for sale at $25 a pop (includes shipping price) through me directly. Here is all the information on that:
---
Here are my last few blogs, in case you missed them:
---
---
---
If you haven't already, subscribe to this blog for the next update:
---
Up next: the final Original Six game the Rangers will play this regular season, where they will host the Montreal Canadiens. Be prepared for a bunch of "OLD FRIEND MARTIN ST. LOUIS JOE" comments – where truthfully – I'm okay with that! MSL's run during the 2013-14 playoffs will never be forgotten.
As always here, thanks for reading and…
LET'S GO RANGERS!
Sean McCaffrey
BULLSMC@aol.com