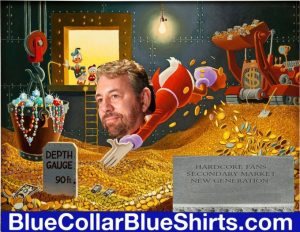 Greetings and salutations everyone and welcome to another blog here on BlueCollarBlueShirts.com. A quick blog today, as I just wanted to empty out the proverbial notebook, if not my mind too! I'll also get into the light news from today once doing so.
After posting last night's blog (which you can read here: https://bluecollarblueshirts.com/41922/); on Wednesday morning, I went back and watched the broadcast of the game. (Yes, I have no life.)
Whenever I attend a game, and providing that I have the time to do so – I try to watch the broadcast on my DVR when I get home. Sometimes, whether you're at the game or watching on television, you miss something. I like to get the best of both worlds when possible!
I was also more interested than usual to watch this game back, because according to some emails that I received, and the stuff that I saw on my social media timelines, there were issues with what was said – especially with the daily #CadillacTrivia question.
(And yes, I know that the #CadillacTrivia means nothing, but I try to cover everything on this site. And when there is an error on a topic that's right in my wheelhouse – then you have to know that I'm going to say something about it!)
Here was Tuesday night's #CadillacTrivia question:
As you may know by now, I do know a thing or two about Rangers history. In fact, I wrote a book about it, and I'm currently working on a second one as I type these words out to you.
I won't play my "Greatest Hits" here once again, because you can find all of that stuff in my book and on the archives of this site.
While I can't claim to have seen every game that Neil Colville and Bryan Hextall Sr. had ever played (I've only seen clips, and I've even seen exclusive home videos of the two, videos that were shared with me by the family of Colville's linemate, and Hextall's teammate too, Alex Shibicky), I do know that they didn't wear #20 – at least not at the height of their careers.
For those who don't know (and my book covers both Colville and Hextall in-depth, where I believe that Hextall's #12, and not #20, belongs in the rafters of Madison Square Garden), both Colville and Hextall played for the Rangers during their entire careers. The two were also prominent members of the 1940 Stanley Cup winning team as well – even if the Rangers ignore these two, and that era as a whole, today.
Throughout the prime of their careers, Neil Colville, who represented the Rangers as team captain once he returned to the club after World War II (1945-1948), wore #6. Hextall, who scored the overtime game winning goal during Game Six of the 1940 Stanley Cup Final against Toronto, the series-clincher, wore #12.
Granted, and as alluded to above, maybe these two wore #20 for a brief period of time. Maybe they wore #20 when they were first called-up. However, based on my research, I can't find anything that suggests that they ever did. And even if they had worn #20 for a short spurt, they were never known for that number.
It should also be mentioned here that you rarely saw high jersey numbers in the early days of the NHL, especially when all long-distance travel were done on trains.
(There were a few players who wore high numbered jerseys, including three players who played for the Montreal Canadiens during the mid-1930's, Joe Lamb, Desse Roche and Leo Bourgeault, who all wore #99. The more you know!)
Back in those days, your jersey number was your assigned sleeping bunk. The best sleeping quarters of these train cars were the lower bunks. The lower your number, the better your sleeping conditions. That's why nearly every goalie, until the advent of plane travel, wore #1. It's also why many veterans wore lower numbers, as usually only rookies were assigned higher jersey numbers.
It's also why I believe, had Colville and Hextall had ever worn the number 20, it had to be during the early days of their NHL careers. In fact, I can tell you that neither one of these players wore #20 during the peak and descent of their careers.
Either way, it's a misleading question, as neither player were ever associated with that number.
In addition, neither 1940 Stanley Cup champ will ever be remembered for the number twenty, as Luc Robitaille is today, and as is Chris Kreider will one day be remembered – especially when the Rangers one day put #20 in the rafters.
(Call me optimistic, but I think that Chris Kreider eventually wins a Stanley Cup with the Rangers. When that happens, and assuming that he finishes out his contract in New York – he should be a shoo-in for a jersey retirement ceremony. Plus, I think we have a better chance of seeing the newly minted "CK50" get this honor, rather than the Rangers righting their wrongs, and bestowing this honor on the 6-8 men who already deserve it. Of course, there's a book out there that talks all about this!)
---
Yes, I know – I went on too long about a silly trivia question. However, did you expect anything else?
Switching gears now, while staying on the topic of the broadcast – I didn't watch any of the pregame, intermission or post-game segments. I just couldn't ruin my Rangers' high by listening to Sieve Vagistat's nonsense.
However, I was amused by the beloved duo known as Sam Rosen and Joe Micheletti-head, two grown men who cackle like two old grannies playing bridge during every broadcast.
I just wanted to share these clips from the broadcast with you, stuff I would've mentioned last night had I not been at the game:
Watching the game back on DVR – CZAR IGOR makes the biggest save of the first period. In a response, M$GN immediately cuts to commercials. However, before doing so, Rosen belts out, "OH JOE, IT'S LIKE FINDING AN EASTER EGG JOE!" #nyr pic.twitter.com/Vjvc7kW3ET

— BlueCollarBlueShirts (@NYCTheMiC) April 20, 2022
---
"Second unit comes on, no they don't, score!" #nyr pic.twitter.com/OmXkzgCcvb

— BlueCollarBlueShirts (@NYCTheMiC) April 20, 2022
---
Well @CamConnorNHL is from Winnipeg lol #nyr pic.twitter.com/W5rOqXumbC

— BlueCollarBlueShirts (@NYCTheMiC) April 20, 2022
---
In clip one, CZAR IGOR had made his best save of the first period. Immediately, M$GN rushed to a commercial, while Sam Rosen was shrieking about Easter eggs.
At the time, and inside of the arena, the crowd was pumped-up and going nuts with "IGOR, IGOR, IGOR!" chants. Unfortunately, you didn't see that at home, as M$GN rushed to commercial.
I know this isn't on Sam and Joe, and that M$GN has to answer to their 786786679696 gambling sponsors – but a real moment was lost by quickly cutting to a break.
One the broadcast returned, M$G had quieted down. You lost true passionate energy, and all for what – JB Smoove?
---
In clip two, Sam Rosen, who remains as confused as ever, blurted out that the first Rangers' power-play unit changed for the second Rangers' power-play unit. Rosen then quickly realized that this didn't happen, and then blurted out "SCORE," as Ryan Strome scored his power-play goal.
"OH JOE, RYAN STROME WORKS HARD AT PRACTICE JOE!"
(I'm still waiting to hear who DOESN'T work at hard at practice.)
---
In clip three, Rosen made another mistake that he also quickly rebounded from, where he confused ex-Ranger and 1979 Stanley Cup Champion too (Cam Connor), for the Jets' Kyle Connor. At least that mistake was innocent, but I still got a laugh out of it anyway.
If there was anything that I didn't think was a laughing manner, it was listening to these two hyenas go on-and-on about the Rangers' shutout streak – especially whenever Winnipeg was in the Rangers' d-zone.
Someone needs to tell Sam and Joe about good "juju," "jinxes," and what being a "mush" is all about.
No joke – it felt like these two were begging for a Jets' goal.
I know hockey is different than baseball, but these two would be tarred-and-feathered if they were talking about a perfect game and/or a no-hitter during the top of a ninth inning – or at the very least, in the days of old, days where analytics and meaningless exit velocity stats didn't litter baseball broadcasts.
I can only imagine these two calling that Mike Mussina Yankees game from twenty or so years ago; where "The Moose" lost his no-hitter with two outs during the ninth inning. Yankee fans would've been going after the jugular of these two.
Okay, I think I've went on long enough about the broadcast. However, I just want to hit a few more news, notes and opinions before getting into Gerard Gallant's press conference from Wednesday.
---
Whether it was last night at the bar, at M$G, checking out social media, or just by talking with you guys – one of the biggest topics throughout the streets of Rangerstown, USA right now is the insane cost for playoff tickets.
Skyrocketing ticket prices is not a new topic. I think we all know this. However, there are some new developments in 2022.
Despite a ton of the white collar crowd no longer attending games at M$G; the Garden remains sold-out on most nights. It's why M$G has been louder than it's ever been when compared to recent years – non-pandemic seasons included.
Even with a bunch of the whales/stockbrokers/Wall Street types missing (most of them are working from home and don't have clients to take to games), the Rangers have had no problems with moving ducats.
While season-ticket sales are lower than ever before – single-game seat sales are on the rise.
There are two reasons why 2022 Stanley Cup Playoff tickets are priced higher than previous playoff tickets were. And it's not just because of inflation.
The first reason, the easy reason, is straight out of any "Economics 101" course – "supply and demand."
If people weren't paying these crazy prices, than the Rangers couldn't charge these prices. Simple as that.
However, M$G is selling out, so there is no reason for the Rangers to lower ticket costs.
Hell, they've already announced that they are raising ticket prices for next season, as they have wasted no time in trying to get as much money as possible from their dedicated and hardcore fans.
The second reason isn't as simple. In fact, a lot of market research went into the following:
Every entertainment entity, whether it be a hockey team, any of the other major teams across sports, the UFC, WWE, concerts, "Beavis and Butthead on Ice," you name it – all of these entities are competing with the secondary market.
What all of these leagues and businesses have learned is this – their already high ticket costs were priced too low.
What I'm about to say next is a generalization, but an easy example to grasp.
If the Rangers were charging $100 for a playoff ticket in the 200s, soon enough, that ticket would go for double, triple, quadruple, if not more than that, on the secondary market. While the Rangers would earn $100, the middle-man, which is basically an "online scalper," would earn more profit on the ticket than the Rangers themselves.
What the Rangers are doing, and what every live event business is doing, are jacking up ticket prices in an effort to weed out the Stubhub's, the Seat Geeks', the Vivid Seats', and companies like them, of the world.
Rather than the secondary market taking a huge chunk of the profits; the Rangers, and their peers, are trying to make sure they make every penny possible.
In a way, this stuff is all pandemic-related too, as all of these live entertainment/sports businesses lost a ton of money during it. They needed to find a new way to recoup their pandemic losses, and this strategy, which admittedly is a wise one, is part of it.
If you were James Dolan, or any other person that makes a living off of live events – wouldn't you want every dollar imaginable in your coffers, rather than having the secondary market hit your bottom line?
Mark my words, and I'm sure you know this already – ticket prices will only get higher-and-higher. However, we're seeing a faster growth in ticket costs than ever before, as these entities try to diminish the secondary market.
When you look at the Rangers specifically, the richest NHL franchise of the league, and a franchise that doesn't have to worry about empty arenas come playoff time – even if these games didn't sell-out, by jacking up ticket prices, they would make more money on a house with an 80% capacity, than they would with a 100% capacity sell-out with lower ticket prices.
Do you know who else is impacted by this? The sucker known as the season-ticket holder.
Unless you're a Dancin' Larry type, and can attend all 41 home games during the regular season, where then this wouldn't apply to you – it's going to be even tougher for you to resell the games you can't go to on the secondary market – even if you're not looking to make a profit and just trying to get back face value/what you paid.
Since these entities are jacking up their prices, in turn, the secondary market is raising fees on their sellers. And don't even get me started again on TicketMaster "convenience fees" either!
This all brings me back to a blog that I wrote when I first started this site eight years ago – where are the new generation fans supposed to come from?
Between these crazy ticket prices, and with games being better on television than they ever were – how are these leagues supposed to create a new generation of dedicated hardcore fans?
From my days in the wrestling business, I can tell you this – once a fan realizes that they don't miss something, where in this case, that something would be the "live experience," than it's easier to go on without it. And if these younger fans can't afford a ticket to begin with – then they'll never know what the live experience is.
Tough times.
How about talking about something more positive, like the Rangers themselves?
---
As talked about last night, and pretty much all season, including today – CZAR IGOR is your 2022 Vezina winner. It won't become official for a few more weeks, but he's a lock.
As far as the Hart Trophy goes, the league's MVP award, I think he's a finalist – but I don't think he wins it. While I'm not saying that he won't, especially since I'm rooting for it too – but I think three things hurt him for the Hart – three things not of his own doing.
Those three things are:
— The Canadian media votes on the award, which is why many now value the "Ted Lindsay Award" more, since the players vote on that one.
With the Canadian media voting on the Hart; it's tough to see them ignoring their favorite team, the Toronto Maple Leafs, and the season that Auston Matthews just had.
---
— The Rangers, who were most certainly carried by CZAR IGOR during the bulk of the first half of the season, have turned it on during the second half. Up-and-down the Rangers' line-up, you have many players having individual career-best seasons, including Kreider, Panarin, Zibanejad, Goodrow, Copp, Vatrano, Trouba, Fox, Miller and others.
While Igor is the MVP of the Rangers; the team around him has improved as the season has progressed. It's no longer a one man show as Igor once was.
---
— The anti-goalie bias.
While there have been other goaltenders to win the Hart; there are still some people who believe that the Hart is a trophy exclusively for a skater. When you combine this with everything else, and especially if Auston Matthews hits sixty goals (he's sitting on 58 right now), I think Igor gets screwed out of the trophy, where again, the Canadian media usually swings this award.
---
Speaking of awards, how about a few predictions for the Rangers' team-exclusive awards?
Previously on this site, I have talked in-depth about the Steven McDonald Extra Effort Award and the Frank Boucher Trophy. My opinions on those awards haven't changed – Chris Kreider and/or CZAR IGOR will win them, where I use the words "and/or" because we've seen co-winners in the past.
While there other candidates for these two awards, I just don't see how it's not Kreider and/or CZAR IGOR.
When it comes to the Team MVP award, I think that's another toss-up between CZAR IGOR and Chris Kreider, where I'd give the nod to CZAR IGOR.
The Players' Player award, won last year by Ryan Lindgren, and which was pretty much the Rangers way of annually honoring Jesper Fast during his time here; is another award where there are a bunch of different candidates. This is a toss-up to me, since the players vote on this one and I have no clue what these guys are thinking.
If I had to guess, I see either Barclay Goodrow or Jacob Trouba winning it. In either event, I see a veteran winning it, where Ryan Strome could be an option too.
The John Halligan Award, the award which recognizes a player for their cooperation with the media throughout the season, and as voted by the media; also has a bunch of different candidates in the running. In my eyes, no one has been a better interview than Ryan Reaves has been this season. However, this is another award that Jacob Trouba could win too.
A new award for the 2021-22 season is the "Rod Gilbert Award," an award given out to "who best honors Rod's legacy by exemplifying leadership qualities both on and off the ice, and making a significant humanitarian contribution to his community."
This award kind of goes hand-in-hand with the Steven McDonald award, although there is a more of a focus on charitable endeavors. I think Chris Kreider wins this award too – especially since most of his charitable work is never publicized.
Starting next week, some of these winners will be announced, with the Steven McDonald Extra Effort Award ceremony to take place on April 26th.
One last thing before getting into "Turk Talk."
---
Olympic gold medalist, Amanda Kessel, sister of Phil, is no longer an employee of the Rangers.
Originally hired by John Davidson on July 2nd, 2009, the female hockey star was the official team ambassador of the Junior Rangers Girls. This was a position created for Kessel, when the Rangers first became an official sponsor of girl youth hockey programs.
On Wednesday, April 20th, the Pittsburgh Penguins announced the following:
The Penguins have named Amanda Kessel as the first participant in the new Penguins' Executive Management Program.

Kessel: "I am excited to learn from one of the best franchises in professional sports."

Details: https://t.co/rj8YaRh3eH pic.twitter.com/lqhgYXs0Dm

— Pittsburgh Penguins (@penguins) April 20, 2022
---
Kessel, in a response, said the following:
"Let's Go Pens! I'm honored and grateful to be joining the Penguins and just in time for their incredible 16th consecutive playoff run."
Traitor!
In all seriousness, this is obviously a huge step-up for Amanda's career – where admittedly, her timing couldn't have been any worse – especially if the Rangers see the Penguins during the playoffs.
With her new gig, Kessel goes from playing around with young girls, to playing with the big boys of an NHL front office.
While I'd like to say that I wish her the best – screw that! I hope the Penguins get ousted in the first round, whether by the Rangers or someone else!
LGR!
Gallant time!
---
At high-noon on Wednesday, Gallant's Gang took practice at the M$G practice facility, where no news was good news!
Gallant skated the same lines and pairings as he did during Tuesday night's win over the Jets.
Here's Gallant after the practice:
---
Gallant opened up Wednesday's "Turk Talk" by saying that he wasn't sure if Kaapo Kakko was skating or not.
The head coach, who was in a good mood, laughed about the abundance of questions he was receiving, where a bunch of them were repetitive. Gallant said nothing has changed since the NHL Trade Deadline. Some guys will sit, some guys will play, but at the end of the day – it's a good thing to have 27 players ready to go.
Gallant also preached the importance of playing like a team, and not as individuals. He feels that the team has really bought into the message.
After praising his roster as a whole, Gallant also raved about Frank Vatrano and his "shoot-first" mentality. Gallant also said that he likes the roster that he has, stating that he has a good mix of veterans and young players, where every player knows their role on the team.
Gallant was asked about the rivalry with the Islanders, where the head coach said both teams will play hard. This was pretty much "coach-speak," and as we've heard all season. After all, no head coach wants to give an opponent, much less a rival, any bulletin board material.
And that was pretty much it, where my biggest takeaway was this – no injury news to talk about – a FABULOUS thing!
PLUGS TIME!
---
On Wednesday night, "The Blueshirt Underground Show" returned. To listen to the new episode, check out:
---
My first plug of tonight's blog – the mandatory plug for my book, "The New York Rangers Rink of Honor and the Rafters of Madison Square Garden".
As mentioned previously, the book is now available in hardcover, in paperback and in Kindle formats. To purchase a copy of the book, visit this link:
https://www.amazon.com/Rangers-Rafters-Madison-Square-Garden-ebook/dp/B09CM5N2WD
For those still looking for signed paperback versions of the book, I have re-ordered more copies. I now have a few signed copies for sale at $25 a pop (includes shipping price) through me directly. Here is all the information on that:
---
Here are my last few blogs, in case you missed them:
---
---
---
If you haven't already, subscribe to this blog for the next update:
---
Up next: the final meeting between the Rangers and the Belmont Bozos at the IBS Arena. The Rangers will look to avenge themselves in this contest.
As always here, thanks for reading and…
LET'S GO RANGERS!
Sean McCaffrey
BULLSMC@aol.com