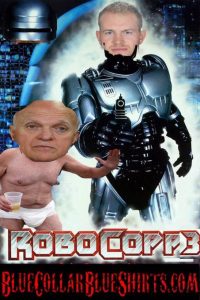 Greetings and salutations everyone and welcome to another blog here on BlueCollarBlueShirts.com. What a time to be alive!
On Thursday night, at the IBS Arena at Belmont, the two New York hockey teams played a game that resembled a contest between the two local NFL teams (at least on the scoreboard), the Giants and the Jets. Needless to say, the Rangers are much better than both football teams combined! Hell, the Rangers are also better than the Yankees, Mets, Nets, and Knicks combined too!
By the end of the game, and at approximately 10:20PM EST; the Rangers' touchdown had doubled-up the Islanders' field goal. Hell – Andrew Copp scored as many goals as the Islanders did as a team tonight!
There were many exciting (and historical) things that took place during this game:
Andrew Copp, as mentioned, scored a hat trick – and it only took him eighteen minutes to do so.
Artemi Panarin recorded four assists, as "The Breadman," just like many on this team, continues to flirt with franchise records, while setting career-best milestones.
The biggest single-season franchise record of them all, Jaromir Jagr's 54 goals from the 2005-06 season, still remains in danger of being broken.
Chris Kreider scored his 51st goal of the season tonight (a power-play goal of course, his 26th – another single-season franchise record), as the now newly minted "CK51" is just three goals away from tying Jagr's record. With the goal, Kreider surpassed Vic Hadfield's 50 goals from the 1971-72 season.
Outside of Jagr, only Adam Graves (52 goals during the 1993-94 season) has scored more goals than Kreider during a Rangers' regular season.
Goaltender Alexandar Georgiev, who once felt like he was on the brink of being traded, or even worse – being demoted to Hartford; picked up his seventh consecutive win.
Georgiev, who just OWNS the Islanders, and as a result of this victory, now has an 8-3 record against the Belmont Bozos. In those eleven games, Georgiev has compiled a 1.96 GAA and a save percentage of .935.
Ryan Strome, who has had the best seasons of his career while paying NYC taxes (and playing with Panarin doesn't hurt either); #16 picked up his 20th goal of the season – a career-high.
And how about the following FUN FACT, courtesy of @NYRStatsInfo?
17 of the Rangers' 25 active skaters have established or tied a career-high in either goals, assists or points this season. Nine have reached career-highs in more than one of those categories.
As I've been saying all season – not too shabby for a team that "DOESN'T KNOW WHAT THEY ARE DOING" and "NEEDS PAVEL BUCHNEVICH TO WIN!"
EYE TEST > ANALYTICS, ALWAYS!
---
Just like the last game review posted on this site, when CZAR IGOR and the Rangers shut out the Jets by a final score of 3-0 on Tuesday night; I attended Thursday night's game.
As I said on Tuesday, and as I'll say again – I didn't use Twitter as my "notebook" when writing this blog.
Outside of posting pictures – I don't check/use my phone during a game that I attend.
Normal "blog programming" should return on Saturday night – unless someone is driving me to Boston! Then again, I may go to a bar to watch Saturday's matinee between the two Original Six teams. We'll see.
Sometimes, I just need a break from the phone/live tweeting a game and enjoy all of it. However, and as you are reading – I can still hammer a blog out for you!
Everything I'm writing tonight (outside of looking up the stats that were posted above and some of the Ranger goals which are included below) is being written off of the top of my head.
In other words – this game recap/review won't be as detailed as usual – but I will provide you with unique content – content that you won't get anywhere else! Plus – no ads, spyware and/or pop-ups!
And just like Tuesday, I apologize in advance if everything comes off scatter-brained and all over the place. You can blame my excitement over this win for that!
I also apologize in advance for any "speling misteaks" or "gramaticel eras" too! But hey, these blogs are just for fun! This isn't the Wall Street Journal!
In addition – who else is writing a post-game manifesto like this when sober, never mind when enjoying copious amounts of Labatt Blue beer and Bulleit whisky? Not my friend Pat, that's who – a buddy of mine that also likes to enjoy a pop or two, or three, or ten, or twenty, and you get the rest!
At this time, let's try to get into everything imaginable, where I think the lede story after this game are the updated standings: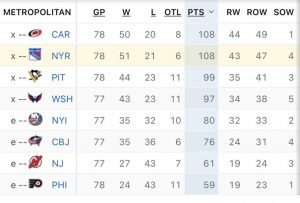 While the Rangers continue their neck-and-neck battle with the Canes for first-place in the division; one thing became a defined certainty on Thursday night – the Rangers will open up the first round of the 2022 Stanley Cup Playoffs on home ice.
With tonight's win, the Rangers sealed the deal, as neither the Penguins, nor the Capitals, can finish second-place in the division.
While we still don't know who the Rangers will play in the first round just yet (and we probably won't know for sure until every single Game 82 is completed by every Eastern Conference team); at the very least, the Rangers will have a home ice advantage during the first round.
Once again – not too shabby for both head coach Gerard Gallant, and team president/general manager Chris Drury too – two men who once were falsely accused of "NOT KNOWING WHAT THEY ARE DOING" by the ANALytical community.
---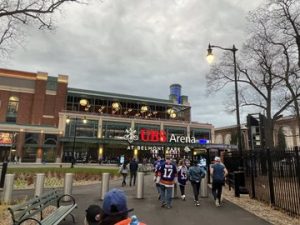 I don't want to go into a full rundown/review about the IBS Arena tonight. After all – I did all of that in November, when I saw the Rangers down the Islanders 4-1 on Thanksgiving Eve.
In case you missed my previous thoughts and opinions on the IBS Arena, which to me, is the best barn in the league, check out these blogs:
https://bluecollarblueshirts.com/113021/ – IBS Arena Review
https://bluecollarblueshirts.com/112421/ – Rangers vs Islanders 11/24 Review
https://bluecollarblueshirts.com/ibspics/ – IBS Photo Gallery
---
As far as anything new about the IBS Arena, I do have an update for you, as well as some "IBS Hacks" too.
As everyone and their mother knows – the parking situation at the IBS Arena is the biggest problem at Belmont. It's a nightmare trying to get in-and-out of the place.
Between the insane prices to park (as high as $50), the traffic, taking an hour to get out of the lot, and the fact that you can't make a left turn once at the light of the main lot (a left turn that brings you into Long Island, rather than the right turn that you're forced to take, a right turn that brings you into Queens); parking at IBS is a major turnoff for hockey fans.
Here's my secret and hack, one that will probably blow up after I write these words, and once others soon get wise.
Drive to the intersection of Plainfield Ave and Hempstead Turnpike. Once there, go down Plainfield Ave, where you will see a strip chain of stores. Behind those stores, and on the right-hand side of the street, there is a big parking lot, a lot that's rarely used. You can park there for free. You'll also burn some calories too, as it's about a 10-15 minute walk from that lot to the IBS Arena.
While the walk may turn you off (and perhaps the people who stop to piss out their pregame beers along the way will turn you off too, unless you want that free show); this parking hack is much better than the alternative.
Not only will you save some cash, but you won't have to deal with the madness neither, nor have to wait for buses that return you to the further parking lots. (It's also much faster to walk back to Plainfield Ave than dealing with the options that the Isles currently give you.)
I've parked in this free lot twice, and I have had no issues yet.
---
When it comes to inside of the arena, I have a major update to report back to you – the Islanders/IBS staff have installed ledges above the urinals in the bathrooms!
In other words, you don't have to try to balance a tall boy of beer under your chin while taking a leak. You can now use these ledges to place your tin can on, ledges that weren't there back in November.
(And yes, this is the Larry David in me – but it's also something extremely noticeable for anyone who enjoys a beer or ten at a game!)
---
I also took time out to explore the arena a bit more tonight than I did when I first went there in November.
The IBS Arena, which puts M$G to shame, has multiple outdoor areas for people who enjoy smoking substances – whether it be nicotine or cannabis related. (And for you vapers out there, you can do that too.)
Personally, I'm not into the "Cheech and Chong" shit, but I have no problems with the people who do partake. I don't judge!
I bring this up, because at these locations, the IBS Arena also have DJ's there – something that was great tonight for Islander fans during the intermissions, two intermissions where the "home" fan ("home" in quotes here, because there were more Ranger fans in-attendance than Islander fans), as it allowed these bums to get their mind off of what they just saw on the ice – a RANGERS SMACKDOWN!
That said, if you venture to these locations, be prepared to get a contact high, as these places reek like a "joint" (pun intended) Bob Marley meets Snoop Dogg family reunion.
During one intermission, I had to walk away from the second rotunda "fresh air" location, only because the weed smell was so powerful. Combine that with the OONZ OONZ OONZ music blaring – I felt like a late 1970s Ron Duguay at Studio 54.
To wrap-up on the IBS Arena – it's an amazing place to catch a hockey game.
It's just a shame that a shitty hockey team plays there – but it is a stupendous second home for the Rangers – much like "The Pebble" in Newark!
---
Let's now get into this game itself. However, before doing so, just a few quick pregame notes.
I covered everything from Wednesday's practice yesterday. Check out the PLUGS section below for that blog.
Prior to puck drop, head coach Gerard Gallant met with the media for a short chat. Not much came out of it, outside of the fact that Alexandar Georgiev was getting the nod in net – and as somewhat expected.
If there was anything worth noting, Gallant said that he hopes that Kaapo Kakko will return sometime next week – which is something he's already said twice before.
When it comes to the line-up, everything stayed the same, except that Justin Braun was rotated back on the third defensive pair, with Braden Schneider by his side.
As of right now (and things change all the time), it looks like the third right side of the defense is Schneider's to lose; while both Patrik Nemeth and Justin Braun battle for the third left side of the Rangers' defense.
---
Here's what "The Turk" went with for this "Bryan McCabe Tribute" game:
FIRST LINE: Kreider/Zibanejad/Vatrano
SECOND LINE: Panarin/Strome/Copp
THIRD LINE: Lafreniere/Chytil/Goodrow
FOURTH LINE: Hunt/Rooney/Reaves
Defensively, we had this:
FIRST D-PAIR: Lindgren/Fox
SECOND D-PAIR: Miller/Trouba
THIRD D-PAIR: Braun/Schneider
And in net, Alexandar Georgiev
---
BOX SCORE time.
The following information and graphics come from the new world-wide leader in NHL coverage, ESPN.com:
SCORING:
PENALTIES:
TEAM STATS:
GOALIES:
| | | | | | | | | | | |
| --- | --- | --- | --- | --- | --- | --- | --- | --- | --- | --- |
| SA | GA | SV | SV% | ESSV | PPSV | SHSV | SOSA | SOS | TOI | PIM |
| 23 | 6 | 17 | .739 | 16 | 0 | 1 | 0 | 0 | 59:33 | 0 |
| | | | | | | | | | | |
| --- | --- | --- | --- | --- | --- | --- | --- | --- | --- | --- |
| SA | GA | SV | SV% | ESSV | PPSV | SHSV | SOSA | SOS | TOI | PIM |
| 29 | 3 | 26 | .897 | 24 | 0 | 2 | 0 | 0 | 60:00 | 0 |
---
Since I attended the game, I didn't see the M$GN pregame show. What a treat! However, just like Tuesday's game, I'll watch this game back on my DVR – and enjoy every minute of it!
While the M$GN pregame show was going on, I was enjoying a few beers at the "HEINEKEN BAR" located near section 106. If you don't mind standing, and want a great center ice view – you can go to that bar and watch the game from there.
My pals, Eddie Junior, and father "Whistles" Senior, along with yours truly; were debating about hanging out there for the game, but since we had good seats (ten rows away from where the Islanders shoot twice), we parked our asses there.
We had a good time, and I have to add this too – despite the Islanders being long eliminated from the playoffs, there was a lot of testiness in the crowd tonight – much more than I saw back in November.
I was kind of surprised about this, because after all – the Isles were still mathematically alive for a playoff spot in November. On this date, the Isles are just playing for pride. I don't get why fans, and from both sides, would even waste their time and run the risk of wearing metal bracelets.
I heard that there was one brawl in the upper-deck tonight. I also heard there was another brawl on the opposite end of the arena from where I was sitting. Then I heard about a ton of ejections too!
Eight rows below me, there was another brawl about to break out, and with about two minutes to go in regulation. However, security got there in time before anything stupid could happen.
To me, and as I always say – these players don't fight over my job or your job. I'm not going to fight over theirs.
Maybe I'll reconsider my position on this if Jacob Trouba ever kicks the shit out of Matt Martin with the intent of defending my good honor!
GAME REVIEW time, or at least a live version of one!
---
From start-to-finish – the Rangers kicked the Islanders' asses all night.
The Rangers, coming off of back-to-back losses to these bozos at M$G, one which is under dispute (Wahlstrom's illegal elbow on Ryan Lindgren which wasn't called, an elbow that then led to the Isles' game winning goal), and the other being the 3-0 "horseshit" game (that's what Gallant called it); came out firing.
While of course, this wasn't a "MUST WIN" game or anything like that; this was a game that Gallant and his gang wanted.
I don't think that the Rangers need "morale victories" anymore, but if there was ever an end-of-the-season "morale win," it most certainly was this one. The Rangers got the Islander monkey off of their back.
And if you throw the rivalry out of the equation (tough to do, I know), the Rangers, and as they've just previously done to Philadelphia, Detroit and Winnipeg – they did what they were supposed to do – they beat the brains out of a bad hockey team.
Yeah, the Rangers' current winning streak is now at four games, where bad opposition has been part of it too – but what else do you want to see? I'll take these wins any day of the week, twice on Sunday too – or Thursday in this case!
And before you start in with the "they only beat bad teams" stuff, stuff which has only started as of late; the Rangers hold a winning record against six of the seven other Eastern Conference playoff teams. Beat Carolina on April 26th, the Rangers will then have tied that season-series too, at two games a piece.
---
FIRST PERIOD
As I write these words, it's now 12AM Friday, and I'm still as giddy as kid in a candy store – or like Lou Lamoriello with an over-the-hill team!
The Rangers, who came out hot to start, also needed Georgiev to come up with a few big saves early. While I thought that Georgiev looked a little shaky when making these saves, he did his job and that's all that matters.
After Georgiev did his thing, at the 3:43 mark, this happened:
BREAD WITH A BEAUTY OF A FEED! pic.twitter.com/Agz4vX6VtU

— x – Rangers on MSG (@RangersMSGN) April 21, 2022
---
1-0, GOOD GUYS, as Andrew Copp scored his first of three goals in the period, following a FABULOUS back-handed pass from Artemi Panarin.
This early goal, and as you'd imagine, increased the already frenetic electricity level inside of IBS.
Maybe it's because I'm getting older (I turn forty years old in June), but I love this stuff – as long as it's all in good fun. While the fights in the stands didn't break out yet – you just knew you were going to see a few tonight.
(While I enjoy fighting on the ice, I don't like to see moronic fans go at it – especially with little kids in the building. Again, this is all about me being older and having young nieces. I wouldn't want them subjected to that stuff, and then have to worry about their safety because of some drunk idiot fighting over clothing.)
Speaking of drunk idiots, following Copp's goal, and during the first TV timeout; the Islanders did their t-shirt toss act.
I know I've written about this 7896786789678978968967896789678967896 times on this site in the past – but I still don't understand why grown adults turn into "Price is Right" contestants over a $2 t-shirt that falls apart after its first wash – especially a t-shirt that won't fit them.
In exhibit #78967866796796976 of such stupidity; during the first t-shirt toss of the game, there was this guy a few rows down from me, who had to be 400 pounds (an Islander fan, in case you're wondering), who was trying to catch one of these t-shirts – a t-shirt that he wouldn't even get his bulbous head through the neckhole of.
As this guy was trying to catch this $2 t-shirt, he spilled his $20 beer all over his $200 Islander jersey.
As Alanis Morissette once sang, "isn't that ironic – don't you think?"
Once returning back to live action on the ice, just four minutes later, this happened:
DEJA VU

Panarin ➡️ Copp connection is 👌 pic.twitter.com/1HT0saAYQU

— x – Rangers on MSG (@RangersMSGN) April 21, 2022
---
2-0, GOOD GUYS, as Panarin made a cross-ice pass to an awaiting Andrew Copp, a #18 standing on the red line for the sweet-angle goal!
And this goes without saying – Panarin, who was a Hart Finalist two years ago, is heating up at the right time. Another game like this, he'll hit the century mark in points scored this season.
Once Copp had his pair, I tweeted out the following (during a commercial break, of course):
It's NYPD night at Belmont, Copp gonna get a hat trick #nyr

— BlueCollarBlueShirts (@NYCTheMiC) April 21, 2022
---
With the third period about to reach its conclusion; this happened with 1:47 remaining:
A NATURAL HATTY FOR COPP IN THE FIRST!!! pic.twitter.com/l73IWKzYoT

— x – Rangers on MSG (@RangersMSGN) April 22, 2022
---
3-0, GOOD GUYS, COPP'S FIRST HAT TRICK AS A RANGER!
On this goal, this time it was Ryan Strome setting up Copp.
After a give-and-go play; Copp finished off Seymon Varlamov, a Varlamov who easily had the worst game of his career where the Rangers were his opponent.
And yep, Panarin also picked up an assist here – a secondary assist for his third candy apple against these Islander candy asses!
A few things about Copp's natural hat trick, a hat trick that was scored within the first 18:13 of regulation:
— According to @NYRSTATSINFO, the Rangers' official Twitter stat account; Andrew Copp is the first Rangers skater to record a natural hat trick in the first period since Don Raleigh on Feb. 25, 1948.
— It is also the third time in team history a player has scored a hat trick in the first period (Kelly Kisio – Dec. 26, 1986, Don Raleigh – Feb. 25, 1948) and the 29th time a Ranger has scored three-plus goals in any period. Mika Zibanejad was the last to do so (Mar. 17, 2021 – 2nd).
— In the arena, this is when the four letter words really started to fly between the two warring fan bases. In addition, some Islander mook DEMANDED that I throw my hat on the ice. My response? "This hat cost me $40 on Fanatics!"
(I will say, if I was at M$G when this hat trick occurred – then I would've tossed my hat. In that event, I could've just bought a new hat during intermission, rather than looking like Curly from "The Three Stooges" for the rest of the game!)
— And yep, for a Ranger team that has had their issues with the Islanders in recent years – this was like hitting the lotto. After all, I just saw a CZAR IGOR shutout 48 hours prior. Not even twenty minutes into this game – I saw a Rangers' hat trick!
After twenty minutes of fast action (there weren't many icings, pucks going into the netting or offside calls, nor were there any penalties neither), we remained at 3-0, GOOD GUYS!
---
SECOND PERIOD
I haven't mentioned the following yet – my daily "Five Dolla Holla" bets of a shutout and a 4-0 final.
Thirty-seven seconds into the middle frame, my successful shutout bet streak was snapped, as Brock Nelson put the Islanders on the board. 3-1, good guys.
Nelson's shot from the slot also snapped the Rangers' shutout streak of 200:43 – a streak that's most impressive during this era.
As someone who is "glass half-full," my initial reaction after the goal was this – "at least the Rangers won't let up and try to coast up 3-0."
They didn't.
In net, Georgiev continued to play strong. In front of him was a team in white jerseys who won nearly every puck battle imaginable and continued to test Varlamov, a goaltender who admittedly was able to settle down a bit – at least for the time being.
While of course, Copp's hat trick is the story of this game; the Rangers, now looking to return their two-goal lead back to a three-goal lead, received a break at the 16:54 mark, when Kyle Palmieri was boxed for interference.
A few things here too:
Prior to this penalty, the first of the game, I thought that the Rangers got away with two penalties during the first period.
I'll have to watch the game back to remember what they were, but I remember some Islander having a breakaway early, where that scumbag was hacked-and-whacked on his way to the net – no call. Maybe that was a make-up call after these officials ignored the elbow on Lindgren from the 3/17/22 game. (Of note: Lindgren drew this penalty.)
On this specific penalty, I thought this was a soft call – but again, I'll have to watch the replay of it to give you a better opinion. (The Isles scoreboard doesn't show anything negative from their perspective, so we didn't see penalties, nor the Ranger goals neither.)
What I did see, was the following, and just 21 seconds into the Rangers' power-play:
51 for KREIDER from his office! pic.twitter.com/AyWuD0n2Dy

— x – Rangers on MSG (@RangersMSGN) April 22, 2022
---
4-1, GOOD GUYS, after Kreider's 51st goal of the season. Up next on the leader-board is Adam Graves and his 52!
On this goal, and as we've seen many times this season; the 2021 Norris Trophy winner, Adam Fox, tossed a puck on net and there was Chris Kreider, once again, who buried the rubber following #23's attempt.
Rout on.
With tensions rising, not only in the stands, but on the ice as well; at the 17:57 mark, we had a huge scrum in front of Varlamov's net.
I was sitting on the other end of the ice when this took place, but from my vantage point, Alexis Lafreniere got right into everyone's faces. After that, Trouba and Wahlstrom went at it. However, rather than a full-blown fight, instead, the officials broke up Trouba and Wahlstrom and each received two-minute off-setting roughing penalties.
As you were you just smiling about the 4-1 lead (while thinking about your second intermission piss too), the Rangers weren't done.
With just 53 seconds to go, Strome buried a puck from the slot. 5-1, GOOD GUYS!
While I doubted that the Islanders would ever mount a comeback in this game – this Strome dagger pretty much killed that notion off.
As the final horn went off of the middle frame, we remained at 5-1, GOOD GUYS.
It was also during this intermission where I heard many loud "WE WANT THE CUP" chants too.
---
THIRD PERIOD
As mentioned at the top of this; just forty minutes into the game, I had already witnessed both Rangers' history and individual milestones. I also witnessed another obligatory Ryan Strome penalty during the third period, when #16 was sent off at the 1:45 mark after hooking Barzal.
Just like Chris Kreider's power-play goal, the Islanders only needed 21 seconds to score with the man-advantage, as Brock Nelson picked up his second goal of the game. 5-2, good guys.
The Rangers, who never looked phased in this game, shook off the goal and continued to press the issue.
After witnessing so much greatness, it was #75 himself, "THE GRIM REAVER," who put the cherry on top:
Laffy ➡️ Reavo pic.twitter.com/nQaTOv8pRk

— x – Rangers on MSG (@RangersMSGN) April 22, 2022
---
6-2, GOOD GUYS, and at the 12:53 mark of the period, as Lafreniere set-up the man who he looks up to (just watch those "SHESTY RELEASE US" videos – something I've talked about on this site 867867867867968796 times before) for Reaves' first non-TNT goal of the season, and his fourth overall of this 2021-22 campaign.
However, while this goal didn't air on TNT, don't get it twisted – this goal was DYN-A-MITE!
29 seconds later, Josh Bailey responded. 6-3, good guys.
As we all awaited the clock to run down to make this win official; this is when you saw the physicality in the stands.
Here was one incident by me, one that was broken up before the fists could fly:
LGR #nyr pic.twitter.com/Xy9Jp1aOmZ

— BlueCollarBlueShirts (@NYCTheMiC) April 22, 2022
---
Unfortunately, due to a self-afflicted medical condition known as "FAT THUMBS" (my horrible photoshop cut-outs are living proof of this); I hit the red stop recording button by accident. (I was trying to zoom in.)
Following security booting this Rangers' fan from the arena; the fan walked up the steps, flipped everyone off like a late 1990s Stone Cold Steve Austin, and for good measure, belted out the "POTVIN SUCKS" whistle all the way up to the rotunda. I got a kick out of this!
As the horn went off, 6-3, GOOD GUYS, held up as the final score.
---
As I've said on this site 9876786789678968967896 times in the past – whether you watch the game on television or inside of the arena – you are bound to miss something.
What I missed live, only to find out later on, was that Andrew Copp left the game with about five or so minutes remaining.
At the time, and with the Rangers blowing out the Isles; I wasn't really paying that much attention to line changes. I was too busy slamming the rest of my beer, exchanging high-fives with my buds, and watching people in the stands go after each other, as if this was "THE PURGE: RANGERS VS ISLANDERS!"
Following the game, head coach Gerard Gallant said that Andrew Copp was fine. However, following Turk's quick post-game chat, the Rangers announced that Copp had received a lower-body injury – an injury that Gallant wasn't aware of because he didn't talk to the trainers/Jim Ramsey immediately after the game.
Again – I have to watch the broadcast to further inspect this, but based on what you guys have messaged me – it looked like Copp's ankle was bothering him.
Currently, the Rangers are scheduled to practice on Friday morning, prior to traveling to Boston for Saturday's game with the Bruins.
Should the practice go off (the Rangers have previously canceled practices this season), that's where we'll get more information regarding Copp's ailment.
Since I didn't see the injury, I can't really speculate on it. However, if Copp is only 99% come 3PM Saturday – I wouldn't play him. It's all about the playoffs right now, and that's where you need the team to be as healthy as possible.
It's such a shame – as this was Copp's night. Had he not been injured, he would've had a post-game interview and would've been featured with "The Broadway Hat" too.
It also feels like a sick new trend, where after every big win, there seems to be some sort of injury.
Let's just hope this is nothing serious, as Copp, just like Frankie Vatrano, are arguably not only the Rangers' best trade deadline acquisitions – but the best trade deadline acquisitions in all of the league too. No player who traded jerseys a few weeks back have been hotter than this duo.
---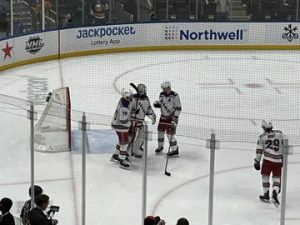 While it's late and perhaps way past my bed-time too –  this was fun to write. It was even funner being there!
And a big shout to Ed Junior, who allowed me and his dad to take the "silver bullets," while he put the beer and booze on hold and drove all of us!
Life hack – it's always a good thing to have a friend who doesn't mind being a designated driver! And that's my PSA for this blog too!
A great win tonight, where now, it's all about hoping that Copp's injury isn't that serious.
LGR!
PLUGS TIME!
---
On Thursday, Ron Duguay, joined by Tom Laidlaw and Linda Cohn, returned with an all new episode of "Up in the Blue Seats." To check out the show, click the link below:
Up In The Blue Seats Podcast: Are Rangers Built for Stanley Cup Run? feat. Linda Cohn, Tom Laidlaw @RonDuguay10 @lindacohn @TLaids @AndrewHarts @NYRangers @nypostsports https://t.co/ly9KWWGQOr via @acast

— Jake Brown (@JakeBrownRadio) April 21, 2022
---
My first plug of tonight's blog – the mandatory plug for my book, "The New York Rangers Rink of Honor and the Rafters of Madison Square Garden".
As mentioned previously, the book is now available in hardcover, in paperback and in Kindle formats. To purchase a copy of the book, visit this link:
https://www.amazon.com/Rangers-Rafters-Madison-Square-Garden-ebook/dp/B09CM5N2WD
For those still looking for signed paperback versions of the book, I have re-ordered more copies. I now have a few signed copies for sale at $25 a pop (includes shipping price) through me directly. Here is all the information on that:
---
Here are my last few blogs, in case you missed them: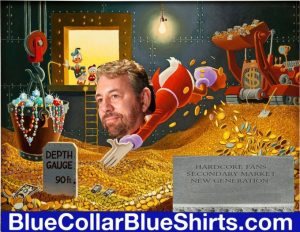 ---
---
---
If you haven't already, subscribe to this blog for the next update:
---
Up next: the final road game of the year, an Original Six match-up between the Rangers and Bruins. This game could also be a first round preview, based on how these two teams finish in the standings.
Of note – the game, which has a puck drop of 3PM, will air on ABC.
As always here, thanks for reading and…
LET'S GO RANGERS!
Sean McCaffrey
BULLSMC@aol.com