What's up everyone and welcome to another blog here on BlueCollarBlueShirts.com. I know I'm sounding like a broken record, but time is of the essence here. I plan on not going long, but know I will go longer than I wanted to anyway!
As you may have heard (or may be watching, as you read this or maybe it's even over by the time you read this), the Yankees and the Astros, will play a Game 7, to decide who is going to play the Dodgers in the World Series. In other words, I got a short window to get this blog done and get ready to go out to watch the game. As I write these words to you, the Rangers game just ended at 3PM and I got five hours to get my ass in gear for this Yankees game!
The Rangers defeated the Nashville Predators, 4-2, on Saturday afternoon at M$G. A Saturday afternoon game is usually a hot ticket, but as you'll see below, this game was anything but. In fact, ESPN.com is reporting that the Rangers did not sell out tonight, thus snapping their sold out attendance record. While the team's bad play is part of people staying away from M$G, the Yankees playing last night & today doesn't help matters.
That said, (there's one) to me, the number 1 reason the Garden failed to sell out today, was because they've raised ticket prices so much, and with this tier pricing, people/fans have just had it. I really hope this trend continues, as Ranger fans tell James Dolan to fuck off, by watching the games at home, rather than giving Dolan $100+ (and that's for crappy seats) per game.
I talked a little about the ticketing and attendance in my last blog. Speaking of my last blog, what a perfect segueway to the PLUG section of this blog! Here are my last few blogs, in case you missed them:
---
---
---
---
---
I did a check-list, in my last blog, of all the bad things the Rangers did/were doing all season. Today, in their 4-2 victory over the Predators, the Rangers nearly bucked every bad trend. Just look at what the Rangers did and didn't do in this game, compared to nearly every game this season:
The Rangers did not give up the first goal of game.
The Rangers did not give up a goal at the beginning of the game.
The Rangers did not give up any last minute goals.
For the first time all year, the Rangers did not give up a 6 vs 5 goal in the final minute.
The penalty kill was perfect, going 5-5.
Henrik Lundqvist protected a lead all game.
Chris Kreider scored.
The powerplay scored.
Kevin Hayes wasn't lazy.
They played hard all game.
They showed up when the puck was dropped, rather than waiting for the third period.
The Rangers did so many positive things in this game, that it was kind of easy to overlook that they only took 15 shots all game. I'm not saying the Rangers are world beaters here, far from it, but for one game at least, you have to acknowledge they broke a lot of bad habits in this game.
Of course though – Rick Nash could not score on any of his high percentage opportunities. I mean, we can't have it all, right?
It's also worth mentioning that the bedrock of the Nashville Predators, goalie Pekka Rinne, did not play. In his place was back-up goalie Juuse Saros. That's why I found it kind of silly when the Rangers were celebrating after the game like they won the Stanley Cup. Yes, this was a win that helps put a band-aid on all the losing, but you beat a team with their back-up goalie, at home. Settle down. Act like you've been there before.
I mean, Lundqvist is jumping up and down and making it seem like this was a game in June. Leave that stuff for the goalies who actually win games in June.
For the first time all season, I didn't see any #FIREAV hashtags during a game. Then again, with a 12:30PM start, it seemed that many fans skipped out on this game.
I don't want to be negative after a loss, but when you read the immediate reaction about this being the win that changes everything around, Lundqvist is back (How many times does he come and go anyway?), the Rangers are Cup contenders, yadda yadda yadda, you have to remember that the Rangers are still 2-5-2. Here's a reality check:
| | |
| --- | --- |
| | Devils |

| | |
| --- | --- |
| | Penguins |

| | |
| --- | --- |
| | Blue Jackets |

| | |
| --- | --- |
| | Flyers |

| | |
| --- | --- |
| | Capitals |

| | |
| --- | --- |
| | Hurricanes |

| | |
| --- | --- |
| | Islanders |

| | |
| --- | --- |
| | Rangers |
As you can see, the Rangers have played the most games in the Metropolitan division, with 7 of them at home. They have two wins to show for it. If you think the season is tough now, what's going to happen when the schedule balances out and the Rangers are on the road for long clips?
I'm not trying to be a complete Debbie Downer here, I'm just trying to keep this all in perspective. Yes, I'm happy the Rangers won, but this doesn't change a thing. After all, they weren't going to only win one game all season. I still feel strongly about a rebuild. I still want Lettieri, Nieves, Pionk and Chytil here, and I'll pack the bags of Carey, Holden, Desharnais & Cracknell myself. I still want the want the Rangers to get rid of Lundswiss and try to exhaust every option available in trying to get CZAR IGOR SHESTYORKIN here ASAP.
Just like you can't overreact over one loss, you can't overreact to one win. Now, if the Rangers could keep this up all season, then we can talk. However, I don't think this is the time to start beating your chest.
ESPN box score time:
1st Period Summary

Time
Team
Scoring Detail
NSH
NYR
14:58

Jesper Fast (1)
Assist: Kevin Hayes
0
1
19:34

Chris Kreider (1) (Power Play)
Assists: David Desharnais, J.T. Miller
0
2
Time
Team
Penalty Detail
1:46

David Desharnais: 2 Minutes for Holding Kevin Fiala
5:19

Cody McLeod: 2 Minutes for Roughing Brendan Smith
5:19

Brendan Smith: 2 Minutes for Roughing Cody McLeod
5:53

Jesper Fast: 2 Minutes for Interference of Juuse Saros
8:51

Craig Smith: 2 Minutes for Tripping David Desharnais
15:43

Jesper Fast: 2 Minutes for Slashing Austin Watson
18:02

Roman Josi: 2 Minutes for High-sticking Pavel Buchnevich

2nd Period Summary

Time
Team
Scoring Detail
NSH
NYR
1:44

Mattias Ekholm (1)
Assist: Filip Forsberg
1
2
12:46

Kevin Hayes (3)
Assists: Jimmy Vesey, Brady Skjei
1
3
15:30

Filip Forsberg (6)
Assists: Roman Josi, Ryan Johansen
2
3
Time
Team
Penalty Detail
3:46

Chris Kreider: 2 Minutes for Holding Mattias Ekholm
5:59

Mattias Ekholm: 2 Minutes for Slashing Chris Kreider
9:53

Viktor Arvidsson: 2 Minutes for Holding Jesper Fast

3rd Period Summary

Time
Team
Scoring Detail
NSH
NYR
19:21

Jimmy Vesey (1) (Empty Net)
Assist: Brendan Smith
2
4
Time
Team
Penalty Detail
2:53

Frederick Gaudreau: 2 Minutes for Holding Brendan Smith
11:14

Brendan Smith: 2 Minutes for Delaying the game
Goaltending Summary
Nashville Predators Goaltending

Player
SA
GA
Saves
SV%
TOI
PIM
J. Saros
14
3
11
.786
58:55
0

New York Rangers Goaltending

Player
SA
GA
Saves
SV%
TOI
PIM
H. Lundqvist
25
2
23
.920
60:00
0
With Sam Rosen in the same place where a man, who committed two murders, kneels during the American National Anthem, in the good old UK, John Giannone called the game. I assume Kenny Albert was out doing some football game too. Oh and the murderer I'm alluding to is Ray Lewis. Not going political here, but I find it funny how Ray Lewis feels like he's been victimized by America & feels the desire to kneel during the anthem.
Oh and speaking of the National Anthem, I don't know the name of the little girl they had singing the National Anthem at the Rangers game today, but man, she FUCKING KILLED IT. She nailed it like a ball off the bat of Aaron Judge or like a slap shot whizzing through Lundqvist's five-hole. Man, does that girl have some pipes. The Rangers should have her in to sing more often. After all, they won today, why not keep a good thing going! Seriously, when that girl finished singing the anthem, I felt like Hacksaw Jim Duggan! USA! USA! USA!
Anyhoo, Giannone was paired up with Joe "I just bought a Henrik Lundqvist anus fleshlight" Micheletti. Micheletti was completely intolerable today. It's amazing he got any words out at all in this game, since his mouth was full of Lundqvist DNA. I guarantee you that Micheletti owns a "HAIR DOLL" of Lundqvist, just like that creepy kid, played by Jason Schwartzman, in the movie "Slackers." (Great 2002 flick by the way.)
Since I am trying to get this blog up quick and already 2000 words in, the last thing I'll say about the MSG networks today, is that I was extremely disappointed that we didn't get a Valliquette/Trautwig awkward fist bump during the broadcast!
While the crowd was largely lifeless, quiet and empty tonight, the Rangers were not. The game was actually chippy, with the Predators receiving three power plays to the Rangers two power plays. The teams also were charged with an off-setting penalty, when Brendan Smith & Cody McLeod played patty-cake. Oh – and this is just all in the first period. So much for your five on five advanced stats. Stick those stats up your bunghole!
This first period, despite the undisciplined penalties and only 9 shots, may have been the best period the Rangers played all season. Most impressive to me, was the penalty kill, who seemed to be out there every other whistle. The penalty kill, which went 5-5 overall, held up their end of their bargain.
To me, it's amazing how Micheletti won't talk about the players on the PK or on the defense making plays, but he will savagely jerk himself to a calloused state, when talking about a pedestrian Lundqvist save. When I think about it, I think Micheletti makes me dislike Lundqvist even more, because he's just so over-the-top in professing his man-love for him. Being a homer is one thing, but when your broadcast booth is slippier, from all the ejaculation & slobber, than the ice you're watching, it's too much.
The Rangers played extremely well in the first period. Lundqvist made saves. The team moved the puck. The team played defense. After a ton of penalties and of course, near Rick Nash goals, Jesper Fast opened up the scoring. Hayes, who would finish 1-3 on his breakaways, missed his first breakaway of the game. However, Fast was trailing and was able to beat the edgy back up goalie, a one Mr. Saros. 1-0 good guys, with five minutes remaining in the first.
Off the top of my head, I believe this is the first time the Rangers scored first, since the game against Montreal, which was game 3 of the season.
I can't lie. I was waiting for Hank to give the goal back the entire time. It would never happen. He did his job all game, except for the one soft goal he would later give up. Thankfully, that didn't come back to bite the Rangers in the ass.
With under 30 seconds left, the Rangers would extend their lead to two, when Chris Kreider, home alone like Macaulay Culkin, was the beneficiary of a perfect pass from David Desharnais. Kreider, was all alone and  was on the doorstep of Saros, like an annoying Jehovah's Witness with plenty of literature. Kreider got his first tally of the season.
Oh and while I did mention I would get rid of Desharnais and rebuild this team, I must give credit where credit is due. Ever since AV bumped up Desharnais to the second line, I believe he's averaging a point plus a game. Yes, it's only 9 games, but the $1M Desharnais has more points than the $7.8M Rick Nash. Not to say that Nash isn't playing well, but we all know that he's paid to score.
After the best period of Rangers hockey all season, at least in my opinion, Rangers 2, bad guys 0.
Lundqvist celebrates Vesey ENG pic.twitter.com/ZfToA1nnnI

— steph (@myregularface) October 21, 2017
Don't get me wrong, Lundqvist played good today, but when you have a celebration like that, after beating a back-up goalie at home, it does seem over-the-top. The Yankees will deserve to celebrate like that tonight!
It was going to be tough to match the first period the Rangers had in this game. In the second period, the Rangers got off to a good start, firing off some shots at Saros. However, the Rangers momentarily slipped back to their bad habits, as the Predators scored within two minutes of the second period.
After taking a pass from Forsberg, Mattias Ekholm buried one, glove side, of Henrik Lundqvist. Joe Micheletti blamed everything and anyone, as he would also do on the second goal allowed in the game, except for the highest paid goalie in hockey. Seriously, Micheletti was blaming the sun, alien invasions, Kim Jong Un, pogs, pet rocks, OJ Simpson, Bernie Madoff, Flo from those commercials, George Jetson, Stimpy of "Ren and Stimpy", The cast of "Will & Grace", Jessie from "Saved by the Bell", The Iron Sheik, measles and whatever else came to him. You'll never hear Micheletti say, "Lundqvist was easily beat and did not track the puck well."
What also occurred right before the goal was Lundqvist losing his stick again. Lundqvist seemed to recoup his stick before the Ekholm shot, but he was temporarily distracted after losing his stick. Seriously, he has to lead the league in dropping his stick. Get him some gorilla glue or whatever they use on the gloves of wide receivers.
As a result of the Ekholm goal, 2-1 good guys.
The Rangers would eventually get their two goal lead back, when Kevin Hayes played like he had a cock that would make Sean Avery write about it. Skjei fidgeted with the puck on the boards behind Lundqvist. The puck got moved to Jimmy Vesey. Vesey found Hayes streaking. Hayes would absolutely muscle and blow by a Nashville defender and buried Saros top shelf. This may have been one of the best goals the Rangers have scored all season.
When you hear people get on Kevin Hayes, it's because of plays like this. When Hayes has a game like this, it's what we, as fans, expect to see all the time. This was a stud goal. This was an All-Star goal. This was a game changer. Hayes was dominant all game. Oh and for the FIREAV people, how about the Hayes/Vesey/Fast line? Once again, they were arguably the best line on the ice all game.
3-1 good guys.
However, the scoring wasn't done yet. Three minutes after the Hayes goal, the Predators struck within one again. This time, Roman Josi shot the puck (and I assume Filip Forsberg touched it somehow, because he got credit for the goal) and Lundqvist bobbled the puck in his glove, like Gary Sanchez trying to catch Tim Wakefield.  Lundqvist should've got the assist on this goal.
It really all goes back to what I've always said. Lundqvist will have these great games, but there's a moment like this in the game, where you just go "what the fuck?" As a result of this marshmallow goal, the score was now 3-2. Luckily, the Rangers PK was able to go 5-5. This could've been a difference maker. For one day, it wasn't. However, we've seen this far too often.
And don't get me wrong – Lundqvist played well today. However, when you're paid the most in the league, want credit after every win & none of the blame after every loss, bury your teammates in the media, want to make money on being a "King" without a crown with your own clothing apparel, etc, you can't just have these soft goals, especially in these tight one goal games, against back-up goalies.
I gotta give my buddy @MAGAHATTAN credit for this joke – Chris Kreider really enjoys talking to the former pony-tail guy in the Rangers penalty box. It seems Kreider is taking a penalty every game this season. At least he got on the scoreboard for a positive thing today, with his goal in the first.
With the Rangers up 3-2, to start the third period, I didn't know what to expect. This is such a Jekyll and Hyde team. Fortunately, the Rangers were able to protect the lead and win the game. I didn't expect Lundqvist to hold on, but he did, and he played his best hockey in the third. Offensively, the Rangers did not do a good job, as they only got three shots off (they should be peppering a back-up goalie) and Nashville dominated the puck.
There were three huge moments for Lundqvist and the Rangers in the third period. There was a stretch of time where the Rangers could not clear or advance the puck at all and had to sustain a multiple shot attack. Then, Brendan Smith was called for a bullshit penalty, a delay of game call, for knocking the net off its moorings. However, as replay showed, Smith was pushed into the net. Terrible call from the referees, and if Nashville would've been able to score on this fifth and final powerplay, thus tying the score, it would've been a real kick to the gonads.
The final hairy situation was at the end of the game, where Nashville pulled Saros for the extra skater. While the Predators did attack for 80 seconds or so, Jimmy Vesey would get a long empty netter goal, thus sealing the game at 4-2. This was huge, because, off the top of my head, this was the first time this season, that the Rangers were able to prevent a 6 vs 5 goal in the closing minutes of a game. I know this was their first empty netter goal of the season. When Vesey scored, that is when Lundqvist celebrated, in the same fashion that he did when the Rangers knocked off Montreal, in the playoffs, last season.
For one day at least, RANGERSTOWN can take a breath of relief. While I wouldn't go nuts about this win, 2-5-2 is better than 1-6-2, I suppose.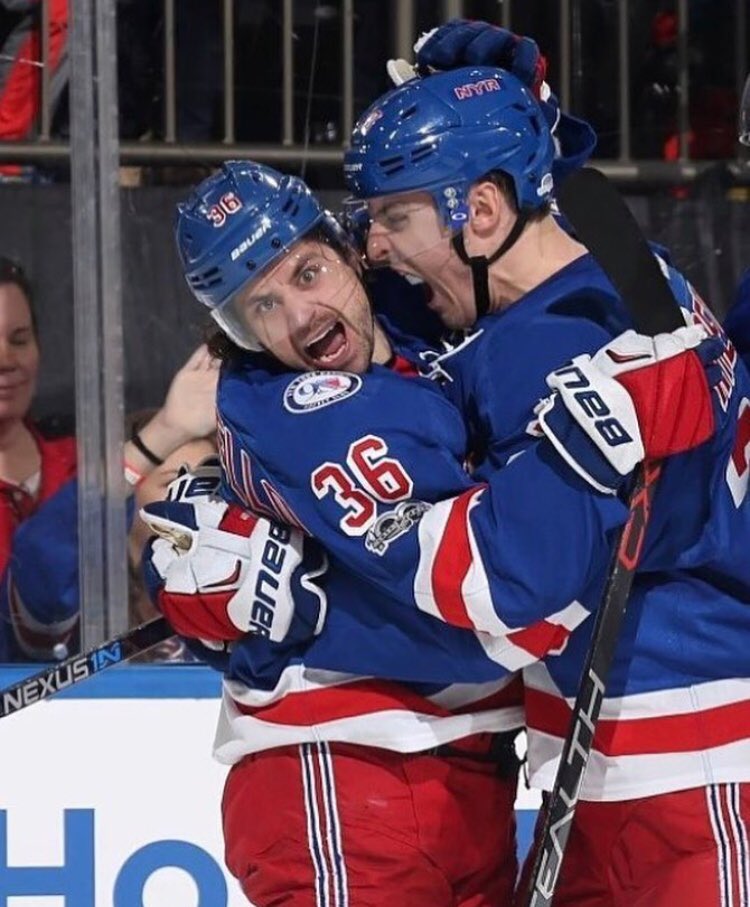 Sorry for breezing through this game, but again, Yankees Game 7.
Just wanted to hit one other thing before going home. Check out the ticket prices for this game today:
Since it's been an on-going theme on this blog all season, I just wanted to point out how the most hardcore fans, the ones who save up their money for season seats, are getting Effed in the A again. This was another game where they spent more money on their seats, than anyone else in their section.
Winning will raise ticket prices on the secondary market. Sure, the Yankees hurt this game too. However, I truly believe that the number 1 factor is the tier pricing. The Rangers have pushed their fans too much. This will be a story I'll be tracking all season.
That said (one more time) there are more home games now than at the end of the season. So if you're a season ticket holder, if the Rangers do catch fire, and you can't make the game, you will have less chances to get some of your money back on your tickets.
The most telling stat of today, was this one, from ESPN.com:
"Attendance: 17,181 (95.4% full)"
For the first time in a long time, the Rangers didn't sell out. M$G didn't even buy up tickets to keep the sell out streak alive. A Saturday day game is supposed to be a hot ticket. Instead, the Rangers couldn't even sell out when tickets were being sold for $55 at face.
Where am I going with all this space dedicated to ticket pricing? I'm hoping that the Rangers, at the very least, ditch the tier pricing system. Lowering ticket prices across the board seems like a pipe dream.
There would be more talk of panic and rebuild if the Rangers lost another game to a team with a back-up goalie playing. Instead, some of the bad stuff the Rangers did today (weak offensively in the third period, 1-5 on the PP, etc) will be glossed over, as many Lundqvist fans talk about how great he is. Other fans will talk about this great team win. This will always happen, after a win, just like how everything is magnified after a loss.
The Rangers have a lot of ground to make up in the toughest division in hockey. They get their next opportunity on Monday night, as they try to prevent a Sharknado and try to drive a stake into the heart of Jaws. (Wow, I really forced those jokes here.)  Rangers/Sharks, this Monday.
What has been a brutal schedule, could ease up a bit here. With this win over Nashville, the Rangers do get a struggling Sharks team on Monday. They then host the worst team in the league in Arizona, before heading out to play the Canadiens, who have been absolutely awful. Could we see 8 straight points? With this team, you never know. After all, games are won on the ice and not on paper!
Again, sorry for the brevity of this blog (although I'm sure it's longer than anything else out there, haha!) but Yankees baseball beckons me.
LET'S GO RANGERS
LET'S GO YANKEES
See ya Monday.
Sean McCaffrey
BULLSMC@aol.com
@NYCTHEMIC on twitter