What's up everyone and welcome to another blog here on BlueCollarBlueShirts.com. Tonight, on Thursday night, the Rangers dropped a 4-3 shootout loss, to their number 1 rivals, the New York Islanders. As usual, Islander goalie, Jaroslav Halak, defeated Henrik Lundwiss. Even more stinging, the game was decided on a skills competition and Halak possessed the better skills tonight. For Lundswiss, whenever he sees Halak, it must feel like someone lodged a fishstick right up his five hole!
As stated in previous blogs, I have a 4:30AM alarm clock Monday-Friday. I know I'll wind up going long, but the goal is to go shorter than usual. As a result of trying to get this blog finished, I didn't watch any of the MSG post game show, nor have read the post game comments.
Before getting to the game, here are my last few blogs, in case you missed them:
---
---
---
---
---
---
I truly feel like I could copy my last few blogs, change the names of the opposing team, and call it a night. Everything we've seen all season, continued in the Rangers 4-3 shootout loss to the Islanders. Here's your check list:
Shaky goaltending? Check.
Questionable coaching? Check.
Questionable lines and D-pairs? Check.
Can't convert on odd-man rushes? Check.
Can't convert on breakaways? Check.
Dead crowd? Check.
No physicality? Check.
Crappy special teams? Check.
Not starting to play serious until the third period? Check.
Another wasted evening? Check.
Steve Valiquette and Al Trautwig fist-bumping each other as the lone highlight of the first 40 minutes? Check.
I'm not going to keep repeating myself in-depth anymore, but when you talk about tonight's loss, you're given the material, you're given. I've been saying it all along – REBUILD. Get the young kids up here, get them the experience and hope for the best next season.
Yes, it's early, blah blah blah, but really, in what world do you see this team winning a Stanley Cup? Only the people who live in the "HENRIK LUNDQVIST IS THE BEST GOALIE EVER OMG!" world, like Joe Micheletti, would think this team could win a Cup. That's not even factoring the whole, four cups in 90+ years thing either.
This game was furious and frustrating. It's the same shit game-after-game. I know many folks want Alain Vigneault canned, especially after a loss to the Islanders & with the team now sporting a 1-5-2 record, (Four points, last place in the toughest division in hockey.) but what would that really do?
The majority of the fanbase wants Ruff, because that's the easy pick. What has Ruff won again? Some want Daryl Sutter. Some want Dan Blysma. Some want Mark Messier.  Some people have even mentioned Steve Valiquette! If I had my choice, I would talk to Donald Trump, give him my money, and have him buy out Mike Keenan and goalie CZAR IGOR SHESTYORKIN, both of the KHL, from his good friend Vladimir Putin! Make The New York Rangers Great Again!
However, while a coaching change sounds nice, and may temporarily stop the bleeding, it's a band-aid move at best. The roster still isn't good enough to compete for the Cup. The salary cap issues are still brutal. The starting goalie is shell of his former self. The defense is shakier than Michael J. Fox after 10 beers on a roller coaster. The offense is like the "40 Year Old Virgin", they can't score. The last time the powerplay was consistent, we were in the Prohibition era. The team gives up early goals. They give up late goals. They have a knack of giving up goals at the worst opportune times in the game.
The whole rebuilding while trying to win thing, just isn't going to work. The 2017 New York Yankees are the exception to the rule, and not the rule itself. The Yankees counterpart in the ALCS, the Houston Astros, had a five year rebuilding plan. Even if Houston loses this series, (They better) they have a great core and will compete for years to come. The same thing would work here for the Rangers. Just like a run-down house, you gotta bulldoze it and rebuild something better. Piling up coats of paint and duct tape won't make this team a contender.
If you read these blogs, I hate being lied to or when the MSG Networks tries to sell you bullshit. It's kinda why I have gotten on their bullshit attendance claims. They are claiming a sell-out every game, despite the building sporting a lot of fans dressed up as empty chairs. Sure, I get it – the seats have been purchased, but it's tacky to tout sell-out records, when you can blatantly see all the empty seats.
As previously mentioned, when a team, who has a sell-out record going, can no longer sell-out seats to the general public, the team themselves will buy the seats. They are padding their own stats. If MSG wants to spend $90,000 to ensure their sell-out record, then why not? That's their right.
The people getting Effed in the A are the season ticket holders. As this team continues to struggle and lose games, no one is going to pay crazy prices on the secondary market. They aren't even buying face value seats anymore.
I said this before the season – the Rangers have went too far. They raised prices again and introduced tier pricing, meaning if you go to a rival game or a Saturday night game, expect to pay nearly double, than say a game against Vancouver on a Tuesday night. Just from the people I know, die hard fans mind you and the stuff I read on twitter, it's just not worth it.
I told you at the beginning of the season, I was cutting down on my home games and saving my money for road trips. It's a better experience. Having a $200-$300 night at MSG, on the regular, then to only stand in long bathroom lines and having beer stands shut down, it's not worth it. It's easier to stay home and piss & drink myself stupid.
I understand the concept of supply and demand, but for the first time in a while, you're seeing the demand dip. Losing will only exacerbate the demand dip. Season ticket holders, who the Rangers have squeezed until they get the last drop of loose change, are the victims here. There's no perks to being a season ticket holder at all. It's not fun knowing you spent the most amount of money to see a game in your section.
Of course, a winning season makes things easier, but even before this brutal start, the Rangers have gotten nuts with their pricing. They are pricing out their hardcores and really, unless you can write these tickets off as a tax write-off, it's just not worth it. It's much easier to Stubhub snipe.
With my rant on the ticketing over, let's get to the game. As always, the box score comes from ESPN.com:
1st Period Summary

Time
Team
Scoring Detail
NYI
NYR
2:40

Anders Lee (3) (Power Play)
Assists: Jordan Eberle, Ryan Pulock
1
0
5:02

David Desharnais (2)
Assists: Kevin Shattenkirk, Marc Staal
1
1
6:06

Brock Nelson (4)
Assist: Andrew Ladd
2
1
Time
Team
Penalty Detail
1:30

Chris Kreider: 2 Minutes for Hooking Calvin de Haan
12:39

Jimmy Vesey: 2 Minutes for Interference of Jordan Eberle

2nd Period Summary

Time
Team
Scoring Detail
NYI
NYR
1:15

Mathew Barzal (1)
Assists: Josh Bailey, Calvin de Haan
3
1
Time
Team
Penalty Detail
13:06

Andrew Ladd: 2 Minutes for Slashing Anthony DeAngelo

3rd Period Summary

Time
Team
Scoring Detail
NYI
NYR
3:29

Mats Zuccarello (2)
Assist: Brendan Smith
3
2
14:06

Kevin Hayes (2)
Assists: Jesper Fast, Ryan McDonagh
3
3
Time
Team
Penalty Detail
No penalties this period

OT Summary

Time
Team
Scoring Detail
NYI
NYR
No scoring this period
3
3
Time
Team
Penalty Detail
3:41

2 Minute Bench Penalty for Too Many Men on the Ice Thomas Hickey (Served by Chris Kreider)

Shootout Summary

Team
Detail
NYI
NYR

Shootout GOAL scored by Mats Zuccarello on Jaroslav Halak
0
1

Shootout GOAL scored by Jordan Eberle on Henrik Lundqvist
1
1

Shootout attempt by Mika Zibanejad saved by Jaroslav Halak
1
1

Shootout GOAL scored by John Tavares on Henrik Lundqvist
2
1

Shootout attempt by David Desharnais saved by Jaroslav Halak
2
1
Goaltending Summary
New York Islanders Goaltending

Player
SA
GA
Saves
SV%
TOI
PIM
J. Halak
41
3
38
.927
65:00
0

New York Rangers Goaltending

Player
SA
GA
Saves
SV%
TOI
PIM
H. Lundqvist
38
3
35
.921
64:53
0
Not going to lie – going into this game, I didn't expect the Rangers to win. Both teams are desperate, but knowing that Halak always plays his best against Lundswiss, I was riding on that trend.
Aside from the game against Montreal, every game this season has seen the opposing goalie be a shade better than Lundswiss. That trend continued tonight. With the amount of odd-man rushes & breakaways the Rangers had tonight, you could argue that King Halak was the best player on the ice. If it wasn't for that third period goal allowed to Hayes, I think it would be a no-brainer that Halak would've been first star of the game.
And I know – people will talk about the great saves Lundqvist made at the end of the third period, while conveniently ignoring the two soft goals he gave up earlier in the game. They will also forget the "Give me two goals and I got this". He got three and as usual, lost again. Overpaid and overrated folks.
As stated above, I hate when MSG just lies to you. The best is the way they started off this game, showing us highlights of games of Rangers vs Islanders past. All the clips included fighting and brawling. Like you were gonna see any of that in this game. It's just a different era in the NHL, in these times, compared to eras of years ago. Plus, the Rangers of today couldn't hurt a fly. Who's their tough guy? Brendan Smith? Maybe? Vesey has gotten a little edge, as he's gotten comfortable in the league, but Tanner Glass would knock him out, while placing his hand on Zucc's head, so Zucc couldn't get any reach on him.
MSG isn't the only guilty party here. NBC Sports does this all the time. Anytime they have a rivalry game, especially whenever the Flyers are involved, they'll show the Broad Street Bullies and other fighting clips. For a league that wants to get away from fighting, they sure have no problem promoting games by using clips of fighting.
Oh and another thing while I'm ranting and obviously not going to get any sleep tonight – enough of these MSG testimonials. THESE ARE HORRID. Seriously, I want to puke when I see:
"MY WIFE'S FAMILY IS FROM NEW ROCHELLE. THAT'S WHY I LIKE SHATTENKIRK!"
"SHATTENKIRK WILL HELP THIS BLUE LINE AND WILL LEAD THE DEFENSE."
"I WENT TO THE WINTER GAME. IT WAS COLD OUT AND I BUNDLED UP AND HAD A HOT COCOA TO WARM UP MY VAGINA."
While I don't know if I accurately quoted these people, you get the gist. Seriously, enough. Can these spots.
I will say, I do love the MSG Networks crew, I just don't like their lies and stupid commercials. It was funny, Al Trautwig was talking about JT Miller and how he was going to become a father in April. Luckily for JT Miller, he won't have to worry about missing his child's birth, because this team won't be playing hockey then. It just got me thinking, I wonder how many kids Al Trautwig has with random "ladies of the night." You know that creep is up to something whenever he's not fist-bumping Valiquette.
The announcers hyped up this rivalry, but as talked about last blog – do any of them really care? I would say only Shattenkirk, because he lived it. The players? They are already making millions and are all friendly with each other. Previous generations? They would never be laughing or chatting with the Islanders, or any other rival. If you read or hear any ex-Ranger from the 70's, 80's (especially the 80's) or the 90's talk, they fucking hated the Islanders. You don't have that same heat today.
Worth mentioning – Sam Rosen was presumably on his way to London, to call a game where idiots stand for the British flag, but kneel for the American flag. These motherfuckers need a history lesson. Kenny Albert called his first game on TV this season. Unfortunately, Joe Micheletti, who hangs on like an unwipeable dingleberry, was still here. GIVE ME MALONEY!
Worth mentioning part 2: the only time Halak's record against Lundqvist was talked about, was when the game was over. Instead of talking about "Thursday night stats" and other meaningless bullshit, you would think that the head-to-head record of the starting goalies would be a good talking point. Do the MSG announcers fear for their jobs so much, that weren't allowed to talk about it?
Quick recap – Rangers showed up at 9:00PM and were beasts in the third period. For the first forty minutes, they were skating while posing for their team photo.
In the first period, as usual, Lundswiss was his terrible self. While he didn't give up a goal in the the first minute, (WHAT A STEP IN THE RIGHT DIRECTION) he would give up the first Islanders powerplay goal of the season, with not even three minutes expired in the game. Anders Lee got the goal here. It was a PPG, but it was the first Islanders PPG all year. The second it was announced that the Islanders haven't scored a PPG all season, I just knew Lundswiss would oblige.
Sure, while you can't get on the goalie too much on a PPG, and it was a messy goal, did anyone really have faith in Lundqvist & the Rangers to prevent a PPG, once that stat was announced? Don't lie, you knew it was coming too.  Anyway, 1-0 bad guys.
Oh and the reason for the penalty? The goalless Chris Kreider took another dumb penalty. If you're looking to point fingers for this terrible season, Kreider needs to be talked about too. Somewhere, Torts is saying, "I told you so."
At the five minute mark of the game, David Desharnais scored, after deflecting a blast from Kevin Shattenkirk. As I've been saying, Shatty comes as advertised. He shoots and creates offense. His defense is a liability, but you knew that going in. Give Double D credit too, he's one of the top scorers on the team. I would still can him in a heartbeat for a rebuild, but he's playing well. That's all you can ask. 1-1.
Just like how I knew a PPG would be scored, I knew Lundswiss would give up a soft one immediately. In fact, all you gotta do is check my twitter timeline. Every prediction I made all game came true. I've been conditioned to accept failure from the Rangers and Lundswiss this season.
Not even a minute after Desharnais tied the game at 1, Brock Nelson embarrassed Lundswiss, putting the bad guys up 2-1. Lundswiss was completely out of position.
Oh, and since I dog him all the time, let me give Micheletti credit – he did say this goal was on Hank. I had to check to see if pigs were flying outside. However, after saying that, Micheletti went right back into his Lundqvist Defense 101 program, like the little MSG robot that he is.
Even worse – this crowd is still doing the stupid "POTVIN SUCKS" chant. How about starting an "EEEEEEEE-GORRRRRRR" chant, for CZAR IGOR SHESTYORKIN, every time Hank gives up a goal? Sure, you'll get hoarse in the throat, but maybe the Rangers will take notice.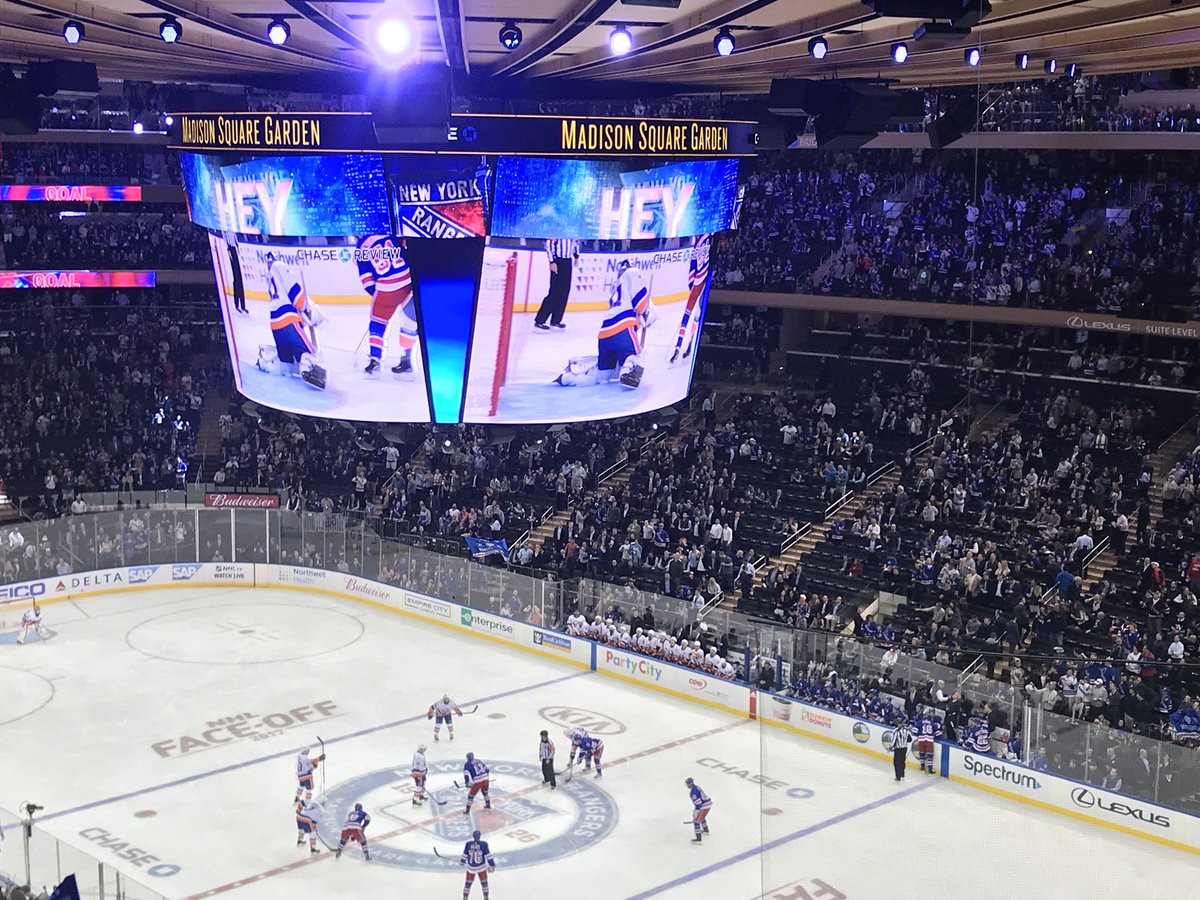 Couple of things occurred in the first period and would continue throughout the whole game. Henrik Lundswiss would hug the post like a military wife seeing her husband come back from War. Thank you Crosby. Maybe Hank will learn this time.
The other story, and perhaps the biggest story of the game, is Rick "Horse Shoes & Hand Grenades" Nash. Holy shit, this motherfucker couldn't hit water from a boat. Nash had 5 great shots on net tonight (it felt like 500 though) and every time, he loused it up. Yes, Halak was great, but man, Nash is one of the highest paid skaters in hockey, and he can not finish.
Seriously, maybe the Rangers can hire Ron Jeremy, or another male porn star, to help Rick Nash with his "finishing." I haven't seen anything like this in some time.
Nash got breakaways and odd-man rushes all night. Every time, all you heard was the thud of the puck in Halak's pads or landing into the glove of Halak.
While his numbers aren't there, Nash has been one of the better Rangers all season. Right place, right time. Skating well. Playing defense. Creating chances. However, Rick Nash is like an Apple IOS update, you get to 99% and you're waiting all fucking day for that last 1% to finish. While your phone eventually gets to 100%, Rick Nash is blue balling the blue shirts.
For the rest of the first period, Halak made a ton of great saves. He had one that trickled by him, a shot from Vesey, and he was able to catch it before it went past the goal line. A similar play would occur in the shootout. He also stoned the commie at his door step.
The Islanders were all up in the Rangers "square space" in the first period. Even with some near "brown in your shorts" moments for Halak, he was able to fend off several Ranger opportunities. 2-1 after twenty.
When Ranger fans on twitter were saying the Rangers had to come out strong for the second period, I said Lundswiss would give up a soft goal to start the period. My prophecy would be fulfilled.
75 seconds into the second period, Matt Barzal beat Lundswiss. Another soft goal allowed, his second soft goal of the game. Just think, if Hank makes one of these easy saves, there's no OT. However, that isn't Hank's game anymore. 3-1 bad guys.
When that Barzal shot went in, you could feel the life being sucked out of the building. The whole arena sounded like everyone was told that their dog died. Shit, I'd be sobbing too if I paid to watch this.
One thing from last year, and really the previous few seasons. When the Rangers are at their best, it's when Zuccarello is dominating the puck. This season, he hasn't had much work with the puck. In the limited time he did tonight, good things happened, such as a goal later in the game. (Not for nothing, I also called this on twitter too.)
I know sometimes I romanticize ex-Rangers, but this team really does miss a Tanner Glass. This second period was a slow dry hump to nowhere. You need someone like a Tanner Glass to pick a fight with someone and energize the fans & the team. He's done it before with the Islanders. The Rangers are too pretty and manicured right now.
As you know, I got two tvs in my house. Around this time, I put on the Knicks/Thunder game, which says a lot because I'm not a big NBA guy. I just don't like how only two teams have a chance to win every year. I just wanted to see some of the Melo Bowl. Anyway, Melo had the ball and Rick Nash was driving to the net on a breakaway during the same exact time. I watched Melo instead, and heard Kenny Albert talk about Halak's save. In other words, I just accept that Nash won't score.
Bad teams find ways to lose, and Rick Nash's failure to execute, despite his strong play, is just another example. When Nash hit a post in the third period, all I could do was desperately laugh.
After two periods, 3-1 Isles.
Damn, it's almost midnight, I gotta stop dilly-dallying.
The third period was night and day from the first two periods. While the teams finished with 13 shots on goal each, it was the Rangers that set the tone. They were in the Islanders defensive zone for most of the period. You gotta wonder, why do the Rangers wait until the third period to turn it on? Unfortunately, they aren't like Floyd Mayweather, who made a living out of being strong at the end of his fights and out-conditioning his opponents.
Three minutes into the period, Zuccarello shortened the lead. The Rangers had a three on two, but bobbled the puck a bit. Luckily, Zucc was trailing and converted the lone odd-man rush goal for the Rangers. Halak really should've made this play, as he was all game. 3-2 bad guys.
Brendan Smith, channeling Bobby Orr, also turned it on in this period. There was one point where he was carrying the puck and leading the Rangers past the Isles blue line. Where was that all game from the Rangers?
The game was seemingly tied, mid-way through the third, after a puck went off Smith's skate. However, the goal was taken back, when it was ruled that Smith had kicked it in. On the replay, you really could've went either way here. The Rangers have been so fortunate with replay this season, that I really couldn't be mad here. I could see either argument. There was nothing to define that Smith hadn't kicked it in. The Isles and Halak got a break.
The erased tying goal only fueled the Rangers. Vesey even got physical a bit.  The Rangers and Nash would come close, but nada. However, with under six minutes remaining, Kevin Hayes got a soft goal past Halak. He basically skated and flipped it at the net. It was nice to see the Rangers just put the puck on net after all the fancy Harlem Globetrotter shit going nowhere.
The Rangers kept the pressure on the Isles.  Despite tying the game at 3 goals a piece, I predicted that Lundqvist would blow it. However, to his credit, he waited until overtime to do that.
Lundqvist's best plays came at the end of the third, as he stopped two near chances by Josh Bailey. To be fair, if Lundqvist played the first shot clean, there is no rebound or second shot, but we'll let Michletti have his moment.
It was so funny hearing Micheletti verbally ejaculate during this play, but ignoring Hank's soft goals and Halak's tremendous saves too. After all, Halak made 38 saves compared to Lundqvist's 35 saves, but if you were blind and just listened to Micheletti, you would think every save Hank made was Patrick Roy stuff, while Halak had a ho-hum game. Just no balance with Micheletti. I get being a homer, but Micheletti needs to come up for air sometime.
That said (there you go), Lundqvist prevented another last minute goal. In your from the bright side department, the Rangers were at least guaranteed a point.
Despite being given a PP after the Rangers were busted for too many men on the ice, the Rangers out shot the Islanders, 4-2, in the 5 minute overtime frame. As usual, Nash had a clear breakaway and couldn't do anything with it. There was also a 3 on 1 mixed in there, which of course, went nowhere. While the Lundqvist fanboys will talk about Hank's two end of the third period saves, Halak was an even bigger rock in the OT.
After the OT, the teams remained tied at 3-3. Shootout time. As I predicted, Lundswiss would blow it. In his two shots faced, he gave up easy goals to Tavares and Eberle. Halak would stop two Ranger skaters, after giving up a goal to Zucc, which was more of a fluke goal than anything else. (Halak thought he saved it and accidentally kicked it into his own net.) As a result, Islanders 4, Rangers 3.
Once again, the Rangers didn't show up until late and the other goalie was better than Lundqvist.
As a result of the loss, the Rangers remain in last place, with four points and a putrid 1-5-2 record. The Rangers may get Ruff, which would suit this "rough" (Get it? Har har har)  to watch team. If it wasn't for the losers point, the Rangers would be 1-7. To quote Donald Trump, "SAD!"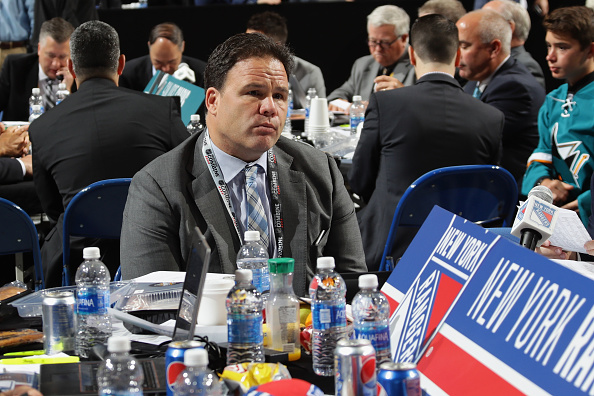 I'm sorry to go shorter than usual, but real life/work awaits. Plus, I'm sure this blog is longer and more diverse than anything else you'll see after this game!
Jeff Gorton is eventually going to have to make a decision. Does he embrace a rebuild or does he buy the "it's still early" shit? 1-5-2 is not acceptable. Even worse, all these losses are happening at home. Worse than that, blue collar fans, like myself, are paying top dollar for these games. We deserve better. We work all day long and sacrifice sleep for this team and in return, the team looks lifeless and like they don't want to be there for half the game.
I'll be back Saturday after the Nashville trouncing.
I attended the Yankees game on Wednesday night. It felt good to see one of my teams succeed. They are only 27 outs away from the World Series.
Hopefully, when you see me next on this site, I'll also have the WORLD SERIES BOUND NEW YORK YANKEES to talk about too!
LET'S GO YANKEES!
LET'S GO RANGERS!
As always, thanks for reading.
Oh and PS: I know I got about 60 or so emails to answer and I will get to them this weekend. It's just hard for me to reply to long emails on the phone and this has been a busy week for me, with work, the Yankees, all four sports in motion and typing up this blog. Just not enough hours in the day.
See ya Sat –
Sean McCaffrey
BULLSMC@aol.com
@NYCTHEMIC on tweeter