Greetings and salutations everyone and welcome to another blog here on BlueCollarBlueShirts.com. This one might go shorter than usual, as there really isn't much to talk about, I'm tired after a long day at work and I have an early start time at work tomorrow.
13 days ago, the Rangers had their statement game of all statement games, when they rallied back from a four goal deficit and beat the Montreal Canadiens, in Montreal, by a final of 6-5. In fact, I was at that game and recapped that game in all its glory. And hey, what a perfect segue-way to the PLUGS section of tonight's blog!
In case you missed them, here are my most recent blogs:
---
---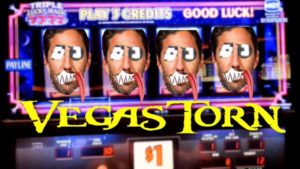 ---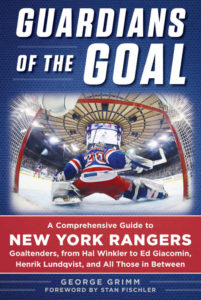 ---
---
---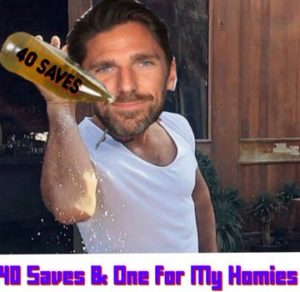 ---
---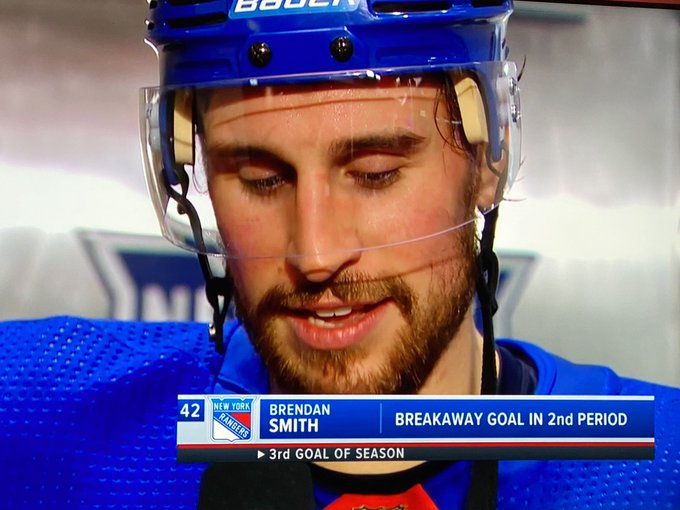 In tonight's game against Montreal, this time at Madison $quare Garden, the Habs squeaked and eked by the Rangers, winning the game 2-1. For 60 minutes, the teams were evenly matched. Both goaltenders were on point, making huge save after huge save. Conversely, both teams blew multiple chances, but when it came down to it, the Rangers blew one more chance, and in turn, the Habs would find the game winning goal, with only 67 seconds left on the clock.
Of course, with a game winning goal occurring with only 67 ticks remaining in regulation, this Montreal goal cost the Rangers a point in the standings. Even worse, the Rangers pretty much gave this game away, thus giving up two points. The flight to Vegas won't be as happy as it could've and should've been.
If you tracked the stats as the game started and all the way to the final horn, the two teams not only showcased strong performances from their goalies, but the teams pretty much had the same amount of goals, shots on goal, hits, blocked shots and giveaways. In addition, both teams played the night before and the two teams sure looked like it in this game. I don't know if "boring" is the right word, but this game wasn't edge-of-your-seat hockey either.
Compounding matters, was the horrible DJ or whatever you call the person that handles the in-arena music at M$G. No joke, with both teams looking like they were skating through dog shit, instead of playing an upbeat heavy metal song, like say something from the Motorhead catalogue, M$G played a one minute clip of Spandau Ballet's "True".
What really rocks the pants off a crowd? Heavy decibel music or this:
Listen, I like my fair share of 80's music. I even like this song. But not at a hockey game.
And the non-hockey music didn't stop there. Instead of blasting Metallica or something like them, right before a Rangers power-play, the guy in charge of music played Manfred Mann's "Do Wah Diddy Diddy Dum Diddy Do". What the Father Fink is going on here?
Oh, and the reason I could hear these songs so clearly through my TV? Despite this being an Original 6 game and despite coming off the game these two teams had the last time they played, M$G was once again a funeral home tonight. And it's not a "he or she had a good life type of funeral." This wasn't a funeral for your 98 year old grandmother. The crowd sounded like they were attending the funeral of a small child, who was run over by a Mack Truck, while holding his dog & baby sibling.
I've talked about this plenty of times before, but as time goes on, there won't be a home ice advantage at M$G anymore. Shit, there barely is now. M$G has priced everyone out of the joint. Sure, some hardcore fans go to one to a handful of games a season, but for the most part, everyone's wallet is tapped out. Plus, the M$G experience is the worst in arena experience out of every arena in the league.
As Ranger fans, we all thrive and sometimes pretend that M$G remains the mecca and is this great historic place. Those days are long gone. As I say during my road-trip blogs, go to any other arena. Even places like Florida and Carolina blow away the M$G experience. M$G has turned into a corporate mall, designed to separate marks from their life savings.
And yes, I know I've talked about this before too, but the Rangers are on the wrong end of the supply & demand principle too. If they were on the right end of it, they wouldn't bombard you with 9786789678678969 commercials a game, pushing half-season or mini-plan tickets. I also wouldn't get 378467364389 emails, texts and phone calls a day from the Rangers, asking me to drop $2000 for a 6 pack of tickets.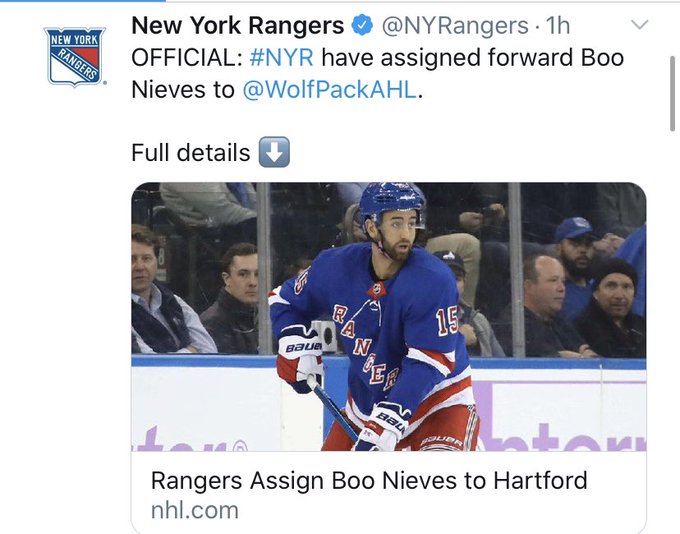 I told you last week, that once Boo Nieves was scratched for Micheal Haley, that was the beginning of the end of Nieves. Once he took that early penalty last night, in the game with Columbus, I was expecting the above tweet from the Rangers sometime on Friday. The above tweet eventually came early Friday afternoon.
There were several reasons why the Rangers waived Nieves:
— He never stood out.
— He took bad penalties.
— He isn't an NHLer.
— Greg McKegg was returning from injury.
— There was no point for the Rangers to add an extra body to their travel plans, with a four game Pacific Time Zone swing up next.
Oh well. Boo-Hoo Boo Nieves. I never understood why the Rangers re-signed him in the first place. Bring up Lettieri next.
In other Ranger news, the Rangers announced the following before tonight's game: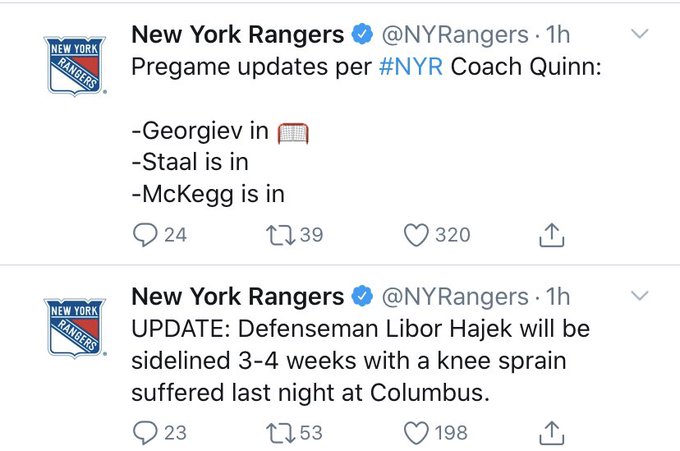 Libor Hajek, who was injured in the game with Columbus, will now miss up to a month's worth of games. I don't want to say it "worked out" for David Quinn, but this news worked out for David Quinn. With Marc Staal now back, David Quinn didn't have to make one of his defensemen a healthy scratch. This is also great news for Brady Skjei, who has just been horrendous this season.
Both Staal and McKegg returned to the line-up tonight. I thought Staal was fine. You may have not noticed him, which is a good thing for a defensive defenseman. McKegg on the other hand? Well his gaffe in the first period led to a Montreal goal. I'll spare you my full spiel here, but really, I don't see the point in one-and-done Rangers like Haley & McKegg. Bring up Lettieri.
Also of note, David Quinn did mention before the game that he wanted to ride the hot hand, in Alexandar Georgiev. So Quinn is back to that, after going away from this statement earlier in the season. However, it should be mentioned that Henrik Lundqvist is sick with some ailment. This was also good news for Quinn, as he didn't have to tell Lundqvist to sit down tonight.
(And when the Rangers first announced that Lundqvist was sick, I thought maybe he needed a surgery from a proctologist. After all, it can't be healthy walking around with Steve Valiquette's head up your ass all the time. More on Vally & the M$G Networks to come in this blog!)
GAMBLING SEGMENT time.
Here's what I said before the game:
Season over/under record: 14-13#NYR goalie situation up in the air, as Lundswiss is supposed to start but he is sick. If Georgiev goes, hit the under.

And really, I don't see another 11 goal game again anyway.

For even money, NYR is a good bet too. pic.twitter.com/hnyGtSYiaA

— BlueCollarBlueShirts (@NYCTheMiC) December 6, 2019
With Carey Price in net for Montreal, I couldn't envision him having another horrendous game against the Rangers. With Georgiev in net, I was confident in the UNDER tonight. With three total goals in this game, my prediction was a cake walk tonight. My season over/under record now improves to 15-13 this season.
Moving along.
Here were your lines for tonight's game, or at least the lines Quinn gave to the media before puck drop: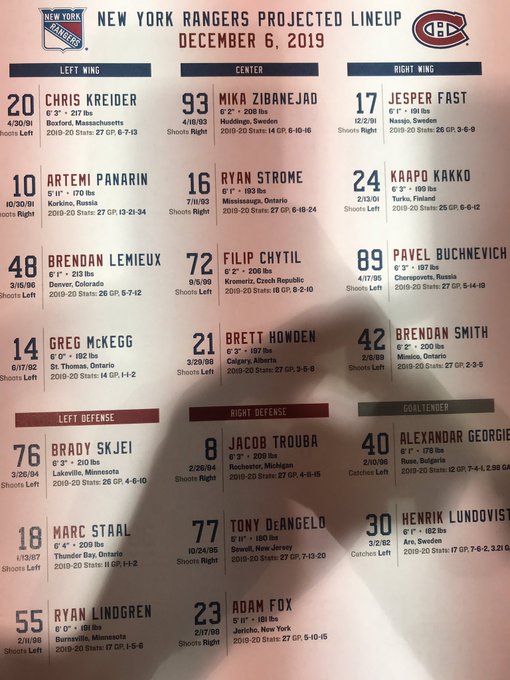 While the defensive pairs stayed the same from the picture above, the lines to open the game were changed. Here's what Quinn wound up going with:
FIRST LINE: Panarin/Fast/Strome
SECOND LINE: Zibanejad/Lemieux/Kakko
THIRD LINE: Kreider/Chytil/Buchnevich
FOURTH LINE: Howden/Smith/McKegg
However, like every other game that Quinn coaches, by the second period, Quinn was already shuffling his lines. Smith would be boosted to the third line, as Smith flip-flopped with CAPTAIN HAPPY, in Pavel Buchnevich. (Reminder: "CAPTAIN HAPPY" is DQ's nickname for Buchnevich and not mine.)

We would also see this line too: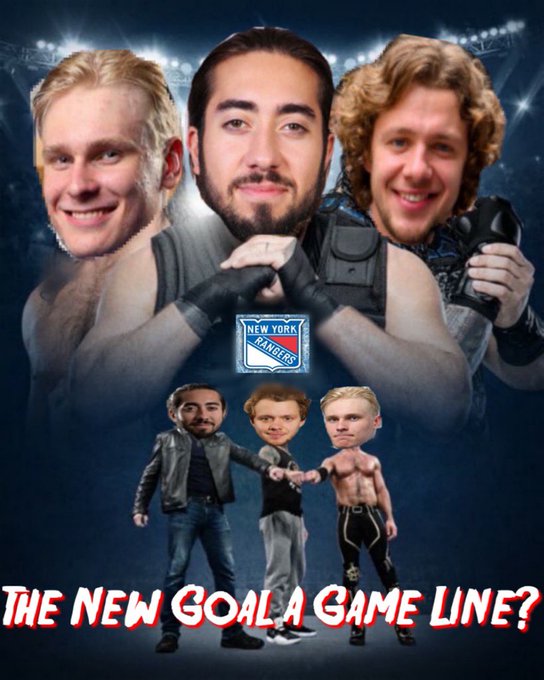 During my season preview blog, I talked about how Panarin/Zibanejad/Kakko could be the next Goal-A-Game line for the Rangers. However, Kakko was left off that top line to start, as Buchnevich got the call. Before Zibanejad's injury and because of an early season hat-trick against Ottawa, a first line of Zibanejad, Panarin and whoever else Quinn put there, was averaging a goal a game.
However, as the season went along, the Rangers were having trouble finding scoring from their other lines. In an effort to boost his other lines, Quinn separated Panarin and Zibanejad, with the idea of spreading out the scoring. We didn't get a full look at this, because Zibanejad would eventually go down and miss a month's worth of games.
With Zibanejad out, Kakko mostly played on the third line, where he's produced the bulk of his points.
For the first time since preseason, Quinn used this line a lot tonight. From what we are hearing, he may use this line to open up the Rangers next game, when they visit Las Vegas.
And real quick on Kakko, I didn't think he had a good game tonight. And isn't it amazing Suzyn, that at the beginning of the season, we all thought that the Calder race would be between Kaapo Kakko and Jack Hughes? Instead, at the present time, Cale Maker looks to be the favorite.
You know me and how I cover gambling, Vegas lines and all that other jazz on this site. When browsing on My Top Sports Books , I saw that others agree with me on Cale Maker.
According to these latest Calder Trophy odds, Cale Maker tops the field at +100 after a scorching November where he led all rookies in goals (7), points (16), game-winning goals (3) and plus/minus (+10), but Colorado's rookie blueliner faces stiff competition from Canucks rearguard Quinn Hughes (+300).
In other words, as of today, the Calder race looks to feature a different Hughes and Cale Maker, rather than the Hughes you thought would be here and the hopeful Rangers Finnish phenom.
At this time, let's go to the official box score, courtesy of ESPN.com:
SCORING SUMMARY: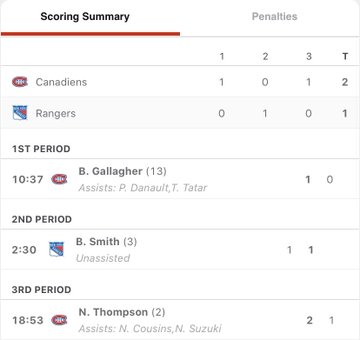 PENALTIES: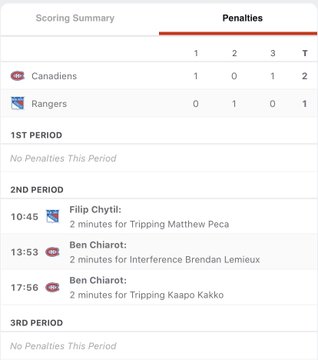 GOALIES:
| | | | | | | | | | | |
| --- | --- | --- | --- | --- | --- | --- | --- | --- | --- | --- |
| SA | GA | SV | SV% | ESSV | PPSV | SHSV | SOSA | SOS | TOI | PIM |
| 30 | 1 | 29 | .967 | 21 | 1 | 7 | 0 | 0 | 59:39 | 0 |
| | | | | | | | | | | |
| --- | --- | --- | --- | --- | --- | --- | --- | --- | --- | --- |
| SA | GA | SV | SV% | ESSV | PPSV | SHSV | SOSA | SOS | TOI | PIM |
| 33 | 2 | 31 | .939 | 28 | 2 | 1 | 0 | 0 | 59:13 | 0 |
THREE STARS: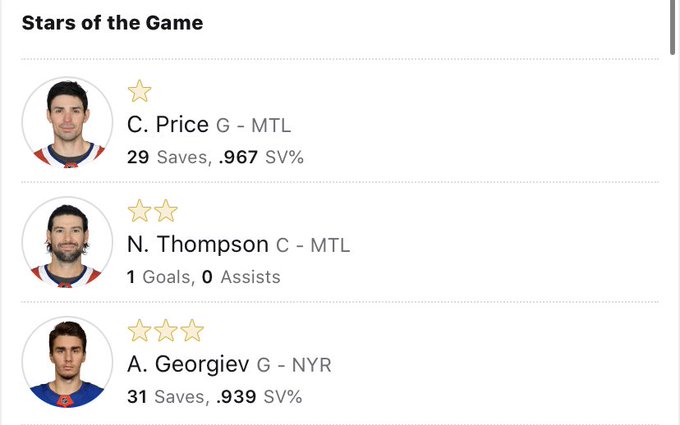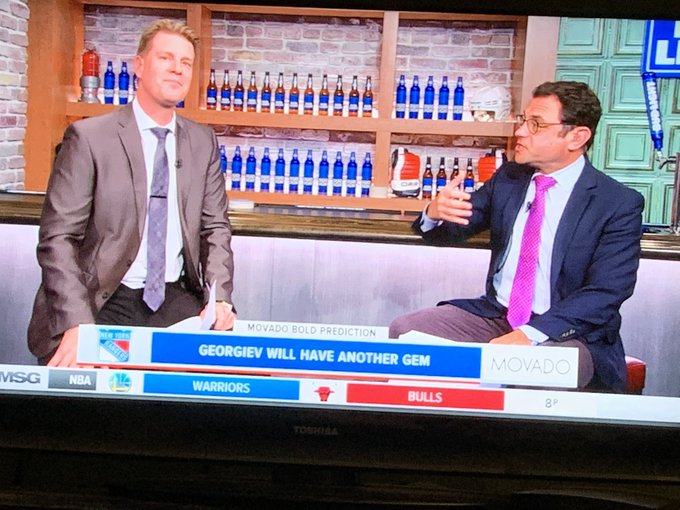 Quick update on the M$G Networks crew. For the first time this season, Valiquette's on-air time was taken away from him. Instead of being the featured talking head, Anson Carter got the call. Usually, before every game, Valiquette & Giannone (Before Giannone, this was Trautwig's spot) do a segment from the M$G Bridges. For the first time this season, Anson Carter did this spot with Giannone. In fact, Vally only got one segment during the pregame show and it was at the fugazi bar on set.
As the broadcast went on, Carter got the first intermission segment. Vally wouldn't be seen until the second intermission.
HMMMMMMMMM…… maybe the M$G Networks are reading this blog? Based on one DM I got, I know they do.
(And to be honest, they are not a fan of me, especially after how I went after M$G Networks head honcho Jeff Fillippi last year, for not renewing Ron Duguay. Oh well, I haven't lost a wink of sleep about that. I rather be hated for what I believe in, than be praised for something I don't buy.)
I talked about Sam Rosen & Joe Micheletti last night. While we all know how Sam has lost his fastball, and as I've said in the past, he's not even on the mound with the ball anymore, he is what he is. We all know how I use Micheletti for comic relief on these blogs.
FOR THE SECOND STRAIGHT GAME IN A ROW, I thought Micheletti was good tonight, that is, RIGHT UNTIL THE VERY END OF THE GAME, when Micheletti started crediting Henrik Lundqvist for Georgiev's strong string of games. Joe couldn't help himself I guess. If it wasn't for that, I would've gave Micheletti high marks again. Instead, I have to give him a B for tonight's call!
And really, if Lundqvist is Georgiev's mentor, how come Georgiev isn't slamming his stick over the crossbar, smashing his stick on the glass, berating his teammates, burying his teammates in the media and throwing hissy fits? Even the number 1 Lundqvist stooge, in Steve Valiquette, wondered after the game, on-air, about how Georgiev keeps it together. Vally even said that he would be furious and red-faced after a game like this. Conversely, Georgiev remains stoic, no matter how the team in front of him plays. TEAM PLAYER.
Georgiev is Georgiev. He's not Lundqvist's protege. Georgiev is just an innocent guy, who is losing playing time because of an egomaniac dinosaur on the team. I can't wait for the Swedish goalie extinction level event!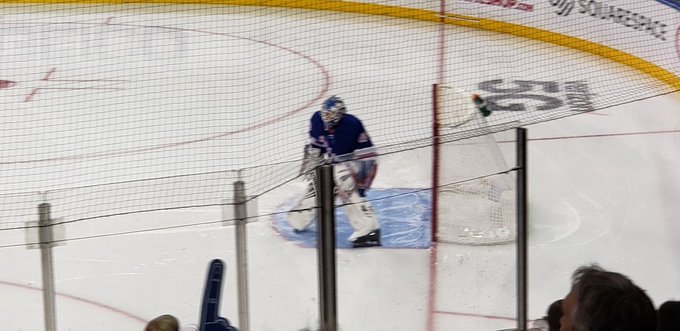 Last thing on the M$G Networks crew. Before the game and during the game, Joe & Sam couldn't get off the topic about famous fathers. They do this all the time. I thought Sam Rosen was going to catch a Father Finkin' coronary, out of excitement, when Joe brought up how Tie Domi played for the Rangers, but his son plays for the Canadiens & how Claude Lemieux played for the Canadiens, but his son plays for the Rangers. This news nearly blew Sam Rosen's toupee to the top of the rafters, where ironically, is where Frank Boucher's number 7 jersey should be. (Like how I worked that in?)
The first 42 seconds of this game saw all the action take place in front of Georgiev. The Rangers finally got a clear and the camera panned to David Quinn, who had that OJ murderous look on his face. Of note, Quinn really has a resting bitch face.
Marc Staal would get the first Rangers shot attempt of the game. He shot wide. In his return, he already fits in with this team.
Just like last night, Georgiev would log big save after big save. While Georgiev made a few highlight reel saves tonight, especially during a Rangers PK, he obviously wasn't in as much peril, as he was just 24 hours prior.
On the other end of things, Montreal goalie Carey Price had a hell of a game. He was stopping everything, including a good chance when Panarin dished the puck to Trouba and Price stopped a Trouba blast.
After a delay, due to clock issues, Micheletti went right back to talking about Lemieux and Domi. He said that Domi's "DADDY" was in the building. He then proceeded to say the word "DADDY" again. What kind of grown man uses the word "DADDY?" Ironically, the word "DADDY" is Micheletti's safe word in the Swedish bathhouses that he frequents. (I KID, I KID. I actually had someone email me to ask me if Micheletti is really a homosexual man who goes to gay bathhouses, in a never-ending quest of finding sausages. FROM MY KNOWLEDGE, NO HE DOES NOT. I AM JOKING. THIS IS SUPPOSED TO MAKE YOU LAUGH!)
At the halfway mark of the period, in a game that featured three shots a piece from both teams at this point, the best line of the game was Zibanejad/Lemieux/Kakko. That line would change as the game went on, as mentioned.
With 10:37 expired, we had our first goal of the game, courtesy of Brendan (No relation to Frank) Gallagher:
Brendan Gallagher opens the scoring with his 13th of the year!#GoHabsGo pic.twitter.com/Id4mwIYmZi

— Hockey Daily 365 (@HockeyDaily365) December 7, 2019
1-0, BAD GUYS.
On the goal, McKegg changed way too early, allowing Montreal to rush up the ice barely opposed. Phillip Danault skated right to Georgiev and found Gallagher in Georgiev's blue paint, for the easy tip in goal. My man, in Tony DeAngelo, didn't make a play on the puck and I wondered if he knew that Gallagher was even there. You know that I'm a huge Tony DeAngelo fan, so it pains me to say that he had to be better here. However, if McKegg doesn't run to the bench here, this goal probably doesn't happen. Nothing Georgiev could've done here.
After the faceoff, Ryan Strome would get the puck and blast one at Price. However, Shea Weber blocked the puck with his face. His mouth was full of blood. His mouth looked like Vally's bloody groin.
Want to know why Weber is a hockey player? He was furious that play was stopped here, as Montreal regained the puck. He didn't want a faceoff. Shit, he didn't even go to the trainers room, as he took his stitches on the bench. Weber didn't miss any time. In fact, he logged the most time on ice in this game, with 24:47 of ice time. Meanwhile, Jack Hughes has been out a week after blocking a shot.
Down a goal, the Rangers went into their "shoot at everything but the net" offense. Brady Skjei was the most egregious here, as while all alone and near Price, Skjei shot high and wide. For some reason, Kakko, who is normally a puck hog, kept passing instead of taking shots on good looks. This was like watching the Giants, where they trade touchdowns for field goals. The Rangers traded shots on net for passes that went no where. And when they did shoot, they did their best to avoid the CH on Price's chest.
One of the Rangers best chances of the period finally came when Panarin passed off to Skjei. Skjei shot at Price. Price made the save. Strome went for the rebound. Price made the save on that too. In the few times the Rangers actually put a shot on net, Price was there.
The end of the period saw the Rangers try to do what they did against Columbus, but there was no goal with 8 seconds left on the clock in this game. After one period, Habs 1, Rangers 0.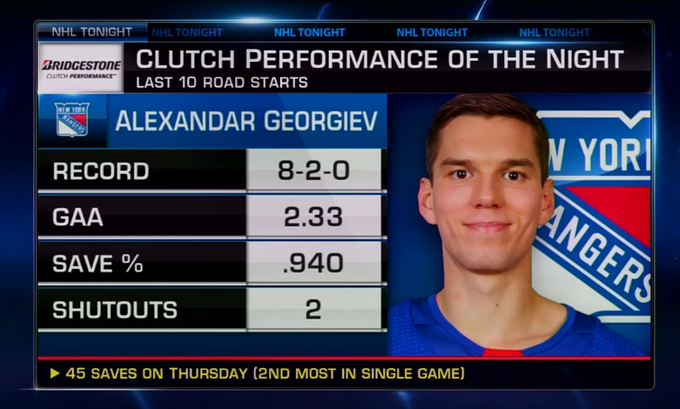 I think the M$G Networks are speaking to me guys! With Vally nowhere to be seen, I was shocked. Then, before the period started, they ran a fact about Frank Boucher and the Cook brothers. Maybe they were trolling me here! How do you mention Frank Boucher and the Cook brothers all of a sudden? And furthermore, how do you mention them and not talk about their rightful place in the M$G rafters?
And oh, and I actually checked the following out on Twitter: I was the only person to get the #CadillacTrivia question right. Like Diamond Dallas Page once said, "SELF HIGH FIVE!"
The question was, name the Rangers goalie with the most amount of saves in consecutive back-to-back games. To me, being somewhat of a Rangers historian or at least a big fan of Rangers history, this was a piece of cake. It had to be Gump Worsley, as he once had 63 saves for the Rangers and played on the worst Ranger teams in franchise history, which in turn, meant he saw 78634789633 shots a game. Maybe if the Rangers promoted their history more, more fans would be able to answer these questions. Then again, I'm sure the next ten questions will feature Brian Leetch as the answer. It's always Brian Leetch!
At the 2:30 mark of the second period, I gleefully and excitedly tweeted out the following:
BREAKAWAY BACKHAND BRENDAN SMITH SAYS EFF THE CHARTS AND MICHELETTI IS NOW LOOKING FOR CAREY PRICE'S JOCK BY THE PATRICK EWING BANNER! #NYR

— BlueCollarBlueShirts (@NYCTheMiC) December 7, 2019
Take a look at Brendan Smith's game tying goal for yourself:
Hell of a goal by Brendan Smith #NYR pic.twitter.com/4bbAY4CqCu

— Rob Taub (@RTaub_) December 7, 2019
1-1.
On the goal, Brendan Smith forced a turnover and he was off to the races. What a freaking goal.
Sadly though, this would be the first and last Rangers goal of the game. With no assist on the goal, Brendan Smith was the only person to record a point for the Rangers tonight. Nothing against Smith, but you're not going to win many games when Brendan Smith is your lone name in the box score.
And really, I was happy for Smith here, especially during his second intermission interview. He couldn't stop giggling. It's just a shame the Rangers couldn't win this game, as Smith's goal should be the headline story.
Away from Smith's goal here, as this period progressed, Quinn started tinkering his lines. Lemieux, as he always does, was motoring all game. He responded well and plays great on any line he's on.
With half the game over, about 15 seconds after the halfway mark of period, Matthew Peca TACKLED and TRIPPED Marc Staal, just two feet away from a referee that was watching the whole thing. NO CALL. This was Father Finkin' BS. Then, right after this, Chytil was called for tripping, a call that you would never see in a playoff game. The Habs were getting home cooking, and they weren't even the home team!
The Rangers, who have responded well to bad calls in the past (see the Devils game) almost had another shorty in this game, when Price stopped Zibanejad while on a two on one. It was also here, that Georgiev added more highlights to his film spool:
…
…
…
And SHOCKER, the Rangers and the RangersMSG twitter accounts don't have any of Georgiev's saves tonight on their feeds. However, if Lundswiss made a save like Georgiev did here, you would never hear the end of it. In fact, when Georgiev makes saves like these, you got Micheletti crediting Lundqvist for "mentoring" Georgiev. SAD SAD SAD SAD SAD SAD SAD SAD SAD!
After killing this penalty, Brendan Lemieux drew a frustrated Ben Chiarot for interference. Montreal killed the anemic Rangers power-play. NYR PP 0-1 here.
Right after this, Georgiev would make a huge breakaway save. I'd share it with you, but since Lundqvist didn't make the save, there's no gif of it on the Ranger twitter accounts.
With two minutes remaining, Kakko would be tripped by Ben Chariot Shalom, and Chariot would be back sitting shiva in the Montreal penalty box.
The Rangers put forth a hell of a power-play attack here. They were buzzing. You could feel the goal coming, but it just never came. While the Rangers didn't score here, they came as close as you could without scoring. However, close doesn't cut it. This isn't horseshoes. The Rangers PP was now 0-2.
At the end of two periods, we had a tied game, with one goal for each side. When you looked at the rest of the stats, everything else was pretty much equal too.
During the intermission, Valiquette was talking about this game, as being a "pillow fight" type of a game. If anyone knows about pillow fights, it's a pillow biter. Oh, and Vally didn't mention if Smith's goal was "expected" or not.
The third period was a freaking mess. The Rangers had tons of chances to tie this up, but it's like there is a magnet on the boards behind the opponent's net. That's where most of the Ranger shots wound up.
Panarin/Kakko/Mika was the hot line in this period, but Kakko, maybe kowtowing to his veteran teammates, would pass rather than take clear sighted shots. While I thought Kakko played well defensively, he wasn't as offensively oriented as we've seen him in the past.
Kreider was a one man wrecking crew in this period, but Price denied him on everything. On the other end, Georgiev had a beast of a period, snapping the pads with ease and making multiple huge glove saves.
@JagD94 had the understatement of the night, when he said "This game is a polar opposite of the game in Montreal." There's not a soul that would argue against him there!

In the final 6 or so minutes of the game, Georgiev was making more highlight reel saves.
Then, with 67 seconds remaining, the Rangers turned over the puck in the neutral zone. This led to a two on one Montreal break. Nick Cousins found Nate Thompson with a cross ice pass and Thompson scored the easy goal. 2-1 BAD GUYS. This was a backbreaker, to say the least. The Rangers simply gave it away.
With 67 seconds left, the Rangers pulled Georgiev once they got possession of the puck. For 60 seconds, the Rangers passed the puck around, in an attempt to find the perfect shot. That's great if you're winning by a goal, but when you're down a goal, and the perfect shot isn't there, you have to shoot the Father Finking puck, and hope for a deflection. You can't score if you don't shoot. This then led to a turnover. Montreal iced the puck with one second remaining, won the next draw and that was it. 2-1 BAD GUYS, your final from M$G.
If you're looking for reasons why the Rangers lost this game, it's simple:
— They barely shot the puck, and when they did, it went wide.
— Carey Price was much better in this game, as opposed to the game in Montreal.
— Turnovers.
— Being too fancy.
If there are any "victims" in this game, excluding the people that paid to attend this game, it were Brendan Smith and Alexandar Georgiev. Both of them had great games, but not everyone else did, with the exception of Kreider.
And really, if the Rangers won this game, Brendan Smith & Alexandar Georgiev would've got all the headlines & they would've swept the Rangers poor effort under the rug. Kind of like what Georgiev did against Columbus.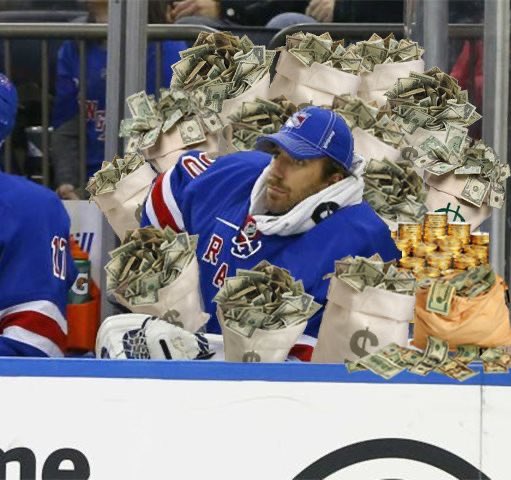 Looking ahead, the Rangers will now head out west, with a pit stop in Vegas this Sunday, followed by three games in California, against the Kings, Ducks and Sharks.
Blog-wise, I will definitely be back on Sunday night, with a Rangers/Knights recap. As far as the California games go, while I will watch them and live tweet them on my @NYCTHEMIC account, I'm not sure about blogs. It all depends on my work schedule, which always fluctuates and changes. That's construction. If anything, maybe I'll do mini-recaps the day after. It's just tough to do blogs at 2AM when you got work at 6AM the next day!
Goaltender-wise, Georgiev has been fantastic in his last three games, stopping something like 120 shots out of 125. This loss tonight isn't on him. With Georgiev being hot and with Vegas hanging a four spot on Hanky-poo on Monday, I would go with Georgiev again. Give Hank a buffet coupon and tell him to enjoy a night on the town.
If anything big breaks between now and Sunday, I'll chime back in on this site.
Until next time, thanks for reading and as always…
"LET'S GO RANGERS!"
Sean McCaffrey
BULLSMC@aol.com
@NYCTHEMIC on twitter