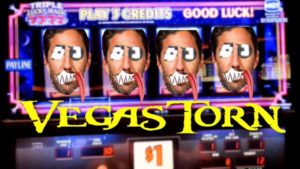 Greetings and salutations everyone and welcome to another blog here on BlueCollarBlueShirts.com. This will be a doozy. I feel like Frank Costanza in that "Festivus" episode from "Seinfeld". Remember that episode? It was a classic:
On Monday night, riding a five game point streak and winners in four of their last five games, the Rangers hosted the Vegas Golden Knights. Not only did the Rangers host the Vegas Golden Knights, the Rangers rolled out the red carpet for them. As a result, the Vegas Golden Knights made easy work of the Rangers, winning the game by a final of 4-1.
There's a lot to get into tonight and I have plenty of venting to do here. However, before getting into that, I released a ton of content last week. I also have an update on the Frank Boucher/Frankie Baird blog that I did too. In case you missed any of my most recent blogs, you can find them below: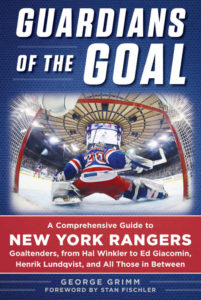 ---
---
---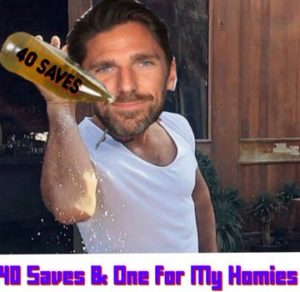 ---
---
---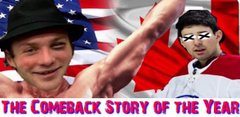 ---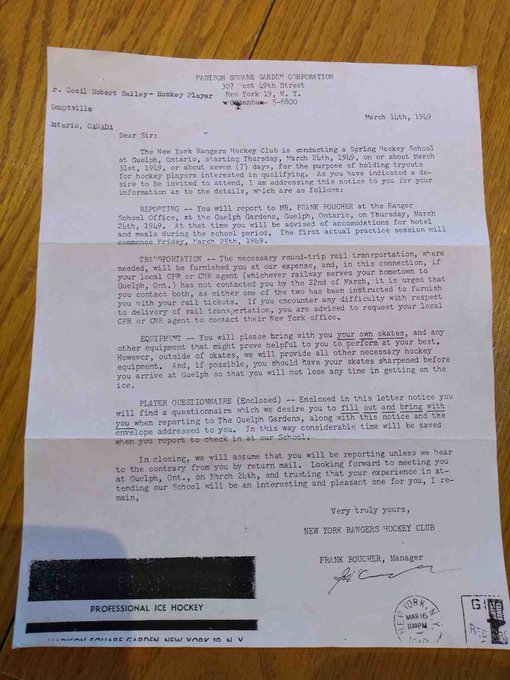 Before going into rage-mode, let's start with something positive, as I march through this manifesto.
On Monday morning, Frankie Baird's son, whose name is Rod, was given the above letter from one of his customers, who so happens to be a relative of Cecil Bailey.
In the grand scheme of things, while this letter isn't exactly a jaw-dropping memento in Rangers history, it is a unique one. This letter was written by Frank Boucher when he was the General Manager of the New York Rangers. If you read the letter, I just think it's cool and interesting to see how things worked at the time. Instead of a phone call or a text or communication through an agent, Boucher sent out this letter to Bailey directly. What caught my eye the most, was how the topic of railroad transportation was a major factor.
This letter is just something different and rare to share with you guys.
In an update on my campaign to get Frank Boucher's #7 jersey retired by the Rangers, I was contacted by an Ottawa/Kemptville based newspaper and radio show today. I gave them a short interview, something like a 20 minute phone call. The reporter from that newspaper & radio show found my Frank Boucher blog through Facebook. In turn, this reporter now wants to drum up support for Frank Boucher and my cause to get Boucher's number retired by the Rangers.
I don't know if this will lead to anything; but as they say, any publicity is good publicity. Once the story and interview is posted, I'll share it here on this blog. Now on to the current New York Rangers and their mess tonight.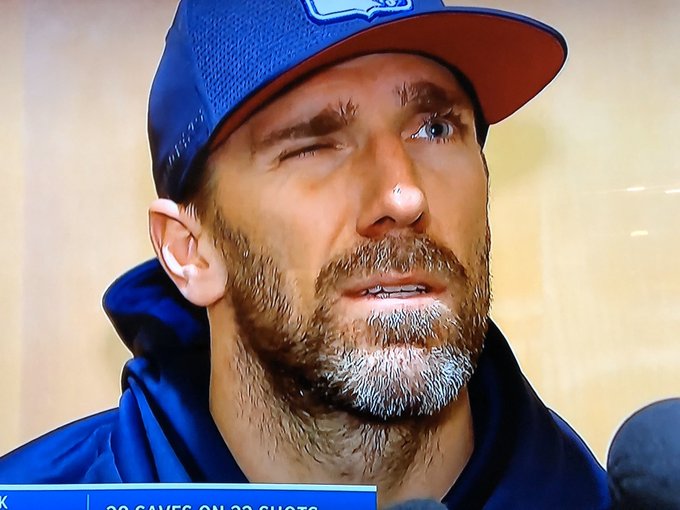 When I left you after the Rangers/Devils game on Saturday, I quoted Rangers head coach David Quinn, who recently said, on the topic of his goaltenders, that "we will ride the hot hand." After Georgiev had three good games in a row, David Quinn backed off of that and then said, "we have to get Hank in a rhythm." I'm not going to get into the whole entire Georgiev vs Lundqvist & rebuild stuff, as I've done that plenty of times this season, including in that very same Rangers/Devils blog from Saturday.
On Monday morning, prior to tonight's game, David Quinn announced that Henrik Lundqvist would start this game with Vegas tonight. If you follow me on social media, or if you just know me in general, you know what my reaction was – I was livid. It made no Father Finkin' sense to start Lundqvist in this game. The way Lundqvist has this franchise wrapped around his finger is like no other player in professional sports. I'll save you my Eli Manning vs Henrik Lundqvist spiel for tonight.
Put it this way – if the young Kaapo Kakko or Filip Chytil got a hat-trick on Saturday, would Quinn bench those players for Micheal Haley in the next game? Or would Quinn ride the momentum, and play the young player? Obviously, you know the answer to this hypothetical already.
So, in the same vein here, how in the hell does Lundqvist get this start, when Alexandar Georgiev, the goalie with the hot hand, just posted a shutout in the last game the Rangers played? It makes no sense. This move is illogical. It does not benefit the team at all. If the objective is to win games, why would you cool your hot hand goalie down?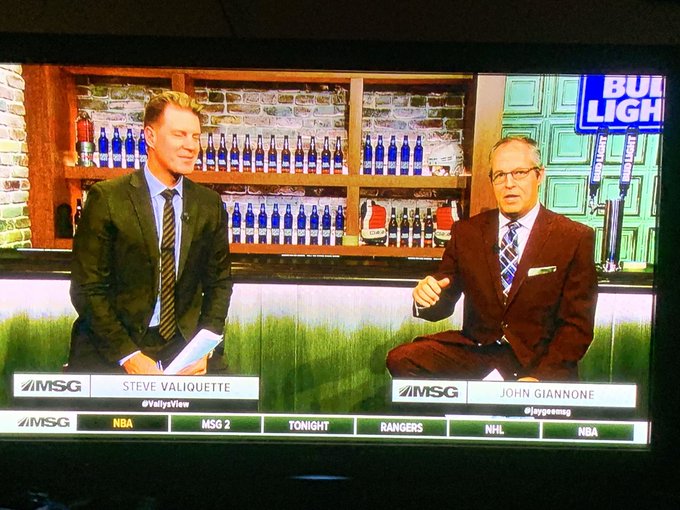 When David Quinn, who does talk out of both sides of his mouth, announced that he was going with Grampa Lundswiss tonight, instead of riding the hot-hand in Alexandar Georgiev, this provoked Twitter wars all over Rangerstown, USA. One of the biggest threads was started by the new man on the beat, the millennial reporter, in Vince Mercogliano.
While Mercogliano probably provides the best (and free) daily coverage of the team, his knowledge of team history is weak. He didn't even know that the Rangers waived Eddie Giacomin for nothing. However, to be fair, Mercogliano is hired to cover the current team and I guess product knowledge isn't a job requirement. After all, his employer, LoHud, fired long-time reporter Rick Carpiniello because Rick was getting expensive and LoHud doesn't want to pay healthcare for their reporters. Mercogliano is a cheap warm body, fresh out of college and again, to his credit, he is hard-working and provides non-stop coverage. In a way, you can say LoHuds's rebuild has worked!
Here's the tweet, that like Helen of Troy (probably someone else Merogliano doesn't know) that launched a thousand tweets:
You mean based on him performing like one of the best goalies in the league this season? 🤔

I get wanting to see young guys play, but the few who are pushing the "Hank has been bad" narrative either aren't watching or just really want him to be bad for some strange reason. https://t.co/dEmhu5IAf3

— Vince Z. Mercogliano (@vzmercogliano) December 2, 2019
Of course, like a good solider and because he's a new reporter that can't risk losing access, Vince doesn't write anything challenging or creative. He covers the team well, but when it comes to opinions, he rides the M$G company line.
The topic that Vince is avoiding here, is the obvious one – the $8.5M Swedish Elephant of a contract in the room. You already know my spiels already. Not one Top 5 paid goalie in the league has won the Stanley Cup in the salary cap era. Two rookies have though. I'm not going to rehash my "Greatest Hits" here, just refer to my past blogs on all of this.
What also is ironic, is that Mercogliano, in one of his write-ups as a REPORTER, once said during this season, that the Rangers defense was, and I quote, "crappy". He's never used that word to describe Lundqvist after a bad game. Furthermore, Mercogliano is like most Ranger fans, when it comes to the topic of Marc Staal. "He's too old." "He's taking a roster spot from a young player." "His prime is long gone." Of course, to all these members of the Cult of Lundswiss, this same logic doesn't apply, in regards to the subjects of Henrik Lundqvist, his age and his contract.
And this is really bad – the Rangers can only play one goalie in each game. They have two young and much cheaper ones under their employ. Staal isn't really robbing any young Rangers defenseman of playing time. Shit, when he comes back, most of you would rather see him than Brady Skjei anyway!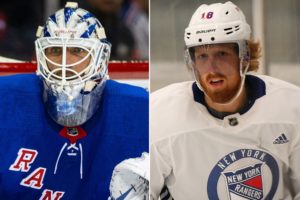 Real quick here, when it comes to Staal vs Lundqvist, Staal provides more VALUE. In addition, he is not stunting the progress or playing time of any young Ranger. And maybe most important, Staal is a true leader, a leader that doesn't throw temper tantrums or bury his teammates in the media after bad games.
In previous seasons, I've made my opinions clear on Lundqvist and his contract. These last two seasons, while the contract is still horrible (imagine the Rangers lose DeAngelo or Lemieux next year because of it?) it isn't as bad as it once was, just because the salary cap has increased over the years. At its peak, Lundqvist's contract was once 13% of the Rangers payroll. That's not a recipe for success. And it's not just Lundqvist. It's a league-wide thing. Just look at high-priced goalies such as Carey Price of Montreal or Pekke Rinne of Nashville. Neither of those teams have won a Cup in the salary cap era either. Hell, Price doesn't even have a Stanley Cup appearance!
When it comes to tonight's game, I just don't get why Lundqvist gets the priority over Alexandar Georgiev. Before this game and when watching this game, it just made no sense at all.
I'm going to get into everything else in a bit, but deep down, the second I saw Lundqvist was starting today, I knew this game was going to be a loss.
I'm starting this blog real late tonight, as I wanted to watch the Monday Night Football game, which ended real late. Since I have two TV's in my little man cave, I was able to watch the Rangers post-game as well. I saw David Quinn blame the predictable things for the loss tonight. The special teams. The bad shooting. Brady Skjei, without saying his name.  NOT ONE REPORTER ASKED DAVID QUINN WHY DID HE BENCH ALEXANDAR GEORGIEV AFTER A SHUT-OUT!
And really, let's face it. If we lived in a fantasy world, a fantasy world where Henrik Lundqvist was able to record a shut-out, do you think there would be a shot in hell that Lundqvist would sit the next game after logging a no-no? Of course not.
If Quinn wants to blame anyone for this loss, he should look at himself. He started the wrong goalie tonight and it backfired on him immediately, as just like last week, Lundqvist scored on himself. Even worse, Lundqvist scored on himself just 90 seconds into the game. Once again, Lundqvist gives up a quick goal and puts the Rangers in a hole. To make matters worse, Tony DeAngelo, doing his damndest to help Lundqvist out after Lundqvist was fooled & had a shot trickle by him, Lundqvist started screaming at TDA after the goal allowed. I can't wait until these generation of Rangers retire and they really let loose on Lundqvist, kind of like the stuff that you see with Rod Gilbert today.
I swear to you – this game would've been different if Georgiev started tonight. For starters, that opening goal doesn't happen. Only Lundqvist scores on himself. Credit to Lundqvist though, this is the second time he's done this within a span of a week. That gives him two more goals than Lias Andersson this season! (Thanks for the joke @Stevdi!)
As the game progressed, you could see Lundqvist didn't have it either. He was out of position a lot. He was doing his flailing fish-out-of-water act. He was screaming at this teammates. He was frazzled. He just doesn't have the ice-water veins that Georgiev has. Very rarely, do you see Lundqvist these days, ever display the same coolness, calmness and overall collectiveness as Alexandar Georgiev. And to be clear, I'm not saying Georgiev has been lights out this season either. He's just able to shake off bad plays better, which allows the team to not get all hectic & bent out of shape.
In tonight's game, if you're looking for a simple summary, you're in the wrong place! However, if I had to give you a one word sentence about this game, I would say this – "This game was basically one large Craig's List Missed Connections ad."
Despite Lundqvist looking like a pile of shit early on and scoring on himself, the Rangers had plenty of chances to score goals tonight. Just like the game with Boston, the Rangers finished 0-6 on the power-play again. To be fair, two of those penalties called against Vegas happened in the final minute of the game. Even so, 0-4 isn't going to cut it.
If there was a word that Sam Rosen said more than anything tonight, it was the word "wide". During a two minute stretch that the Rangers dominated the puck on, all you would hear was the following:
"Shot by Touba…. WIDE…. shot by Buchnevich….. WIDE…. shot by Kreider….. WIDE, shot by Panarin…. WIDE…. shot by Zibanejad, WIDE."  WIDE WIDE WIDE WIDE WIDE! (Marcia Marcia Marcia!)
The Rangers had plenty of chances to carry Lundqvist to a win in this game, but the Rangers were too busy leaving puck marks on the boards behind Vegas goaltender Malcom Subban. And that's the sad thing here. Nothing against Malcom Subban, but he's a struggling back-up goalie for the Vegas Golden Knights. Subban is only starting because Marc-Andre Fleury is away from the team, as he deals with the loss of his father. In this game, a game where the Rangers could've stole two points from a Cup aspiring team, the Rangers allowed Subban to put up Vezina numbers tonight.
I'm not going to discredit Malcom Subban, like Steve Valiquette did tonight. (More on that at the end of this blog.) I thought Subban was good and made the saves when needed. He made a few huge saves. Put it this way, you know it's bad when Lundqvist's #2 Cheerleader, in Joe Micheletti, is giving the opponent the "save of the game". This never happens. However, the Rangers perhaps helped Subban's cause today, as the majority of their shots went wide.
If any MSG employee is getting a workout tonight, it's the guys who have to paint the boards, as the Rangers left more streaks on those boards than streaks in Vally's underwear after Hank gives up a goal.
Two seasons ago, I wrote about my experience in Las Vegas and about my time at a Rangers/Knights game. You can read that blog here:
---
Before jumping into the period-by-period review of this blog, I have to mention this. The Garden was swarmed by Vegas Golden Knight fans tonight. I wasn't at the game, and even if I was, it's not like I could interview every VGK fan in the building. However, I will venture to say that you didn't see bandwagon/NY fans of the Vegas hockey team tonight. Instead, I think many Vegas residents/transplants from NY may have been in town during the Thanksgiving holiday, and decided to stay in town to watch VGK play the Rangers, Devils and Islanders, as VGK will do this week. (For VGK fans who find this blog & don't know, all three arenas are literally mere miles from each other. It takes 15-20 minutes by train to get to one arena to the other.)
If you needed proof about Vegas fans taking over M$G tonight, it started during the national anthem, when the Vegas fans screamed "NIGHT", just like how they do in Vegas. Then, in the third period, with Malcom Subban severely outplaying Henrik Lundqvist, there were huge "SUUUUUUUUUUUB" chants. Put it this way – I didn't hear one Potvin whistle, one "HENRIK" or one "Let's Go Rangers" chant tonight. I did hear "SUUUUUUB" chants though. How embarrassing is that? Eh, serves the Rangers right for pricing out their fans and not respecting their own history.
While I obviously offer my condolences to Marc-Andre Fleury during this difficult time, it's a shame he wasn't there tonight. It would've been nice to see him beat Lundqvist again. After all, I'm seeing all these fake news articles, where people are calling Lundqvist the best goalie of the decade and the first future Hall of Famer out of all of his peers in net. These people must also use drugs or smoke the bath salts.
MAF > Lundqvist, hands down and it's not even a discussion. What MAF did for Vegas in that first season, is something Lundqvist hasn't done in 14+ years as a Ranger. Then there's also those 3 Cups that MAF won too. In the biggest games of his career, Lundqvist choked. In the biggest games of his career, MAF won. Just carrying that Vegas expansion team in the playoffs, solidifies what already was a HOF career for MAF.
Man, this is going long tonight.
Speaking of Vegas, let's go to the topic that Vegas is known for and that is GAMBLING. Here's the gambling segment of tonight's manifesto:
Season over/under record: 13-12

WOW, a line that isn't -6.5! You now have the possibility of a push if you err!

MAF is still out after the death of his father. Neither VGK goalie on the roster scares anyone.

Will we get good Hank or hump the ice Hank?

Regardless,hit the OVER pic.twitter.com/H5Hz7DFCxb

— BlueCollarBlueShirts (@NYCTheMiC) December 2, 2019
Just like the Rangers, I drop to .500 too, as my record is now 13-13. Call it gamblers remorse or what, but this should've at least been a push. Neither team scores in the third period, despite a ton of power-plays, open looks at the net and two minutes of empty net time. As they say, that's gambling Suzyn.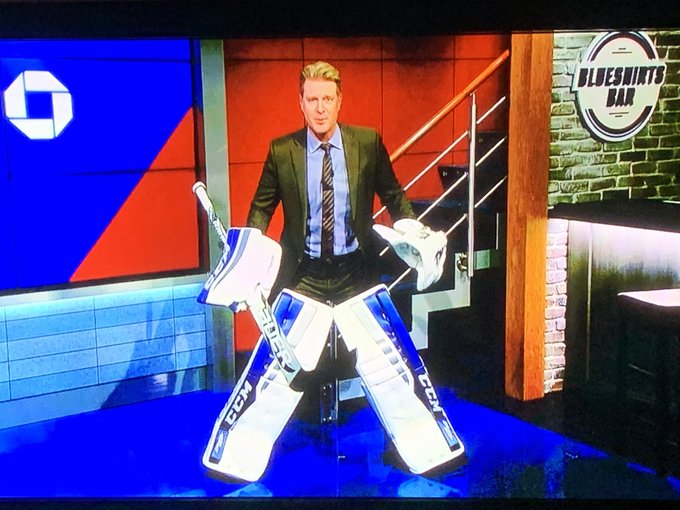 Aside from Lundqvist being in net, David Quinn once again changed up his lines for this game. He would also shake up the lines mid-game as well. For those trying to keep track, here's what Quinn put out tonight: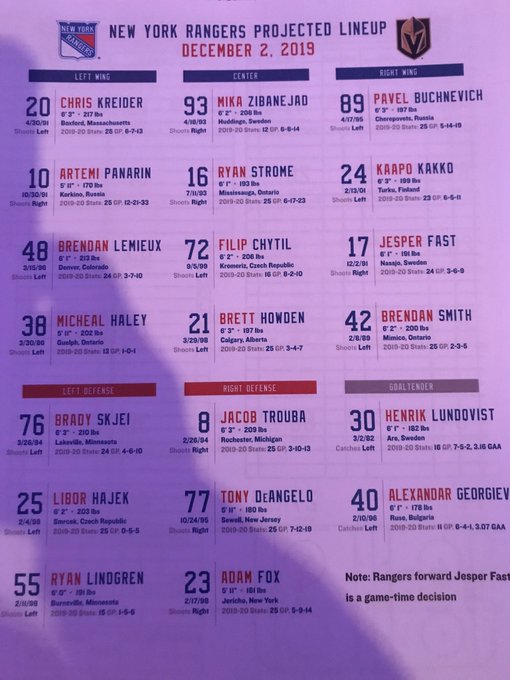 If you look in the bottom right corner, you will see a note about Jesper Fast. He did wind up playing. What really should've been a note was the status of Boo Nieves, who has now been scratched for the second game in a row. The Rangers, willing to move on from Micheal Haley just two weeks ago when they waived him, have opted to keep Haley over Nieves in the line-up. This can't bode well for Nieves, especially when McKegg is healthy and is ready to return.
At this time, let's go to the official ESPN.com box score of this game:
SCORING SUMMARY: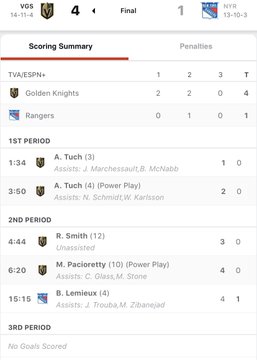 PENALTIES: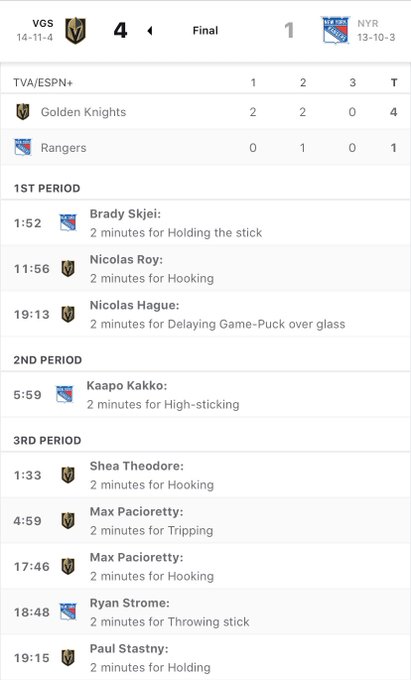 GOALIES:
| | | | | | | | | | | |
| --- | --- | --- | --- | --- | --- | --- | --- | --- | --- | --- |
| SA | GA | SV | SV% | ESSV | PPSV | SHSV | SOSA | SOS | TOI | PIM |
| 32 | 4 | 28 | .875 | 25 | 1 | 2 | 0 | 0 | 58:13 | 0 |
| | | | | | | | | | | |
| --- | --- | --- | --- | --- | --- | --- | --- | --- | --- | --- |
| SA | GA | SV | SV% | ESSV | PPSV | SHSV | SOSA | SOS | TOI | PIM |
| 30 | 1 | 29 | .967 | 20 | 0 | 9 | 0 | 0 | 60:00 | 0 |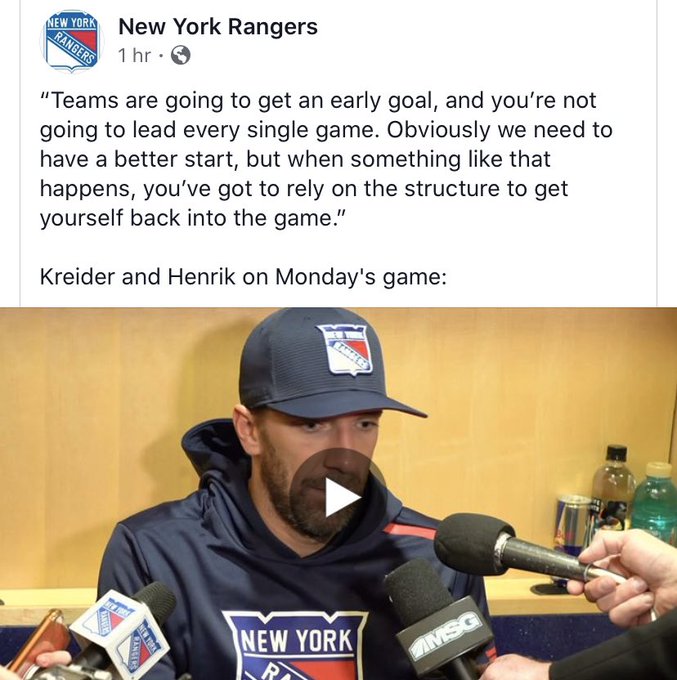 The pregame show was once again a mess. Not one mention of Georgiev's shutout from Saturday. We did have plenty of Lundqvist footage and we did have Vally talking about how Lundqvist won his last game, "stealing the win all by himself." I really don't know how Lundqvist walks these days, as Valiquette is one big son of a gun, and having him up your ass 24/7 must really hurt.
Oh, and because Brendan Smith's brother, in Reilly Smith, plays for Vegas, Joe Micheletti & Sam Rosen were extremely giddy about that. No joke, Reilly & Brendan being brothers was not only the "Taco Bell Take", it was the "Moment of the Game" too. And here's another no joke – these Ranger MSG telecasts are extremely horrible this season. Ranger fans are at a disservice. If you don't believe me, just watch another home team broadcast from around the league.
After some initial offense at the start of the game, this game turned into the Vegas show quick. Strome had to clear a puck in front of a crying Lundqvist.  Then, 90 seconds into the game, Lundqvist put the puck into his own net:
Just like he drew it up 😎 pic.twitter.com/dVf30HZFSU

— Vegas Golden Knights (@GoldenKnights) December 3, 2019
1-0, bad guys. On the goal, Tuch took an innocent shot, Lundqvist couldn't handle it and it trickled past him. Then Lundqvist batted the puck into his own net, while Tony DeAngelo and Libor Hajek tried to prevent the goal. In turn, Lundqvist screamed at DeAngelo, for Lundqvist's own miscue. This is the stuff that riles me up about King Contract. You never see MAF screaming at his guys.
Two minutes later, after a stupid penalty by Brady Skjei, Alex Tuch scored again, this time with two seconds remaining in the Vegas PP:
Goals must be on sale tonight because @alextuch89 is buying in bulk 👌 pic.twitter.com/WKQte3epyM

— Vegas Golden Knights (@GoldenKnights) December 3, 2019
2-0, bad guys, and really, despite the Rangers numerous chances, Vegas never looked back.
Two things on this goal. One, this is 50/50 save for a goalie. I won't hang Hank here, but that said, I saw Georgiev make a save on a similar shot on Saturday and we saw Subban make two saves of this variety tonight.
Secondly, after this goal, Quinn stapled Skjei to the bench for a bit. Marc Staal can't get back soon enough. Gorton needs to realize that he needs to cut bait on Skjei, before the Rangers are stuck with another bad long-term defenseman deal, which are deals that have burnt Gorton throughout his tenure here. (Smith/Shattenkirk/Skjei.)
Vegas would get more chances at Lundqvist, but despite Lundqvist humping the ice furiously and flailing around, Vegas didn't capitalize. This cost me on my over prediction!
Oh and after this goal, Joe Micheletti said the following – "Lundqvist is unhappy right now." Oh poor baby. Waive your NMC if you're so unhappy!
I'm telling you – this first Vegas goal would've never happened with Georgiev. The Rangers wouldn't have been so jumpy if Georgiev was out there. I think this first goal made the nerve levels rise, and in turn, the Rangers couldn't do anything right.
At the 11:56 mark of the period, Brendan Lemieux drew Nick Roy for hooking. As he's been doing all season, Lemieux just broke his hole all game. I don't have the stats in front of me, but I would imagine he's either first or second, when it comes to drawing penalties this season. (Maybe Panarin has drawn more?)
Chris Kreider, who is coming on lately, went right to screening Subban on the power-play. We've seen him get away from this in the past, so it's nice to see him doing this again. Of note, I mentioned how Ron Duguay live tweeted this a few blogs ago. Steve Valiquette finally brought up this fact today. He must have not noticed this previously, as he stared at Lundqvist with hearts popping out of his eyes.
On the PP, the Rangers got two shots off, but Subban stopped both of them. This was the first power-play outage of the night.
At this point in the game, the sense of dread was in the air. When the Vegas fans weren't cheering, you could literally hear every conversation on the ice, that's how quiet it was in the World's Most Famous Funeral Home.
With 45 seconds left in the period, Nick Hague took a penalty for a delay of game. This gave the Rangers one of those wrap-around period power-plays. It didn't matter. The Rangers wouldn't score at the end of this period or at the start of the second period either. 0-2 on the power-play.
At the end of one period, Vegas 2, Rangers 0.
Biggest moment of the intermission – Valiquette completely ignored the first goal against. Valiquette opened up his ANALysis by burying Brendan Smith on the penalty kill and for the second goal allowed. NOT ONE WORD ABOUT THE FIRST GOAL ALLOWED. And Vally is mad at me personally, for critiquing him on these blogs, as you'll see at the end of this manifesto. I just comment on what I see… and what I don't see.
Oh, and I've done this rant before, so real quick – if you're one of these fans who hate how Vegas had the biggest advantage out of any expansion team in pro sports, my advice to you is to attend a game in Vegas. I'm brutally honest and opinionated on these blogs, as you may know. The NHL handled the inception of Vegas into the league with pure 100% perfection. It's one of the hottest markets in hockey. They sell out every game. No other arena has the energy or fanatic support that Vegas currently has right now, and that says something, as I was just in Montreal last week. Go to a Vegas game and experience it yourself. I think you will be inclined to agree with me. Simply put, Vegas is great for hockey and for the game.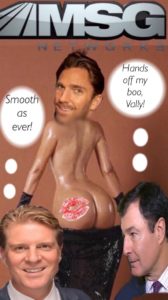 The Rangers came out hot to start the second. While they would fail on the power-play, the Rangers kept bringing the attack. Kreider would hit a post at the 4:10 mark. Again, Kreider has been playing well, but this would've been huge, as it would've made the game 2-1.
After Kreider's ping, Skjei screwed up again, turning over the puck in the most brutal of fashions. The result? Reilly Smith barreling towards Lundqvist on a breakaway, Lundqvist coming way out of net and Reilly Smith easily beating Lundqvist. 3-0, bad guys. Again, this is a 50/50 thing for a goalie, so you can't bury Hank here. However, for the money, it would be nice if he could stop someone on a breakaway once in a while.
About a minute or so later, Vegas got a power-play after Kakko was boxed for high-sticking.
On the Vegas power-play, Vegas would get their second PPG of the game, after a sweet pass from Glass to Pacioretty:
World class pass from Cody Glass 😊 pic.twitter.com/MaLBKfcnyP

— Vegas Golden Knights (@GoldenKnights) December 3, 2019
This used to be Lundqvist's bread and butter save. Instead, Patches finds the little space that Lundqvist offered and squeezed the puck in. 4-0 bad guys. Speaking of food, right after this goal, the Vegas Golden Knights twitter account, the best twitter account in professional sports, and the twitter account that many teams now emulate/copy cat, tweeted out a LUNDSWISS troll tweet:
Here's a list of cheeses 🧀

-cheddar
-mozzarella
-muenster
-brie
-top pic.twitter.com/UZLspdKTfi

— Vegas Golden Knights (@GoldenKnights) December 3, 2019
I was cracking up when I saw this one. Now, if only Vegas can play the Metallica song "KING NOTHING", the next time Lundqvist rolls into town!
At 4-0, there wasn't much to take solace in, except for the fact that the Devils were having their doors blown off by the Sabres. Seriously, how is Hynes still employed by that franchise?
After this, the Rangers tried waking up and making a game of it. Subban made a few saves, which led to the "SUUUUUUUUB" chants that I talked about earlier. A big save came when Subban made a save after a 3 vs 2 rush from the Rangers top line.
With less than five minutes remaining in the period, Brendan Lemieux would deflect a puck past Subban. 4-1, bad guys. Trouba and Zibanejad got the assists. Of note, Panarin was held off the board in this game, as Vegas did an excellent job containing him.
The Rangers tried to make this a two goal game, but Panarin would go wide and Skjei would break his stick during a wide open slap shot attempt. To say that "Skjei sucked tonight", well that would be an understatement.
4-1 after two periods. The saddest thing here? During the MSG 150 seconds segment, they showed a clip of the AHL Hershey Bears game, where the crowd was going nuts like it was New Years Eve. Back over at the World's Most Quietest Arena, you could hear Steve Valiquette pump his hand lotion, in preparation of his segment where he talked Lundqvist.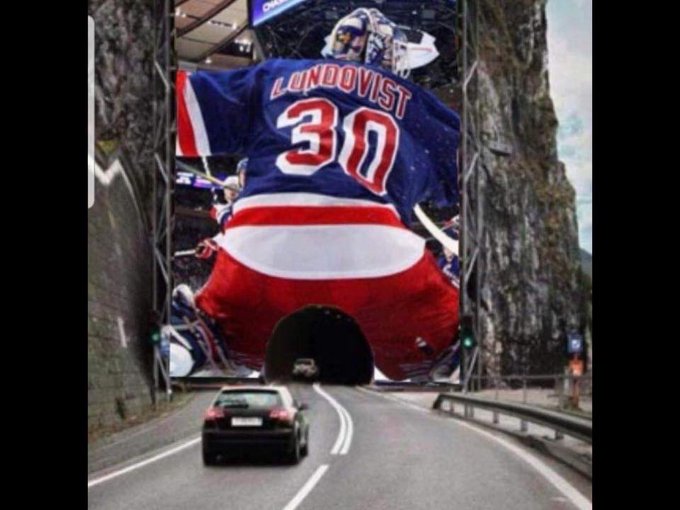 The third period was basically a twenty minute ad for the "Craig's List Missed Connection" section on Craig's List.
The Rangers would get 784578926574625789263457892689452683 (maybe I'm off by one or two) chances to score. This is where they just doing their Scott Norwood act, going wide on everything. And when they weren't shooting wide, you had someone like Pavel Buchnevich, who was alone in front of Subban, fancy moving himself out of a goal. Shoot the puck.
The Rangers would get two back-to-back penalties to start this period, when Theodore went off for hooking. After the Rangers failed on this power-play, Pacioretty went off for tripping. Subban just kept making all the saves, finishing with 9 short-handed saves.
Making things easier for Vegas, after the Rangers failed for the fourth time on the power-play, and with the crowd booing, the Rangers still had possession of the puck. Brady Skjei, again, who just sucked all game, cleared the puck for Subban and for the Knights, allowing the Knights to make a change.
With 6:45 remaining in the period, the Rangers were out-shooting the VGK by a tally of 8-1. Of course, the amount of Ranger shots were much higher, as they kept shooting wide. Plus, Ryan Lindgren hit a post, the second post for the Rangers in the game.
The end of the game saw the Rangers get another power-play. Strome negated it by taking a penalty himself, as he threw a stick over to Zibanejad. However, the Rangers would get another power-play, this time, a 4 x 3 chance, when Stastny was boxed. Even with Lundqvist pulled, the Rangers couldn't do nothing during any of this and when the final horn went off, the score remained 4-1, in favor of Vegas, your winners of this Rangers shit-show.
Speaking of shit shows, let's get into the Valiquette rant!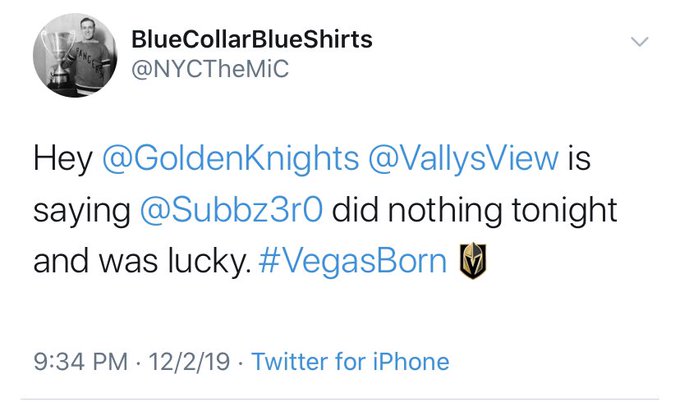 If you've been reading these blogs for some time or just started this season, I've been very critical of the MSG Networks broadcast and have given my full thought out opinions on why I think it sucks. Simply put, with the great Ron Duguay no longer there, the broadcast has turned into the Steve Valiquette show.
Every broadcast this season has been the same. If Lundqvist starts, Valiquette spends the pregame by reading Odes and love poems, in dedication to Henrik Lundqvist. In the intermission segments, Vally blames everyone else on the team for any goal allowed. Then in the post game, Vally doubles-down, praises Lundqvist, makes up bullshit stats, such as "On the first Monday in December, during an even-numbered date, while an alien invasion takes place in Syria, the goalie only has a 3.4% chance of making a save on a 50 foot clear shot." If the Rangers win the game, Vally says Lundqvist did it all. If the Rangers lose, nothing is Hank's fault.
Conversely, when Georgiev starts, Vally won't bring him up at all in the pregame. In the intermission segments, we're told how the Rangers are carrying the game and Georgiev hasn't done much. In the post-game, Vally spends time politicking for the Rangers to trade Georgiev or to send him to Hartford. If the Rangers win during a Georgiev start, it was a team effort. If the Rangers lose the game, then it's Georgiev's fault.
And if you don't believe me on any of this, suffer through Valiquette yourself. From the reaction I see on the Rangers MSG twitter accounts, I think I'm the only one who actually tortures themselves by watching these post Ranger post-game recaps on the MSG Networks.
I've talked about Vally a lot on these blogs recently. I usually preface it with "I like Vally, blah blah blah, but…" And really, I still do. I don't think he's a bad person or anything, I just think he can't talk about the goalies without bias.
As you continue reading here, please keep the above paragraph in your mind. I don't hate Vally. I do think he serves a purpose. He just can't carry the MSG Networks as a solo act. Furthermore, I do respect Vally as a person. He's a good family man and he does a TON of charity work, charity work that's not always publicized. My critique of him is that he just can't cover these games without letting his biases run rampant on the broadcast.
I don't know if Lundqvist got Vally the job, if Lundqvist has dirt on him, or if Lundqvist has pictures of Vally during a Rangers team-bonding trip at a donkey show in Mexico, but Valiquette is unable to criticize Lundqvist. Everything is everyone else's fault. If I've said it once, I've said it a million times, this broadcast severely misses Ron Duguay. Just read my past blogs for more on this.
In the past, I've conversed with Vally at a personal level. I don't harbor any ill-will for him, nor am I sitting here calling for him to be fired. I also won't release any conversations that I've had with him, because that's not who I am. I think that's why people inside and outside the Rangers organization tell me things. I've never betrayed anyone's trust. The only time I made anything public or "reported" real news, is when MSG decided not to renew Duguay's contract. And I only reported that once I asked Duguay if it was okay. I also did the same thing with Jim Cerny too, now that I think about it.
Think about it – you guys all know how I want Frank Boucher's #7 jersey retired. I've had talks with people in the Rangers organization about this. I've talked about this in past blogs. And outside of Stan Fischler, whose conversations with me about this topic are public on Twitter, I've never released any name of anyone that I've ever talked to about this.
Bottom line here, if I wanted to be a vengeful little prick, I could be. I keep all conversations confidential, including a conversation I had with one player, THIS SEASON (there were other players in the past) that has agreed with my takes on Lundqvist and his attitude.
And really, real quick on this – I don't have to be confidential here. I'm just a bullshit beer-drinking blogger. I am not held at the same standards as a real reporter or journalist. I could air out everything that anyone has ever said to me. However, as a man and as a person, I just wouldn't do that. It's just not right. It's like attacking an innocent woman who is doing her job. (You should get that reference!)
And really, the second I ever release one private conversation, that would be the end of anyone telling me anything in confidence. For some readers of this blog, you guys have also told me things in confidence too and not once has any of that stuff ever appeared in these blogs.
Why do I bring this all up? Because this happened today! Take a look: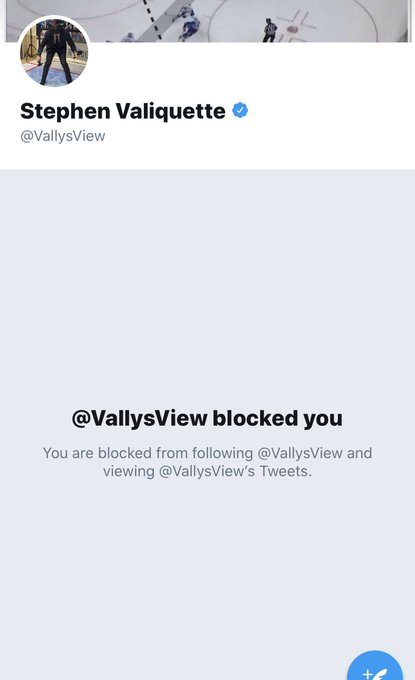 You know what's the funniest thing about Valiquette blocking me on Twitter? It wasn't because of all my critiques of him on this blog. (At least I don't think so or have any proof of that being the case.) It's not because of the silly photoshops I make. It's not because of me joking around & being humorous by suggesting Vally has a male fanboy crush on Lundqvist. No, I was blocked because I tagged Malcom Subban in Vally's critique of his game tonight!
It seems that Vally is fine with everything else I've written on these blogs and on social media, but as the one lone and singular viewer of the MSG post-game show, Vally wasn't happy that I asked Malcom Subban what he thought about Valiquette's criticism of him.
In tonight's game, Malcom Subban just had the game of his life. He was fantastic. Did the Rangers make things easy for him at times? YES! But when Subban was called on, he did his job. The one goal he allowed came after a screen and a deflection, two excuses that Vally pulls out of his excuse rolodex, whenever Lundqvist gives up a goal of this variety.
However, just like Georgiev logging a shut-out on Saturday, Valiquette quickly dismissed Subban's effort and went on to blame the team for the loss. Again, not one mention of Lundqvist scoring on himself again. Even Joe Micheletti, who I've used for comic relief on these blogs since day one, even talked about this. Somehow and some way, Valiquette has become a parody of himself. Vally has taken the Lundqvist pom-pom's away from Micheletti. That's some freaking feat!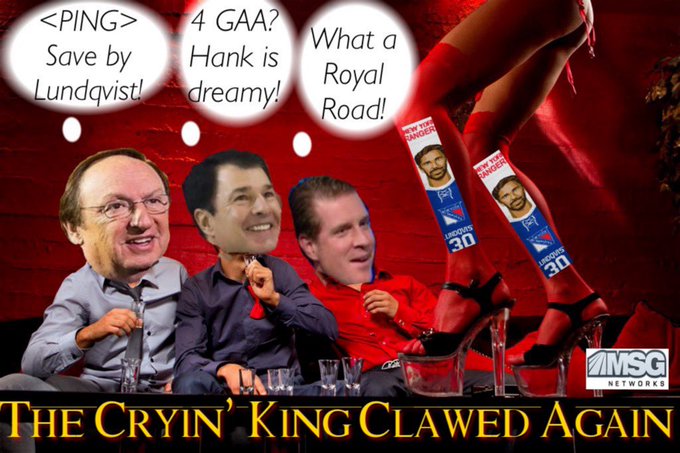 This blog is different than anything else out there. If I'll reveal anything about my conversations with Vally, he's pretty much agrees with that sentiment too! I cover everything when I do these blogs, including the MSG Networks segments and everything else in-between.
And this is a minor irk – when the MSG Networks moved on from Duguay, I think Vally could've been more supportive. Maybe I'm talking out of school here, but if my friend was fired (Duguay wasn't fired, he just wasn't re-newed) I would go to bat for my buddy. I think many of you would if you were in a similar situation.
While I don't care that Vally blocked me on twitter, (it is entertaining to talk about for this blog) I just think it shows you that he doesn't believe in the bullshit that he sells viewers. (It's nice to see he can block anything these days. If only I can block that segment out of him talking about his bloody groin! That made my ears bleed.) After all, if Vally was firm in his opinions, why would he upset about them being aired to Malcom Subban?
And let's face it, if Lundqvist had the game Subban had tonight, Vally would be butt-naked and throwing a parade down 33rd Street.
If I have anything left to say on this topic, it's this – if Vally writes anything dumb on Twitter, make sure to screen-shot it to me! In either event, just like I do with every blog, as long as this guy is on TV for these games, I'll be commenting on everything this guy says or doesn't say! Someone has to hold this guy accountable for his FAKE NEWS. Hey, no one said being a super-hero was easy! (I kid, I kid!)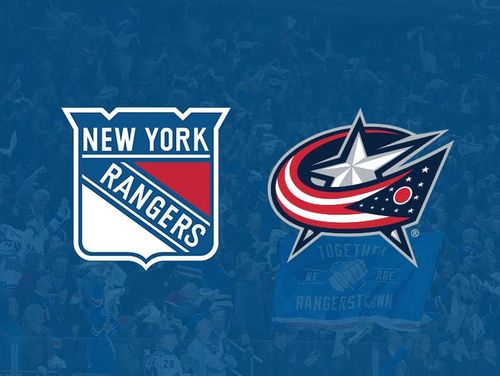 The Rangers now have two days off. I'm under the assumption that the power-play will be a major focus for them during the next few practices.
After announcing Lundqvist as the starter for tonight's game with Vegas, DQ then announced Georgiev for Thursday AT Columbus and Lundqvist vs Montreal AT M$G on Friday. I don't like this one bit, as I've said earlier in the season. Why announce these starts in advance? What if Georgiev has another beast of a game? You're going to slow him down again?
It also seems like Georgiev is getting the road games this season. After all, Quinn has already admitted that loud crowds hurt Lundqvist's feelings and Lundqvist doesn't have to worry about loud crowds at M$G these days. I mean, did you see this?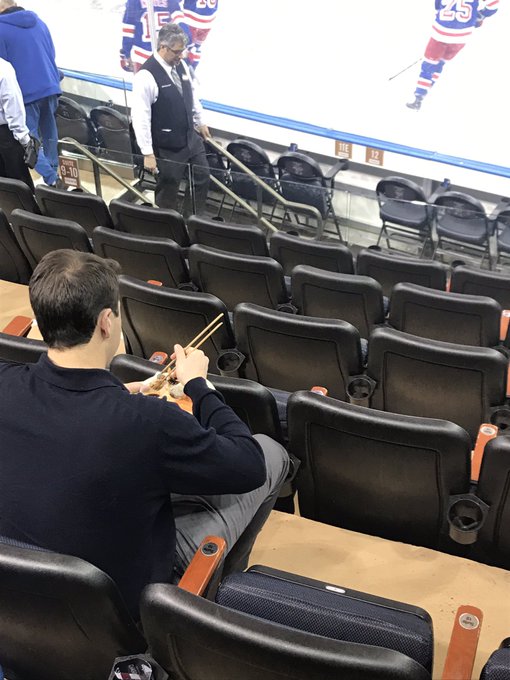 How can Ranger fans make noise when their hands are busy with chopsticks and their mouths are full of raw fish? Whatever happened to drinking a beer and having a pretzel hang out of your mouth like a Father Finkin' man?
As far as this blog, I'll definitely be back Thursday night, with a CBJ/NYR recap. If anything crazy breaks, I'll chime in either tomorrow or Wednesday night. As always, you can subscribe to these blogs, so you don't miss an update. Then again, you can just hit refresh on our browser!
This was a long one tonight, but I hope I entertained you! Plus, with no game until Thursday, I felt like venting everything out and starting anew on the next blog!
As always, thanks for reading and win or lose, Lundqvist or Georgiev…
"LET'S GO RANGERS!"
Sean McCaffrey
BULLSMC@aol.com
@NYCTHEMIC on Twitter (I lost a follower today. RIP to the Twitter handle of @VallysView !)