Greetings and salutations everyone and welcome to another blog here on BlueCollarBlueShirts.com. As I write these words, one hour after the final horn at "The Rock" in Newark, I already know that this blog is going to be long. In other words, grab a drink, sit down and buckle in – this is going to be a fun one.
On Saturday afternoon, 24 hours removed after a 3-2 overtime loss in Boston, the Rangers rebounded and defeated their cross-river rivals, in the New Jersey Devils, by a final of 4-0. For the Rangers, they now extend their points streak to five straight games and have won four of their last five games. With the season now 30% complete and with 25 games now played, the Rangers are heading in the right direction. This is the hottest they've been all season.
And yes, while I'm aware we still have a long way to go, isn't it better to be hotter now, than say in October? Put it this way, at the 10% mark of the season, the Buffalo Sabres were the best team in the league. The Sabres are now in third place, with 28 points, in what's looking to be a weak & disappointing Atlantic division. After all, the highly hyped and talented Toronto Maple Leafs & Tampa Bay Lightning, wouldn't be in the playoffs if the season ended today.
In the case of the Rangers, they now have 29 points. However, their 29 points has them in third to last place, in the always super-competitive and ultra talented Metropolitan division. That said, if the Rangers can continue to roll, they could have the third seed or a wild card spot, by this time next week. Again, it's still early, but it's something to keep an eye on. If there is anything you can take out of this, it is that the Rangers are getting better as the season hums along. That's all you can ask for. After all, things are looking way better NOW, than they did a year ago at this time.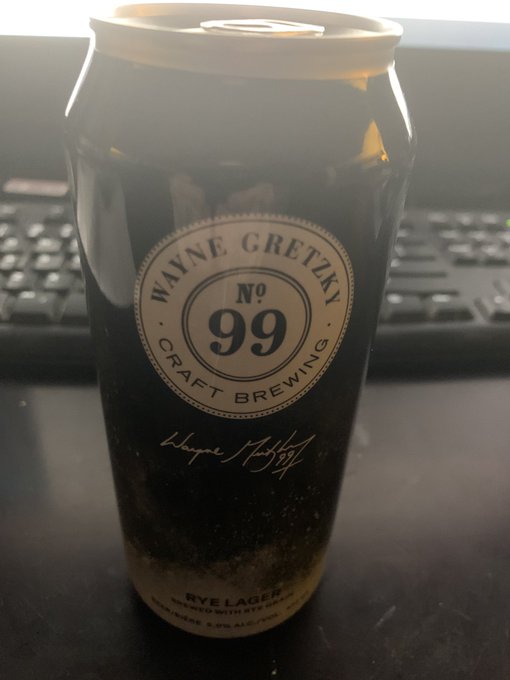 In case you were in a tryptophan coma on Friday, the Rangers played yesterday in Boston. If you missed my game recap of that game, you can check that blog out, and all my other most recent blogs, by clicking the links below:
---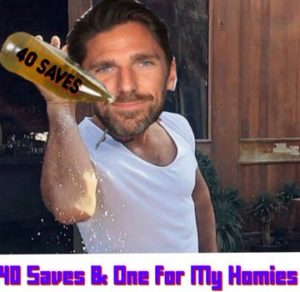 ---
---
---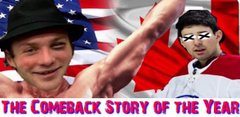 ---
---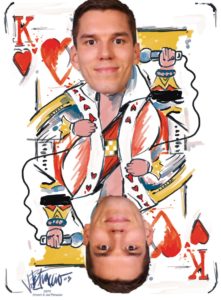 If you're a Ranger fan, Saturday afternoon's victory over the Devils will overwhelm you with all sorts of joy. While the Rangers weren't perfect, the following happened in this game:
— Alexandar Georgiev recorded a shut-out, the first shut-out for the Rangers this season.
— The special teams looked great, especially the penalty kill, which had their heaviest work-load of the season.
— Even better, the penalty kill actually scored more goals than both the Rangers & Devils power-play units combined! The Rangers PK put two goals on the board.
— The Devils, one of the Rangers biggest arch-rivals, are in a complete state of disarray. This blog might take me two hours to do today. It wouldn't shock me, that when I finish and proof-read this blog, to hear that the Devils fired their head coach in John Hynes. And really, if anyone is going to call Mike Babcock right now, it should be the Devils.
— Even better, Taylor Hall, who won the Hart Trophy for this Devils team two seasons ago, looks to have one foot out the door. Fans were even chanting "TAYLOR'S LEAVING!" Oh, and PK Subban, who the Devils touted all off-season, has been absolutely horrible this season.
— Defensively, the Rangers may have had their best effort of the season, with Ryan Lindgren (rookie) Adam Fox (rookie) and Jacob Trouba (big name acquired through a trade, just like how the Devils acquired Subban) standing head and shoulders among everyone else. With no goals allowed for the Rangers defense, it was like a day to celebrate.
— Mika Zibanejad, who just returned two games ago, and who many Ranger fans would like to see be named captain of this team, had a two point game.
If there is anything negative to talk about today, in regards to the Rangers, it's the amount of penalties they took in this game. There's also that turd Steve Valiquette to talk about, but I'll sink my teeth into him towards the end of this blog.
While perhaps I'm exaggerating all the love in the world for Alexandar Georgiev right now, I do have a reputation to maintain! After all, the second the final horn went off in this game, my social media accounts and my text messages made my phone flash red, as if it was a goal light behind Henrik Lundqvist with a two goal lead or like that time Steve Valiquette gave up 10 goals to Dallas!
To break down Georgiev today, the biggest fact going into this game is that he needed a monster game. He didn't need a shut-out, but he needed to play well.
As I've talked about in the preseason and all season long, when it comes to the Rangers, Alexandar Georgiev faces the most pressure out of anyone on the team. Sure, you can make cases for Panarin & Trouba, recipients of huge contracts during this past off-season, but the fact of the matter is that no matter what, no matter how they play, they are still getting paid. You can also make a case for guys like Adam Fox or Kaapo Kakko, but there is a learning curve given to them. You could also argue for Chris Kreider, but his spot is safe in the NHL; it's only a matter of what team he will be playing for, come this time next season.
When it comes to Alexandar Georgiev, he is getting hit from all sides. You know my spiel and takes on this already – if it was me, this wouldn't even be an issue. Georgiev & Shestyorkin would be splitting starts the whole season, in an effort to have both of these guys ready, so they are at their best when the team in front of them gets there. Having a 38 year old Henrik Lundqvist (the age he will be when the 2020 playoffs kick off) does this rebuilding team no good. All Lundqvist is doing is stealing time and one-on-one training with Benoit Allaire, from Georgiev & Shestyorkin.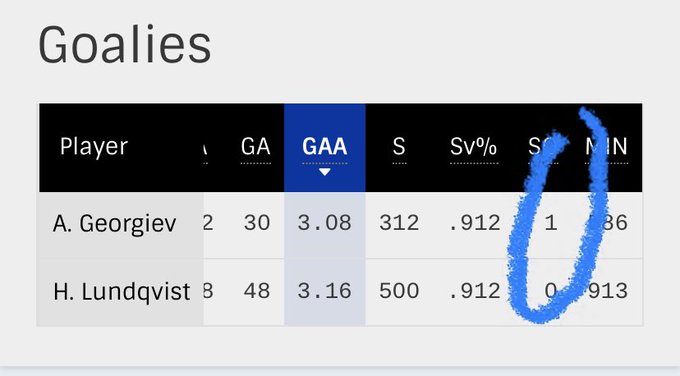 For Georgiev, not only does he have to deal with Lundqvist not willing to step down, he also has CZAR IGOR SHESTYORKIN nipping at his heels. Georgiev only has 5 games left, before he's no longer waiver-exempt.  With Lundqvist & his disgusting iron-clad contract stunting the rebuild and with Lundqvist unwilling to budge from his stance, if CZAR IGOR is ever going to get NHL ice time this season, it's going to be at the expense of Georgiev.
Unlike someone like a Micheal Haley, if Georgiev is no longer waiver-exempt, and the Rangers do put him on waivers, someone in the NHL will scoop Georgiev up. Obviously, the Rangers know this too, so if they are going to send Georgiev down, in an effort to get a look at CZAR IGOR, it will happen sooner than later.
Alexandar Georgiev will be a restricted free agent this summer. The Rangers will have to find a way to keep Lemieux, DeAngelo and others on the roster. Whether that means a Staal buy-out, a trade of Kreider and/or Skjei, the Rangers will have to battle the salary cap, a battle that the Rangers have been on the losing end on, ever since they gave Lundqvist that terrible deal.
For Georgiev, he has to fight the old guard that won't leave. He also has to worry about the new toy in Hartford. If Georgiev doesn't make the most of his NHL minutes, it will hurt him financially. His stock will be hit even worse, if he has to play the remainder of the season out in Hartford.
I'm going to bring up Cam Talbot at the end of this blog, but for Alexandar Georgiev, like a Cam Talbot or an Antti Raanta, two goalies who were better on the ice and were better value than Henrik Lundqvist during their time here, Alexandar Georgiev may become the third and latest victim of the Contract of Lundqvist.
The sad thing about Georgiev's situation? Even if he had a shut-out in every game, had a save percentage of 1.000 & had a GAA of 0.00, the Rangers would still look to move him, as the Rangers are hellbent with their "we rather lose with Lundqvist, than win without him" mentality.
For Alexandar Georgiev, it would make things easier on the Rangers if he failed or became a flash in the pan. Instead, after a game like this, he ramps up the pressure on the Rangers to keep him here. Will Georgiev be kept here past this season? That's the $8.5M question.
While David Quinn kept his same defensive pairs from the last few games, Quinn shook up his forward lines today.
Here's what Quinn did in this game with the NJ Devils:
(Oh, and keep in mind, there were so many penalties in this game, that everything kept getting shuffled and the time on ice is reflective of all the penalties took in this game.)
FIRST LINE: Lemieux/Zibanejad/Buchnevich (Lemieux got promoted, and rightfully so. Keep in mind, he also played more today because he's on the PK.)
SECOND LINE: Kreider/Chytil/Fast (Fast would get hurt in this game, go to the trainer's room and come back to the game.)
THIRD LINE: Panarin/Strome/Kakko (Kakko would be bounced around the line-up today, as he played on all four lines. This was due to the Fast injury, Quinn always shaking stuff up and because of all the penalties.)
FOURTH LINE: Haley/Howden/Smith (Boo Nieves was scratched and Haley was re-inserted into the line-up. That can't bode well for Nieves, as the same thing happened to Gettinger last week and look where he's at now.)
And of course, in goal, was Alexandar Georgiev.

At this time, let's go to the GAMBLING segment of the blog. Here's what I said before the game:
Season over/under record: 12-12
This is the worst record I've ever had, at .500.

Rangers haven't scored more than 3 goals since last Saturday. Devils are dead as a door nail.

Go the UNDER.

Real value is #NYR straight up. They shouldn't be a dog & DQ will have them ready. pic.twitter.com/liPJd3d8KR

— BlueCollarBlueShirts (@NYCTheMiC) November 30, 2019

I'm off the schneid! With Georgiev in net, I had a good feeling about the under anyway. Just like the Rangers, I'm back to one game over .500, with the same 13 wins that the team currently has. Isn't that amazing Suzyn?
Oh and as a bonus, I called the Rangers dog victory too. Everything was WINNING today, besides that butthole Steve Valiquette!
And now, let's go the official ESPN.com box score:
SCORING SUMMARY: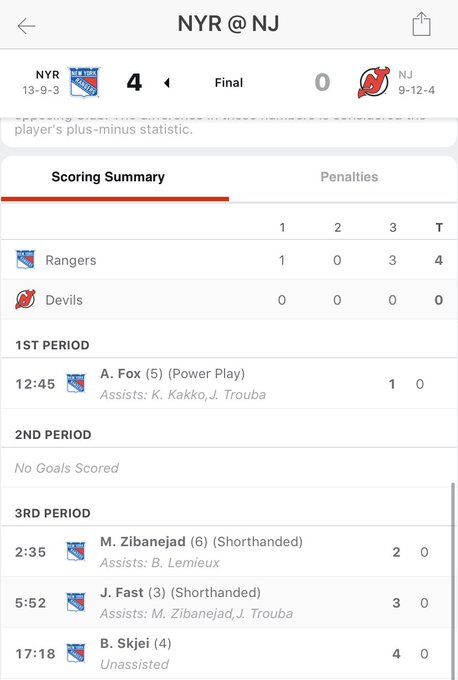 PENALTIES: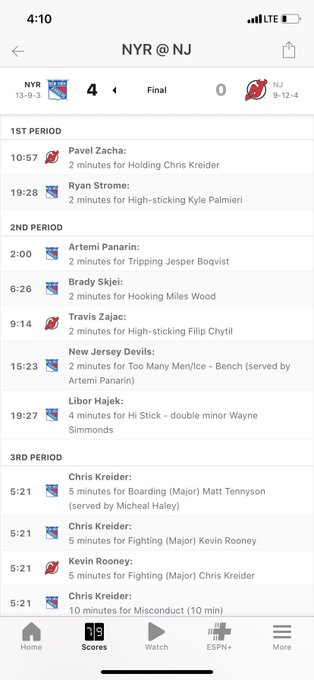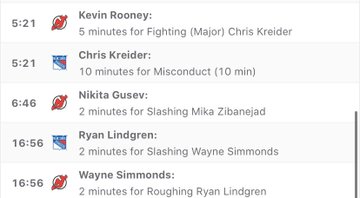 And your three stars? Here they are: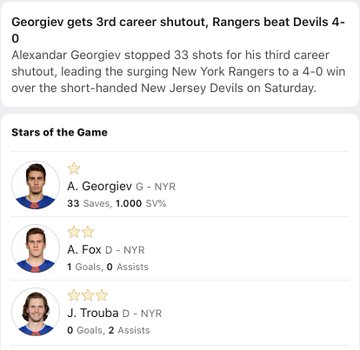 Before starting the period-by-period review, I have to mention this. For some reason, the Rangers were a +112 dog early in the morning. When the Devils announced that Jack Hughes wouldn't be playing because of an injury he suffered while blocking a shot (SAWWWWWWWFFFFFFT, Dan Girardi would've been right back out there & would've blocked a few more shots) the line moved to Rangers +135. I don't get that at all. The Devils are without their prized number 1 pick and the Rangers become a bigger dog? In any event, the Las Vegas bookmakers were DEAD WRONG with this game.
Oh and for some reason, Sam Rosen seemed extra peppy about being in Newark. I guess he was happy that he was there in the daytime and not at night.
And lastly, Sam & Joe were terrible once again. It's no secret that not only has Sam lost his fastball, he isn't even holding the ball anymore. Sam was confusing players all game and was calling out saves as the puck hit iron & made a sound louder than a cowbell.
In the case of Micheletti, while he wasn't as bad as Sam, there were points in this game where he just needed to shut the Father Fink up, but he would just yammer on. This was clearly evident when the public address announcer was reading off penalties and Joe would not stop talking. Joe then said, "I'm not sure what the penalties are." Maybe if he shut up and listened to the PA announcer, he wouldn't have had this issue.
Off puck drop here, while Georgiev was fantastic and did his job today, this was a team win, backed by a strong penalty kill. Georgiev would have to make a few tough saves in this game, with the first save coming early, after a brutal turnover by Libor Hajek. Speaking of Hajek, it's going to be interesting to see what happens when Marc Staal comes back. When it comes to the left handed d-men on this team, Brady Skjei needs a few games in the press-box. However, I can see Hajek rotating in and out of the press-box. If anyone should be playing in every game, out of these four left-handed defensemen, it's Ryan Lindgren, who perhaps had his best game of the season today.
After getting some help from the post after a shot from Travis Zajac, the Rangers would hit the post themselves, after Trouba set-up Lemieux, who was right in front of Devils goalie MacKenzie Blackwood. Kind of like the Boo Nieves shot from yesterday, Lemieux had to backhand this, but found iron. A right-handed shot would've buried this.
After this play, Georgiev would be tested again, after Taylor Hall stripped Brady Skjei with ease, and got off a shot a foot away from Georgiev. In the first few minutes of this game, Georgiev bailed out these two left-handed d-men.
Unlike yesterday, this game dragged a bit in the first period. This game was also very "muddy" and time-consuming, as there were a ton of icings, offside calls and penalties. It felt like the first period took 40 minutes to play, unlike yesterday's first period which felt faster than the actual 20 minutes of game time.
About 6 minutes into the period, Jesper Fast took a nasty spill:
#NYR Jesper Fast slow to get up after this play.#NYRvsNJD pic.twitter.com/mxcf9Ur7d6

— Here's Your Replay ⬇️ (@HeresYourReplay) November 30, 2019
After this collision, Fast would go to the bench, play his next shift, go to the locker room for repairs and then re-enter the game. Hockey player.
Nikita Gusev or "THE GOOSE", as Devil fans call him, seems like he could be the next Ranger killer. He was great earlier this season against the Rangers. While he was held scoreless today, I thought he played well. However, big kudos go to Ryan Lindgren, who just shut down Gusev all day, as Lindgren used fancy stick work and blocked shots, helping Georgiev get his no-no.
Later on in the period, Quinn put Kakko with the Haley/Howden line. Fast was in the locker room during this. It was just funny to see DQ bounce Kakko all over the ice today.
10 minutes into the period, Brendan Lemieux was the most offensive-oriented forward, as he kept getting to Blackwood. Against a weaker goalie, perhaps Lemieux could've had a hat-trick. However, Lundqvist wasn't in net for the Devils!
With Skjei on the ice, Georgiev would make his best save of the period, denying Gusev. Georgiev was in the zone today, obviously.
At this point in the game, Fast returned. Micheletti said, "Jesper Fast is back Sam." Sam's response? "AAAAAAHHHHHH". Give this man an Emmy.
At the 10:57 mark of the period, Pavel Zacha got called for holding. I'm going to get into that cheerleader Steve Valiquette at the end of this blog, but I have to say this here.
During this power-play, Panarin had a few chances to shoot. He didn't. In the first intermission break, Vally was whining about Panarin not shooting. Three times last week, Vally said that you can't always shoot on the power-play and need to find a good shot. In this game, Vally pulled a 180. And guess what happened? After not shooting and trying to find the perfect play, the Rangers just did that, as Kaapo Kakko made a beautiful pass to Adam Fox:
Have you ever seen a Fox attack in New Jersey??? NOW YOU HAVE 🦊 🦊 🦊 #LGR pic.twitter.com/AKRQfUQ8MM

— Rangers on MSG (@RangersMSGN) November 30, 2019
1-0 GOOD GUYS.
What a goal. This reminded me of the Fox to Panarin goal from Wednesday, against Carolina. However this time, it was Fox here picking up the goal, instead of the assist after a perfect cross ice pass.
This was a huge PPG for the Rangers, especially after going 0-6 yesterday. Nice to see the Rangers get this monkey off their back.
Oh and speaking of Vally, in yesterday's blog, I shared a tweet where Ron Duguay was analyzing the Rangers and said Kreider needs to body up in front of the goalie during the Rangers power-play. What happened today? Kreider did just that. Meanwhile, Vally was finding every damn way he could, to avoid talking about Georgiev's shut-out during the post game. It's a shame a generation of Ranger fans will have to grow up listening to fake news Vally.
A bit after this Rangers goal, the Devils got a two-on-one, with Hall feeding Palmieri. Palmieri, who thinks he's Alex Ovechkin, hit the crossbar. Sam called this a save. Joe made the correction and the two then apologized to each other.
With 31 seconds left in the first period, Palmieri skated into the high stick of Ryan Strome. Strome got a two minute minor here, even if the penalty was accidental. We saw this same penalty benefit the Rangers yesterday, when Smith drew it.
The Rangers would hold the Devils off the board during this 31 second, end of the period, power-play. Georgiev made a huge save to close the period out. It really was a huge save. If the Devils scored here, it would've been a huge momentum goal and a tying goal. Instead, Georgiev rewarded the Rangers for their hard work and kept the lead for the Rangers.
1-0 after one.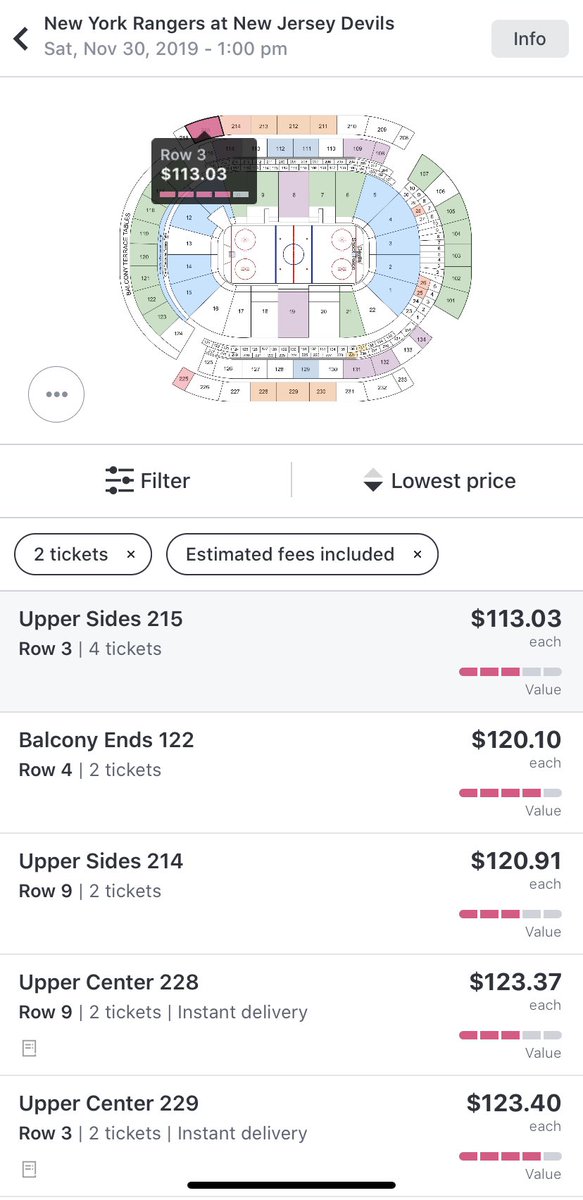 The second period was a mess for the Rangers, as they took 10 minutes of penalties in the period, which equates to half the period. All in all, the Rangers took 9 penalties today, for a grand total of 34 penalty minutes. The Devils would have 8 different power-plays in this game, including one double minor power-play of four minutes and then in the third period, a five minute major power-play. For as BAAAAAAAAAAD as the Rangers power-play was yesterday (0-6) the Devils went out there today and took home the Power-Play Futility World Title. Not only did the Devils go 0-8 on the PP, their power-play units gave up 2 goals to the Rangers penalty kill.
In all my years of watching hockey, I can't think of a worse special teams performance than the one the Devils put forth today. Can anyone think of anything worse than what the Devils did on their special teams today? I mean, how do you give up more short-handed goals than power-play goals, when you have all this time of a man advantage? I'll get more into the Devils woes later, but it doesn't get worse than this.
The Devils started off the second period with 1:29 of PP time. The Rangers killed it, with Brett Howden being the best PKer of the lot here.
Also of note, the Rangers are running a Black Friday sale, where you can get "SELECTED" tickets for "UP TO" 20% off. So if you want to see a last place Western Conference team on a weeknight, this is the sale for you. Conversely, other teams around the league are running "buy one, get one" sales or 30% off all tickets sales.  But hey, if want to save $15 to see the LA Kings on a Tuesday night, make sure to run to NYRangers.com!
After Georgiev robbed Boqvist, of a near goal, as the Devils PP expired, Panarin would trip Boqvist, thus sending the Breadman to the box. In other words, the Devils were up a man for the first four minutes of the period.
This would be the Devils best PP attempt of the game, as they spent 1:50 in the zone. However, they didn't get a shot off and Ryan Strome would clear the puck, allowing the Rangers to change and be fresh for the 5 x 5 full strength game.
At the 6:26 mark of the period, it was Skjei's turn to get a ride in the penalty box. You would think they were giving out the massages, the ones that Bob Kraft likes, in the Rangers penalty box today. The Rangers would kill this penalty too. However, at the time, with a 1-0 lead, the Rangers were doing themselves no favors.
And let's be real here, if Lundqvist was in net today, the Devils score, Lundqvist starts screaming and the Devils are all fired up. While the Rangers PK was amazing today, Georgiev finished 7-7/100% while short-handed. His demeanor of being cool, calm and collected radiates throughout his teammates. Unlike the game with Boston, where Lundqvist panicked at the first sign of trouble, Georgiev held his ground and in turn, the PK in front of him rewarded Georgiev.
At 9:14, Zajac would go to the box, after high-sticking Chytil. The Rangers set-up a nice looking power-play, but couldn't cash in. No PP goes 100%, so while this PP didn't produce a goal, you can't knock this attempt either. The Rangers did all the right things. I believe Blackwood made 3 good saves during this Rangers PP.
As the second period continued, Lindgren continued to make play-after-play. Georgiev continued to make save-after-save, including a big save, followed up by a save off the rebound. There was no crying from Georgiev today. That sereneness from the goalie pays dividends.
With less than five minutes to go in the period, the Rangers got caught for the dreadful "too many men on the ice" penalty again.
Let's refer to what David Quinn said on Wednesday, in regards to this penalty: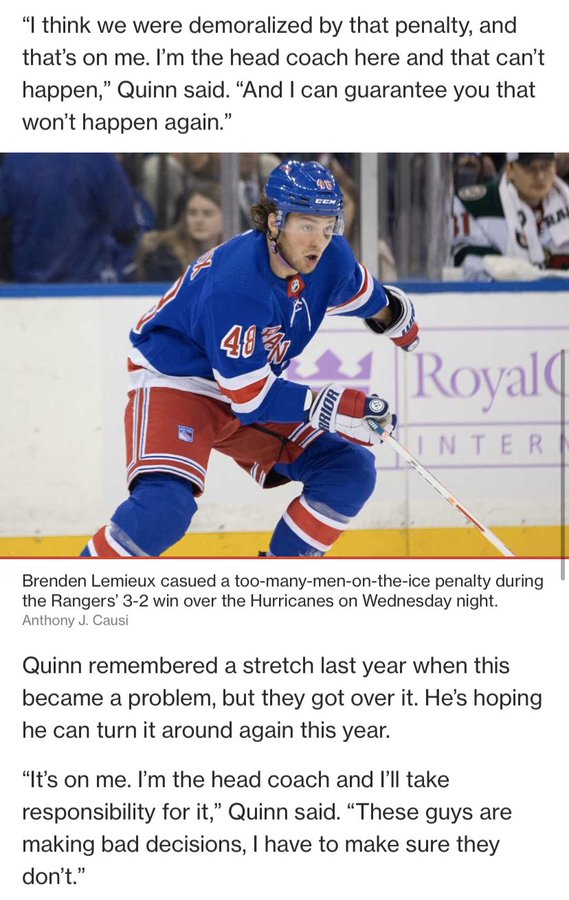 Just like Lundqvist after a loss, in the post-game, David Quinn didn't take any responsibility for this penalty and blew it off. DQ is lucky that Georgiev was in net today, as the Devils didn't make the Rangers pay here. Once again, the Rangers PK & Georgiev came up big.
After killing this penalty and with the period about to expire, Libor Hajek must've wanted his weasel greased from the Kraft massage girls, that had to be attracting the Rangers to the penalty box today. Hajek took a double-minor for high sticking, as he drew Devils blood. Just like the first period, this put the Devils on a 30 second and change power-play. However, the Devils would then have 3:30 of power-play time to open the third period, instead of 90 seconds.
Quite frankly, in a 1-0 game and because the penalty occurred behind the net, this was just a dumb dumb dumb dumb dumb penalty for Hajek to take. It was completely unnecessary. Again – Georgiev's shut-out and the PKers will hide all the Ranger mistakes today. But really, another goalie and a better opponent, this game could've gotten out of hand. In fact, we know this for a fact, as the Tampa Bay Lightning destroyed the Rangers, scoring 5 power-play goals in a game that took place a few weeks ago. The Rangers really got lucky today.
To open up the third period, the Devils got two good shots off at Georgiev. Two more saves for The King. The Rangers would then kill the first half of the double minor against Hajek. Then, in a move that saw hell freeze over for the Devils, Lemieux set up Zibanejad for a picture-perfect short-handed goal:
Did we forget to mention how happy we are to have Mika back!?!? No?

WELL WE'RE STILL SO HAPPY TO HAVE MIKA BACK 😍 !!!! pic.twitter.com/8Rw9FNAIUR

— Rangers on MSG (@RangersMSGN) November 30, 2019
2-0 GOOD GUYS.  What a pass, what a finish!
After killing this double minor, Chris Kreider laid out Tennyson with a big hit. Kreider was called for a five minute major for boarding. This was very questionable. Tennyson looked like he turned away from the hit, which led to Kreider slamming him into the glass. To me, this was a penalty for hitting too hard. This would never be a penalty in the old days. Also during this, Subban tried to act tough and tried to look for a fight, but he made sure the referee was right there to break it up.
As a result of all this, Kreider was kicked out of the game and the Devils now had a five minute major. Let's face it, I wanted to ham it up about Georgiev. At this point in the game, while I thought the Rangers would win it, I thought Georgiev's shut-out was a goner.
As mentioned above, this was the point in the game where the PA announcer was reading off a bunch of penalties and Joe Micheletti wouldn't shut the hell up.
30 seconds after this penalty call, the Rangers found themselves on a three on one. Trouba gave it to Zibanejad and Zibanejad found Fast. 3-0 GOOD GUYS.
This was the ultimate FATHER FINK YOU REFEREES goal for the Rangers. The penalty against Kreider was bullshit. If you had to call something, it was a two minute minor. Calling a five minute major here was egregious. Despite the refs screwing the Rangers with this call, the Rangers remained calm, found their play and shoved it up the ref's ass. Man, that goal made you feel Father Finkin' good! It was just one of those against all odds type of things.
Even better, less than a minute after Fast's goal, Gusev got called for slashing a motoring-to-the-net Mika Zibanejad. This put the teams at 4 vs 4 and erased two minutes of Kreider's penalty. On the four vs four, the Rangers, and I'm not exaggerating here, HELD THE PUCK FOR THE ENTIRE TWO MINUTES. The Devils couldn't even lay a stick on the rubber.
The Rangers would then kill the remainder of Kreider's penalty, allowing them to go 8-8 on the PK. However, perhaps riding a wave of emotion, the Devils got past Buchnevich and pretty much had a 2 vs 0 against Georgiev. Georgiev made the first save, the whistle blew and the Devils scored. However, since the whistle blew, the play was dead. The refs reviewed this one and agreed with the call on the ice. This huge for Georgiev, because it would've sucked if his shutout was marred because of a play like this.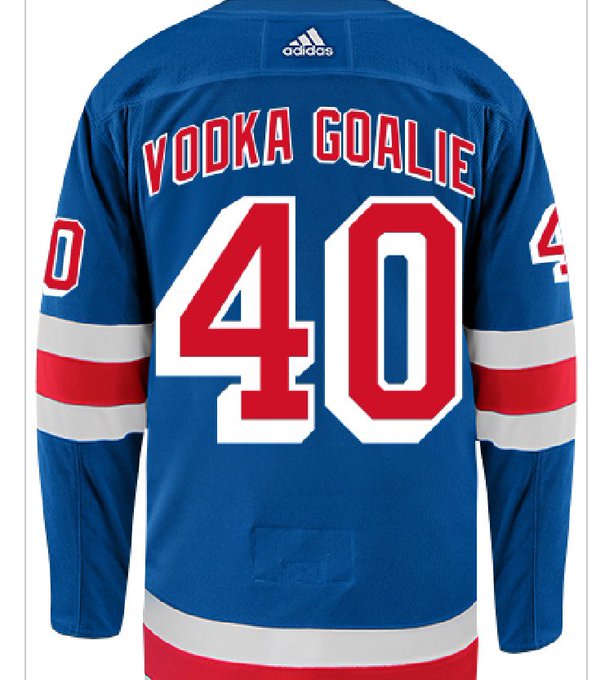 With three minutes and seconds to spare remaining in the period, Lindgren & Simmonds were boxed for off-setting penalties.
Down 3-0, Devils head coach John Hynes pulled his goalie. What's the point? The Devils power-play was a Father Finkin' disgrace all game!
At the 2:42 mark, while trying to clear a puck, Skjei lobbed the puck up. The puck took a fortunate bounce and went into the net. 4-0, GOOD GUYS. At this point in the game, there was only one thing left – Georgiev getting his shut-out.
Despite a four goal lead, the Rangers didn't sit back, as guys like Panarin and Kakko continued to march at Blackwood. Time continued to trickle down and eventually we got to triple 0. Rangers 4, Devils 0 and Georgiev gets his first shutout of the season! That's one more shutout than Lundqvist has had in the last 2+ years! Who's the king now?
Listen, this game wasn't pretty. The Rangers are lucky that the Devils suck and that the Devils special teams suck even more. This could've been another Tampa bloodbath. Instead, Georgiev made the saves when needed, the PK had their best effort of the season (and really, how can the Rangers PK top this game now?) and the Rangers PP even picked up a goal. In fact, the Rangers, while perhaps better 5 vs 5, didn't get one 5 vs 5/even strength goal all game!
I would love to troll everyone and put this win all on Georgiev. I'll save that for social media, because it's always fun riling up the people that will sell for that. However, on this blog I'm always honest and true to my opinions. Georgiev was great today, but this was a HUGE TEAM WIDE VICTORY. Georgiev deserves the headlines, but the PK was the heart and soul of this win, especially with those two short-handed goals. That Jesper Fast goal was a goal that had every Ranger fan fist-pumping.
If there is anything to nag about, it's that the Rangers must stay out of the box. The Rangers were attracted to the penalty box, just like the Greeks once were, to those mythological sirens on an abandoned island.
4-0, big win and a step in the right direction.
I got two ex-Rangers goalies to talk about before going home here. Let's go with the one I like better and then finish with that bunghole Steve Valiquette.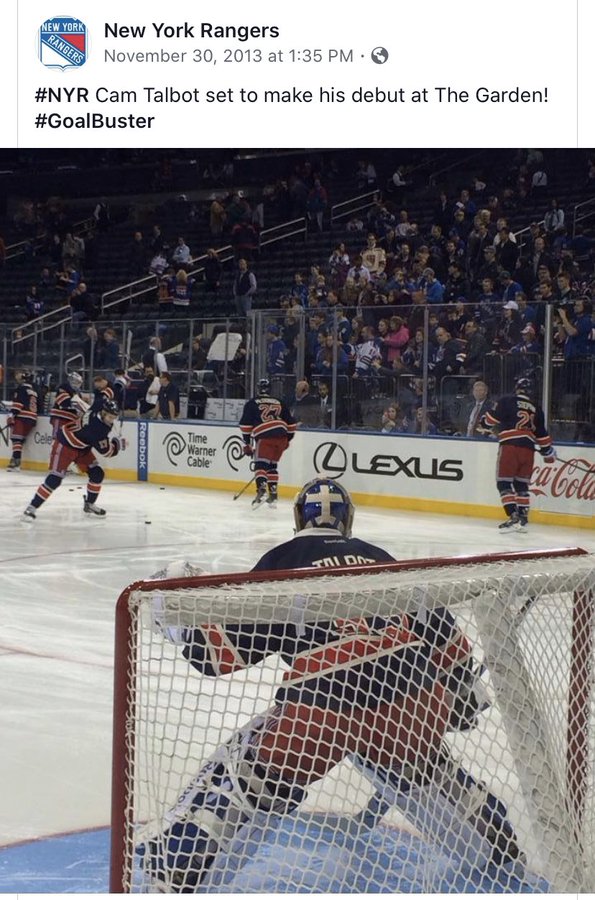 For old-time readers, I don't have to explain my fandom of Cam Talbot. You know this already. For newer readers, check out the archives or the right hand side of this site and go to the blogs from the 2014-2015 season.
I found it ironic today, that on the day that Cam Talbot once debuted at M$G for the Rangers, that Alexandar Georgiev, who is now in the same position as Cam Talbot once was, posted another shut-out for the Rangers.
I have talked about Cam Talbot a lot on these blogs, especially during that 2014-2015 season. Since day one on this blog, I said this – the Rangers will never win a Cup with Henrik Lundqvist. The goalie can't be your number one cap hit. A Top 5 paid goalie in the salary cap era has never won a Cup. (Two rookies later on, went to win Cups though, in Murray in Pittsburgh & Binnington in STL.)
At the time, a large majority of Ranger fans were mad at me. Some still are, even though as time has progressed and that I've been proven right, many people have seen my line of thinking.
The Rangers coddle and pamper Henrik Lundqvist like no other Ranger in team history. That's a fact that can't be disputed. As mentioned 76786789678964289678946524578926357894625627689 times on this site, it makes no sense. To the Rangers, Lundqvist is bigger than Frank Boucher, Bill Cook, Bryan Hextall, Dave Kerr, Chuck Rayner, Jean Ratelle, Eddie Giacomin, Brad Park, Brian Leetch, Mike Gartner, Adam Graves, Mark Messier and Jaromir Jagr, COMBINED. In the present day, Lundqvist has no cups and is playing in the worst era for a starting goalie.
In this era, the competition and talent parity between starting goalies and back-up goalies have never been tighter. We're seeing more two goalie systems out there. We are routinely seeing back-ups take jobs from starters. We are seeing those back-ups win Stanley Cups. However, the Rangers and that walking pile of turds Steve Valiquette, will give you every stat in the world, but ignore any stat that proves that paying a 38 year old goaltender top money, just doesn't work.
Another stat that the Rangers and the Cult of Lundswiss ignore? In the best season of the Lundqvist era, Lundqvist missed 30% of the season with an injury. In his place was Cam Talbot, who went on a phenomenal run. The Rangers would also win the Presidents' Trophy at this time, the only time the team won that Trophy, during the Lundqvist Error/Era.
Many Cult of Lundswiss fanatics will point to Talbot's current situation, when trying to argue about the 2015 season. I said at the time, and still believe, that if Talbot was given the barrel in the 2015 playoffs, the Rangers would've won the whole damn thing.
The following can't be argued – "CAM TALBOT WAS THE HOT HAND AND ON A ROLL DURING THIS PERIOD OF TIME." Furthermore, the Tampa Bay Lightning, the team that eliminated the Rangers in the 2015 ECF, had Lundqvist's number that entire season.
As we'd see in years after, Pittsburgh & St. Louis made the hard call to bench their starters, and go with their rookie back-ups, in successful Stanley Cup playoff runs. While there is no doubt that Lundqvist has had a better career than Talbot; at that moment in time, Talbot was better. In fact, if you look at Lundqvist's numbers since that ridiculous contract, his numbers are pedestrian at best and his numbers are way short of his starting goalie peers.
Before Lundqvist's horrendous contract, that went into effect in the 2014-2015 season, his back-up goalies were pretty much aged old goalies, who were happy to play 10-12 games a season. As the league changed and as Hank's new deal came into effect, you needed better back-up goaltending. Instead of old-timers collecting a paycheck, teams went young with their back-ups. In turn, we saw Vasilevskiy bump Bishop in Tampa. We saw Murray bump off Fleury. We saw Binnington knock off Allen. We saw Hellebuyck knock off Pavelec, and the list goes on and on.
For some reason, the Rangers ignore all of this. Cam Talbot was traded off and became a starter in Edmonton, where he set team records. (Most wins in a single season.) Whether it was burn out, the league's worst defense or what, Talbot could never keep his consistency level up after that career year.
After Talbot, came Antti Raanta, who routinely posted better numbers than Lundqvist. In fact, then coach AV would bench Lundqvist, in favor of Raanta, during several periods of time. Despite Raanta being better and for less money, the Rangers traded Raanta too, where Raanta became a starting goalie in Arizona. Unfortunately, injuries stunted Raanta's career and just like everywhere else in the league, a younger goalie, in Darcy Keumper, bumped Raanta from the starter's role.
In 2019, we are seeing the same scenario play out with Georgiev. Even sadder, Georgiev is cheaper and younger than Talbot and Raanta were, during their time with the Rangers. It's going to shock no one when the Rangers move on from Georgiev next.
With Lundqvist making it clear he has no plans on leaving, what's next? Are we going to wait until CZAR IGOR SHESTYORKIN is 35 before giving him the starter's job here?
This missive of "Lundqvist first, all the time" is doing the Rangers no favor. It's not working out. What more do the Rangers need to see?
Of course, there is one person that would advocate, that upon Lundqvist's death, that the Rangers freeze Lundqvist, like Walt Disney or Ted Williams and roll Lundqvist in his ice tank to the net for every game. That person, of course, is Steve Valiquette.
If there was ever a game that showed that Steve Valiquette was a card carrying member of the Cult of Lundswiss, it was this game.
Many times this season, after a Lundqvist start, in fact, EVERY TIME this season, win or lose; the first story that Vally leads with is about Henrik Lundqvist. In fact, Vally is so aware of how far up his head is up Lundqvist's ass, that he even apologized on Wednesday night, for not spending more time on Adam Fox. Then again, how could Vally talk about Fox, when he has a Swedish sausage dangling out of his mouth?
You've seen it before. If Lundqvist ONLY gives up 3 goals, Vally will start the post-game show off by blaming the Rangers defense, alien invasions, the Syrians, non-union carpenters, skunk beer, anal fissures, Monica Lewinsky and anything else he can think of, for any goal Lundqvist allows. Then Vally talks about how Lundqvist carried the team. This happens all the time, no matter the result of the game.
And when Lundqvist and the Rangers win a game? Forget it. Vally immediately talks about how LUNDQVIST won the game and not the Rangers. At this point, instead of his cheap suit from the Men's Wearhouse, Valiquette should just wear a Lundqvist jersey on set.
After today's win, Georgiev wasn't mentioned at all, until the fourth segment/30 minutes after the game was over. Instead, Vally talked about everyone else on the team, something he should do after Lundqvist starts.
GEORGIEV HAD A FATHER FINKIN' SHUTOUT, AND VALLY, THE GOALTENDER, THE SELF-PROCLAIMED GOALIE GURU, DOESN'T HAVE ONE THING TO SAY ABOUT GEORGIEV UNTIL THE 30TH MINUTE OF THE POST-GAME SHOW?
You know for damn sure, if Lundqvist got the shutout today, what the lead story would've been. Instead, because it was Georgiev, Vally found anything else to talk about. At one point, I thought he was going to discuss politics as a diversion.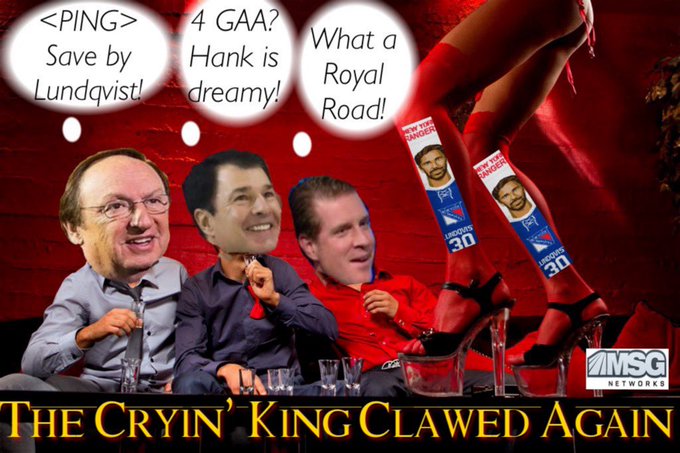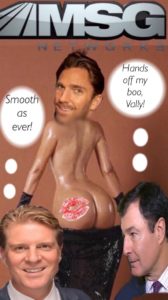 I've used Joe Micheletti as comic relief on this site a lot. A whole lot. However, Joe is just doing his job. As an ANALyst, Valiquette is supposed to give us the straight 411. He's been anything but a straight clear-cut analyst this season. They might as well replace this stupid Bud Light Bar and dress Valiquette in a cheerleader's uniform.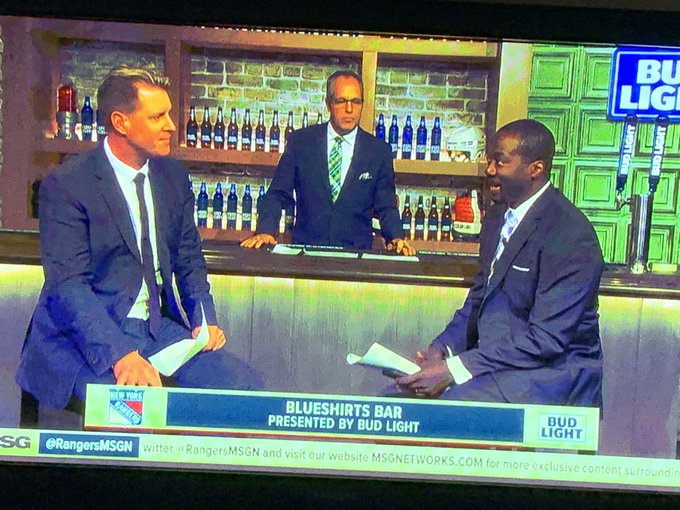 The Rangers and the MSG Networks, have turned into the Lundqvist News Network:
Listen, I said it in this blog. This was a TEAM WIN, a win where the PK shone brightest. That said, Georgiev posted a shutout today, you know, something Lundqvist hasn't done in two plus years. Instead, Vally found anything to talk about besides this fact. It took John Giannone to bring this fact up, but even then, Giannone said "THE RANGERS GOT GEORGIEV THIS SHUT OUT". I didn't hear Giannone or Vally mention how the Rangers got Lundqvist his 455th win though!
It's a shame, Ranger fans are at a great disservice with Fake News Steve Valiquette as the anchor of these horrible pregame and post-game shows. Every time I see Steve Valiquette, it makes me miss Ron Duguay that much more.
I don't know how Valiquette does it. You would think that having his tongue up Hank's asshole all day, that Vally's breath would bother him all day long. It doesn't. In fact, I think Vally wishes he had a tongue like Gene Simmons has from "KISS".
The love affair this franchise and Vally has for Henrik Lundqvist knows no bounds. It's like the love or strength that you hear/read about from a mother, who uses her love and adrenaline to move a car that has pinned her child down.
All I'm saying here, is that it would be nice if Vally could contain his love for Lundqvist for one broadcast. For all his bullshit stats and charts, maybe it would be nice if he didn't overlook the fact that Georgiev is outplaying Lundqvist and has the first Rangers shutout of the season. You would think a former back-up goalie would take notice of this little fact. I guess it's hard for Vally to see this with his head buried up Hank's asshole, which according to Vally, is the best royal road in the league.
SAD!
All in all, great win for the Rangers today, but they gotta stay out of the box!
Up next for the Rangers, they will host the Vegas Golden Knights on Monday. This could be an emotional game. If you haven't heard, Marc Andre Fleury's father has passed away and MAF is dealing with that. No word on if he will be ready to play in this game. If he does play, I can see him having one of those Brett Favre games, where he uses his emotion to power him to an epic performance.
No matter who the goaltender will be on Monday, VGK is a great team, with Cup aspirations. The Rangers usually answer the bell against good teams and this will be a good test for them.
As far as the Rangers starting goalie for this game, David Quinn has talked out of both sides of his mouth. First he said that he wanted to ride the hot hand. That changed once Georgiev got hot. Quinn then said, "I want to get Lundqvist in a rhythm." What a great company man.
You know my deal. I'd ride the hot hand and do what's best for the rebuild. Plus, I want to see how Georgiev handles a good team like Vegas.
I'll be back Monday night.
Until next time, thanks for reading, and as always…
"LET'S GO RANGERS!"
Sean McCaffrey
BULLSMC@aol.com
@NYCTHEMIC on tweeter