Greetings and salutations everyone and welcome to another blog here on BlueCollarBlueShirts.com. I hope you had a better Thanksgiving than the Rangers power-play today. Then again, unless your turkey reanimated like a "Walking Dead" zombie and ate the entire kid's table, your dog and your grandma at your Thanksgiving Day dinner, then I'm sure you had a better Thanksgiving than what the Rangers did on their power-play today. The Rangers power-play today was SAD!
On Friday afternoon, in what's becoming an annual tradition, the Rangers were the road team on the Friday after Thanksgiving, during the "NHL on NBC" game of the day. During the past few seasons, it seems that the Rangers were usually in Philadelphia for this annual game. In 2019, the Rangers were the guests of the Boston Bruins. After showing some hospitality in the first 38 minutes of this game, the Bruins shook off their tryptophan buzz, erased a Rangers two goal lead and came back to beat the Rangers in overtime, in a final of 3-2.
Going into this game, whether it was after the win on Carolina on Wednesday or even up to a minute before puck drop today, if you were guaranteed that the Rangers would get at least a point in Boston, I think you would be happy with that. However, with the way the Rangers lost this game, the Rangers ripped out the joy in getting a point today.
For most of this game, the Rangers led the Bruins. They were out-shooting the Bruins, at a 2:1 ratio, at the mid-way point of the game as well. The Rangers even jumped out to a 2-0 lead, a lead they held until the final 90 seconds of the second period. A combination of brutal power-play action and poor goaltending would wipe the lead off the board. In the overtime, Buchnevich would go extremely wide, as his shot somewhat foreshadowed where Lundqvist would be during the next Boston rush. Just 1:40 into the overtime, Lundqvist cheated to his left, as if he was trying to count puck marks on the boards. This then allowed David Krejci to put a puck in the vacated net, giving the Bruins their 3-2 overtime victory.
Of note, with this win, the Bruins remain undefeated at home this season. The Rangers, who did have their three game win streak snapped, now have a four game point streak. So there's that.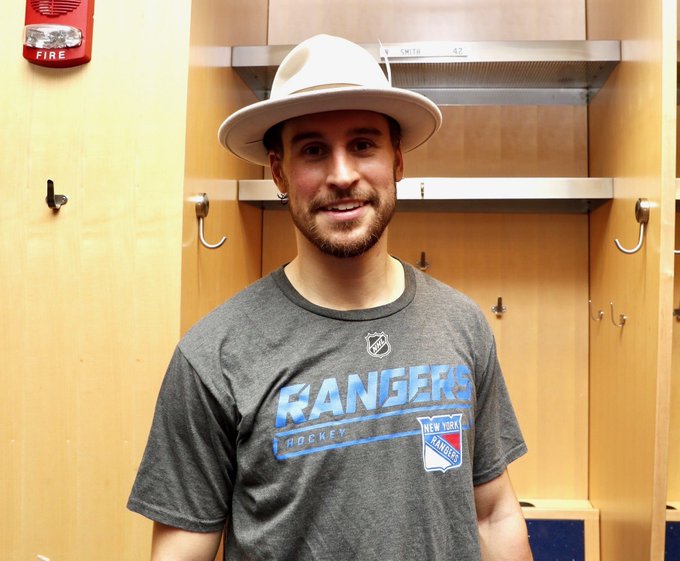 Between the Rangers schedule ramping up, my road-trip to Canada and meeting the Boucher family, I've pumped out a lot of content this week. In case you missed any of the blogs from this week, here they are: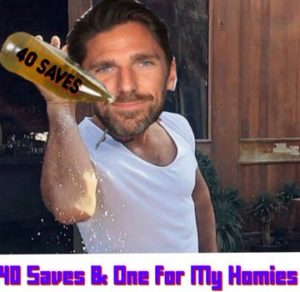 ---
---
---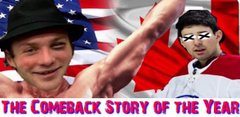 ---
---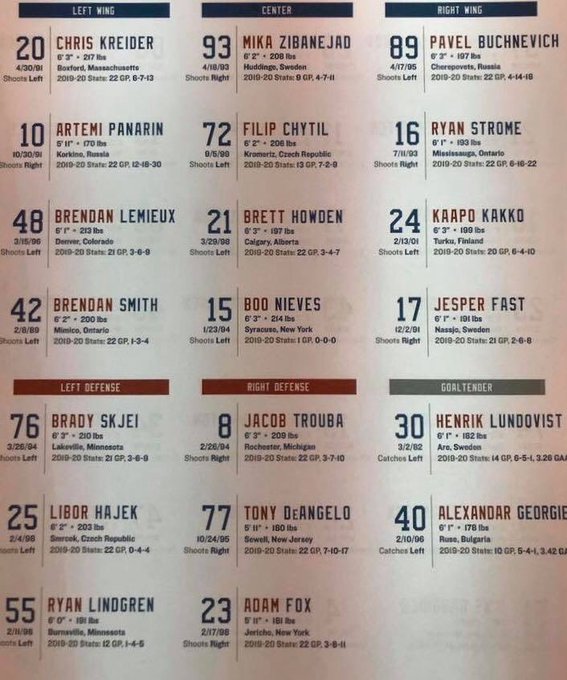 If there is anything you take out of today's game with Boston, it's this – the Bruins are not only the defending Eastern Conference Champions, they are also the best team in the league today. With 41 points, the Bruins also have a 7-0-3 record in their last ten games. In the headline of today's blog, I used the old phrase of "glass half empty/glass half full." For as bad as some things were for the Rangers today, the bottom line is that they got a point out of the best team in hockey. That is a silver lining.
If you want to drone on the negatives, and do the glass half empty stuff, then you can look at the power-play, which honestly, can't be ignored. You can look at Lundqvist, who was batting pucks into his own net and doing his rolling around the ice act.
However, if you want to be an optimist and look at the glass half full, you look to the fact that the rebuilding Rangers got a point against the best team in the NHL. You are happy that the Rangers limited their trips to the box in this game. You're happy that Buchenvich's hard work paid off. You're happy that Tony DeAngelo is having a Leetch-esque season, especially now, with the season being 25% complete. You're also happy to see that 20 year old Filip Chytil pick up a goal in this game, which was his 8th goal of the season.
Long story short here, while there are some things that will drive you mad with this game, at the end of the day, the Rangers got a point against the best team in the NHL. The sky isn't falling, even as the Rangers power-play success percentage descends to the bottom half of the league.
The Rangers power-play was 0-6 today. To make matters worse, the Rangers had one minute of a 5 vs 3 power-play and would also have a four minute power-play. I don't know what the stat is, but I would reckon to say that 98% of the time, if a team gets a four minute power-play, a five vs three power-play and three other additional power-plays, then you win the game. The other 2% of the time are games that the Rangers play in.
Despite the power-play being absolutely dreadful, not helping matters was that Lundqvist wasn't the same guy from the two bouts with Carolina. He gave up a brutal goal, with 90 seconds remaining in the second period, when he batted in a shot with his own stick, after a blast from the Boston blue line. Later on in the game, Lundqvist was also beat point blank by Pastrnak. And let me be fair here, getting beat by one of the best players in the NHL isn't the end of the world. It happens.
Like most NHL games featuring Jaroslav Halak vs Henrik Lundqvist, Halak was the better goalie and improved his NHL record against Lundqvist to 15-5. Of course goalie vs goalie match-ups don't exactly determine game outcomes, but it's a trend nonetheless.
Speaking of trends, let's go to the GAMBLING segment of this blog.
Here's what I said before the game:
Season over/under record 12-11.

Shockingly, Lundqvist is taking this start. He has played well in Boston before, but this Bruins team is red-hot.

Pastrnak won't forget the cheap shot. Bruins ran Hank off M$G ice a month ago.

I see this as an 8 total game. Take the OVER. pic.twitter.com/gzMEx8rAer

— BlueCollarBlueShirts (@NYCTheMiC) November 29, 2019
If I have to say anything, I have to be a man of my word from my last blog. I was shocked Lundqvist took this game. I for sure thought Georgiev would take this harder opponent. I was wrong. It happens from time-to-time!
I guess NBC let the Rangers know what they were doing, as the 10 minute pregame show was mostly about Lundqvist. If Lundqvist didn't start, NBC wouldn't have had anything else to talk about, in regards to the Rangers.
With a 3-2 final, my over-under record dips to .500 for the first time this season, as I'm now 12-12. I guess I should start predicting more unders!
And of course, this is "gambler's remorse", but this was another game where the over should've hit. 0-6 on the POWER-PLAY! Ridiculous!
There's no new news to report back to you guys, outside of the fact that Marc Staal might be back next week. We'll talk about Staal once he's ready to go.
With a game against the Devils in less than 24 hours, meaning we have a fast turnaround, let's get right into this game.
As usual, here's the box score from ESPN.com:
SCORING SUMMARY: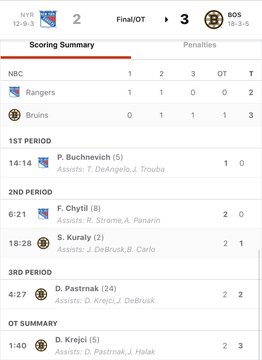 PENALTIES: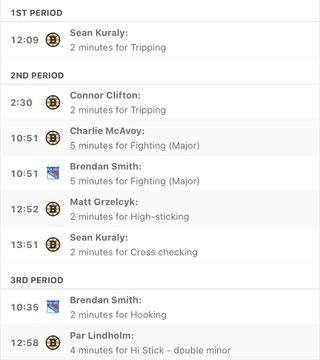 GOALIES:
| | | | | | | | | | | |
| --- | --- | --- | --- | --- | --- | --- | --- | --- | --- | --- |
| SA | GA | SV | SV% | ESSV | PPSV | SHSV | SOSA | SOS | TOI | PIM |
| 27 | 3 | 24 | .889 | 19 | 1 | 4 | 0 | 0 | 61:40 | 0 |
| | | | | | | | | | | |
| --- | --- | --- | --- | --- | --- | --- | --- | --- | --- | --- |
| SA | GA | SV | SV% | ESSV | PPSV | SHSV | SOSA | SOS | TOI | PIM |
| 28 | 2 | 26 | .929 | 20 | 0 | 6 | 0 | 0 | 61:12 | 0 |
This NBC game, especially in the first period, flew by. Even with the late puck drop (Advertised start time was 1PM, the puck didn't drop until 1:24PM) by 1:35PM, ten minutes of game time had already elapsed.
Boston took control of the first 90-120 seconds of the game, and then after that, it was pretty much all New York Rangers. Doc Emrick kept bringing up Boston's schedule, as this was their third game in four days. With this being day game, the Bruins didn't get those extra 6 hours of rest. They also didn't practice before today's game either. (The Rangers did practice on Thanksgiving, which I found odd. You'd figure after the win with Carolina, they'd get Thanksgiving off. Too bad they didn't spend more time at practice on their power-play though!)
The Rangers first chance to get a goal in this game saw Filip Chytil streak to the net and take a shot. Chytil has been so hot, so you can't question him here. That said, Strome was wide open and probably had a better crack at scoring here.
Buchnevich, who I've mentioned in past blogs has been playing well, but hasn't gotten any puck luck, started this game off by being stoned by Halak. After this, he fanned on a one timer. We then had our first commercial break of the game, with the whistles being limited, at the 11:11 mark.
It's funny, during some action after the commercial break, Emrick & Eddie O. went on and on about Zdeno Chara. They didn't mention how their buddy Mike Milbury traded him, in one of the many trades that set the Islanders back for 15-20 years.
Jacob Trouba had an interesting game today. I've said this before in prior blogs – I think Trouba is playing well, but when he makes a mistake, it really stands out. We saw some of this today. What I liked out of Trouba today, is that it seemed, at least for the first two periods, that whenever Trouba had the puck on his stick, he was firing the puck right at Halak. We saw this after the mid-way point of the first period, as Trouba blasted one of his patented heavy shots. Halak had trouble handling it, coughed up a rebound and then Nieves missed a wide open net, as the puck caught the heel of his blade. I bet you Vinni Lettieri would've scored on this rebound! (And while I'm joking here, Lettieri would've. After all, Nieves tried to backhand this shot, since he's a lefty. Lettieri would've had a point blank shot at the empty net, being a right-handed shot.)
At the 12:09 mark of the period, while in Boston's offensive zone and while being on the right of Henrik Lundqvist, Sean Kuraly tripped up Libor Hajek. The Rangers would go on their first power-play of the game.
Boston would kill this Rangers power-play, the first of six Boston penalty kills. If there is anything nice to say about the Rangers power-play, it is that Artemi Panarin is one of the league's best cross-ice passers. This guy is dishing passes board to board. These pucks aren't being broken up. They aren't taking bad hops. They aren't hitting the boards. These pucks are finding the sticks of Panarin's teammates.
With the power-play over, just seconds after the power-play expired, Tony DeAngelo found CAPTAIN HAPPY for the first goal of the game. (David Quinn called Buchnevich this term on Monday, so this is DQ's nickname for #89 and not my cute nickname for him. If Quinn ever calls Buchnevich "The Intoxicating Commie", then you know DQ ripped me off!)
Here's Buchnevich finishing after a great pass from TDA:
ICEBREAKER. Buchnevich. 🚨#ShotoftheNight presented by: @JagermeisterUSA pic.twitter.com/iNiAkamRt3

— NHL on NBC (@NHLonNBCSports) November 29, 2019
1-0, GOOD GUYS, as once again, TDA picks up a point and puts a dagger into the hearts of these insane liberals who hate TDA, just because his political preferences aren't the same as theirs.
While on TDA, how about this tweet that the Rangers stats team put out before the game: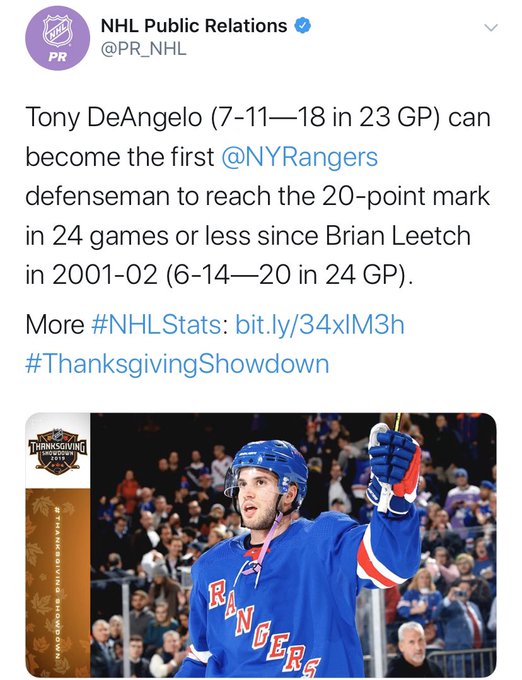 TDA wouldn't pick up another point in this game. However, the following remains true:
Tony DeAngelo extended his assist/point streak to three games (one goal, three assists), and he has recorded 17 points (six goals, 11 assists) in the last 18 games. He leads Rangers defensemen in goals (seven), assists (12), and points (19) this season. #NYR

— NYR Stats & Info (@NYRStatsInfo) November 29, 2019
Again, as I've done so often on these blogs, I have to ask this again. If Brady Skjei is worth over $5M a season, what the hell is TDA going to be worth this summer? Season tickets at M$G for life? Even Lundqvist couldn't afford that!
Another thing I wanted to touch on real quick is this – I saw people on Twitter going on and on about how Kakko needs better linemates, the third line isn't producing and blah blah blah. Mind you, they are tweeting this stuff out, with 47 minutes left to play against the best team in the NHL, in a game after a holiday no less. I get having HOT TAKES or quick reactions, but this seems like a case of wanting instant gratification, all the time. The third line has been fine. They are developing. No one is complaining when Kakko scores two goals or Lemieux helps lead a comeback against Montreal. Take a deep breath.
After one period, the score remained 1-0, GOOD GUYS. Rangers were up on the SOG too, to a tune of 11-7. The first period was pretty much all Rangers and the Bruins looked slow and sluggish.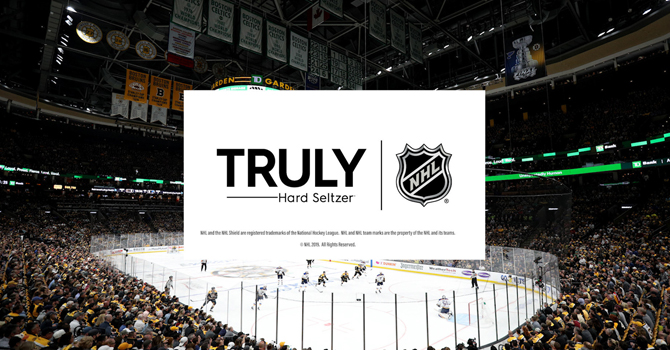 I'm sure I'll be the only blogger to talk about this, but these Truly Hard Seltzer ads are too much. I can only imagine what NHL old-timers are thinking. Gordie Howe must be rolling in his grave. Can you imagine NHL players of eras ago, all sitting on a bus, with their pinkies up and pounding hard seltzers?
You know I love my NHL history and read a ton of books. When I see these ads, it makes me think of NHL legends/Hall of Famers like a Phil Esposito or a Gump Worsley, two players who played for the Rangers & won Cups elsewhere. Can you imagine Espo, sitting around with Bobby Orr and drinking hard seltzer out of the Stanley Cup? Can you imagine Gump Worsley, who was a Seagrams VO man, sitting down with a cold glass of raspberry kale hummus flavored hard seltzer, after making 50 saves, half of them off his face, after a game?
Call me a 37 year old "BOOMER" here if you want, but hockey is made for beer and whiskey, not this hard seltzer shit. I will also make exceptions here for vodka, rum, gin and tequila. Shit, I'll even make an exception for Four Lokos. But flavored milllennial seltzer? Dump that shit down the sink!
Anyway, back to the game!
Things in the second period started off a tad shaky for the Rangers, as the Bruins got a four vs three situation. Marchand whiffed on the puck. And really, that's how things went for the Bruins for most of the game – they couldn't string passes together and in the limited opportunities they got, they couldn't put a puck on net.
2:30 into the period, Connor Clifton tripped Jesper Fast. David Quinn was actually smiling, as he wasn't used to the Rangers not committing penalties all game. Bruins killed this penalty with ease. The Rangers got one lousy shot on goal here.
At the 6:51 mark, Filip Chytil slammed home a Ryan Strome rebound:
Cashing in on the rebound! $$

The @NYRangers extend their lead. 🚨 pic.twitter.com/x42wNOGO1F

— NHL on NBC (@NHLonNBCSports) November 29, 2019
2-0, GOOD GUYS.
On the goal, there was that pesky anti-chart guy, in Ryan Strome, picking up another assist! Those chart geeks are going to need new material.
Oh and how about Panarin? Another point for him. I've made my opinions on him well known already.
At this point in the game, you could hear the ghost of Art Ross farting in the arena.
With Boston frustrated, Charlie McAvoy tried to get his team to wake up. He just picked the wrong Ranger to dance with, as Brendan Smith cleaned his clock:
Brendan Smith drops Charlie McAvoy pic.twitter.com/iM7TS7L9ay

— Rob Taub (@RTaub_) November 29, 2019
As I told my buddy Gideon on twitter, if this was a UFC fight, Smith would've got the knockout and fight of the night bonus!
And quick aside here, have you seen "THE IRISHMAN" yet? No spoilers, as it's a 3.5 hour long movie and I know you need to block out time to watch it, but if you watch the movie, there is a fight scene with Robert Deniro, where he kicks the ass out of some extra in the movie. It is literally the worst fight scene in the history of cinema. I can't believe Martin Scorcese even allowed this fight to be in the final cut of the movie.
Here's what I propose. Re-shoot the scene, this time with Brendan Smith as the stunt double of Deniro. Shoot the scene from a distance, so you don't have any close-ups of Smith's face. Then, for the final punch, you zoom in on Smith's right hand. Now that's a fight scene.
And give it up for Brendan Smith. We all know the deal, but he shows up to play every game.
I have to say this too. I saw some people whining online that "this fight wasn't necessary". These are the same people who whine about the Rangers not sticking up for each other. Here's Smith answering the bell, and answer the bell he did, and people still aren't happy.
I'm glad Ron Duguay agreed with me. I value his opinion over some random limp-wristed momo online any day:
Awesome!
That's what the @NYRangers players need to do when teams decide to try to rough them up !
👍 with out taking a bad penalty https://t.co/bIl2JLjKQS

— Ron Duguay (@RonDuguay10) November 29, 2019
Speaking of Ron Duguay, what he said next on Twitter pretty much summed up my thoughts on the Rangers power-play today:
Not one player in front of the goaltender , to screen & take the eyes away on the last 5 on 3 🤷🏼‍♂️ that simple technique is so affective!!!
other then that a real good game! https://t.co/YuNKaFLdgw

— Ron Duguay (@RonDuguay10) November 29, 2019
The reason I share these tweets from Duguay? Here are two tweets with great analysis, and not just because I share the same opinions as Duguay. It is what the MSG Networks needs on their broadcast and not Valiquette, who blames martians, Mussolini, black friday sales, forest fires, aurora borealis, the lost city of Atlantis, the baby shark song, feral turtles, popcorn vendors, the bad series ending finale of "Dexter", people who wear shorts in the winter, clogs, and/or the Popeye vs Chik Fil A Chicken Sandwich Wars of 2019, for any goal Lundqvist gives up.
At 12:52, Matt Grzelcyk got boxed for high-sticking. A minute later, Kuraly was boxed for cross-checking. This gave the Rangers a minute of a 5 vs 3 power-play. David Quinn took his timeout here, which I thought was smart. With a 2-0 lead, you really needed this third goal, as it would've put the Rangers foot on the throat of the Bruins.
Of course, what happened next is the Rangers couldn't get one shot on goal and because of errant passing, they cleared the puck for the Bruins on two separate occasions.
Here's what I said on Twitter after this failed PP:
Boston kills both #NYR pp's. If NYR loses this game, this is the spot of the game where NYR choked. You gotta score on the 5×3. At least get a shot off.

— BlueCollarBlueShirts (@NYCTheMiC) November 29, 2019
And I'm not looking for a pat on the back here. Many of you tweeted or commented on Facebook the same exact thing. WE ALL KNEW IT.
Right after the failed two-man advantage, Jacob Trouba and Boo Nieves raced up the ice, in a two on one skate with Charlie McAvoy. Trouba went to pass the puck to Nieves and McAvoy easily broke it up. This is what I'm talking about with Trouba. He plays well, but whenever he makes an error, it stands out like a pimple on your nose during prom night. Hello Kelly Kapowski:
With 90 seconds left in the period, you could feel it coming. In Boston's first sense of pressure since the early on-goings of the first period, Boston scored. In fact Lundqvist scored on himself, after a shot from the blue line:
ONE. GOAL. GAME.

Boston is AWAKE. 🚨

📺: NBC
💻: https://t.co/5tLuEzXAbY pic.twitter.com/v8ugV4FOzW

— NHL on NBC (@NHLonNBCSports) November 29, 2019
2-1, good guys.
At this point in the game, the Rangers were out-shooting the Bruins, 22-13. The new excuse now, from the "NEVER HANK'S FAULT" cult, is that Lundqvist wasn't being tested enough, so he got cold. You can't win with these people.
The guy batted the puck into his own net. As we would see as the game entered the final stanza, Lundqvist went into his nervous puppy mode, as he pissed himself. He also did the thing where he rolls all over the ice on his back, like a dog trying to satisfy an itch. He also humped the ice for good measure. Seriously, when Lundqvist is off (and you don't see this stuff when he plays well, as is evident in the games with Carolina) he always plays like he has ants in his pants.
2-1 after two periods.
And granted, while the Rangers power-play was Father Finking atrocious, the fact of the matter was that the Rangers had a one goal lead, against the best team in the NHL, on the road, with twenty minutes to go. Yes, the lead could've been more. However, with a one goal lead, you have to be happy about that. After all, before puck drop today, the Rangers are 7-0-1 this season, when entering the third period with a lead.
The Bruins looked like they were done dicking around at this point in the game. The Bruins opened the third by playing aggressive and spending more time in the Rangers D zone than at any other point in this contest.
Going into the third period, I felt like Boston would get some power-plays, as we usually see the refs try to balance the calls out. At this point in the game, the Rangers were on the right end of things. To make things even better, it seemed like the refs missed a few Ranger penalties to boot.
Marchand would go to the locker room to start the third period, as he skated into Trouba's elbow. However, Marchand would come back into the game. Upon first sight, it looked like Marchand was dizzy and seeing birds, but I guess he passed the NHL's concussion protocol. Take a look for yourself:
Potentially where Marchand got hurt earlier in the game https://t.co/y8kV3qxUip pic.twitter.com/NgFplwdtI5

— Evan Marinofsky (@emarinofsky) November 29, 2019
The Rangers got a chance to regain their two goal lead, early on in the period, when Trouba and Zibanejad had a two on one. Instead of passing off to the wide open Zibanejad, Trouba took it himself and Halak made the easy save. I wonder if Trouba was pass-shy here, after with what happened with Nieves earlier in the game?
Right after this, Pastrnak beat Lundqvist from his office. Clean shot, a shot that went through the good old five-hole. It's a save we see routinely made around the league, but just not here. 2-2 game, with 15 minutes and change of regulation remaining. With this two goal blown lead, it looked like Lundqvist was in LA again. (The agony.)
At the half-way mark of the period, Smith would be boxed for hooking. The Rangers killed the penalty.
If you don't consider the 5 vs 3 power-play failure as the turning point in the game, well then you have to consider what happened next to be the turning point.
With 7 minutes of regulation remaining, Pars Lindholm high-sticked Smith and his stick got caught inside of Smith's helmet. Smith immediately went to the locker room. No update on him yet, but I would imagine he will be okay for tomorrow.
Give credits to the referees here. They didn't pull a WWF wrestling thing here. While the refs didn't see what happened, they didn't ignore it either. They saw Smith was hurt. The refs then went to the video review, saw what happened, and while it was accidental, the refs gave Lindholm a four minute double minor penalty. In other words, the Rangers would have a man advantage for four minutes, providing they didn't score. However, you thought they would, right? Of course not.
The Rangers did dick for the next four minutes, logging two shots on goal, two shots that Halak had no issue with. The Rangers power-play finished 0-6 here, despite all the extra time and man advantages. And really, despite Lundqvist's gaffes, one power-play goal would've been all the difference.
At the end of regulation and with Boston dictating the pace, Trouba got away with an elbow. Boston was furious and they had every right to be. They could've started off the overtime with a PP.
2-2, after 60 minutes. Overtime was next.
Pasta ➡️ Krejci.

GAME. SET. MATCH. pic.twitter.com/OckowVmtZT

— NHL on NBC (@NHLonNBCSports) November 29, 2019
After Buchnevich went way wide, Boston raced up the ice in the overtime and Krejci would finish the game with the goal posted above. 3-2, BAD GUYS, your final in overtime.
On the goal, Lundqvist cheated way too much. I get cheating because of Pastrnak, but you don't see Lundqvist go that far when he's on his game. This was too easy of a goal for Krejci.
In conclusion on this game, I'm happy with the point, even though the Rangers pissed one away. If you're looking for culprits here, you look at Lundqvist and you look at the abysmal power-play.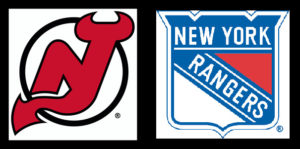 Up next for the Rangers, a battle with the Devils. I'll say this, if the Rangers lost this type of game to the Devils today, I would be furious and throwing out Father Fink bombs left and right. I take this loss to the Bruins for what it is – the Rangers picked up a point, on the road, against the best team in the NHL. However, when the Rangers go to Newark tomorrow, they will be playing a last place team, as the much hyped NJ Devils are currently in the cellar of the Metropolitan division.
Goaltender-wise, Alexandar Georgiev will make his first start in a week, after the start he had with Montreal. I know I sound like a broken record and I'm beating a dead horse here, but playing Georgiev once a week does nothing for this rebuild. I'm going to assume you know all my opinions on the goaltender situation already. If you don't, either you're living under a rock or are not familiar with these blogs. If it's the latter, just go check the archives.
As far as the lines go, providing Smith is healthy, I would run the same lines again. The Rangers weren't bad today. Their power-play and goaltender was.
I'll be back tomorrow sometime. As far as this blog, I'm sitting on a "Guardians of the Goal" book review, which I hope to get done next week. If you haven't already, I've gotten a ton of positive feedback on my Frank Boucher/Frankie Baird blog. Check that one out. And for those who wrote in, thanks for the comments. It's my plan to reply to everything tonight.
See ya tomorrow.
As always, thanks for reading and…
"LET'S GO RANGERS!"
Sean McCaffrey
BULLSMC@aol.com
@NYCTHEMIC on tweeter