Greetings and salutations everyone and welcome to another blog here on BlueCollarBlueShirts.com. What a glorious evening it is, here in the KINGDOM OF GEORGIEV!
On Sunday night, after splitting games with Columbus and Montreal, the Rangers traveled to the Pacific time zone, where they played their first of four games on this latest road-trip. In game one of this Pacific time zone road-trip, the Rangers blanked the Vegas Golden Knights, to a tune of 5-0.
For the Rangers, this was a huge win. While some problems remain the same, Alexandar Georgiev was able to mask all of them, as he logged a 38 save shutout. If you didn't see the game, you might see the final score and say, "eh, the Rangers killed them." However, just like these ridiculous charts that Steve Valiquette passes around like they are the Bible, the story on the ice played out differently.
In tonight's 5-0 victory, the Rangers had some of their normal issues. They couldn't control the puck and they allowed their opponent to tee off on their goalie. Unlike Henrik Lundqvist, who got blown out and gave up two goals in the first five minutes against this very same team, just six days ago in Madison $quare Garden, Alexandar Georgiev was able to weather the storm. In fact, Georgiev made 17 saves in the first period alone, with nearly 90% of the shots coming from within three feet of him.
Due to Georgiev's demeanor of always being cool, calm and collected, after fighting off a huge surge of offense from the Knights, the Rangers were able to get two quick goals past Vegas netminder, in a one Malcom Subban. After those two goals, Georgiev continued to play his game, while the Rangers took advantage of several opportunities, opportunities that led to two power-play goals.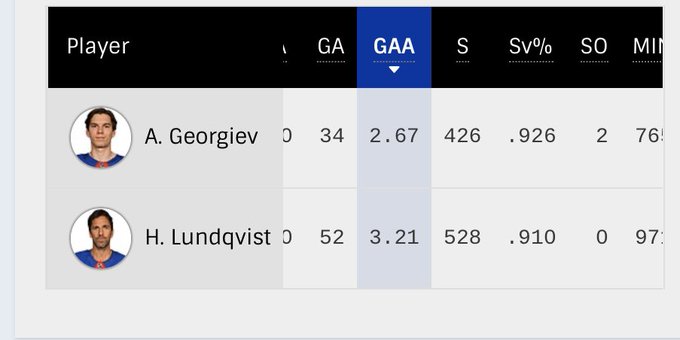 Before motoring on here, as I got a lot to say tonight, here are my last few blogs, in case you missed them:
---
---
---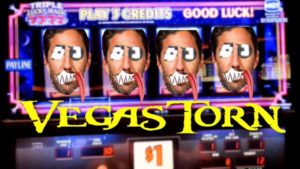 ---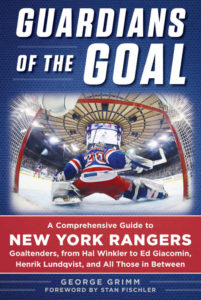 ---
---
---
Going into this game with Vegas tonight, there wasn't much news making the rounds. In fact, the biggest Rangers news had nothing to do with anyone on the current roster. The only news of note, between the Rangers last game with Montreal, to this game with Vegas, was the story about Vitali Kravtsov. (How do you like my comma game now, @FIXXSER?)
I have already talked about Kravtsov in-depth on these blogs, so I'm not going to rehash everything. Just check the archives or my blogs from early October of this year. In short, I don't blame him for leaving, but I do think that scrubbing his social media, of anything New York Rangers related, was catty.
As I said then, and as I'll say again here, it's like a woman cutting out pictures of her ex-boyfriend, or ex-husband, out of her photo album. (Remember photo albums? They were once a thing, before this age of digital photos!)
On Sunday morning, EST, Traktor Chelyabinsk, the KHL team that Kravtov plays for, tweeted out the following: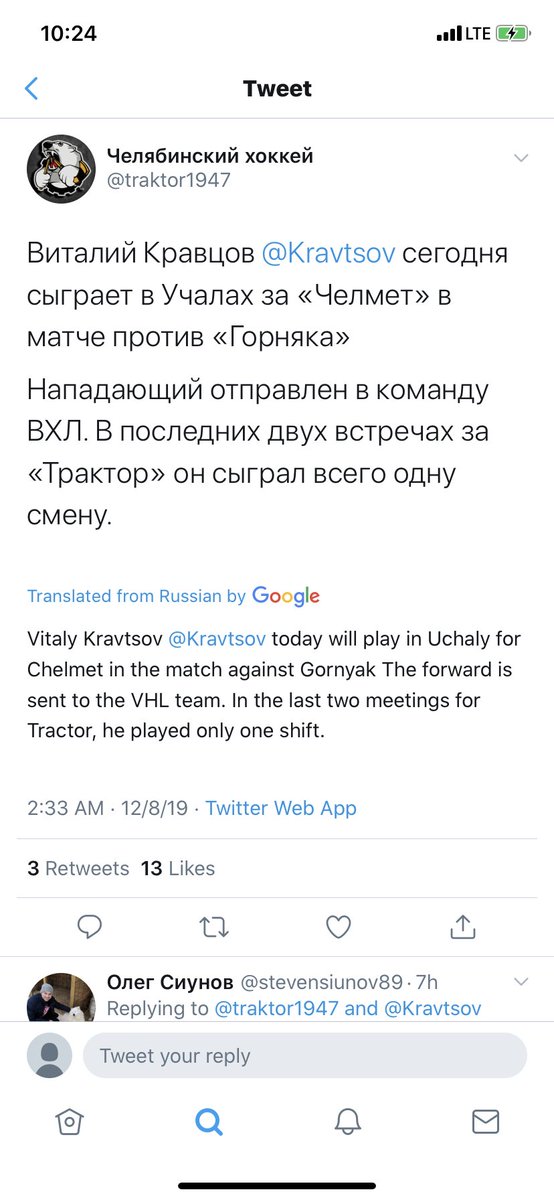 Vitali Kravtsov, the 2018 first round pick of the New York Rangers, and the teenager who didn't want to play in Hartford, in an ironic twist, is now playing for the Shartford of Russia. What a turn of events.
On a personal note here, Facebook has given me a 5-day timeout from posting in Facebook Groups. Apparently, bringing up the fact that Henrik Lundqivst once attacked an innocent woman at work, is a big Mark Zuckerberg no-no. However, when I saw this news about Kravtsov, I wanted to check the Ranger & hockey Facebook Groups that I like, just to see what the fan reaction was to this news.
(And for those who want to know, my go-to Facebook groups, in no order of preference, are: Garden of Skjeiday Town, BlueShirt Underground, NY Bleed Blue, Real Time NY Rangers & NY Ranger Maniacs.)
After scoping about 10 different Facebook Groups, in addition to gauging the fan reaction on Twitter, I found the reaction to Kravtsov's demotion, to be mixed and varied.
My opinion on all of this is simple. In a two month span, Kravtsov was jettisoned from both the Rangers & Traktor, to their respective minor league affiliates. For all the people what are currently defending Kravtsov, when does the issue become Kravtsov himself, and not the franchises themselves?
Here we are, in December of 2019 and two different franchises, completely opposite of each other, and in different continents, have both come to the same conclusion – Kravtsov is not ready for professional hockey.
From the people I talk to, who follow Hartford games in and games out, one of those people publicly tweeted that Kravtsov had attitude problems with the Wolfpack and that he wasn't getting along with his teammates. I can't tell you if this is 100% true or not, as I didn't hear this first-hand from any player or from anyone within the organization. However, I don't doubt the veracity of that statement. And really, it goes back to scrubbing out the Rangers from his social media account. Who does that?
Maybe I'm quick to the draw here, but I have to wonder if Kravtsov has attitude problems? Of course, when someone else suggested this on social media, the contrary opinion was, "THAT'S BULLYING. HE MIGHT NEED MENTAL HELP." I don't like to get political on these blogs, but 2019 liberals man.
If there is anything that is concrete, it is that Gordie Clark, who is the Director of Player Personnel for the Rangers & who is also involved with all of these NHL drafts; well it seems that Clark has a pretty shitty track record. I've already recapped all the Sather errors in previous blogs. However, if you look at the Rangers in recent times, while they may have found some studs with later picks, in guys like Igor Shestyorkin, K'Andre Miller and Filip Chytil, when it comes to their top pick in the Gorton Era, the Rangers have took a swing and a miss.
Granted, Kravtsov is still young and there is plenty of time to turn it around. That said, Oliver Wahlstrom is progressing for the Islanders, a player the Rangers could've selected before Kravtsov. If you go back a year, to the 2017 draft, there is no way anyone can argue that Lias Andersson is trending upwards. He's in year 3 and his role with the franchise is no greater today, than it was three years ago.
For Kravtsov, I can't say I have watched any of his games with Traktor. I've read things and seen clips, but I'm not immersed in the day-to-day of Traktor hockey.
All I can tell you are the facts. Kravtsov didn't like his role in Hartford after being scratched. He left on his own accord. Kravtsov went back to Russia. About a month of games for Traktor, Traktor sent Kravtsov down to their minor league affiliate. That tells you that he hasn't worked out for Traktor this season. Even worse, Traktor is one of the worst teams in the KHL. If Kravtsov can't hack it in one of the worst teams in the KHL, how in the hell will he ever cut it with the New York Rangers?
It truly is a shame, as I want to see Kravtsov do well. After all, the New York Rangers have his NHL rights. However, the more and more I hear about Kravtsov, this looks to be another Rangers draft pick that may never play in the NHL. I hope I'm wrong.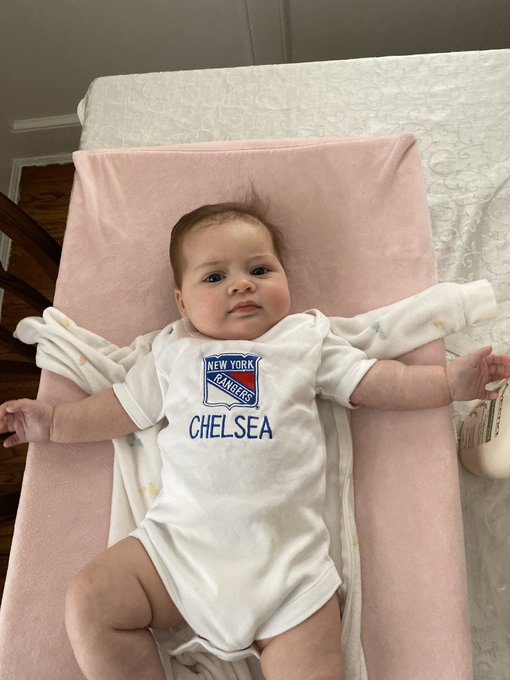 Going into this game tonight, the Rangers, as in David Quinn specifically, took his time to announce the line-up and the goaltender. The major reason, for the delay of this news, is because of the team & reporters, who were both traveling to Vegas.
Prior to 90 minutes before puck drop, the only thing we knew for sure was who was traveling with the team. As mentioned, Nieves was sent back to Hartford, so the only spare player the Rangers are carrying right now, is Micheal Haley. The Rangers are sticking with the same 6 defensemen and didn't call anyone up as a spare, in light of the Libor Hajek injury.
Let's go to the GAMBLING segment of the blog. This is what I said before the game:
Season over/under record: 15-13

No goalies have been announced yet, so I'm playing the trends. If Georgiev goes, play the UNDER. If Hank goes, play the OVER. Simple as that.

VGK is 1 of the best home teams in the NHL. However, for almost 2:1 $, not a bad idea to bet #NYR too. pic.twitter.com/bOs1rWjoNv

— BlueCollarBlueShirts (@NYCTheMiC) December 8, 2019
I'm now 16-13 on the season with my over-under picks and now on a three game winning streak. And my winning streak is no coincidence, as I have picked the UNDER, during the last three games, only because Alexandar Georgiev was starting. WINNING!
And really, I pretty much nailed this game. Georgiev starts, bet the under. That's all I needed to see. And hey, the Rangers paid out $190 for every $100 you bet. I wonder who had the balls to bet Rangers to win by 5 goals?
I will tell you this. I wish I was in Vegas for this game tonight. I would've cleaned up by putting up a $100 for Georgiev to get a shut-out!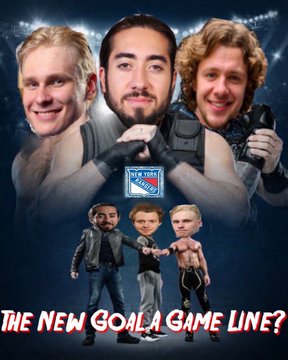 Line-wise for tonight, we had this:
FORWARDS
FIRST LINE: New GAG Line
SECOND LINE: Kreider/Strome/Chytil
THIRD LINE: Lemieux/Howden/Captain Happy
FOURTH LINE: Smith/McKegg/Fast
DEFENSEMEN:
FIRST PAIR: Skjei/Trouba
SECOND PAIR: Staal/DeAngelo
THIRD PAIR: Lindgren/Fox
About an hour before puck drop, we were treated to this good news: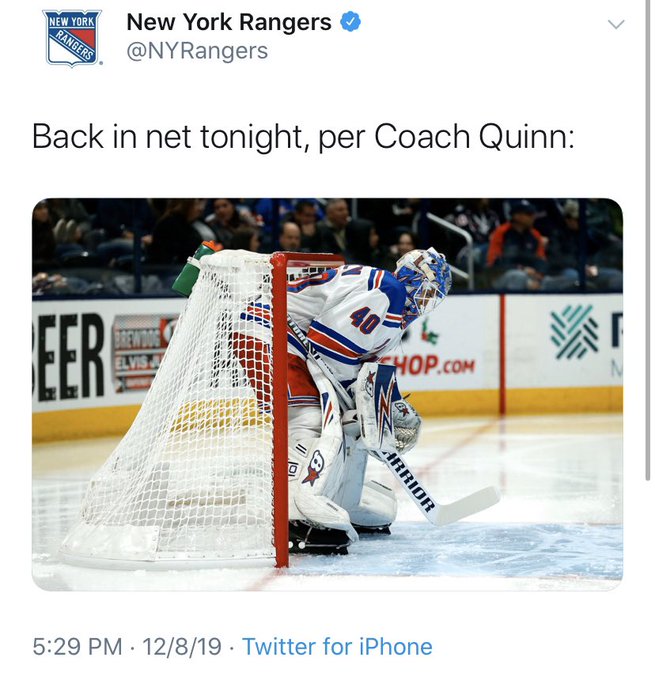 NY Post reporter, Brett Crygalis, reported the following before the game:
"Georgiev in nets again. Lundqvist is feeling better, and could have played, but sticking with the hot hand."
However, the above being said by Crygalis, the M$G Networks narrative tonight was that Lundqvist had the bubonic plague, which he contracted while fighting world hunger in Africa. He also got mono after giving mouth-to-mouth to some baby that was choking on their food.

Of course, I'm joking here, but the M$G Networks made Lundqvist out to be sickly. The only thing that is sickly is his contract, his GAA, his save percentage and his lack of shutouts in 2+ years.
While mentioned by the beat reporters, it wasn't mentioned once on the M$G Networks, that Quinn wanted to go with the "hot hand" tonight. Shocker.
One observation, as someone who watches every broadcast and game. Isn't it amazing Suzyn, how the T-Mobile Arena, where VGK play, is LOUDER during warm-ups, than during the 60 minutes of game time at Morgue $quare Garden?
I am not lying here when I say this – no team in the NHL has a better home ice advantage than the Vegas Golden Knights. While there is a case of the "VEGAS FLU" (people getting Father Fink'd up the night before) in reality, the city/residents love their new hockey team. I've talked about this all before and it's all true. There's not an arena louder in the NHL, than in Vegas.
I have to mention this too. As more and more people have finally come around, and have sided with me on my opinions on Lundqvist; I am getting an influx of new readers here. Nothing gives me more joy when I see people calling out things I've said in past blogs, when they happen on these M$G broadcasts. Here's one example:
Notice what happened there. Coach said Hank healthy enough to play. Broadcast: Hank still under the weather. Protect the message.

— Howie Wirtheim (@HWirth) December 8, 2019
I'm glad you guys are noticing this stuff too. However, the big thing happened at the end of the broadcast, and that's when my social media blew up. More on that at the end of this blog.
And now, as usual, let's go to the ESPN.com official box score of the game, the same ESPN.com that can not find the correct picture for Alexandar Georgiev:
SCORING SUMMARY: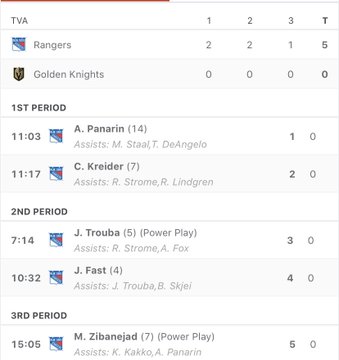 PENALTIES: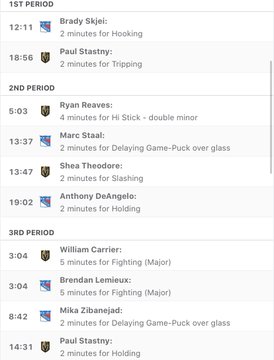 GOALIES:
| | | | | | | | | | | |
| --- | --- | --- | --- | --- | --- | --- | --- | --- | --- | --- |
| SA | GA | SV | SV% | ESSV | PPSV | SHSV | SOSA | SOS | TOI | PIM |
| 25 | 5 | 20 | .800 | 16 | 1 | 3 | 0 | 0 | 59:49 | 0 |
| | | | | | | | | | | |
| --- | --- | --- | --- | --- | --- | --- | --- | --- | --- | --- |
| SA | GA | SV | SV% | ESSV | PPSV | SHSV | SOSA | SOS | TOI | PIM |
| 38 | 0 | 38 | 1.000 | 32 | 1 | 5 | 0 | 0 | 60:00 | 0 |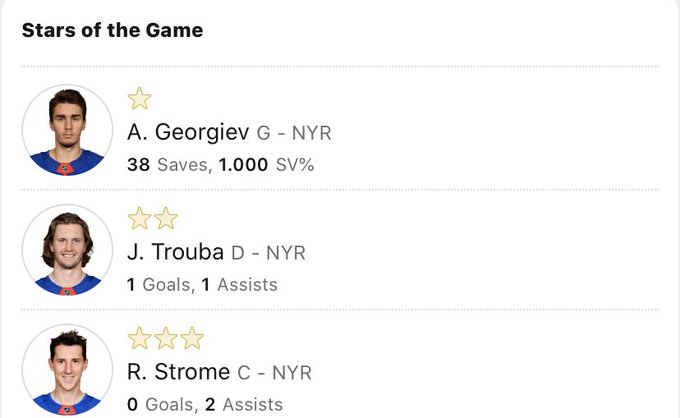 13 seconds into this first period, Reilly Smith, the same guy who embarrassed Lundqvist last Monday, got a shot off from Georgiev's doorstep. This could've been a quick and ugly 1-0 lead for Vegas, but Georgiev turned Smith back.
Since this shot and stoppage happened so quickly, M$G Networks showed Georgiev's impressive stats. This then followed up with a shot of Lundqvist on the bench, with his Head & Shoulders shampoo job. Maybe the next time Lundqvist plays, and they show the 0 shutout stat for the 2019-2020 season, the MSG Networks can flash to Georgiev on the bench, with his two shut-outs.
After stopping Smith, Max Pacioretty would take his first of nine shots on goal at Georgiev. All of these shots came from very close and on each one, Georgiev stopped all of them.
Georgiev would then rack up a few more impressive saves, shots that occurred from right in front of him. M$G took Georgiev's game for granted, as instead of showing us a replay, they went to Bill Pidto hawking Subway sandwiches.
Here's what Vegas scribe, in Jesse Granger, said at the time:
New York is leaving the middle of the ice in its own end WIDE OPEN.

Vegas has already hit a few passes into the low slot. No goals yet, but if that continues, they're coming. #VegasBorn

— Jesse Granger (@JesseGranger_) December 9, 2019
Sorry Jesse. Georgiev was in net tonight and not that Swedish pile of shit. NO GOAL FOR YOU!
After a fortunate icing call against Vegas, which stopped the Vegas attack momentarily, Vegas would rush up the ice on a 3 vs 2 rush. Georgiev denied Smith again. This game would've really been 4-0 at this point, if Lundqvist was in net. We then would've had Lundqvist screaming at his defensemen (like he did on Monday) and doing his spoiled brat crybaby act. And really, you know it, even if you're a Lundqvist fan – when the game gets crazy like this, Lundqvist wets himself and does his fish-out-water routine. With Vegas just peppering Georgiev from up close, Georgiev remained stoic. Georgiev handles stress much better than Grampa Lundswiss.
With the period half over, Georgiev would deny Stastny. Georgiev would then stop Nosek from close. And really, that was the story of this period. Vegas was getting great shot after great shot and great look after great look, but the result would be the same – save by Georgiev.
With 8:57 remaining in the period, the Rangers would get their first of two goals, with both goals coming within a 14 second span. This is stuff that usually happens against Lundqvist, but with Georgiev in net, keeping the team calm and in the game, the Rangers were able to pot two quick ones:
2 goals in 14 seconds sounds good to us 😎 pic.twitter.com/hY9Jy84OWT

— Rangers on MSG (@RangersMSGN) December 9, 2019
1-0 GOOD GUYS!
2-0 GOOD GUYS!
To me, the first goal was kind of fluky, only because Vegas was dominating the Rangers at the time. All it took was one goal to change the mood. On the first goal, Panarin's goal, the first goal of the game for the new GAG line, DeAngelo made a great play, found Marc Staal and Staal made a great pass to Panarin, who finished the puck past Subban.
On the second goal, Lindgren moved the puck to Ryan Strome and Strome found Kreider going towards Subban. BOOM. Two goals in 14 seconds.
And do you know what's the best part about this? As you'll see as this blog is continues or if you just looked at the box score, everyone was getting points tonight. In fact, how about this stat: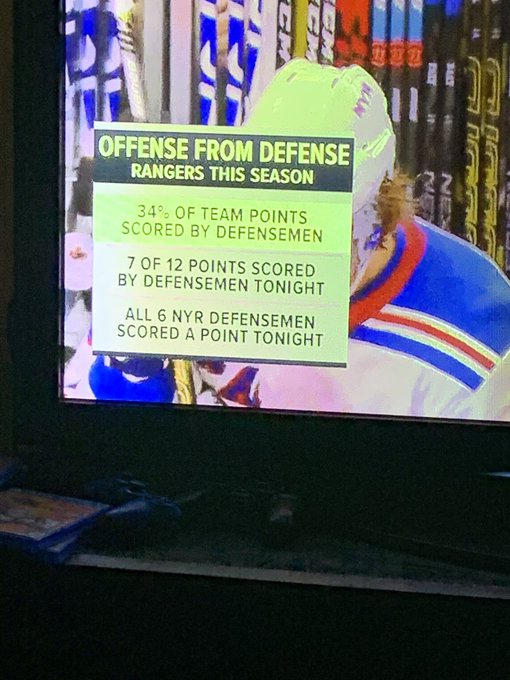 Less than a minute after Kreider's goal, Brady Skjei took a dumb hooking penalty, which temporarily dampened the mood. However, the Rangers had the KING OF KINGS in the net:
Georgie out there stopping all kinds of stuff. #NYR @NYRangers pic.twitter.com/vvTz39Em9y

— Rangers on MSG (@RangersMSGN) December 9, 2019
Vegas PP killed. In fact, the Rangers would kill all four Vegas power-plays in this game. I think with Georgiev in net, the Rangers have killed the last 15 power-plays against them. Of course, with Lundqvist in net, he gave up two goals to this very same Vegas power-play on Monday.
While on special teams, the Rangers finished their power-play by going 2-5. So all in all, the special teams had a 6 for 9 success rate, which comes out to 66.7%. That's a good and meaningful stat and not that bullshit that Vally feeds you, such as "The defense lets Lundqvist down 100% of the time on every goal Lundqvist allows."
I'll get more into Joe Micheletti later, but once again, I thought he did a FANTASTIC job tonight. The man was on the money.
I'm one of Micheletti's harshest critics, as you know, and I like to break his balls for comedic effect, but the man was perfect tonight. Not once did I cringe. In fact, I was appreciative.
In addition, it's like Micheletti threw his Lundqvist dildo into the trash before this game, went to a tattoo parlor on the Vegas Strip and got a Georgiev tattoo on his ass! Micheletti could not stop raving about Georgiev, and Micheletti was spot-on for doing so. And for once, Micheletti kept Lundqvist out of it. Micheletti praised Georgiev for being Georgiev.
And really, seriously, away from the goaltender talk, Micheletti was calling out stuff, predicting plays which eventually happened and was spot-on with both his calls and analysis. And I say all this because I want to be fair here. If I bury Micheletti for games that I perceive to be bad, I want to give him all the credit in the world when he does well. And really, he was great and I found myself nodding along with him as the game transpired.
I bring up Micheletti here, because as this period progressed, Micheletti said what I said – this was like the Columbus game all over again. However, when you compare Columbus and Vegas, the two teams are night and day. It's tough to decide which win was better, but I'll go with this one, just because of the shutout & the quality of this shutout, in one of the hardest arenas to win in.
After the two Ranger goals, this game was back to being all Vegas. It's like the Rangers woke up for 14 seconds and then hit the snooze button and turned over.
A big sequence happened when Georgiev lost his stick after a crazy scramble in front of him. For some reason, none of the Rangers d-men gave Georgiev their stick. Maybe they didn't notice Georgiev was without one. Without a stick, Georgiev didn't scream or flail all over the place like Lundqvist or like a woman with a bee allergy in front of a bee-hive.  Georgiev remained cool, calm and collected and in turn, the Rangers cleared the puck and Georgiev retrieved his stick.
With 1:04 left in the period, Skjei drew Stastny for tripping. The Rangers wouldn't convert on the PP here. In fact, the biggest save of this power-play was Georgiev making a save on a VGK breakaway. Georgiev was in the zone tonight, to say the least.
At the end of the period, GOOD GUYS 2, Vegas 0.
Of note, this is when my social media was going crazy. Of Georgiev's 17 saves here, none of them were easy. Even Micheletti said it – without Georgiev, this game would've got out of hand. That's how impressive Georgiev was in this period.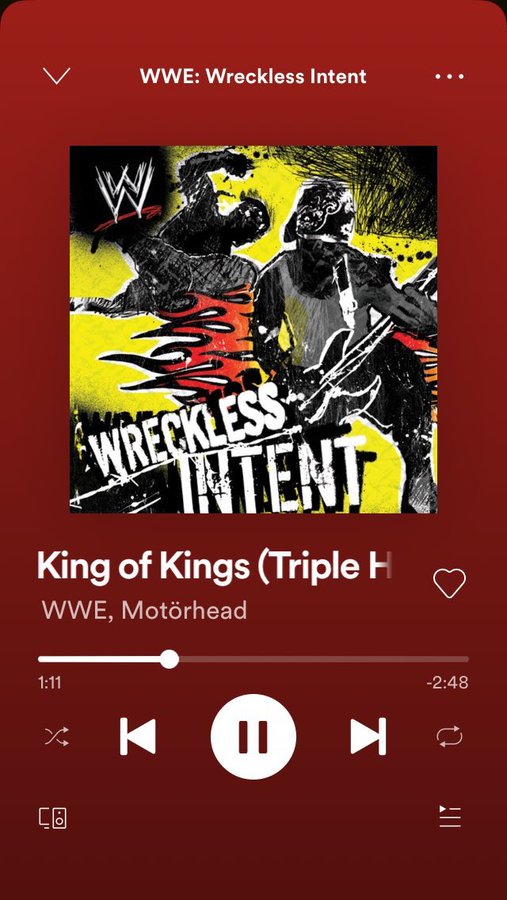 The Rangers opened up the second period with under a minute of PP time. I was really hoping for the PPG here, as it would've put the Rangers up 3-0, and in my opinion, would've demoralized VGK a bit. However, VGK killed off the remainder of the penalty.
And really, do I have to mention this again? I will, but refer to my past blogs for the full write-up the following – "NO RANGER HAS MORE PRESSURE ON THEM THIS SEASON THAN ALEXANDAR GEORGIEV." Whether it's knocking off Hank as the number one, having to listen to asshole Steve Valiquette begging for the Rangers to kick you off the team every broadcast or having to worry about CZAR IGOR, it's not an easy season for Georgiev.
After the Rangers PP failed, Georgiev would stop Pacioretty again. And Joe Micheletti, who must be drinking the kool-aid of BLUECOLLARBLUESHIRTS.COM, started talking about how Marc-Andre Fleury was a first ballot of Hall of Famer. (MAF was back with VGK, but didn't play in this game. While nothing is funny about MAF losing his father, I did cackle when Sam Rosen said, "Fleury re-joins the team after the loss of his fuhrer." Someone has been watching "Man in the High Castle"!)
Let's work in a plug for people I like here. With Georgiev standing on his head, Jennifer Eberhart tweeted out the following, in response to all the Lundqvist vs Georgiev talk that was going on:
This team is a complete mind fuck. No wonder we're all out of our minds. #NYR

— Jennifer Eberhart (@sinbin_36) December 9, 2019
Speaking of Jen, her boyfriend, Jim Schmiedeberg, is the host of Blueshirt Underground Video/Radio. I've plugged BSU a ton on these blogs. To me, their show is a must-listen for any Ranger fan. It's really up my alley, as both hosts, in Jim & Eddie, pretty much share the same sense of humor as me. I can't stand these Ranger related podcasts, where everyone takes themselves too seriously and sprout off charts, heat maps and all these other hieroglyphics.  Talk about the game, talk about the stories and be funny when you can.
Let's face it – there are 7867863478634893 different Ranger-themed blogs, vlogs, reddits, twitches, Facebook groups. Twitters, podcasts and everything in between. As a consumer of content, I want uniqueness. I hope this blog provides that to you. I know BSU Audio/Video does that for me.
While on the topic of BSU, they return on Monday night, at 7PM. You can listen to the show here: https://www.facebook.com/blueshirtunderground/
If you're not aware, the show is broadcasted live and fans can call in. Fans can also talk shit in their Facebook chatroom, as the show goes on. If you miss the show live, you can watch the broadcast on Facebook whenever you want. In addition, and I do this when I miss the show live, you can also listen to the audio version on iTunes. While the video version is obviously better & more interactive, listening to their 90-120 minute show in the car or on the train to & from work, makes commuting easier.
As the second period progressed, Kakko would be stopped by Subban. Then, out of nowhere, Engelland headlocked Kakko and took him down. No call.
I saw some BCBS readers debate this. Kakko was wronged here and no one stepped up for him. This is gonna happen when he's not playing with Lemieux. That said, in a 2-0 game, do you really want to put Vegas on a power-play, especially since VGK has a strong PP?
At the five minute mark of the period, Ryan Reaves high-sticked Lemieux and drew blood. This gave the Rangers a 4 minute power-play. I have to ask this, can anyone tell me if Lemieux has drawn the most amount of penalties on the Rangers? Maybe Panarin has drawn more, but gun to head, I would say Lemieux has drawn the most amount of penalties.
VGK would kill the first half of the double-minor penalty. Then, as the clock trickled into the second half of the Rangers power-play, Jacob Trouba, who had a monster of a game, both offensively and defensively, picked up his 5th goal of the season:
TROUBA 👏 👏 👏 #NYR @NYRangers pic.twitter.com/UOawjq1wAO

— Rangers on MSG (@RangersMSGN) December 9, 2019
3-0, GOOD GUYS.
Once again, there is Ryan Strome, the player all these sticky-handed chart basement monsters despise, picking up a huge assist. Trouba had a wide open look at the net and like the whacking of Joe Pesci's character in "Goodfellas", and I paraphrase here, "there was nothing Subban could do about it."
Less than three minutes later, Trouba paid it forward and set up Fast for a similar goal:
Well … that was FAST ⚡ #NYR #LGR pic.twitter.com/PkYyzZbWBh

— Rangers on MSG (@RangersMSGN) December 9, 2019
4-0, GOOD GUYS.
It's funny, before this goal, I had BCBS readers telling me how "Fast has stone hands." I am not arguing against that, but all I will say is that he's a defensive forward. He's not known for lighting lamps. However, here, on this one particular goal, he top shelved this pass from Trouba.
At this time, I also tweeted out the following tweet on Twitter:
Vegas owned Lundswiss at MSG. Lundswiss scored on himself and screamed at his teammates after. He got blown out. Georgiev comes to the loudest crowd in the NHL, has an amazing 17 save first period & Rangers are thumping Vegas 4-0. And idiots want to trade Georgiev. #nyr

— BlueCollarBlueShirts (@NYCTheMiC) December 9, 2019
Oh and I want to say this too. I don't watch every Vegas game, but I watch a lot of them. This was the quietest I've heard the T-Mobile arena.
At the 13:37 mark, Staal was penalized for throwing a puck over the glass. Not going to lie – I thought this is where VGK's PP would break up Georgiev's shut-out. However, ten seconds later, Theodore slashed a streaking Zibanejad, after a phenomenal pass made by Strome. This negated the VGK PP and after 1:50 of four vs four foreplay, this would give the Rangers a ten second PP.
Scroll up here. Remember how I told you the special teams were 6-9 tonight? One of those power-plays was a ten second power-play, so in reality, if you toss this PP out, the Rangers special teams were 6-8 or 75% tonight.
After more saves from Georgiev, the period would wind down. With 58 seconds left in the second period, DeAngelo took a dumb holding penalty. When this happened, I said that it was crucial the Rangers escape the second period with this 4-0 lead. My Twitter buddy, in Chris Biv, said the following too:
Yes I thought exactly the same thing. Get out of that period w/o a ppga and the game is all but locked

— Ginzo Biv (@ChrisBiv) December 9, 2019
I don't know if "BIV" reads these blogs or not, but we were in unison here. Going into the locker room, up 4-0, made a huge difference. And that's what happened, as the Rangers killed the first half of this Vegas "wrap-around" power-play.
And guess what happened in the third period? The crowd thinned out tremendously. If Vegas scored here, it would've been 4-1 and would've instilled some hope. Instead, the Rangers kept their four spot lead and it crushed the hearts of these Vegasmaniacs!
4-0, after two.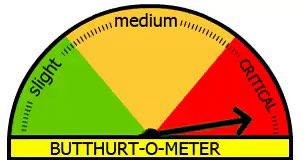 The Rangers would kill the remainder of the VGK PP to start off the third period.
Late in the second period, Brendan Lemieux accidentally gave Cody Glass an elbow. It looked bad, as Glass was basically carried off the ice. I'm assuming this was a concussion:
Glass takes a spinning elbow from Brendan Lemieux along the corner. #VegasBorn pic.twitter.com/Y4QaVFSJC5

— Danny Webster (@DannyWebster21) December 9, 2019
To me, and as Lemieux said after the game, this was accidental. Lemieux felt horrible for this. It was just a hockey play and one of the risks you get when playing this game at this level. There was no malice here.
Of course, and I fully expected this to happen, Vegas wanted some sort of retribution. This happened three minutes into the third period, when William Carrier challenged Lemieux to a fight. Of note, before the fight, this was talked about on-ice and Lemieux, being a hockey player and understanding "the code", willingly accepted:
Brendan Lemieux and William Carrier drop the gloves.#NYRvsVGK pic.twitter.com/AUAOuJcloa

— Here's Your Replay ⬇️ (@HeresYourReplay) December 9, 2019
This wasn't much of a fight, but if this was a UFC fight, I would give Lemieux the 29-28 score here. (A shoutout here to one of my favorite NYR couples, in Gideon and Jessica! God damn, Overeem got rocked!)
After these off-setting majors, Georgiev, once again, made another big save. Then, right after, Trouba broke up a 2 vs 1 VGK advantage.
Later on in the period, Panarin would have an easy breakaway chance at Subban. Instead, Panarin pulled back, waited for Kakko and fed Kakko for an easy shot. Subban made the save. Right after this, on the bench, you could see Kakko upset with himself, as Panarin tried consoling him.
Few things here – I get not being selfish, especially with Kakko perhaps holding himself back, while playing with this new line. Kakko is trying to be a team player. In this case, you have Panarin, who already had a goal and a 4-0 lead at this point, trying to get Kakko going. Micheletti, once again, was perfect here, as he broke this all down and I agreed with every word he said. Panarin could've had an easy goal here, but instead, wanted to get Kakko going.  Back on the bench, Panarin was smiling, while Kakko was upset with himself. If you take anything out of this here, it is the fact that Panarin was being a TEAM leader here and putting someone else's success above his own.
And really, when you have a contract like Panarin does, you don't have to worry about stacking your stats. You can help try to boost your teammates. That is what I took out of this play.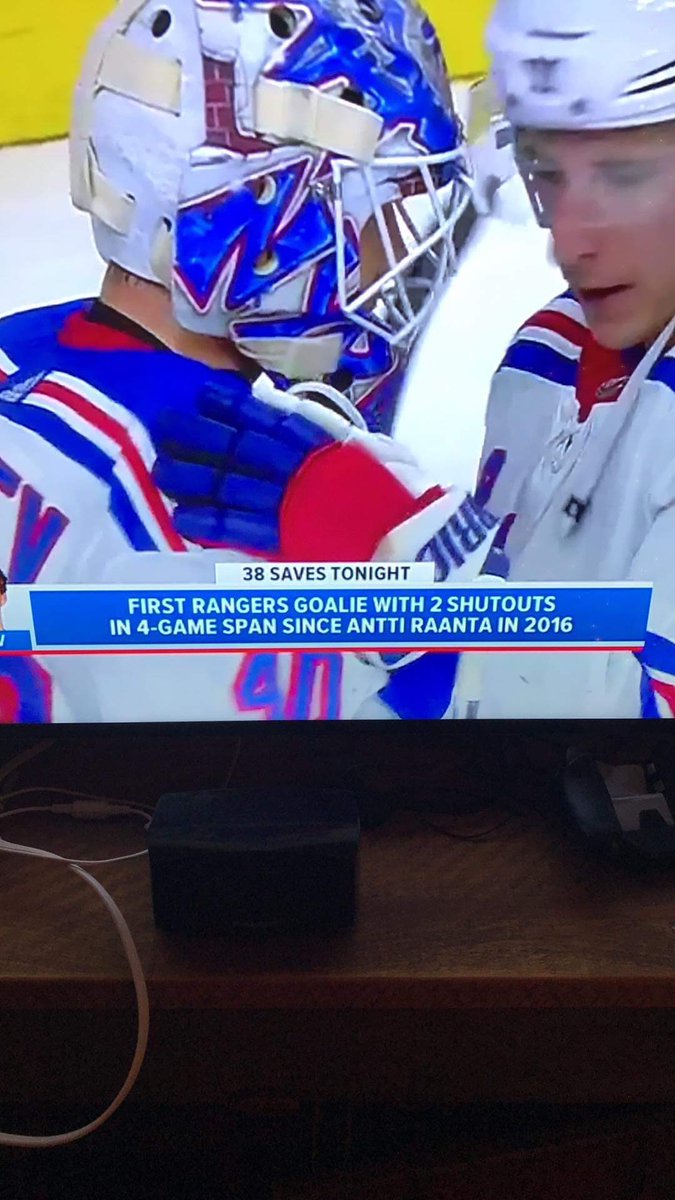 Damn, this blog feels like it's going super long tonight, but I'm having fun writing it. After all, this is why I do this blog, to share my passion of the team, especially after big wins like tonight!
At the 8:42 mark of the third period, Zibanejad was called for delaying the game. It was kind of odd to see two of these penalties called in the same game. The Rangers would kill this penalty.
Of note, after this VGK PP expired, the Rangers were killing VGK in the blocked shots department, by a tally of 18-5. It seemed that after Georgiev had that monster first period, the Rangers wanted to get their King a shutout.
With the five minute/FOXWOODS mark approaching, you knew what I cared about at the time – the Georgiev no-no. The Rangers got a break after a soft call against Stastny for holding Kakko. I gotta be fair here – this was a penalty you would never see called in a playoff game.
When you think about goalie shutouts, think in your mind about how these goalies played with minutes left on the clock. They never leave the net. They are more conservative than Mike Pence. Instead, during this shutout, and during this Rangers PP, Georgiev came out to near the blueline, to grab a loose puck and passed the puck forward. All it takes is one little mistake here and BANG, Vegas breaks up the shutout. Again, Alexandar Georgiev- TEAM PLAYER.
With under five minutes, after passes from Kakko and Panarin, Zibanejad found himself behind Subban. Zibanejad went to set up Kreider, who was camping in front of the net, but instead, he found the skate of a McNabb and the puck bounced back behind Subban. It wasn't pretty or drawn up like this, but hey, a Rangers PPG and the score was now 5-0, GOOD GUYS.
This goal was funny. Zibanejad, who got the goal here, kind of looked upset about it. It wasn't what he was trying to do here. And do you know why he was upset? BECAUSE HE WANTED TO SET UP A TEAMMATE. TEAM PLAYER!
At this point in the game, there was only one thing left – Georgiev getting his shutout.
As the game trickled down, Vegas would get a faceoff in front of Georgiev with ten seconds left. Georgiev would make one last save here. The clock wound down, and BOOM, Georgiev got his second shutout of the season. That's four shutouts for Georgiev in the same time since Lundswiss recorded one, back in November of 2017, when the Yankees lost a Game 7 in the ALCS to the Houston Astros.
When it comes to "best win of the season" talk, that's hard to say. If it wasn't for Georgiev denying 17 shots from his doorstep to start the game, this game would've gone south real quick. Instead, Georgiev makes the saves, the Rangers have 14 seconds of offense in the first period, put together a good second period and close out the game in the third.
There are still issues with this Rangers team, such as the defensive lapses, not putting shots on net and getting dominated, puck possession wise. You can't expect Georgiev to keep this up in every game. Then again, maybe you can…
I know Georgiev had that shutout with the Devils and that monster game with Columbus. Due to the quality of the opponent and the shots faced, I think this was GEORGIEV'S BEST GAME of the season, but not the Rangers best game of this season.
When it comes to what I liked out of the Rangers tonight, it was the power-play coming through and the new GAG line producing points. In addition, with all 6 defensemen making the box score, I was impressed with that too. TEAM GAME, TEAM PLAYERS! That's what gets my little prick hard the most! THE TEAM GAME, which always looks better with Georgiev in net.
I've done so much content on Lundqvist vs Georgiev already. I don't want to rehash "The Greatest Hits" here, but come on, this team does play better in front of Georgiev and Georgiev is the better goalie. Only a school-yard MR would argue to keep Lundqvist here.
I'll say what I always say here. The Rangers waived Giacomin for free. They traded Brian Leetch on his birthday. Cut the cord on Lundqvist. You can't buy him out until the summer, but what you can do is put him in the press box and call up CZAR IGOR. The only way to hit Lundqvist's ego and pride, is to take away his playing time. That's the only way he will waive his NMC. Let him hang out with Haley in the press box.
What concerns me, is that after every great performance by Georgiev, you have Steve Valiquette and the Cult of Lundswiss, talking about Georgiev being traded. WHY? Yes, I want CZAR IGOR here too, but he isn't proven yet. I'm not discrediting Igor at all here, but Georgiev is walking the walk right now and for $8M less than Lundqvist. Plus, who knows if Igor catches on right away either?
What we do know is this – Georgiev & Igor, COMBINED, would make $2M this season. Lundqvist makes more than four times that alone. In what world does it make sense to keep Lundqvist here? How many Father Finking goalies will we pass up on, to keep this ridiculous mantra of "We rather lose with Lundqvist, than win without him"?
Plus, in the event the Rangers ever had the BALLS to move on from Hank, and keep these two young goalies, that would free up $6.5M in cap space. While I don't think the Devils would send Taylor Hall here; without question, the Rangers would be a better team with these two goalies and with a high end forward added to the mix.
I guess my problem, unlike the Cult of Lundswiss, is this – I want to see the Rangers win a Cup. I don't care if Lundqvist wins a Cup.
Now, let's go to that pile of crap, known as Steve Valiquette.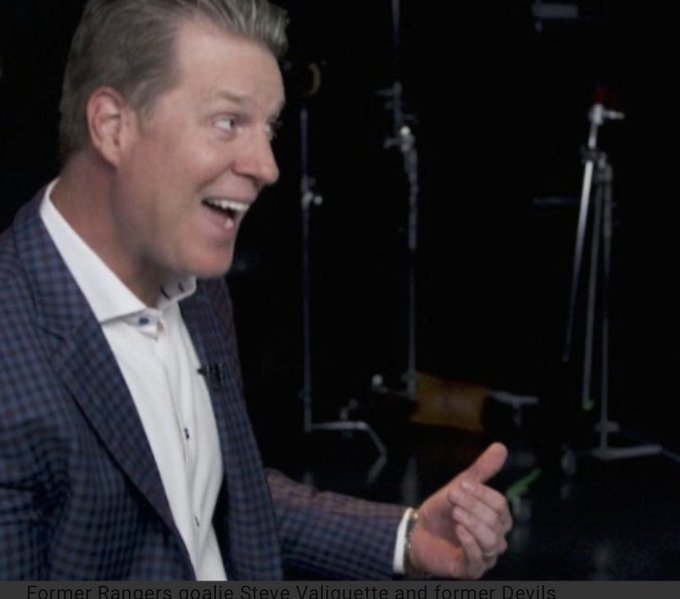 Let me preface the following with this: I don't think it's okay to talk about anyone's personal lives or their sexual preferences, but if Steve Valiquette is going to call for Georgiev's job after every game, he is fair game to the criticism I'm about to give. When Valiquette, in front of millions of people, asks for Georgiev to be moved after every game, Vally is actively trying to effect Georgiev's personal life. That makes Vally open season, in my eyes. You don't have to agree. I'm just explaining my logic.

After tonight's game, instead of basking in the glow of living in the KINGDOM OF GEORGIEV, the first thing out of Steve Valiquette's Henrik Lundqvist's man-stained mouth, was how the Rangers should trade Georgiev and how Georgiev's trade value went up.
If that's Vally's ridiculous opinion – fine. However, how about presenting the other side of this argument? The other side of this argument is that the Rangers should move on from Hank and give Georgiev the ball. Of course, Vally is so biased towards Lundqvist, that all Vally could do was push his agenda of trading Georgiev, RATHER THAN TALKING ABOUT THE PERFORMANCE GEORGIEV had tonight.
I mean really, can you imagine Aaron Judge hitting a game winning grand slam, and the first thing the YES Networks guys were talking about, after the game, were how the Yankees should trade Judge for assets?
The sad thing in all of this? I heard, and I can't tell you the source, is that Lundqvist doesn't even remember who Steve Valiquette is/was. In other words, Valiquette is holding a special place in his heart, for a guy that doesn't even remember his name. SAD!
And how about this observation from tonight's game: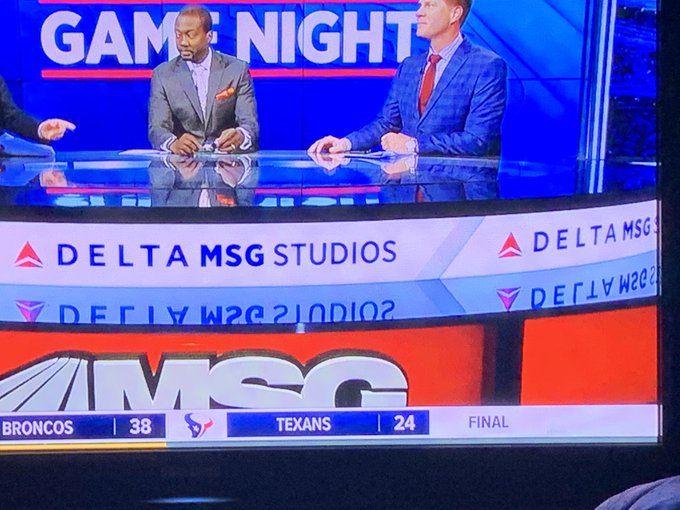 In the past, even before Valiquette usurped Micheletti as the number one cheerleader in the Cult of Lundswiss, people have emailed me and/or messaged me on social media, to bring up the topic of Steve Valiquette being a homosexual. I have NEVER posted any of this stuff before on this site for several reasons:
— It's not my business
— It doesn't matter
— It didn't affect the job Vally was doing
— It's not my place to talk about people's personal lives
As mentioned 78967896789687967892737892637894 times this season, Valiquette has been Father Finkin' awful this season. He can not talk about these games without bias.
For the third time this season, after a big game from Georgiev, rather than talking about what Georgiev did, Vally went into LUNDSWISS 101 DEFENSE mode and immediately talked about why the Rangers should trade Georgiev. Even Anson Carter fought back against Vally, saying that perhaps "Lundqvist was getting long in the tooth."
Mind you, no other broadcaster/analyst in NY or in the NHL, does this after a game. Only Vally begs for the Rangers to trade a star player, on a team-friendly deal, and whom could be a huge building block for the team's future.
Now, if you look at the pictures above and if you know from past seasons, Vally always wore a wedding ring. Lately during this season, he has not. Now I don't know if Vally takes his ring off before giving Lundqvist a handjob to prevent chafing, or if Vally takes the ring off before fingering Hank's asshole or not, but the fact remains the same – the wedding ring is no longer there.
Call me a conspiracy theorist, like one of those JFK or 9/11 guys, but is there a chance Valiquette is going through a divorce? It would make sense. After all, this grown man spends all his time verbally fellating a handsome Swedish man. While I'm not calling Vally gay here, he does fawn over Lundqvist like a gay man would. Vally puts Lundqvist and the back of the blueshirt jersey, above the diagonal R-A-N-G-E-R-S letters in front of the jersey. Vally doesn't care what's good for the Rangers, he cares what's good for the Swedish man he carries a torch for.
I watch a lot of TV and movies, and I can't think of any on-screen relationship, that rivals the man-crush that Vally has for Lundqvist. Again, I'm not accusing him of anything or trying to pry into his personal life, but isn't it eye-opening, that once Vally tossed away the wedding ring, that all of a sudden, he can't talk about Lundqvist without blushing and batting his always-red eyes?
And really, what's with Vally's red eyes? Is he smoking pot? Is he drunk? Is he doing the vape? Or is Vally just crying about Georgiev outplaying Lundqvist?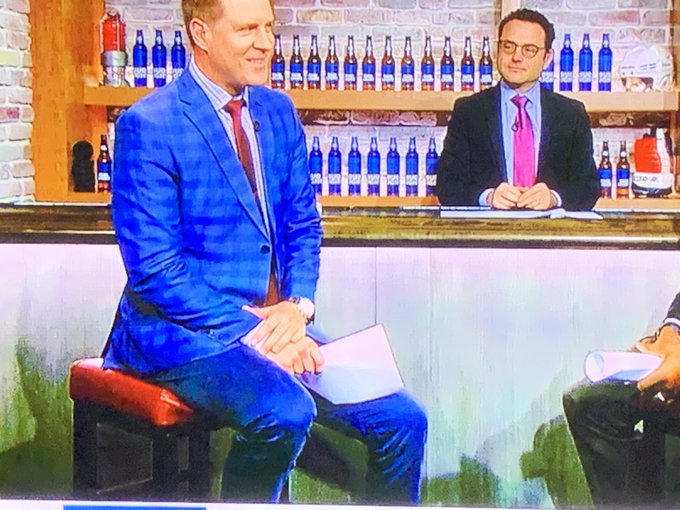 One last time – I don't care if someone is straight, homosexual, transgender or whatever. It doesn't effect my life. I can say for a fact, while I don't know if any transgender people read these blogs, I know plenty of straight, lesbian and gay fans that do. And the best thing about all of these people? They all have the same sense of humor as me!
What I do get mad about, is if someone puts their sexual needs over their job. And I have that feeling from Vally, whose first reaction to this game was "TRADE GEORGIEV NOW". I get that his heart pumps out of his chest, like a cartoon character, for Lundqvist, but at the same time, he needs to be fair when assessing and ANALyzing these games.
Put yourself in Georgiev's shoes. You're an immigrant, that has just learned English. You're playing in the best city in the world and for one of the most iconic teams in the NHL. After every great game you have, where you busted your ass, when you turn on the team's postgame show, you have some back-up hack, talking shit and begging for your trade. That can't feel good. Georgiev just wants to be a Ranger & breaks his ass in every game. In turn, you have some dickhead, who was a borderline NHLer at best, just begging for Georgiev to get traded after every game.
If it were up to me, and if I was running the MSG Network, I would trade Vally to the VHL. Let him talk about these Russian goalies, playing in third world cities. PLEASE, OH PLEASE, I BEG OF YOU MSG NETWORKS – BRING BACK RON DUGUAY!
As I close on this topic, which admittedly, I'm using to draw laughs too, you know it's bad when Vally is making Joe Micheletti look like hockey's version of Vin Scully & John Madden, COMBINED.
And really, no shot on Micheletti here – he was great tonight.
Moving along here, the Rangers now go to California for three straight games.
Up next, the Rangers play the LA Kings on Tuesday night, with a disgusting start time of 10:30PM EST. Work-wise, I'll stay up and live tweet the game. If I have to work early Wednesday, there's no shot of a blog. I just can't write short material or write stuff up as the game goes along, like my buddy Derek Felix does, over at NewYorkPuck.com . I feel that I do my best work, when the game is over and I have processed everything.
Goaltender and line-up wise, take a look at what Quinn said after the game:
Is Coach Quinn sticking with this same exact lineup Tuesday in LA? #NYR @NYRangers pic.twitter.com/YlOHpDrTwT

— Rangers on MSG (@RangersMSGN) December 9, 2019
Listen, I'm a David Quinn guy and support him. That said, while he pretty much said the line-up stays the same, he wouldn't say that Georgiev deserves the next start. Come on DQ, are you kidding me? My man AG40 just posted a shut-out against the best home team in hockey, and you're not going to "ride the hot hand", as you've previously said? I smell a fat old case of BULLSHIT here. Don't let that asshole Valiquette warp your fragile little mind!
(Oh, and if you're thinking I'm being extreme with my takes on Vally, feel free to tag this blog at him, @VALLYSVIEW.  I would do it myself, but he blocked me. I hide from no one! I only speak my opinions and truth here!)
I have a blog on Dave Kerr that I want to do. It may have to wait.
As far as my next update, if I don't return Tuesday night, I'll come back Wednesday afternoon, with a short recap of the game with the Kings.
Until next time, check out BSU Radio on Monday evening, Let's Go Giants on Monday Night Football and as always, thanks for reading and…
"LET'S GO RANGERS!"
Sean McCaffrey
BULLSMC@aol.com
@NYCTHEMIC on twitter, here in the royal kingdom of Georgiev!