What's up everyone and welcome to another blog here on BlueCollarBlueShirts.com. Last night, I attended the Oilers victory over the NY Islanders at Barclays. If Talbot starts tomorrow, I plan on going to the Rock to see the Oil take out another Metropolitan division team, in the NJ Devils. With tonight's Rangers 4-2 victory, over the Boston Bruins, at Madison Square Garden, there is a possibility that we could be looking at a game, between two streaking teams, on Saturday afternoon, when Talbot and company enter MSG for a matinee game.
The reason I mention the Oilers stuff, is because that's two late weekday nights out for me this week. With this Rangers/Bruins game starting at 8PM and ending minutes before 11PM, I'm more pressed for time than usual, especially with that dreaded 4:30AM alarm clock. I feel like I'm about to crash like Jesse Spano, but after tonight's win, I'd be remiss if I didn't get something posted on the site.
Let's get right into it, but first, as usual, here are my most recent blogs, in case you missed them:
---
---
---
---
Since I am a glutton for punishment, in pertaining to time management with these blogs and waste time talking about stuff not on the ice, I do want to make some comments about the NBC broadcast tonight. To make my grievances quicker, here they are, in list form:
Before the game, NBC wasted most of its pregame talking about the Espo/Vadnais for Ratelle/Park trade. The trade happened 42 years ago. What does that have to do with this game at all? Granted, you probably could have a "30 for 30" on this trade, because in reality, it is perhaps the biggest trade in NHL history, with maybe only the Gretzky to LA trade being bigger.
And really, in Exhibit 7867866789678969678967 of the NHL and the Rangers being terrible promoters of themselves, the Rangers should've done their silly Ratelle retirement against the Bruins, and not Detroit, later on this season. Then all this Espo/Ratelle trade talk would be relevant. Oh, and the reason I say "silly Ratelle retirement", are for reasons I've already discussed on this site. In short – Frank Boucher should have his number retired first. In addition, 95% of the crowd that will be there on Ratelle retirement night, never saw him play live. Present company included. Ratelle will get a nice polite golf clap, but will get nowhere the reaction that the 90's Rangers got. Again, the Rangers are terrible with honoring their legends. This should've been done decades ago.
NBC then promotes the Milbury shoe crap and other fights between the teams. This is a league that currently frowns on fighting.They are basically selling you FAKE NEWS, because you knew there weren't going to be any brawls. Yes, the Original 6 and even years after the Great Expansion of 1967 provided some heated games, but pretending this Rangers/Bruins rivalry of today, is anything like the games of yesteryear, well, that's like wasting most of your broadcast talking about a trade from 42 years ago.
Joe Micheletti must've produced this broadcast, because it was non-stop Lundqvist praise to the extent that it was sickening and nauseating. Even after the Rangers played a phenomenal first period, which saw them score three goals, all NBC & their crew could talk about was Lundqvist. The same Lundqvist that only saw 7 shots in the first period and gave up 1 soft goal in those 7 shots faced. Not a peep about Vesey or Buchnevich.
I'm not the only person to have accused NBC and the NHL of being failures at promoting stars, but trying to promote Lundqvist as the top star in this game is counter-productive because one, he's old & not what he was. More importantly, it's fake news! The guy has a GAA over 3.00 and a save percentage floating around .900. But hey, let's ignore Shattenkirk, Vesey, Zibby, Buchnevich, etc and talk about a once great player. I'm surprised NBC didn't roll out the participation trophy like the one the Rangers gave Nash on Monday!
When Eddie O. was first diagnosed with cancer, after the initial support and well-wishes, NBC had to make a decision. The show must go on. I'm gonna do what another Rangers blog does and make up my own source now.
BREAKING NEWS: I have obtained a secret recording, from an "UNCONFIRMED SOURCE"!  (Seriously, this other blog cites news from "unconfirmed sources" all the time. It's hilarious.) This recording comes from NBC sports, after they found out Eddie O. will be missing games this year to fight cancer.
Here is the transcript:
Executive 1: "Eddie O is battling cancer, who's the best guy we can find to replace him?:
Executive 2: "How about the guy who has failed at every level and job in hockey?" 
Executive 1: "You mean Mike Milbury? YOU FUCKING GENIUS!"
Executive 2: "I'll put in a call and give him a raise too."
I really didn't get the hiring of Mike Milbury as a commentator for NBC. I still don't get how he is an analyst, considering that he's failed as a coach, failed as a GM and set back the Islanders about 25 years. Usually in sports, you want your TV hires to be people who have some sort of track record of success.
That said (there's one) I didn't think Milbury was bad at all tonight. In fact, I thought he was even better than Doc Emrick. Trust me, I'm shocked too!
I'm not going to lie, I wanted to sit here and bash Milbury all day, but I can't. His NBC co-worker, Joe Micheletti, must've snuck some Swedish Semen in his coffee, because there were periods of time where Milbury was just lavishing Lundswiss with undeserved praise. However, Milbury did a good job tonight. It's funny too, because if there is anyone who can't stand Lundswiss and his contract more than me, it's Milbury. Instead, Milbury pulled a 180 and put on a performance that gave Micheletti wet underwear.
Milbury even corrected and debated Emrick on-air. Emrick talked about how no one checks the standings at this point in the season and Milbury said he was wrong, Ranger fans and Ranger broadcasters were doing just that. (Vally & Trautwig have talked about the standings considerably on-air.)
If there was anything truly silly or stupid about Milbury tonight, it was when he said "Kevin Shattenkirk is better defensively than anyone thought." That's a bigger stretch than an oiled up, home alone Joe Micheletti, with a topless photo of Henrik Lundqvist.
Listen, I can't stand Milbury, but I must give credit where credit is due. Milbury was good tonight.
As usual, let's go to the ESPN.com boxscore, then talk about the game itself:
1st Period Summary

Time
Team
Scoring Detail
BOS
NYR
9:53

Pavel Buchnevich (7)
Assists: Ryan McDonagh, Michael Grabner
0
1
10:14

David Pastrnak (9)
Assists: Patrice Bergeron, Anders Bjork
1
1
14:41

Jimmy Vesey (3)
Assists: Pavel Buchnevich, Mika Zibanejad
1
2
15:10

Jimmy Vesey (4)
Assists: Kevin Shattenkirk, David Desharnais
1
3
Time
Team
Penalty Detail
19:20

Pavel Buchnevich: 2 Minutes for Tripping

2nd Period Summary

Time
Team
Scoring Detail
BOS
NYR
No scoring this period
1
3
Time
Team
Penalty Detail
13:46

2 Minute Bench Penalty for Too Many Men on the Ice (Served by Chris Kreider)

3rd Period Summary

Time
Team
Scoring Detail
BOS
NYR
6:44

Patrice Bergeron (3)
Assists: David Pastrnak, Torey Krug
2
3
19:52

Rick Nash (4)
Assist: Ryan McDonagh
2
4
Time
Team
Penalty Detail
2:37

Nick Holden: 2 Minutes for Slashing
12:24

David Desharnais: 2 Minutes for Tripping
13:02

David Pastrnak: 2 Minutes for Hooking
Goaltending Summary
Boston Bruins Goaltending

Player
SA
GA
Saves
SV%
TOI
PIM
T. Rask
32
3
29
.906
58:41
0

New York Rangers Goaltending

Player
SA
GA
Saves
SV%
TOI
PIM
H. Lundqvist
33
2
31
.939
60:00
0
The Rangers took a 3-1 lead in the first period of this game and never looked back. The Rangers, consistently inconsistent all season, put together one of their better 60 minute efforts in this game. The Rangers dominated the Bruins for the first two periods of this game. The Bruins made an attempt to come back in the third period, while the Rangers lost a step a bit, but the early effort of the Rangers was enough to beat a banged up and bad Bruins team.
I mean, just look at the guys the Bruins were missing tonight:
(Credit: Hockey-Reference.com)
| Player | Date of Injury | Injury Type | Injury Note |
| --- | --- | --- | --- |
| Noel Acciari | Thu, Oct 5, 2017 | Finger | Acciari is on the injured reserve list due to a fractured left index finger and will miss six weeks. |
| David Backes | Wed, Nov 1, 2017 | Illness | Backes has diverticulitis and is expected to need eight weeks to recover from surgery to remove a portion of his colon while on the injured reserve list. |
| Anton Khudobin | Mon, Oct 30, 2017 | Lower Body | Khudobin sat out his fourth-straight game due to a minor lower-body injury and it is unclear if he will return to the lineup against the Rangers on Wednesday. |
| David Krejci | Thu, Oct 19, 2017 | Back | Krejci has been placed on injured reserve due to back spasms and a timeline for his return to game action has yet to be established. |
| Brad Marchand | Mon, Nov 6, 2017 | Upper Body | Marchand is sidelined due to an upper-body injury and it is unknown as to when he will return to the lineup. |
| Adam McQuaid | Thu, Oct 19, 2017 | Leg | McQuaid has landed on injured reserve and is expected to miss eight weeks after breaking his right fibula. |
| Ryan Spooner | Sun, Oct 15, 2017 | Groin | Spooner is on the injured reserve list and is expected to sidelined for four-to-six weeks with a right groin adductor tear. |
That's a lot of talent to be out. With the Bruins missing so many key players, especially Ranger killer Brad Marchand, the Bruins are now a collection of old men and AHL talent.
The majority of this game saw the Rangers dominate the puck and take it to the Bruins. For large chunks of this game, the Bruins either looked tired or lost, which is the result of an older roster and all the AHL players on the team, due to injuries.
For the Rangers, I thought they were absolutely superb in the first period, even with Lundswiss giving up his usual soft back-breaking goal.
What I really enjoyed about the first period, was the Rangers abandoned the extra-fancy-pass-to-nowhere bullshit. The Rangers kept firing away. They blasted pucks from all angles. There were no stupid drop passes for turnovers. This was a full-blown assault, like Kevin Spacey & some priests in a room full of young boys.
The Rangers looked for shots whenever they could take them. They looked for deflections, tip-ins and rebounds. All this paid off and the Rangers got three even strength goals in the first period this way.
While the scoring would subside (the only other Ranger goal in the game occurred via a Rick Nash empty netter, which I'm not sure if he gets another participation trophy for), the Rangers still played hard. Even when the Bruins were mounting their comeback and were able to catch a spent Rangers team, late in the third period, the Rangers battled. For the first time in a long time, this team, during this winning steak, has exhibited all sorts of blue collar traits.
The Rangers are skating. They are shooting the puck. They are getting back on defense. They are hustling to the dirty areas. They aren't giving up many breakaways.  Unlike a MLB superstar, who looks at a long homerun and then jogs the bases, the Rangers are slapping the puck hard and skating even harder after the shot.
Say the Rangers lost this game. While it would have sucked, the story couldn't be because of lack of effort. The Rangers are giving it their all out there.
Many times, when you hear the home town fans boo their team, it's because they feel ripped off and cheated. Most of the time, the fans feel that way because the team isn't trying. Just look at the NY Giants loss, from Sunday, for a perfect example of this. We have heard the Garden boo the Rangers plenty of times this season, but those boos are quickly becoming BOOs for Buchnevich. Fans don't boo teams that try. Not only are the Rangers trying right now, they are executing.
Again, time is an issue, so I gotta race along here.
Pavel Buchnevich started off the scoring, halfway through the first period, with a beautiful goal scorers goal. The commie took the puck and flipped it above Rask's glove and into the top shelf of the net. It was a pretty goal and worth taking a look at again:
Top shelf where mama hides the peanut butter 😛#BOSvsNYR pic.twitter.com/0M5xmCqrqu

— NHL on NBC (@NHLonNBCSports) November 9, 2017
1-0 good guys.
Before the Buchnevich goal could be read to the crowd, Henrik Lundswiss was up to his same old tricks. Less than 20 seconds later, David Pastrnak, who had a tremendous game tonight, easily dethroned the faux King. 1-1.
Credit to Milbury here – in both goals, he pointed out which defenders he thought could've made a play. On a usual MSG broadcast, every Rangers goal is magical and never the fault of the others team defense. Every Ranger goal allowed is never Hank's fault. According to Micheletti, an alien invasion is a more likely culprit for a Rangers goal, than Lundswiss himself.
As stated, the Rangers just kept on fighting and dominated the time of possession. The Rangers, who out-shot the Bruins, 16-7 in the first period, saw Jimmy Vesey break through with a pair of goals, twenty seconds apart, around the 15 minute mark of the first period.
The first goal was a working man's goal. After a scrum and several shots, Vesey cleaned up and put the puck past Rask. The second goal was because the Rangers were aggressive and not a bunch of Harlem Globetrotter pussies. Shattenkirk blasted a puck, Rask prevented a goal, but there was Vesey to sweep up the rebound and tuck the puck into the corner of the net. 3-1 good guys.
After these two goals, I think this sums up the feelings of RANGERSTOWN:
Jimmmmmaayyyyyy! pic.twitter.com/TaEzPzmRuy

— Danielle 💋 (@yells__) November 9, 2017
At the end of one, 3-1 Rangers, and really I can't overstate how well they looked in this period.
Poor Rask, the poor guy never had a chance against the Ranger sophomores!
Speaking of Rask, I can't be the only one who sees this:
+
=
If the Rangers first period was "Budweiser", then the second period was "Bud Light". It was the same strong play, but just less filling (the net).
The Rangers continued to play well. The Rangers, who would finish 4-4 on the PK, would kill two penalties this period. Again, Boston is beat up a ton, but they still have a strong powerplay. David Pastrnak was the star of the PP tonight, but the Rangers and Lundqvist were able to deny him. The Rangers also had a 30 second PP in this game, so when you see the 0-1 PP stat, don't put anything into it.
There were two silly things in the second period, and neither had to do with the play on the ice. The first was a "POTVIN SUCKS" chant. As stated in length in previous blogs, I hate this chant. It's also silly to be chanting about a guy with four cups, when the Rangers are playing well and in a tight game. The second thing was Doc Emrick & Mike Milbury talking about Charles McAvoy like Micheletti talking Lundqvist. It was just non-stop.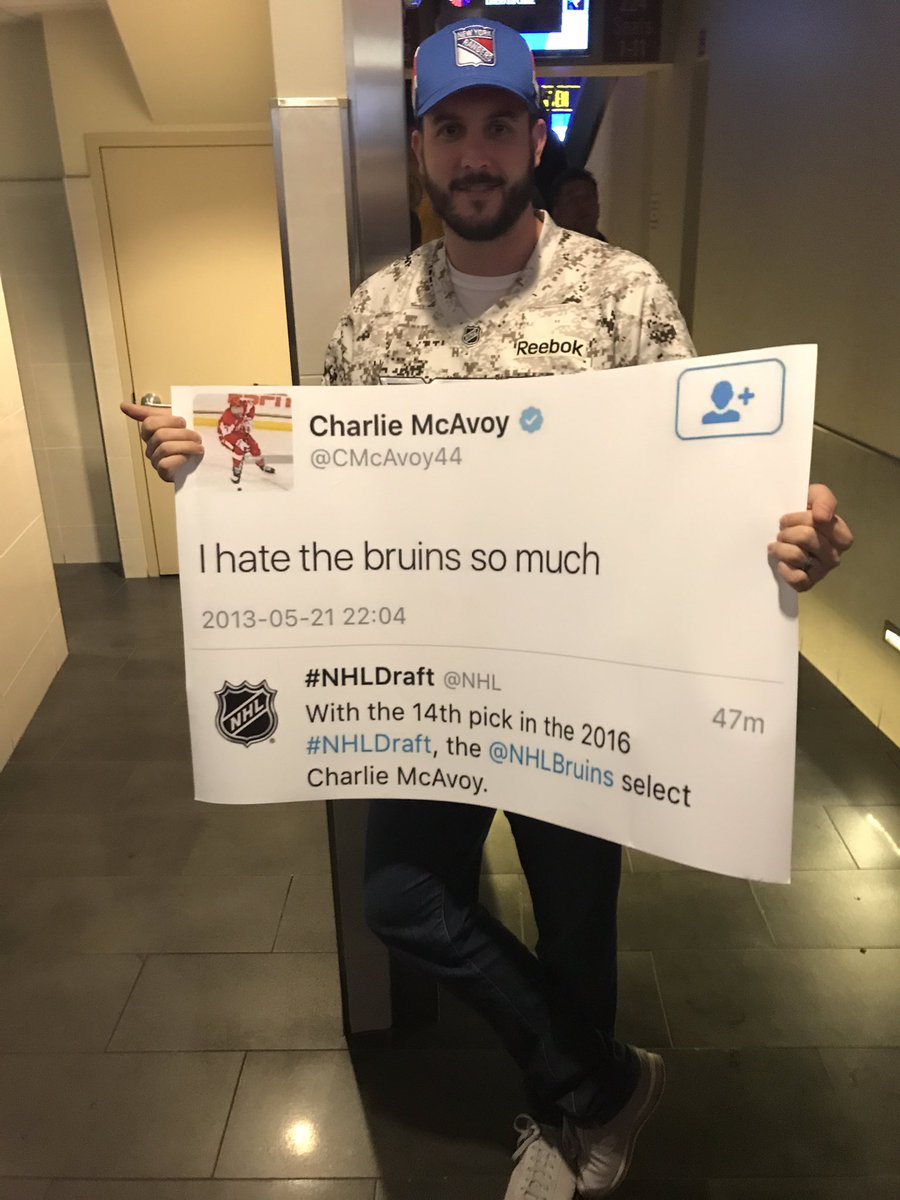 When the final horn blew at the end of a scoreless second period, the Rangers remained up 3-1. They also played a strong 40 minutes and all you could hope for is that it would continue.
The third period was the sloppiest and worst period of the game for the Rangers. Whether they were tired from going so hard throughout the game or what, they allowed Boston to have a punchers chance of winning this game.
Lundswiss, who lost his stick during five different plays in this game, made the biggest save of this game, from his back and sliding to prevent a Bruins goal. However, in what's been a trend, after an amazing save, nearly seconds later, he was beaten. With a little over 13 minutes remaining, Patrice Bergeron beat Lundqvist. Akin to Vesey's first goal, the goal was a result of a broken play and a scrum. 3-2 good guys.
It was at this time in the game, where you had to wonder, is Ryan McDonagh playing hurt? I don't have the time to look back now, but off the top of my head, I can't remember McDonagh having a worse start to a season than the one he's having now. In the post Callahan era, this is easily the worst season he's ever had. That's what makes me wonder if he's playing through injury, for the sake of the team.
The Rangers, trying to regain their two goal lead, came close, but Rask matched Lundqvist's great save, with a picture-perfect elite save of his own, robbing Buchnevich.
As the game wound down, I thought the Bruins did some questionable things. The Bruins would go on a PP, but quickly took a penalty on their own PP, to give us about 90 seconds of 4 on 4. For some reason, the slowest skater on the ice, in Zdeno Chara, was out there. With the Bruins within one, I thought they would opt for speed so they could get to the net. Sure, Chara has a great slap shot, but this wasn't the time in the game for it.
With the Rangers holding the lead, they slowed down the game a bit and played a little keep-away. The Bruins seemed okay with this and didn't attack the puck at all. With their laissez-faire attitude, precious seconds ticked off the clock. Since the Rangers had the puck, the Bruins weren't able to pull Rask until 70 or so ticks remained.
The Bruins limited time on the 6 vs 5 did produce some turtle head touching cotton moments, but the Rangers weathered the storm. Trust me, giving up a late one here would've been a bigger momentum killer than usual, especially with how hard the team was playing. However, Rick Nash would end the game, with an empty netter, at the 19:52 minute mark.
While McDonagh got the assist on this goal (he also assisted on Buchnevich's goal), it wasn't the result of some spectacular pass or anything. I know you can look at the boxscore and see 2 assists and think McDonagh was great, but make no bones about it, he's struggling for whatever reason.
4-2 is your final. While this wasn't an impressive win, considering the team the Bruins put out there, it was a win the Rangers needed. You gotta beat the bad & banged up teams, especially at home, and the Rangers did just that.
With the win, the Rangers leapfrogged two spots in the standings. Here's the updated standings:
| | |
| --- | --- |
| | Penguins |

| | |
| --- | --- |
| | Devils |

| | |
| --- | --- |
| | Blue Jackets |

| | |
| --- | --- |
| | Islanders |

| | |
| --- | --- |
| | Rangers |

| | |
| --- | --- |
| | Capitals |

| | |
| --- | --- |
| | Flyers |

| | |
| --- | --- |
| | Hurricanes |
Yes, it's a long season and all, but this is also the toughest division in hockey. While the Rangers have played more games than most, this 5 game win streak has them right back in the thick of things.
Whether it was the media, pride, a fear of losing employment or what, the Rangers have righted this ship a bit, and sport a fugazi above .500 record, at 8-7-2. For all the shit talk that found AV's name in people's mouths, you're not hearing much about him during this winning streak. Amazing how that works.
I didn't mention it before, so I'd be remiss if I omitted this, but AV ran out the same lines & pairings, that he has deployed in the last two games. As I said in the win after Columbus, Jeff Gorton is looking like an idiot for giving Brendan Smith $17.4M for 4 years.
You can argue that the Rangers could win these past 5 games with Smith, but the fact is, the Rangers are playing their best hockey of the season with Smith scratched. That tells you that the Rangers are winning games with cheaper defensemen (Holden & Kampfer) and that Smith is overpaid. Granted, it's early to rubber stamp and sign off on that statement, but you get my point.
All in all, good win for the Rangers.
Up next, the Rangers have two full days off, before meeting the MVP in Connor McDavid, Cam Talbot and the Oilers on Saturday. The Oilers, as mentioned, play the Devils tomorrow (or today, by the time you read this).
The Rangers and Oilers are similar teams, in that both were struggling and both are starting to turn it around. While I'd say expectations are stronger in Edmonton, Rangers management & their front office, are still selling that the Rangers are a Cup contender.
If the Oilers can beat the Devils, they will have helped the Rangers twice during their East Coast road trip, as they would've knocked off two Metro teams & personal rivals of the Rangers. It would also put the Oilers on their biggest win streak, when they come into the Garden on Saturday. Streak vs Streak, it sounds like me picking out what type of underwear to wear before a playoff game!
Oh, and because I get this question every time the Rangers play King Talbot and the Oilers – I AM ROOTING FOR THE RANGERS TO WIN! That said, I'm rooting for a 1-0 shootout win, but I'm rooting for a Blueshirt win nonetheless! In reality, I personally enjoy & love the low scoring goaltender games (The Rangers win over Tampa and the Oilers win over the Isles on Tuesday, are my two favorite games of the season) and I'm hoping we get a great battle between Lundswiss and Talbot.
It's fucking 12:30AM and I gotta be up in four hours. See you Saturday after the TALBOT CUP!
As always, thanks for reading and…
"LET'S GO RANGERS"
Sean McCaffrey
BULLSMC@aol.com
@NYCTHEMIC on twitter