What's up everyone and welcome to another blog here on BlueCollarBlueShirts.com. The Rangers just had their win-streak snapped on Wednesday night, after being defeated by the Chicago Blackhawks, in the United Center, with a score of 6-3. For the Rangers, this was a tough loss to swallow, especially after having three days off, after the win over Edmonton on Saturday afternoon.
As mentioned in my last blog, my schedule has picked up a bit. I'm currently working 7 days a week and working a ton of overtime. I also have my usual 4:30AM train and with this game starting at 8PM, it means I'm losing an hour of sleep here. However, I just wanted to get something up, since there was so much time off in between games. This blog won't be as long as usual, as like Alex DeBrincat did to Lundqvist tonight or like Harvey Weinstein with an aspiring actress, I just want to get in and out real quick.
Let's roll.
As usual, in case you missed them, here are my most recent blogs:
---
---
---
---
---
There were a few reasons why the Rangers were doubled up in Chicago tonight. While many of you would expect me to put it all on Lundqvist, as he did fall apart like cheap Swedish furniture from Ikea, there were other reasons why the Rangers couldn't make it seven straight wins.
For starters, the Rangers powerplay, which has been amazing through the six game win streak, went 0-3 tonight. The Rangers, who did out-hustle Chicago in the first period, couldn't keep that momentum going for the rest of the game. While it was there in doses, it wasn't as overpowering as it was in the first period.
What most likely sealed the Rangers fate, before the horrendous goal Lundswiss allowed to close the second period, was their failure to capitalize in the first period. While many Ranger fans will blame the Ranger players for any failure for not scoring, we must keep in perspective that the other team is paid money to prevent goals & play well too. Granted, as a Ranger fan, that fact doesn't make the loss any easier.
The first period should've been a period that the Rangers skated to the locker room with a 3 goal lead. They had numerous odd man rushes, a four minute powerplay, and numerous looks at Corey Crawford. Give credit where credit is due though. With the Blackhawks defensemen making Nick Holden & Marc Staal look like Norris candidates, Corey Crawford prevented the Rangers from having a "Papa John's" three goal period.
When I give you the box score below, you'll see the only period the Rangers out-shot the Hawks was in the first period, with a slight 11-9 edge margin. However, those 11 shots were mostly high quality shots. These shots weren't just lazy attempts or pucks that landed on the Indian head on Crawford's jersey. Crawford worked.
If you follow and live tweet these games along with me on Twitter, which you can do by following me @NYCTHEMIC , when the first period ended, I said, "Chicago will take the lead and capitalize on the Rangers failure to score in the first." That's pretty much what happened here. The fact that Lundqvist let everyone enter the net faster than water busting through a broken levee, didn't help either.
Let's head to the box score, courtesy of ESPN.com, followed by my thoughts on the game.
1st Period Summary

Time
Team
Scoring Detail
NYR
CHI
9:58

Mika Zibanejad (9)
Assists: Pavel Buchnevich, Chris Kreider
1
0
Time
Team
Penalty Detail
1:32

J.T. Miller: 2 Minutes for Hooking Brent Seabrook
6:42

Nick Schmaltz: 2 Minutes for High-sticking Mats Zuccarello
12:11

Brady Skjei: 2 Minutes for Holding Richard Panik
14:36

John Hayden: 4 Minute Double Minor for High sticking Marc Staal

2nd Period Summary

Time
Team
Scoring Detail
NYR
CHI
19:08

Alex DeBrincat (7)
Assists: Duncan Keith, Richard Panik
1
1
Time
Team
Penalty Detail
11:06

Marc Staal: 2 Minutes for Elbowing Lance Bouma
16:48

Jesper Fast: 2 Minutes for Interference of Ryan Hartman

3rd Period Summary

Time
Team
Scoring Detail
NYR
CHI
1:07

Artem Anisimov (7)
Assists: Patrick Kane, Nick Schmaltz
1
2
1:53

John Hayden (2)
Assists: Duncan Keith, Cody Franson
1
3
5:14

Artem Anisimov (8) (Power Play)
Assists: Nick Schmaltz, Cody Franson
1
4
7:08

Kevin Hayes (4)
Assists: Mats Zuccarello, Rick Nash
2
4
11:56

Rick Nash (7)
Unassisted
3
4
16:12

Artem Anisimov (9)
Assists: Nick Schmaltz, Richard Panik
3
5
18:30

Jonathan Toews (5) (Empty Net)
Assists: Richard Panik, Brent Seabrook
3
6
Time
Team
Penalty Detail
5:02

Mats Zuccarello: 2 Minutes for Tripping Alex DeBrincat
Goaltending Summary
New York Rangers Goaltending

Player
SA
GA
Saves
SV%
TOI
PIM
H. Lundqvist
34
4
30
.882
46:32
0
O. Pavelec
8
1
7
.875
13:15
0

Chicago Blackhawks Goaltending

Player
SA
GA
Saves
SV%
TOI
PIM
C. Crawford
28
3
25
.893
60:00
0
In the never-ending gripes about these Wednesday Night NBC games, gripes that I discussed in the Rangers/Bruins review, here's just a couple of things from the NBC pregame show that irked me:
The way NBC only talks about stars, even if they aren't playing like stars. You wouldn't even know who Alex DeBrincat was from this broadcast. Turns out he's the hottest player on the Hawks right now.
A 10 minute video package on Henrik Lundqvist, giving him sole credit for the win streak. It wasn't until minute 30, of the thirty minute pregame show, until Eddie O. (Glad to see he's back & I believe he's nearly halfway through with his cancer treatments) brought up the Rangers PP.
A whole segment on Brendan Smith's contract and how it could be a bust. Not one mention of Lundqvist's contract though.
Too much face time for Pierre McGuire. As discussed in my Edmonton blog, I would rather see the National Anthem on TV, than a meaningless "We have to play hard" interview, with some random player. None of those "right-before-puck-drop" interviews, are ever anything of any sort of valuable substance.
NBC going on and on about the Rangers six game win streak, like it's fucking May. It's November and NBC is anointing the Rangers as the Cup Champions. Come on man!
These Ranger vs Blackhawk games, while an Original 6 rivalry, may be the weakest rivalry out of every Original 6 rivalry permutation that you can come up with. This isn't Boston/Montreal. It's not Chicago/Detroit. It's not Toronto/Montreal. It's not even Detroit/Toronto. It's just two teams that happen to have been around for a real long time.
However, in recent years, these Ranger vs Blackhawk games have produced some pretty exciting games. While the Rangers six game win streak was snapped tonight, also snapped was a string of 11 straight games, where these two teams played to a one goal difference.
Last season, KING RAANTA shut out the Hawks on the road, before dropping a 2-1 decision at MSG. In both games, the goalies brought their best. In their first meeting of the 2017-2018 season, both goalies also brought their best for 38+ minutes, before the game got off the rails.
The first period was mostly the Rangers, as they brought the game to the Hawks. However, Crawford was able to survive. The Rangers did themselves no favors when JT Miller took a hooking penalty on Brent Seabrook. However, the Rangers PK, which was strong once again (PK went 4/5 tonight), was able to actually attack Chicago. In fact, the Rangers on the PK, looked better than Chicago's PP, during the early minutes of the game.
The Rangers would get a PP, 6 minutes into the game, but as was the story for most of their PP time in this game, it seemed like the first unit didn't get much time to get it together.  The Rangers would get all their PP's in this period, and just couldn't make it happen.
Really, a huge difference in this game, compared to the last 6 games, is that the Rangers didn't work the puck to the net. Taking shots, looking for rebounds, going for deflections, crashing the net, screening the goalie, etc – all that stuff faded in this game. The Rangers went back to their extra pass/fancy pass bullshit, and it bit them a few times. There was even one play, where Zuccarello was all alone with Crawford and instead of shooting, waited to make a pass for the turnover.
If you're looking for the one word that captured the Rangers during this win streak but lacked tonight, that word would be AGGRESSIVENESS. However, in tonight's loss, like Kevin Spacey with a teenage boy, the Rangers were PASSIVE and were looking to get pegged all game.
The Rangers would score the first goal of the game, midway through the first period, when Chris Kreider made a sweet backhanded pass, from behind the goal line, and found Zibanejad all alone in front of Crawford & an exposed net. 1-0 good guys.
It's amazing when you look at the Blackhawks and the team they put out on the ice tonight. No other team has been punished for drafting successfully and for winning in the salary cap era than the Blackhawks. In fact, if you took the 2010 Hawk Cup team, their contracts today equate to $126M, which is nearly $50M more than the cap ceiling today! Have I ever mentioned on this blog how much I hate the tight salary cap? (Come on Sean, no more tangents, you got to be up soon!)
After the goal, Skjei took a penalty and the Rangers killed it off. John Hayden would then get popped for a double minor, for high sticking Marc Staal. With the way the Rangers PP has been playing, you expected a goal in this situation. However, the Rangers PP reverted to their woeful selves and they couldn't muster many shots, let alone a goal. This reprieve gave the Hawks time to figure the Rangers out.
The teams skated to the locker room, 1-0 good guys, after the first period. It was a good period of hockey, but you knew the Rangers should've had more on the board.
The second period was a fun period of hockey to watch, especially if you didn't have a rooting interest in either team. Chicago doubled up the Rangers in shots, out-shooting them 16-8.
You knew this period would be exciting when this tweet pops up in your timeline:
Man, it looks like the drugs are finally catching up with Ron Duguay. #MSG pic.twitter.com/ZfhBBwI1Ns

— OldMan Boyle 4 Coach (@oldman_boyle) November 16, 2017
This second period was just wild, as one team put together a crazy attack, was stopped and then the other team went on their crazy attack that was also stopped. I believe they call this FIREWAGON HOCKEY!
Just as I was thinking that the Rangers were doing a good job of shutting down Toews and Kane, both found opportunities, but either had a shot ring off the post or just missed.
The Rangers missed a goal scoring opportunity, when as mentioned at the top of this blog, Zucc held up and waited to make an extra pass to nowhere. Chicago then had a chance on a two on one, but they looked like two Rick Nash's and loused it up.
The Rangers had to kill two penalties in this period and looked strong doing so. There was then a stretch of time where NYR looked tired and Hank made a few good saves. However, as is always the case with Lundqvist, he rarely can sustain a 60 minute effort.
And please, save me the "defense has to be better" shit. There is no excusing this:
Henrik Lundqvist poops out an Alex DeBrincat goal, tie game #Blackhawks pic.twitter.com/wJTzNUGNiu

— Marina Molnar (@mkmolnar) November 16, 2017
This goal came with 52 seconds remaining in the second period, thus tying the game at 1-1. It truly amazed me, and really I guess nothing should phase me anymore, that some Ranger fans were blaming the NYR defense for this goal. They weren't joking either. To quote my buddy Donald Trump, "SAD!"
Seriously, when you're paid the most in the league, you can't blame your defense for everything. That's why you're paid the most in the league. You also have to keep into account that no NHL defense is perfect and the other team is paid to pot goals too. The Rangers just happen to pay Lundqvist the most money in the world, to make these super-human saves. However, that's an ability that has eroded faster than the Rangers Cup window.
There is no excusing this goal and when you're in a tight, wild and crazy game, a goal like this is a true momentum changer. For Lundqvist and the Rangers, they would find out all about that momentum in the third period.
For the Rangers, the third period got more out of control than Louie CK at an office Christmas party.
Artem Anisimov scored a minute into the third period. 2-1 bad guys.
John Hayden scored less than 50 seconds later. 3-1 bad guys.
Artem Anisimov scored again, this time on the powerplay, three minutes later. 4-1 bad guys.
What was a 1-0 NYR lead, just nearly 5 minutes ago in game time, was now a 4-1 Chicago lead. With 15 minutes still remaining in the game, AV saw enough from his faux King and went with Ondrej Pavelec.
On all three goals allowed in the third period, while Lundqvist could be better, what really killed the Rangers, was that the Hawks were scoring the blue collar, hard working, grinder goals. They played tough and hard & cleaned up loose pucks. All three goals were from the slot or near slot area.  It was like Chicago flipped a "FUCK THIS SHIT" switch and remembered who they were. Lundqvist had no answer, which was a shame, because up to this barrage of goals, Crawford and Lundqvist were having a goalie duel.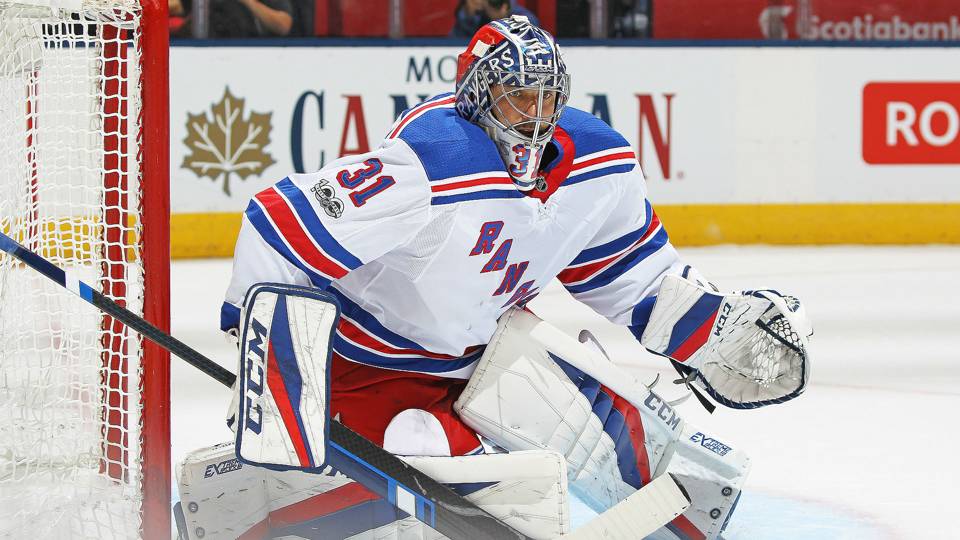 As what's happened a lot ever since Marty Biron retired, the second Lundqvist was benched, the Rangers woke up. The Rangers scored immediately after Lundqvist was pulled, but the goal was waved off, despite the whistle being heard after the puck beat Crawford. This fell under the "INTENT TO BLOW" rule, which sounds like Micheletti & his Hank sex doll after games.
If you don't know, if the ref is bringing the whistle to his mouth, and a puck goes in, the play doesn't count, even if the ref fucked up. That's what happened here. The ref lost sight of the puck, during a live play and went to rule the play dead. With all these replay rules we have, this is something that should be reviewed. How does a team get punished because the ref lost the puck?
While you can't say if this goal counted, then everything else unravels the way it did, who knows, maybe the Rangers and Hawks are 4-4 with under 5 minutes to go. This was a play that changed the game, but then again, Lundqvist giving up a brutal goal to close the second changed the game long before this play.
Despite a goal being taken away, the Rangers didn't give up and continued to play strong. Within five minutes of Lundqvist being pulled, the Rangers made the score 4-3, after goals from Kevin Hayes & Rick Nash. Both goals were because the Rangers brought the fight, after having a brain fart to start this third period. With under 8 minutes remaining, the score was 4-3 bad guys.
The Rangers nearly tied it, when Grabner went for a wraparound, but Crawford was just able to get some leg on it to prevent a Rangers 3 goal comeback. SAD!
With under four minutes to go, Artem Anisimov put a bow on this game, beating Pavelec top shelf. Despite 22 and 27 being on the ice, I was wondering if it was ok to blame Staal or Holden for this goal, just like the way Lundswiss fans blame those two for any goal allowed! 5-3 bad guys.
As Pavelec made his way to the bench, he didn't even get a chance to sit down, as Jonathan Toews added an empty netter, with 90 seconds left, to finish off the Rangers. 6-3 bad guys and that was your final from Chicago.
All in all, while it sucks the Rangers lost tonight, if you're gonna lose a game, it may as well be to Chicago on the road, than say Colorado at MSG. However, the Rangers did lose to Colorado at MSG and since they play in the toughest division in hockey, there isn't much margin for error.
After being in a fugazi first place for all of three hours on Saturday, here are the updated standings, as we approach the quarter mark of the season:
| | |
| --- | --- |
| | Devils |

| | |
| --- | --- |
| | Blue Jackets |

| | |
| --- | --- |
| | Penguins |

| | |
| --- | --- |
| | Capitals |

| | |
| --- | --- |
| | Islanders |

| | |
| --- | --- |
| | Rangers |

| | |
| --- | --- |
| | Hurricanes |

| | |
| --- | --- |
| | Flyers |
As you can see, one winning streak could propel you to the top, while a losing streak could sink you to the bottom. There is a 6 point difference between first place and last place, so really, anyone has a shot in the division. Points are a premium in the division, which is why it kinda sucks that a goal was disallowed, because at 4-4, even if the Rangers lose, it's a valuable point.
The Rangers just need to forget about this one and go back to what was working during the winning streak – playing blue collar hockey and grinding away for goals. They need to bring the attack and while they showed flashes of that in this game, it truly wasn't consistent enough.
Up next for the Rangers is their third game of the season with the BlueJackets. As mentioned in my last blog & at the start of this season, I thought this was a crazy season schedule from the jump. By this time Friday, the Rangers will have played a close division rival, in the CBJ, three times, while not even sniffing Carolina, Philly or Washington.
I think with the loss, Brendan Smith goes back into the line-up. While Steve Kampfer is probably the most likely scratch, I would give Nick Holden the day off.
As far as the goalie, the Rangers have had a great schedule when it comes to spacing out games. There's really no reason why Lundqvist shouldn't start, especially against a Metro rival on Friday night. I think this game was Pavelec's work until, in my prediction, the Vancouver game. If the Rangers came back and won tonight, I could see KING PAVELEC starting against Columbus. However, with the loss, plus Hank only playing a little over two periods and all the time off in between games, I'm assuming we get Lundqvist vs Bobrovsky.
And please, the Rangers can't give up another touchdown against Columbus. After hearing that DUH DUH DUH DUH DUH DUH Chicago goal song on loop, I don't know if I can deal with all the fucking cannons going off in Columbus.
As for me, my work schedule is nuts and I'm about to become an uncle again on Friday. Not sure if I can get anything up, but if I can I will. Sunday's game against Ottawa is pushing it as well, as there is a lot of good TV on Sunday night and with my crazy work schedule, I might do the double barrel TV action. We'll see.
Don't get too flustered after this game. It's one road loss to a good team. That Lundqvist goal allowed to DeBrincat though…. ouch. It's still amazing to me how the NBC crew omitted the fact that the rookie DeBrincat was the hottest Blackhawk going into this game. At least they got their 10 minute special on the Cupless King in though!
Maybe see you Friday. Regardless, win or lose, as always…
LET'S GO RANGERS
DEPORT LUNDQVIST
Sean McCaffrey
BULLSMC@aol.com
@NYCTHEMIC on the tweeter gimmick
P.S.: I just saw my first "FIRE AV" tweet. I can't even! You can't blame AV for this one at all.