What's up everyone and welcome to another blog here on BlueCollarBlueShirts.com. If you are a regular here, not much has changed with my schedule, as I'm still working 7 days a week. It's the business I've chosen, the money is good and it allows me to attend road trip/away games during the NHL season. However, it also is a drain on my free time, so I can't go as long as I'd like to go tonight.
To follow up my last blog, I'm now an uncle again. The reason I mention this, is because I'm not sure if I will be able to do an update on this site, on Sunday night, after the game against Ottawa. I still have my 4:30AM alarm clock for work every morning and plan on going to the hospital after work on Saturday and Sunday. If that is the case, the next blog I'll do, will be after the Carolina game on Wednesday.
On an aside, you know you're old and weathered, when going out drinking on Thanksgiving Eve is no longer appealing! I'll probably just stay in, have a few belts, cross my fingers I don't have to work on Thanksgiving and watch the game. Either way, I'll have something up on this site on Wednesday, regardless of what happens on Sunday. In the meantime, if you need your fix (what an egotistical thing to say, but I kid, I kid!) you can always talk shit on twitter with me, by following @NYCTHEMIC.
And for the new readers who asked, the reason I put some personal stuff on these blogs is because I like interacting with other Ranger fans. The emails I get from fans of all ages & backgrounds, discussing life & the Rangers, is always fun and interesting. And if you're a new reader (and judging by site stats, there are a lot of you) you will not find another hockey blog, nevermind another Rangers blog, like this one, on the internet. I don't say that to discredit anyone else, I say it because if you're gonna invest your time reading something, I promise you will only get this uniqueness here!
If you want the fast and skinny, there are two words that can sum up this Rangers 2-0 loss to the Columbus Bluejackets. They are "Sergei Bobrovsky." It's as simple as that. While some fans are up-in-arms about this loss, and trust me, I get it, my take is that if you're gonna get shut out and stoned at every turn, at least you got blanked by a Two-Time Vezina winning goalie, and not some back-up. I mean, if this is Maxime Lagace, from the Las Vegas Golden Knights or Aaron Dell, of the San Jose Sharks, shutting you out, I'd be pissed. When you get shut out by Bobrovsky, while it sucks, it's a little bit easier to accept.
Henrik Lundqvist, someone who I haven't been afraid to criticize on this blog (You may have heard about that!) played a great game too. In fact, as someone who enjoys the goalie duels over the field goal games, this was arguably the most enjoyable hockey game of the season. The only problem was that the Rangers lost. However, if you're unbiased and just want to watch a good hockey game, this game was exactly that.
A big problem, for the Rangers this season, is giving a consistent and constant 60 minute effort. If you're looking to pinpoint where this game started to go wrong, it would be in the second period, where the Rangers were out-shot 19-9. The Rangers would help even out the shot department in the third period, winning the battle 15-9, but even so, Bobrovsky was rolling. That said (there's one), with the way Bobrovsky was playing, I don't know if it would've even mattered if it were the Rangers, who took the 19 shots in the second period.
While I'm not shocked about the "gloom and doom", from some Ranger fans after this game, because after all, some people expect this team to go 82-0 every season; to put any blame on AV, the team and <gulp> Henrik Lundqvist himself, after this loss, is silly. The Rangers were just beaten by a better team, a better goalie and if I dare so say, a better coach.
Listen, I didn't have high hopes for the Rangers this season. At best, I thought they would be a second wild card. Even with the recent 6 game win streak, I still don't see them hoisting the Cup in June. Can they win the Cup this year? Sure, anything can happen, but realistically and as a betting man, I wouldn't get my hopes up, nor put money down on that. I still feel, moving forward, the best thing for the Rangers, is to get young, build a new core and give the new blood some NHL ice time.
What I mean by that, is that I would've had Lettieri, Chytil, Pionk and others on this team right now. I wouldn't waste my time with one season and done players like Paul Carey or David DeSharnais. Of course, the recent win streak creates perhaps a false hope for some fans, but to me, I think the Rangers are wasting time by thinking they can win a Cup this season.
In case you missed them, here are my most recent blogs/game recaps:
---
---
---
---
---
While it's never fun to lose, and you're gonna lose quite a bit, during an 82 game season, this wasn't a tough loss to swallow. If anything makes this loss tough, it's that the Rangers wasted a great effort from Henrik Lundqvist. I saw people saying, even NYR reporter Jim Cerny, say "This is a vintage game from Henrik Lundqvist." That's your problem right there. Lundqvist is paid the most in the league to be the best goalie in the world. These efforts aren't as frequent as they used to be. Meanwhile, Bobrovsky is having great games game in, game out and for less money. He also has more Vezina's than Lundqvist too.
If there is anything good to take out of Bobrovsky's career, as Ranger fans, it's that a Russian, in middle America, is enjoying a great career with a lot of individual success. If you're an optimist, you can only hope that CZAR IGOR SHESTYORKIN will enjoy similar success, while playing in a bigger city in New York and where there are more Russians to make him feel comfortable. I really think fans underestimate what it's like to go to a new country, learn a new culture and try to learn one of the toughest languages here is, in American-English.
As usual, let's go to the ESPN.com box score and run down this one:
1st Period Summary

Time
Team
Scoring Detail
NYR
CBJ
No scoring this period
0
0
Time
Team
Penalty Detail
1:44

Artemi Panarin: 2 Minutes for Hooking Brendan Smith
6:39

Brendan Smith: 2 Minutes for Interference of Zach Werenski
17:45

Boo Nieves: 2 Minutes for Hooking Sonny Milano
18:54

Nick Foligno: 2 Minutes for Tripping Nick Holden

2nd Period Summary

Time
Team
Scoring Detail
NYR
CBJ
13:34

Zach Werenski (6)
Assists: Boone Jenner, Brandon Dubinsky
0
1
Time
Team
Penalty Detail
No penalties this period

3rd Period Summary

Time
Team
Scoring Detail
NYR
CBJ
7:14

Artemi Panarin (4) (Power Play)
Assist: Oliver Bjorkstrand
0
2
Time
Team
Penalty Detail
1:31

Gabriel Carlsson: 2 Minutes for Holding Kevin Hayes
6:55

Pavel Buchnevich: 2 Minutes for Interference of Boone Jenner
Goaltending Summary
New York Rangers Goaltending

Player
SA
GA
Saves
SV%
TOI
PIM
H. Lundqvist
42
2
40
.952
56:44
0

Columbus Blue Jackets Goaltending

Player
SA
GA
Saves
SV%
TOI
PIM
S. Bobrovsky
36
0
36
1.000
60:00
0
The biggest thing to occur before this game was the announcement that Brendan Smith would finally get a start, after being a healthy scratch the last 6 games. I've talked about his situation in-depth in prior blogs, so I won't rehash all that. I will say, as predicted in my last blog, I figured that after the loss in Chicago, Smith would finally get to play again.
As far as Smith's performance, he wasn't bad. He wasn't great either. It's not like you noticed him either, outside of a good one timer attempt that was stopped by Bobrovsky. He drew a penalty and was also called for a fugazi penalty, where you had to wonder what the ref was thinking on the call.
In this salary cap era NHL, the question to ask here is, "Was Brendan Smith that much better than Steve Kampfer?" Kampfer, who has been playing instead of Smith, was the one who was scratched in favor of Smith's return tonight.
To answer the question, I don't necessarily think so. That said, (another time I've said that phrase) it's tough to be a huge factor when you've been sitting in the press box and watching Joe Micheletti stroke his Henrik Lundqvist hair doll.
I don't think Smith was much of a difference in this game, but then again, outside of Henrik Lundqvist, who was a difference maker, for the Rangers, in this game? Certainly not Chris Kreider, who seems to have kept on his ghost costume from Halloween. I mean really, I had to double check to make sure he wasn't scratched.
I can never agree with the "FIRE AV" stuff, when it comes to player performance. It's amazing how some guys can look great in some games and look invincible in another. There is no bigger example of this than Chris Kreider, who can step up in games, but can also wilt like a flower, that's been pissed on by a rabid dog.
It wasn't just Kreider though. Zuccarello had a terrible game, where he was even ragdolled at points. His refusal to shoot the puck on opportunities will always remain as his biggest flaw. Captain Ryan McDonagh, who must be injured, because I don't know what else you can say to excuse his play, had another so-so game. While the Rangers defense was able to shut down the top lines of Columbus for most of this game, the Rangers relied heavily on Lundqvist and the goal post to stop pucks.
Again – I can't say enough good things about Bobrovsky tonight. There came a point in the third period, after the second Columbus goal, where the Rangers just accepted their fate and realized nothing they were going to do would get the Russian to crack. He defeated the Rangers and when the team headed to the locker room, you didn't see faces of disgust or agony. What you saw, was a team that looked like someone who lost $500 bucks on a blackjack table – it just wasn't their night.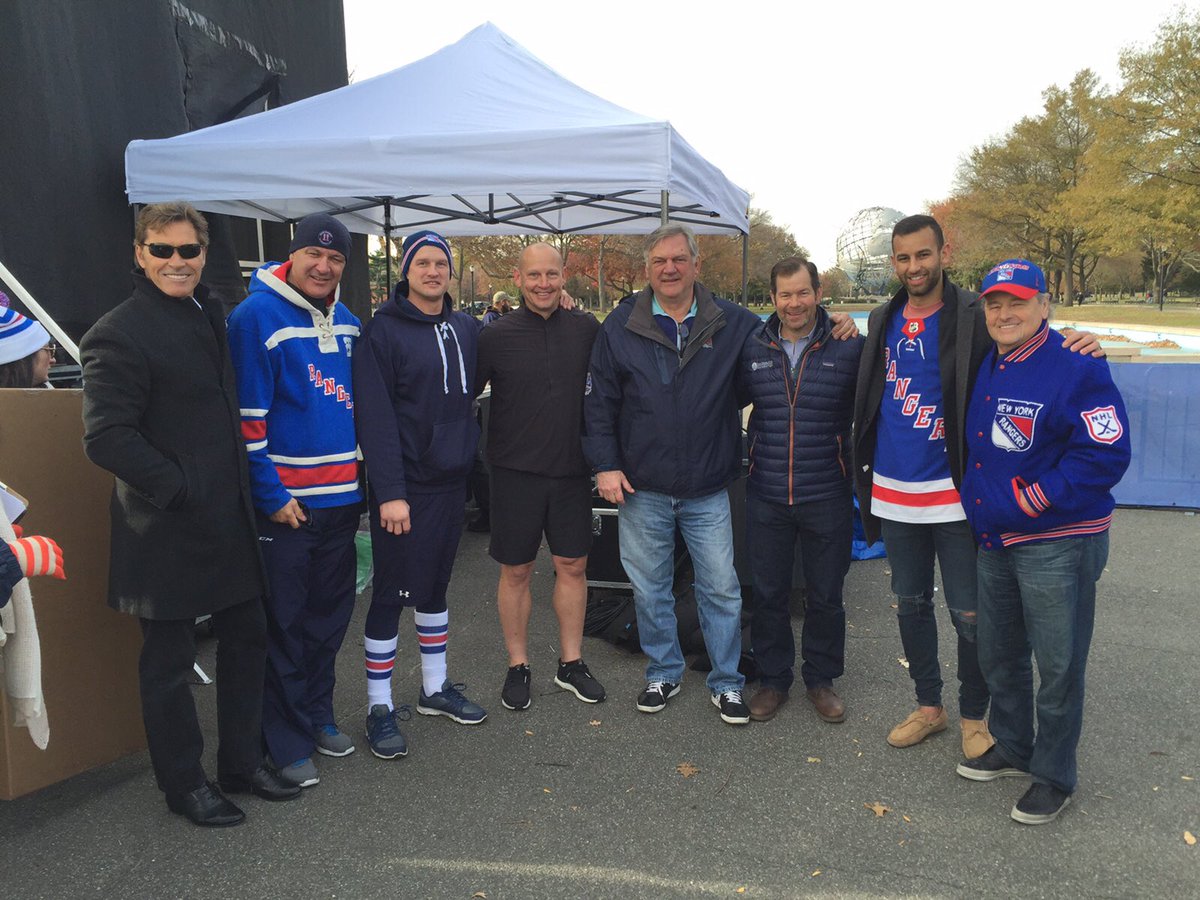 Before diving into the game, I just wanted to mention the work the Rangers & their alumni do for the Garden of Dreams, local hockey groups and other charities. While I'm sure the alumni are on some sort of contract with the Rangers, the fact is, I truly believe these guys like giving back and being involved with various communities.
I've done my odes to Adam Graves before. He's simply the greatest human ever to wear a Rangers jersey. However, there are guys like Ron Duguay, Rod Gilbert, Ron Greschner, Pete Stemkowski, Stephane Matteau, Glenn Anderson and others who are at nearly every charity event. It's nice, as a diehard Richter fan, to see Richter at these events as well. Newer faces to these events are Steve Valiquette, Colton Orr, and Tom Laidlaw, among others.
With all the bitching and moaning that we do as fans, about the team and their 4 Cups in 90+ years, I do think it's worth giving these guys some burn. They do a great job. As someone who has attended some of these events, I've never seen these guys ever look miserable, like the way I've seen other celebrities at similar events.
There is a difference between doing charity events because it is the right thing to do and doing charity events for good publicity. I truly believe the Rangers alumni do these events because they genuinely enjoy doing them.
While I can't say I attended the 5K run (the only run I'm making is a beer run) it looked like it had a great turn out and everyone had a good time. Money was raised, people got to meet some of their favorite ex-Rangers and it was a good day. This is the stuff I like to see.
When it comes to charity work, honoring our military, respecting our NYPD and promoting the fight against cancer, unlike Glen Sather, the Rangers have always done a great job. Stuff like this makes a bad team easier to accept. The greater good is being taken care of.
That said – RETIRE FRANK BOUCHER'S #7 ALREADY!
Despite having to be up at 4:30AM for work, this was a tangent worth going on! You know who also does a lot of charity work but doesn't have any of his endeavors publicized? This guy: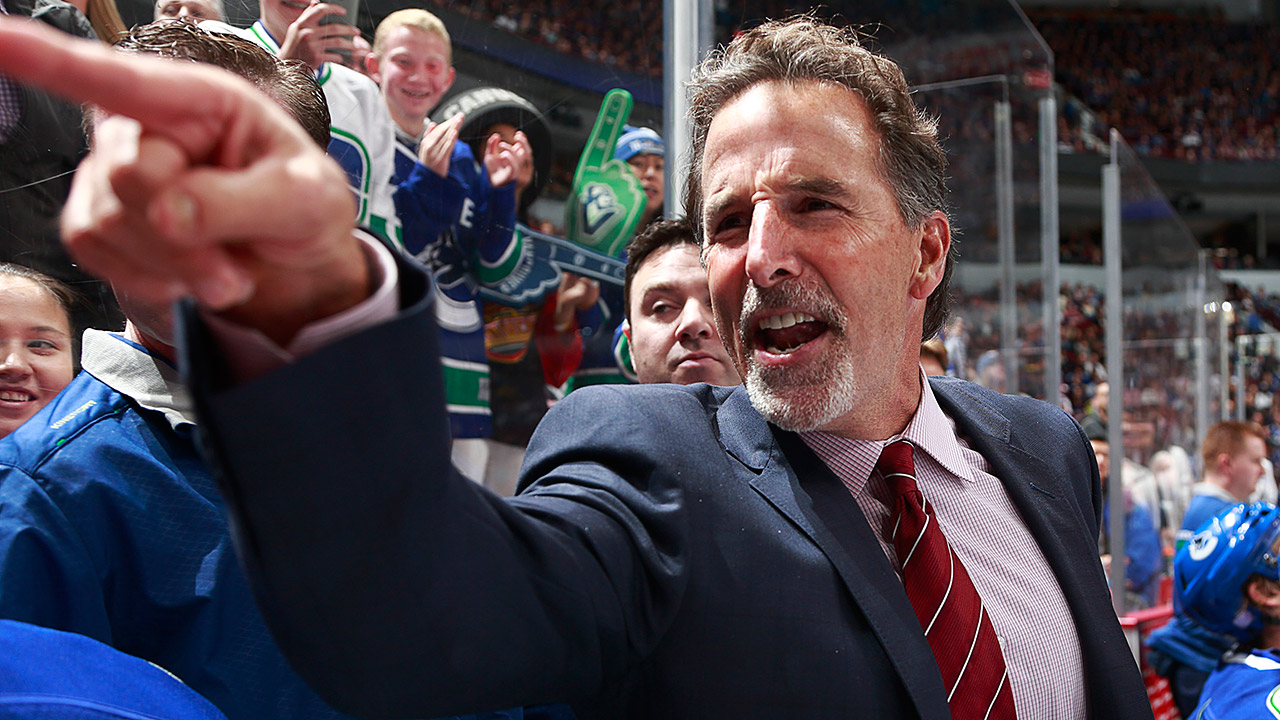 In the, "I always gotta say this department", isn't it amazing how Henrik Lundqvist's best years came under John Tortorella? Even more amazing, how about the career resurgence that Sergei Bobrovsky has had under Tortorella? I know I say this every time, and yes, I know his time was up at the time, but man, do I miss Tortorella. Even if you're not a Rangers fan, Tortorella in NY is good for hockey. After all, Alain Vigneault isn't going to get headlines for changing the flavor of gum he chews. At least Tortorella could knock the Knicks, Jets & Giants, off the back pages, once in a while.
I know I might sound redundant here, but really, this was a great game and a classic goalie duel. Players from both sides were routinely robbed all game. While I thought Bobrovsky had the better game, this was arguably Lundqvist's best game of the season.
The only problem with Lundqvist having a good game, was that Micheletti was unbearable. I would rather be handcuffed and locked up in a dark room with Kevin Spacey & a Catholic priest than be subjected to his commentary. There were so many plays tonight, a puck off a post, Brady Skjei taking a loose puck at the goal line and clearing it, etc, and after the play, Micheletti's raging hard-on for Lundqvist took over his eyesight.
By praising Lundqvist on pedestrian plays or plays where a puck hit the post or was moved by another player, what Micheletti unintentionally does, is take away the real good saves that Lundqvist actually makes. Since Micheletti is a corporate stooge with a man crush and praises everything, he devalues the actual great saves and plays that Lundqvist makes. Micheletti just has no credibility anymore. With Sam Rosen more focused on Papa John's pizza than the games themselves these days, I'm not kidding when I say, I rather John Gianonne and Dave Maloney.
Speaking of the announcing, I will never get why the Rangers don't get John Davidson up in the booth for a few minutes, during these NYR/CBJ games. For starters, it gives you the other team's perspective. Secondly, Davidson loves Sam & has no ill-will for the Rangers. We've seen Mike & the Mad Dog reunite, we've seen Slash & Axl reunite, so really, get on the fucking ball MSG!
The first period was the goalie show, with Hank making 14 saves and Bobrovsky making 12 saves. These weren't run-of-the-mill shots either. Hank got tested early, as Cam Atkinson, a recent recipient of a very nice long term contract, got off three great shots to start the Columbus attack. Bobrovsky was robbing everyone left and right.
The hairiest situation, for the Rangers, was when Columbus was on a prolonged attack and NYR couldn't get a clear. Eventually, a collision forced the net off its moorings, giving the Rangers a chance to change lines & relieve the Columbus pressure.
Both teams would get two powerplays, with neither team converting. (The second Ranger powerplay was a wrap-around powerplay and was a short PP, as Columbus took a penalty on their PP, towards the end of the period.) Each goalie would also prevent odd-man rush goals. As I've always said, some fans just focus on the Rangers and forget the other team is paid to force turnovers, bust defenses and play hockey too. You're gonna have these breakways and odd man rushes in games. However, both goalies were flawless.
What surprised me the most, was a stat that said Columbus was the worst PP team in the league. I'm surprised because they are a great team. While I don't agree with Vally, who called Columbus the best team in the division (To me, it's Pittsburgh hands down and it will remain that way until someone knocks them out of the playoffs) I guess I shouldn't be shocked about a Torts team having a bad PP. I'm getting flashbacks to that 2013 playoff series with Boston right now!
After one period, the teams skated to the locker room at 0-0.
In the second period, the scariest play was when McDonagh went to the bench, after an awkward hit. He was holding his head, but didn't have to go through concussion protocol.
Quick tangent – remember before the season, I wrote a long blog about the advancements in CTE research? Well it was announced today, that doctors can now test for CTE in the living. This is going to be a nightmare for the NFL, NHL, WWE, UFC and boxing. Athletes will become uninsurable, liberals will cry that these young men aren't wise enough to choose if they should play and risk their health, and you will see careers cut short.
It might not happen now, it might not happen 5 years from now, but 10 years from now, you will see the average length of a career shrink tremendously in the NHL. I don't know if in my lifetime, if we will ever see a cure for CTE. Obviously, it will have to start with the helmets, but even so, these players are much faster and stronger than anyone could've ever imagined, when these sports were first created.
Seriously, can anyone be 100% sure, that the number 1 star in the league, Sidney Crosby doesn't have CTE? What if the NHL knew he had it? You're going to see a lot of hot-stove talk about this topic soon and eventually, politicians will get involved. Sports, in this aspect, will change in our lifetime, I guarantee it.
The second period saw the Rangers come up empty-handed on their powerplay. Perhaps the best Ranger, not named Lundqvist, in this period, was Kevin Hayes, who made several great defensive plays. He prevented two Columbus attacks by himself and created opportunity for the Rangers.
After a few post jobs on both sides, Columbus broke up the shutout goalie duel, when Zach Werenski beat Lundqvist. As much as I like to troll on social media about goals Lundqvist gives up, it's tough to blame him for this one. However, this goal came after Bobrovsky stopped a 3 on 2 Rangers attack. Columbus then went up ice and beat Hank.
Yes, you can go ahead and blame Smith & Staal, which seems to be the easy way out. However, what makes a goalie duel, a goalie duel, is because both goalies are phenomenal and making insane saves. Lundqvist blinked first. You can't say that NYR wasn't challenging Bob either, because he was perfect on some scary shots. 1-0 bad guys.
While this was a great game to watch, if you didn't bet the over or the Rangers, what impressed me a bit, was that Lundqvist didn't collapse after the goal allowed. Far too often this season, we've seen Lundqvist lose his shit and fall apart after a goal. With five minutes remaining in the period, after the goal, Lundqvist buckled down and was able to keep his rhythm going. Unfortunately for the Rangers, so did Bobrovsky. 1-0 at the end of two periods.
The goalie battle resumed in the third period. The Rangers would get another early PP, but couldn't do anything with it. It's official – the Rangers PP has cooled down and is now back to earth.
Lundqvist made a few good saves, but his defense bailed him out repeatedly. That's something Micheletti ignored, even when it was clear as day, when Brady Skjei got rid of a puck hanging at the goal line.
Columbus would eventually get a PP, after a silly Pavel Buchnevich interference call in the Rangers offensive zone. Almost immediately, Panarin made the Rangers pay, as he beat Lundqvist, on clear shot, over the blocker, while on the PP, to make the score 2-0 bad guys. That's all it would take.
What I didn't like, besides Columbus extending the lead, was Lundqvist crying like a baby at Kevin Hayes for not clearing the puck.
Listen, I know I'm a big guy now. Having a high tolerance for beer will lead to a beer belly. However, a generation ago, I was a four-sport athlete. (Football, Basketball, Lacrosse and Hockey.) Even if I don't use my shitty high school career days as an example here, how about this: I have a job in 2017. Whether it be my playing days of my YOUT (My Cousin Vinny reference) or working with co-workers today, NOBODY likes being screamed at & embarrassed by a fellow teammate or co-worker. I'm sorry, this is just one of the reasons on why I can't stand this overrated and overpaid piece of Swedish poo poo.
With three minutes remaining in a fast moving third period and down by two goals, AV went to the Patrick Roy playbook and pulled Lundqvist. If the Columbus PP was bad, the 6 on 5 was SAD! The Rangers got off some shots, Columbus couldn't do anything with the empty net and the time ticked to triple zero.  The only thing of note here was Micheletti blaming Jimmy Vesey's shield for not scoring a goal. I guess Micheletti forgets that Vesey wore a shield for four years in Harvard, where he won, you know the Hobey Baker Award, for best player in college hockey. Have I ever mentioned that I'm not a fan of Micheletti?
2-0 your final, in a game that started and finished with a dominating Russian in net. One day, I hope to write a blog saying the same thing about the Rangers.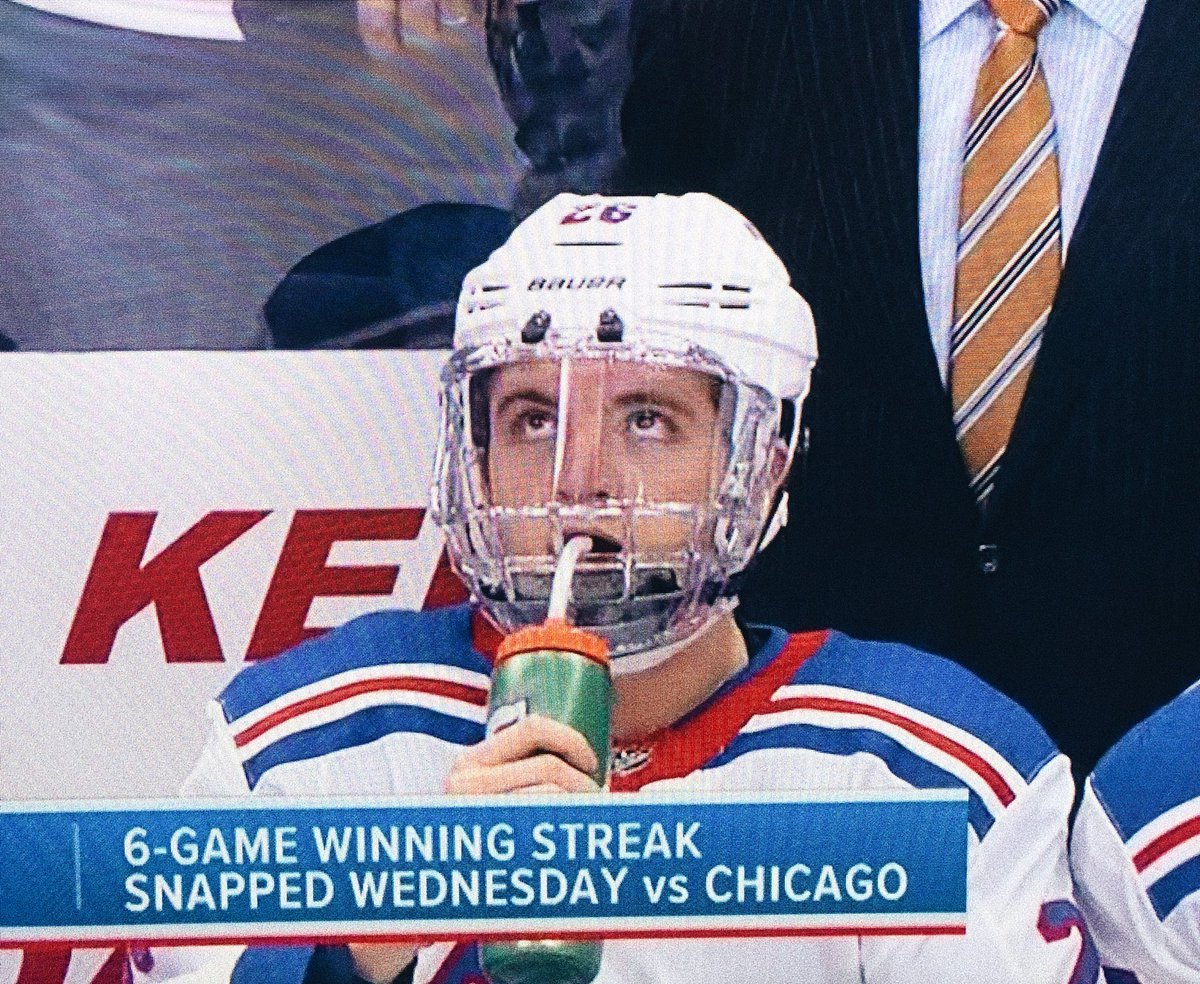 All in all, you can do the blame game if you want, when it comes to the Rangers not scoring and wasting one of Lundqvist's better efforts of the year. Sometimes you just run into a hot goalie and in this case, the Rangers ran into the best goalie in the league. It is what it is.
Updated Standings, as the Rangers hit the quarter pole of the season on Sunday night:
| METROPOLITAN DIVISION | GP | REC | PTS |
| --- | --- | --- | --- |
| | 18 | 11-4-3 | 25 |
| | 20 | 12-7-1 | 25 |
| | 21 | 11-7-3 | 25 |
| | 18 | 10-6-2 | 22 |
| | 20 | 10-9-1 | 21 |
| | 20 | 9-9-2 | 20 |
| | 19 | 8-8-3 | 19 |
| | 17 | 7-6-4 | 18 |
As stated in previous blogs, while tonight's loss would be easier to stomach if it wasn't for the terrible start, the Metro remains the best division in hockey. However, a multiple game win streak has this team in the playoff hunt. Sure, there is 75% of the season remaining, but points still remain at a premium. Not scoring a goal in this game, even if it made the game 1-1 is somewhat crucial, because every point counts. With the way this league is structured, sometimes it is good just to play to an overtime, to at least get the point. However, in a game like this, you gotta score a goal first or Lundqvist needs to be perfect too.
At the top of this blog, I talked about including personal stories and meeting new people. I've met a lot of cool people and shared a beer or ten with some of you, through this blog. Travis Jackson is one of those people. In the spirit of promoting positive things, Travis Jackson is a great guy, who does a lot of work for his community. While I'll probably never accept his invite to go drinking in his town (after all, don't you need a special passport to go to Upstate, NY?) he's been promoting high school & college hockey for some time.
Due to my insane work schedule, I haven't had the time to listen to his latest podcast (Working on a construction site 7 days a week, it's just easier for me to read things, than having the time to sit down, without interruptions, to listen to a podcast or radio show) but I heard his latest interview with Army's West Point Head Hockey Coach, Brian Riley, is his best yet. If you got the time, check it out below:
Listen to My Interview with Army's West Point Head Hockey Coach, Brian Riley by Five Minute Major #np on #SoundCloudhttps://t.co/lwbmIjZQaq

— Five Minute Major™ (@travjax71) November 13, 2017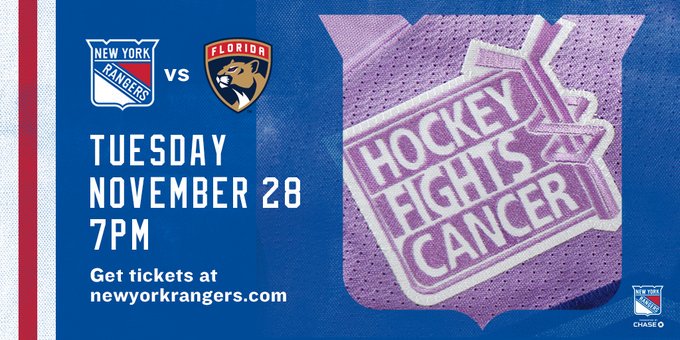 With the Ottawa Senators up next on Sunday night, just be glad the Rangers aren't having their "Hockey Fights Cancer" game against them. I'm truly being sincere and not being a dick here, but whenever Ottawa goalie, Craig Anderson, gets fired up emotionally (and I assume you know the situation with his wife), it's usually bad news for his opponent.
While the Rangers roster has been turned over considerably, ever since Pageau made Lundswiss his personal property last May, there are enough players who can still remember the feeling of blowing a series to Ottawa last season. Without a doubt, the Rangers should've been in the ECF last season and many of us, after the Montreal win, thought it would be a cakewalk. It wasn't meant to be.
After having a six game win streak stifled on this two game road trip, what better way to get back on the winning track, by extracting some revenge on Ottawa?
As far as the goalie situation, as I've been saying the last few games, I still think Lundqvist should start this game. The schedule is friendly, and despite these two losses, he's playing better than expected & really, it's not like KING PAVELEC is KING RAANTA or KING TALBOT!
Lundqvist is the highest paid goalie in the league, and with a lot of ground to make up, you might as well keep going with your best option, until you're out of the woods or at the bottom of the ocean.
As mentioned at the top, I don't know if I'll have anything up after the Ottawa game, due to work and being an uncle again. I believe my weekend will be full of hospital rooms and porto johns at the job site!  At the very least, I'll see you Wednesday, but you can check back here on Sunday just in case.
Until then, as always, thanks for reading and…
"LET'S GO RANGERS"
Sean McCaffrey
BULLSMC@aol.com
@NYCTHEMIC on the twitter machine