What's up everyone and welcome to another blog here on BlueCollarBlueShirts.com. As I told you after my NYR/CBJ review, I had to skip Sunday's NYR/OTT game, due to real life/lack of time/work schedule. For the Rangers, it was a solid 3-0 win, and it felt like a NJ Devils game from the late 1990's. It was a defensive battle, with a lot of trapping and for the Rangers, it worked.
Oh – and for the few smart asses who said I skipped doing that game review, the first game I've missed this season, because Lundqvist had a shut-out, just go back & read the Columbus review. I said I was going to have to miss that game.  And to answer your retort, NO, I wouldn't have rushed a blog up if Lundqvist got blown out!
In fact, Lundqvist has been one of the reasons why the Rangers were able to turn their season around a bit and he has played well recently. That said, (there's my first "that said" of the blog) he was also one of the reasons the Rangers were in a hole to begin with. However, for most of November, he's been a difference maker for the Rangers, but at the same time, the team in front of him, have been playing better as well.
Just to skip ahead here, after the Rangers 6-1 shellacking over the Carolina Hurricanes tonight, if I'm Coach AV (and I'm not, because I don't like gum) I think I would ride Lundqvist and start him on Friday against Detroit too. Even after tonight's drubbing, the Rangers still aren't a playoff team and have work to do.
While I like to joke and call Pavelec a "KING", because after all, as you must've heard me say a million times by now, you don't need a Cup to be a KING in this town, the drop off from Talbot or Raanta, to Pavelec, is huge. You can't rest Lundqvist and think that your current back-up goalie, can win games for you, by himself, anymore. It's not a secret – Pavelec is the worst back-up goalie the Rangers have had in the AV era and since the days of a retiring Marty Biron.
If the Rangers have any advantage over their Metropolitan division rivals, it is the fact that they have a soft schedule. They have the least amount of back-to-backs in the league and have had a very home-heavy schedule, up to this point in the season. The Rangers, who have now erased a two game losing streak, when they lost to Chicago & CBJ, are now on a two game win streak, after wins over Ottawa & Carolina. Now, the Rangers head home, for four games, as they will play Detroit, Vancouver, Florida and Carolina.
When you look at this upcoming home stand, it's not inconceivable that the Rangers sweep the damn thing. Then again, for all the good-will that was created via these past two wins, where the Rangers have only given up one goal, that could all go away in the snap of your fingers. Win or lose, this team has done a great job of being consistently inconsistent.
Take a look at the updated standings, after the Metropolitan games that were played tonight:
| Metropolitan Division | W | L | OTL | Pts | GP | ROW | SOW | SOL | GF | GA | GD | Home | Away | L10 | Strk |
| --- | --- | --- | --- | --- | --- | --- | --- | --- | --- | --- | --- | --- | --- | --- | --- |
| Blue Jackets | 14 | 7 | 1 | 29 | 22 | 12 | 2 | 1 | 63 | 53 | 10 | 7-4-0 | 7-3-1 | 6-3-1 | W5 |
| Devils | 12 | 5 | 4 | 28 | 21 | 10 | 2 | 2 | 69 | 66 | 3 | 5-3-2 | 7-2-2 | 3-3-4 | L1 |
| Islanders | 12 | 7 | 2 | 26 | 21 | 11 | 1 | 1 | 77 | 69 | 8 | 7-0-2 | 5-7-0 | 6-3-1 | W1 |
| Penguins | 11 | 9 | 3 | 25 | 23 | 11 | 0 | 1 | 61 | 80 | -19 | 6-2-1 | 5-7-2 | 4-4-2 | L2 |
| Capitals | 12 | 10 | 1 | 25 | 23 | 10 | 2 | 0 | 67 | 72 | -5 | 7-4-0 | 5-6-1 | 6-4-0 | W1 |
| Rangers | 11 | 9 | 2 | 24 | 22 | 11 | 0 | 1 | 72 | 68 | 4 | 8-4-2 | 3-5-0 | 8-2-0 | W2 |
| Hurricanes | 9 | 7 | 4 | 22 | 20 | 8 | 1 | 2 | 58 | 59 | -1 | 4-3-3 | 5-4-1 | 5-3-2 | L1 |
| Flyers | 8 | 9 | 5 | 21 | 22 | 8 | 0 | 2 | 61 | 65 | -4 | 4-4-3 | 4-5-2 | 2-4-4 | L6 |
Despite the recent winning, after a horrid October, the Rangers are still not a playoff team. I don't want to hear how Lundqvist is old, you gotta keep him fresh, blah blah blah, the bottom line is the Rangers need to get themselves into a playoff spot. I know it's a long season, but we're past the quarter pole and every point counts. In a league that promotes parity, you have to work that much harder to keep your ground.
While I still believe the Rangers should've blown up the whole damn thing and try to win with a new core/develop young talent, unless the Rangers hit a major slide from now until the trade deadline, the Rangers are operating under the "in it, to win it" mentality. I still don't see this team winning a Cup this season, but that doesn't mean I'm not hoping for it either. I just don't fathom how this team knocks off the Penguins in a 7 game series, but then again, who knows what happens from now until April. Injuries are something we can never predict.
In short, until Lundqvist breaks down, I don't see a reason to stop a hot goalie from playing. In previous seasons, I preached that I wanted Talbot or Raanta in net, over Lundqvist. For the same reasons on why I said that then, it's why I feel now, with Lundqvist playing some of his best hockey since 2014, you gotta ride the hot hand, especially with four winnable games on-tap. The schedule is soft, so I don't want to hear about his work load. He's paid the most in the world to play his position, and like many of you, I don't get to show up to work and take a seat for my whole shift. You also gotta strike when the iron is hot, so keep him going while he's playing well.
Before getting into tonight's game, in case you missed them, here are my most recent blogs:
---
---
---
---
---
---
I know these blogs go on forever, but there's a lot to get into tonight. Plus, with tomorrow being Thanksgiving, I don't have a 4:30AM alarm, nor a train to catch. Then again, with tomorrow being Thanksgiving and everyone overeating/over indulging, this blog should be perfect reading while on the toilet Thursday night!
The Rangers made some changes to their line-up. In the win against Ottawa, David Desharnais was scratched and for some reason, Paul Carey remains in the line-up. JT Miller is now playing center for the Rangers. It's worked thus far, so no complaints there. I still don't get the Rangers/AV/Gorton's fascination with Paul Carey, who most likely, is a one season & done player for NYR. With Vinni Lettieri lighting it up in Hartford, I would rather infuse him into the line-up.
The big news was announced yesterday, when the Rangers announced that Captain Ryan McDonagh, who is in the middle of his worst season as a Ranger, will be out for the next two games with abdominal issues. They are calling it a strain. To me, I don't know if I buy it.
I've been saying all season that McDonagh doesn't look like himself. I really wonder if it's something more. A popular theory is that he is dealing with a concussion, which would make sense, as he's looked foggy out there at times. Either way, I don't think McDonagh has ever been 100% this season, and at the quarter mark of the season, the Rangers are finally acknowledging it. At the earliest, McDonagh might play Tuesday against Florida, but it isn't a done deal. Either way, I just don't think McDonagh's abs have started bothering him now. However, this is the NHL, where teams can withhold injury information from their fans, bettors and media.
Quick tangent – with a hockey team in Vegas, I'm surprised the NHL is still allowed to withhold injury information. The only reason the NFL announces their injuries is because of gambling. With the NHL having a franchise in Vegas, you would think they would follow in the NFL's footsteps here. After all, gambling, especially when it comes to fantasy, only increases interest in the sport. One of the reasons the NFL exploded is because of fantasy football.
Granted, it's easier for casual sport fans to run a fantasy football team, with only one game a week, but it's silly that the NHL doesn't at least attempt to promote fantasy hockey. Then again, it's not really a shocker, considering the NHL is their own worst enemy, when it comes to promoting their game.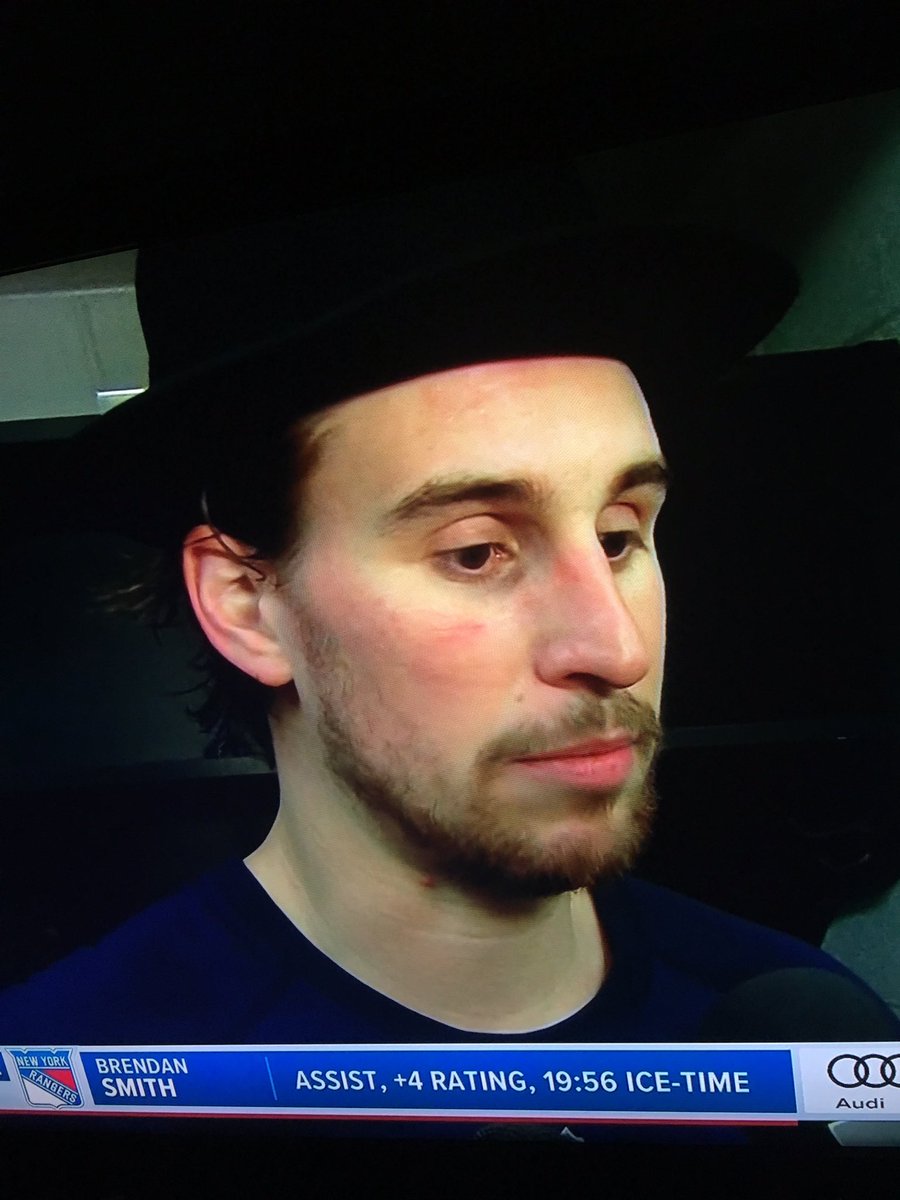 With McDonagh out and Miller now playing center, the Rangers had to tinker with the line-up. Here were your winners tonight:
First Line: Kreider-Zibanejad-Buchnevich
Second Line: Nash-Hayes-Fast
Third Line: Grabner-Miller-Zuccarello
Fourth Line: Vesey-Nieves-Carey
First D-Pair: Skjei-Shattenkirk
Second D-Pair: Smith-Holden
Third D- Pair: Staal-Kampfer
Overall, while the scoreboard suggests a complete domination, the Rangers did get a little help from Carolina goalie, Scott Darling, who played a game that he will try to forget and will never show his future grandkids.
Let's go to the ESPN.com box score, then my recap:
1st Period Summary

Time
Team
Scoring Detail
NYR
CAR
0:52

Chris Kreider (6)
Assists: J.T. Miller, Brendan Smith
1
0
2:26

Mika Zibanejad (11)
Assist: Brady Skjei
2
0
8:50

Sebastian Aho (5) (Power Play)
Assists: Teuvu Teravainen, Justin Faulk
2
1
10:47

Paul Carey (1)
Assists: Jimmy Vesey, Nick Holden
3
1
Time
Team
Penalty Detail
7:47

2 Minute Bench Penalty for Too Many Men on the Ice (Served by Chris Kreider)
13:21

Boo Nieves: 2 Minutes for Hooking Trevor van Riemsdyk

2nd Period Summary

Time
Team
Scoring Detail
NYR
CAR
No scoring this period
3
1
Time
Team
Penalty Detail
5:14

Paul Carey: 2 Minutes for Hooking Brett Pesce
14:58

Paul Carey: 2 Minutes for Boarding Brock McGinn
18:49

2 Minute Bench Penalty for Too Many Men on the Ice (Served by Teuvu Teravainen)

3rd Period Summary

Time
Team
Scoring Detail
NYR
CAR
0:20

Chris Kreider (7) (Power Play)
Assists: Mika Zibanejad, Mats Zuccarello
4
1
5:45

Jesper Fast (2)
Assists: Rick Nash, Kevin Hayes
5
1
12:26

Jesper Fast (3)
Assist: Steven Kampfer
6
1
Time
Team
Penalty Detail
0:32

Brendan Smith: 2 Minutes for Cross checking Marcus Kruger
9:44

Jeff Skinner: 2 Minutes for Holding the Puck
Goaltending Summary
New York Rangers Goaltending

Player
SA
GA
Saves
SV%
TOI
PIM
H. Lundqvist
33
1
32
.970
60:00
0

Carolina Hurricanes Goaltending

Player
SA
GA
Saves
SV%
TOI
PIM
S. Darling
27
6
21
.778
59:52
0
This was a weird game. It all started off with a hooker hotel advertising during the game (I'll get into that later on) and it snowballed into a Rangers blowout.
At the end of the day, for Carolina, this was a game that no matter what they did, it just wasn't going to work. Part of it was the Rangers defense, Lundqvist himself, the Rangers going in and out of the trap and the fact that despite a good powerplay, Carolina would only score once on five attempts.
In a game where it looked like only 7000 people showed up (Carolina announced a crowd of 11,000, which equates to 60% of the building's capacity) and with more than half of those people wearing Rangers blue, the Rangers were the beneficiaries of some major brain farts from the Hurricanes.
Just another quick tangent before continuing. If you're a regular reader here, you know I tend to gripe and speak my opinion on things. Three of those things that I've talked about constantly are:
The Rangers should hold an outdoor practice for fans.
The Rangers should take advantage of the NFL mess, and air the National Anthems on the TV broadcast.
The Rangers should retire Frank Boucher's #7
Now, I'm not saying I had anything to do with it, but as of press time, the Rangers announced a 12/2 open practice at Central Park and aired the National Anthem tonight. While Meat Loaf may have said "Two out of three ain't bad", I'm greedy and I want it all. I'm sure nothing can happen until Ratelle night happens (And I've been told that from someone within the Rangers organization) but fingers crossed, maybe we will see Frank Boucher get the respect he so richly deserves, by a franchise that has been so inept at honoring its history.
In short (then again, when have these blogs ever been short?) the Rangers won a game that they have far too often lost, in the Lundqvist "highest paid goalie in the league" era. It was the Rangers scoring early into periods. It was the Rangers getting the fluke goal. It was the other team not being able to score on a PP. It was the other team that ran into a hot goalie on their home ice.
Chris Kreider got the first goal of the game, 52 seconds in, after taking a perfect cross ice pass from Brendan Smith, and easily tapping it into the net. I could've even scored that goal, while holding a BOOT of German beer in one hand. It was a beautiful pass for Smith. I'm glad to see Smith do well, as while I do think his contract was not team-friendly, the Rangers are stuck with it for now, so I want to see him deliver. This goal was something you'd see in a video game, if you're playing on rookie mode against the computer. Just a perfect play. 1-0 good guys.
Less than two minutes later, this happened:
Scott Darling needs a new glove this one has a hole in it! #NYRvsCAR #NYR @iDroneHD @Canuck289 @Lizzie_McD pic.twitter.com/62nwAUGj7r

— Uncle Bill 🌎 (@UBtalkin) November 23, 2017
2-0 good guys, on a fluke goal from Mika Zibanejad. It was also the second goal, on the second shot, for the Rangers.
How many times have we seen Lundqvist get beat early in a game? How about that time he gave up that Bill Buckner center ice goal to Buffalo? Instead, the Rangers were on the other side of this, and it was great to see it.
Up 2-0 and with nearly 58 minutes left in the game, all the Rangers had to do was Shoot, Shoot, Shoot, as Darling was as shaky as Michael J. Fox on a roller coaster.
At the 7 minute mark, the Rangers would get banged for a too many men on the ice penalty. In what was an impressive looking powerplay, Carolina scored at 8:50, after a Sebastion Aho one-timer. You could see the goal coming the whole time, as Carolina had Lundqivst in fits and the Rangers couldn't catch up with the fine passing from the Canes. However, despite four more PP's in the game, this would be the last goal Carolina would score all game. 2-1 good guys.
Two minutes after the Aho goal and the Rangers perilously close to blowing a two goal lead, Paul Carey scored on a rebound. That was his first goal of the season and made the score 3-1. The Rangers would take another penalty, as this time, Boo Nieves was caught hooking. (However, he wasn't hooking at the Pines Motor Lodge. Again, more on that later.) The Rangers would kill the Canes PP and in the process, killed Carolina's momentum.
Speaking of Boo Nieves, this deserves mention – ever since being called up, he's done two Garden of Dream events. Obviously, the focus for a young player, trying to break in, should be his game on the ice. Instead, Nieves is taking his new celebrity and trying to do good with it. That's a player I can root for. I wish him nothing but success.
At the end of one period, 3-1 good guys.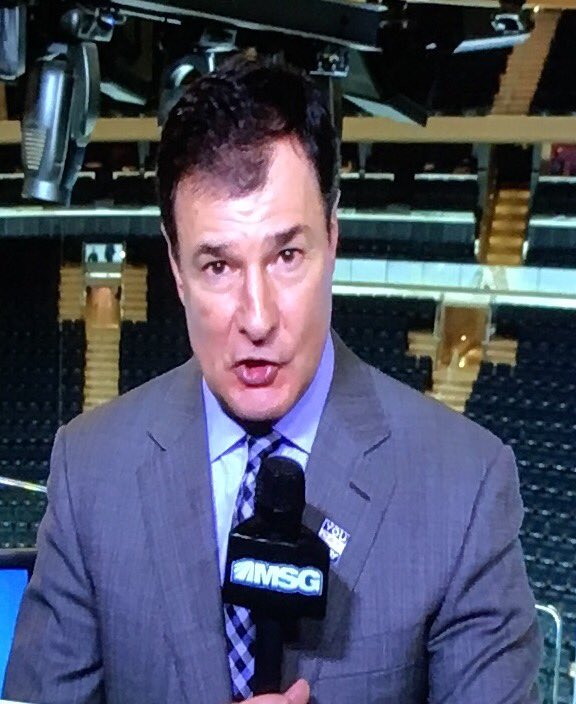 I know I have beaten this topic like a dead horse, akin to my Lundqvist opinions, but man, MICHELETTI WAS BRUTAL tonight. He just calls things that aren't there. Even in the first period, he missed Smith getting hit in the face. So naturally, he just makes up a high sticking call that wasn't there. The problem is Micheletti misses things, because he's too busy fondling his asshole with his Lundqvist hair doll, to notice what is actually going on in the game.
Listen, we all know I'm not the biggest fan of Henrik Lundqvist. If you're new here, I'm not going to rehash everything, just check out the archives of this blog.
That said, (there's another) Lundqvist had a great game tonight, with his best work coming in the first period, as he faced 17 shots. However, Joe just kept going on and on about Hank, for the entire game, even when the Rangers offense was clicking. I mean, the Rangers score a goal and Joe is talking about Lundqvist.
Seriously, I am starting to think, that subconsciously, my disdain for Lundqvist grows, just because of Micheletti. He won't stop. He just makes up things and calls things that aren't there. He acts like every Lundqvist save is a cure for cancer. Has he even seen another goalie play before?
When I say Lundqvist had a great game, you know that means a lot, because you know I want him off the team, for reasons previously stated. However, when the Rangers win a game 6-1, and when the camera is focusing on every skater, when Micheletti goes into his love poems for Lundqvist, it's just ridiculous.
I know Maloney is too honest for TV, but really, Michletti has to go. He is a detriment to these broadcasts. Sam Rosen, a HOFer, is also slipping. There was a period in this game where these two were just talking about Carolina and ignoring the play on ice. Every time I see Joe & Sam together, it just makes me miss JD even more.
Seriously, I will donate $23.75 or whatever it costs to get the jacuzzi room at the "Pines Motor Lodge", to the Garden of Dreams, for Micheletti and his Lundqvist Hair Doll or Fleshlight, of his choosing, if it gets him off the broadcast for one fucking game. Seriously, I think that Micheletti was a Garden of Dreams project himself, as he got his announcing gig through the charity. However, no one has had the heart to tell him that it was supposed to be just a one time thing.
In other words, I am not a fan of Micheletti at all!
Best part of the intermission? When Ron Duguay said Scott Darling must've seen a fine looking woman in the crowd, when he allowed that Zibanejad goal. Duguay didn't use those words exactly, but you knew what he meant. I'm sure some liberal was offended anyway, but come on, it was funny and most likely true.
While there was no scoring in the second period, as both teams only combined for 12 shots, it was a pretty exciting period. The Rangers were great defensively, even if Carolina was able to skate into the zone at will. While all the scoring took place in the odd numbered periods, this was exciting a bit.
Jesper Fast, Chris Kreider and Henrik Lundqvist might get all the headlines for this game. However, to me, there was no better player than Kevin Hayes. I talked a lot about Hayes during the win streak, and his fine play continued here. While he didn't score a goal tonight, (he did log an assist) he was superb defensively.
Seriously, next time you're at a game or if you're able to track him on TV, just watch Hayes for a bit. He's constantly creating turnovers, limiting the opponent's offense and turning his own defense into offense. Rick Nash also does this, but he's paid $7.8M to score goals and if you want to make a stretch here, is a superstar in this league. Right now, I think we're seeing Kevin Hayes reach the next level of his career. The work of Hayes will most likely get lost in a 6-1 win, but he had a fantastic game.
The Rangers would kill two more penalties in this period, as Carey took both penalties. Carolina's PP looked good, but Lundqvist & the defense were better. At the end of the period, the Rangers would get their first PP of the game, this time, a wrap-around penalty. They wouldn't score to close the second, but they would make the most of it to start the third.
At the end of two periods, 3-1 Rangers.
Going into the third period, I had a twitter exchange with a Carolina fan, as he thought I was being a braggart when I said this game was over. He would agree with me very quickly. Again, you could just see it. It was one of those games where no matter what Carolina did, nothing was going to work, akin to the Rangers loss to Columbus last week.
With Thanksgiving less than 24 hours away, Carolina had a tryptophan third period. They looked tired and fed up. Kreider scored a quick PPG, after a great pass from Zucc. Seriously, Kreider, who had two goals tonight, was the beneficiary of some great Rangers passing.
With 19 minutes and 40 seconds remaining, the Rangers were up 4-1.
Jesper Fast would add the final two goals of the game. The first goal came after a behind the net backhand pass from Kevin Hayes. 5-1 good guys. Then with 8 minutes remaining, Fast made it Rangers touchdown, after a pass from Steve Kampfer.
For the final 8 minutes, it felt like Kreider & Fast were double-shifted, with the five goal lead, as each tried for the hat trick. However, in a complete moment of team unity and effort, neither were selfish and even passed off a shot to each other! The Rangers would also get another PP, a PP which saw little Zucc do his damndest to feed Kreider for a hat trick. Seriously, Zucc had complete tunnel vision, as he tried to find Kreider for the third goal. It just wasn't meant to be.
Unfortunately for both 17 and 20, with a 5 goal lead, Carolina wasn't pulling their goalie, so an empty net goal wasn't an option. Time would expire off the clock and the Rangers took a huge feel-good win, over a division rival, with a 6-1 victory.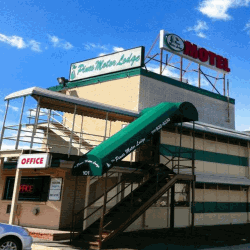 Before I hit the "go-home" section of the blog, I'd be remiss if I didn't talk about the endless PINES MOTOR LODGE commercials, that aired all over tonight's broadcast. In fact, take a look at the commercial yourself:
Can you believe this commercial aired no less than 6 times during the broadcast? While I know hockey fans skew older, can you imagine kids seeing this commercial? You got a pump and dump hotel advertising their stained sheet rooms incessantly, all night. Even more impressive, is this hourly rate motel, can afford air time on the MSG Networks!
I can't even make heads and tails of this commercial! Is the prostitution business so great, that they can get ads on MSG? When you watch the commercial, it's wacky as fuck! For starters, you have some woman talking to her girlfriends, about her dream date taking her to a fleabag motel, where you can get a room for 3 hours for $50. Who needs Paris?
Furthermore, after promoting all this fornication, this broad and some random dude, then have a kid with them in the room? IS THE KID THERE WHEN THEY ARE RAW DOGGING IT? Who takes a kid to a motel, where you have to wear clothes to sleep on the bed, with a semen drenched jacuzzi in the room, no less!?!?!
Even more confusing is this commercial airing during Thanksgiving. Listen, if it's Valentines Day season, I can somewhat understand this commercial. Who is thinking of hookers or taking their side-piece, to a room that has more DNA than a crime scene in it, during the family-themed Thanksgiving Day holiday?
It gets better! In the commercial, the woman says they were there all week…. with their KID! In a one room highway motel, where a sex-crazed trucker is looking for some action to end a long day, this couple is in this room for a fucking week! WITH THEIR KID!
Maybe I'm spending too much time on this, but with all the scoring in tonight's game, if you're looking to score yourself, check out the PINES MOTOR LODGE! Cheap booze and regret not included!
Also, NOTE TO SELF: explain to the girlfriend why I have "PINES MOTOR LODGE" Google Searches on the computer we share!
As talked about in my last blog, one of the reasons I had to skip the Ottawa/NYR game review, is because I just became an uncle for a second time. I also just became a Godfather. I jokingly say "Atheist-Father", because while I respect anyone's right to believe what they believe in, religion is just not for me.
Here I am with my newest niece/goddaughter, Erin LETTIERI. Hmmm.. think there is a reason why I push Vinni Lettieri so much on this blog? As stated before, I share these personal stories with you, because I enjoy the emails/tweets/AOL IMs (ha) that I get from you readers about your lives as well.
In fact, here's my other niece, in her new Rangers shirt. Like her, the Rangers also give me gas from time-to-time:
My one year old niece is starting to talk and wearing the @nyrangers shirt I got her. She may be a little too excited about #NYR pic.twitter.com/bYADtbtOFt

— BlueCollarBlueShirts (@NYCTheMiC) November 21, 2017
All in all, this was a great team win for the Rangers. As talked about above, the Rangers now go on a four game home stand, with the Redwings up first. I would tell Lundqvist to lay off the starches on Thanksgiving, and tell him to be ready to dine on Wings on Friday.
Depending on how many belts I have at the game on Friday, I should have a late blog up after the game. As of right now, it's a four-day weekend for me, although the phone has rang for me to come in during holidays before. I am hoping to enjoy this game, since it will be a rare time that I don't have to wake up in the middle of the night to go to work!
As far as the Rangers go, they are playing well and are in the midst of things. They can be a playoff team, but as the season goes along, the question of "Pretender or Contender?" will be answered at the trade deadline. For now, all we can do is hope they keep winning.
Happy Thanksgiving to all, and that even includes Joe Micheletti and Henrik Lundqvist!
As always…
"Let's Go Rangers!"
Sean McCaffrey
BULLSMC@AOL.com
@NYCTHEMIC on the tweet tweet