What's up everyone and welcome to another blog here on BlueCollarBlueShirts.com. After a nice four-day Thanksgiving weekend break, I'm back to my 7-days-a-week work schedule and my terrible 4:30AM alarm clocks. In other words, I got a lot to get into right now and not much time to do it. Let's fly.
As usual, in case you missed them, here are my most recent blogs:
---
---
---
---
The Rangers dropped a 5-4 loss to the Florida Panthers on Tuesday night. As a result of the loss, the Rangers snapped their four game win streak. In addition, the Rangers eight game win streak at home, was also broken.
Before this game started, there was a lot going on in the NY sports scene. In case you've been living under a rock, it was announced that the dumbest motherfucker in sports today, Ben McAdoo, would be benching Giants QB, Eli Manning, in Sunday's game against the Oakland Raiders.
Since time is an issue here and because this is a hockey blog & not an NFL blog, I just want to quickly say, this news is just sickening. It's not because of Eli's consecutive game streak, what he's meant for this franchise, how these losses aren't his fault, etc, it's because Ben McAdoo had the audacity to say that Geno Smith gives the Giants a better chance to win, than Eli Manning. Win what? A number 1 overall draft pick?
Granted, I've been down and sour on the NFL all season. The kneeling during the anthem gave me a reason to tune out, but long before the ingrates were kneeling in front of veterans, I was already checked out, with all the criminal activity that plagues the league. I mean, this league employs murderers (Who then fly to another country to kneel during the National Anthem), rapists, drug users, child abusers, scam artists, dog killers, women beaters and anything else you can think of. They also employ Roger Goodell, who may be the worst of the whole lot!
I was also blah on the NFL because who knows what a catch or what a penalty is anymore? At the end of the day, it just seems calls are made up to keep the scores close.
However, Eli Manning, to me, is the greatest Giant, to ever wear the Big Blue jersey. When I say that, I mean he's the best overall player the Giants have ever had, on and off the field. (Save me the LT stuff, that's why I threw in "off the field" too.) It's a shame, in Eli's last years with the Giants, that the Giants could never get him an offensive line to keep him upright.
To correlate Eli Manning to the Rangers, there are a lot similarities between Henrik Lundqvist and Eli Manning. However, the biggest difference is Eli's two Superbowl Championships. If you do a Mount Rushmore of NY athletes, from this century, granted, in only a near 20 year history, Lundqvist may get a spot on that mountain. However, guys like Eli Manning, Derek Jeter and Mariano Rivera, are higher on that mountain.
When you talk about sports, a popular bar room debate is this – "What is the hardest position in sports?" It usually boils down to the NFL quarterback or the NHL goalie. You can make a case for either. To me, it's the QB, just because you have to know what everyone on your team is doing every play, as well as predicting what everyone on the other team is doing too. It's a cerebral job for sure. While the goalie has to be aware of everyone too, it's a reaction job, unlike the proactive & reactive job that the QB has. Again, there's no wrong answer, and it's a fun topic to talk about over a few beers.
Two championships will allow Eli Manning to eventually retire in peace, no matter how this all pans out. (And it should pan out with Mara reversing this decision & canning McAdoo and Reese.) For Henrik Lundqvist, until he gets that Stanley Cup, if he ever does, he doesn't have that same luxury.
When you look at the careers of Lundqvist & Manning, side-by-side, you could argue that Lundqvist, during his prime, was the best player, in his league, at his position. With Tom Brady around, you really can't make that same case for Manning, despite Manning's two SB victories over the greatest NFL QB to ever play the game. However, if both were to retire today, I think Eli Manning, despite the NFL being bigger than the NHL, had the better career. Winning is everything. Just ask Stephane Matteau or any of the other role players, on the 1994 Rangers, who never have to go into their pocket to buy a beer in this town.
In Manning's SB runs, he had a good team around him and a good defense. In Lundqvist's prime, he never had a good team around him and he was the defense. As time went on for both men, Eli never had a good team around him. Sure, Beckham was/is great, but Manning hasn't had an offensive line since 2012. For Lundqvist, the Rangers did build an offense and got better defensively around him, but his skills regressed.
I bring this all up, because when I was defending Eli Manning on my twitter account, @NYCTHEMIC , people brought up how I want Lundqvist traded. I just don't afford the same rope to Lundqvist that I do with Manning, because Manning proved to me that he can win the BIG ONE and he proved it twice. He's also the perfect professional, never throws anyone under the bus and assumes responsibility. For all the goofy faces and sideline shoulder shrugs that Eli has made over the years, I can count in ten-fold, how many times Lundqvist threw a hissy fit or blamed his teammates for a loss.
In closing on this subject, the day for the Rangers will come, when they will have to move on from Henrik Lundqvist. If it was up to me, that day would've been three years ago. However, that's not the case, but the Rangers must one day come to the reality, that Lundqvist just isn't the guy who can win the BIG ONE, unlike his NFL counterpart, Eli Manning.
I guess the only reason I went on this unnecessary tangent, considering my time issues, is because I've always been a fan of Eli and I needed to vent a bit. I hope a 100 pound pigeon shits on Ben McAdoo's hair.
While Eli Manning was the talk of the town before this Ranger game, a more serious topic dominated the MSG Networks before the game. As every NHL team does once a season, the Rangers had their "Hockey Fights Cancer" night, as they raised money for cancer charities. I'll tell you what – when I went to Florida at the beginning of this month, both Tampa and Sunrise held their Hockey Fights Cancer nights. I had bougias seats at the Panthers game, so I was able to watch their pregame show in the arena bar. Do you know what the broadcast consisted of? Talk about the Miami Hurricanes.
For all the headaches, moans & groans, snipes & gripes and everything else that is gas-inducing about the Rangers, when it comes to honoring our military or charitable causes, the Rangers do a 5 star bang-up job. This was an excellent pregame show, even if it took you out of the game a bit.
Every MSG personality on the broadcast talked about their personal stories with cancer. I'm sure you have a story about cancer as well. We all know someone effected by it. It's something that we all can relate to. I thought it was impressive and cool to see Vally, Trautwig, Pidto, Maloney, Rosen and even Micheletti himself, share their stories.
While the MSG crew really didn't need the "humanizing", as we all know that they are solid guys already, (even Micheletti) it just made them feel like one of us, and not the guys in suits on TV. I will say, I even wanted to relax on my Micheletti bashing during the game, because I felt bad for him, but he riled me up so much, that I broke away from that pretty quick.
I guess I should be clear here, when I criticize Micheletti, I have nothing against him personally. I just think he sucks at his job. And I'm not the only one. Even the NY Post is running articles on how bad he is. While I'm sorry he's had his bouts with cancer, and I truly am, that doesn't change the fact that he should be doing something else for the Rangers, like getting Dave Maloney water & coffee.
As part of HOCKEY FIGHTS CANCER NIGHT, the Rangers are auctioning off their warm-up jerseys from the game. Here are a few pics, from NYRangers.com:
I'm already 2000 words in, so let me just get to a quick few bullet points about these jerseys:
The jerseys, as well as the sticks in this game, are being auctioned off on the Rangers website with all money going to cancer charities. If you got the means, check it out.
It's a shame the Rangers (and the other NHL teams) can't wear this jersey for the whole game. I think it would bring more awareness, plus make the jerseys more valuable in auction, hence raising more money.
Shop.NHL.com sells replicas of these jerseys, but they should really sell these authentic jerseys, with all profits going to charity. I know I would buy one. The ones they have for purchase look Chinese looking. And by Chinese, I mean cheap, like the $30-fall-apart-after-one-wash jerseys.
Nice touch by the Rangers, on their various forms of social media, to tell you who the Rangers, individually, were fighting for.
On the broadcast itself, the Rangers did a tremendous job. 17 year old Ed McCarthy got to meet the Rangers and greet them out of the locker room. Two children dropped the ceremonial first puck. Best of all, was Bianca Muniz doing a great job with the National Anthem. Talk about a fucked-up hand – she got ovarian cancer at 11 (I didn't even know it was possible to get that type of cancer at that age) and beat it. Now, at 22, she is battling breast cancer. I'm sorry, but this is my blog and I'll blog if I want to, these stories are part of the reason on why I don't believe in a God. You're telling me guys like ROCKET MAN and ISIS are allowed to thrive, and these innocent people get cancer? Sorry, I just can't get behind the God stuff and "prayers for <insert cause here.>" However, I wish the best to these people, featured on tonight's broadcast.
Despite participating in the pregame warm-up, Zibanejad was ruled out for the game, with that pesky "upper-body" injury, code for "we're not telling you what it is." I'm writing this blog immediately after the game, so I haven't scoured the internet to find out what's up. In his place, David DeSharnais played on a line with Kreider & Buchnevich. It worked out.
McDonagh remained out of the line-up, with talk that he might return Friday against Carolina.
So when you read this review or think about this game itself, keep in mind, the Rangers played this game without their top center (on a team devoid of strong centers) and without their number one defenseman. By the end of the first period, they would be playing without their number one goalie. Despite your best goalie, your best center and  your best defenseman out of the game, the Rangers were a minute away from picking up at least one point.
Let's go to the ESPN.com box score and my recap:
1st Period Summary

Time
Team
Scoring Detail
FLA
NYR
5:50

Aleksander Barkov (8) (Power Play)
Assists: Jonathan Huberdeau, Keith Yandle
1
0
9:35

Jamie McGinn (4)
Assist: Nick Bjugstad
2
0
16:47

Micheal Haley (1)
Assists: Keith Yandle, Colton Sceviour
3
0
Time
Team
Penalty Detail
4:59

Brady Skjei: 2 Minutes for Interference of Jonathan Huberdeau
10:53

James Reimer: 2 Minutes for Slashing Steven Kampfer (Served by Micheal Haley)
10:53

Steven Kampfer: 2 Minutes for Unsportsmanlike Conduct of James Reimer
18:18

Vincent Trocheck: 2 Minutes for Tripping Brendan Smith

2nd Period Summary

Time
Team
Scoring Detail
FLA
NYR
4:04

J.T. Miller (4)
Assists: Brady Skjei, Mats Zuccarello
3
1
8:36

Jonathan Huberdeau (8)
Assists: Mackenzie Weegar, Michael Matheson
4
1
9:26

Pavel Buchnevich (9)
Assists: David Desharnais, Chris Kreider
4
2
11:16

Chris Kreider (9)
Assists: David Desharnais, Pavel Buchnevich
4
3
Time
Team
Penalty Detail
18:13

Chris Kreider: 2 Minutes for Interference of Aaron Ekblad
18:24

Vincent Trocheck: 2 Minutes for Tripping Rick Nash

3rd Period Summary

Time
Team
Scoring Detail
FLA
NYR
13:28

Chris Kreider (10)
Assists: David Desharnais, Pavel Buchnevich
4
4
18:51

Denis Malgin (1)
Assists: Mark Pysyk, Jonathan Huberdeau
5
4
Time
Team
Penalty Detail
9:41

Alex Petrovic: 2 Minutes for Holding Kevin Hayes
Goaltending Summary
Florida Panthers Goaltending

Player
SA
GA
Saves
SV%
TOI
PIM
J. Reimer
37
4
33
.892
60:00
2

New York Rangers Goaltending

Player
SA
GA
Saves
SV%
TOI
PIM
H. Lundqvist
6
3
3
.500
16:47
0
O. Pavelec
21
2
19
.905
42:22
0
This was a weird 5-4 loss for the Rangers. As stated, with Zibanejad & McDonagh out, the Rangers were at a disadvantage.
Before the game, I posted my unofficial lines, which were:
Ranger Goals -3.5
Vally jokes at Trautwig's expense – 2
Times Hank loses his stick -2.5
Times Micheletti slobbers & does an erection backflip for a Lundqvist save – 31
Times I say I want Maloney over Micheletti – 50
By the end of the game, only my first and last bet hit the over! Part of the reason why all my overs didn't hit, was because Lundqvist was ran out of this game, at the 16:47 mark, after surrendering his third goal, on Florida's sixth shot.
It's funny, despite being chirped a bit by Steve Valiquette on the twitter (It's all in good fun), Lundqvist proceeded to have his worst game of November. However, as much as I would love to kick him when he's down, by telling you "I told you so", I really can't blame Lundqvist for his shit-show tonight. I know, I'm shocked too. Maybe I'm soft because it was "Hockey Fights Cancer" night, or maybe I'm giving him a pass for the good month.
On Valiquette though, the way he gets excited when talking about advanced stats, is the same way I get, when I hear someone say "free beer."
At the end of the day, you know my feelings remain unchanged on Lundqvist, and you can read my last few blogs on why. To bottom line it  – he's just not that good or consistent enough to win four rounds in the Spring. Playing well in November is nice, but it's different to win 16 games in the Spring. That's all.
To say the Rangers started this period slow, because of the gravity of the night, would be a cop-out. Fact is, they've had horrendous starts all season.  Plus, the Panthers played the night previous and were featuring their back-up goalie, "OPTIMUS REIM", James Reimer. Reimer hadn't won a game in a dog's age and if it wasn't for some liberal officiating, I don't think he would've won this game either. So really, at the end of the day, there's no excusing the Rangers poor start to this game.
The Rangers special teams have declined from the start of the month to the end of the month. A team that was once getting powerplay goals at a clip and were perfect on the PK, has regressed. They haven't scored a PPG in a while and went 0-3 tonight.  Their PK also gave up a goal in this game and finished 1-2 on the kill.
The first goal of the game came at the 6 minute mark, when Aleksander Barkov was the beneficiary of a double deflection puck.  It was a powerplay goal, but it was more of a luck goal than the Florida PP really working the puck. I did find it funny, how Joe Micheletti said he didn't see the puck go in, but immediately talked about deflections and screens. Granted, this puck was deflected, but Micheletti just said it was, without seeing the replay first. Joe will never change and you can really smell the Swedish semen coming from his breath, right through your TV.
As a result, 1-0 bad guys, and really a fluke goal that took a lucky bounce, more than anything else. Just so you can't say I have never said it, "THIS GOAL WAS NOT LUNDQVIST'S FAULT." However, the next two were.
Jamie McGinn would score four minutes later, putting a puck over Hank's right shoulder. Usually pucks go in over Lundqvist's left shoulder. Micheletti tried to make up an excuse about a screen, but this is a save we see NHL goalies make every night, on a consistent basis. 2-0 bad guys.
Later on the in the period, at around the 16 minute mark, the commie, (And I've had people cry about me using that word. Settle down liberals, it's a joke. It's not a "RACIST" word, like you SJW's make it out to be) Pavel Buchnevich, was one-on-one with Panther goalie, James Reimer. However, somehow, Buchnevich fucked up and the Panthers were racing down the other end. This time, of course, it was former Ranger, Michael Haley, getting a pass from, of course, former Ranger Keith Yandle, and Haley beat Lundqvist over the right shoulder again. 3-0 bad guys.
You can make the debate that you should be automatically pulled from a game if you're giving up goals to Michael Haley, especially since this was his first goal of the season. Whatever the reasoning, AV had enough and pulled Lundqvist from the game.
I thought these two over the right shoulder goals were on Lundqvist. Granted, the defense was horrendous tonight, especially whenever Holden and Smith were out there. Those two would cost the Rangers the game later on as well.
That said (there you go), I thought Lundqvist might've been unhooked fairly here. I know, this is bizarro world, me defending Lundqvist, but with the way he's been playing, the injuries and the defense not being the best, I think you at least give him the benefit of playing the whole first period.
I know that infusing Pavelec into the game has led to great results, but in every game Pavelec has come into, in relief of Lundqvist, the team always plays great in front of him, then Pavelec gives up a few goals and it's over. That's what happened here.
The only person who won in this situation was Lundqvist himself, as for the second time this season, after having a bad start and being down by 3+ goals, once Pavelec got into the game, the Rangers were able to fight back and tie it. What that means, is despite the Rangers losing both of those games in the end (Toronto being the other game), it's Pavelec who gets the loss and not Lundqvist himself. In other words, with the Rangers being able to climb out of the hole Lundqvist put them in, it was Pavelec who ultimately got the loss. What a swifty Swede.
Worth mentioning, the Rangers went 0-2 on the PP in this first period. The best player on the ice for the Rangers was Rick Nash. He made some great passes all period but the Rangers couldn't finish. Speaking of not finishing, Nash had multiple looks at goals tonight, but as usual, the $7.8M man, while playing well, can't score. You know my line – "Rick Nash couldn't score in a whorehouse while holding a fistful of $100 bills."
After one depressing period, 3-0 bad guys.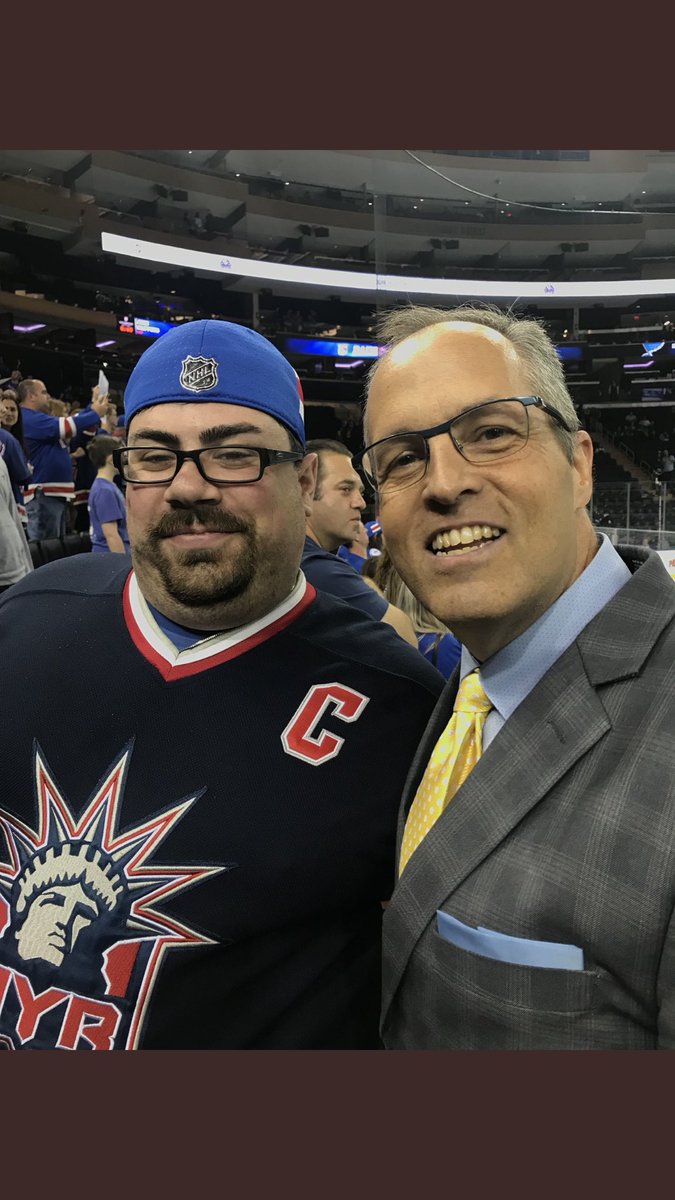 Something I've noticed over the years, and as I've mentioned on these blogs & on twitter, Joe Micheletti completely changes when Lundqvist is out of the game. It's funny, several of you new readers and twitter followers noticed it tonight too. After having a raging hard-on for Lundqvist all game and raving about 30′ saves, when Pavelec entered the game and made saves, Micheletti turned into a fucking mute.
Seriously, Pavelec made a bunch of good saves in this game (19 saves on 21 shots) but Micheletti's voice was not to be found on any of them. If you don't believe me, go watch the game back.
The saves Pavelec made in this game, that if Lundqvist made them, would of have made Micheletti's penis make Peter North feel inadequate, were just not talked about. The only time Micheletti piped his little bitch-ass up, was when Florida scored. I had to wonder if Micheletti was fist-pumping during these Panther goals, while simultaneously stroking his Lundqvist hair doll. And I'm telling you, after hearing Micheletti's cancer stories tonight, I really didn't want to rip him here. However, he was fucking horrible once again, was full of FAKE NEWS and in short, was SAD! Enough about Joe, I'm going to puke.
Despite being down 3-0, I thought the Rangers were still the better team. Rangers out-shot FLA 13-6. Florida just had the puck luck and beat Hank twice. While we all know how back-up goalies turn into Vezina winners on MSG ice, I still thought the Rangers would come back. They would prove me right.
Jimmy Vesey, hero of the last game, played aggressive. In fact, all the Rangers were energized here. I really enjoyed when Vesey took a point blank shot at Reimer and passed on passing. I like the confidence.
Four minutes into the period, JT Miller would score a Joe Micheletti trademarked "DEFLECTION" goal. However, this was a real deflection, as Skjei shot the puck and Miller took a shot/while deflecting the puck and beat Reimer. 3-1 bad guys.
With the Rangers cooking with gas, it would be Jonathan Huberdeau getting a goal, beating Pavelec after some crappy defense. 4-1 bad guys.
However, I still believed the Rangers weren't done, because they were dominating the puck and hustling. I thought at the time, that they would get Reimer to crack and that's exactly what happened.
A minute after Huberdeau's goal, Chris Kreider made a gorgeous pass to the commie and Buchnevich easily beat Reimer. No joke, with a tall boy in my hand, I could've scored that goal after that great pass. 4-2 bad guys.
Less than two minutes later, Buchnevich returned the favor and on a give and go (some might call it a tic-tac-goal), Buchnevich found Kreider, and the two Russian speaking players on this team, scored another goal! Worth mentioning here, David Desharnais, playing for Z-Bad, assisted on both of these goals too. 4-3 bad guys!
Check it out yourself:
Kreider to Buchnevich, now we have Buchnevich to Kreider 🔥 pic.twitter.com/g85jJFUiip

— Shayna (@hayyyshayyy) November 29, 2017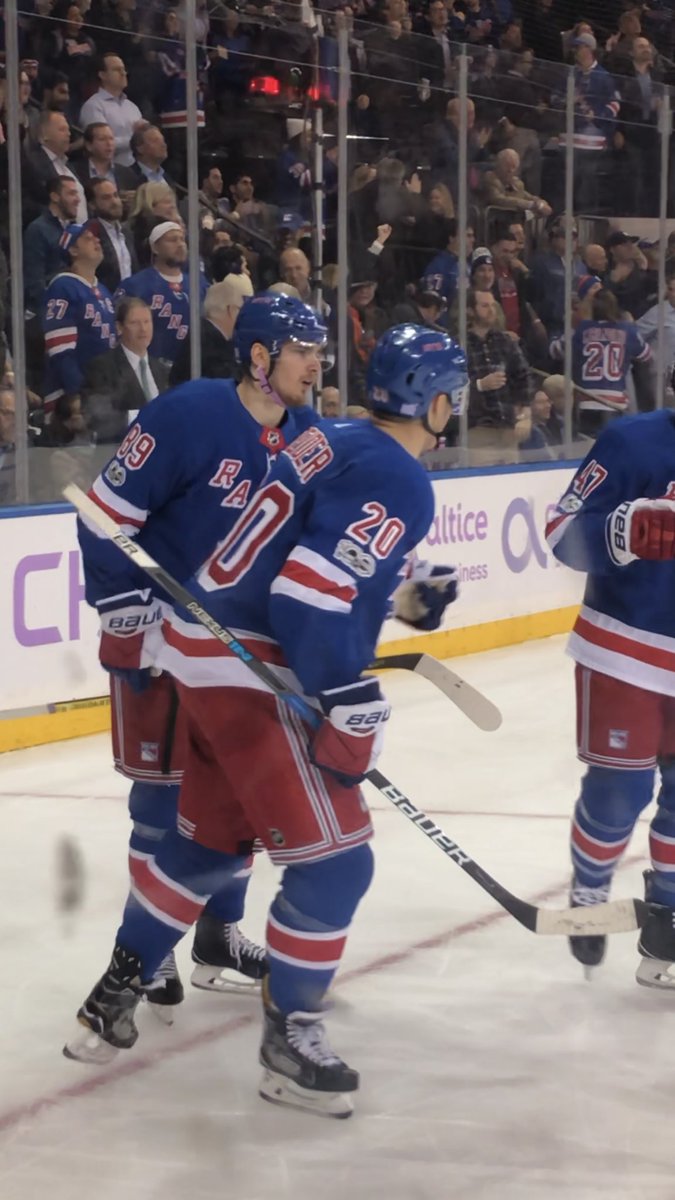 Right after this goal, the biggest controversy of the game occurred, when Kevin Hayes seemingly scored. It was a great play too, as Hayes skated through Florida and beat Reimer. However, it was ruled that Nash made contact with Reimer, and the goal was disallowed. The Rangers challenged it, and despite a similar goal being allowed against Raanta last season, these refs said this was no good.
Make your own decision:
Call on the ice stands… no goal. pic.twitter.com/n02QTWaRYx

— Shayna (@hayyyshayyy) November 29, 2017

Call me biased, but obviously Nash was pushed, Reimer is out of the crease and this should've stood. In what would've made the game 4-4 and gave the Rangers all the momentum needed, the Rangers had to go back on the chase.
The end of this period was wild, as it was pure Chinese, I mean Asian-American Fire Drill Hockey. Reimer would come up with three huge saves and Pavelec would have one himself. It also led to Buchnevich, channeling his inner Drago, to get physical:
I thought Russians were soft and didn't play with heart, can someone let Buchnevich know that? pic.twitter.com/t2D9SaqAGO

— Shayna (@hayyyshayyy) November 29, 2017
BTW: credit to @hayyyshayyy for the videos.
At the end of a wild second period, the score remained 4-3, bad guys.
The Rangers continued their flow in the third period. In the biggest play of the period, the Rangers had sustained pressure in the Florida defensive zone and got a few shots off. They had the puck for what felt like 90 seconds. While they couldn't score, Florida got tired, and at the 9:41 mark, Alex Petrovic got popped for holding Kevin Hayes.
The Rangers couldn't do anything with the PP. While they got shots off on the PP, not one shot hit the net. Shattenkirk was a wild man, firing off rockets like he was Kim Jong Un. However, his rockets were duds and off the mark, kind of like the short & fat ROCKETMAN himself.
You could make the case that Rick Nash had the strongest all around game tonight, but it was Chris Kreider who made the best of it. At the 13 minute mark, with assists once again from Double D and the Com-Me, (See it rhymes!), Kreider, in front of the net, beat Reimer. 4-4 TIE GAME. As a result of the goal, Lundqvist was off the hook for the loss and it was back to a tie, with 7 minutes remaining.
While the referees were horrendous all game, with no play being bigger than the Hayes disallowed goal, you saw more crap, when Pavelec, who clearly had the puck under his glove, have to wait for a delayed whistle, to dead the play. Little stuff like that, where your goalie is getting whacked with errant sticks, because the refs aren't doing their job, is uncalled for.
Despite the Rangers dominating the final two frames of this game, it would be Florida daggering the Rangers, like they were MS-13 on Easter Sunday.
With just a minute left, Denis "WHO" Malgin, scored the game winning goal. This was all on Brendan Smith and Nick Holden, as they demonstrated the worst way to play defense possible. Seriously, this was textbook stuff on what not to do. You also gotta question AV here a bit, as why the fuck were these two in the game with a minute left?
With just over a minute left, Brendan Smith bobbled a pass, while on the Rangers attack. That put the Rangers potentially offside and Smith turned the puck over. However, the Rangers were able to fight off the Panthers, and Nick Holden tried to clear the puck, but instead passed it directly to Jonathan Huberdeau. To make sure the Rangers had no chance, Holden made sure to screen Pavelec like he was a walking lunar eclipse, and there was Malgin for the easy goal. Seriously, I don't think you'll ever see a worse stretch of defensive play, from any team all season, than the shit-show Holden & Smith displayed here. 5-4 bad guys.
One minute remained on the clock, as the Rangers went on their 6 on 5 attack. However for 30 seconds, they had to fuck around and get the puck. In the process, they even saved two Panther attempts. With 15 seconds on the clock, the Rangers threw in the towel, as they slowly chased a rolling puck back in their zone. Defeated after the Malgin goal, the Rangers couldn't do anything on the 6 on 5, except for a Shattenkirk shot that went no where, and the Panthers took this wild and unusual game, 5-4.
As a result of games yesterday and tonight's loss, after having a fugazi playoff spot, the Rangers are back outside looking in. Here are the updated standings:
As mentioned a million times here, these standings will change all season and it's a tight race.
As far as tonight's loss, I wouldn't go too nuts about it. It sucks to lose to a team like the Florida Panthers, especially with how the Rangers lost and with a minute away from at least a point. However, it does expose to management what needs to be fixed, in particular, the defense. While McDonagh is hurt, you just can't have Holden out there in crunch time at all. I don't know what you'd get back for him on the open market, but I do know that there is a defenseman, named Neal Pionk in Hartford, that's worth a looksie.
I know I talked about this a lot on this site, but the Rangers have a very friendly schedule. Friendly enough, that I would roll out Henrik Lundqvist for the next three games. The Rangers have Carolina on Friday, followed by Pittsburgh next Tuesday and Washington the following Friday. That's a lot of time off in between games. With three division opponents on the calendar, you gotta go with your best option, especially in a division that's tighter than my belt after a Thanksgiving night dinner. (I think this is the last time I can use that joke.)
As much as I would like to add more thoughts to this loss, it's already 12:30AM and I gotta be up in four hours. I'll be back Friday night, with a recap of the Carolina game.
Thanks for reading, and as always….
"LET'S GO RANGERS"
Sean McCaffrey
BULLSMC@aol.com
@NYCTHEMIC on the twitter gimmick