Greetings and salutations everyone and welcome to another blog here on BlueCollarBlueShirts.com. ONE MORE DAY UNTIL THE RANGERS KICK OFF THE REGULAR SEASON!
In today's blog, I'll be looking at the Rangers finalizing their roster, the tears over Micheal Haley, physical players vs chart nerds and much more. I'll also share a story about an ex-wife and how she effed me out of Opening Night tickets.
However, before getting into all of that, if you're regular reader here, you know the drill – it's time to share with you my most recent blogs, in case you missed them. Linked below are my blogs about all six preseason games, my Rangers 2019-2020 season preview and my complete NHL 2019-2020 season preview. Take a gander:
---
---
---
---
---
---
---
On Monday afternoon, the Rangers made their final cuts, thus finalizing their roster for Opening Night. Here is how the Rangers broke the news on Twitter: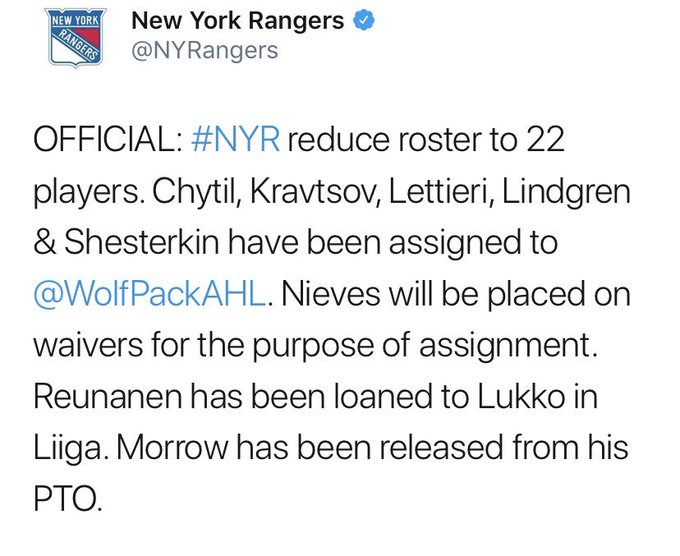 What should be mentioned, before continuing here, is that the Rangers have opted to carry 22 players. They could've carried as little as 20 players and could have carried as many as 23 players. While it is customary to keep one or two players in the press box, it should be noted that the Rangers have a wacky schedule to start the season. They play Thursday 10/3 against Winnipeg. After that, the Rangers travel to Ottawa for a game on Saturday, 10/5. Then, the Rangers are idle for a week, before returning home to host Edmonton on Saturday 10/12.
And for those who have asked me on Twitter – this isn't a bye week. This is just horrendous scheduling. When it comes to the salary cap, I'm surprised the Rangers are carrying two extra players. It just seems unnecessary. I'll get into it more below, but if Brendan Smith wasn't beloved by David Quinn, it would've made sense to send him and his money to Hartford, at least for the time being. After all, no team is going to claim Smith and his contract off of the waiver wire.
While this isn't truly breaking news or news that should shock anyone, the Rangers said toodles to Joe Morrow. I never understood why the Rangers gave him a try-out in the first place, especially when they have a ton of young defensemen thirsting for a spot in the line-up.
So as it stands, here is your roster to start off the 2019-2020 season: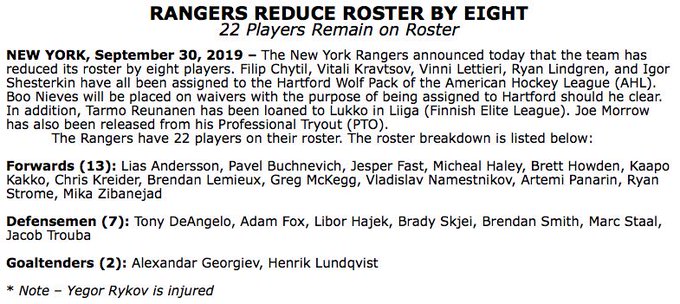 As noted before, only 20 men will dress on Opening Night.
When it comes to who will be playing on Opening Night, the top two lines, the defense and the goaltender is set. The third and fourth line players are still in the air. From what we know from the reporters covering Rangers practice, here are the lines and pairs that Quinn used on Monday and Tuesday:
FIRST LINE: Zibanejad/Panarin/Buchnevich
SECOND LINE: Strome/Kreider/Kakko
THIRD LINE: Howden/Namestnikov/Fast
FOURTH LINE: Andersson/Lemieux/Smith
FIRST PAIR: Trouba/Skjei
SECOND PAIR: Staal/DeAngelo
THIRD PAIR: Hajek/Fox
That leaves Michael Haley and Greg McKegg as your extra skaters/press-box'd players on Opening Night. Of course, this is all subject to change.
If there is anything to take out of this, it is the fact that Brendan Smith is back on the fourth line, rather than skating as a defensemen. However, before getting into the roster, let's take a look at all the cuts first.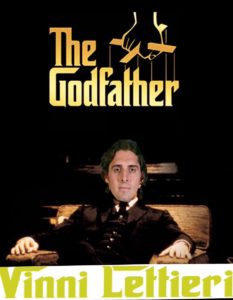 Again, as always, let's get the easy stuff out of the way first.
CZAR IGOR SHESTYORKIN, ever since signing his deal with the Rangers in June of 2019, was pretty much a lock to be the Opening Night starter, come October 2019. Of course, Igor will be starting in Hartford and not in New York. (Hi @whalepack and @phonehockey !)
As I've been saying all along, and as you're probably well aware of, I want Henrik Lundqvist off this team. It's time to move on. However, the Rangers have this strange obsession with losing with him, rather than trying to win without him. It just blows me away, how the people currently whining about Smith and Haley making this team over Chytil and Kravtsov, have no problem with an overpaid, overrated and aged-out goalie playing over CZAR IGOR. The Cult of Lundswiss knows no bounds or logic.
That said, Lundswiss is selfish and wasn't going anywhere. Igor was going to Hartford no matter what, barring an injury. That doesn't mean he'll be there all year, as I can see the Rangers once again sacrificing a better, cheaper and more well-adjusted starting goalie in Georgiev, just so they can continue to lose with Lundqvist. I think Igor will  eventually get a few starts in the NHL this year. However, with the Rangers foolishly not allowing themselves to break the bond with King Nothing, this goaltender situation will be even messier at this time next year.
My boy, in Vinni Lettieri, was an easy cut. He just didn't do anything in preseason to earn a spot. This is going to be a tough year for him. He was never a priority with this team to begin with and with the influx of young talent here, he really is the last thing on the mind of the Rangers. Put it this way – who do you think John Davidson, Jeff Gorton & David Quinn will be asking about more – Kravtsov or Lettieri? How about Chytil or Lettieri? How about Igor and Lettieri? How about Lindgren or Lettieri? I think you understand what I'm saying here.
To me, the only way Lettieri skates as a Ranger again, is if there is a serious injury on the main roster and if Lettieri is killing it in Hartford. Even then, he might be passed over for someone else.
I've previously discussed Tarmo Reunanen's situation before. He was never making this team.
I predicted that Lindgren would be sent to Hartford, as I saw the Rangers retaining Hajek and keeping Smith around as the 12th forward/7th defenseman floater. I believe we'll see Lindgren on Madison $quare Garden ice this season and probably sooner than later. There's just no room for him right now. I got no qualms here.
Depending on who you are, the two biggest "demotions" to Hartford (I wouldn't really call this a demotion for Kravtsov, while it kind of is for Chytil) were Vitali Kravtsov and Filip Chytil. Chytil is 100% a demotion, since he was a regular here last season.
In the case of Filip Chytil, this isn't a shock. He had a horrible preseason. He didn't really outplay anyone and did nothing to earn a spot. The only way he was making this team is if the Rangers felt they had to go with all young kids.
In my opinion, I was kind of awed when I saw that the Rangers kept Michael Haley and sent Vitali Kravtsov to Hartford. Time to break this situation down, as Kravtsov/Chytil vs Haley has been all the rage on social media.
Let's get this out of the way off of puck drop here – by signing Micheal Haley, this isn't a shot at Kravtsov. It's not a shot at Chytil either for that matter. What the Rangers are telling you here, is that DQ, JG and JD believe that they need more grit, more sandpaper and more physicality in this line-up, than two skinny kids playing fourth line minutes. In a way, Micheal Haley is your new Tanner Glass, although I would rate Glass much higher than I would Haley.
To me, I thought Kravtsov looked decent in preseason after having a hell of a run in the Traverse City Tournament. Obviously, I'm not in the room, so I have to trust Quinn, Gorton and JD here. They feel that Kravtsov will develop better by playing Top 6 minutes in Hartford, especially since Kravtsov isn't a Top 9 NHL forward yet. That makes sense to me.
I've been saying during the entire off-season and preseason, that when it comes to the Rangers roster, I want the youth. That said and truth be told, I totally get why Haley is on the roster RIGHT NOW, but let's face it – he's a one and done player. Who knows if he even makes it here past the trade deadline?
I understand giving the kids playing time in Hartford. As Quinn said, "if you can't send a 20 year old to the AHL, what's the purpose of having the AHL to begin with?" That said, and I know the Rangers are trying to change things, Hartford has been an on-going mess for sometime. JD has focused some of his energy on trying to reshape the culture there, but Hartford is still yet to be proven as a place where players can really come into their own.
When it comes to Hartford, and as mentioned with Vinni Lettieri, the bulk of the attention will be on CZAR IGOR, Lindgren, Chytil and Kravtsov. With Kravtsov and Chytil in Hartford, they will average something like 20+ minutes a game, play on the first power-play unit and will be handled with care. Plus, these roster moves affect Opening Night only. It's not like Kravtsov or Chytil will be in Hartford forever. They will eventually make it back up here.
I will admit, I wasn't thrilled when I saw Haley made the team. I understand why he did though and I also understand this isn't a permanent thing here. It's very likely that Haley only plays when the Rangers play the physical teams around the league, like the Islanders, the Devils, the Capitals or the Bruins.
What fans have to realize here is that JD, Quinn and Gorton know their roster. It's funny, the same fans that want to give Gorton the Executive of the Year award for his off-season, are the same fans going nuts that he gave Haley a contract, here in the present time. These are also the same fans that have no problem with Lundqvist and his albatross of a deal being here. However Haley, here for the veteran minimum, has these fans riled up.
All over social media, I've seen fans go bat-shit crazy about Haley. Even another Rangers blogger, in Mom Jeans Joe Unfortunato, blew his stack: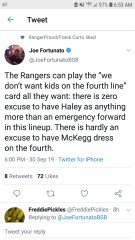 To be fair, some Ranger fans do understand what's going on here. Here are some responses from fans to Unfortunato: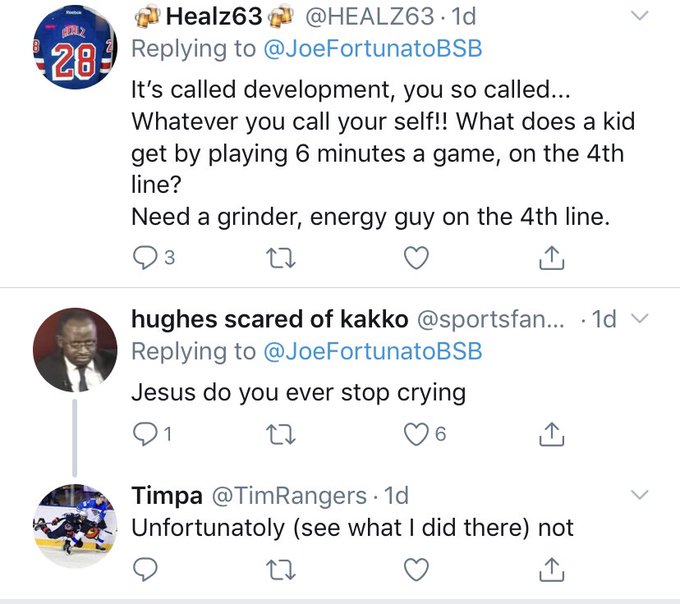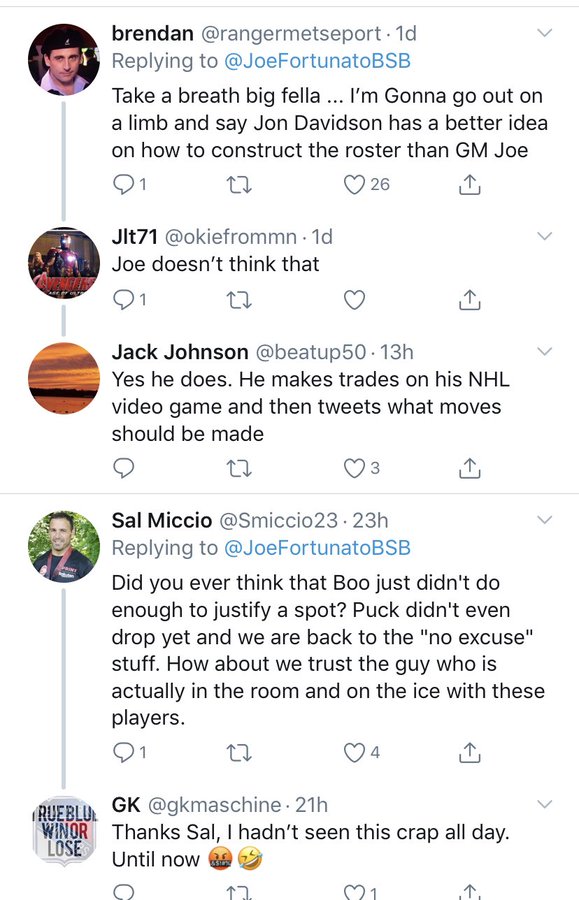 This anti-Micheal Haley sentiment isn't new. These new age era of hockey fans, and I've seen it all over social media, despise hitting, physicality and fighting. They want four lines of figure skating because it looks nice on a chart. As mentioned 7678967892894621647862894 times, no chart can measure or accurately capture the importance and merit of heart, will, strength, drive and physicality. I feel like I have to say this again too – the last two teams standing in June of 2019 were the two biggest and most hard-hitting teams in the league, in the Blues and the Bruins. You're not going to win a Cup with 20 Brian Boitano's on the ice. A Stanley Cup Championship team is like a great mixed drink – you need different elements and you need to muddle it all up to be a winner.

While I'm not saying the Rangers will win the Cup in 2020, they are continuing their movement in the right direction. If Chytil and Kravtsov have to take a step back, so to speak, then so be it. Micheal Haley playing every third game isn't going to make or break this roster. And this is coming from someone who didn't want him on this team. I'm just saying I understand why. RESPECT THE PRO-CESS!
It's funny, I was a such a big proponent of Tanner Glass during his recent tenure here and I guess I should explain the difference between Glass and Haley right now. When Glass was here, the Rangers were a playoff contender. You need a player like Glass around. Plus, from all accounts, Glass was a great teacher and locker room guy, which explains his current role with the organization today. When it comes to Haley, the Rangers, as a franchise and as a team, are just in a different position. They are bubble playoff team, at best, right now. Their big push will be after Hank is gone. However, when I see Haley here, this is JD, JG and DQ telling me that they want some muscle for guys like Kakko, Panarin, Andersson and everyone else. Totally understandable.
With that said, I do some find some logic holes with Haley being here, just because the logic of keeping Haley here wasn't applied everywhere else on this roster. Let's explore.
Keep in mind, as you read along here, I'm playing Devil's Advocate a bit. I'm also trying to give you every angle and opinion possible. While I have my opinions, we also have to consider other opinions. And as stated, I'm not there in the room. JD, JG and DQ are, and I believe they deserve the benefit of any doubt.
When you look at the Rangers roster, who are your agitators, tough guys, and guys who are willing to take lumps? To me, those guys are Brendan Lemieux, Tony DeAngelo and Brendan Smith. For all the crap about Brendan Smith (and it's all warranted, especially after he came into camp two years ago out of shape and then fought his own teammate) he wasn't a nightmare in the preseason. Yes, he made turnovers, but guess what – everyone does. No player is 100% turnover-free.
Of course, as it looks right now, Smith will be on the fourth wing on opening night and not as the sixth defenseman. That gives the Rangers some extra physical pop from their forwards, leaving TDA as the lone defenseman who can throw down.
By adding Haley, the Rangers have another sandpaper/salt-of-the-earth type. With Smith as a forward, and operating under the idea that the Rangers wanted more punch from their line-up, you have to wonder why Hajek is here instead of Lindgren? If you want some fire and desire, Lindgren is your guy. Nothing against Hajek and his game at all (I thought he was better than Lindgren too) but if you want power, Lindgren is your man.
Then again, I guess you can argue that Lindgren can help protect the Russian boys in Hartford.
All in all, when it comes to all this Haley bashing, it's easy to find the direct source of it. It's from all these millennial chart boys, who NO JOKE, assess players by their NHL video game ratings and whatever the video game predicts in simulation. Even sadder, NHL organizations are giving these people credibility, when they hire these people for their ANALytic departments.
Furthermore, just think, a guy like Steve Valiquette, a good guy who does know his hockey, and there is no doubt about that, is the featured analyst on the M$G networks, while a Rangers hero, in Ron Duguay, has been cast away. And this isn't just the Rangers, it's a league-wide epidemic. Just look at the pocket protector crew running things in Toronto.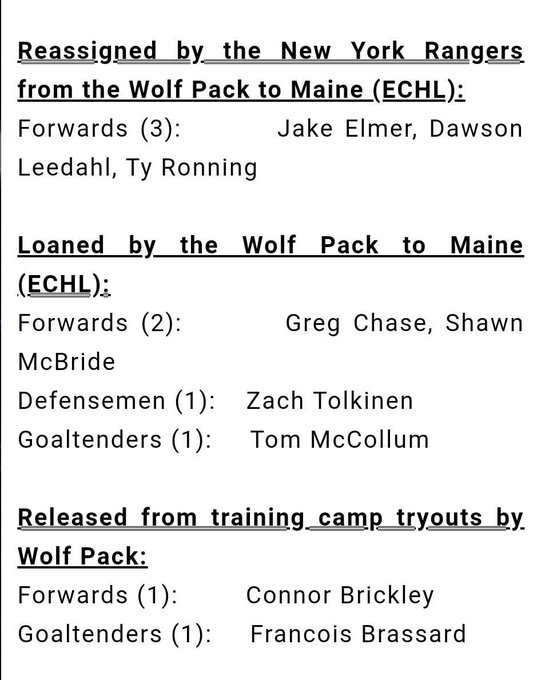 In other Ranger roster news, the Rangers filled out their Hartford (AHL) and Maine (ECHL) teams. Of note, Connor Brickley, who played a few games with the Rangers last year, is now gone from the organization. The biggest, or at least most well known name in Maine, is still Ty Ronning. Ronning did get some games with Hartford last year, so it will be interesting to see if and when he gets called back up to the AHL this season.
When it comes to all the HOT TAKES and doom & gloom shit over the roster, just go to bed knowing this – David Quinn, Jeff Gorton and John Davidson know these players better than any of us do. And most importantly, these moves are being made in October. I would reckon to say that the team you see in October won't be the same team you see in April!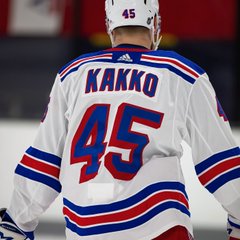 From the "Stuff That Doesn't Mean Two Shits Department": Kaapo Kakko, Lias Andersson and Libor Hajek all changed their jersey numbers.
Hajek has switched from number 43 to number 25. Whoop-de-doo!
Lias Andersson has changed from number 50 to number 28. This stuff doesn't matter, but I was disappointed to see that. I thought Andersson could've made the number 50 his own. While he's not Mario (66), Gretzky (99), Esposito (77) or Jagr (68), it was just cool to see a player with a non-traditional jersey number. Again, no big deal.
Of course, the biggest news was Kakko finally making the number 24 official. Expect Kakko jerseys to be the number 1 selling jersey in the NHL this week, as he was the last "big-name" player to finalize his jersey number.
When it comes to Kakko changing his jersey number, I am SAD for only one reason – I was hoping to make Trump jokes and rile up the crybaby liberals who go insane about this stuff all season. Oh well! Let's face it, Grover Cleveland humor and jokes will go over 99.9% of people's heads. Trump is just money and easy to work with. We'll always have the Trump/Kakko TCT and preseason jokes in our memory! RIP to those jokes!
Speaking of the # symbol, which is used to describe the word "number", how about talking about what # is also known for, and that is a Twitter Hashtag.
For some reason, the Rangers are no longer using #NYR as their Twitter hashtag. For this season, the Rangers hashtag is now #PlayLikeANewYorker
While a hashtag is meaningless and the Rangers don't have to worry about a small social media audience, I just don't understand the logic here. Hashtags are supposed to be short, easy to memorize and simple to use. #NYR defines that. #PlayLikeANewYorker is too wordy, too "letter-y", takes up too much space, is easy to make typos with and is just a pain in the ass. Of course, again, this means nothing at the end of the day, but this is once again, the Rangers making something simple into a chore.
On Thursday night, 10/3, the Rangers will open up their season by hosting the Winnipeg Jets. The opening Vegas line on the game sees the Rangers as a -111 favorite, with the Jets as a +101 underdog. No over-under total has been announced yet.
The Jets of the last two seasons are trending downwards this upcoming season. As we all know, as a result of several trades, the Rangers basically wound up with Jacob Trouba and Brendan Lemieux, in exchange for Neal Pionk and the rental of Kevin Hayes. Spoiler Alert: the Rangers won those deals.
The Jets won't come into this game at 100%. Rangers agitator and a guy who's been an asshole against the Rangers during the last few seasons, in Dustin Bfyuglein, is out with a "leave of absence due to personal reasons." Jets center, the accomplished Bryan Little, is also out, as he is dealing with a concussion. In other words, the Jets are missing two of their best players.
Furthermore, Nathan Beaulieu, is also out, with an "upper body injury." Of note, both Little and Beaulieu were in injured in the same preseason game. In other words, Beaulieu and Bfyuglein are both out, which means the Jets have to plug in two new defensemen into their line-up.
Two of the Jets best offensive stars, in Patrik Laine and Kyle Connor, signed with the team during preseason. While these guys are accomplished athletes, they didn't get a full training camp with the Jets.
The Rangers Top 6 forwards are Zibanejad/Panarin/Buchnevich on one line and Kakko/Kreider/Strome on the other.
The Jets Top 6 forwards are Scheifele/Ehlers/Wheeler on the top line and Copp/Connor/Laine on the other. When you look at the talent involved, I think the Rangers have the edge among the first lines. I think the Jets have the advantage with their second line.
Goaltender wise, come Thursday, you will have Henrik Lundqvist against Connor Hellebuyck. Hellebuyck was a Vezina contender two years ago, but couldn't repeat that performance last year. Lundqvist has been trending downwards for some time now and hasn't had a shut-out in two plus years. When it comes to preseason games, Lundqvist has been the better of the two goalies, for what it's worth.
For a frame of reference, during this decade, the Rangers have compiled a 3-6 record on Opening Night:
2010: 4-3 win over Toronto. Lundqvist in net.
2011: 4-2 loss to Toronto. Lundqvist in net.
2012: 6-3 loss to Pittsburgh. Lundqvist in net. (Note: this was the 2012-2013 abbreviated lock-out season.)
2013: 2-0 loss to Montreal. Lundqvist in net. (Note: Rangers started this season with their first 9 games on the road, as a result of construction at M$G.)
2014: 6-3 loss to Toronto. Lundqvist in net.
2015: 5-2 win over Columbus. Lundqvist in net.
2016: 5-3 win over the Islanders. Lundqvist in net.
2017: 4-2 loss to the Colorado Avalanche. Lundqvist in net.
2018: 3-2 loss to the Nashville Predators. Lundqvist in net.
While none of these past games have anything to do with this game on Thursday, the Rangers, during this Lundqvist Error, haven't been so hot on opening night.
When you look at the most recent opening night games, the Predators were thought to be a Stanley Cup Contender in October of 2018. However, the Avalanche were thought to be anything but, on October of 2017.
The Jets seem to be a middle-of-the-pack team this year, with the Rangers basically through with their rebuild. There will be a lot of growing pains for the Rangers this year, but I believe Vegas is right – the Rangers should be a favorite.
I also see the crowd making a difference for once, as there is a ton of excitement and good vibes around the Rangers this year. I think even the suits are happy. That being said, as Brian Leetch said in his David Quinn MSG television segment, and to paraphrase him here – "because of economics, a lot of the hardcore fans aren't there anymore."
I bring Leetch's quote up, because this story kind of relates to my deal on Opening Night!
Ever since selling my wrestling company in 2012, which opened up a ton of free time for myself, I've been able to attend every Rangers home opener. I also was able to attend several home openers during my teens, twenties and during my time with my wrestling company, but I can't remember when my latest streak started. I had a good run in the 1990's, stopped after the lock-out and want to say I picked it up again around 2011. In other words, on Thursday, this will be my 9th straight home opener, which really, is small potatoes when compared to the season ticket holders of this fan base.
For the last four years, I have been using my friend's season tickets in section 111. My buddy is a union man like myself, and we wound up striking a friendship by smoking cigarettes and exchanging fart stories at 5AM on the LIRR platform in our town. To protect the innocent and because he's in the middle of a nasty divorce, I will use the name CHUCKY when referring to him here.
Anyway, as I said, CHUCKY and I have been buddies for a while. He's a hardcore fan and he knows that I'm a Rangers psychopath too. He gives me first crack at his tickets, AT FACE VALUE, every year. He knows that I will sit in his seats, not act the fool and won't resell his tickets for profit. I have taken his tickets in good years and in bad years.
CHUCKY right now, as mentioned, is in a major legal battle, as he's divorcing his future ex-wife from hell. Prior to this news, I already gave CHUCKY money for tickets for opening night, as I do every year. In fact, I paid him in May. (I always give him money well in advance and I have no issue doing so, because I know the Rangers are up his pimply asshole for the loot.)
I was originally planning on attending this game with my friend and neighbor, in TEN O'CLOCK TOMMY, who has been pictured in these blogs before. Tommy and I have attended the last 5 home openers together.
One of my friends for over 16+ years, and someone who has also been pictured in these blogs before, in BORGATA RAY, wanted to attend this game. He already knew I was attending the home opener with Tommy and wanted to buy a seat next to us so we can all sit together, just like the three of us do when we go on all of our road-trips.
A month ago, BORGATA RAY realized that my normal seats for Opening Night, which are CHUCKY's season seats, were up for sale on Ticketmaster. WTF? I called CHUCKY. He had no clue. CHUCKY called his season ticket rep, and didn't get an answer. Turned out his rep was on vacation.
A week before preseason, nervousness set in, as CHUCKY didn't even receive his preseason seats yet. Finally, CHUCKY got on the horn with his Rangers ticket rep. Turns out that CHUCKY's future ex-wife, canceled the seats, AFTER THE RANGERS ALREADY TOOK THE PAYMENT FROM HIM!
CHUCKY, who has his seats under his personal company's name, had the seats canceled by his ex-wife. The Rangers didn't know who to return the check to, so in a classic fashion, kept the money in their bank account, which I assume, is because they want to accrue interest. However, the damage was done – WHILE THE RANGERS HELD ON TO CHUCKY'S MONEY, they put the tickets back up for sale on Ticketmaster.
Of note here – if BORGATA RAY never noticed this, and never told me about this, CHUCKY would've never known this either. The Rangers never contacted him and CHUCKY isn't living at his house where he gets mail. Who knows if his future ex-wife just deleted emails and threw out snail mail correspondence? (And because it's none of my business or yours, I'm not talking about why CHUCKY is getting divorced. I'm just talking about his future ex-wife's actions here, as it pertains to these season tickets.)
On another aside – Ranger fans get different gifts, price breaks and treatment from the team, based on how long that you have had your season tickets. If CHUCKY can't get this all resolved, he loses a year of service, which wipes out his 20+ year history with the team.
I have talked about this scenario before. I have a buddy @FIXXSER on twitter, who said "Eff You" to the Rangers during the 2004-2005 lockout. BECAUSE GREG (@aka FIXXSER) DID NOT GIVE A DEPOSIT DURING THAT LOST SEASON, the Rangers canceled his previous service as a season ticket holder and reset him back to 0 years, at the start of the 2005-2006 season. In other words, Greg should be a 20+ year season ticket holder, but instead, is a 14 year season ticket holder.  This is the type of franchise that the Rangers are.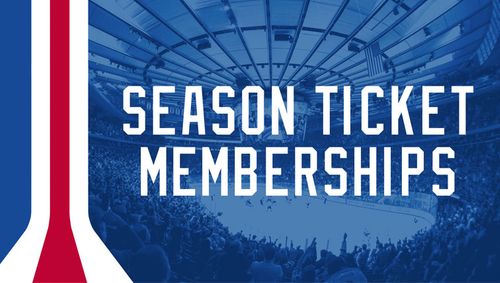 After having meetings and talking to his Rangers ticket sales rep, CHUCKY was told that there was nothing they could do about the preseason, opening night and the rest of the season. Those seats have been sold. If there is any good news here, my buddy CHUCKY didn't have to pay face value for preseason games.
As it stands now, the Rangers and CHUCKY are trying to work out a deal where CHUCKY keeps his season ticket years of service and will get other seats. However, this is something that hasn't been hammered out yet. All in all, because of a ferocious and evil future ex-wife, tickets that CHUCKY had for years are now in jeopardy. And this isn't about me here. CHUCKY takes his son to games and his son is an accomplished hockey player on Long Island. The ex-wife wanted to rip this bond from CHUCKY.
I know this is going too long, but this is my blog and I'll blog if I want to, but as it stood, I was assed out from Opening Night. When I told Tommy this, he was somewhat relieved. Turns out he can work the weekend at his job, which is a nice four figure payday. Originally, he was going to take off Friday (the day after the game) because of the late night. At his job, if you take off Friday, you can't work the weekend. By having these tickets taken away, it kind of works out for him, because now he can work Friday and the weekend. I'm not going to disclose his financials, but yes, it's four figures, which helps, since we have six road games booked this season. Better to have fun on the road than at the expensive M$G!
All in all, BORGATA RAY, who still wanted to go to this game, asked if I wanted to get tickets still. Tickets are sky high, but I already planned on going. At the end of the day, I'm now spending $50 more for seats that aren't in the 100's. Not the end of the world and maybe this is a "middle class hockey fan" problem, but $50 covers my beer budget at the game!
At the end of the day, I'll probably forget this story and the extra $50 in a month's time, which is why I agreed to spend the extra $50. Plus, for those people that are older than 25, you know the deal – as time and life moves on, you don't see your close friends as much as you want to. There's no beef, it's just life. Reality isn't "Seinfeld" or "The League", where you hang out with your friends every day. I will remember having a good time with BORGATA RAY in years from now. I won't remember the extra $50 I'm spending here. That said, I think CHUCKY will remember this time in his life, one way or the other!
In closing here, Ranger tickets are too damn high and I expect that to be the case all season. I don't think the Stubhub Trick will have a high success rate this season, as new and old Ranger fans come out of the woodwork. I think this will continue for the next few seasons, because there is hope and excitement around the team. I just don't know what blue collar fans are supposed to do anymore. The Rangers have made their tickets for the elite and there is no way for the working man to attend a bulk of these games. This is now a time where the Devils and Islanders should try to convert new, on-the-bubble and even older Ranger fans, as their tickets are reasonably priced and easily affordable for the proverbial family of four.
As mentioned in past blogs, I don't know how the Rangers can grow a new generation of fans, because hockey's biggest draw and selling point is the live game experience. If new fans can't afford to go, where does the next crop of season ticket holders come from? Wall Street?
When it comes to the game on Thursday, here's my prediction: Rangers 4, Jets 3. Bring on the season.
I'll be back late late late Thursday night/early Friday morning, with a game recap and I will talk about my experience at M$G. Maybe I'll see you there.
Until then, as always, thanks for reading and…
"LET'S GO RANGERS!"
Sean McCaffrey
BULLSMC@aol.com
@NYCTHEMIC on your Twitter machine