Greetings and salutations everyone and welcome to another blog here on BlueCollarBlueShirts.com. On Thursday night, from Madison $quare Garden, the Rangers defeated the Philadelphia Flyers by a final score of 2-1. The game winning goal was decided in the necessary evil known as the shoot-out.
And no, I'm not going to rehash all my points about the shoot-out here. I just don't hate them like everyone else. Long story short here, as a consumer and customer of the Rangers and of the NHL, I don't want to pay money or invest three hours of my time to see a tie. You can't have these teams playing double or triple OT during the season. The shoot-out is just a quick gimmick to get us a winner. It is what it is. It's like a UFC fight. If you can't finish in regulation or overtime, you're leaving the result in the hand of the judges. If you want those two points, then finish in the 60 minutes that you have!
Oh, and to the critics of the shoot-out, like Rick Carpiniello, who say, "Maybe they should do a homerun derby after nine innings if the two baseball teams are tied", to him I say this – I'm surprised MLB hasn't done just that! In this era of juiced baseballs, the MLB will do anything to promote homeruns.
And finally, to the people reading this and now saying how a homerun derby would alter swing mechanics of players, to them I say this – I'm joking and get a life.
Anyway, back to hockey!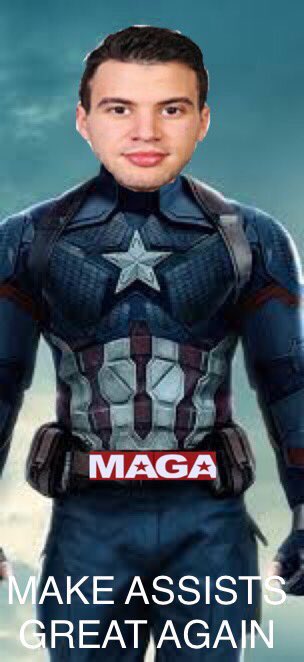 After Tuesday night's win over the Islanders, I said that I thought that was the best game of the preseason. Tonight, after the fifth game of the preseason, I still think that win over the Islanders was the best win, thus far of the preseason. That said, in this win over the Flyers, I thought the Rangers played well, but there is still a lot to be desired.
Truth be told, I thought both of these teams looked very similar tonight. Both goaltenders, in Carter Hart and Henrik Lundqvist, played extremely well in this game. If you look at this as an asset vs debt sort of thing, the two goaltenders negated each other. Neither was better than the other tonight, unless you count the shoot-out.
The special teams, specifically the power-play's of each team, were remarkably dreadful. The Rangers were 0-2, while the Flyers went 0-3. I thought the Rangers penalty kill did more to stifle the Flyers power-play, more than the Flyers PK unit did to stop the Rangers power-play. That said, both teams sucked on the power-play, which again, negated each other on the scoreboard and in the game.
The two regulation goals scored in this game were both sort of flukish. Lias Andersson capitalized after a puck rolled off Hart's back. Travis Konecny scored a goal after the puck pin-balled off of three skates. These two fluke goals negated each other.
During the contest, each team would have several odd-man rushes and strong looks at the net. The Flyers screwed up a 3 on 1. The Rangers screwed up several two-on-one's. In turn, neither team could capitalize with an extra attacker in front of the goalie, which basically also sums up each team's power-play as well. In any event, the two teams canceled each other out when it came to finishing.
Making things more frustrating. were both teams being able to play a sloppy type of game as the game went along. You had Joe Micheletti and Sam Rosen, openly weeping on the broadcast, talking about how painstaking this game was going. I didn't think it was that bad. However, there were tons of icing and offside calls all game. There was no doubt about that. I just thought with the way Micheletti was complaining about the pace of the game, that he had one in the chute and it may have been wet. The dude had to be bursting for the bathroom. Then again, with Lundqvist playing well, maybe Joe just needed to jerk himself off.
And lastly, in this summary of negation equations, both teams played well defensively. This was like watching the 1985 Chicago Bears play themselves. Okay, okay, okay – I'm exaggerating to give you a point of reference here. That said, both teams did play well on defense and did a great job of limiting the turnovers. In fact, the Rangers made their least amount of turnovers in this game than they have all preseason (17). That number is nearly half of how many turnovers the Rangers made on Tuesday.
Before recapping this game with the Flyers, and everything else that has occurred, let me share with you my last few blogs, in case you missed them. Here they are:
---
---
---
---
---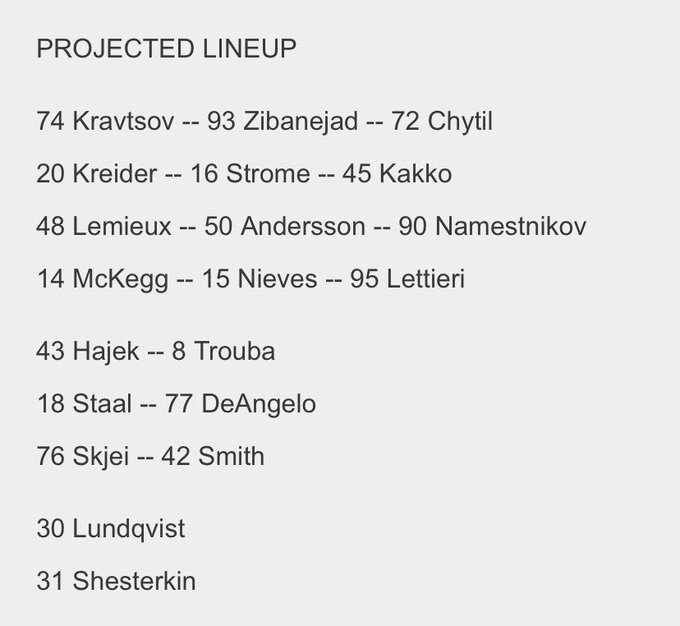 Before doing a deep dive into this game with the Flyers, I wanted to recap everything that happened since the win over the Islanders, to puck drop today.
In case you didn't hear, the Rangers made a few cuts. Here they are: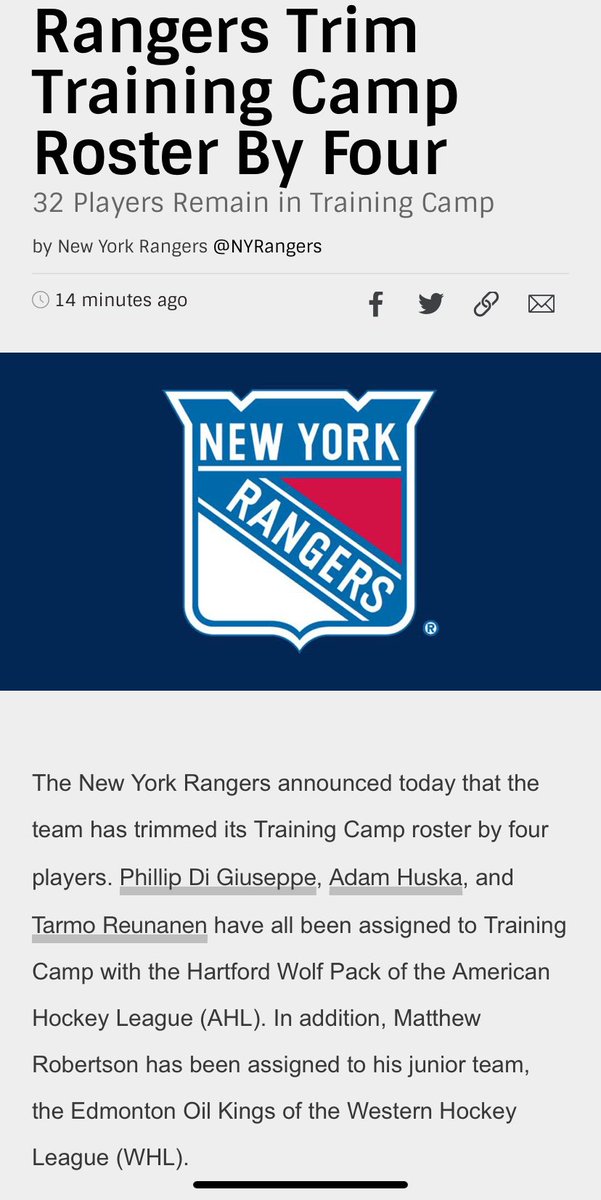 As talked about last blog, it was time for Phillip Di Giuseppe to go. In the case of Adam Huska, he's the odd-man out. Lundqvist will never leave. Even if OJ Simpson treated Lundqvist like Nicole Brown, the Rangers still have Alexandar Georgiev and Igor Shestyorkin. There's just no room for Huska here, barring injury or a spree from OJ. (Hello Twitter-World!)
Matthew Robertson being assigned back to the WHL shouldn't come as a surprise to anyone. His real chance will be next year.
The most interesting cut was Tarmo Reunanen. While I didn't think he'd make the team, I thought maybe the Rangers would've held on to him and let him play in the final preseason game in Bridgeport on Saturday. It's no big deal in either event.
Have you heard the news? After a short stint with Columbus last season, their special teams consultant/coach, in Martin St. Louis, has left the Blue Jackets. It seems to be a mutual thing, although it seems more like MSL may not want to coach right now. I'm speculating here, but I think MSL doesn't want to travel right now.
After this news broke, MSL tweeted out the following:
Thank you @BlueJacketsNHL for the opportunity. I had the pleasure to work with some great people and learned a lot. To Jarmo and his staff, Torts and his staff, all the trainers and the players good luck this year.

— Martin St.Louis (@mstlouis_26) September 22, 2019
I can't confirm the following, because after all, I'm just a beer-bellied blogger and not a reporter. However, from what I've heard, Martin St. Louis, who does hold a residence in Connecticut, is thinking about moving to Florida. Again, this is what I've heard and not what I know. It's not like I can call MSL on the phone and make Marty "Back to the Future" jokes with him. GREAT SCOTT MARTY!
If there was ever a time that the Rangers needed a powerplay coach, it's right now. The powerplay has been horrible for a long time, but that doesn't even matter now. In the same vein on how I want Lundqvist out of here, so Georgiev and Shestyorkin can be with Allaire full-time, wouldn't it be great to have MSL here with all these new kids?
Again, to use Allaire as a comparison, Allaire has molded young goalies and turned them into multi-millionaires.  With "fresh meat", MSL could mold these new kids. These kids may have bad habits from other levels, but if MSL can get them now, as they first break into the NHL, MSL could improve their games tremendously.
If you were watching hockey during the 18 months that Martin St. Louis was a New York Ranger, MSL made his impression felt as a Blueshirt, with his biggest moments occurring during the 2014 Stanley Cup Playoffs. While I knew that Ranger fans respected and enjoyed MSL's time here, it really hit me the most after MSL retired. During the 2016 home opener, which celebrated 90 years of Ranger hockey, after introducing all the 1994 guys and other Ranger alum, Martin St. Louis was then introduced. He got a Hulk Hogan 1984 MSG reaction. The crowd went insane. Part of it was that MSL wasn't expected to be there and his playoff heroics were the most recent. Still, Ranger fans love and respect MSL.
And I'll say this one more time – if the Rangers won the Cup in 2014, MSL would've been given the keys to the city. He was that damn important to that playoff run, with his biggest moments coming in that comeback series win over the Shitsburgh Penguins. Matteau would've been considered an after-thought.
Upon retirement, MSL was a lock for the Hall of Fame. That induction became official in 2018, as Martin St. Louis, in his first year of eligibilty, was voted into the HHOF. The man is a hockey wizard.
Again, I don't have access to MSL, so I don't know where his head is at. I know he has a bunch of children and coaches their games. I know he is and wants to remain a family man. However, even if the Rangers can get some of MSL's time, it's better than none of MSL's time.
The Rangers have huge power-play issues. After tonight's game, they are 2-15 on the preseason. Yes, and to say what I've been saying on these blogs all preseason long – "I know it's preseason and blah blah blah", but still, preseason or not, the Rangers ALWAYS have power-play headaches.
For all the smack I talk about James Dolan on these blogs, you can't accuse him of being cheap. He will spend money. Adding MSL to the coaching staff, even if he isn't behind the bench and is only a part-time coach, would be a major asset for the New York Rangers. I don't know if the Rangers are interested or if Marty himself is interested, but he has a connection to this team & it would be a perfect marriage.
Now, after saying all of this, watch Marty move to Tampa and work with the already stacked Tampa Bay Lightning!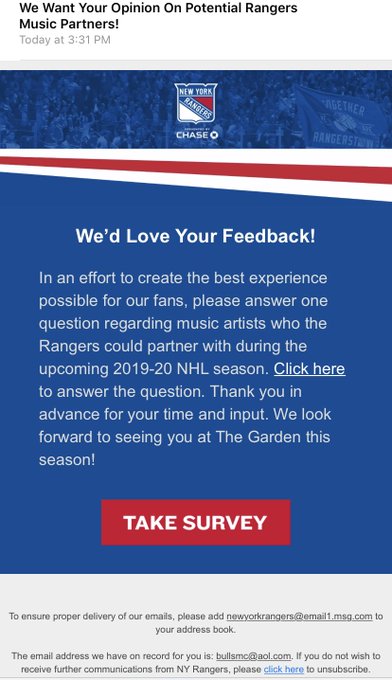 If you're on the Rangers email mailing list, your email box has been inundated with emails. Whether it's the Rangers pushing five-game ticket packs, free patches if you spend over $1000 on overpriced tickets or pushing their "All For One" pass, where you can get a ticket cheaper than face value (which season ticket holders love to hear about), the Rangers have been busy electronically.
The latest email saw the Rangers asking fans to choose what type of music they wanted to hear at MSG. Here were some of the musical choices you could select from: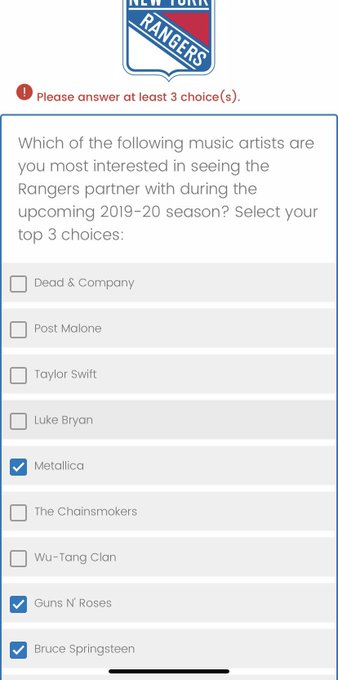 Metallica being on this list had me cracking up. Then again, so did "The Chainsmokers". Is that Micheletti's Henrik Lundqvist tribute band? I'm surprised we didn't see Jimmy Dolan's "BIG SHOT" on this list too, now that I think about it!
Of course, I want MSG to play one Metallica song this season. Here is that song: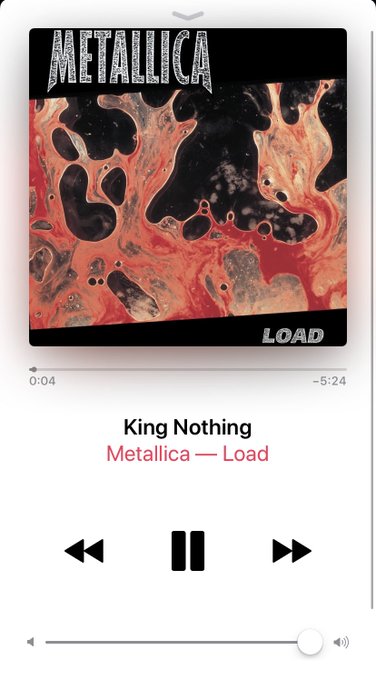 Come on guys, you had to see me making this joke from a mile away!
Gambling segment time!

I don't bet winners or losers in preseason. Then again, maybe I should say "I rarely bet winners or losers in preseason". That said, when I saw a Lundqvist start and an over-under line of -5.5, I was shocked. After all, most of his games are -6. However, when I saw that Carter Hart was going to play for 60 minutes, it made sense.
In fact, I said the following on Twitter before the game:
"The first Lundswiss game to have a -5.5 over-under line. Of course that is because Carter Hart is at the other end of the rink. Rough one to bet tonight. Rangers are fielding the better team tonight too. Toss up. Play the percentages. Take the over!"
With a final score of 2-1, I take the L here. I didn't put much on it, because Hart is that good.
Game time.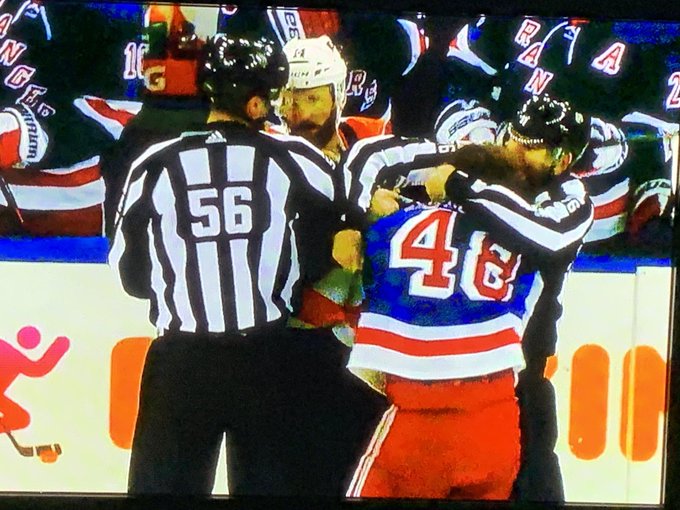 At the top of this blog, I told you this was a more defensive game than the other games the Rangers have played. In fact, we had a lot of physicality in the first half of the first period. After that, the craziness subsided and the two teams played a tight game.
I don't care what others think. I like fighting in the NHL. I like rivalries. I want the Rangers and Flyers to hate each other. I know that's not the case anymore in this era of free agency and players hopping from team-to-team like gypsies, but in the rare event that you get a heated brawl, I'm all for it.
In this game, you had Lemieux and Couturier going at it. Later on in the game, Vinni Lettieri pulled a Kreider and "accidentally" (I'm joking, it really was an accident) wiped out Carter Hart. To be fair, Hart came out of his net and was fumbling around with the puck. Lettieri's collision with Hart wasn't anywhere as big or as violent as the one Kreider had with Carey Price in the 2014 ECF.
Lettieri, who was boxed after this play for interference, would then find himself in a fight after his penalty expired. Flyer Scott Laughton went after Lettieri the second Lettieri got out of the box. And let's be fair Ranger fans – LAUGHTON DID THE RIGHT THING. If you saw a Flyer take out a Rangers goalie, you would be screaming for Lemieux to punch the lights out of the offending Flyer. Laughton was protecting his goalie, even if what Lettieri did was an accident.
THIS IS OLD TIME HOCKEY, BUILDING TEAM UNITY AND WHAT YOU'RE SUPPOSED TO DO.
Of course, double chin Dan Rosen took offense to this: (And because I have a double chin myself, that gives me the right to talk about someone else with one. It's like when African-American's use the n-word with each other! Oh no, here come the snowflakes screen shotting my words here!)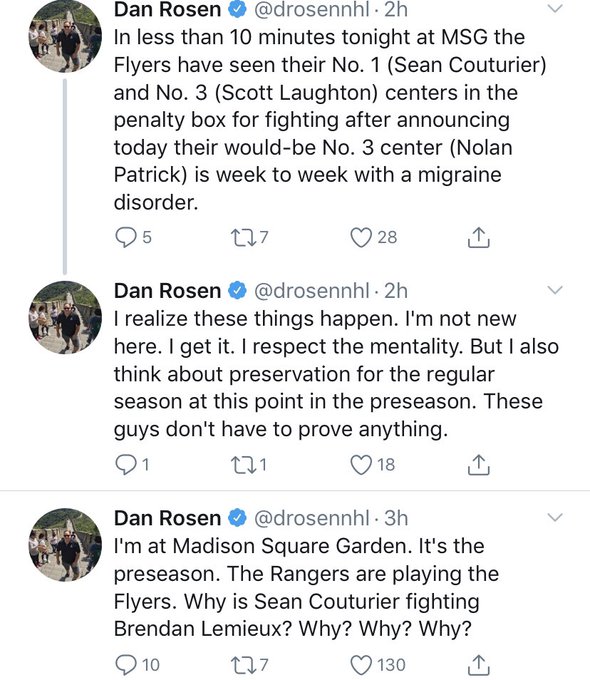 At the expense of sounding like a caveman here, (ME LIKE FIGHTS, ME WANTS BLOOD!) I want the Rangers and Flyers to be throwing down. This rivalry is 50+ years old. Talk to any Ranger alum from the 1970's, 1980's or 1990's – they all hate the Flyers. To this day, you hear Dave Maloney on the broadcasts and podcasts talk about how much he despises the Flyers. Yeah, I know who the Islanders and Devils are, but to me, it's the Flyers who are hated the most. It's just the whole city of Filthadelphia and their animal players and trashy fans.
I'll tell you this – using the salary cap era as a period of time, the loudest I heard MSG during the last few years, was during a Rangers/Flyers game, a few years back on Valentine's Day. Previously, in a game in Philly, Wayne Simmonds cheap-shotted Ryan McDonagh, which gave McDonagh a concussion. Needless to say, Wayne Simmonds was public enemy number 1 that night.
I can not tell you who scored goals in the Rangers win from February 14th, 2016. What I can tell you is that in the opening minute of the game, Dylan McIlrath pummeled Wayne Simmonds. A few seconds after, Tanner Glass messed up Ryan White. The building was as electric as a Stanley Cup playoff game. As they say, when someone scores a goal, 50%-75% of the arena stands up. When there is a fight, 100% of the arena stands up.
I just don't get how a guy like Dan Rosen, who is older than me, can be so sour on the fighting. I kind of get it from this millennial generation, but not from people older than me. Fighting in hockey is as old as kids learning the game on some Canadian pond in the late 1800's.
In a sports world where everything is a flag or penalty and all the players are friendly with each other, give me the fights. This is what rivalries are all about!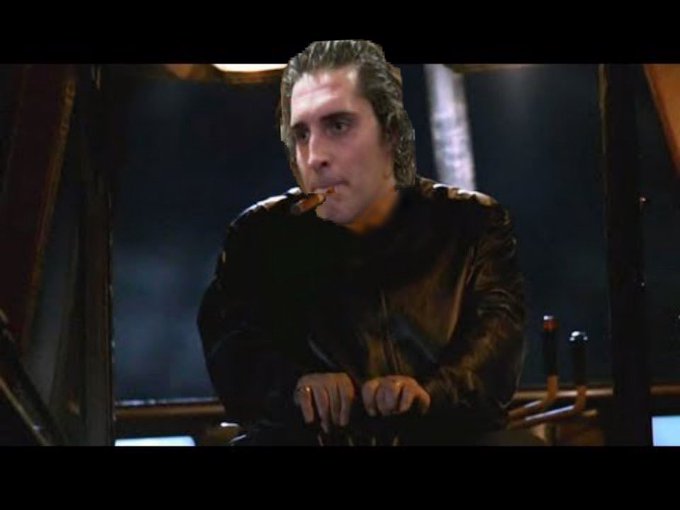 After the fight from Laughton and Lettieri (and again, Laughton was 100% right to pick this fight) the game got away from the fisticuffs and settled into a more skilled and boring style of hockey. Maybe boring isn't the right word, but as mentioned earlier, there were a ton of icings and offside calls, where the game came to a halt at certain moments, especially in the second period. The second period felt like the last two minutes of an NBA game, which last 60 minutes in real time.
Like every other game that Micheletti has broadcasted, the opening of this game started off with "The Worst Hits of Micheletti". Those hits were:
— Verbally fellating Lundqvist until his tongue was wagging.
— Mentioning how old Filip Chytil was. (To his credit, it took Joe three minutes to bring it up, instead of the usual 30 seconds.)
— Bringing up the weight of a player. (In this case, it was Flyers player Kevin Hayes.)
— Talking about how the Rangers like "insert player name here". Joe has never said what player the Rangers do not like.
To all of Joe's normal talking points, Rosen finger-banged himself and replied, "OH JOE!"
If there were any storylines going into this game, it were the MSG returns of Kevin Hayes & Alain Vigneault. As talked about two blogs ago, Hayes made some comments about the Rangers. Today, Hayes tried to walk those comments back, saying they were taken out of context and that he was joking. As I said on this site two blogs ago (that blog is linked above) I don't blame Hayes. I get where he's coming from. That said, how can anyone take what he said out of context? After all, he is the one that brought up Jimmy Vesey not once, but twice! Don't backpedal!
The other "storyline", this one being AV, didn't have much juice. AV has been very complimentary towards the Rangers. He knows the game. Let's face it – he was unfairly fired here. I've talked about this in-depth on past blogs already. That said, AV hasn't given the Rangers one ounce of bulletin-board material. He's been classy. He's been gentlemanly. He hasn't said one cross word about the Rangers. If there is any real "AV news" to report, it is that he coached this game from behind the bench, rather than sitting upstairs, like he usually does during the preseason.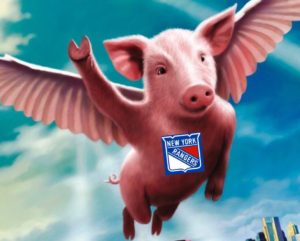 Goaltending wise, both Henrik Lundqvist and Carter Hart were great. However, the non-stop Lundqvist propaganda never ends. The Rangers twitter account and the MSG broadcast mentioned that Lundqvist had stopped the last 30 shots he faced. Is this really an accomplishment in the preseason? Furthermore, what was ignored, that at this point in the game, Carter Hart had stopped the last 85 shots that he had faced. He's paid $7M+ less than Lundqvist. Of course, that wasn't brought up, because why put any stat into perspective?
The never-ending love affair and propaganda aside, Lundqvist was great tonight. This was probably one of his best hockey games of the last two years. However, my opinion on him won't change. I'm not going to explain all my talking points again, just check the past blogs. All I will say is this – there is no room, nor does it make sense, to have a 38 year old $8.5M goalie on this roster. Let Igor and Georgiev play. After all, look at what Carter Hart is doing.
And for the record, Carter Hart stopped 31 out of 32 shots faced. Lundqvist stopped 32 out of 33 shots. Lundqvist also stopped all three shots in the shootout. It's tough to say who had the harder workload tonight, as both goalies were challenged all night. All I can say is that both goalies were near-perfect tonight, but there is nothing that will change my mind on this – the Rangers will never win a Cup with Lundqvist, no matter how good he is in a preseason game.
Early in the game, Ryan Strome, Brendan Lemieux and Tony DeAngelo had a tremendous shift together. While Lundqvist and Mika Zibanejad will get the bulk of the talk from most people (and deservingly so) to me, Tony DeAngelo can not be ignored.
After holding out for a bit, TDA returned to the team and played in his first preseason game tonight. This might not be popular, but out of all the games this preseason, TDA put together the best performance by any Rangers defenseman in this game with the Flyers.
Defensively, TDA was breaking up plays and making smart passes out of the defensive zone, enroute to clearing the puck. Offensively, TDA was masterful. Aside from his assist on the Andersson goal, TDA was deking Flyers out of their skates and constantly moving the puck towards Hart. TDA's two-way game was on point and Quinn saw that, hence TDA logging the most time on ice tonight.
Nothing against Fox or Trouba, but if you've watched all five of these games, and judged the Rangers just on these five games alone, Tony DeAngelo made a case to be part of the Top 2 D, come Opening Night. I have no issues if TDA is slotted on the second pair, as he was tonight, but TDA was that good in this game. (I think Trouba is your first right-handed D-man on 10/3 vs the Jets.)
I thought Chris Kreider had his best game of the preseason as well tonight. This was the first game where Kreider was truly a factor. Like TDA, Kreider is playing for big money in the Summer of 2020. I think Kreider's story, this upcoming season, will be the "will they or won't they?" deal, just like McDonagh, Zuccarello, Hayes and the other players of the last two trade deadlines.
We all know the book on Kreider. There's good Kreider and ghost Kreider. Today was good Kreider. He was constantly crashing the net and going to the net all game. While he didn't score (and give Hart credit here, because Hart is that good) Kreider was constantly a factor during every shift.
Throughout the game, and again, as mentioned above, the Rangers special teams went to work. The powerplay did nothing. The penalty kill was perfect, with Mika Zibanejad getting the highest of honors, especially in the overtime, where he was the best player during a Flyers 4 vs 3 advantage. Again, let's give Marty a call.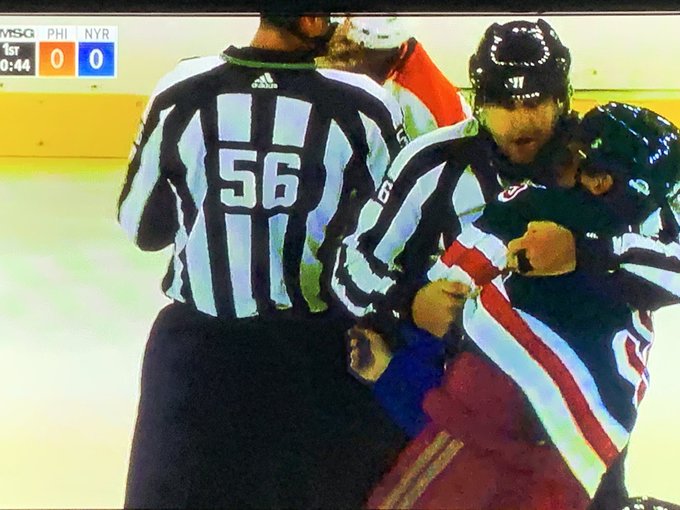 After the first period fights, Brady Skjei would extra fancy pass himself out of a scoring opportunity. After having his best game of the preseason on Tuesday, Skjei was okay in this game. In fact, you can argue that the much maligned Brendan Smith was better than Skjei tonight. Say what you want about Smith, but he had a good game tonight. Ironically, Vinni Lettieri, who once brawled with Smith when the two were part of the Wolfpack two seasons ago, set up Smith for a perfect one timer. Hart stopped it, and again, the goaltending from both teams were on point tonight. The only goals scored in this game were of the fluky variety.
With 13 seconds left in the first period, the Rangers pulled a role-reversal, as they were the team getting the late last second goal. Tony DeAngelo, who was quarterbacking the Rangers in the Flyers defensive zone, saw daylight and blasted a puck. Namestnikov tried to rebound it and the puck dribbled off of Hart's back, as if it the urine of an old man with a prostate issue. Lias Andersson, who had a fantastic game tonight, had the offensive awareness to slam the puck right into the net. 1-0 GOOD GUYS.
If there is one thing everyone can agree on – no one knows who the 2C, 3C or 4C will be on Opening Night. Even Quinn admitted that much himself before this game. All we know is that #93 will be centering the top line.
In a second period that had as much stop and go as sitting in traffic on the LIE, it was the Tony DeAngelo show. First, he stopped a Flyer rebound from beating Lundqvist. Then, he made a perfect pass into the slot, setting up Kreider. Hart did his job. Away from TDA, Lettieri would set up his third great pass of the game, but again Carter, Carter, Carter!
The Flyers would tie this game up, 6 minutes and change into the second period, when Kevin Hayes, who was playing like Jaws sniffing blood all night, taking a weird angle shot at Lundqvist. Lundqvist couldn't manage the puck, and the puck ricocheted off of three skates, with Lundqvist's skate being the last to touch the puck. Travis Konecny got credit for this fluke goal. 1-1 game.
In what perhaps was the best Flyers chance of the game, the Flyers had a 3 on 1 and had Lundqvist ripe for the pickings. However, Brendan Smith, of all people, broke the play up, allowing Lundqvist to get into optimal position. Crisis averted.
I know I'm raving about TDA too much tonight, but later on in this period, TDA sonned the Flyers lone goal scorer of the game:
Tony DeAngelo just torched Travis Konecny #NYR pic.twitter.com/zSB7uvGVIm

— Rob Taub (@RTaub_) September 27, 2019
What can I say? Welcome back TDA!
At the end of two periods, the score remained 1-1.
Funny thing during the in-between period segments. Joe Micheletti actually said this, "I know we've been talking a lot about Henrik Lundqvist tonight…" NO FUCKING SHIT JOE. IT'S ALL YOU DO.
Also of note, the MSG Networks haven't said a peep about Trautwig on the broadcasts. Not even a "get well soon" type of thing. Again, this is why I'm led to believe that Trautwig's issue is an alcohol related thing and not a serious disease or cancer.
The Rangers would dominate the shots on goal stat during the third period. That said, the Flyers got some GOOD LOOKS, but Lundqvist denied each Flyer.
Chytil would take a penalty a minute into the period, where the Rangers PK once again came up big. Of the PP's that the Flyers got in this game, I think they averaged one shot per PP.
The game, which admittedly did feel long, would continue to be lambated by Sam and Joe, who made it clear that they wanted to be anywhere else but here. Micheletti was even clamoring to go to Bridgeport, the site of Saturday's tilt with the Islanders.
After skating to a 1-1 draw in regulation, the two teams went to a five minute overtime. Strome, who looked tired, took a tripping penalty with 2:23 remaining, which pretty much gave the Flyers a PP in the final two minutes of the 3 vs 3.
Of note on the 3 vs 3 and really, of the entire game, Kaapo Kakko seemed like an afterthought tonight. Again, one game, blah blah blah, but Kakko didn't have much of a presence tonight.
During the PK in OT, Mika Zibanejad was the star, making defensive plays and creating offense. The crowd gave him a huge cheer during all this. Again, it's my opinion that the Rangers should give him the "C" and see what happens. Staal may deserve it, but if that's the case, they should've just done it after the McDonagh trade to Tampa.
After a scoreless OT, the teams went to the shootout. Lundqvist denied all three Flyers, in Giroux, Voracek and Farabee. I'm surprised that Hayes didn't get a crack here. Maybe he was next up?
Hart would stop Tony DeAngelo and Kaapo Kakko. If either of these two scored, the place would've exploded, especially if it was Kakko logging the GWG. Instead, it was Mika Zibanejad scoring the lone goal of the shootout, giving the Rangers the 2-1 victory.
On Zibby's goal, he made a beautiful backhand shot, that beat Hart stick-side high. It was just an amazing goal. In fact, take a look for yourself:
Mika makes his move and sends Sam & Joe home 🙌 @NYRangers | #LGR pic.twitter.com/n0salJt0ha

— Rangers on MSG (@RangersMSGN) September 27, 2019
Seriously, how do you stop this? As a goalie, you would need Dikembe Mutombo next to you.
It's funny, after the third preseason game, all I heard from some people was doom and gloom. Two games later, these same people have Lundqvist with the Vezina, Mika with the Hart (Not Carter) and Kakko jizzing on the Cup. Again, these are preseason games and you have to look at how people are doing in their roles.
While I wouldn't call TDA a "fringe starter", as to me, he's automatic for Opening Night, he needed to have a good game tonight. He did. When it comes to the others teetering the line between NY and Hartford, Lias Andersson has earned a spot with the team, at least in my opinion. I keep hearing people burying Kravtsov, and I'm not down with that. I want Kravtsov on the team. Another player getting Hartford talk is Filip Chytil. After all, he hasn't been wonderful and "HE'S ONLY 20 YEARS OLD SAM!" I don't know what you do there, but I rather him on this team than a Micheal Haley or another veteran that's only going to be one and done here. At least I'm consistent here – give me the youth and the future. I rather take my lumps with them now than halt their NHL growth.
The Rangers have one last preseason game before shit gets real in less than a week's time. The Rangers will play the Islanders in Bridgeport on Saturday night. I've already done my Ranger and NHL season previews, and you can read those blogs above. I'll be back Saturday night with my final preseason thoughts and then from there, we get it all rolling on this 2019-2020 NHL season.
Until next time, thanks for reading, and as always…
"LET'S GO RANGERS!"
Sean McCaffrey
BULLSMC@aol.com
@NYCTHEMIC on twitter