Greetings and salutations everyone and welcome to another blog here on BlueCollarBlueShirts.com.
This latest blog entry wasn't planned. Originally, I was going to wait until both preseason games were played this weekend. However, I did say this at the end of my last blog: "Depending on my schedule, unless something catastrophic or life-changing happens during the game on Friday, I'll be back late Saturday night with thoughts on both games."
While speaking of my last blog, you can read that blog, and my most recent blogs, by visiting these links:
---
---
While nothing really CATASTROPHIC or LIFE-CHANGING occurred on Friday, there was a reason for Ranger fans to reflect a bit. On Friday afternoon, Dan Girardi, who served 11 seasons with the Blueshirts, announced his retirement. Away from the Girardi news, there was also a reason to be happy (unless you're one of these demented and deranged liberals who judge hockey players solely based on their political beliefs) when the Rangers came to terms with Tony DeAngelo. If that wasn't enough for you, the Rangers crossed the Hudson for their second & final preseason game with the New Jersey Devils. What a three-headed monster of Ranger news events!
In tonight's blog, we'll look at the Girardi retirement, the Tony DeAngelo re-signing and the game from Friday night. I'll look at these events in the order of importance. In other words, if you saw the line-up David Quinn put out on Friday night, then you know that will be the absolute last topic in tonight's manifesto!
When I first saw the news that Dan Girardi retired, I wasn't shocked. After all, during this off-season, while writing these blogs and posting stuff to social media, I asked, "Where's Dan Girardi going?" Tampa already made it clear that they weren't bringing Girardi back. In my head, I was wondering where Girardi could go. I figured maybe he would try out Vegas, Toronto, Colorado or another Cup contending team and sign with that team on the cheap for one season. However, as July turned into August and August turned into September, you still didn't hear any rumblings about where Girardi may land. Then, today, on September 20th, Girardi announced that it was a wrap.
When you reflect as a Ranger fan on Girardi, I just think of the phrase, "Where does the time go?" Just think about those Ranger teams from 2012 through 2015, the peak of the Lundqvist era. Callahan is retired. Nash is retired. Core players from this run, like Derek Stepan, Carl Hagelin, Mats Zuccarello, Derick Brassard and Ryan McDonagh are gone as well.
When you look further down the roster of these teams, injuries took the careers of Carcillo and Dorsett. Klein retired. MSL retired. Glass retired. However, and of course, the guy with the worst contract, in Henrik Lundqvist, is still here. After all, NOTHING IS HIS FAULT and the team will never cut the cord on him. It's always the fault of everyone else. Even with the team trying to embrace a new era through a rebuild, Lundqvist is still here.
I bring up Lundqvist here for one reason. Without Dan Girardi leading the league in blocked shots that year, I don't know if Lundqvist wins the Vezina after the 2011-2012 season. Maybe he does. However, Dan Girardi was such a huge part of Lundqvist's success during that season.
During his entire career, so much of what Dan Girardi did on the ice doesn't show up in the box score or on some sort of soy boy basement banter chart. For 11 seasons with the Rangers, Girardi was asked to stop the best players on the opposing teams. Girardi did just that. Was he perfect every game? Of course not, but who is?
Girardi, for his career, which included two years at the back-end with Tampa, finishes with 927 games played, 56 goals and 208 assists. In his 13 year career, he only missed the playoffs once. In fact he only missed the playoffs after a shoot-out loss in Game 82 of the 2009-2010 season. If the Rangers won that game, they would've made the playoffs.
Despite his long tenure and trading card stats, the most impressive stat is this:

If you're a Ranger fan, I think this is how you will remember Dan Girardi. He was the warrior. He played hurt. He played through tons of pain. He sacrificed his body. Even when his body said no, Girardi forced himself into 100MPH shots from Alex Ovechkin. Girardi was a frequent ice-bath bather and the aroma of Bengay often surrounded him.  The guy ate more rubber than a cheap Hunts Point hooker. You know, the hookers that Joe Micheletti likes!
Truly, just think about this right now. If you have a hockey stick and a puck, have one of your friends take a slapshot at you. If you don't have that, have someone throw a rock at you. Now do it 1,953 more times. That's the sacrifice Dan Girardi made for his goalies, his team and with his body.
The Rangers, to their credit, put up a quick video after this news was announced. Here is the video they released:
Dan Girardi has announced his retirement.

This will get ya. (via @NYRangers) pic.twitter.com/5OgtBf1VRp

— Rangers Videos (@SNYRangers) September 20, 2019
I know that goals are glory, but when you watch this video, you would think Girardi was the second coming of Bobby Orr. In truth, Dan Girardi was the first Dan Girardi, where future shot blockers will be compared to him, as a new generation of players lace up and take the ice.
What pains me a bit (okay, pains is probably not the right word here, maybe the word "frustrated" is better) is how everyone is all lovey-dovey about Girardi right now. The Rangers kicked Girardi to the curb like trash and discarded his 11 seasons like it was nothing. You see, to the Rangers and many Ranger fans, Girardi was "old", "no longer in his prime" and "overpaid". Of course, that same logic doesn't apply to Henrik Lundqvist, but we know how that goes.
For example, you have someone who trashed Girardi for years tweeting stuff like this out: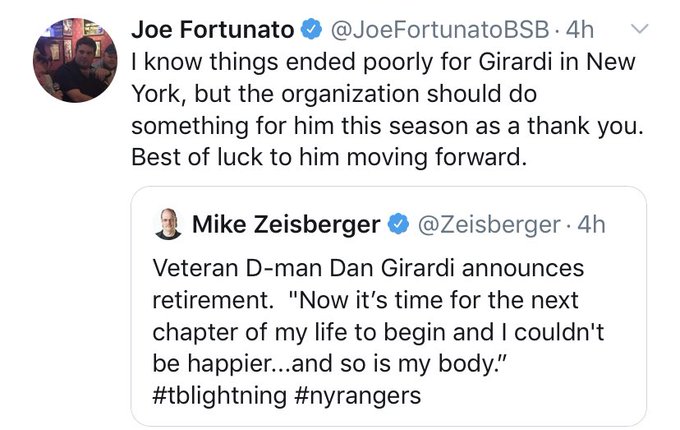 Of course, this mom jeans wearing fool doesn't mention how he trashed Girardi for years. In fact, according to guys like Joe and many others, "GEERARDI WAS THE SOUL REAZON THE RANGERZ LOST THE CUP IN 2014!" I mean, let's not mention that the Rangers overachieved that season and had a Cinderella run. Also forgotten about that 2014 SCF, are all the two goal leads that were blown and how Quick was a better goalie than Lundqvist in all those overtimes. No, it was all Girardi's fault to these people! Girardi blew all those leads! Girardi lost all those overtimes! GIRARDI GIRARDI GIRARDI!
If you know me or are a regular reader here, you know I tend to be a fan of the sandpaper types, you know, the salt-of-the-earth players. I think I showed this in a recent blog I did, when I talked about Ryan Callahan's retirement. You can read that here: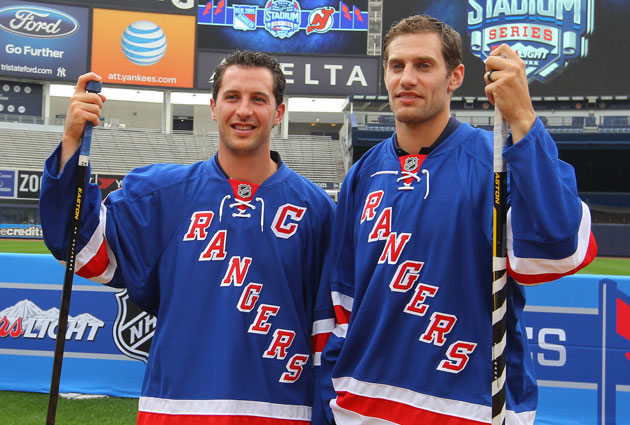 If you were building a hockey team, Dan Girardi is a player you would always want on your team. He was a team-first guy, who always put the team over his own health and stats. Girardi would rather block a shot and prevent a goal than try to win a foot race for a breakaway goal. And yes, I know Girardi wasn't going to win many foot races, but you get the point.
When the Rangers bought Girardi out, a Cup contending team in the Tampa Bay Lightning quickly signed him to a two-year deal. Girardi had success in Tampa and the same things you heard in New York, you started to hear in Tampa. "Girardi is a positive locker room influence." "Girardi gives it his all." Things of that nature.
Of course, Girardi, like many players in hockey, fell victim to the salary cap, which is an issue I've discussed ad-nauseam on these blogs. People like Girardi is why the NHLPA & teams need a "Larry Bird" rule, where teams can go over the cap with their homegrown players.
In Girardi's final years with the Rangers, because of the thrashings and demolition that he put his body through, he was considered overpaid in today's NHL. In Tampa, he had a career resurgence, because he wasn't getting paid as much, which meant he didn't have to log Top 2 d-man minutes. That said, he would play top 2 minutes in Tampa from time-to-time, where he found success.
Like other Rangers that went to Rangers south in Tampa, Girardi didn't get that Stanley Cup championship. While his name won't be etched on the Cup, his memories will be etched with Ranger fans forever.
At this time, I would like to give you the full press release on Girardi's retirement. The following was posted on NHL.com on Friday afternoon:
Dan Girardi announced his retirement from the NHL on Friday after 13 seasons.
The 35-year-old defenseman had 16 points (four goals, 12 assists) in 62 games with the Tampa Bay Lightning last season and no points in four Stanley Cup Playoff games. The Lightning opted not to re-sign Girardi after last season, and he became an unrestricted free agent July 1.

The New York Rangers signed Girardi as an undrafted free agent July 1, 2006. He played 11 seasons for New York before signing with Tampa Bay as a free agent July 1, 2017.

The native of Welland, Ontario, played in 927 NHL games and had 264 points (56 goals, 208 assists). He had 36 points (eight goals, 28 assists) in 143 NHL playoff games.

"I would like to thank all my coaches, family, friends and teammates for supporting me throughout my entire hockey career," Girardi said. "I want to thank the New York Rangers for giving me a chance to fulfill my childhood dream of playing in the NHL. Throughout those 11 incredible years I have made so many friends on and off the ice. I bled Ranger blue and gave it my all for my team, the city and the Garden faithful. I also want to thank the Tampa Bay Lightning for helping me continue my career by giving me a chance to play for such an amazing organization, city and fan base.

"I gave my all every single night and left it all out on the ice. Now it's time for the next chapter of my life to begin and I couldn't be happier … and so is my body."

Girardi played in the 2012 NHL All-Star Game, his team made the postseason in 12 of his 13 seasons, and he helped the Rangers advance to the 2014 Stanley Cup Final, which they lost in five games to the Los Angeles Kings.

"We all love to play the game and have done it our whole lives," New York defenseman Marc Staal said, "and he's a competitive and passionate guy that loved coming to the rink. I was feeling for him in that way because you're going to miss that, but I was happy for him and respect that he had an incredible career. He worked extremely hard for everything he got. He earned everything he got in the game. I was happy and proud to be able to play with him for as long as I did in a Ranger uniform. That's something that will have for the rest of our lives. He was an incredible teammate."

Rangers goalie Henrik Lundqvist said, "He's one of my all-time favorite teammates the way he played the game. … We had so much success together. I think we helped each other a lot the way I competed and the way he competed. I always knew what to get from him for so many years. I admired how he played. He was a huge part of this team's success over so many years. Great career. I'm really happy for him. He played a lot of good years. I just want to wish him the best."

Since the start of the 2005-06 season, Girardi's 1,954 blocked shots are the most of any player in the NHL.

"On behalf of the entire Rangers organization, I want to congratulate Dan on an outstanding NHL career," New York senior adviser and alternate governor Glen Sather said. "Dan was the ultimate warrior. From the moment he joined the Rangers, he gave his heart and soul to his teammates, the organization, and the fans. Dan's relentless effort and dedication to the Rangers was an inspiration to everyone. The accomplishments we achieved during Dan's tenure with the Rangers — which included two division championships, a Presidents' Trophy, and a Stanley Cup Final appearance in 2014 — would not have been possible without his immeasurable contributions."

Girardi led the Lightning in blocked shots (263) during his two seasons with Tampa Bay and was first among Lightning defensemen in hits (284).

"On behalf of the Lightning players, coaches and the entire staff I'd like to congratulate Dan on a wonderful career," Tampa Bay general manager Julien BriseBois said. "Dan's commitment to the game and his willingness to sacrifice himself for the good of his team earned him the respect of teammates and fans alike during 13 seasons in the NHL, while his personality and sense of humor created a lasting legacy off the ice."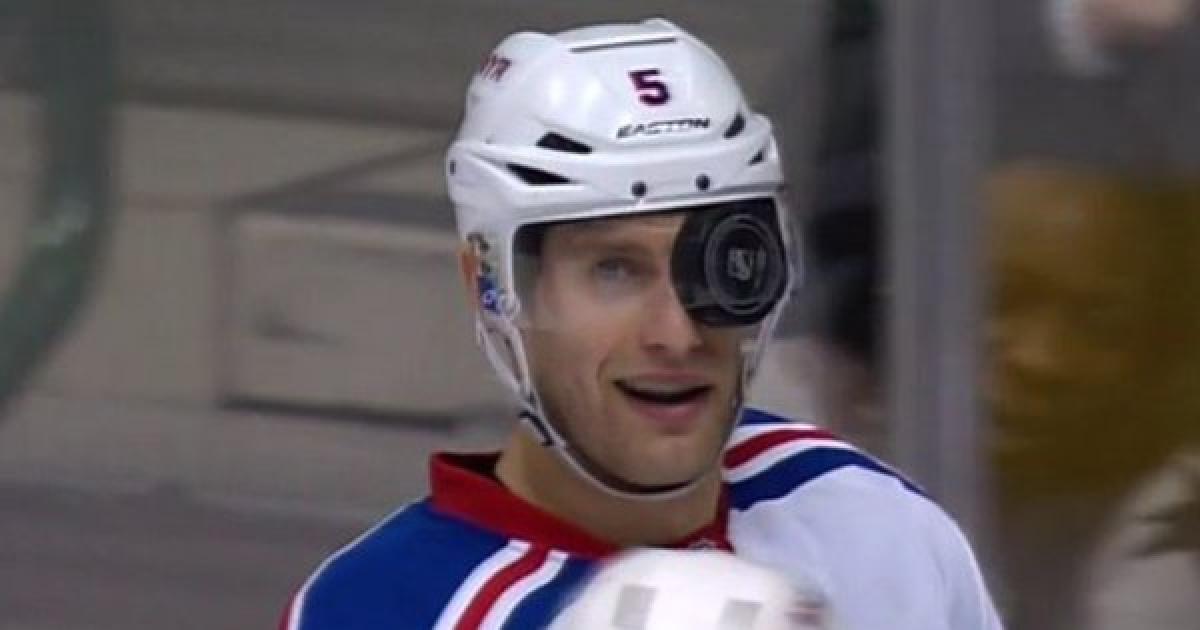 At this time, I would like to express my best wishes to Dan Girardi. Then again, the dude has millions, he should be expressing his best wishes to me! I kid, I kid!
Seriously though, Dan Girardi wasn't only a great hockey player, he was a great Ranger. I've seen some people do the "put his number in the rafters" stuff, but I would pump the brakes on that. If any number 5 belongs in the rafters, it is the number 5 that Bill Cook once wore.
In closing on Dan Girardi, I wish him the best and my thanks. If any Ranger is the perfect example for my "RANGERS RINK OF HONOR", it's Dan Girardi. Whether you call him "The Warrior" or "The Iron Man", Dan Girardi played hockey the right way. He was a hockey player's hockey player. Thank you G!
---
Today, after Ranger fans looked back and paid respect to Dan Girardi, Ranger fans quickly returned to the present and then looked to the future. After the Girardi news was made public, the Rangers tweeted out the following: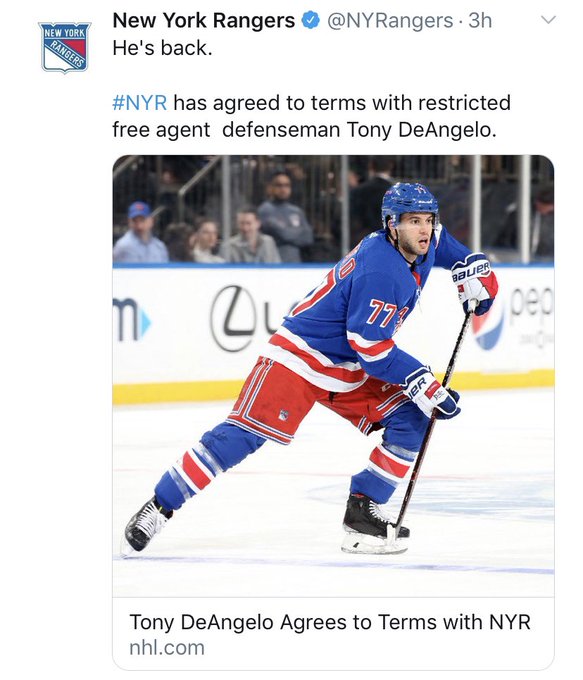 I've talked about DeAngelo, his status and everything concerning this ordeal in my last few blogs. I would urge you to check out those blogs linked above if you haven't already.
After all the waiting, DeAngelo finally signed a one-year deal with the Rangers, worth the $925,000 that the Rangers have been offering him all along. Again, I talked about this already. I felt that while DeAngelo was right for wanting more money, but the ball…err puck, was in the Rangers court/ice.
DeAngelo didn't get any offer sheets. The reality of his situation is that he's been with three teams in three years. He's not bargaining with leverage. Even with some of the defensive disasters we saw on both Wednesday and Friday night, the Rangers weren't going to budge. They weren't going to trade anyone to give TDA big deal. Even if Smith goes to Hartford, the Rangers weren't going to make a cost-cutting move for TDA.
For hockey players, $925,000 might not be much. Playing in New York, that's about $500,000 after taxes. That's not shabby either, but hockey players have a small window to set themselves up for life. For DeAngelo, just like Hayes last year, he's going to have to break his ass and have a great season. By taking this deal with the Rangers, TDA can open up the eyes of the whole entire league. You're not going to get a bigger contract elsewhere, so it's better for TDA to suck up his pride a bit here, invest in himself for this one season and hope for that multi-million dollar contract next season.
After signing his deal, Tony DeAngelo said the following on twitter:
"What up NYR fans. We good now?"
He also said:
"Happy to be back. Hopefully for many more."
Of course, this news didn't set well with people who put politics before winning. To this day, I don't know how you can SOLELY judge a player based on whatever their political beliefs are. So much for tolerance. As I said a million times, I don't care what a player's religion or political beliefs are – as long as they aren't a violent criminal or a terrorist. If they can help my team win, I'm all for it.
It's just amazing the relationship this Rangers fan base has with their defensemen. If Twitter was available throughout the course of history, you would have these fans ripping Brad Park and Brian Leetch too. In today's world, these fans have hated Dan Giradi, Marc Staal, Ryan McDonagh, Keith Yandle, Kevin Klein, Kevin Shattenkirk, Dan Boyle, Michael Del Zotto and the names keep on going. I mean look at this filth that was brought to my attention and which I responded to:
Here is your typical Cult of Lundswiss fan- hate everything & everyone not named Hank. Hate players based on politics. And for a bonus, if the cult member is female, you can 100% guarantee she attacks the looks of other women. Insecure! SAD! #mnyrga #maga #deporthank #LongLiveTDA pic.twitter.com/WemFL3dMl7

— BlueCollarBlueShirts (@NYCTheMiC) September 20, 2019
Listen, I know this might sound hypocritical because I'm not Lundqvist's biggest fan. That said, I haven't been wrong on my points about him or his contract. The Rangers keep employing and firing defensemen, all while keeping the constant in Lundqvist here. They rather lose with him than try to win without him. Despite the league showing us that rookie and cheap goalies can win Cups, the Rangers think they are the smartest people around and try to go the other way. Theo Epstein they are not.
It's just amazing the free hall pass Lundqvist gets over the years, while these same people bury Girardi, DeAngelo and even a NY sports legend, in Eli Manning. That Lundqvist kool-aid has some kick, I'll tell ya!
In closing on TDA, I'm happy to have him back and I hope he gets the big money after a great season.
---
One last update before getting into the game with the Devils at the Rock.
According to the reporters, Panarin is not practicing or playing this weekend.  Reporter Vince Mercogliano said the following on Twitter:
Quinn and Gorton both called Panarin "day-to-day." Doesn't sound like he'll play or practice this weekend, but they still seem to feel it's minor and not something to worry about.

#NYR
To me, Panarin not taking the ice does seem like something to be concerned about. What concerns me the most, is that I hope we don't have another Shattenkirk situation, where Panarin is smiling through the pain, hides his pain and tries to play when he isn't 100%. Like Shattenkirk, Panarin got big money here and he doesn't want to disappoint. If he's hurt, do what you have to do. I rather him miss the first 10 games of the season than seeing him have to call it a wrap around January.
Panarin's situation will be one to monitor in the next few days. PANARIN GROIN WATCH has a nice ring to it, doesn't it?
---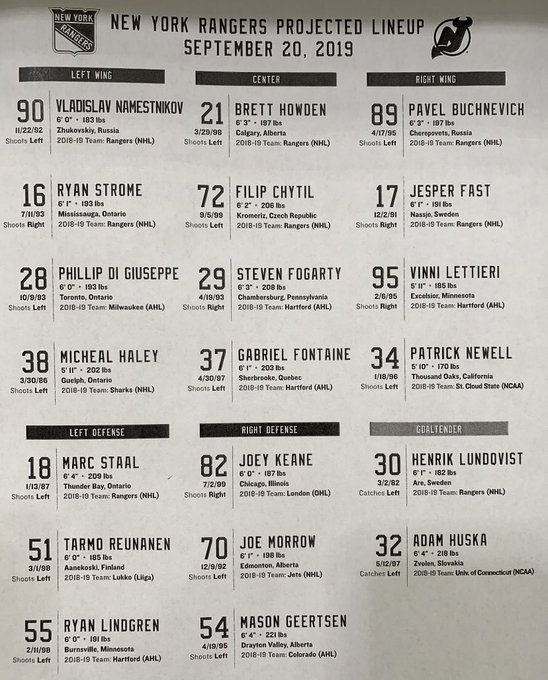 When the Rangers announced their line-up for tonight's game with the Devils, I immediately called my bookie to bet the over. If I looked at the rest of the roster, and not just the goaltenders playing, I would've bet the Devils to win too! (I'm joking, I would never place a wager against my teams. I would just bet the over.)
Last year, I had an impressive run with my over-under bets, solely based on what goaltender was starting. Lundqvist starts hit the over something like 82% of the time, which is a phenomenal number. Like last season on this blog, I'll be monitoring the over-under line all season. Here were the lines for tonight's game with NJD:

For those keeping track, the Rangers were a favorite on Wednesday and the over-under was -5.5. With Lundqvist starting, the over-under went up by half a goal.
The Devils were a big favorite in this game, and they should've been. The Devils played most of their starters, as the big guns in Jack Hughes, PK Subban, Wayne Simmonds, Kyle Palmieri and others all skated. The Rangers best forward in this game, at least on paper, was either Pavel Buchnevich or Jesper Fast, depending on how you view these two.
I know some fans wanted that Hughes vs Kakko match-up in one of these preseason games, but to me, I'm happy it didn't happen. Save it for the regular season when it counts.
I couldn't even call this Rangers line-up a "B" squad. This was a "C" or "D" squad. You had five defensemen out there with virtually no NHL experience. You had lines that were thrown together as if they were picked out of a magician's hat.
Let's be fair and get this out of the way first. The Devils, who kept their best players out of Wednesday's game with the Rangers, beat the Rangers, by a final of 4-3. The best Devil in the game was their goalie, in Corey Schneider.
On Friday, the roles were reversed. The Rangers "best" goalie (yea right, but we know Hank is the starter on Opening Night) started on Friday, in front of a weak Rangers roster. The Devils, with their back-up goalie and most of their starting skaters, beat the Rangers 4-2 on Friday night.
And I guess I should get this out of the way too – "it's preseason, teams are trying new things, players don't have chemistry, Devils have played 4 preseason games, the Rangers have only played 2 and blah blah blah." That said, there are some things to take out of this game.
For starters, when it comes to Jack Hughes, all I heard the experts say was how Jack Hughes wasn't ready yet and it will take time. After seeing the game against Boston and this game tonight, how isn't Hughes ready? I don't think he's McDavid or anything, but the kid has been super impressive. He looks like an All-Star already! Yea, preseason and blah blah blah, but what is he suppose to do? Not look good during preseason? Instead, Hughes, in my opinion, is better than advertised. Ranger fans are going to hate me for this and again, keep in mind, it's preseason and all the blah blah blah stuff, but Hughes has looked better than both Panarin and Kakko. Again, it's only two preseason games, so keep your pitchforks and torches to yourself.
I know it's preseason. I can't stress that enough. That said, thirty seconds into today's game, and it's like Lundswiss was in mid-season form. 30 seconds into this game, Jack Hughes undressed Hank on a breakaway. The NJ Devil mascot is still trying to find Hank's jock in the rafters.
To be fair, this first goal of the game came after a bad line change. But do you know what? You're one of the highest paid goalies in the league and holding this team down. Make a fucking save. That's what you're paid to do. Instead, you have some kid who drinks out of juice boxes and was at a prom four months ago, just completely embarrassing you.
MAKE A SAVE! Seriously, we would later see MacKenzie Blackwood and Adam Huska make better saves on tougher shots in this game. Fucking Huska made a flurry of saves on a Devils 5 vs 3 two-man advantage power-play. By the first period, Hank had given up three goals. It's the same old shit. And I know what people will say. "It's early." "It takes time." Bullshit, these other goalies play under the same conditions and out-played him. In fact, for all these chart humping mo-mo's on Twitter, I made one of my own charts. Here you go: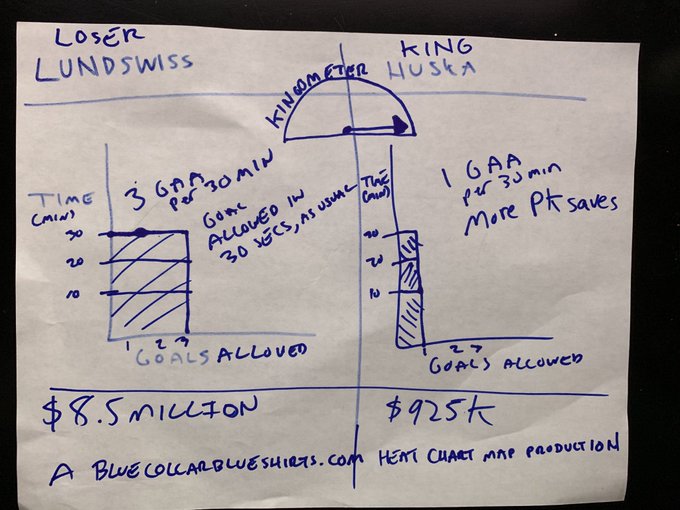 Before diving into the game (I'm not doing a full length review, because after all, it's preseason) I have to talk about the broadcast.
Neither Sam Rosen or Al Trautwig were there. After my comments about Trautwig in my last blog, I got several emails and responses. Seems like everyone agreed with me and saw what I saw with Trautwig. Some fans think that he may even have Parkinson's disease. I don't know if that is the case and it's a shame no reporter followed up on this. All I do know, is that many people that I don't even know also brought this up on Twitter. Here's one example: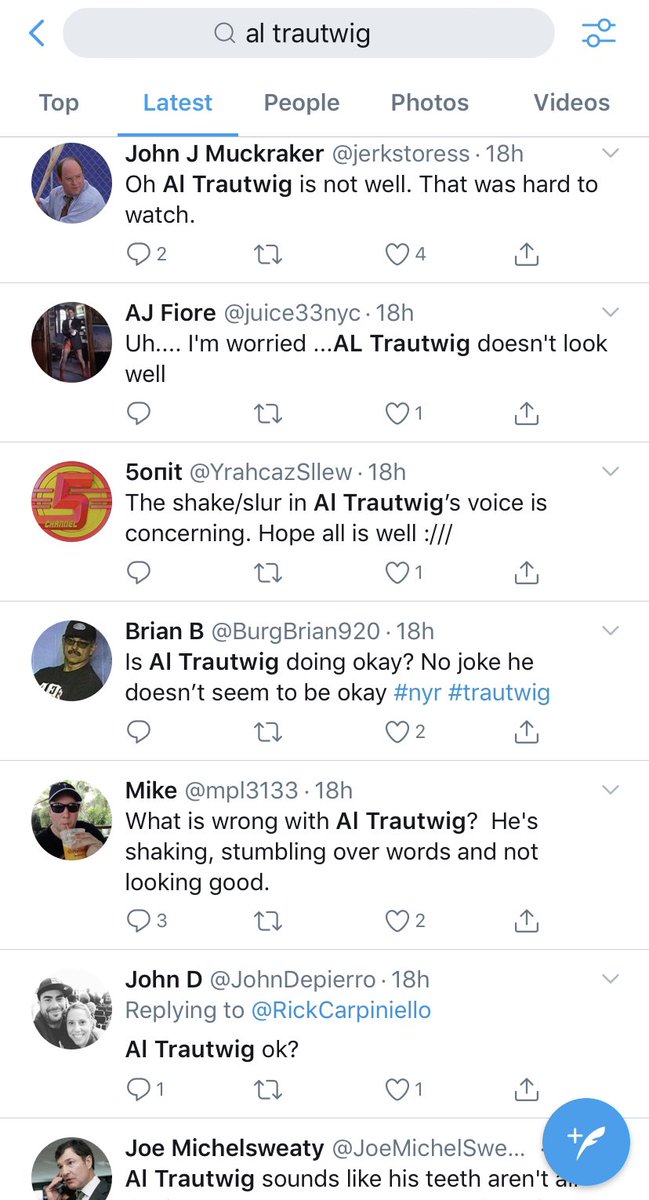 Trautwig was asked about his health by dozens and dozens of fans on social media. Trautwig has yet to comment on this. Hopefully he just has the common cold. For all the jokes about his teeth, he's comic relief. No one wants to see him sick.
As far as Sam goes, I was told that he doesn't have an NFL commitment. He missed this game because it was a Devils home game, so the Devils went with their normal announcers. They also unfortunately added Joe Micheletti to the booth.
It's not even the regular season yet and Micheletti & Lundswiss have me in my mid-season form of unadulterated rage. Not even 10 seconds into the broadcast, Micheletti was going on and on about how old the players on the Rangers were. We get it, Chytil is now 20. Then, after Hank was getting torched all game, Micheletti went right into his handy excuse rolodex. It never ends. And you know what's SAD? My buddy Rob (@BOZFIRSTSINCE81 on Twitter) and I, both predicted Hank would give up a goal in the opening minute. LIKE FUCKING CLOCKWORK!
As expected, the Devils owned the Rangers in this game, beating Lundqvist for three straight goals. Hughes beat Hank on a breakaway. Hall scored a PPG after an assist from Hughes. Blake Coleman then beat Hank near the end of the first period for good measure. 3-0 already, and we didn't even play 20 minutes yet.
While the Rangers didn't put their best line-up forward in this game, Blackwood was making big saves on his end. As I always say, $8.5M doesn't get you what it used to.
In the second period, Vladislav Namestnikov (aka DAMESTNIKOV, at least according to @Whalepack, an editor of these blogs) made a great play and finished off Blackwood, early into the second period, to make the score 3-1. This was a great showing from Vladdy. Buchnevich forced the puck towards the net, the puck hit off Subban and Namestnikov, who played hard all game, stuck with the play and was able to put the puck into the net. A hard-working goal. Not the prettiest play, but hard work paid off and you like to see that.
Another trend throughout this game was Wayne Simmonds.
When it comes to Wayne Simmonds, just like I said when he was with the Flyers, he's a player you love to hate. He's also a player that you would want on your team. In tonight's game, he had the Rangers all rattled. He had Lindgren riled up after a fight. He also rattled Mason Geertsen. Speaking of Geertsen, he should be cut tomorrow. Ditto Joey Keane, as both had terrible games here. Then again, with Tony DeAngelo re-signed, it is blatantly obvious that Keane's shot at making this roster on Opening Night is now over.
As a Ranger fan who doesn't want the Devils to succeed, I can't lie – they looked great tonight. They could've probably had 6, 7 or 8 goals, but Adam Huska would change this game.
In game where Lundqvist and Huska were to split the game, Lundqvist conveniently left the game once Namestnikov took a penalty at the halfway mark of the second period/game. Yes, Huska was supposed to go in at this time, but anyone who knows anything will tell you this – it's bad goalie etiquette and not wise coaching to put in a new goalie into a game cold, while his team is on the penalty kill. YOU NEVER SEE THIS DONE. However, after giving up three goals and being scared, Lundqvist told the kid to jump into the game at this point, rather than facing the chance of giving up his fourth goal of the game.
Again, people will say "it's early". How early is it? The guy is turning 38 and his prime has rapidly fell off a cliff. Screen-shot this: people will still be saying it's early in January, when Hank is giving up four goals a game while Shestyorkin hangs out in Hartford. HOW DO YOU REBUILD A TEAM WITH THE OLDEST AND MOST ROTTED PILLAR?
With the Rangers down 3-1 and the Devils on a PP, Huska entered the game. He looked good for a bit and then Mike McLeod beat Huska in an embarrassing fashion. McLeod basically did an NHL video game deke power move and undressed Huska. When you saw this, all you could think was – "Huska doesn't have it." However, after this goal, Huska would keep the Devils off the board for the rest of the game.
In fact, how about these final game stats:
| | | | | | | | | | | |
| --- | --- | --- | --- | --- | --- | --- | --- | --- | --- | --- |
| SA | GA | SV | SV% | ESSV | PPSV | SHSV | SOSA | SOS | TOI | PIM |
| 16 | 1 | 15 | .938 | 12 | 0 | 3 | 0 | 0 | 29:40 | 0 |
| 24 | 3 | 21 | .875 | 18 | 2 | 1 | 0 | 0 | 30:20 | 0 |
Hmmm… in the same game, and under worse conditions, Huska had a better save percentage and GAA than the starting Lundqvist. COLOR ME SHOCKED!
Ugh, I truly hate doing all this Lundqvist material. I want him off this team. I already see the way this season is going. The Rangers must kowtow to a goalie that's overpaid because he has a history of losing here and the Rangers want to get him a Cup. MOVE ON ALREADY! EMBRACE THE FUTURE! This is the NEW YORK RANGERS, not the NEW YORK LUNDSWISS. For every fan who wants the Cup, that's not happening until the Rangers make this tough decision.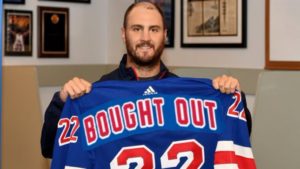 And while I'm mad, let me say this too. Ranger fans, we're down 4-1 in this game, and you're chanting about Potvin. Ridiculous.
If there was anything good to take out from this game in the final half, it was that Adam Huska settled down after the bad goal allowed to McLeod. The Rangers were on the PK multiple times and during one 5 vs 3 attack, Huska stopped three shots that should've been goals. (Hall also posted one off the iron.)
There was also another good thing in the third period. Let me bring back a segment from last season: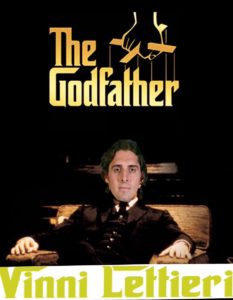 One of my favorite Rangers, just because I like his shoot-first style and the fact that he shares the same name as my nieces, in a one Vinni Lettieri, is someone I had my eye on in this game. Honestly, like everyone else on this team, he didn't look that great during the first two periods. He wasn't bad or anything, but he didn't stand out. In his situation, he needs to stand out. As it is right now, he is borderline on this team. I can see him on the fourth line out the gate or spending most of his time in Hartford.
In the third period, Lettieri blasted a puck that rung off the iron. In my head, when I saw this, I was thinking this probably goes in during a Wolfpack game. For whatever reason, Lettieri doesn't have the same puck luck at the pro level.
However, later on, during a Rangers PP, Joey Keane made a weak-ass pass. Lettieri rushed to the puck, outskated a Devil and pushed the puck forward. Because of this play, it led to a Joe Morrow PPG. Ironically enough, after his bad play prior, because Lettieri got the puck back to Keane, Keane got an assist. I'm not taking anything away from Morrow or Howden (who also got an assist on this PPG) but this goal doesn't happen without Lettieri's offensive presence. This may be a minor thing here to talk about, but it's something David Quinn will take notice of.
All in all, the Rangers lose this game 4-2. For the Devils, they sweep the Rangers in the preseason. If you're a Devils fan, you have every right to talk shit. Your back-up squad beat the Rangers top guns. Your top squad dominated a bad Rangers line-up, as they were supposed to. All of the Devils top players shined in these two games, whether it be Schneider, Hughes, Subban or Simmonds. Again and lastly, it's preseason, but the Devils did what they wanted to do.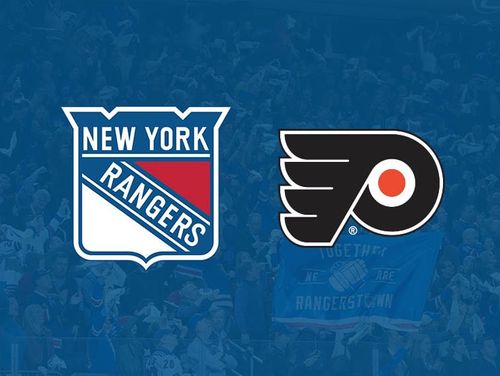 The Rangers will now get a look at the Flyers on Saturday night. As far as the line-up, I don't think we'll see another line-up like we saw tonight for the remainder of the preseason. The Rangers already cut four guys after Wednesday's game, in Jake Elmer, Vincent Loverde, Brandon Crawley and Darren Raddysh. I would expect more cuts between now and with this series with Philly.
As far as what we can gather for tonight's game with Philly, I would expect Georgiev and Shestyorkin in net. If I was DQ, I would switch it up a bit and let Shestyorkin start the game before going to Georgiev. Just a little role reversal and let's see how Shestyorkin handles a game that he starts. We also know that Panarin isn't playing, so I assume maybe a first line of Zibanejad/Kreider/Kakko.
Wins and losses don't mean much in the preseason, but you want to see some development, some chemistry and something to hang your hat on. After this game with the Devils, the only person that really boosted his stock was Huska. However, with the logjam in net, Huska doesn't have a shot in hell of making this team.
Depending on my schedule, breaking news or how fired up I am after the game, I may be back tomorrow. Subscribe to the blog for immediate updates.
Until next time, thanks for reading and…
"LET'S GO RANGERS!"
Sean McCaffrey
BULLSMC@aol.com
@NYCTHEMIC on twitter