Greetings and salutations everyone and welcome to another blog here on BlueCollarBlueShirts.com. By the time you read these words, the Rangers are less than 24 hours away from playing their first of six preseason games. After a long summer and with the football season in New York already finished, HOCKEY IS BACK!
Oh, and I should mention, if you're here for the Eli Manning stuff, just scroll to the bottom. I could've made the Eli vs Hank stuff a separate blog, but everyone knows the rules: 1 click, no ads, 10,000 words! Plus at this stage of the game, I feel that many read these blogs in intervals anyway.
As you all know by now, and as I've said 78967896789678967 times on this site this summer, HANDS DOWN, this is the best off-season in New York Rangers history. In fact, think about this – since the inception of the NHL draft & free agency, what NHL franchise landed both the crown jewel of free agency & a number 2 pick in the draft?
In case you've been living under a rock or crying your eyes out about the Jets or Giants, let's take a look at all the key moves this off-season.
Okay, okay, okay – I kid. While Vinni Lettieri did re-sign with NYR and while he's number 95 in your program and number 1 in your heart, the Rangers did make bigger splashes this summer.
Obviously, the talk of the town is the draft selection of Kaapo Kakko and the free agent signing of Artemi Panarin. These two moves alone ended this rebuild. (Of course, I don't know if this was a true rebuild anyway, because how do you rebuild a house when you keep your oldest and most rotted pillar around?)
When it came to the NHL draft this year, the two best players were Jack Hughes and Kaapo Kakko. From the experts, the word on the street is that Hughes has the potential to develop into a superstar, but Kakko is already playing at a star level. In the limited Kakko preview that we saw at the Traverse City Tournament, there are plenty of reasons to be excited about the second overall pick of the 2019 NHL draft.
While this year's off-season didn't produce a deep class of free agents, one name stood above all and that was Panarin. After cucking the Islanders for a day or two, Panarin did what every free agent does when being asked to choose between the Rangers & the Islanders – Panarin signed with NYR.
Side note: I've talked about this topic in-depth already on these blogs, but I'll repeat it here in case you took off this summer. I originally wrote the following back in May of 2019:
Listen, this is not breaking news – I've never played in the NHL. That said, I've talked to ex-NHLers and have listened to enough interviews and podcasts to know that the Rangers treat their players like elite citizens. The Islanders, due to money issues, treat their players not as valuable assets, but as "regular Joe's."

And let me be clear here -there's nothing wrong with being a "regular Joe." I consider myself one. However, when you're dealing with high-priced millionaires, you have to give them different treatment than the regular Joe paying to see them.

By signing with the Rangers over the Islanders, Panarin will sleep in the best hotels, eat the best food, have access to the best trainers and doctors, have the best real estate agent and have the red-carpet rolled out for him. By signing with the Islanders, Panarin will be cramped up in a school bus during road-trips, sleep at hooker hotels, have a 50 year old broken-down Korean woman give him a massage (don't tell Robert Kraft) and will go to bed not knowing where his next home game will be.
Away from Panarin and Kakko, the Rangers made a huge organizational change, when Senile Sather finally stepped down. John Davidson, who couldn't run away from Columbus fast enough, so much so, that in his contract with Columbus, he had a clause where he could leave Columbus if a job ever opened up with the Rangers, now sits behind a desk that Sather once used to fall asleep at.
I talked about John Davidson in-depth already, so check out this blog for more:
In fact, since I'm throwing in my first plug of the blog here, let me get all of my plugs out of the way here. Here are my most recent blogs, in case you missed them:
The Rangers haven't played one game since John Davidson came aboard as Team President. That being said, you can see the culture and the way things are done being changed already. Rather than looking at a codger with a cigar, the Rangers have a smiling and familiar face in the captain's chair. Senile Sather wasn't one for the media and avoided press conferences like the plague. JD seems to encourage them. In fact, JD seems more forthcoming with information than Senile Sather ever was.
The only knock you'll see about JD is that he never won a Cup during his two previous stints as an executive. To those naysayers I say this – how many Cups did Sather win here in 19 years?
Of course, JD takes this Rangers job at a great time in Rangers history. It's not like JD is walking into a situation that Ottawa currently has right now. With Columbus losing three excellent players in FA this off-season, another season in Columbus would've been like going back to the drawing board for JD. Here in NY, JD is in an advantageous position and in a position where he should thrive in.
If adding the best player in free agency, landing perhaps the best player in the draft and getting a new team president wasn't enough for you, the Rangers did more than enough to quench your thirst for change in the right direction this off-season. Prior to all the moves that would eventually follow; Jacob Trouba was the first domino to fall when the Rangers traded Neal Pionk to Winnipeg for the two-way defenseman. In Trouba, the Rangers picked up a guy who can hit, defend and be a wild man on the power-play. To make a bad comparison here, Trouba is Shattenkirk in Hulk mode.
Not only did the Rangers land one of the best defensemen in the league, the Rangers wanted to keep their fountain of youth flourishing. They did exactly that when they traded for defenseman Adam Fox. Fox, who was property of Carolina, made it clear that he wanted to play for his hometown club. Gorton made it happen and didn't have to sacrifice much in the process.
I will say, it's going to be a roller-coaster of a season for the parents of Fox, who like many Ranger fans, were once season ticket holders but priced out by the corrupt and greedy Madison $quare Garden. While they can probably get free tickets now, it's got to be a little tough to root for your favorite team if your son makes a gaffe that leads to a goal the other way. It's not like they can groan if that happens! That being said, I'm sure they have no issues with their son joining their beloved New York Rangers.
And lastly, when it comes to new faces wearing the iconic diagonal letters across their chest, the Rangers locked up both Vitali Kravtsov and CZAR IGOR SHESTYORKIN this off-season. If the Traverse City Tournament is any sort of preview, Kravtsov has Donald Trump "YUUUUUUUUGE" potential. Kravtov was a stud during the entire tournament and has hockey fans saying "Wahlstrom who?" As mentioned on prior blogs, I think Kravtsov has the least pressure of all the new Ranger talent and because of that, I think he will have an easier transition here.
CZAR IGOR, the fourth round draft pick of the Rangers in the 2014 draft, is the goalie I have been talking about for the last three years. Shit, I even bought his KHL jersey! I still can't come around to typing his name as "Shesterkin" which I guess is the official English translation, so for the sake of these blogs, I'm still going with Shestyorkin. Be true to yourself CZAR IGOR!
I'll talk more about Igor when we get into the preview below, but with CZAR IGOR, the Rangers are thought to have found their goalie of the future. However, the younger and more experienced Alexandar Georgiev may have a thing or two to say about that.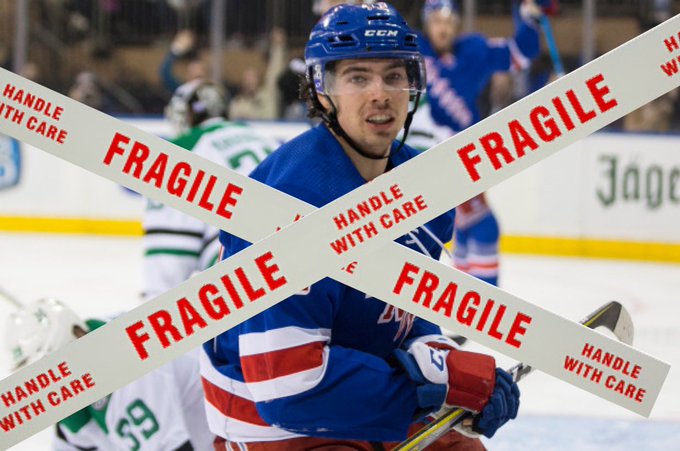 Before diving into the season preview, I wanted to talk a little about the Rangers training camp.
I thought Leslie Treff (@HFNYRangers), Colin Stephenson (@ColinASteph) and Vince Z. Mercogliano (@VZMercogliano) provided the best coverage of Rangers training camp this year. Again, as I've said when doing this blog, it doesn't matter what anyone else is doing. It's not a competition. You can read everything and probably should read/listen to everything, to get a wide array of opinion. However, in this case, I thought Mercogliano just "Pulp Fiction'd" the hell out of the coverage, leaving Larry Brooks in a ball gag.
Again, not a competition, blah blah blah, but I thought the above trio did a much better job than the two biggest Ranger news outlets, in the NY Post and the Athletic. Just my opinion.
Obviously, I opine and whine on these blogs. I'm not a reporter, so I wasn't at any of these training camps/practices.  I just followed the Ranger media members, asked questions and read what they put out there. Don't take this as a knock at the reporters or anything like that, but now, at this point in time, I'm over it all. I don't care if Jacob Trouba has a fiancée. I don't care if Artemi Panarin likes NY. I don't care if Kaapo Kakko found new acne medication. I don't care if Libor Hajek has protein farts. I don't care if Marc Staal whacks off to hentai porn. All I care about is this – DROPPING THE EFFING PUCK!
In fact, do you know what has me more excited than Jessie Spano overdosing on caffeine pills? It's this: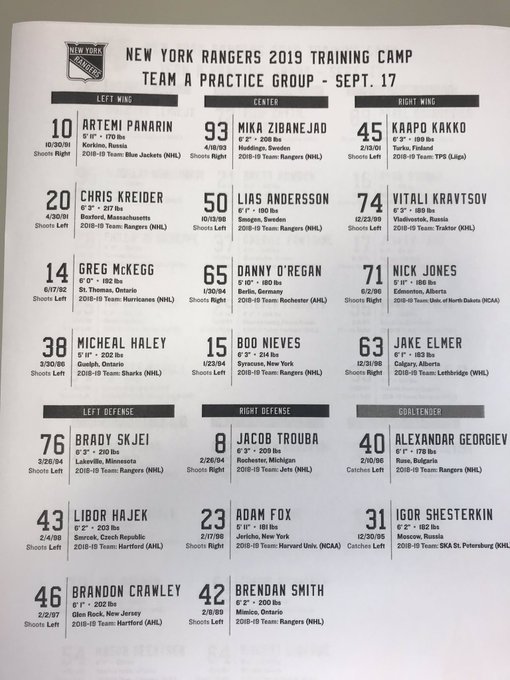 Let me say this. Many of you, whether you agree with me or not, know me as the guy that wants Henrik Lundqvist the fuck out of here. You don't know me as a happy Rangers fan, unless I'm talking history. In other words, save this blog, as I am freaking pumped about this line-up. You have arguably the best line since the GAG line of the late 1960's/early 1970's. Then, look at the goaltenders. You have the potential to have the best goaltending duo since the days of Beezer & Richter. And to get your beak wet even more, look at the defense. Outside of the third pair, the top 4 getting ice time is better than getting a "sext" message!
And while I'm not sold on Lias Jessiman, I am excited to see that second line of Andersson/Kravtsov/Kreider. Isn't it amazing Suzyn how their line could be called the KAK line and the Rangers have a player named Kakko? "LOWES, LET'S BUILD SOMETHING TOGETHAAAAAAAAAA."
Seriously, you can feel the excitement in the air and even from the Rangers alum. Even Ron Duguay chirped in:
— Ron Duguay (@RonDuguay10) September 17, 2019
And I've said this before on the blog – if the Rangers really want to go with the rebuild theme, they should look at the staff at the MSG Network Studios. It's time to say toodles to Micheletti, see if Sam will retire and put Kenny Albert & Dave Maloney on the TV call. It's also time to bring back Ron Duguay, as Steve Valiquette was floundering around all season and continued to poison a new generation of Ranger fans with all his bullshit stats that mean nothing. I understand what ANALytic stats are, but these stats don't predict anything and never factor in the human element.
And let me be clear – I like Valiquette. I don't agree with all of his stuff and that's okay. That's why you need Ron Duguay there. You need two SEPARATE voices and opinions. It's better TV. You can't just have Vally there. Anson Carter with Vally is even worse, because Carter was vanilla all season and just agreed with everything Vally said. You need two people that don't come from the same mindset, and I'm using Vally & Duguay here, to push each other on TV. That makes better viewing. Vally talking about how the moon on the fifth day of its cycle as the reason Hank gave up five goals in a game; well, it is just too much.
Moving along.
The news reporters covering Ranger training camp had some information to pass along, but not anything "game-changing". If you want every ounce of info, go check out the twitter accounts I plugged above.
To me, the most important stuff out of training camp was the following:
— The never-ending saga of Pavel Buchnevich. I don't think Buchnevich is a bad hockey player or anything, but for some reason David Quinn and the organization handles him like he's McDavid and with kid gloves. It's like Buchnevich has a mental health issue and the Rangers tip-toe and go out of their way to speak positive about him during every waking moment.
The biggest news out of camp was that DQ announced that Buchnevich/Zibanejad/Panarin would be his top line. He did leave it open that this could change, but at the present time, that is his feeling for opening night. Again, nothing against Buchnevich, but who are we kidding here? This should be Kakko's spot. Interestingly enough, come the preseason game on Wednesday, it's Kakko flanking the wing on the first line and not Buchnevich, which leads us to wonder – if Kakko has a great preseason, will he bump Buchnevich come Opening Night?
Listen, I'm realistic. I'm not expecting Kakko to be Wayne Gretzky here. That said, I do expect Kakko to be a lot better in March and April than he will be in October and November. As AV was once famous for saying between smacks of gum-chewing, "it's a PRO-CESS."
I'm all for a Kirk Cameron "GROWING PAINS" with Kakko. Despite the enormous amount of Ranger fans that live in the Lundswiss bubble, I do think that the majority of Ranger fans are smart when it comes to Kakko. They know he's not a Hall of Famer in Game 1. It's going to take some time and some downs before becoming a consistent threat in the NHL. He's not McDavid. He's not Crosby. He's not Ovechkin. However, he has the potential to become a routine scorer like those three, but it just isn't going to happen overnight. Ranger fans know this and I believe they will accept his maturation if DQ rolls with him on the first line on Opening Night.
— Filip Chytil taking a beating. From all reports, Filip Chytil was bounced around like a ping-pong ball off the racket of Forest Gump during this training camp. It was reported that Trouba, Skjei and others just kept flattening Chytil like a pancake. That said, reporter Leslie Treff provided the best insight on all of this when she reported that Chytil was breaking in a new pair of skates. That said, for a pro athlete, does a new pair of skates mean that you fall like a ton of bricks at the hint of any type of physical contact? I don't know about that one.
Joe Micheletti, who is absolutely obsessed with player ages and weights, should provide some commentary on Chytil's weight on the upcoming broadcasts of these preseason games. I would be interested to know if Chytil lost any weight. Listen, I'm not a beacon of fitness myself, as my fat beer belly ass is on the other side of the scale here, but for a pro athlete entering his third year with the Rangers, I would rather hear that Chytil bulked up a bit rather than leaning himself out.
To bring some positive light to Chytil, from all reports, he was wonderful when it came to puck handling. However, he just can't fall down when anyone farts or coughs on him!
And lastly, before diving into the player-by-player 2019-2020 Rangers preview, if you don't consider Chris Kreider (whose situation I've recapped in full already on this site) the Rangers still have one loose end. No, the loose end isn't Joe Micheletti. I'm talking about Tony DeAngelo here.
As far as Tony DeMAGAngelo goes, I have no new news to report. He's still holding out and he wasn't at Rangers training camp. This is great news for guys like Joey Keane, Joe Morrow and even Brendan Smith. However, I don't think this is great news for the Rangers.
Tony DeMAGAngelo is just the latest victim of the NHL salary cap, which is something I'll talk more about at the end of this manifesto. The Rangers won't budge off of the $925,000 for one year deal. In a non-salary cap league, the Rangers would give TDA $2M-$3M and call it a day. However, and if you're a regular reader of these blogs, you know that the salary cap is here & it's a wicked evil.
It's tough to say who has the upper-hand here. The Rangers obviously have players who could replace DeAngelo in Keane, Morrow or even Smith, but are they better than DeAngelo? I don't think so.
In the case of the Rangers, DeAngelo is on his third team in as many years and has that Anthony Duclair "attitude" label affixed to him, as if he's damaged goods. (He's not.)
What surprises me, is that divisional rivals such as the Islanders, Flyers and Devils, haven't gone out of their way to offer-sheet DeAngelo.
Put it this way – we all know that TDA is a huge fan of the Philadelphia sports scene. The Flyers are his hometown team. If the Flyers, who could use a player of TDA's skill-set, were to offer TDA $1.5M, you have to think that it would be probable that TDA would sign that offer-sheet. This would force the Rangers to either sign TDA & have some cap issues or it gives the Flyers a huge asset.
Quite frankly, it's amazing that the Islanders haven't done this, as they have done ABSOLUTELY NOTHING this off-season, except to sign a way-out-of-his-prime Derick Brassard. You would think TDA would be an upgrade there, but who knows what the Isles are thinking?
For the Devils, who have been in an nuclear arms race with the Rangers all off-season, this would be a major FU to NYR. As someone who loves a good storyline and feud, I'm shocked that the Devils haven't expressed interest.
It truly is a shame that the Rangers and DeAngelo haven't come to terms. It's tough to fault either party in these contract talks and it's nice to see that it hasn't gotten nasty in the media, but didn't the Rangers buy out Kevin Shattenkirk knowing that they had Tony DeAngelo?
I said it then, and I'll say it again here – it made more sense to buy out Henrik Lundqvist than Kevin Shattenkirk, especially with the Rangers and TDA at a crossroads.
And now, without further ado, let's look at the Rangers for this 2019-2020 season. I will only be looking at players that I think will be on the Rangers club or have a chance of playing on Opening Night and not the players that will be or have already been cut. (Sorry Adam Huska.)
FORWARDS:
LIAS ANDERSSON: Lias Andersson, while not truly "controversial", is still teetering as a bust or breakout type of player. As it stands right now, to me, he's a bust, especially when you consider what the Rangers gave up for him in that draft day deal of 2017. If anything should help Andersson this season, he won't have to feel the pressure that he has felt in his first two years, as eyes will be diverted elsewhere. Going into the season, I see him slotting as a third or fourth line center. Maybe he sneaks in as a number 2, but I feel safer with Ryan Strome at the present moment. Best case scenario, he outplays Strome and earns that number 2C position. I hope for the best with Andersson, but quite frankly, I expect the worst. Bottom line is this: he hasn't delivered, nor instilled hope in Ranger fans – yet.
---
PAVEL BUCHNEVICH: I don't hate Buchnevich. I just can't stand these mom-jean wearing fanboys who do "symposiums" in a phone booth & talk about #89 as if he's the second coming of Sergei Federov. As talked about above, Buchnevich is a good hockey player, but he's not the Russian Rocket some make him out to be. Whatever the case, I just don't see Buchnevich being worthy of the first line or putting up first line production. Maybe I'm fan-boying too much myself here, but to me, Kakko has to be on the first line. I think Buchnevich has the potential to be great on the second line. This is somewhat a make-or-break season for Buchnevich too, in terms of contract. We already saw the Rangers give up on Jimmy Vesey and it will be up to the intoxicating commie to show that he's worth the money moving forward.
---
FILIP CHYTIL: Like his draft buddy Lias Andersson, Chytil enters his third year with the franchise. I talked about Chytil a bit already above. As far as where he slates onto this roster, like Andersson, I see him fighting for the second and third line center job during the season. He probably opens up the season as the 3C, as from what we've seen last year, he is a better hockey player than Andersson. Can Andersson change that? Time will tell, but for the time being, Chytil has a tremendous upside and somehow, "HE'S ONLY 19 SAM", is now older than several of his teammates!
---
JESPER FAST: I think sometimes, Ranger fans take Fast for granted. He doesn't post flashy stats or anything like that, but he's a quality hockey player and really isn't prone to defensive mistakes. It's tough to see where he lines up in 2019-2020. He can be productive on a second line, but could also be a leader & major contributor to a young fourth line. He's in a contract year and it's a tough spot. How much is Fast's value worth in today's NHL? I really can't see giving Fast a $5M-$6M deal, unless the salary cap jumps significantly. Fast is now an elder statesman on this team and will probably wear the "A" for most of the season.
---
BRETT HOWDEN: When it comes to the centers on NYR, you have Zibanejad, Strome, Andersson, Chytil, Namestnikov, Nieves and Kakko, who are all capable of playing center. You also have Brett Howden, who is most likely the fourth center of this team, with Kakko, Chytil and Andersson all being able to play the wing. Center-depth wise, Zibanejad is the no-brainer 1C. From there, it's anyone's guess. I see Strome starting off the season as 2C, Chytil as 3C and perhaps Howden/Andersson splitting time, unless Chytil is put on a wing. Howden needs to make a name for himself in 2019-2020 or could slip between the cracks.
---
KAAPO KAKKO: PRESIDENT KAKKO, as @TimRangers has coined him, is obviously the future of the franchise. The Rangers should be all-in with him and it should be fun to watch him develop. I find it hilarious that his jersey number is still a hot topic of debate. Even the reporters can't find out if he will be wearing 45 this season. Will he take 24, which Nieves vacated, or will Andersson grab it? The fact that this is such a pressing issue continues to crack me up. As far as playing hockey this season, put Kakko on the first line and let the good times roll.
---
VITALI KRAVTSOV: Full disclaimer, all of these player profile pictures are being taken from the Rangers website. They don't have a picture of Kravtsov yet. As talked about previously on this site, I think of all the new Ranger faces, Kravtsov enters this season with the least amount of pressure. Focus will be elsewhere. I think Kravtsov has the chance to be the "under-dog" or "diamond in the rough" type of player for the Rangers this season. Yes, he comes in with hype, but the back pages (there will be back pages this season with the NFL season already over in NY & the Knicks being a joke) will be plastered with Panarin and Kakko. After seeing his TCT work, I can't wait to see what Kravtsov can do at the NHL level. That being said, like Kakko, it's going to be a process. Ranger fans are smart and will be willing to live with it.
---
CHRIS KREIDER: The main story concerning Chris Kreider is the "Will they or won't they?" story, which the Rangers created themselves. This will be just like McDonagh, Zucc and Hayes, until the Rangers either re-sign or trade Kreider. Kreider has told news reporters that he's not even thinking about his future and just thinking about this season. Mentally and productivity-wise, that worked for Kevin Hayes, but it didn't work out as well for Mats Zuccarello. If Kreider has a great season, he'll get paid big bucks, just like Mac, Zucc & Hayes were. If he doesn't, the Rangers may say goodbye to Kreider come the trade deadline. To me, I don't know what the right answer is here. Kreider remains a riddle wrapped in an enigma, as you never know what CK20 you're going to get on any given night.
---
BRENDAN LEMIEUX: A 23rd hour re-signing, Lemieux was part of every Rangers camp and skate. I'm hyped to see Lemieux play with the Rangers this year, especially with a full camp under his belt. From all reports, Lemieux had a tremendous off-season, where he worked on his stamina, as he wants to play more minutes. That's a great attitude. As far as where he slots, DQ did give Lemieux some second line work last season. I don't know if Lemieux can bump into the first or second line this season, but his style of game is needed for a team that has many Europeans & Russians. You need that American/Canadian muscle and grit, which Lemieux provides. Plus, Lemieux can score too. I think he's your fourth line winger, come 10/3/19.
---
VINNI LETTIERI: Like several others on this roster, this is a make-or-break year for one of my personal favorites. Lettieri hasn't been able to shed the 4A label. While he made the team out of camp last year, I'm not so sure if he does this year. However, the Rangers must feel confident about him, as they did re-sign him. Even me, as one of his biggest fans, thought he was going to be a goner during this off-season for sure. I do see Lettieri playing hockey in Madison Square Garden this season, I just don't know when. It's not worth keeping him up to press box him, as he provides huge value to Hartford. However, at his stage of his career, Lettieri needs to get out of Hartford and start producing in the NHL. If Lettieri can't maximize his NHL minutes, he may forever be relegated to the AHL. Not a terrible life, but that's not the life any pro hockey player wants.
---
VLADISLAV NAMESTNIKOV: To be honest, I'm surprised Namestnikov is still with the team. He's not a $4.5M per season player and I'm surprised the Rangers didn't try to package him elsewhere. While Namestnikov, or as my buddy Whalepack calls him "DAMESTNIKOV", isn't bad or anything, I just don't see where he fits into this team moving ahead. He's another player in a contract year, so it should be his goal to come out hot out the gate. I think it's easy to forget that he's even on this team, with all the stories about everyone else. As it stands now, while he can play the middle, I see him bouncing around the third and fourth lines.
---
BOO NIEVES: To be honest, like Lettieri, I'm surprised Nieves was re-signed for 2019-2020. I don't know where he fits in. He's a center with not much experience. He's not bumping Zibanejad or Strome off this team. He's not going to be focused on, like how the Rangers take care of Andersson and Chytil. I don't even see him beating out Brett Howden. I think Nieves starts out in Hartford and will only play for NYR when someone gets injured. The only reason I list him here now, is because of all the talk about him giving up his number 24 and taking the number 15 that the once great Tanner Glass used to wear.
---
ARTEMI PANARIN: What can be said that hasn't been said already? The Rangers are putting their hopes and dreams into the Breadman's basket, as Panarin signed a Godzilla-sized contract this off-season. While he is prolific scorer, it will be up to Panarin to set up his teammates around him, which he's flourished at doing during his career. With a guy like Kakko, who has a shoot first mentality, Panarin is the perfect teammate. I would also expect Zibanejad to even put together a better career year than he had last year. To me, Panarin/Zibanejad/Kakko could become the best line in Rangers history since the days of the Goal-A-Game line, which featured Gilbert/Ratelle/Hadfield.
---
RYAN STROME: I will never understand why some Ranger fans hate Ryan Strome. Then again, the fans who hate him are the disgusting leeches that waste their time going through player tweets. OH NO, STROME LIKES TRUMP! WHAT A BAD GUY. Get lost. To me, Strome is the 2C entering 2019-2020,w after having a resurgence after leaving Edmonton at the beginning of the 2018-2019 season. Strome is another trade that Jeff Gorton has won. Strome, who is now a veteran of the NHL, will be looked upon to provide leadership. There are much younger and perhaps better centers coming up throughout the ranks, and hopefully that pressure forces Strome to reach new heights.
---
MIKA ZIBANEJAD: I'll save more captain talk when I get to Marc Staal, but for all intents and purposes, it's time to put the C on Zibanejad. While not here for long, he is now one of the more tenured Rangers on the club. Before this off-season, Zibanejad (along with Skjei) were the only Rangers to have contracts that went past 2021. The Rangers believe in Zibanejad and he's given them every reason to. Some people may question if Zibanejad can be a leader or if the C would weigh him down? To that I say, let's find out.
---
DEFENSEMEN:
ADAM FOX: While a rookie, I think Fox makes the Rangers out of camp and will slot as a second pair defenseman. To me, while you can argue Kravtsov, it was Adam Fox who was the best Rangers player at the TCT. Sure, the TCT isn't the NHL, but we saw what Fox can do. Like others on this roster, we have to keep our expectations realistic and we have to keep another Hobey Baker type of player in Jimmy Vesey in mind. That out of the way, I think Fox can be a major contributor to this team in the years to come.
---
LIBOR HAJEK: There's been a lot of press out on Hajek in recent days, and it's thought that he will make the team, starting out on the third pair. We saw glimpses of what he could do in his limited run last season, which was ended short due to injury. Again and I know it sounds repetitive, however, this is the youngest Rangers roster in some time. That said, Hajek is another project on this roster that should produce results as time goes along.
---
JOEY KEANE: Originally, I wouldn't even mention him for the Rangers roster in 2019-2020, but with the TDA situation, Keane, because he is right-handed, has a shot at making the team as either the third right-handed defenseman or as a healthy scratch/7D. However, I don't know if you want Keane hanging out in the press box for long stretches of time, as he needs to play. I can see Keane being bounced a bit between Hartford and NY this season. If TDA and NYR do come to terms, I think Keane will be a member of the Wolfpack.
---
RYAN LINDGREN: Lindgren is a question mark to me. He was okay in the limited run he had here last year. That said, where does he fit in? As a southpaw, he's not bumping Staal or Skjei. He will be fighting for time with Hajek and Smith. Cap-wise, it makes sense to send Smith to Hartford, but as we saw last year, Quinn has a soft spot for Smith. I think Lindgren will eventually get some time to showcase his stuff on Broadway, but just not on Opening Night.
---
TARMO REUNANAN- Admittedly, I haven't seen much of Tarmo so I don't feel qualified to talk about him. I saw his TCT stuff, but it was tough to get a good feel of him because of the production value of those broadcasts and because I was tracking other names on the ice. All I can say is that I see some scribes saying that he has a shot to make the roster, but like Lindgren, who is he bumping? Obviously, there's a spot up for grabs with TDA, but I see Quinn giving it to Smith when push comes to shove.
---
YEGOR RYKOV- This is a player the Rangers hope becomes a force to be reckoned with. As of now, he's most famously known as being the return player in the first ever Rangers/Devils trade, when the Rangers sent Grabner to the Devils two seasons ago. I haven't seen any of his international work and he was injured in the TCT. Again, he's another player affected by TDA. Can Rykov sneak onto the roster on Opening Night? Maybe. Plus, we've seen Quinn go 11F/7D before. I just don't think you'll see that on opening night. To me, your Top 6 are Trouba/Skjei, Staal/Fox and Hajek/Smith. (Not necessarily the pairings, but a combination of those six.)
---
BRADY SKJEI: While I wouldn't say Skjei had a bad year last season, he no way played up to the lofty contract that Jeff Gorton gave him. Sadly for Skjei, he's also lost his two running mates & roommates, in Vesey & Hayes. Who will he bond with this year? And yes, I think stuff like that matters, as every Cup winning team has chemistry. The Rangers have a lot of years and time invested in Skjei and Skjei needs to show us why he got that deal this season. Like others on this roster, he's now in a weird role where he is still young, but he has a ton of younger teammates in the locker room with him.
---
BRENDAN SMITH: Like Shattenkirk, the Rangers want to move on from Smith, but you can't buy-out everyone and there are no teams in the Brendan Smith market. While Smith worked hard last season, it's tough to have sympathy for a guy who got a huge contract and then came into the following season out-of-shape. It's even worse that he was starting fist fights with his own teammates in Hartford. Even Redden didn't do that. For some reason, during last season, DQ wanted Smith as a winger, rather than promoting young talent in that role. I don't think you'll seem much of that this year, as the Rangers have a lot of young & promising wing depth. Quinn liked Smith last year, but for the Rangers, especially cap-wise, he's better off in Hartford. I still think Smith makes the opening night roster though before being eventually phased out or moved.
---
MARC STAAL: I saw his name bounced around in concern to the next captain of the Rangers. Really, NYR needs a Captain. Not one Stanley Cup winning team in the modern era has won a Cup without a captain. Staal would've been great for the job, but if it was going to happen, it should've happened after the McDonagh trade. To make him a captain for two seasons, while I guess that would be ok, it just makes better sense to test out Zibanejad with the C. Don't listen to the Marc Staal haters out there – Staal has been the best and most consistent defensive defensemen ever since McDonagh was traded.
---
JACOB TROUBA: While saying Ranger fans kind of "forgot" Trouba is not quite exactly correct, however, Trouba was the first major piece of this off-season. After Trouba, the hits just kept on coming and coming and here we are. I don't think this is rocket science here – Trouba will be on the top pair on Opening Night. If anything should scare you, it's the fact that if you're looking for one black mark on Gorton's GM career, it's the long term contracts he's given his defensemen.
---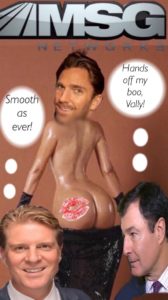 GOALIES:
ALEXANDAR GEORGIEV: Let's be honest. If this was a true rebuild, Georgiev would be the starter on opening night. I have done countless blogs on Georgiev vs Lundqvist, so just check the archives as I won't bore you with repeat material. Georgiev is in a tough spot. He's better than Lundqvist in 2019. He's $8M cheaper too. Not only did he have better stats than Hank last season, he produced against better teams too, as Hank routinely got blown out by the lowly Ottawa Senators of the world. What puts Georgiev in such a bad spot is that not only is he better than the legend the Rangers are afraid to cut the cord on, he also has to worry about CZAR IGOR. Everyone forgets that Georgiev is actually younger than Igor and has NHL experience. What I fear and what I think will happen, is that Georgiev becomes another victim of Lundswiss and the Rangers trade Georgiev at the deadline. It would be a bone-headed move, but the Rangers are hellbent with losing with Lundswiss than trying to win without him. Unfortunately, because of an old cow that won't leave and someone who's already anointed as the heir to the throne, Georgiev will have to have a Vezina-esque season to change minds in the Ranger organization. I think he's the back-up on Opening Night.
---
HENRIK LUNDQVIST: You know what I think already. If you don't, you must not know me. I'll have more on Hank below, when I do my Eli vs Hank bit. That being said, he's the starter on opening night, which does nothing for this Rangers rebuild. Be prepared for the same old articles that you see every year, "HANK KNOWS HE HAS TO HAVE A BOUNCE BACK SEASON AND IS READY TO GO!"  It's just a shame that he doesn't realize that really, it's ready for him to go from this franchise. Until someone in this franchise has the balls to tell Hank it's the press box or waive the NMC, this team won't win the Cup.
---
IGOR SHESTYORKIN: In order for CZAR IGOR to make the team on opening night, he will need either Georgiev or Lundqvist to get injured or for Georgiev to get blown out in every preseason game while Shestyorkin posts shutouts. I think Shestyorkin will eventually get some starts this season, but it won't be until 2020, barring injury. We know the Rangers are up Hank's ass, so he will be pampered. Knowing that, my opinion is like most Ranger pundits – Igor gets work in Hartford, as he gets acclimated to the American game & NHL rinks. The Rangers know what they have with Shestyorkin, so I expect them to handle Shestyorkin's progression correctly.
---
HEAD COACH DAVID QUINN
As we get to the end of this preview here, I think David Quinn is the right man for this job. I truly like his style and how he holds everyone accountable. Of course, DQ is handcuffed with Lundqvist in this department, but you're already hearing DQ say that Hank's starts will be cut this season. That begs the question, who gives a goalie top money to make him a part-time employee? That's bad business, but this team treats Lundqvist as if he shits gold bricks.
Last season, while he tried to win, it just wasn't going to happen. While unfortunately, that hurts his W/L record, last season wasn't about that. In this season, I think the Rangers have the potential to make the playoffs. In my NHL preview blog, which is linked above, I have the Rangers finishing as the third team in the division. At the very worst, they should at least be competing for a wild card spot all season.
I don't envy Quinn this season. He has an influx of young and promising talent and kind of has to play Daddy Daycare this season, as he tries to figure out all the right moves and combinations. He will also have to integrate players from Hartford and make some tough decisions on playing time.
As Ranger fans, we don't know what Quinn is truly capable of with a contending team. I don't fancy the Rangers as Cup contenders, especially with Lundqvist as the starting goalie. For all the talk about who starts and how many starts the goalies will get, come the playoffs, you know it's Lundqvist in net and you know how that ends, with a "WE HAVE TO BE BETTER NEXT YEAR."
In Year 2 in the book of Quinn, I expect the Rangers to be a much better team. If they aren't, Quinn should be fired. Okay, he won't be fired and I'm exaggerating here, but you know what I mean. The talent is so much better this year and the Rangers should have one of the top lines in the entire NHL. No offense to Zuccarello or Kreider, but Zibanejad never had that true 1-2 punch playing along side of him. With Panarin, he now does. If Kakko hits his stride sooner than later, the Rangers can have a three-headed dragon torching rinks around the league.
All in all, I see the Rangers making the playoffs, whether it's from the third seed or the wild card. I can even see them stealing a round too. However, they aren't Cup bound yet. And for all the smack I talk about Lundqvist and how this team will never win a Cup with him, well I hope I'm wrong. I hope the Rangers have a Cinderella run and win the whole damn thing. Let's Go Rangers!
---
I don't want to go too long on the NHLPA vs NHL owners' debate here, but I want to add a few thoughts about it.
In case you didn't hear, after the NHL owners decided not to re-open/re-negotiate the current CBA with the NHLPA, the NHLPA followed suit. Instead of having to deal with CBA talks in 2020, the CBA will run its full term and will expire in June of 2022.
I've talked about the NHLPA before. To me, they are the weakest union in all of sports. While hockey doesn't do the business the other three major sports do in America, the players are paid paltry salaries compared to their peers. There is also more cap circumventing in the NHL than the other three sports. As I talked about several blogs ago, just look at Ottawa, who while at the salary cap floor, are paying something like $15M+ less in REAL money.
The sole winner in all of this is Gary Bettman, who can wipe his brow and not have to worry about having the fourth lockout under his tenure as NHL Commissioner.
When I look at all four major professional sports, no sport destroys teams and fan loyalty like the salary cap does in hockey. The cap needs to be much higher, especially when Bettman brags about the league doing record profits. Where are those profits going? Certainly not to the players. I've said this before, the start of my Lundqvist gripes were about his contract and how not one Top 5 paid goalie in the salary cap era has ever won a Cup. In turn, the Rangers had to give up on player-after-player, because of the cap.
The biggest victim of the salary cap were the Chicago Blackhawks who had to give up on many elite talents. If you look at their 2010 team, their team would be a $130M cap hit today. That's over $50M more than the current salary cap ceiling today.
I understand the NHL wants to promote parity, but as they say, life isn't fair. What's more important, drawing a few extra bucks in shit markets like Florida and Arizona, or getting millions upon millions of more revenue by allowing the Rangers, the Leafs, the Habs and other big market teams to spend? Furthermore, and again, as mentioned previously, the NHLPA needs to work in a clause where high state/province taxed teams are allowed to spend extra to off-set the taxes. Why do you think Tampa has been so great as of late? They can spend less money and the players actually make more, because of the no state income tax.
With the current CBA not being negotiated, this allows Seattle to enter the league peacefully and without a labor dispute. At least that's the case for the first season, as the next CBA will be negotiated and will be debated between now and the end of Seattle's first season.
In what should make eyes widen, the current CBA will expire when all the current TV contracts end too. Live sports/live content is king in this new DVR proof/cord-cutting world. The NHL stands to make a ton of cash off of this, which in turn, means the salary cap should go up and players should get paid.
As fans, it's tough to get real excited about a war among billionaires fighting with millionaires playing a kids game, but that being said, no sport is affected by a tight salary cap like the NHL. The NHLPA needs to get the cap ceiling raised exponentially. I would argue that they need a "Larry Bird" rule, where teams can hold on to homegrown players without cap penalties. While the front of the jersey is always more important than the back, loyalty is important too, and that's a two-way street. The NHLPA also needs to fight for salary cap floors needing to be met with REAL dollars and not with insurance buyouts and other circumventing player cost-cutting moves.
All in all, there is peace in the league, but I do think the players are getting the short end of the stick here. As fans, it doesn't help us to root for the players here, because the extra money given to players means extra dollars added to the price of ducats, which are already gassed up enough. It's tight wire to walk.
---
And now, our last topic for this blog.
As talked about when I first started this blog nearly six years ago, I'm a Ranger, Giant and Yankee fan. Aside from the Rangers, I've been lucky with the Giants and Yankees, as I've seen both win multiple championships.
To me, there have been plenty of class acts from all three organizations. The Yankees had Mariano Rivera. The Rangers had Adam Graves. The Giants had/have Eli Manning.
In light of the news that the Giants will be benching Eli Manning starting this Sunday, it's interesting to look at the career parallels of Lundqvist and Manning, as both started around the same time and both are 18 months apart, age-wise. Furthermore, the pair play the most difficult and most important position in sports. While the QB position, IMO, is the toughest job in sports, the goaltender job is a close number 2.
You all know my opinions on Henrik Lundqvist already. That said, I never felt that Eli Manning needed to retire or move on until the decision was made today. However, I blame the Giants for this Manning news and not Manning himself. Of course, being the winner of two championships makes all the difference in the world when you compare Hank and Eli.
During the last two seasons, the Rangers and the Giants had similar stories. Both were rebuilding. Both needed help from the draft. Both kept their oldest and most expensive player around.
For all the similarities among the Rangers & Lundqvist and Eli and the Giants, there are a ton of differences too. I think the biggest difference is that during Eli's prime, the Giants gave him one of the best offensive lines around. In Lundqvist's prime, he did not have the best team around him. It wouldn't be until Lundqvist peaked, that he got the best crew around him during his career. Conversely, the Giants wasted at least five seasons of Eli's peak, by giving him the worst offensive lines in the NFL. However, Eli had already won his hardware. Who knows if he could've won more? (And Eli may have won another Super Bowl if that idiot Plaxico Burress didn't shoot himself.)
Eli and Lundqvist had different entries into their respective leagues. Eli was the first overall pick of the 2004 NFL draft, a draft surrounded by controversy, as Eli made it clear that he wasn't going to play for San Diego. He would later be traded to the Giants, in a proposed trade made with the Chargers before the draft. For Lundqvist, he was an afterthought, as he was drafted in the seventh round of the 2000 NHL draft.
Eli entered the NFL as the most heralded player of his draft. He was a superstar, or thought to be one, from day one. Lundqvist "Wally Pipp'd" himself onto the Rangers, after an injury suffered by Kevin Weekes, who was then the starting goalie of NYR.  As time went on, both of these athletes became league-wide superstars.
While both athletes have enjoyed successful careers in New York, it is Eli who can retire with the hardware that counts. Eli, at no point in his career, was ever the best player at his position. Lundqvist, during the 2011-2012 season, was. However, in 2012, Eli Manning won his second Super Bowl. Lundqvist won the Vezina, while the Rangers lost in the ECF. From there, both players declined, never to be at their peak again.
Ever since winning the Superbowl in February of 2012, Eli Manning and the Giants have only made the playoffs once, where they got demolished by the Packers. Ever since losing the ECF in May of 2012, Henrik Lundqvist saw his team build around him. Where the Giants failed to build around Eli & the Giants would fail and fail again; Hank would go on to lose the two most important playoff series' of his career, in the 2014 SCF and the 2015 ECF.
While you can argue that the Giants wasted a lot of Eli's career with shitty offensive lines and a bad defense this year, the Rangers just waited too long to get the best teams around Hank. The 2014 and 2015 Lundqvist wasn't the same guy from 2011 or 2012. Now, in 2019, both players are at the tail end, as both teams are rebuilding. Fortunately for the Rangers, they are way ahead, as the Giants are just absolutely clueless. After all, why bring Eli Manning back for this season if you're going to bench him in Week 3?
Oh, and as Eli's peers have pointed out, why is Eli being the scapegoat when the team and front office around him sucks? Of course, the answer is simple – it's time to move on and embrace the future, something the Rangers haven't grasped with Lundqvist. I think you can also argue that Eli is better & more valuable for his team than Lundqvist is, here in 2019. However, it's the two time SB MVP holding the clipboard, while Lundqvist suffocates the future for two more years.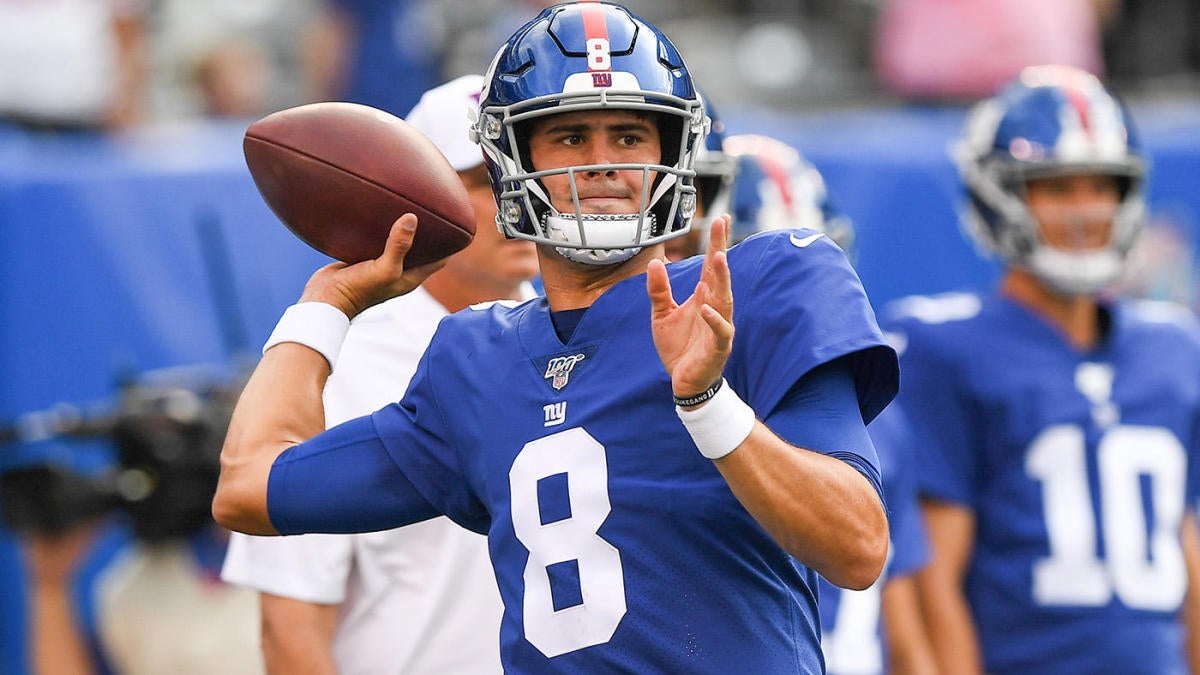 The Giants have cut the cord on Eli Manning. With the team sucking and in a state of despair, the Giants figure that it's time to give the rookie the playing time, in an effort to get Daniel Jones better in future seasons. The Rangers, who have a similar situation with Lundqvist and two back-up goaltenders, continue to go down this crazy path with Loser Lundqvist.
Even worse is this – in the NFL, you need a great and high paid quarterback to win. You don't need a high paid goalie to win in the NHL. Shit, in the cap era, and in two of the last four seasons, a rookie goaltender has won the Stanley Cup. The position of goaltender has more disparity than the position of quarterback. A rookie back-up goalie can become a starter and win a Cup, like Jordan Binnington or Matt Murray. Just look at the Jets game from Monday or any NFL game, there are no back-up rookies winning the Superbowl. (Tom Brady played the year prior to Bledsoe's injury.)
If hockey was big in NY, I think more members of the media would point out that the Rangers need to move on from Lundqvist. I can't even tell you how many articles or social media postings I've seen the last two years about the Giants needing to move on Eli, you know, the guy who actually won here! Since hockey is a swept-under-the-rug sport in NY, you don't see many publications talking about the Rangers needing to move on from Lundqvist, especially with the amount of hockey writer jobs being slashed. No one wants to rock the apple-cart. That's why you got me here!
I'm going to miss Eli as my starting QB. To me, because of his off the field work and because he doesn't bang underage hookers like LT, he's the greatest Giant of all time. To young fans who make charts, Lundqvist may be their Rangers GOAT, but how can you be a GOAT without a Cup? I would put Frank Boucher here, OBVIOUSLY, but if you want modern players, I would put Leetch over Hank.
At the end of the day, what's more important? Winning the championship (twice) in a TEAM GAME or being the most dominant player at your position for a while without a championship? To me, when you have to use the word BUT to describe a career, such as "Dan Marino/Charles Barkley/Karl Malone/Whoever you want to use as an example here was great, BUT he didn't win a championship" then the answer is simple. Give me the hardware that matters.
In closing on this, while the Giants front office is an unadulterated shit show, the Rangers should learn that it's time to say goodbye to their franchise player as well. It's time to embrace the next era.
---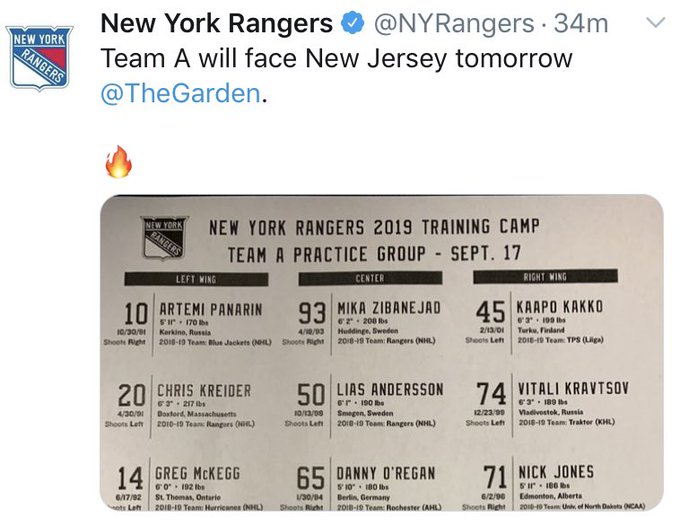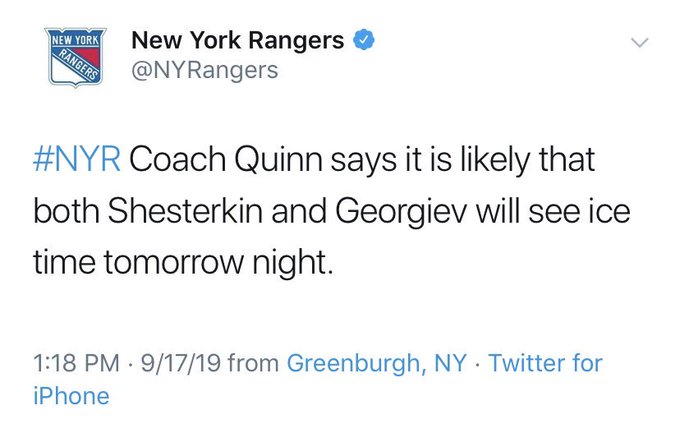 As Queen once said, "Is this the real life or is this just fantasy?" Whatever it is, I'm down for this line-up. Work schedule permitting, I'm going to try to make the first preseason game of the season. I'm excited for this line-up. If I go, I'll do a rare back-to-back blog recapping my time and the game!
To get first crack at that blog, just subscribe below: