Greetings and salutations everyone and welcome to another blog here on BlueCollarBlueShirts.com.
Let me get this out of the way first. When you read the next sentence, keep it in the back of your mind as you read the rest of this manifesto:
"YES, I KNOW IT'S ONLY PRESEASON. THESE GAMES ARE ABOUT DEVELOPING TALENT, CREATING CHEMISTRY, TRYING OUT NEW THINGS, SEEING WHAT WORKS, FINDING A FEEL FOR THINGS, GETTING GAMES UNDER PEOPLE'S BELTS AND ALL THAT OTHER BLAH BLAH BLAH!"
With that now out of the way, how about those New York Rangers?
On Tuesday night, entering this fourth preseason contest at MSG with an 0-3 record, the Rangers downed the Islanders by a final score of 3-1. I've said all preseason that the scores of these games don't matter much, but still, you do want to see a win every now again.
In Tuesday's win over the Islanders, I don't think the Rangers and their staff could've been happier. Sure, the power-play is still Scott Arniel-ish production wise, but aside from that, the Rangers got a full 60 minutes out of everyone.
Plus, you don't get to say this often – you didn't really see a weak link on this team. Okay, maybe the weak link was Brendan Smith, but still, the team looked solid tonight!
In this 3-1 win over the Islanders, the Rangers played their best hockey of the preseason. Then again – they should've! After all, in theory, the team should be much better as these games go along. In a perfect world, the Rangers should play their best game of the preseason in Game 6, providing all the starters are playing. If the Rangers were worse in Game 4 than they were in Game 1, then that would be a problem. Long story short – we saw progression tonight.
On these blogs, I've been critical of Brady Skjei, just because he got that monstrous contract and because Jeff Gorton has an iffy track record with these long-term d-man contracts. (See Shattenkirk, Kevin and Smith, Brendan for more.) Outside of his rookie year, I haven't seen what's so special about Skjei, in regards to the contract he received from Gorton. I mean really, what does Brady Skjei do that's so extraordinary? Is he an offensive power-play quarterback type? I don't think so. Is he a defensive shutdown defenseman? I don't see that either.
In tonight's game, I thought Skjei had one of his best games in some time. Not only did he break up an Islanders two-on-one rush in this game, he also was a major asset on the superb penalty kill. Later on in the game, he would he would set up Vital Kravtsov, as Skjei made a beautiful pass to set up the first goal of the game. Skjei would later assist (secondary assist) on the Rangers game winning goal of the contest, which was netted by Artemi Panarin.
When you look at these preseason games and looking to see guys getting better, finding chemistry and getting into their groove, I thought Skjei personified all of that tonight.
Just one blog ago, which was three nights ago, I was talking about Kevin Hayes and all the comments he made. I went on to say in that blog, out of Vesey, Skjei & Hayes, Skjei is the player I covet the least. 72 hours later, and here is Skjei having his best game in some time. Again, preseason, I know. That said, if Skjei can keep this up for a full season, I'll be eating my words.
Speaking of my last blog (what a stellar segueway to the plug section of tonight's blog!) here are my last few blogs, in case you missed them:
---
---
---
---
---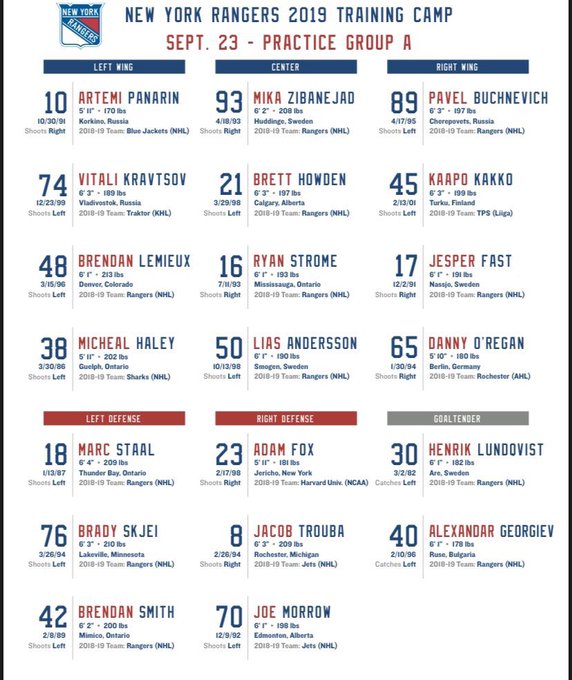 I guess before going into tonight's smashing success over the Islanders, I should talk about all the stuff that happened between Saturday night and before puck drop on Tuesday.
After the uninspired loss to the Flyers on Saturday, the Rangers made a few more cuts. Here is what they announced: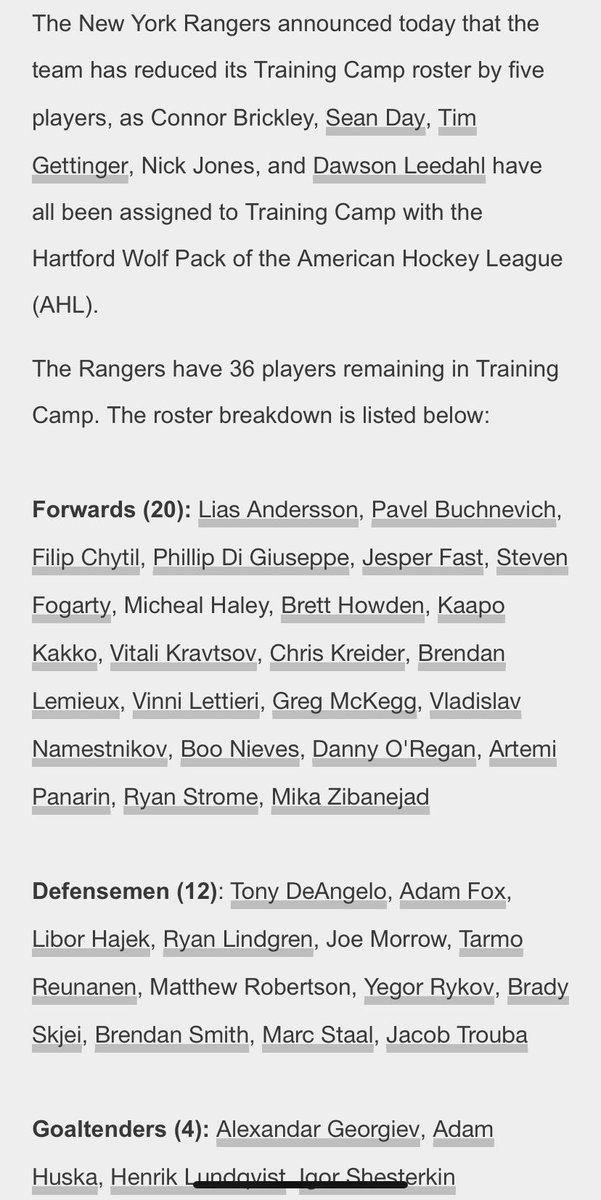 After guessing the cuts previous to this one correctly, I must admit my prediction for this round of cuts was wrong. I would've bet a good amount of money that Phillip Di Giuseppe was a goner after that game with Philly. I would've lost that bet, as Di Giuseppe still remains with the team. That said, I'm doubling-down here – there's no way Di Giuseppe is making this roster on Opening Night.
And to be clear, I'm not hating here. I would love to see Di Giuseppe & Lettieri both make the team, just so I can make all my "Godfather", "Sopranos" "Goodfellas" and "Casino" jokes all season long. However, Di Giuseppe isn't ready yet and doesn't fit in right now. Maybe he gets better down the line, but for right now, Di Giuseppe needs to be whacked from this roster. Maybe they can put a horse's head in his locker or something. (You see what I did there?)
Over the course of mankind and history, there have been many unanswered questions. Some of those questions are:
— How did the Egyptians build the pyramids?
— Do other intelligent life-forms exist?
— How did the world begin? Big Bang Theory? Creationism?
Another one of these unanswered questions is this – "What the fuck happened to Al Trautwig's teeth?"
I have talked about Al Trautwig a lot on these blogs. I have talked about the comments he made during the Olympics, which got him in trouble. I have talked about him calling up the mother of a fan and berating that fan on the phone. I have talked about all of his controversies and his penchant to block anyone and anything on Twitter.
Quick aside here, I'm one of these people that Trautwig has blocked. You may read this blog and say, "I can see why, all you do is bust his balls about his mashed up pile of shit teeth." However, that's not what got me blocked.
Many years ago, the Rangers and Knicks were both at home during the same day. I don't know which team played first that day and it's not important for this story. Anyway, Al Trautwig was the in-arena host for both games and he tweeted that he was at both games. I replied, saying something like, "Do you just live in the bowels of MSG? That's a hell of a gig you got." Those comments sealed my fate. I don't know why. Maybe Trautwig just saw the word "bowels" and said "I'm not taking this shit, I got enough shit in my teeth as it is."
Moving along.
As talked about in my last two blogs, Al Trautwig looked horrible during the Rangers preseason opener. He was shaking, he was slurring, he looked fragile and he looked like a person that was bit by a zombie and about to turn.
On Sunday, Mike Francesa's bitch, in a one Andrew Marchand, wrote the following in the New York Post:
Al Trautwig is taking a personal leave of absence from MSG Networks, The Post has learned.

Trautwig, 63, is expected to return to his Knicks and Rangers hosting duties at some point during the regular season, though an exact date is undetermined. It is unknown what issue Trautwig is dealing with.

MSG Network confirmed the leave, but did not specify the reason.

"I'm going to be taking some personal time off, and look forward to returning to what I love most — bringing NY fans the coverage they crave on MSG Networks," Trautwig said in a statement.

Besides being with MSG for three decades, Trautwig has been a broadcast network announcer, most notably on NBC's coverage of the Olympics.

Last Wednesday, Trautwig did not look well during his time on air. It was noticed by viewers and the network's personnel. MSG executives huddled with Trautwig to determine the best course of action.

While the Rangers do have exhibition games this week, there are no pre- and post-game shows. John Giannone will handle the intermission duties.

It is undetermined how MSG Network will fill Trautwig's role during the regular season, but Bill Pidto — who already does Knicks and Rangers — figures to be even more in the mix.
I will say this before coming off like a hypocrite – I don't like to speculate on stuff like this. However, I've seen tons of speculation and tons of people talking about this. Since this is my blog and I'll blog if I want to, I'm just going to throw in my two cents on this.
I have heard countless stories about Al Trautwig and drinking. Does this make him a bad guy? Of course not. Is he an alcoholic? I really don't know. Then again, maybe he is. After all, the textbook definition of the word alcoholic is someone who consumes three or more drinks in a single sitting. I've consumed that many beers just writing this paragraph. Am I an alcoholic? Maybe, but if I am, I'm one of the good ones and a functioning one! Where's my trophy?!
The reason I'm going down this alcoholic path is because I've seen some bad alcoholics in my life. I've seen them at work. I've seen them at the bar. When I saw Al shaking and slurring, to me, it could be one of two things – alcohol withdrawal or Parkinson's disease.
Again, I AM SPECULATING HERE AND NOTHING THAT I'M SAYING HERE IS A FACT ABOUT AL TRAUTWIG, but to me, if Al had a disease that he had no control over, like Parkinson's or if he had a cancer that he had no control over, I think MSG Networks would've said that in their statement. #ThoughtsAndPrayers
In 2019, as a society, we all know someone going through something that they didn't deserve, whether it be a disease or cancer. Many public figures, some even with Ranger ties (Eddie O, Michael J. Fox, Joe Micheletti and others) have been open about their health issues. I just think if Trautwig had something serious, then one, he wouldn't have been on the air in the first place. Secondly, I think Trautwig, the Rangers, the Knicks and MSG would all talk about what Trautwig was going through.
For all the jokes I make about Trautwig, and he is great comic relief for these blogs, I do not wish him any harm or health issues. I want him around and healthy. I want him to be that ornery bastard who curses out fans. We might not like Al Trautwig sometimes, but he's on our team, which as a fan, gives us a "right" to break his balls. NOBODY wants him seriously sick and with health issues. We all hope he's healthy.
That being said, when I see the phrase "leave of absence" that makes me think that Trautwig doesn't have Parkinson's disease or cancer. It makes me think that he has a drug or alcohol related issue. I don't think Trautwig is a pill-popper or anything like that, so this makes me think it's booze related.
With the MSG Networks not announcing what's going on with Trautwig specifically, it allows people to speculate. Often, when we see young athletes die, the cause is never given, but we know what it was. Six months later, when the toxicology reports come out, what we initially thought was confirmed – it was either a suicide or a drug-related issue.
I hope I'm wrong on this and again I'm just SPECULATING. But with the way the MSG Networks worded their press release, the silence surrounding this issue and the way Al Trautwig looked, it wouldn't surprise me if his issues were alcohol related.
Then again, maybe Al Trautwig just loves to vape. That would explain the teeth.
I know it's hard to take me serious after that last crack, but seriously, I wish Al Trautwig all the best and hope he returns to my television soon. Here's to his good health and getting better.
And wow, I spent 1000 words on Al Trautwig here. We have a game to talk about!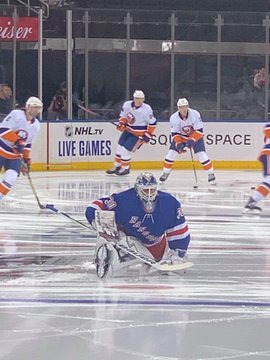 Lastly, before getting into the game itself, let's get the gambling segment of the blog out of the way.
Here were the lines and over-unders that Vegas had:

The Rangers were basically a 1.5:1 favorite tonight, meaning that you would have to risk $150 to win $100. I never like risking that type of juice on any game, so I stayed away from that. Of note, non Lundqvist games have had over-under's of 5.5 goals. Lundqvist games have had over-under's of 6 goals.
Obviously, since the money has always been on betting the over during Lundqvist starts, that's where I went. As mentioned previously, last season, when betting the over during Lundqvist starts, you would win 82% of the time. Tonight, the total amount of goals scored was 4, which means this game was in the 18% where Lundqvist games go under.
We'll get into it more below, but this game easily could've produced six goals. The Rangers penalty kill was fantastic. That hurt scoring. The Rangers couldn't score on a 5 vs 3 PP. That hurt scoring. Combined, the two teams were 0-7 on the PP. That hurt scoring. This game was just a pure under game, as half the goals were of the "fluky" nature. Georgiev gave up a goal after a puck hit off a referee. If the puck didn't hit the ref, it would've been a Rangers clear. The last goal scored in this game was an empty netter, which sometimes is the difference when betting these over-under's too.
Either way, this game goes under and I lose. However, that's not the story tonight. The story is the Rangers playing their best game of the preseason.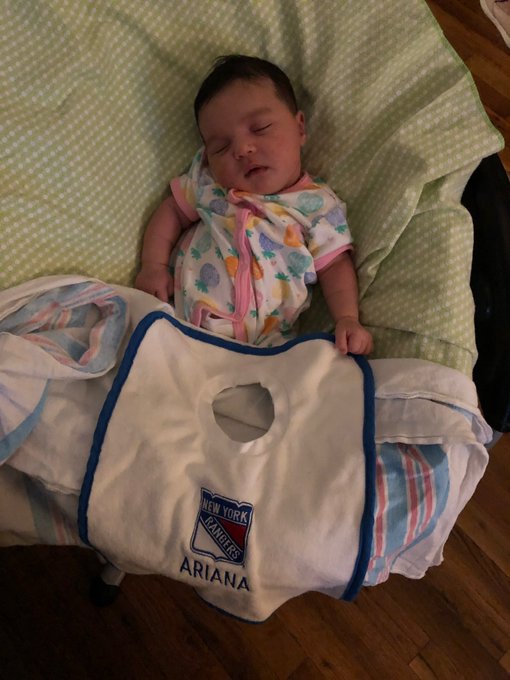 Where to start, where to start, where to start?
I'll save the Lundqvist/MSG Networks love-fest/propaganda machine for later on in this blog. No point in starting this game recap with that now!
I can't stress this enough – the Rangers, as a complete unit, looked great tonight.  There's so much to talk about when it comes to the individual players, so let's start with someone in the news as of late, and that's Vitali Kravtsov.
If you recall, during the 2018 NHL Draft, many Ranger fans were disappointed when the Rangers selected Vitali Kravtsov with their 9th overall pick. Many Ranger fans wanted Oliver Wahlstrom, who would be selected by the NY Islanders, just two selections later, at 11th overall.
At the time, I wanted Wahlstrom too, however my reasons were different than the experts and people who watch these kids. I just wanted Wahlstrom because he is American and I am always biased for the American players. Sue me.
To the experts and faux experts, they all said that Wahlstrom was better and had a better upside. To be fair, there were a small minority of fans that wanted Kravtsov, but the overwhelming majority of Ranger fans were upset when Kravtsov was chosen by the Rangers over Wahlstrom.
At the time, there was a little buzz between Kravtsov vs Wahlstrom. However, that all died down, as neither played in the NHL during the 2018-2019 season. A year after Kravtsov was drafted, everyone kind of forgot about him a bit, as the Rangers selected Kaapo Kakko with the second overall pick of the 2019 draft. (You may have heard about this Kakko kid!)
Today, when it comes to Kakko and his draft, all you hear about is KAKKO vs JACK HUGHES. Of course, the Devils selected Hughes as the number 1 overall pick of the 2019 draft.
From hockey magazines, to blogs, to video games, to newspapers, when you hear Kakko, you hear the name Hughes, when talking about the 2019 NHL Draft.
If Kakko vs Hughes is your heavyweight main event battle on your card, then Kravtsov vs Wahlstrom is your semi-main event, at least for Ranger fans.
While one preseason game doesn't mean anything, for the first time since the 2018 NHL Draft, we finally got to see Kravtsov vs Wahlstrom. Of course, this wasn't the focus of the game, as there were other things going on, but for some fans, yours truly included, I was interested in seeing how the two would do.
In tonight's game, Kravtsov scored a beautiful goal after a pass from Brady Skjei. Oliver Wahlstrom would log 5 shots in this game. He would also flub a puck while charging at Henrik Lundqvist. While Sam Rosen shrieked out "SAVE BY LUNDQVIST", the reality was that Wahlstrom lost the puck while making his move at the net.
I thought both kids looked pretty good tonight, but results matter. I would give Kravtsov the win here tonight and would expect many battles in the future.
When it comes to Kravstov, you have these chart-humping mooks saying that Kravtsov belongs in Hartford. Immediately, when I hear these bozos saying stuff like that, I'm going to think the other way. That said, later on in the day, in a Rangers Facebook live stream which only 30 or so people were listening to, Dave Maloney & John Giannone argued that perhaps Kravtsov should start the season in Hartford as well.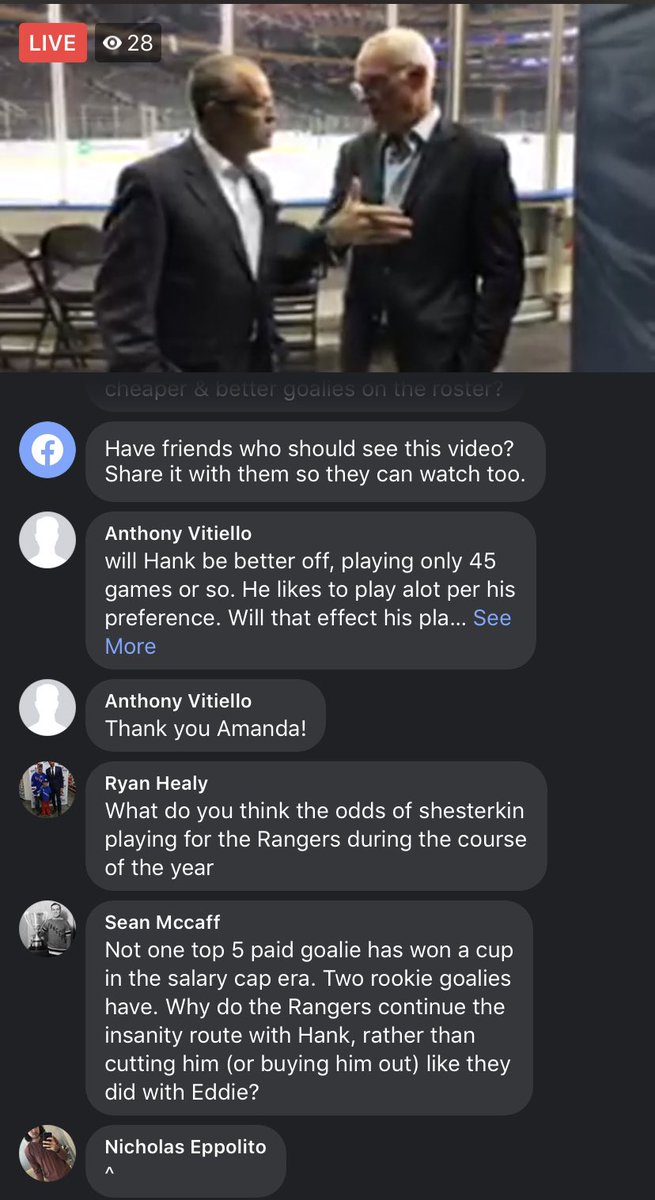 On the live-stream, I thought that out of all the people that are arguing that Kravtsov should go to Hartford, that Maloney argued for it the best. To paraphrase him here and to do my Walt Frazier stuff, Maloney said something like, "In the NHL you can't glide & stride like you can in the bigger rinks in Europe. You have to be able to stop and go."
I watched every game at the Traverse City Tournament. I have watched every preseason game. While you can't track one player all the time, from what I've seen, Kravtsov has been fine. He's producing. If he played in the fourth game of the TCT, he could've been the overall points leader. In the preseason, he's been racking up the points too.
If you've been reading these blogs, you know how I feel – I do think this team has playoff potential. That said, I'm also willing to take my lumps with this team. I rather see all these young kids play and get an education than be stuck in no-man's land in central Connecticut. Shartford is a mess and has been for some time.  I know JD wants to fix it, but let's face it – the best tools, the best coaches, the best experience and the best everything is in New York. Plus, who wants to live in Hartford?
Moving forward, what's better for the Rangers, long-term? Kravtsov in the AHL and someone like Micheal Haley on the main roster? Or would you rather see Kravtsov learning the ropes at the main event level, in an effort to become a better hockey player as time goes on? For me, I'm in the latter.
I already brought up Kakko's name tonight, so let's talk about him now.
Of the two preseason games that he's played in, Kakko echoed what he did in his one game in the TCT – he puck hogged all game. However, I don't think that's a bad thing. SUPERSTARS ARE SUPPOSED TO MAKE THE BIG PLAYS.
Many times in tonight's game, Kakko would dangle the puck all over, skate around and shake off passes. While he would only record one shot in the game, Kakko was dominating puck possession and was always offensively minded. If you're a Ranger fan, you've gotten used to all these fancy passes that go nowhere. While you do need some passers on the team, it's not bad to have that guy who always has a shoot-first mentality. It's what drew me to Vinni Lettieri, when I first saw him play.
From the highlights from Europe and from what we've seen in his #45 jersey, Kakko isn't afraid to work with the puck while trying to create scoring opportunities. Why make the extra pass to nowhere? In fact, although I want Kakko to remain as number 45, just because it triggers these Trump-hating nut-jobs, maybe he should wear the number 24 that Kobe once wore!
All in all, both Kakko and Kravtsov should be on the main roster, come Opening Night. That's my opinion and I'm sticking to it!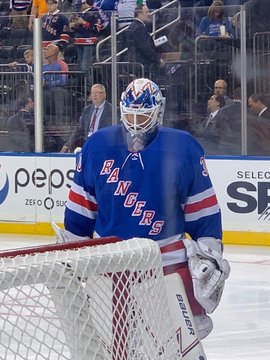 Goaltending wise tonight, the Rangers got their best performances of the season from both Lundqvist and Alexandar Georgiev. Here's how they fared:
| | | | | | | | | | | |
| --- | --- | --- | --- | --- | --- | --- | --- | --- | --- | --- |
| SA | GA | SV | SV% | ESSV | PPSV | SHSV | SOSA | SOS | TOI | PIM |
| 17 | 1 | 16 | .941 | 13 | 1 | 2 | 0 | 0 | 30:12 | 0 |
| 13 | 0 | 13 | 1.000 | 11 | 0 | 2 | 0 | 0 | 29:48 | 0 |
Lundqvist started the game off and finished with 13 saves on 13 shots. While Sam and Joe beat their meat to Lundqvist and made up saves that weren't even there, Lundqvist did play well. It's just a shame that Sam, Joe and everyone else on the MSG Networks have to bend over backwards to praise Lundqvist, because they are so over-the-top, where it takes away from when Lundqvist is actually playing well.
Lundqvist's best saves of the game came in the first period, especially when he made two stops on Derick Brassard. I guess that's how you know Lundqvist is having a good game – an ex-Ranger didn't score on him.
I thought Georgiev had a tremendous game, stopping 16 out of 17 shots faced. The one goal he allowed was fluky, as Adam Fox tried to clear the puck. However, the puck bounced off the ref, Barzal grabbed the puck and then fed it to a wide open Jordan Eberle for the easy look and goal. To me, Georgiev had the tougher work-load, as the Islanders gave their best effort in the third period.
As I've been saying all along and I'll say it again here – Lundqvist has no place on this team. Yeah, he had a good game tonight and no one, even me, can argue otherwise. However, this is a REBUILD. No top 5 goalie has won a Cup in the salary cap era. Two rookie goalies have. You need to spend your money on your offense and not your goalie to win a Cup. Just like how I want guys like Kravtsov, Kakko, Fox and all the other young kids to be on this team, I have the same feeling when it comes to Georgiev and CZAR IGOR. It doesn't benefit either young goalie to play in Hartford. They need to be with Allaire full-time and gaining NHL experience, so they are at their best when the team in front of them are at their best too.
Of course, a game like this will have the Lundqvist fans doing back-flips and some of that is because the MSG networks force-feed this guy as if he's Jesus Christ. Seriously, it's all the commentators talked about. During the broadcast, you had a in-between period interview with Lundqvist. You had Micheletti talking Lundqvist after saves from Georgiev and after goals from Panarin. Even when Panarin was named the number one star, John Giannone pushed Panarin out of the way to talk to Lundqvist again. The Rangers & MSG Networks treat this guy as if he has the resume of Frank Boucher, Mike Richter, Brian Leetch and Mark Messier, COMBINED!
And of course – when Lundqvist wins, it's all him. The defense did nothing! Funny how that is the reverse when Lundqvist loses!
To me, as the first person who wanted Lundqvist out of here, games like this is why he won't leave. He will think he has a chance to win a Cup and with this new roster, who isn't excited? Why would he want to leave? The Rangers look great and have a bright future. That said, FOR THE NEW YORK RANGERS, THE TEAM, you could spend $8.5M better and I would argue that Georgiev, in 2019, is much better. Who knows how Igor will turn out too?
And lastly on this, you don't need Lundqvist to sell tickets or merch anymore. Those days are gone, especially with Panarin and Kakko here.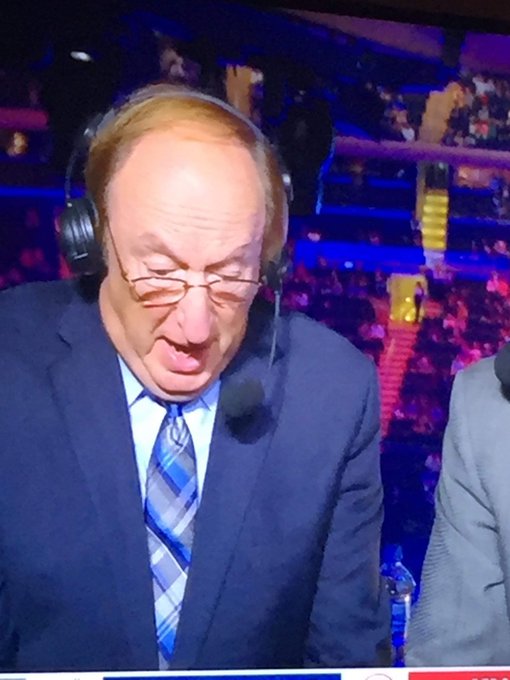 The special teams are a tale of night and day. In this game, the Rangers PK was absolutely stunning. During the first two Islander PP's in the first period, the PK unit limited the Islanders to just one shot. However, when it comes to the Rangers PP, despite great puck movement and "GOOD LOOKS", the Rangers couldn't bury the puck.
I think it was Steve Valiquette who once said, "If you can't score on a 5 vs 3, then you don't deserve to win the game." I totally agree with what's he's saying, although that might not apply to this game, where the Rangers were the much better team for 60 minutes.
One key stretch in this game, which would've been analyzed even more if the Islanders tied up this game or even went on to win this game, is when the Rangers had 90 seconds of a 5 vs 3 PP. They only got two shots off and Islander goalie Thomas Greiss didn't seem phased on either shot.
As Ranger fans, we're used to bad power-plays. I think the Rangers will get better at producing goals on their PP as time goes on, but as far as this preseason goes, you'd like to see a better success rate.
During the course of Rangers history, you would need the arms and fingers of an octopus to recall all the big-time free agent busts. Whether you want to bring up Bobby Holik or Wade Redden, one player trying to avoid all those comparisons is Artemi Panarin.
In his second straight preseason game and looking no worse for the wear after being nicked a bit in his first preseason game, Panarin scored a goal. In fact, he would also score the empty-netter in this game, securing the Rangers victory.
In limited ice time this preseason, Panarin has been as good as advertised. He's a play-maker and he's scoring goals.  While the strength of his game may be his ability to set up his teammates, nothing is better than seeing the crown jewel of free agency light up some lamps.
Just like Skjei's feed to Kravtsov, Buchnevich, playing with Panarin & Zibanejad for the first time, set up Panarin perfectly. Later on in the game, Buchnevich would also set up Mika Zibanejad right in front of Greiss. While that didn't go for a goal, you had to be impressed with Buchenvich's offensive awareness.
At this time, since both goals were so pretty, let me share them:
🚨 Vitali Kravtsov 🚨 And that pass from Brady 👀 #NYR pic.twitter.com/HQesY57xME

— MSG Networks (@MSGNetworks) September 25, 2019
Is Buchy Bread a thing?! It should be. #NYR pic.twitter.com/YsPVuuCDIt

— MSG Networks (@MSGNetworks) September 25, 2019
After a scoreless first period, the Rangers would get both of these goals in the second period, giving themselves a 2-0 lead in the game. While the Islanders did get off 30 shots and the Rangers did make something like 20+ turnovers, I thought defensively, the Rangers did a decent job of stalwarting the Islanders momentum. Of course, Lundqvist made some great saves on Brassard, which prevented the Isles from taking a lead in this game. Georgiev also made a handful of amazing saves, including a two-on-one save which was later named the save of the game at the 10 minute mark of the third period.
What fans have to remember is this – in the NHL, no defense is perfect. No team goes 60 minutes without a turnover. You just need to limit mistakes.
When it comes to the Rangers defense, once again, I thought Adam Fox and Marc Staal were your best defenders on the ice. Skjei, as mentioned, had a great game too. I thought Smith remained a mess and I don't see why he's here, outside of the fact that he has a ridiculous contract. Again, give me the youth and the future of the franchise instead of Smith in the line-up. I know Quinn likes him, but the FUTURE IS NOW. Give me Rykov, Lindgren or whoever else.
New toy, in Jacob Trouba, also had a solid game, showing off both his offensive and defensive game. I can't wait to see him for 82 games. We've longed for a while for not only a two-way defenseman, but a true powerplay quarterback. We've seen Dan Boyle, Keith Yandle and Kevin Shattenkirk audition for the job. Let's hope Trouba is the real deal. I think he can be.
After making jokes about Andersson, as I've referred to him as Lias Jessiman a few times on these blogs, I thought Andersson, once again, had another strong showing during this preseason. Not only did he log some hits and blocked some shots, he also took down Oliver Wahlstrom with a UFC style headlock takedown. I didn't know Andersson had that in him!
Speaking of Andersson, his new BFF and his co-2017 NHL draftee, in Filip Chytil, has been in the news. Some are saying that Chytil has had a ho-hum preseason. Larry Brooks even argued that Chytil should start the season in Hartford. Funny how time changes things. Last season, Chytil was considered better and further along than Andersson. Now in Year 3, it's been Andersson having the better games.
The Rangers have a logjam at center, but it's not a logjam of any true depth. Outside of Zibanejad as your number 1 center, there really isn't a true number 2 center. You have guys like Andersson, Chytil, Strome, Nieves, Howden and a few others competing for the 2C-4C slot on the depth chart. To me, Strome should be number 2 by default. I just don't know who is your 3C or 4C. This will be a decision for Quinn. As it stands now, I think Andersson has been the best of the lot and deserves to be on the team on Opening Night.
And lastly, while talking about the individual players tonight, I thought Lemieux had a solid game, as he made his preseason debut. Skating with Strome and Fast, I liked this third line tonight. I wouldn't be opposed to seeing it opening night.
While Lemieux's game wasn't perfect tonight, I thought he played well defensively and I think the offense that he craves so much will come with more time. Along with Tony DeAngelo, I think these two will give the Rangers some spunk and funk all season long. You need these sandpaper types on your team. Just look at the teams that went to the Cup last year, in St. Louis and Boston. You had tough guys on those teams and you just need those caliber of players to make a playoff run. I don't know if the Rangers will make that run right now, but if the Rangers stick with these two over time, they could be key cogs in a 2022 Cup run, the season after the Rangers say goodbye to Henrik Lundqvist.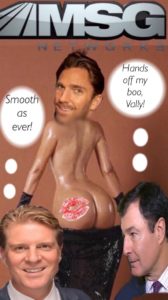 Tonight's 3-1 victory wasn't perfect by any stretch. However, it was a big step in the right direction. There was a lot of good in this game and there was some stuff that the Rangers saw in themselves that they can work off of.
If there was anything "BAD" about tonight's game, it's the commentators. Sam Rosen remains a parody of himself. Micheletti was in full-court press ass-kissing mode on the topic of Henrik Lundqvist. I've said it before on these blogs and I'll say it again – I think Micheletti heightens my hatred of Lundqvist being on this team. Lundqvist makes a save on a 50′ shot and Micheletti is doing back-flips and jizzing like a nymphomaniac. Georgiev makes a save on a two-on-one break and Micheletti actually said, "Georgiev hasn't seen much tonight."
The Lundqvist propaganda is just too much and it comes off as over-compensating. Do these guys watch any other goalies in the league? Greiss was just as good tonight, even making two daring plays by coming out of the net, but not a word. I get that they are Ranger commentators, but god damn, the way these two jackasses were talking, you would think Lundqvist cured cancer and created peace in the Middle East.
A talking point made by not only these two, but by Giannone and Maloney on their live-stream, was that Lundqvist should thrive with 40 games. Again, WHY ARE YOU PAYING A PART-TIME EMPLOYEE $8.5M DURING A REBUILD, when you have Georgiev and Shestyorkin?
I go batty over this crap, because I know how this goes down. The Rangers could make the playoffs and Georgiev & Igor may get their time during the regular season, but come playoffs, it will be Lundqvist playing every game and the season will end like every other season during the Lundqvist Era – NO STANLEY CUP. I just want some hope here. Give me the youth!
All in all, this was a great TEAM EFFORT and I was happy with what I saw. Yes, it's one preseason game, but let's hope this game/win is a building block.
Two more preseason games remain, as the Rangers host the Flyers on Thursday night and then end the preseason with a tilt in Bridgeport, in a game with these NY Islanders.
I have no clue what Quinn has planned for his roster, but I do hope to see the top line get one more game together, if not both. I think Jim Schmiedeberg of Blue Shirt Underground Radio said this first and I agree with this – it's too bad that these preseason games aren't like the NFL, where you can have an expanded roster. It would be nice to see the first line take a few shifts in both games, then get shut down half way, as you do with your goalies. I was thinking this during a play where Greiss came out of the net in this game, and collided with Panarin. Last thing you need is Panarin getting hurt off of a fluke play like this.
To close on the topic of goalies and playing time, since we all know Lundqvist is starting on opening night, I would like to see him get a full 60 minute game as a tune up. I would then split Georgiev and Shestyorkin in another game. Nothing against Adam Huska, but this just isn't his time.
Two last things before we go home here.
Did you see this: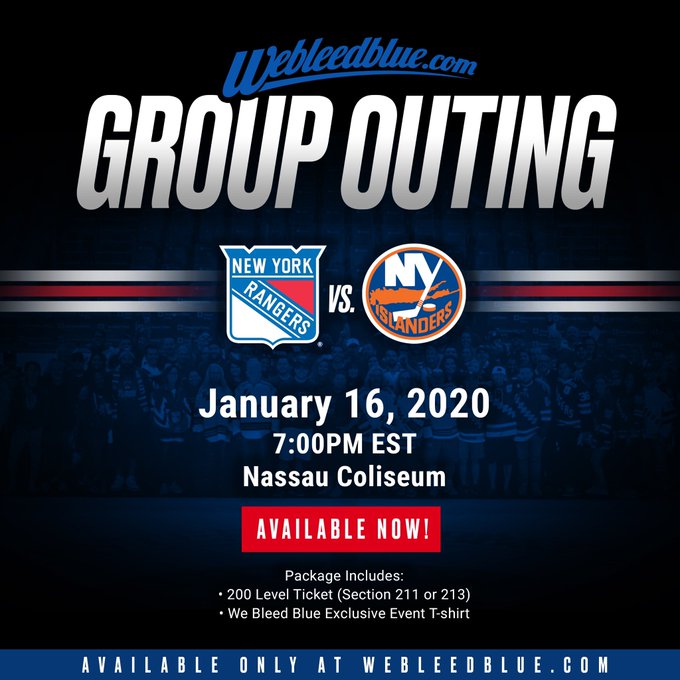 The Ranger fan t-shirt company, WeBleedBlue, is hosting a Ranger fan group outing at the Nassau Coliseum, against the Islanders, on 1/16. They've reported that they have sold out of the 100 tickets that they had. Can you imagine that? A Ranger fan outfit was able to get 100 tickets for an Islanders game at the Nassau Coliseum. SAD!
Just think, the Vegas Golden Knights are booting season ticket holders who don't have a Vegas address. The Islanders are so desperate to sell tickets, that they will allow Ranger fans to buy a block of 100 tickets for a group outing!  Even worse, I will bet you anything, that there will be more Ranger fans in that building during that game than Islander fans. DOUBLE SAD!
Let's face it, this new arena will eventually bomb for the Islanders. Once they fail in Belmont, let's boot the Isles to Quebec, Houston or Kansas City and let's move the Hartford Wolfpack there. Win-win!
For some reason, during this game, the topic of Dancin' Larry came up on social media. Even stranger, the topic was started once again, by Newsday reporter, Colin Stephenson:
How long has Dancin' Larry been a thing here at the Garden?

— Colin Stephenson (@ColinASteph) September 25, 2019
In response to this thread, I saw some mo-mo say this:
Too long. And that guy is a tool. Very rude to young fans and people who have tried to ask him for pictures etc.

— Sean McKinney (@RangerGunner35) September 25, 2019
Let me say this first. Sean McKinney is dead wrong on this. I have known Larry personally for some time now and I bullshit with him before games and on social media. I've probably drank with him over 20 or so times, and each time, I've seen fans, female and male, and of all ages, ask him for a picture. EVERY SINGLE TIME, LARRY TAKES A PICTURE WITH THESE PEOPLE AND GIVES THAT PERSON HIS FULL AND UNDIVIDED ATTENTION.
I've always found Larry to be friendly and someone great to talk to. He knows all of my opinions. He loves Henrik Lundqvist. He knows my opinions on the subject. However, we still get along and break each other's balls. I just saw him last week and he was breaking my balls about Hank. It's all in good fun and we respect each other's opinions.
Larry is a diehard Ranger fan and like anything else, people get jealous when the "common Joe" (or the common "Larry" in this case) get any sort of modicum of success.
Larry has always been friendly and a fun drinking partner, especially when my dad accompanies me to games. Anyone who shit talks him, doesn't know him personally. I've seen vile shit written about him, just as bad as the shit people write about me because I don't share their opinion on the goalie of this team, and it's really disgusting. Larry is a big Hank fan and more importantly, an even bigger fan of this team.
Even if I didn't know Larry, when I see him at MSG doing his thing, it's as natural and as traditional as an overpriced beer or a long bathroom line during intermission. Fans get hyped for his shit. I just don't know how what he does bothers others. Get a life. He's a hardcore Ranger fan. I think he's even surpassed "The Chief" as a "Ranger fan celebrity."
More importantly, and this is what passes the test for me – the dude can handle his beer and booze. That's how you know he's a good guy!
Seriously speaking, I think it's a generational thing, as most of the Larry hate comes from younger fans. Maybe they envy him, I don't know. What I do know is this – Larry is a great guy and anyone who says he is an asshole to other fans couldn't be more wrong.
A ton of words on Larry. You won't see this in the NY Post!
Barring anything work-related, I'll be back Thursday night.
Until then, thanks for reading and as always…
"LET'S GO RANGERS!"
Sean McCaffrey
BULLSMC@aol.com
@NYCTHEMIC on twitter