NOTE: This is a long one, but I stay true to my 10,000+ words, no ads and one click mantra! Plus, I believe this is the first 2019-2020 season preview blog/article out there, so I hope you enjoy it. Take your time!
Greetings and salutations everyone and welcome to another blog, here on the new & improved BlueCollarBlueShirts.com. Yes, that's right, the "new & improved" BlueCollarBlueShirts.com! While the site looks the same and functions as usual, we've upgraded our servers, installed a SSL certificate for the people who had trouble accessing this site at work or school and did a few other minor technological fixes. Now if I could only figure out this whole Google analytics nonsense!
Every season on this site, I do a season preview blog, which I usually release right around the last week of September. Obviously, that coincides with the start of the NHL preseason. However, for the first time ever on this site, I'm releasing this blog a month before the season kicks off and I'm doing so for several reasons:
1- While there are still a bunch of role-players left on the free agent market, for all intents and purposes, we know the core of each team. We also pretty much know the direction of each team. (Tampa still wants a Cup, Ottawa is telling their fans to shove it up their moose-holes.)
2- Personally, in my line of work, I never know when I will have free time. Right now, as I type these words after celebrating Labor Day on Sunday, the weather being terrible where I live and the fact that I have the time to do a blog of this magnitude, I figured let me do it now. I don't want to half-ass it later.
3- Worse comes to worse, if something major happens between now and the start of the season (last year, in the weeks leading to the regular season, Karlsson went to San Jose, Pacioretty went to Vegas & Yzerman left Tampa) I can always edit this manifesto of a preview. To me, the biggest tree waiting to fall in the NHL forest right now is Mitch Marner. Will he stay with Toronto? Time will tell.
4- I like to be the first blogger/writer/fan/whatever, to put out a piece like this. I try to read and watch everything. By doing this now, I'm truly writing from my point-of-view (which I do anyways, unlike people who plagiarize, like that Sean Hartnett from NY's WFAN) and am not being influenced by anything else. Sometimes, whether subconsciously or not, I could be watching the NHL Network or reading "The Hockey News" and have my opinion influenced by someone closer to the game than me. I rather just go with the beer-gut feeling when I do a blog like this.
5- If you are like me, and like to see how I fared last year at this time, check out last year's season preview blog at: https://bluecollarblueshirts.com/nhl1819/
A couple of things before we roll into the NHL 2019-2020 season preview section of the blog. In case you're new here (which means the preamble from above means oo-gatz to you) I am a REALISTIC New York Rangers fan. I write with a Rangers bias, but can control it. That said, EFF THE ISLANDERS! Seriously though, search my name on google or on social media. While everyone knows my deep appreciation and fandom of Ranger history, everyone also knows, that unlike 99% of other Ranger fans or bloggers out there, I realize that Henrik Lundqvist is overpaid & overrated. In other words, this isn't a Rangers rah-rah blog and I'm not a cheerleader. I just comment, as a fan, from a realistic point-of-view.
When you get into the team profiles section of the blog, you will see, that despite my Rangers fandom, I can be fair and provide constructive criticism and opinion when assessing the other teams in the league.
At the end of this blog, stay tuned at the end for my "PANARIN CHALLENGE". This challenge is mostly for Ranger fans, but hey – even if you're not a Rangers fan, feel free to participate!
And lastly, before the preview, here are my last few blogs in case you took the summer off, forgot what I wrote last time or are just new to this site:
---
---
---

---
---
---
---
---
Did you see this tweet yet? Check it out:

With Justin Williams announcing that he's taking a break from hockey, that leaves more than a quarter of the teams in the League currently without a captain: CAR, DET, NYR, OTT, SJS, TOR, VAN, VGK

— David Satriano (@davidsatriano) September 2, 2019
For all the talk about the importance of having a strong captain in the NHL, over 25% of the league doesn't have one.  What stands out the most to me, as a fan of history, is that 1/2 of the Original 6 doesn't even have a captain, with the Rangers, Leafs and Red Wings being "C"-less. In another era, you would never see this. The salary cap is part of this captain-less trend, as teams can no longer hold onto everyone that they'd like to. Worth mentioning too: no team in the salary cap era has ever won a Stanley Cup without a captain.And finally, before going into my team-by-team breakdown and Stanley Cup playoff predictions, here were how the teams finished up at the end of the 2018-2019 regular season: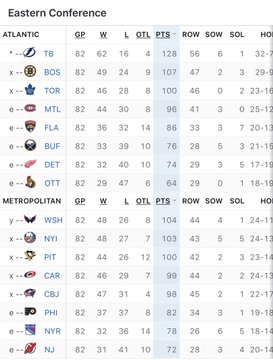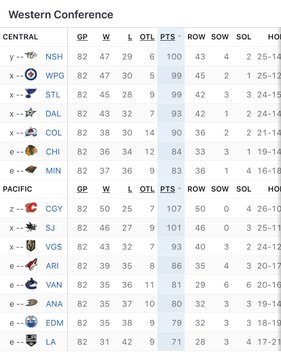 ATLANTIC DIVISION
TAMPA BAY LIGHTNING: To me, the Bolts are still the best regular season team in the league. However, if you're just remembered as being the best team in the regular season, then you have failed at attaining your ultimate goal. The Bolts, who were ex-Ranger heavy during the last few years, are now down to two ex-Rangers, in Ryan McDonagh and Kevin Shattenkirk. Shattenkirk has the curse of being the guy whose last two teams have won the Stanley Cup, in the Blues & the Caps. Being a Rangers fan, I don't expect nice things. In fact, I can see Shattenkirk reversing the Curse and seeing the Bolts win the Cup this year.
The Bolts still have some of the best offensive weapons in the NHL. They arguably have the best goalie in the league too, in Andrei Vasilevskiy. Tampa, as they have been for the last few years, remain a favorite to win the Stanley Cup. Whether they repeat their regular season performance from last year doesn't matter. They will only be judged by what they do in the playoffs. As time goes on, Stamkos will receive attention as the best longest tenured player in the NHL without a Stanley Cup.
What I think helps Tampa this year as opposed to last year, is I don't think the pressure will be on them as much. There's still pressure to win with all that talent, but it won't be as intense as it was the past few years.  In fact, the 2019-2020 Bolts remind me of the 2017-2018 Washington Capitals. Everyone thought the Caps peaked. Everyone thought Ovechkin missed his best chance at a Cup. After losing some key pieces from their Presidents' Trophy season the year prior, (just like the Bolts did this off-season, with guys like Miller, Stralman, Girardi, etc) the Caps went on to win the Cup. Pardon the pun here, but can "lightning" strike twice?
I see the Atlantic Division playing out exactly as it did last year, which to my credit, is exactly what I predicted in September of 2018. Granted, I think many people thought the way I did at the time and I think many will agree with me here again. This is still a division of two super-teams and Boston will be clawing behind Tampa and Toronto the whole way.
---
TORONTO MAPLE LEAFS: When it comes to the Leafs, they may have the deepest depth of NHL centermen in their line-up. Vegas, Tampa and Colorado are right there too. While the Leafs did lose Kadri, who was arguably part of the biggest trade this off-season, the Leafs did improve their defense, by acquiring Tyson Barrie. Plus, with Auston Matthews and John Tavares, the Leafs already had their middle covered. Shoring up the defense never hurts a Cup contending team.
Everyone knows about the Leafs and their lack of Cup victories since 1967. I think there is more pressure on Toronto to deliver, especially playing in the ultimate pinnacle of hockey markets in Toronto, as opposed to a laid-back hockey market in Tampa. Both teams will be compared to each other all season. Just like last season, the Leafs & the Bolts will slug it out for first place.
When you think about it, it's funny with how Toronto and Tampa finished last season. If Toronto was able to finish first, I think they would've matched up better with Columbus. If Tampa fell to second, I think they would've matched up better with Boston. However, you can't talk about the what-if's. The fact of the matter is that Toronto (and Tampa) failed last season & didn't get out of the first round. A repeat performance probably means a coach gets the pink slip.
The Leafs should have no problems making the playoffs this year. What concerns me with them, is that goalie Frederik Anderssen, just doesn't seem to be "THE GUY" to me, if that makes sense. He's a serviceable and better than average goalie, but push comes to shove, I can't see him carrying the Leafs if the stars in front of him cool off. This is why I think Tampa has an edge on the Leafs, because in a Game 7, I'm taking Vasilevskiy 100/100 times over Andersen.
---
BOSTON BRUINS: In the effort of full disclosure, I hate the Bruins. I'm a Yankees fan. Screw Boston!
Seriously speaking here, Boston impressed me. Every time I write them off or consider them finished, they just bounce back. I thought their loss to the Bolts in the playoffs, from two seasons ago, was the end of this run. What happens? They go all the way to a Game 7 of a Stanley Cup Final last year.
The case for Boston is simple. All the charts, the analytics and all that other nerdsense is bullshit. Guys like Marchand, Chara, Bergeron, etc; a chart can't truly appreciate & display their worth. What helps Boston is they have a solid defense and a goalie in Tuukka Rask, who can buckle down and win big games.
This core unit of the Bruins have been together for some time, with key additions like Charlie McAvoy. Head coach Bruce Cassidy now has a deep playoff run under his belt with this team. The experience is there and it's up to Cassidy to not burn his guys out in the regular season. He did a great job of that last year.
The biggest case against the Bruins is just as simple. This is a league of speed and youth and the Bruins don't have much of that. Just look at the LA Kings, who bottomed out quickly last year. Then again, the Bruins & Blues were two of the oldest teams in the NHL last year and were the last two teams standing. I think the Bruins have one last run in them, before it's time to look ahead.
---
FLORIDA PANTHERS: The Panthers will never get any burn, just because they play in one of the worst markets in the NHL. It seems that the majority of the time, whenever someone talks Panther hockey, they are only talking about them to make fun of their paltry attendance.
Fans have a reason to come out this year, as the Panthers are improving and have one of the better defenses in the NHL. Unfortunately, like many other teams in the middle of the pack, they have some super-powers in their division. For the Panthers, when you look at the Bolts and the Leafs, it seems that the Panthers best case scenario is to play for third place or for one of the wild-cards. All that matters is that you get in the playoffs. Anything can happen there.
Luongo was always a great goalie for the Panthers, and the Panthers will continue their tradition of solid goaltending with Bobrovsky. Stralman will help the blue line defensively, while Keith Yandle looks to have a repeat season. The Panthers also have a wide array of young names and are ticking upwards. The main issue in Sunrise will be the same – if the Panthers play hockey at the BB&T arena and no one comes to see it, did the games really happen?
---
MONTREAL CANADIENS: I don't know what to make of the Montreal Canadiens going into this season. It doesn't seem like they did anything to combat the top three teams in the division. Regular readers know my thoughts on high priced goalies – they take up too much of the salary cap, which leaves you deficient elsewhere. While Carey Price is still an elite goalie in this league, you can only do so much between the pipes.
I don't envision the Habs making the playoffs this year, because while they aren't a bad team, they just aren't good enough to win anything either. You can argue that every other team in the division, besides the Senators, seem to be in the right direction. Where are the goals coming from? Max Domi and Tomas Tartar are good, but they don't match up with the players on Toronto or Tampa.
Like years prior, the Canadiens will go as far as Price takes them. For all the accolades and individual hardware that Price has, he has a spotty playoff record, where if the Habs even make the playoffs, I don't see them making much noise.
---
BUFFALO SABRES: I always feel bad for the fans in Buffalo. During every NHL Stanley Cup playoff tournament, the market of Buffalo produces the highest television ratings out of every non-playoff market. Shit, most of the time, the Buffalo market even logs higher rating numbers than playoff markets. In other words, Buffalo loves hockey, they just need a team to rally behind.
The Sabres are still building their roster. They can be streaky, but they still don't have enough to sustain. As a Ranger fan, I'm of course interested in seeing how Jimmy Vesey does with more minutes. Will Jack Eichel become a superstar in this league or will he continue to get attention as being a coach-killer? Rasmus Dahlin should be better in his second season in the NHL.
In goal is Carter Hutton, who has had some great outings, but he's one of the weaker goalies in the division. Maybe Buffalo can get hot and sneak into the wild-card. I don't see it. For their sake, I just hope they aren't out of the race by Thanksgiving.
---
DETROIT RED WINGS: There's not much to say about one of the most successful franchises of not only the modern era, but in NHL history. They had a streak of 25+ seasons in the playoffs which was recently snapped. It happens to everyone. Detroit is still rebuilding and it will take some time.
I don't see Detroit making any noise this year, but I don't think many expect them to. Steve Yzerman, who did wonders in building up Tampa Bay, is back in Detroit, this time as the GM. If you're a fan of the Wings, while there will probably be little to root for this season, I wound trust in Yzerman to bring back the franchise to its winning ways.
Roster wise, Jimmy Howard is still solid in net and Larkin remains one of the most exciting players in the league. However, there's just not enough talent around the locker room to compete in their division.
---
OTTAWA SENATORS: LOL
What can I really say here? The front office is telling you they don't give a shit when they take $15M+ in dead contracts, just so they can pocket cash from insurance payouts. The Senators are telling their fans to not even bother. Do you know what the hardest job in the NHL is these days? It's the season ticket subscriber department of the Senators. How do you sell that shit to hardcore fans in Ontario, especially when their rivals, in the Leafs, never worry about spending one red cent?
Sorry Senator fans, you're screwed. (That said, watch them beat Lundqvist as usual!)
---
METROPOLITAN DIVISION
WASHINGTON CAPITALS: For the first time in a long time, I don't think the Metropolitan division is the best division in hockey anymore. While the division did continue to field five teams into the playoffs last year, I still think the Atlantic division is better.
When you look around the division, I think the Capitals are the best team by default. Ovechkin is still a beast, even if he's older. Holtby is still a great goalie. The team around Ovechkin is stronger than any other team in the division.
While the Caps are good, there's a lot of rebuilding in this division. The Rangers, Flyers, Devils and now Columbus are either rebuilding or looking into the next phase. The Islanders did practically nothing this off-season. In fact, they arguably got worse.
The Penguins, who I'll talk about in a bit, seem to have peaked and have had their run. They are losing pieces and that core is getting older.
The wild card in all of this is Carolina, who many of you will say I ranked way too low. To me, and sorry to all you "bunch of jerks " out there, Carolina had a wild-card and flash-in-the-pan season. If things shake out differently come April, feel free to make me eat my words. I just don't see Carolina repeating their success. I don't think the foundation is there. More on them later.
I don't know if you can really say the Caps had a "Cup hangover" season last year. After all, they did finish in first place and lost a Game 7 in the playoffs. It was a series they probably should've won too. Ovi and the boys have their ring now, but they can't be complacent and happy about that. It's time to add a second ring if you're Ovi. I know I only keep mentioning Ovechkin here, but to me, he's still one of the greatest players in the game today and the best right winger of all time. He's still putting up 50 goals a season. One more season like that in 2019-2020, and he will have 700 goals. Can he make a run at Gretzky's at 894 career goals? Maybe. I think he will at least beat Howe's 801.
As the Blues and this Caps team has shown us, anything can happen once you make the playoffs. Why not the Caps? They are as good as any and can hang with the super-powers of the Atlantic.
---
PITTSBURGH PENGUINS: If any team is ranked by default on this list, it's the Pittsburgh Penguins. I don't think they are better than the Caps anymore, but at the same time, I do think they are better than the rebuilding teams in this division. They should have more spark this season, especially with how last season ended.
Of course this team lives and dies with Sidney Crosby. Matt Murray, in net, is still a good goalie and can retire tomorrow with a career to be proud of, but he's never won a Cup without Marc-Andre Fleury around.
After many years of "will they or won't they?" the Penguins finally moved on from Phil Kessel this off-season, sending him to Arizona. The Pens got Alex Galchenyuk back in the trade. I offer no insight about the deal, as it's tough to say who won this trade. I need to see it play out on the ice. All I know is that "HBK" line of the 2016 Cup run, is no more.
Staples of the recent Pen Cup victories, in Malkin and Letang remain, but they are also getting closer to the age of 35 than from the age of 30. Crosby, who has suffered a litany of concussions is also now 32. I don't think you can write him off just yet, but I do think his best years are behind him. However, for as much ridicule as there is about Crosby from non-Penguin & Team Canada fans, despite what happened last year, I don't think any team would want to see a Crosby-led Penguins team in the playoffs.
To me, one story-line to watch this season will be Crosby and the Penguins. Can they reclaim their status as one of the best teams in the NHL, or like many in the division, is it time to look to the future? I truly think the Penguins will make the playoffs this year, but if they had a nightmarish season that the Kings & Hawks have had in recent years, I wouldn't be shocked either.
---
NEW YORK RANGERS: Once we get closer to the season, I'll do a full preview on the team.
In short, the Rangers have a ton of young talent. Can they get it all together for a playoff run? I think so, especially with David Quinn's accountability style of coaching, although that style of coaching doesn't apply to the weak link of the team, in Henrik Lundqvist. In fact, I think the Rangers would go further if Tonya Harding showed up around MSG or if Quinn bit the bullet and told Lundqvist's it's time for a seat in the press box.
Offensively, the Rangers have the potential to skate their best line since the days of the GAG line, with Zibanejad centering Panarin and Kakko. I'm not saying that is the line, but the thought of this line even has the NHL Network guys salivating.
Obviously, the Rangers have some questions and things to tighten up. For starters, what's the deal with Chris Kreider? It's a topic I've already recapped on this site. Down the middle, it seems like Ryan Strome is the number 2 center. While I think Strome outplayed expectations last season, on other teams, he would be a third line center at best.
Defensively, the Rangers should be better than the last two seasons. There is a lot of hype around Adam Fox, but the last Ranger that came in with that much college hype was Jimmy Vesey, and we saw how that turned out.
A key area for the Rangers will be their powerplay. At one point, Tony DeAngelo had a streak of 8 games with a powerplay point. He was doing what Shattenkirk wasn't and TDA will have a bigger role this season in this department.
When it comes to the Rangers, as long as Panarin doesn't have the Rangers free agent curse, they should score a lot more goals than Ranger fans have been used to seeing. If he's like another ex-Blue Jacket in Rick Nash, the fan base will be crying for the next seven years.
Unfortunately, when it comes to NYR, as long as Lundqvist is around and providing they make the playoffs, you know how it ends – with Lundqvist on his belly and blaming his teammates in his post-game interview.
---
PHILADELPHIA FLYERS: Some may say the Canes, Devils and Islanders should be ranked above Philly, but I think Philly will have a bounce-back season this year. Their young core has more time together. While Kevin Hayes isn't a superstar, he can produce points. There will be a lot of pressure on Hayes to deliver this season. He now has the money. Does he still have the motivation?
The Flyers have one of the hottest goalie prospects in the NHL today, with Carter Hart. While Binnington already has the success and hardware in St. Louis, Hart isn't shabby either. Can he stay healthy?
Guys like Giroux, Voracek, Gostisbehere and JVR should thrive under new coach Alain Vigneault, as his system favors veterans. I never liked how Ranger fans buried AV. AV has had success at every stop he's been at. There's no reason to think he won't find success in Philadelphia either. Philly is going to be a hard out for many teams this season.
---
NEW JERSEY DEVILS: Along with the Rangers, the Devils were the winners of the off-season. Will it translate on ice during the season? Again, I know anything can happen in the NHL, but I think the Devils are more poised in 2-3 years, than they are in their current incarnation.
While the Devils stockpiled on youth and strong veterans (I'm surprised they haven't made an offer on Brian Boyle yet) the biggest question for them is in net. What kind of production can Corey Schneider give them? I don't think anyone has the answer on that one.
It's going to be fun to watch the Devils this year. Jack Hughes should have some up-and-down moments. I know some have him as the second coming of Connor McDavid, but I don't think he's as ready as McDavid was.
If you're looking for a reason to think that the Devils can make the playoffs, look at their toughness. Two of the toughest teams in the NHL made the SCF in 2019. With Subban and Simmonds, the Devils add some grit, along with some flash.
Being a Rangers fan, it pains me to say this, but the Devils are moving upwards. Now if they could only get a reliable goalie…
---
NEW YORK ISLANDERS: This is the part of the blog where Islander fans tell me "YOO ARE A GAYE & STOOPID RAGS FAN!"
I'm not trying to be a "hater" here, but I thought the Islanders had a horrible off-season. It's funny how time works. A year ago, many of us had the Islanders dead and buried, with John Tavares going with his bed-sheets over the nomadic travelings of the NYI. Instead, with a great GM/HC combo in Lou & Trotz, the Islanders surprised everyone, won their personal Stanley Cup by blowing out the Leafs at the Coliseum and would go on to sweep the Penguins in the first round of the playoffs. And then, the Islanders had to TAKE WARNING against the Canes.
In the off-season, the Islanders lost Robin Lehner. Why they didn't make a deal to keep him, I don't know. The biggest name they landed was Derick Brassard, who is somewhat becoming a punchline. He has more NHL jerseys than Charlie Sheen has diseases.
The core of the Islanders team remains, but in a conference where teams are loading up or ticking upwards, the Islanders had a laissez-fair attitude this off-season and did nothing to improve on their 2018-2019 success. I know they have Sorokin in the pipe-line and Barzal is great, but I just don't see how this team can compete for a cup in 2020.
---
CAROLINA HURRICANES: I know this will be an unpopular ranking here, but to me, and even before the news of Justin Williams taking a time-out, I just don't the Canes replicating their 2018-2019 success. I've been wrong before though!
For starters, I'm not sold on their goaltending. Whether it's Reimer or Mzarek, I don't buy either as a number 1 goalie. Sebation Aho, for as good as he is, scored 30 goals last season, tops on the team. Coming in second was Justin Williams, with 23 goals. Not only will the Canes lose the production from Williams, they will lose his leadership too.
Teravainen and Svechnikov should have decent seasons, and Jordan Staal is alright, but I just don't see these guys, collectively as a unit, being able to have the same team success that they had last year.
I know that the Canes have a D-core that's as good as any in the division, but this isn't a division built on defense either. Put it this way, the Metro has never fielded a Norris candidate, never mind a Norris winner, since the inception of the Metro division.
Maybe the Canes surprise me and keep it moving. I just don't see it.
---
COLUMBUS BLUE JACKETS: BOLD PREDICTION: John Tortorella doesn't finish the season in Columbus.

Of course, many small market teams have to fight just to keep talent on their teams. It's a never-ending up-hill battle. For the Columbus Blue Jackets, they just lost their three best players, in Panarin, Duchene and Bobrovsky.
What hurt Columbus over the years was playing in the Metro division. They always had to play teams like Pittsburgh and Washington in the playoffs, and that was no easy task. Now, with their best days since the Nash era now over, it's time for Columbus to develop new talent. At his age, I don't know if Torts has the time for that. It might be time to get a younger coach with fresh ideas.
I know CBJ still has guys like Atkinson and Foligno, but that isn't going to get them over the top. With Bob gone, who's in net? I mean, I know it's Korpisalo, but that isn't going to instill fear into anyone.
It's a shame, CBJ made a ton of right moves, pulled off the upset of the century and now all they have to show for it is an eventual rebuild.
---
CENTRAL DIVISION
COLORADO AVALANCHE: Is there any team with more upside than the Colorado Avalanche right now? In fact, they are the fourth favorite by the sports books to win the Stanley Cup in 2020. I knew they were good, but I didn't realize the books had them ranked so high.
Like other teams that had rebuilds, Colorado is seeing the fruits of their labor now. Rantanen/Landeskog/MacKinnon are as filthy as it gets. Adding Kadri makes them deeper up the middle. With Varly gone, Grubauer becomes the man in the barrel for the Avalanche. Can he become a sure-fire number 1 goalie in the NHL? The potential is sure there.
Currently with this roster, the Avalanche are in their best position to win a Stanley Cup since the days of Roy and Sakic. Keep in mind, this team knocked off the best team in the West last year in the first round, when they stunned the Flames in 5 games. They then lost a second round Game 7, by a goal, which means they were one goal away from making it to the Western Conference Final. I would be shocked if they aren't in the WCF this year.
---
ST. LOUIS BLUES: The St. Louis Blues should be the mantra for any team in the NHL today. We all know the story. In last place at the start of the new year, the Blues, behind Jordan Binnington, had a historic run that took them all the way to the Stanley Cup. Now do it again!
Seriously speaking here, the Blues did it. Can they do it again? I'm not so sure. What Binnington did last year is stuff people will be talking about for years. The Blues got timely moments from everyone on their roster, even from Patrick Maroon, who has since moved on.
The Blues, for the most part, are returning with their same roster from last year, but will now have a target on their heads. Will it faze them? As I say about most teams after what the Blues did, WHY NOT THE BLUES? They are as good as any and have the heart, size, strength and will to beat anyone in the playoffs. With some of this division taking a step back, the Blues should easily claim a playoff spot, long before the season is over.
---
CHICAGO BLACKHAWKS: HOT TAKE ALERT – THE BLACKHAWKS WILL BOUNCE BACK THIS SEASON.

We all know the story about the Hawks. Three Cups in six years. Then Kane & Toews got paid, which left little money everywhere else. You could field Cup contending teams with the players the Hawks have had to move on from, just because of the salary cap. If any team has had it hard because of the cap, it's the Hawks. Luckily enough, they at least got three Cup victories out of it.
The Hawks have done a great job of developing and grooming talent over the years. This season is no different and we should see the Hawks replicating the success from previous years. I'm not sure what the status of their goaltenders are. Corey Crawford has been the man for so long there, but he has had some health issues. I would assume the Hawks will employ a dual-goalie system, especially with the money they are paying Robin Lehner. In other words, I'm not sure if you will have a true "back-up" there. I think you will see a 50/50 or 60/40 split there.
The Hawks still have the brand names on their roster, with Kane/Toews/Seabrook/Keith/Saad. They also have a young stud in Debrincat. After a few down years, I expect the Hawks to have a season of re-emergence.
---
NASHVILLE PREDATORS: In the era of the hard salary cap, no Stanley Cup finalist/loser has gone on to win the Stanley Cup. These aren't the old days anymore. I said it at the time and I'll say it again – once the Predators lost to the Penguins, that was it. They were never going back. Now, a few years removed from their Cup appearance in 2016, the Predators are trending downwards.
After the big Subban/Weber trade of years ago, the Predators now have neither player. While they did add Duchene, I don't think it's enough.
In net, you have Pekka Rinne, another textbook example of one of my greatest hits – "Not one Top 5 paid goaltender has won the Stanley Cup in the salary cap era." Spoiler alert: Rinne won't win the Cup this year either.
If any team is to have a fall from grace and miss the playoffs in 2020, it's the Predators. Their first round exit to the Stars last year is all the evidence I need. Best case scenario – I see them sneaking into the playoffs as a wild card team, only to have the same result as the 2019 playoffs.
---
WINNIPEG JETS: After two great regular seasons, the Jets, just like the Predators, found themselves as a first round loser in the 2019 playoffs. Now what?
After trading some of their future for Kevin Hayes, they no longer have Hayes. Now the question is what happens with Patrik Laine, whose name is now in the trade rumor mill.
In goal, you have Connor Hellebuyck, who last year, didn't match the success he had in the season prior. Is he ticking downwards?
On ice, you do have some star power in Buff, Little and Wheeler, but the Jets didn't do much this off-season to complement them. As teams like the Hawks, Blues and Avalanche get better, I see the Jets and Predators falling off. That's hockey Suzyn!
---
DALLAS STARS: The Stars, who were all-in during the 2019 NHL trade deadline, saw their season end in the second round, after seven games, to the eventual Stanley Cup Champs. In turn, Dallas got weaker this season, as guys like Zuccarello and Spezza left.
In goal, the Stars still have one of the best, in big Ben Bishop. They also have a solid defense. However, like any division, some teams ascend and trend upwards, while some teams descend and trend downwards. To me, the Stars fit the latter.
The Stars remind me of that fantasy football owner that still drafts guys like Adrian Peterson. In the off-season, they added Joe Pavelski and Corey Perry. Two great players in their own right, but their peak days are long gone. It's okay to make these guys additions, but at the same time, you need to have that Stanley Cup nucleus already there. In other words, if those two signed with Tampa, I would get it. In Dallas, not so much. I don't think the Stars will shine bright in Dallas in 2020. (Har, har har!)
---
MINNESOTA WILD: While I'm not an advocate of paying for sports opinion or news (after all, the motto of this blog is 10k words, one click, no ads) The Athletic has a great feature on the recently fired GM of the Wild, in Paul Fenton. You can read it for free (as long as you get the free trial) here: https://theathletic.com/1112113/2019/08/02/the-downfall-of-paul-fenton-inside-the-gms-turbulent-14-months-with-the-wild/
Minnesota, a rabid hockey town, may have their fans foaming at the mouth in anger this season. Yes, I'm Rangers-centric here, but the contract they gave Zuccarello? Oomph! I get that Zucc will be a draw there because of the heavy Norwegian population, but he's not a guy who can lead that team into the playoffs.
The Wild feature an old roster and now it seems that Dubnyk isn't as reliable in net as he used to be. The Wild are a mess right now and it's time to hit the rebuild button. What's their best case scenario anyway, another franchise first round exit?
---
PACIFIC DIVISION
VEGAS GOLDEN KNIGHTS: If it wasn't for shoddy officiating in Game 7 with the Sharks, I think the VGK would've won the Stanley Cup. However, if's aren't reality. The Knights were gone in the first round after not being able to prevent four PPG's.
The Knights will have a major chip on their shoulder this season, which is great for their fans. While the team is only in their third season, the team has a great veteran presence and perhaps the best & loudest fans in the NHL. Seriously, I've been to a VGK game in Vegas. It's like nothing else. I love their fan base and energy. While I wonder if it will still be there during lean years, the fact of the matter, is that in the NOW, the VGK fan base is as good as any.
To pick at this roster would be just be making conversation to make conversation. I guess the biggest question mark is Marc-Andre Fleury. He's the best player in franchise history (I know, I know, I know) but he's getting older. Can he still be the guy or will he start to break down at his age like other goaltenders? I don't expect him to, but as I said, I'm nitpicking to make conversation.
The Knights are deep all over the roster and have plenty of trade-bait stock-piled, in the event that they need to make another splash at the deadline like they did last year, when they brought Mark Stone into the fold.
HOT TAKE ALERT: EXPECT JONATHAN MARCHESSAULT TO HAVE THE BEST SEASON OF HIS CAREER IN 2019-2020.
It's tough to say that anything short of a Stanley Cup victory would be a failure for a recent expansion team, but that's how good the Knights have been.
---
CALGARY FLAMES: How does one judge the Flames? After dominating the Western Conference, they were embarrassed by the second wild card team in 2019, when they lost to the up and coming Avalanche.
What helps the Flames this season, at least in regards to their division, is that the Pacific division is the weakest division in hockey. You got Vegas who will be good. The Sharks are on the downswing. Everyone else? Maybe the Coyotes can make a go of it and yeah, Edmonton has McDavid, but everyone else kind of stinks.
The funniest thing about the Flames is how they traded with their arch-rivals this off-season, when they sent James Neal to Edmonton for Milan Lucic. It's a trade of bad contracts. It's a classic "change the environment" trade. Then you have Mike Smith & Cam Talbot flip-flopping as well. These are NFL type of moves, as role players/second tier guys usually bounce around the division because of familiarity.
Of course, everyone knows me as the number 1 Cam Talbot fan. I hope he bounces back in Calgary. With a better defense/team in front of him, he will have every opportunity to. He also won't have the pressure that he had in Edmonton.
The Flames have a great roster, with Johnny Hockey, Matty Tkachuk, Mark "Norris" Giordano, and Sean Monahan leading the way. Now it's time to make a run in the playoffs.
---
SAN JOSE SHARKS: Just like the Predators, Bolts and Rangers, the Sharks haven't made it back to the SCF after losing in 2017. They have a great core, solid coaching and a fan-base willing to support them, but they just haven't put it all together. To me, this team has peaked and it's time to press the reset button.
Some horrible officiating extended their playoff lives when they got past a better Vegas team in the 2019 playoffs. They also squeaked by Colorado in seven games too. Then reality hit them when they played the Blues. Even if they beat the Blues, I don't know if they would've beat Boston in the SCF.
While current FA Patrick Marleau is in limbo, it's being reported that he won't end up here. With the departure of Pavelski, I find that hard to believe, as the Sharks, as an organization, still believe this current crop behind Jones, Karlsson and Burns can still make a run of it. When you believe that, that's when you start adding veterans to help your core. Plus, we all know Marleau's history there.
As mentioned above, the Pacific division isn't as strong as the other divisions. I think the Sharks will get the third seed and then get burnt in Calgary, come the playoffs. Man, my pun game has been strong on this blog!
---
ARIZONA COYOTES: The 'Yotes are a team to watch this year. I think this is the year that they make their return to the playoffs, which would be the first time for the franchise since 2012.
There's a few ex-Rangers on this team, which I obviously am a fan of. However, Derek Stepan is a great veteran and provides strong leadership. A healthy Antti Raanta could make a world of difference. Grabner missed time last season, just like Raanta did last season. If both can stay healthy, they can be major contributors.
Away from the ex-NYR, you have a stud D-man in Oliver-Ekman Larsson. You got a young and developing Clayton Keller. And oh yeah, the Coyotes added Phil Kessel to the team, which gives the Coyotes some more veteran presence. It helps to have someone who has done it before.
What has hurt the Coyotes in recent years, besides not wanting to spend money, is that they couldn't keep everyone healthy. That is the key to their success. If the team can remain healthy, and yes, I know this is a problem for every team, they have as good of a shot as any, of making the playoffs. Who knows, maybe they can be the surprise of the NHL this year? It helps that the division is weak too.
---
VANCOUVER CANUCKS: In the post Sedin era, the Canucks are now in the Boeser/Petterson era. Jacob Markstrom returns to net. He's serviceable, but not a true number 1 goalie to me.
The Canucks have a lot of promising young talent and added the feisty JT Miller to the mix.
Like other rebuilding teams, I think the Canucks have a decent future, but 2019-2020 isn't their year.
---
EDMONTON OILERS: You know it's bad when I put a team like the Canucks over a team that might have the best hockey player in the planet on their roster.
The Oilers have been haphazardly managed for years, and it's going to take time to right the mistakes of former GM, Peter Chiarelli.
The Oilers battled a lot of injuries to their defensemen last year. A healthy d-corp should bolster things. However, outside of McDavid, who is scoring on this team? The Oilers did trade for James Neal, who had a horrible season with Calgary, after a great season the year prior with Vegas. If Neal can get back on track, the Oilers should improve a little.
When it comes to Edmonton, I'm not sold on either goaltender. In fact, I think you can argue that they have the worst goaltending in the league.
McDavid can't do it all and as we sit here in the first days of September, that seems to be the story on McDavid's young career. It's Year 5 of the McDavid era and the Oilers are no closer to the playoffs than they were at the end of last season.
---
ANAHEIM DUCKS: The Ducks have one of the best goalies in the league in John Gibson. They also have some name brand talent in Getzlaf, Fowler and Kesler, but they don't have enough to win. Press the reset button. Trade Gibson to Toronto for a package and hope for the best. The Ducks simply don't have what it takes to compete for a Cup right now.
---
LA KINGS: While the Kings had a nightmare of a season last year, I think they will be a little bit better in 2020. However, I said a "little bit better" and it's not like they could be any worse.
The Kings, just like the Ducks, are another team with a great goalie, with Jonathan Quick in goal. They have a great veteran presence, but in this case, the word veteran also can be doubled up with the words "old" and "aging". They are another team that needs to reset and rebuild.  For as good as Drew Doughty is, that contract is mind-boggling in this era.
Kings fans can sit back and appreciate their two Stanley Cup victories in this decade, but those days of being a contender are over.
---
EASTERN CONFERENCE ROUND ONE:
(Metro Division Champion) Washington Capitals vs (Second Wild Card) Philadelphia Flyers
(Metro Seed 2) Pittsburgh Penguins vs (Metro Seed 3) New York Rangers
(Atlantic Division Champion) Tampa Bay Lightning vs (First Wild Card) Florida Panthers
(Atlantic Seed 2) Toronto Maple Leafs vs (Atlantic Seed 3) Boston Bruins
WESTERN CONFERENCE ROUND ONE:
(Central Division Champion) Colorado Avalanche vs (Second Wild Card) Arizona Coyotes
(Central Seed 2) St. Louis Blues vs (Central Seed 3) Chicago Blackhawks
(Pacific Divison Champion) Vegas Golden Knights vs (First Wild Card) Nashville Predators
(Pacific Seed 2) Calgary Flames vs (Pacific Seed 3) San Jose Sharks
EASTERN CONFERENCE ROUND TWO:
Pittsburgh Penguins vs Washington Capitals
Tampa Bay Lightning vs Toronto Maple Leafs
WESTERN CONFERENCE ROUND TWO:
Colorado Avalanche vs St. Louis Blues
Vegas Golden Knights vs Calgary Flames
EASTERN CONFERENCE FINAL:
Washington Capitals vs Tampa Bay Lightning
WESTERN CONFERENCE FINAL:
Colorado Avalanche vs Vegas Golden Knights
STANLEY CUP FINAL:
Tampa Bay Lightning vs Vegas Golden Knights
And the 2019 Stanley Cup champions?
DRUM ROLL PLEASE!
That's right, I'm going with the Vegas Golden Knights to make history, and right the wrong of 2019 and win the Stanley Cup in 2020! I kind of wanted to go with the Bolts here, with the theory of they are due and there is less pressure, but I see Vegas entering the playoffs with a ton of steam and a lot of anger.
And now, with all of this said, watch the Kings beat the Blue Jackets in the Stanley Cup Final! (Screen-shot this!)
I hope you enjoyed this massive NHL preview blog. We're over 10,500 words here! However, I believe this is the first 2019-2020 season preview out there and I wanted to give it my all since I had some free time.
And lastly, before going home here, let me present to you, THE PANARIN CHALLENGE!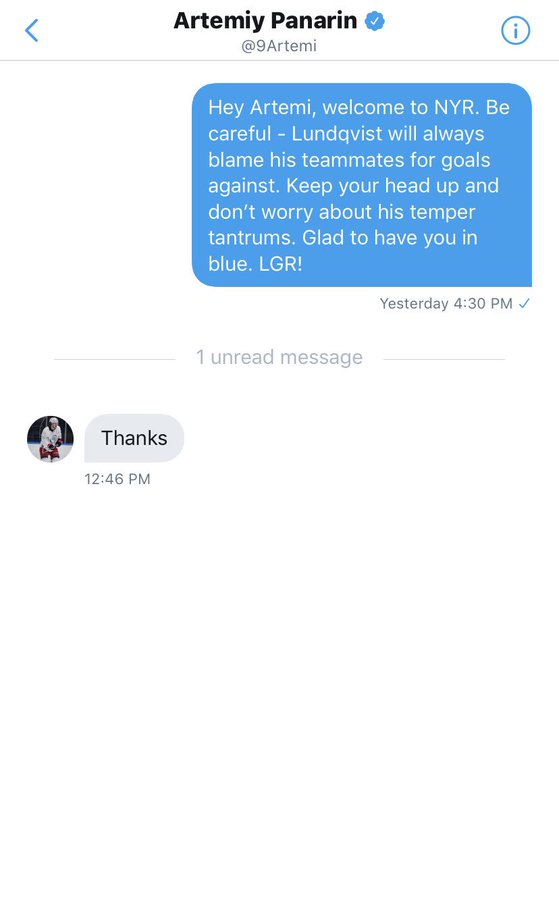 Artemi Panarin, the newest prize of the New York Rangers, is doing a hell of a job of marketing and branding himself this off-season. He's posting YouTube videos. He's doing interviews. He's giving daily updates. What he's also doing is answering fans on Twitter. However, while I don't have 100% concrete proof of this, I believe it's someone from his management team running his Twitter account. After all, if you've ever seen a Panarin interview, he can barely speak English, which to me, tells me that has someone else running his social media accounts for him.
Answering fan DM's from his official account, whether it's him or not, is a stroke of marketing genius. It connects him to the fan base. I'm not going to blow anyone up here, but I've seen endless tweets from Ranger fans, expressing their giddiness and sheer joy because Panarin answered them. It doesn't matter if it is Panarin himself or his team answering these tweets, it's just the fact that his official account is answering them. In turn, this generates new fans and creates a wave of Ranger rah-rah behind him. It's amazing more athletes don't do this, in an effort to push their brand.
As mentioned on my Twitter account @NYCTHEMIC , I said that I was going to message Panarin and see what kind of response I would get. Of course, I forewarned him about the attitude of the serial crybaby, in a one pout-faced Henrik Lundqvist. Just like fans who messaged Panarin nice and deeply profound things such as, "YOO ROOL" or "EYELANDERS SUCK AZZ", I got the same one-word response as them – "thanks".
What also is funny, is I posted my exchange with "Panarin" (I'm convinced it's a social media management team) on several social media platforms. Nothing beats the Cult of Lundswiss fans who just go bat-shit irate about stuff like this. I even had some teenage stalker get upset about this. I just wish there was a way to send these people this shirt, which my buddy @FIXXSER purchased: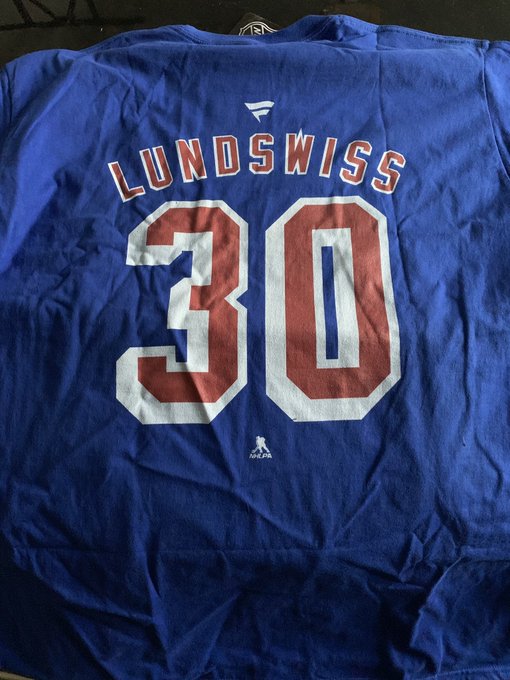 Now this brings me to the #PANARINCHALLENGE
Using the hashtag #PanarinChallenge , feel free to email me your best DM exchange with the Panarin twitter account. The silliest comment that Panarin responds to will get an undisclosed prize from me. That prize can range from an "Atta-boy", to a signed 8×10 from a current Ranger.
Remember, it has to be a DM or a response that you get from the Panarin account. If my buddy Ricky Otazu can get a response to this, this would put him in the lead in this contest:
@9Artemi hey Artie how's your hammer ?

— Ricky otazu (@RickyOtazu16) September 2, 2019
The sillier and dumber the better.
To be clear, I am not asking anyone to write stupid shit like "BREADMAN U SUCK!" Also, leave it to one message, as you don't want to blow the guy up either. Ask him silly stuff like, "What's your take on global warming?", "Have you ever farted while playing?" or "Has Micheletti hit on you yet?" The silliest response gets the prize and a shout-out in a future blog.
If you're too lazy to email me your response, use the hashtag #PanarinChallenge and I'll check it from time-to-time. Emailing your responses in is the best way to submit your entry though!
---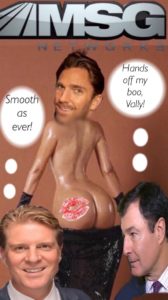 11,000+ words. I think we can call it a wrap here.
Stay tuned to the all-new and functioning better BlueCollarBlueShirts.com for more Ranger & NHL blogs thoughout the season!
See ya on the flip.
As always, thanks for reading and…
"LET'S GO RANGERS!"
Sean McCaffrey
BULLSMC@aol.com
@NYCTHEMIC on twitter