Greetings and salutations everyone and welcome to another blog here on BlueCollarBlueShirts.com. As I write these words, it's 11:58PM on Thursday night and I am full of hops and barley. That said, I'm still going to attempt a 10,000 word manifesto here. I apologize for any typos in advance!
On October 3rd, 2019, the Rangers kicked off their 2019-2020 season with a 6-4 win over the Jets of Winnipeg. If there is anything you can take out of this game, it is that the Rangers won the game. That's all that matters. In a season where there will be a lot of young players developing and with a new core looking to create chemistry, to pick up a win in Game 1 of this 82 game marathon, well that is a great thing.
In the case of the Rangers, there sure were some bumps, bruises and buffoonery along the way. However, at the end of the day, the Rangers picked up two points and sent the crowd home happy. Even better, the Rangers picked up the win in regulation, meaning that the 18,000+ fans in attendance didn't have to wait for later trains!
There is some stuff you can criticize from this game. When watching this game, it reminded me of one time when I went to the local watering hole by me and saw my friend three sheets to the wind. When I asked him how he was doing, he calmly replied, "There's always room for improvement." For the Rangers, there are some things they definitely can improve on.
While the Rangers do have to work on some things and not every game played like this will go their way, if you're a Rangers fan, you have to be happy about your money players. New toys, in Artemi Panarin and Jacob Trouba, each scored goals and had multi-point games. Marc Staal and Henrik Lundqvist, two players I'll get into more in-depth later on in this blog, but both, for the most part, had solid performances. However, the greatest performance out of any Ranger, was perhaps from a Ranger that's not making as many headlines right now, just because of all the new faces on the roster & the MSG Networks mandate of "Kiss Lundqvist's Ass All The Time". Of course, I'm talking about Mika Zibanejad, who had one goal, three assists and was named the number 1 star of the game.
As I sit back, reflect and work on this blog, as I've been saying all preseason, Mika Zibanejad will have a career season in 2019-2020. Playing with Panarin will boost his scoring totals to new heights. I know I'm not breaking any news here, but how can I not rave about how great Zibanejad was tonight?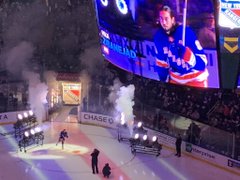 Off of puck drop here, I attended tonight's game, which means I didn't see the broadcast. Actually, I somewhat did see the broadcast, as I was sitting in section 328. With those seats, you get your own personal TV. You just don't get the commentary, which for me, is a good thing. After all, who wants to listen to Joe Micheletti verbally fellate the goaltender all game? It will always amaze me how after Lundqvist goal allowed, no matter how bad, Joe will blame the defense. Any time any other goalie gives up a goal, whether it's a Rangers back-up or a goalie for the other team, Joe will say, "that's one the goaltender wants back".
And an aside here – I actually saw Joe Micheletti about 5 times tonight, as he was walking around the bridges. I assume he had to go to the bathroom in-between periods, where he could rub one out to Hank. I'm just guessing here.
Anyhoo.
The Rangers are going with four alternate captains this season, with Jesper Fast, Chris Kreider, Mika Zibanejad and Marc Staal all wearing the "A" on their jerseys. As you can tell, the Rangers have given the "A" to their most tenured skaters. When asked about why the team still doesn't have a captain, Quinn said he was waiting for someone to emerge and then proceeded to kiss Lundqvist's ass, by saying Hank was the captain of the locker room. I don't know how many leaders berate their teammates to the media, but in RANGERSTOWN, USA, it's all Lundqvist, all the time.
It was my opinion that after the trade of Ryan McDonagh, because of his lengthy contract, the Rangers should've just given the "C" to Staal. I know everyone wants to hate on Marc Staal (isn't it funny that the people who hate Staal and his contract are the same people who tell you that Lundqvist is elite and worth every penny?) but really, ever since McDonagh went to Tampa, Staal has been the team's best defender. As I said previously about guys like DeAngelo and Haley, I think some fans just want to be right about their hate. Truth be told, and I'll say it again on this blog, Staal/DeAngelo may be your best duo on the team.
Oh and one last thing on Staal here. I believe it was Nick Adams on the Garden of Ill Repute Facebook Group (who needs to open up his own blog or podcast, because he has a brilliant mind and style) who posed this question first about Staal: "Is Staal really overpaid in 2019-2020?" I mean really, look at the contracts Skjei, Smith and even Shattenkirk got. I would say Staal is better for his money than those three. And just look at the rest of the league. For what Staal does and for what others get paid, Staal isn't that bad of a cap hit, as he once was. I don't want to be waving my dick about Staal all night long in this blog, but really, he has also helped groom the new d-men on this team too.
It truly is a shame, that just like Dan Girardi, Marc Staal will be more appreciated after he's gone. (And yes, I know you will say "YOO HAYTE HANK, THAT MAKES U A NO NOTHING GAY!" but Staal for his money makes more sense than Hank and his money. After all, we've seen three separate goaltenders post better numbers for the Rangers, as Hank's back-up. I guess you can also say this too: Benoit Allaire > Lindy Ruff.)
With Staal not getting the "C", I thought that going into this season, the Rangers should've given Mika the extra responsibility. I mean for all this banter about "The captaincy will weigh him down", how can that really be? Is the "A" wearing him down? I think not.
Some fans may dismiss the importance of a captain and to them I say this – how many teams have won a Stanley Cup without one? I'll tell you this, the last team to do so were the 1971-1972 Bruins, who ironically beat the Rangers in the 1972 Stanley Cup Final. Oh and keep this in mind for later – did you know that Teddy Irvine was part of that 1972 Ranger team? I can tell you this – the Rangers did not know that tonight!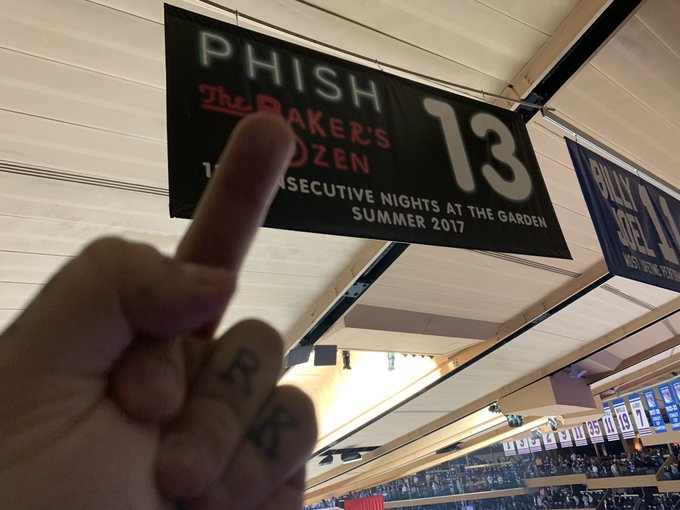 At this time, before continuing on about tonight's game, in case you're just coming back to this blog at the start of the season, here are my most recent blogs:
---
---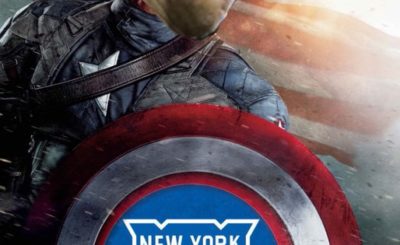 ---
---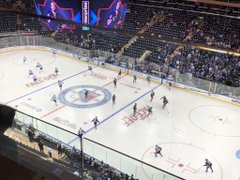 For the first time in a few years, the Rangers did not do their annual "blue carpet" ceremony before this home opener. The reason given was because of the construction on 33rd street, where the event is usually held. This worked out for the Rangers for two reasons today. The obvious reason is that it was raining out. Who wants to sit through that? However, more importantly, the Rangers have lost their last two home openers. I wonder if these ceremonies can be a distraction for the team, even if it is something as stupid as throwing guys off their usual routine? In either event, no go on the ceremony.
Personally, as usual, yours truly started the day off by hitting up the Molly Wee, where I ran into a bunch of people. It's always nice seeing the familiar faces there. I should mention for my fellow boozers here, was that the Molly Wee was packed like it was playoff game. Of course, the home opener brings a nice crowd. However, with a bunch of bars being shut down/closed (I recapped all of this in a prior blog, check my past blogs for the full rundown) there are less places for Ranger fans to pregame at. In turn, the bars that are still open should see their business increase.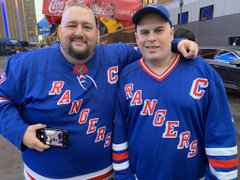 What's great about going to the 8th avenue bars before a game is that you're close to the Chase entrance. Rather than trying to get through the "Walking Dead" herd at the main entrance on 7th avenue, you literally breeze right through. To tell you what a Rangers degenerate I am, I'm 37 years old. I have never had a credit card in my life. Even to buy my condo, it took me forever, as I had to show old bills, tax returns and receipts. This year, because of all the Ranger perks with Chase, I got a Chase credit card. Of course, to me, the biggest perk is the quick and easy entrance.
Another perk tonight, which I didn't take part of, was the 30% discount on all jerseys being sold at M$G tonight. I debated getting one, but when I saw there were no Tony DeAngelo jerseys for sale, I passed.
Speaking of jerseys, it was tough to gauge the crowd, when it came to the topic of Panarin vs Kakko jerseys. Gun to my head, I would say I saw more Panarin jerseys, but it wasn't by much. Of course, Panarin had a head start, since Kakko just announced his number this past Monday. When it comes to other player jerseys, I saw just as many Zibanejad jerseys as I did Lundqvist jerseys. To me, I think Zibanejad will replace Zuccarello as one of the big name fan favorites of the team.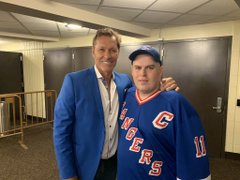 From the bar and from just being in MSG, you can feel the excitement from anyone you talked to. Whether you were waiting on line to take a piss, trying to grab a beer or riding an escalator, it didn't matter if the person you were talking to was in a jersey, in a suit or just wearing the free t-shirt the Rangers gave out – everyone was pumped.
What I also seem to have noticed is that no matter who you talk to, everyone is up-to-date on the roster. With all the roster turnover, everyone seems to be a hardcore. Everyone knows Kakko, Trouba, Fox, Panarin, Igor, Kravtsov and the names go on and on. It seems like everyone watched or followed the Traverse City Tournament and the preseason, no matter what their fan level is.
And while on the free t-shirt, here it is:
As talked about in my last blog, the new slogan for the Rangers is "PlayLikeANewYorker", which is also the new hashtag of the team. I just can't get into it. It doesn't mean shit in the grand scheme of things, but I'm still trying to figure out what "Play Like a New Yorker" truly means. Does it mean giving up a goal the second the team in front of you scores? Call me old school, but I prefer the simple NYR or LGR for things like this.
When it comes the shirt, I guess it's a nice little trinket, but I would rather a program with the line-up. A t-shirt fades away and deteriorates. A program is memento that you keep forever.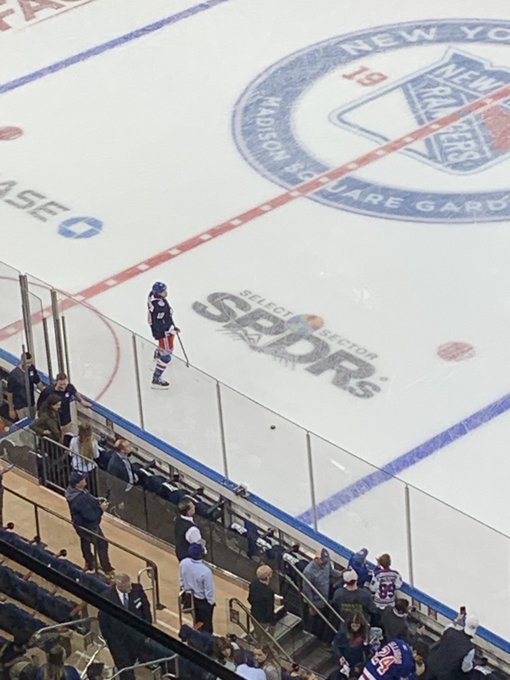 After picking up a nice cold and refreshing Molson, as there is only one beer stand in MSG that carries it, and that's by section 319, my buddy BORGATA RAY and I settled into our seats to watch warm-ups. Not much to talk about here, outside of Panarin being the last guy off the ice.
Prior to the anthems, the Rangers introduced their coaching staff, trainers and players. Of note, Benoit Allaire, the goalie whisperer, got the biggest reaction of all the coaches. Jim Ramsay, the trainer of the Rangers, received a giant ovation as well. In what was hilarious, Lindy Ruff was booed out of the building. He didn't even get a polite applause. It was pure boos on Broadway. This goes to my point made earlier – every Ranger fan was a hardcore tonight.
After introducing the coaches and trainers, the Rangers introduced everyone in numerical order, sans the alternate captains, who were introduced last. Panarin got a huge reaction. I thought he would've had the biggest reaction, but his reaction was dwarfed by Kaapo Kakko. Fans have really bought into Kakko big-time.
Of course, and as you may have seen, the biggest talk about the player introductions was Lias Andersson: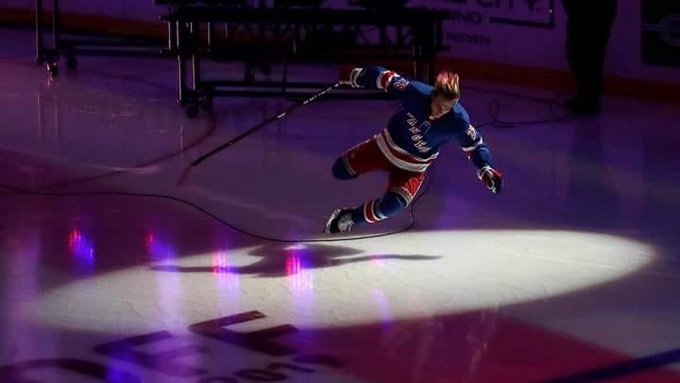 As you can tell from above, someone forgot to tell Lias Andersson that there was a camera cord on the ice. Oops. That's something he won't forget for a while. But really, why would you put a cord on the ice directly in the path of the players? Dumb dumb dumb! Nothing serious happened, but what if someone tripped and bumped their head on the ice, just because of something as stupid as leaving a cord on the ice?
To his credit, after the game, Lias Andersson took it all in stride:
😂😂😂 big one tonight!! Let's forget about this 👇🏻 and enjoy the win 😎😁 #LGR https://t.co/LdtDhqbpzn

— Lias Andersson (@liasandersson) October 4, 2019
Without question, it's much easier to laugh about this stuff after a win. When I saw this happen, I was really pulling for Andersson to get a goal or a big primary assist, but it wasn't meant to be. He didn't have a bad game, but I was hoping he would redeem himself in the box score.
After the introductions, we had the two national anthems. I felt the fans talking throughout the Canadian National Anthem was disrespectful. A few people near me were actually booing during it. Are you kidding me? Half these guys are Canadian. Worth mentioning, unlike last year, the Rangers didn't replay a classic John Amirante rendition of the anthem, as they had the same guy who did the Canadian Anthem do the American National Anthem. I guess the Rangers are rebuilding here too. Just a shame they won't rebuild the MSG Network staff or the goaltender position!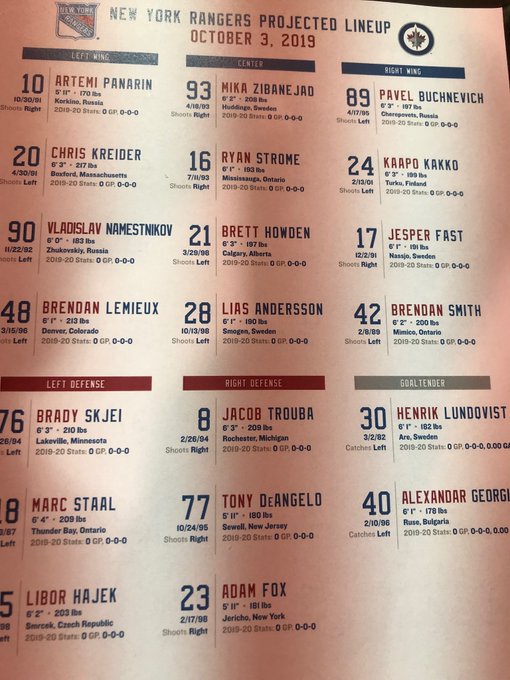 At this time, let me share with you the official box score of this game, courtesy of ESPN.com:
SCORING: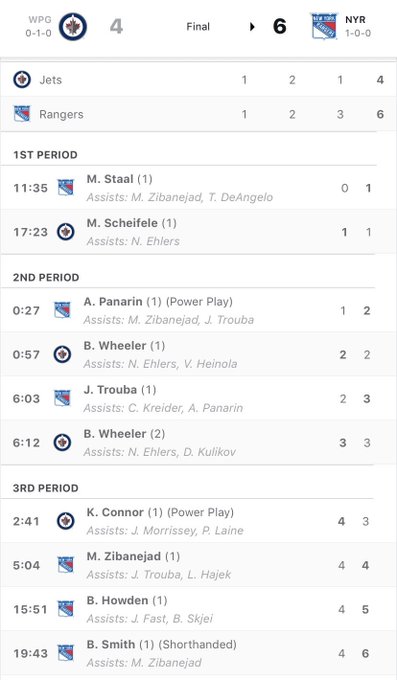 PENALTIES: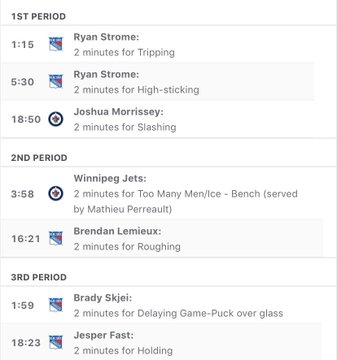 GOALTENDERS:
| | | | | | | | | | | |
| --- | --- | --- | --- | --- | --- | --- | --- | --- | --- | --- |
| SA | GA | SV | SV% | ESSV | PPSV | SHSV | SOSA | SOS | TOI | PIM |
| 0 | 0 | 0 | .000 | 0 | 0 | 0 | 0 | 0 | 0:00 | 0 |
| 31 | 5 | 26 | .839 | 22 | 1 | 3 | 0 | 0 | 59:09 | 0 |
| | | | | | | | | | | |
| --- | --- | --- | --- | --- | --- | --- | --- | --- | --- | --- |
| SA | GA | SV | SV% | ESSV | PPSV | SHSV | SOSA | SOS | TOI | PIM |
| 0 | 0 | 0 | .000 | 0 | 0 | 0 | 0 | 0 | 0:00 | 0 |
| 47 | 4 | 43 | .915 | 32 | 1 | 10 | 0 | 0 | 60:00 | 0 |

Going into this game, despite Winnipeg missing five of their defensemen from their playoff run in April and even with Bryan Little out, I wasn't confident with the Rangers winning this game. At least not confident to wager any money on it. I was EXTREMELY confident in this game hitting the over. With 10 goals scored, the over of 6 hit easily.
As I said last season and as I'll say again here – if Lundswiss starts, bet the over. Every time the Rangers score, you're guaranteed a goal against, because whenever Lundswiss gets a lead, he gets excited and wets himself like a puppy. We saw this happen twice tonight and it's just the same old shit from him. Stuff like this is why he hasn't and will never win a Cup. Yeah, he can make some nice saves (saves that every goalie around the league makes and for a lot less money) but when it comes to giving up those back-breaking and momentum-shift goals, Lundswiss is the KING of that.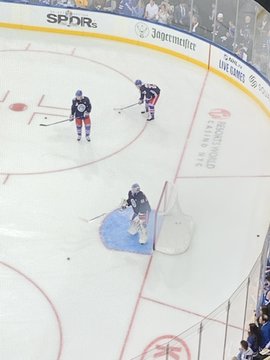 This was a wild game tonight and I don't even know where to start. All I know, is that before the game, on Facebook and Twitter, I asked "Who will score the first goal tonight?" I got something like 75+ responses combined. Not one person had Marc Staal. (I went with Tony DeAngelo.)
The Rangers and the Jets pretty much played a slop-fest style of hockey tonight, which led to good television if you didn't have a rooting interest. The game was a constant pendulum and it was anyone's game during the 60 minute duration. The two teams combined for 79 shots on goal and probably missed 25+ more, with shots going wide or high.
I want to get this out of the way first. The Rangers are going to need time to jell and find their footing. You have all these guys here, many who have never played with each other before. You saw a lot of that tonight. To me, Pavel Buchnevich, despite familiarity with Zibanejad, was the biggest example of this. Panarin and Zibanejad set up Buchnevich a few times, and Buchnevich was always a second late with his linemates. Obviously, Panarin and Zibanejad are more skilled than Buchnevich, but even so, Buchnevich made sure to let everyone know he was the weak link of his line.
A devil's advocate may say here that Zibanejad and Panarin were that great tonight, which in turn, makes Buchnevich look bad. I can see that too. I can't say enough good things about Zibanejad and Panarin tonight. These two were simply amazing and superb.
Kaapo Kakko is another player like this. People will have more patience with Kakko and rightfully so. The Garden is going to explode when he scores his first goal here. However, it may take time. I think some fans have some outrageous expecations, where Kakko is this generational player like McDavid, Crosby or Ovechkin. Can he be? I'm not going to write him off. That said, to think he's going to have a 40+ goal, 100 point season, well that might not be realistic.
Defensively, the Rangers had some hits and misses. Everyone will jump down Marc Staal's throat for every little thing, but I thought for the most part, TDA & Staal were solid tonight. As I say all the time – no defense is perfect, no one plays turnover free hockey.
I mentioned in my preseason blogs that I thought TDA was the best d-man on the team. In tonight's game, Jacob Trouba was the best blueliner, at least in my opinion. And I'm not just saying that based on the point production.  However, Trouba's partner, Brady Skjei, who had one hell of a preseason game in Game 4, was horrendous tonight. Skjei was particularly "skjeitty" in this game, with no foul being bigger than the stupid penalty he took in the third period. As I've said 76789463789643 times, I don't see what the Rangers see in Skjei and if there is any black mark on Gorton's tenure as GM, it's the contract he's given his defensemen. (This would include Shattenkirk and Smith.)
While on the topic of Brendan Smith, I know it's the cool thing to bury him and I get it, but I didn't think he was that bad tonight. I do see why Quinn likes him. Of course, I rather anyone else, but to move Smith, you have to showcase him. Ranger fans won't give Smith a pass and I don't blame them. When you're making huge money, there is just no excuse to come into camp in a fat and bloated condition. The fat and bloated people, including yours truly, are the people at the rink that pay. They are not the ones that play.
When it comes to the Rangers deficiencies, the most glaring issue is the Rangers depth at center. It's been a topic since April and all the way to the present day. We have Mika Zibanejad as our clear cut number one center. From there, it's a crap shoot.
Going into this game, Ryan Strome got the nod, with Howden and Andersson filling the 3C and 4C spots, respectively. The thinking here is that Strome has the most experience, was a solid hand last season and really, since no one really took the bull by the horns in the preseason, he got the spot by default.
If any player's stock took a dip tonight, it was Ryan Strome, who took two quick penalties in this game, forcing the Rangers penalty kill on the ice. The Rangers PK did a great job and killed both of Strome's misgivings. Strome also finished with a -1 +/- rating. I know the +/- stat has been devalued over the years, but take a look at tonight's game. Zibanejad was a +4. Panarin was a +3. Strome was a -1. You calling Panarin and Zibanejad a fluke here? I think not.
The Rangers, after killing these two penalties, struck first blood, when MARC FUCKIN' STAAL put the Rangers on the board with a highlight reel goal. This was no fluke. This was a pure skill goal from perhaps the least talented goal scorer on the team! Staal took the puck, wrapped around the net and put the puck through the five hole of Hellebuyck. HIGHLIGHT REEL STUFF HERE FOLKS:
Future Trivia Fact: Marc Staal scored the first @NYRangers goal of the 2019-20 season#LGR pic.twitter.com/AfmONXJR4O

— Rangers on MSG (@RangersMSGN) October 3, 2019
1-0, good guys. I don't know if you would count this or not, but Zibanejad assisted on the goal, giving the GAG Line 2.0 their first goal of the game. Tony DeMAGAngelo, who had an 8 game assist streak last season, also picked up an apple here.
I have to say this, when Staal scored, I was so happy for him because I always defend the guy. That said, I joined in the laughter around my section. I mean, it's Marc Staal here scoring a Gretzkyesque goal!
As the period went on, Mark Scheifele scored at 17:23 into the first, to tie the game at 1-1. Can't really bury Hank here, and I'll save all my Hank stuff for the end of this blog. I will say this, he hasn't had a shutout for 2+ years and it's debatable if he'll ever get one again, especially in a league that's trying to increase scoring by any means possible.
In a period where the Jets had the puck more than the Rangers, the teams were tied 1-1 after twenty minutes.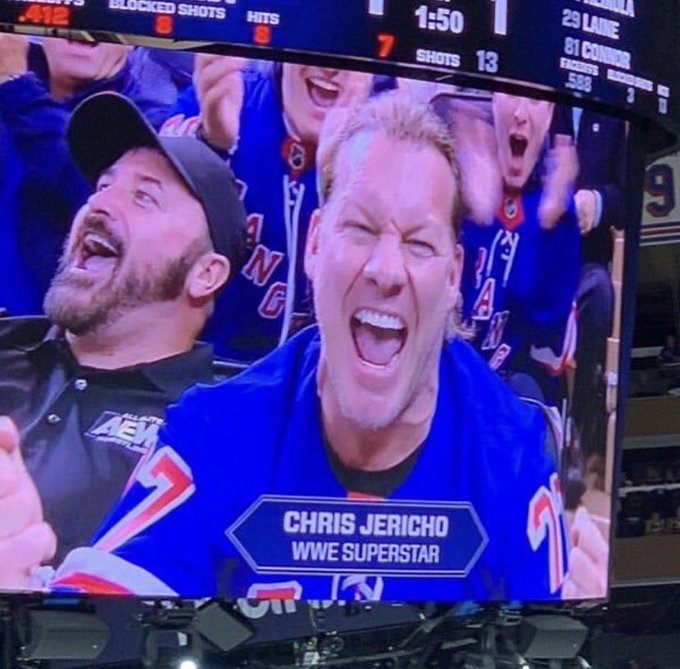 Whether you know this or not, and I have mentioned it before, I spent ten years in the pro wrestling business, running independent shows. I've been a life-long wrestling fan and while I don't watch it as much as I used to, I still keep tabs on it.
During the game, there were a ton of celebrities that were shown on the scoreboard. You had Justin Tuck, Michael Buffer, Triple G, (With Buffer & GGG promoting the fight on Saturday) Michael J. Fox and Chris Jericho.
Let's do the wrestling stuff first. Chris Jericho spent something like 18 years in the WWE. He has since joined the WWE's competition, in the new upstart company called AEW. AEW is basically the WCW of 2019 and they even have a show on TNT too, where they do nWo beatdowns in the main event. All that is missing are the fans throwing garbage into the ring.
Chris Jericho is currently the AEW World Champion and is the focal piece of the promotion. He's the biggest name they have.
When the Rangers put him on the big board, they made two party fouls, with the wrestling foul being when they called Jericho a "WWE SUPERSTAR". Someone must've told the Rangers this, because 20 minutes later, they pictured Jericho, who was drinking a bit of the bubbly at the game, and listed him as the AEW World Champion.
The biggest foul to me was the HOCKEY foul. Now, as you know, I didn't see or hear this game on TV. I was there live, so I don't know if Sam or Joe said anything. However, how do you have Chris Jericho there AND NOT MENTION THAT HIS FATHER IS AN EX-RANGER? Jericho's dad, in Teddy Irvine, was a good role-player for the Rangers.
This shit just gets under my skin and is just another example of the Rangers not educating their fans about their glorious history. Whether it is Phish banners instead of Boucher and Cook banners or the Rangers talking about wrestling instead of a "Rink of Honor" type of player, the Rangers just REFUSE to promote their own grand history.
And I'll say this one more time. You may know me as the guy who doesn't like Hank. Fine. That said, let it be known, PROMOTING RANGERS HISTORY is my true passion and purpose when doing these blogs.
You non-wrestling people must think I'm out of my mind! If it makes you feel better, on my way home, I was stuck on the train between a bunch of Comic Con nerds (which is probably why Jericho was in NYC) and they all had disgusting body odor and smelt like a mix of wet shit and Hank's tampon!
NEXT!
Michael J. Fox was in the building tonight, but no one was shaking with more anger in that building than me in this second period. (Waaaa, Sean made a MJF joke. Get over it. MJF jokes about it and did a funny episode about his condition on "Curb Your Enthusiasm". Laughter is the best medicine.)
The second period made you experience the highest of highs and the lowest of lows.
Entering the period on a power-play, you know, the power-play that had a success rate of 9% in the preseason, the Rangers actually SCORED! And guess who it was? Your $11.6M man, in Artemi Panarin. Panarin was fed by Zibby and boom, what a snipe, 2-1, GOOD GUYS. Even better, Trouba picked up the secondary assist. In other words, your two highest paid players from this off-season picked up a point on this PPG. What's the expression? "OH BABY!"
Panarin, who scored just 27 seconds into the period, saw his goal erased when Lundqvist was beat immediately 30 seconds later, by Blake Wheeler. YOU COULDN'T EVEN CELEBRATE PANARIN'S GOAL! The PA didn't even have a chance to announce the goal, and here we were at 2-2.
Then, at 6:03, Jacob Trouba blasted one top shelf past Hellebuyck. 3-2 GOOD GUYS! However, before we could celebrate that goal, Lundswiss was beat just 9 seconds later, by Blake Wheeler AGAIN! Even worse, this was a horrendous goal to allow. Those 40′ shots are a bitch! I'll get into the Hank stuff at the end, BUT IN NO WAY IS IT ACCEPTABLE FOR A GOALIE TO GIVE UP TWO GOALS LIKE THIS AT ALL. Especially not one of the highest paid goaltenders in the league. UNACCEPTABLE. SAD!
Just to recap this – Trouba and Panarin, the big money players of this off-season, each scored a goal that gave the Rangers a lead. After both goals, within 30 seconds, Lundswiss coughed the lead back up. Lundswiss could ruin a wet dream. (Ironically, my wet dream sees him in handcuffs, with Donald Trump and ICE ripping him out of the net!)
3-3.
I was in such a fucking rage that the rest of the second period was kind of a blur. I will say, Hank did make some good saves throughout the game, but you can't forget this stuff.
It was also at this point in the game that I thought Libor Hajek was having a rough go of it. I'm sure he'll get another chance, but I wouldn't be opposed to seeing Ryan Lindgren. Hajek made a god-awful turnover in this period, but Hank bailed him out.
Later on in the period, with about four minutes to go, Brendan Lemieux took a roughing penalty after giving a shot to a Jet. Speaking of Jet fans, there were patches of them in the building, as was evident during the National Anthem. I was talking to one of them on a beer line and they are NOT a fan of Jacob Trouba right now. One of them rolled their eyes at me when I said "at least you got Neal Pionk!"
Tie game, 3-3, after two periods.
Early into the third period, Skjei lifted a puck over the glass. Power-play Jets. At this point, I had a bad feeling. It wasn't gas from the stale Stella beer I had either. And while on that, with the Molson line being long, I grabbed a Stella in the second period. The beer was stale and was flatter than freshly paved cement. Of course, I drank half of it. Anyway, at intermission, I went back to the beer vendor and told them to smell how bad it smelt. They gave me a free beer, this time from their Bud Light tap. I thought I should mention this, because I'm always ripping M$G for their horrible practices. They made good with me and if I'm going to talk about the bad things I experience, I have to mention the good experiences too.
With the Jets on the PP, I had that feeling that it was time for the customary and obligatory ex-Ranger goal. I was waiting for Pionk to score here, but instead, it was Kyle Connor scoring at 2:41 to give the Jets a 4-3 lead. This is one Hank could've had, as the puck slowly trickled past him. It's tough to get on a goalie for a PPG, but he had this save, he just didn't have all of it.
This Jets lead didn't last long though, as the Rangers returned the favor, courtesy of Mika Zibanejad:
Mika!!!!!@NYRangers | #LGR pic.twitter.com/OK5j049DKG

— Rangers on MSG (@RangersMSGN) October 4, 2019
Let me say this one more time on this blog – "OH BABY!"
This Mika Zibanejad goal was a carbon copy goal, of the goal he scored in the shoot-out against Carter Hart, in the preseason game with the Flyers. What a move. Eventually, goaltenders will look for this move because of their scouts, but until a goalie stops it, just keep on doing it! Even with scouting, in the heat of the moment, this is tough to stop.
4-4, with about 15 minutes remaining.
With a tied score, not much defense and an exciting, yet sloppy style of game, the time ticked down. We got to the FOXWOODS FINAL FIVE part of the game. I could see people in my section (and I did this too) looking at their phones for the next train. However, just seconds later, at the 15:51 mark, Brett Howden backhanded a puck like John McEnroe right by Hellebuyck. 5-4, GOOD GUYS!
This was a huge goal for Howden and for many reasons. With Strome not having a good game, this helps Howden's position on the depth chart. Howden also has to worry about guys like Lias Andersson and perhaps eventually, guys like Filip Chytil and Boo Nieves competing for minutes. This was a hard-work goal and it would also turn out to be the GWG.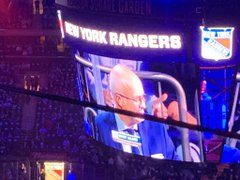 As the clock worked its way to triple 0, Jesper Fast was called for a questionable holding penalty, which then gave the Jets a PP for the final 1:37 of regulation. With the Jets pulling Hellebuyck in the final minute, this gave the Jets a 6 vs 4 attack, but also allowed the Rangers to ice the puck whenever they wanted.
The Rangers, and Hank to his credit too, fought off the Jets and with 17 seconds remaining, Brendan Smith, YES, Brendan Smith, finished the game with an empty net goal.
Three things here:
— Good for Brendan Smith and good for the Rangers, with the PK units playing great tonight. Far too often, the Rangers struggle in this situation and Smith finished the game.
— Who had Marc Staal and Brendan Smith with more goals than Kaapo Kakko after one game?
— And to the person who asked me on twitter, I think the odds of Staal & Smith both scoring in this game, was something like 767867837896378946747896347896389346834968934 multiplied by pi : 1.
6-4, GOOD GUYS, your final from MSG. While the play on the ice could've been better, you couldn't ask for better drama or a better final result.
Personally, I'm now 1-0 this season, which is nice, as I was something like 3-18 over the last three years. I saw 6 Ranger goals tonight. To put this into comparison, last season, I went to Colorado and Arizona and saw the Rangers lose by a combined score of 11-1. So yeah, this feels (and to bring up Larry David & Curb again here) pretty, pretty, pretty good.
Now, let's do the Lundqvist stuff.
You know I don't want him on this team and I've wanted him gone for some time now. In 2019, it makes NO SENSE at all to keep him here. Just refer to my past blogs. Simply put, you can't rebuild a house with the oldest and most rotted pillar. You want to rebuild this team, then you also have to rebuild the goalie position. You have the new coach. You have the draft pick. You have the big free agent. You have the young forwards. You have the young defense. However, as the era changes, the Rangers refuse to cut the cord on Lundqvist. It serves the team no purpose to have him here, both rebuilding and cap wise. I don't see how anyone can argue that.
In this game, Lundqvist made 43 saves on 47 shots. More impressive, he made 10 short-handed saves as well. How can you bury that? You really can't.
That said, all the same stuff is still there. Goal in the first minute of the period? Check. A goal allowed right after the Rangers score? Double-check. A soft goal allowed? It was all there tonight.
If you watch these goalies around the league, the saves Lundqvist were making were the saves EVERY starting and some back-up goalies in this league make. If you want to compare him to Hellebuyck tonight, look at the goals he gave up – a PPG (like Hank), a blast from Trouba, a breakaway to Zibanejad, a goal where Howden capitalized on a defensive mess and the Staal one. Does Hank save these shots? Maybe, but surely not definitely.
I recently saw an article on NHL.com, where the LA Kings writer was talking about how the Kings should move on from the 34 year old Jonathan Quick, winner of 2 Cups (one Cup he stole by himself) and embrace their rebuild. I see people knocking Eli Manning, winner of 2 Superbowls here in NY. For whatever reason, Lundqvist is treated like he's the greatest Ranger and goalie of all-time and both of those things aren't true.
I can't knock his game tonight, but the reason he doesn't have a Cup and won't win a Cup, since the contract he signed in 2013, is because when push comes to shove, yeah, he can make the big saves time-to-time, but he's also prone to giving up goals at the worst possible time. He's good for one bad goal allowed a game, which is the difference in winning games, especially in the playoffs.
What's even more infuriating, is that I heard the MSG Networks were up his ass so much tonight, that Micheletti needed to wipe the shit out of his hair after the game. I heard Vally was almost as bad, but to Vally's credit, he didn't blame aliens, Tegridy weed, the Chinese, Trump, sun spots, liver spots, your dog Spot and anything else for the third goal allowed. Micheletti did that.
We all know Lundqvist was a great goalie, will have his number retired and all that blah blah blah. However, MSG over-compensates for this guy, like a small-dicked middle aged guy buying a Ferrari after a divorce. The fact is, Lundqvist is ranked in the 20's, when it comes to the best starting goalies in this league. He really is just Luongo with better hair and he's the benefactor of playing in a bigger market.
I fully expect him to take the start on Saturday, against the terrible Senators of Ottawa, which would really be a disservice. This is supposed to be a rebuild. The Rangers have the best goaltending coach in the league and should really be focusing on the growth of Georgiev and Shestyorkin. They shouldn't be worried about padding stats and being a cheerleader from a player whose prime is long gone. Why not bring back Leetch if you want to do that? At least he won something.
I don't want this to be another season of ripping Lundswiss every game, because I know that gets tiresome. I really love this roster and the direction this team is moving in. That said, the Rangers need to rebuild and give playing time to the goalies that will be here for the next run. JD should know this. After all, the Rangers WAIVED Giacomin FOR FREE and replaced this Rangers icon with JD himself. What happened? Three years later, with a new coach, a new GM, a new defense, new forwards, AND YES, A NEW GOALIE, the Rangers were in the SCF. If the Rangers were to say toodles to Hank, I think history would repeat itself. Instead, the Rangers are holding on to the worst contract they have, because of Hank's past accomplishments.
Oh, and whenever Micheletti says "vintage Lundqvist", it means that the recent Lundqvist hasn't been that great. Micheletti just doesn't realize what he's saying!
In closing on this, let me be clear. Lundqvist had a good game tonight, but the same things that plague him are still there and it just serves the Rangers no good purpose to have him here as a new core emerges.
One game down, 81 to go. Two points for the FIRST PLACE AND UNDEFEATED NEW YORK RANGERS!
One last thing I wanted to mention here tonight, is how the Rangers are really beefing up their social media presence. You can tell from the Tweets and Facebook postings, that whoever is running these accounts, is a fresh out of college kid. The tone of everything is young. However, the social media accounts have been a non-stop source of information, which is great. They are also posting gifs and clips of everything too, as I guess they want to monetize their own footage, rather than having some dick doing it from their basement. Now if they would only promote the old footage from their vault!
The Rangers return on Saturday night, in Ottawa. The Senators may be worse at hockey than the Dolphins are at football. I'm not sure if they are as bad as Micheletti is at commentary though!
I'll be back Saturday night. Until then, enjoy the good vibes and this victory. I don't know if every game will be like this, and I expect some growing pains, but for this season, all you can ask for are exciting and competitive games.
Man, am I happy to have the Rangers and hockey back. Don't let my Lundqvist stuff fool you – I love this fucking team.
As always, thanks for reading and…
"LET'S GO RANGERS!"
Sean McCaffrey
BULLSMC@aol.com
@NYCTHEMIC on Twitter