Greetings and salutations everyone and welcome to another blog here on BlueCollarBlueShirts.com. Let me forewarn you here, as I start this blog, I'm about 20 drinks in and have been up for nearly 24 hours. In other words, give me a pass on whatever typos or grammatical errors you may find here!
During this entire preseason, I've recapped every game. In fact, now that I mention this, let me do my annoying plug spiel here, then jump into this game and everything else that's going on in Rangerstown, USA.
Say it with me folks! In case you missed my previous blogs or need a refresher, here are my most recent works:
---
---
---
---
---
---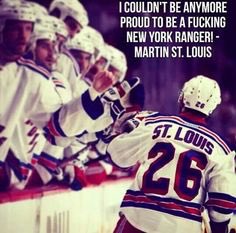 In the Rangers sixth and final game of the preseason, the team traveled to the rink of the Islanders AHL affiliate, in the Bridgeport Sound Tigers. As mentioned on past blogs, I have no clue what a "Sound Tiger" is. Doesn't every tiger make sounds?
When it comes to the Islanders, they have shown over the years that they have no qualms about not having a true home arena. And just like many other Ranger/Islander games where the Isles are the host, the crowd in attendance seemed to be a 50/50 mix of both Ranger and Islander fans.
While my comments about the Islanders being nomads may sound catty (or should I say "sound-tigery"?) I bring up the locale of this game, just because the fans in attendance brought it just as hard as the players did.
For the teams involved, this was a game that you just want to finish as fast as possible. Both teams wanted to avoid any sort of injury. Instead of just going through the motions, the two teams fought tooth and nail all game. If there was anything bad about this game, it was the abundance of penalties. The second period alone felt like it was three hours long with all the whistles. I think there may have only been something like three minutes of five vs five hockey in that period.
For the last time on these blogs in 2019, I'll say this sentence – "Yes, I know it's only preseason and BLAH BLAH BLAH." That said, for a preseason game, both teams went at it and gave a full 100%. There are many reasons for that. On the Islanders end of things, they pretty much put their full team out there, sans Derick Brassard. They didn't want to be upstaged by a bunch of Ranger kids. After all, you had players in this Rangers line-up who aren't even of the legal drinking age!
For the Rangers, there were players in this line-up that were playing with the fate of their career being questioned. They also had their hockey future on the line. Will they make it to the big club? Will they have to go to Hartford? Will they be cut from the organization altogether? In turn, what should've been a ho-hum and safe preseason game turned out to be anything but that. If any preseason game this season had the electricity and fire of a regular season game, this game was it.
As far as news before the game, the Rangers cut Steven Fogarty and Danny O'Regan. Both cleared waivers and will be assigned to Hartford. That left the Rangers with the following players: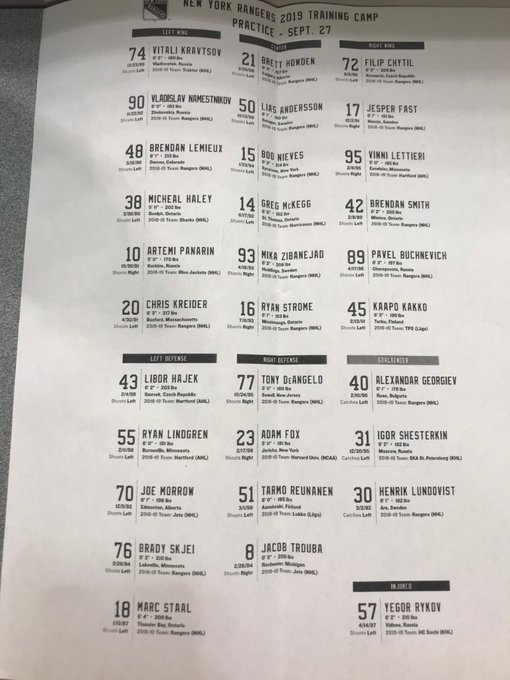 The lines for the Rangers in this game were the top four lines that you see pictured above. The defensive pairings were the top 3 D's you see listed above. The KING OF KINGS, in Alexandar Georgiev, played the entire game in net.
As it stands right now, the Rangers have 31 players on their roster. They need to get down to 23 players for their active roster. Furthermore, and as you probably know, the Rangers will dress only 20 men per game. In other words, the Rangers must cut 8 guys between now and Thursday. We'll get into all of that after I run through this game.
In tonight's 4-2 loss to the Islanders, I thought everyone played hard. You had a lot of action in this game and aside from whistles, there weren't many dull moments. Let's breeze through this game recap.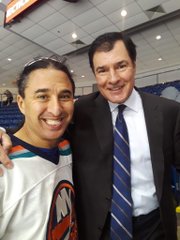 The second I turned on the television, I was greeted by Joe Micheletti. I swear, the second I saw him, I got a chill down my spine and a shart in my pants. He has that effect. Without hesitation, Joe went through all of his same old shit. "This player is "X" amount of years old." "The Rangers love "player x"." At least Lundqvist wasn't playing tonight, so were spared Joe's "Ode To My Swedish Lover".
The first half of this period was dominated by the Rangers. Six minutes in, the Rangers were out-shooting the Isles, by a tally of 4-0. One player that I've been pulling for, in Vinni Lettieri, saw another shot of his, this preseason, ring off the post. I'll get more into Lettieri at the end of this blog, but this was a game he needed to shine in. To David Quinn's credit, he gave Lettieri a ton of playing time tonight. It felt like Lettieri's line had the most ice time in the first two periods of this game. Lettieri was also on the first line of all seven failed Ranger power-plays in this game.
Again, I'll get more into this below, but SPOILER alert – Lettieri isn't making this team. At least not in my opinion. Quinn gave him every opportunity this preseason, but for whatever reason, Lettieri, who can dominate AHL games, just can't find the net in NHL games. With a cornucopia of talent, Lettieri has played himself to the bottom of the pack. Or maybe I should say Wolfpack?
With the Rangers bringing the noise and juice in the early stages of this game, Georgiev was finally tested. He would make a stunning and highlight reel save on Anders Lee, as Georgiev did a split and kicked his pad out. A few minutes later, in a new segment called "The Amazing Save of the Game", Micheletti & Rosen babbled about how great this save was. Of course, because this wasn't Lundqvist making the save, at the end of this first period, Micheletti, WHO MIND YOU, RAVED ABOUT THIS SAVE DURING A REPLAY, said "Georgiev didn't have to do anything in this first period." Clueless Joe.
And for those who missed this save, here it is:
Georgiev robs Lee on the doorstep pic.twitter.com/6AHNlkeOM4

— Rob Taub (@RTaub_) September 28, 2019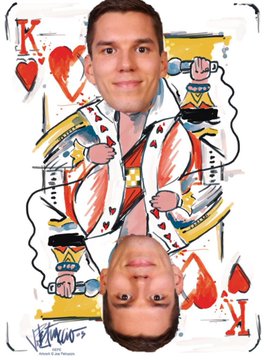 Tony DeMAGAngelo, a cinch to be on the ice on Opening Night, had another fantastic game. I thought that in this preseason game, Libor Hajek, playing alongside TDA, also had a strong game. Did TDA make Hajek better tonight? I don't know, that's a question for Quinn to answer. What I can tell you is this – many times during this game, you saw TDA, while on defense, basically acting like Peyton Manning. TDA was telling guys where to go, pointing out open men and basically quarterbacking the defense, just like he does with the Rangers power-play.
I hope I'm right on this next statement – "The Rangers messed up by not locking down TDA long-term during this off-season."
The game showed its first sign of being chippy at around the ten minute mark of this first period. Lemieux got swarmed by a few Islander scumbags and right away, TDA and Lettieri were there to make the save. This was nothing compared to what was to come.
After screwing around with Lemieux, Johnny Boychuk would go to the box, giving the Rangers their first of seven different power-plays in this game. Since this is a preseason game, I'm not going to recap every penalty in this game. Let me just say this and get it over with. The Islanders were 2-6 on their power-play. The Rangers were 0-7. The Rangers lost this game 4-2, with the fourth goal being an empty net goal. I can not stress enough how important special teams are.
And again – I know it's preseason. That said, in a game where the Rangers had 29 penalty minutes and the Islanders had 31 penalty minutes, which you know, is pretty much your players in the box for half the game, you have to be better here. The Rangers had nearly 14 minutes of PP time (one of their power-plays was an abbreviated one, as the Islanders took a penalty while on their own PP) but wound up logging 6 shots overall. That equates to averaging less than one shot on goal per PP.
Of the seven PP's the Rangers had in this game, one looked good, one looked okay and the other five were the Rangers acting like "The Three Stooges"; all trying to enter a door at once. SAD!
As this game approached the 14 minute mark, it was all Rangers. However, the Rangers couldn't put a goal past starting goalie Semyon Varlamov, the Isles goalie that's here to replace Robin Lehner and to groom goaltender Ilya Sorokin, when Sorokin finally gets to Belmont.
If you're a hockey fan, you've seen this script before. One team gets so many advantages and so many chances, yet fails to score. When it's all over, the other team pulls out a victory. That's basically what happened in this game. The Rangers were the better team for most of the game, but the Islanders capitalized during their advantages more than the Rangers did.
The Islanders would come on late into this period, but Georgiev did his job, even with the Rangers on the PK. The Rangers, who dominated the puck and had a 5-0 shot advantage to start, went into intermission seeing the Islanders with a 8-7 SOG edge.
And again, let me put this on the table one more time. The Islanders basically had their Opening Night team out there, while the Rangers went with guys mostly playing for the right to make the team on Opening Night. In other words, while the Rangers flubbed their chances, this is not what this game was about. However, for a bunch of kids in this line-up, with a few veterans sprinkled in, the baby Rangers held their own.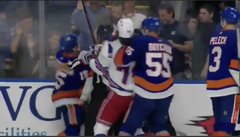 The second period was a fiasco. The penalty box was like a cheap hooker – everyone got a turn inside.
Just like the first period, Vinni Lettieri would have a great opportunity at goal, but instead of finding the post this time, he found Varlamov stopping his shot. Poor Vinni, just no puck luck at all.
The two teams would continue to trade penalties. If there was anything to take out of this game for the starting Islanders squad tonight, it was the fact that they got a ton of work on their special teams. This whole second period was just a merry-go-round of penalties.
Do you remember how I criticized Lundqvist a few games ago? (This is where you say, "YOU TALK SMACK ABOUT HANK ALL THE TIME!) What I'm referring to in this specific instance, is when Lundqvist left the net after the Rangers took a penalty against the Devils in the second game of the preseason. Lundqvist already surrendered three goals. He didn't want to be out there for goal number four. I said at the time that this was poor goalie etiquette from Lundqvist. Yes, Lundqvist and Adam Huska were to split time in that game. That said, YOU NEVER see a goalie change with your team about to go on the penalty kill. You always put your new goalie in during a five vs five/even strength situation.
Sure enough, after killing a Rangers power-play, Varlamov gave up the net and Thomas Greiss took over. Instead of playing 30 minutes each, Varlamov played 32 minutes and Greiss played 28 minutes. Greiss entered the game at an even slate and didn't have to worry about being down a man. Again, this is GOALIE ETIQUETTE.
After killing off more Ranger power-plays, the Islanders made their goalie switch. A couple of minutes later, Vladislav Namestnikov beat Greiss to give us our first goal of the game. However, the story here was the great pass from Lias Andersson, who finished off his excellent preseason with this assist. 1-0 good guys, with about 8 minutes remaining in the period.
King Georgiev would go on to make a few more big stops in this game. However, during an Islanders PP, Michael Dal Colle beat Georgiev with just 17 seconds remaining in the second period. 1-1 game.
However, the story here wasn't the goal. As triple zeroes hit to signal the end of the period, Ryan Lindgren and Casey Cizikas got into a fight. Check it out:
Lindgren big mad at that @zeeker11 hit 😂 💪 @NYIslanders | #Isles pic.twitter.com/MTjnl5YJa2

— Isles on MSG+ (@IslesMSGN) September 29, 2019
If you notice, "Cowardly" Cal Clutterbuck skates to Lindgren and starts throwing bombs at the ribs of Lindgren. That pussy should've been kicked out of the game for these cheap shots. You know me, I'm all for fighting, but it should be one-on-one. This Pearl Harbor sneak attack was the stuff of a fraud and a dirtbag.
I always liked Clutterbuck's game, but after tonight, eff him. This was dirty as hell and he should be suspended for this. How do you allow a guy to throw live rounds at a defenseless guy who's already in the middle of another fight? This isn't the WWE. There are no run-ins or faction attacks. This was purely classless and Cal Cluttercuck is a big piece of shit. With all the penalties called in this game, this should've been an automatic 5 minute major and game ejection. You can't encourage or allow a third man entering a fight and attacking a guy with his back turned. Cluttercuck showed that yellow streak down his back tonight.
If it were up to me, I would force Cal Cowardcuck to sit in a dark room for a month's time and listen to a 24/7 loop of Joe Micheletti commentary. That would teach him.
In the third period, after failing on another power-play attempt, the Rangers PK would be asked to stop another Islander PP. With four minutes and change expired in the period, Josh Bailey capitalized on a Georgiev rebound, giving himself the second Islanders PPG of the contest. 2-1 bad guys.
About a minute or so later, Tony DeAngelo would rocket one past Greiss from the top of the circle. 2-2. On the goal, I saw some people going nuts about Greg McKegg & Libor Hajek getting the assists. However, don't get it twisted – this goal was all Tony. This wasn't some tic-tac-toe sort of thing. This was Tony getting the puck, making his move and burying the puck.
Speaking of Tony, I believe he had a 100% success rate at clearing the puck in this game. I don't know if there is some fancy boy stat for this, but every time Tony moved the puck out of the zone, it went out of the zone without issue.
After this goal from TDA, the monkey-faced loser son-in-law of Boomer Esiason, the primate known as Matt Martin, would employ cheap shots at Brendan Lemieux.  Martin was trying to goad Lemieux into a fight, but Lemieux wouldn't bite. With Lemieux restraining himself, he drew this shit-flinging monkey into the penalty box. Of course, the Rangers would then fail on their ensuing PP.
With another failed power-play, the game continued to have bite. This time, the 6'5″ pile of shit known as Ross Johnston, picked a fight with the 5'11" Micheal Haley. Listen, goons are pretty much gone from hockey. You can say the same about enforcers. You do have your sandpaper types and guys who will throw down. For the Rangers, over the last few years, it was a guy like Tanner Glass. While not a true enforcer, if there was an issue, Glass was there.
In today's NHL, Ross Johnston is basically the Islanders version of Dylan McIlrath. No skill, all fists. That worked in a different era. It doesn't work today, where your pugilists need to know how to skate and play too.
I'm all for the fighting. I've made that clear over the years. However, it feels like the Islanders only dress Johnston whenever they play the Rangers. All Johnston does is look to pick fights, and not even at good moments. The guy has two left feet out there and once he becomes a victim of CTE, the Isles will kick him to the curb where he belongs.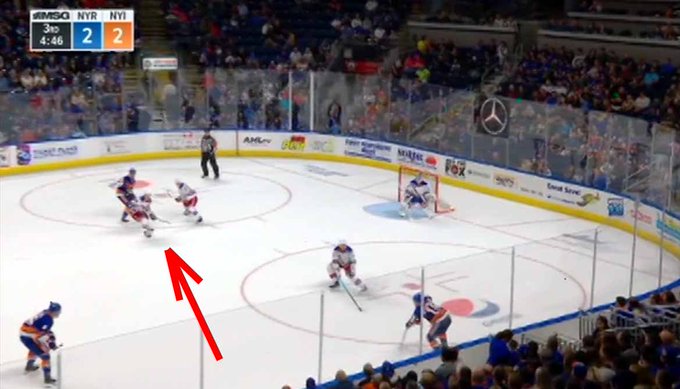 The Isles would log the game winning goal with only minutes remaining in the game. The Rangers couldn't get a clear to save their lives. The Rangers got flat-footed and perhaps a bit tired, while the Isles shredded the Rangers with precision passing. Boom, 3-2, bad guys, with this goal coming from Barzal. Hey, at least if you're going to get beat, you get beat by their best.
With 23 seconds left, the Rangers gave up the empty net goal. 4-2 bad guys. Of note, if the Rangers couldn't score on 7 power-plays, they weren't going to score during a 6 vs 5.
However, the talk after the game wasn't about the Islanders 4-2 victory or empty net goal. The talk was about Vitali Kravtsov and Cizikas. The two collided at center ice. Immediately after, both went to their respective benches. Kravstov was wincing in agony and clutching his left arm.
As of this writing, I don't know the status of Kravtsov's injury. The Ranger media reporters (and it felt like there were 634796334978963 of them at this game) were reporting that David Quinn said that Kravtsov was fine and it didn't look to be anything serious. That said, injuries can get worse when you wake up in the morning. I don't know if that will be the case here. Maybe it is nothing. However, it's just something to monitor. Let's just hope Kravtsov is okay.
All in all, when wrapping up the recap of this game, I enjoyed this game. Yeah, the penalties felt like it was too much. That said, this felt like a regular season game, both teams played hard and this was an enjoyable hockey game. I'll take this game, and this action, over the plodding mess from the game this past Thursday.
It feels that since the trade deadline of 2019, we've been bombarded by jackasses giving us their "PROPOZED LINEZ". Every time I saw someone post their lines and pairings from March of 2019 until now, my eyes would roll and my head would spin. HOW CAN ANYONE KNOW WHAT DAVID QUINN IS THINKING, ESPECIALLY WHEN DAVID QUINN HIMSELF, AS OF EVEN TODAY, HAS TOLD US THAT HE DOESN'T EVEN HIS LINE-UP YET!!?!?!?!?!?!?!
I mean, to be fair, a lot of people posting their "PROPOZED LINEZ" have good intentions. They are excited. They are pumped for the future. However, when I see jerkoffs trying to act like the ultimate Ranger authority on this issue, it gives me a rash. The best are the people who argue tooth and nail about this stuff. Again – Quinn has said he doesn't even know what he's doing yet, so how does some soyboy in a basement know what Quinn is doing? These chart people need to be tossed off the bridges at Madison $quare Garden!
 In the event of not trying to sound like a hypocrite here, as I approach this topic, I am coming from an educated stance and after seeing all six preseason games. I feel that I have a better grasp of what Quinn might do NOW, than the people who make up their lines during the summer. I want to preface and make clear here, these are just my opinions and not facts. You may think different. That's fine. However, with the next Rangers game being the home opener and first game of the season, NOW is the time to start talking about lines and who makes the team.

To make a guess at what Quinn will do on Thursday, we have to take a look at the players that are not cut yet. To start this PRO-CESS, it's easy to just name the players that we know that will 100% be on the team on Opening Night. To me, it's always easy to knock the easy stuff out of the way first and then look at the tough decisions. With that said, away we go!
The goaltending situation of this team, for right now, is the easiest to assess. Henrik Lundqvist and Alexandar Georgiev are your goalies on Opening Night. That's two of the 23 roster spots accounted for. 21 to go.
Defensively, we know that Brady Skjei, Marc Staal, Tony DeAngelo and Jacob Trouba are your locks. That's four defensemen accounted for. 17 roster spots now remain.
The Ranger forward situation is obviously the trickiest. We know that Artemi Panarin, Mika Zibanejad, Pavel Buchnevich, Vladislav Namestnikov, Jesper Fast, Brendan Lemieux, Chris Kreider, Ryan Strome and yes, Kaapo Kakko, will be in the line-up on Opening Night. Some may argue that Kakko should get some seasoning in Hartford, but eff that. He's the Golden Boy. He's going to be in MSG. Strengthening my argument here is that Kakko was held out of Game 6 of the preseason. If he was on the bubble, like Kravtsov or Chytil, then he would've played in this game.
With these 9 forwards, 8 roster spots remain. To put things into perspective, we basically have three lines here (Not your set top three lines, as I could see a Lemieux, a Fast, a Strome or whoever on the fourth line) and we also have our Top 4 defense. Again, an NHL team must dress 20 men and can carry 23 men.
With 8 roster spots available, here are the rest of the Rangers that I haven't assigned to the team yet:
— Vinni Lettieri
— Vitali Kravtsov
— Brett Howden
— Filip Chytil
— Lias Andersson
— Boo Nieves
— Micheal Haley
— Gregg McKegg
— Brendan Smith
— Libor Hajek
— Ryan Lindgren
— Joe Morrow
— Igor Shestyorkin
— Tarmo Reunanan (Tarmo has already been assigned to Hartford. I'm listing him here just because he played tonight and to explain that he's already been sent down.)
— Yegor Rykov (currently injured.)
Not including Reunanen, that's 14 players with their fates up in the air. Keep in mind, while the Rangers can carry 23 men and fill these 8 open slots, they don't necessarily need to carry 23 players either. With this crazy salary cap, the Rangers could bounce guys to Hartford and bring them back up, as needed. Smith would be the easiest player to bounce around, because no team is picking up his contract off the waiver wire.
Looking at these 14 players, the two easiest players to eliminate are Igor Shestyorkin and Yegor Rykov. CZAR IGOR will be the starting goalie in Hartford. Of course, maybe he makes it to the NHL this season, but I'm operating and focusing on Opening Night only. With Rykov injured and because he didn't play in the preseason, he's not going to start his Rangers career in the NHL. Off to the AHL you go!
We are now down to 12 players. Keep in mind, the Rangers have cap issues because of Lundqvist's hideous contract. They also have a lot of young players, where it makes no sense to carry them. For the Blueshirt YOUTS (Yes, a "My Cousin Vinni" (Lettieri) reference) it's better to give them playing time than making them watch games from the press box.
Since I only have four defensemen on this team so far (don't you love how I'm explaining my "work", as if this was a math question on the SAT's?) let's address the defense.
I have Staal, Skjei, Trouba and DeAngelo as locks. The only person anyone can try to pick a bone about here is TDA and if you are trying to pick that bone, you should take that bone and shove it up your ass. TDA was perfect this preseason.
To me, without question, Adam Fox should be the third right-handed defensemen in this line-up on Opening Night. He's been that good.
Defensively, I have Hajek, Lindgren, Smith, Fox and Morrow remaining. Let's face it – Morrow, who will be 27, is a senior citizen on this team. He's not a project. He's not someone the Rangers are invested in. See ya.
That leaves us with the sixth defenseman spot to fill. You could also add another defenseman here, and keep a guy in the press box.
The X-factor here is Brendan Smith, who has a god-awful contract. However, he's a player David Quinn likes and is a player that Quinn will use as a forward in a pinch. Smith in Hartford would alleviate cap issues, but at the start of the season, the Rangers aren't worried about that. It would be better for the Rangers if Smith played well and they were able to trade him.
You can't have rookies and kids all over this roster, so I think Smith, based on his tenure and relationship with Quinn, makes the team. To me – Smith, Fox, Staal, Skjei, Trouba and DeAngelo are your starting defensemen on Opening Night.
For the seventh defenseman/press box spot, and operating with the notion that Rykov needs time in Hartford after his injury, we're left with Lindgren vs Hajek. Lindgren is better defensively, while Hajek is better offensively. I feel that Hajek is further along and a player that fits into Quinn's system better. Unless the Rangers make Smith a forward, I see Hajek on the roster and in the press box during Opening Night, which means I see Lindgren in Hartford. I think the Rangers would like to move Smith, but for that to happen, Smith needs to do some good stuff at the NHL level.
Forward wise and without assignment, we have Lettieri, Howden, Kravtsov, Andersson, Chytil, Nieves, Haley and McKegg. As it stands now, we now have 6 starting defensemen accounted for, 2 goalies and 9 forwards. That's 17 players. It's time to find the final three players that will be on the ice during Opening Night.
Let's do the easy stuff first, which is an addition and a demotion. As much as I like Vinni Lettieri, he did nothing this preseason to bump anyone. Quinn gave him ample time to do so. Lettieri just didn't cut the mustard. I hate to say it. After all, how many people have one of these:
For Lettieri (I know, I think I spend more time talking about him than any other Ranger fan on the internet) I only see him playing with the Rangers again if someone gets hurt or just truly sucks. However, Lettieri will have to be a points monster in Hartford to earn the call-up.
With Lettieri demoted, that leaves us with 7 forwards for the final 3 slots.
To me, and I don't think anyone will disagree with me here – Andersson earned it. He's one of your centers on Opening Night, HANDS DOWN. Two slots remain.
Let's do another addition/subtraction deal here. Going to Hartford, I have Filip Chytil. He had a bad preseason and I agree with many other fans – he didn't earn it. He was on the bubble just like Vitali Kravtsov. However, I thought Kravtsov was better. I also think, especially as a Top 10 pick in an NHL draft, that Kravtsov deserves a crack at it. Maybe he doesn't last here all season, but he deserves a shot. (I'm also operating here with the fact that Kravtsov will be healthy.)
One spot to go.
Center-wise, I have Zibanejad, Strome and Andersson. That means I need to choose a center here, which means goodbye to Haley. And really, the Rangers already have guys who can brawl and are more skilled than Haley as well.
This now leaves us with Boo Nieves, Gregg McKegg and Brett Howden.
From what I've seen this preseason, Gregg McKegg has been the best of the three and it's not because I like his last name either. To me, McKegg is on the roster opening night. That said, I think the Rangers keep Howden in the press box, while sending Nieves to Hartford. To this day, and no offense, I just don't see what the Rangers see in Nieves.
With this roster now complete, let's take a look at my "PROPOZED LINES!"
FIRST LINE: Artemi Panarin/Mika Zibanejad/Pavel Buchnevich (Quinn has confirmed this already.)
SECOND LINE: Chris Kreider/Ryan Strome/Kaapo Kakko
THIRD LINE: Vladislav Namestnikov/Lias Andersson/Jesper Fast
FOURTH LINE: Brendan Lemieux/Gregg McKegg/Vitali Kravtsov
Defensively, I picture this:
FIRST PAIR: Jacob Trouba/Brady Skjei
SECOND PAIR: Tony DeAngelo/Marc Staal
THIRD PAIR: Adam Fox/Brendan Smith
Goalie wise, we have Hank and Georgiev.
In the press box and rotating in and out of the line-up on a game-to-game basis, I see Libor Hajek and Brett Howden. The Rangers could carry one more player here, but with all this youth, the talent is better off in Hartford. Again, Smith is a wild card, who Quinn could use as a forward when he sees fit. If that's the case, that would open up a spot for Hajek as the sixth defenseman.
That about wraps it up for this blog. From this point forward, the games now count and we're about to get into the thick of things. I can't wait for this season. I have road-trips already booked for Nashville, Montreal, Ottawa, Buffalo and Pittsburgh. Depending on my finances and work situation, maybe I'll add more. I also have tickets for the first ever Hughes vs Kakko game in NJ, but obviously, I don't count the terrible city of Newark as a road-trip.
I'm supposed to attend opening night, but my ticket situation for that game is in peril. I'll explain what happened/or what I dealt with leading up to this game, in my Jets vs Rangers review on Thursday night. As a teaser, I'll give you this – ex-wives can be a bitch.
I already did my Rangers and NHL preview blogs and you can find those two blogs linked at the top of this manifesto.
Once the Rangers make their cuts and make some announcements, I'll return with another update on this site. I don't expect the Rangers to wait too long, as Quinn probably has a grasp of his roster after this game tonight.
Until then, I bid you adieu. As always, thanks for reading and…
"LET'S GO RANGERS!"
Sean McCaffrey
BULLSMC@aol.com
@NYCTHEMIC
PS: Travis, let me know what game you're going to this season so I can update this picture: