Greetings and salutations everyone and welcome to another blog here on BlueCollarBlueShirts.com. Unlike my last blog, this blog won't surpass the 11,000 word mark. Like the guy from Kaapo Kakko Karako commercials says – "I guarantee it." Oh wait, isn't that the guy from the "Mens's Wearhouse" commercials? Eh, who gives a flying shit? Kaapo Kakko Karako men's clothing fits better for the joke here!
What a start I'm off to tonight! Even my blog ghost-writer, my buddy known as "The Boogie Man", is judging me from his lofty chair:
And yes, I'm aware that if Boogie was the ghost-writer, then well, he's writing about himself right now. Damn, I'm off to a raving success here tonight!
Any-hoo, as usual, let me plug my last few blogs here in case you missed them and then get back on track! Of note, I'd like to thank everyone for the emails/criticism/thoughts on my "Super-Early NHL Preview" blog. It was a mission to finish that one. Speaking of that blog, here's the link, and a few more links of my most recent material:
---
---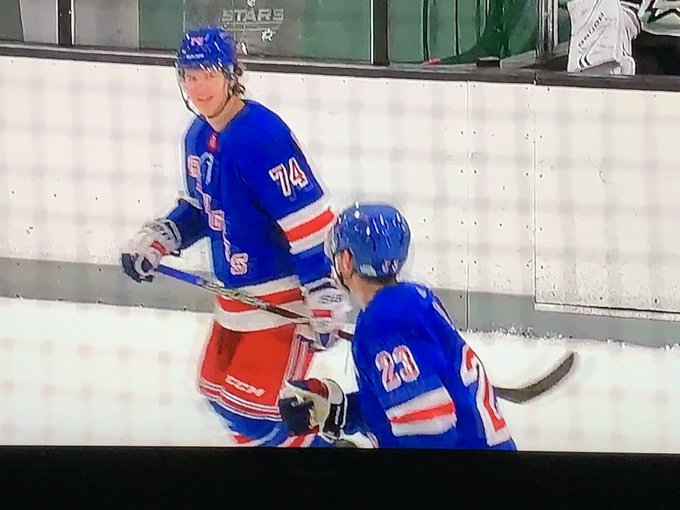 There's a lot of stuff to talk about tonight, but I'm going to start with the Traverse City Tournament (TCT).
A few blogs ago, I talked about my anticipation of the the TCT. I'm just happy to see hockey back. Listen, I love the New York Yankees, but these 5 hour broadcasts are torture. I can't watch every single game. It's too slow, it's too boring. The TV production of these games is too much and as a life-long baseball fan, I feel detached from the current game. Millennial stats such as EVO, has ruined my viewer experience. However, my baseball fandom is a story for another time. I will say this – I posted the first 2019-2020 NHL Season Preview blog/publication/whatever on the internet just last week. That's how happy I am to have hockey back.
When it comes to the TCT, while participating in the tournament, in recent years, the Rangers weren't coming to the table with much. They basically came to a house-party with a three liter jug of RC Cola. Nothing against RC Cola here, but come on, it's the wrong bottle. (That said, a bottle of RC Cola is still better than that White Claw shit!)
As talked about on this site previously, 10 years ago, the Rangers best player in this tournament was Michael Del Zotto. In recent years, during the deep playoff runs, the Rangers sacrificed their future for the present. It didn't pan out. Fast-forward to today, and you have every scout, publication and people who watch these kids saying that the Rangers have the best prospect pool in the NHL. I think Jeff Gorton deserves a TON of credit here.
For some Ranger fans, the TCT is an after-thought and usually garners comments of "who cares?" I've talked a lot about "Blueshirt Underground Radio" on this site. I love their show. No one does what they do. They have the best Rangers podcast/radio/audio/whatever you want to call it, out there today. The hosts, Jim & Eddie, are good guys and hardcore fans. These two guys, who I respect and enjoy listening to, don't give a flying eff about this tournament. However, I'm not in the same boat, at least not this year. I was excited to see hockey back on TV and to get a crack at looking at the new blood in the system.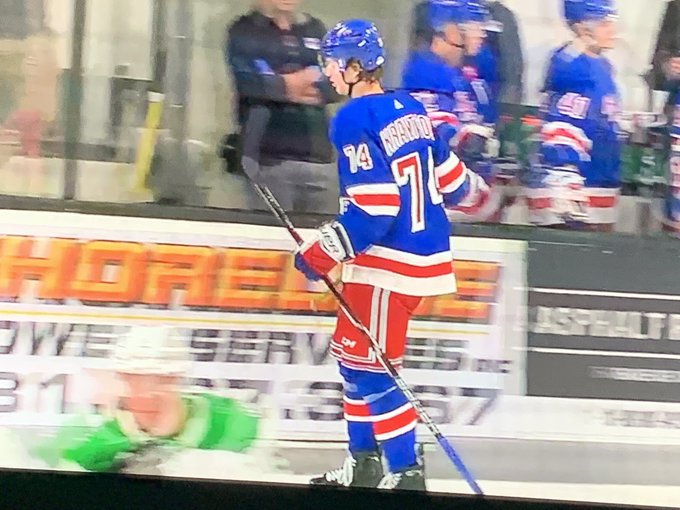 As of this writing, the Rangers have played two games in the tournament. I watched both games in full and live tweeted about them on my twitter account, @NYCTHEMIC . I'm not going to recap each game in-detail here on this blog, because to be honest, the results of these games don't matter. (If you do want the in-game minutiae, then visit my twitter account.) While of course, you want the Rangers to win the whole shebang, the most important thing here is seeing these players do well in their roles and to develop.
Before commenting on the games and the players, let's talk about the production of these games. Listen, don't take this as a complaint. We live in a world where we can watch anything and at any time. In a way, we're spoiled. It's not like we have to wait for tomorrow's newspaper to get game accounts/reports. It's not like we have to huddle around a neighbor's radio to hear a game. I just wanted to get that out of the way first before I make my point here.
That being said, for the richest organization in professional hockey today, couldn't the Rangers put some effort into this broadcast?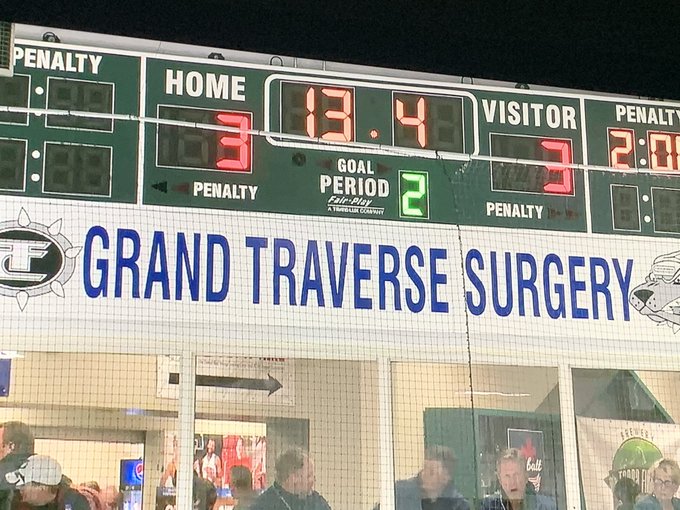 For people like myself who wanted to watch these games, it was very simple. You could either download the "Fox Sports Go" app and watch it on there or you could just click a link that the Rangers social media accounts sent out. It was as simple as that. Personally, I downloaded the app and watched it on my TV through my Amazon Fire Stick.
Side-note, read that last sentence. Now imagine explaining that sentence to a hockey fan from 25, 50 or even 100 years ago! You would seem crazier than Antonio Brown!
Once you had the stream going, you were treated to a single-camera shot, a shot that went through the protective netting of the rink. There were also no commentators/announcers, no lower-third graphics, no replays or any type of production value at all. These games are being broadcasted through a one-camera shot and that's all you're getting. Again, I'm not complaining here, but obviously, we're accustomed to better production, when watching sports, here in 2019.
All I'm saying here is this – with the Rangers being worth of billions of dollars, at the VERY LEAST, couldn't they have John Giannone sit in the MSG Studios and call the game from that remote location? There were so many times in these games that you couldn't tell who was who. There was one play in the first game, the loss to Columbus, where a Rangers skater made a god-awful turnover, when he centered the puck right to a Columbus skater in the slot. Boom, a goal for Columbus. However, you couldn't see who made this egregious play.
Business-wise, wouldn't the MSG Networks be able to garner more advertising revenue if they sent Giannone and Dave Maloney out to Traverse City and have them call the games and do in-between period shenanigans? What creates more ad revenue and views on the network – a live Rangers hockey game or a 2005 JB Smoove episode? It's even more baffling that the MSG Networks opted to not even air these games, especially when the MSG Networks will air any type of NY Knicks event, whether it be a summer game or Patrick Ewing picking his nose. (I went with Ewing here because I can't name one guy on the Knicks right now. Is Lin-sanity still a thing?)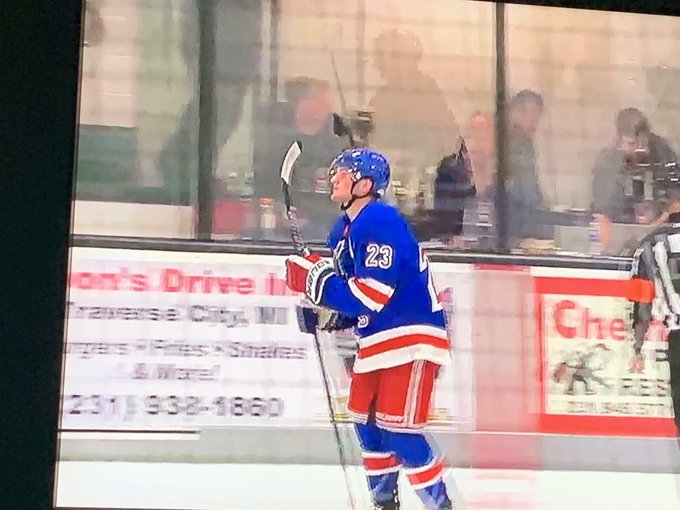 Going into this tournament, many were hoping to see Kakko wear a Rangers jersey for the first time. However, the Rangers have reported that he's been under the weather, so they held him out. Makes sense. If he's sick, there is no reason to risk his health in this tournament. While I can't 100% confirm it, this has nothing to do with Kakko's celiac disease. From what the Rangers are putting out there, Kaapo Kakko has the kommon kold. (And yes, expect a ton of "Mortal Kombat" letter "K" puns this season with Kakko!)
Of note, Kakko is expected to play on Monday. This is not confirmed though.
At this time, just to give you a frame of reference, here are the players that played in both games thus far: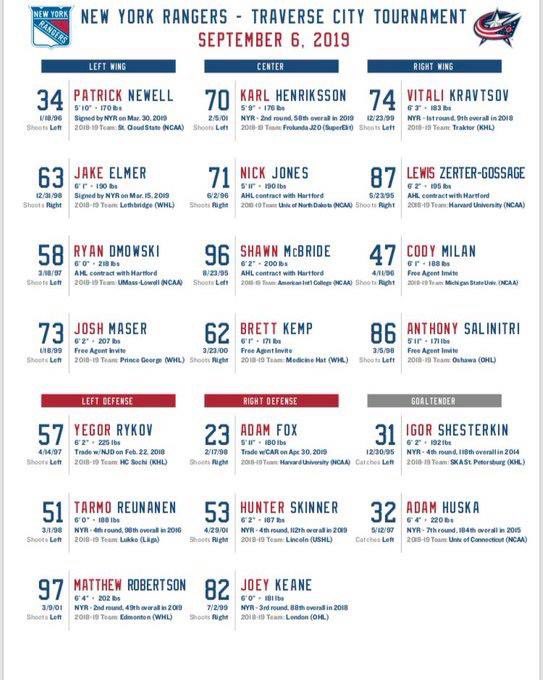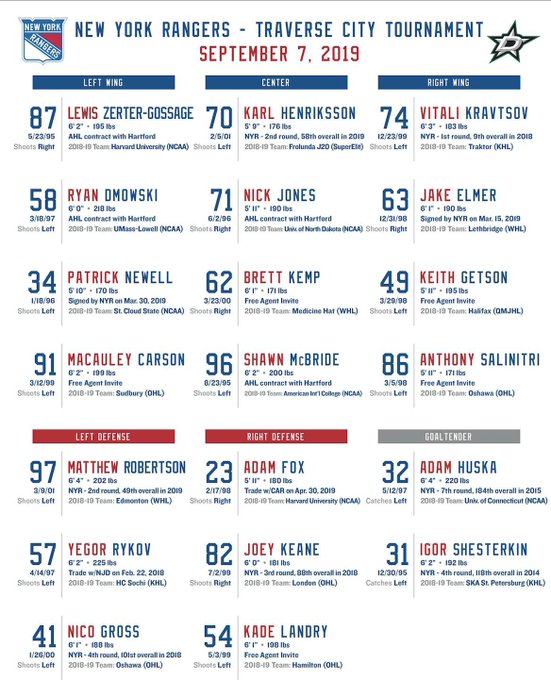 Just so I don't get sued here, both of the above graphics were provided by the Rangers. These graphics also helped me out when watching the game, as it allowed me to know who-was-who, when looking at the jersey numbers on the ice.
Off puck drop here, let me say this. It was hard watching these games, just because of the single camera shot and the fact that I wasn't aware of some of the players on the Rangers. I certainly didn't know the rosters of the other teams. My strength when it comes to Rangers knowledge is in Rangers history and not the children & teenagers. In other words, I really didn't know any of the players on the opposing teams at all. I will give credit to @TimRangers here – he was raving about the goalie on Columbus to me before this tournament started. That goalie's name is Elvis Merzlikins and he had a great game against the Rangers on Friday afternoon.
When it comes to the Rangers, I obviously found myself gravitating to the players I knew. I found myself tracking Vitali Kravtsov and Adam Fox the most. Can you blame me? Outside of CZAR IGOR SHESTYORKIN, these two were the most hyped players on the ice for the Rangers. While I was familiar with other names on the roster, such as Rykov, Keane, Henriksson, Gross and Dmowski, I wasn't really familiar with the random free agents that the Rangers have playing. I'll say this now, of the free agents, Brett Kemp has made the most impact. You can't ignore his two goals that were scored against Columbus.
While it's only two games, these games are meaningless and all that other blah-blah-blah bullshit, I'm happy to report that Adam Fox and Vitali Kravtsov have looked incredible. This isn't any sort of homerism or trying to pump up the two most known skaters on this Rangers TCT squad – these two have been remarkable. Both have racked up the points and have been as good as advertised. Just writing these words now, I feel a sense of joy and hope.
In this tournament, not only did Fox and Kravtsov show off their strengths, they also showed their weaknesses. And no, I'm not talking about CROSS OVER STRIDES. Speaking of that, let me go on one of my infamous tangents here!

I don't know how many of you are familiar with Adam Herman. To be honest, I'm not. He blocked me on the twitter years ago, solely because my opinion of Henrik Lundqvist is different than his. However, from what I know, this guy, who comes off like the soyest of soy-boys, is no way a man. It's why people call him Adam Hermtrans! As one person told me, "this is a guy who lives with his mother and collects butterflies." While I don't know if that is 100% true, what I do know is true is that Hermtrans sits at home and makes these inane & insane charts, that mean absolutely nothing.
Again, as mentioned often on this site, when one of these charts can predict who's going to win the Stanley Cup, then I will give a shit. Until then, as Ron Duguay & many other ex-NHLers have said, all this ANALytics BS is just a way for nerds to create jobs for themselves. In addition, as someone who likes to dabble in gambling, NONE OF THESE ANALYTIC CHARTS helps you in that department. There's not one chart that can tell me who is going to win a singular game, much less hoist the Cup. Games are played on the ice and no chart can measure human will, heart, emotion and motivation. They also can't predict what a dumbass referee is going to do either. Just ask the Vegas Golden Knights about that one.
(And I have to mention for the 736478963789463789643578963789463578963th time here, the Blues & Bruins were two of the oldest teams in the NHL last season. They were also the two biggest teams, in terms of size, in a league that fancies figure skating over old school hockey. What chart had these two teams playing for the Cup in June of 2019?)
To be fair, Adam Hermstrans has a following on his Basement Banter website, where a bunch of pocket-protecting wearing geeks make up arbitrary stats and charts. What the fuck is a an expected save anyway? I don't expect Lundswiss to save much these days, so is every shot on goal an "unexpected" save for him, while the same wouldn't apply for the 30+ other better goalies than Lundqvist in the league today? And these heat-maps, don't get me started on that. I'm here to watch and talk hockey, not look at charts that are better suited for "The Weather Channel".
Anyway, I wonder how many NHL scouts, when they do their reports, sit back and critique "cross-over" strides? I'd love to see one report from a current or former scout, where they have cross-over stride talk in their notes.
Furthermore, what makes this even douchier than most of Hermtrans' material, is that Hermtrans is basing his critique of Kratsov, and I quote, "in a few of these clips". For someone obsessed with charts, Hermtrans should know that clips or gifs are just like the data on his charts – they can be skewed in different ways. Plus again, who the fuck looks at "cross-over" strides!?!?! Is this douchebag for real?
Anyway, Kravtsov's cross-over strides were fine to me on Saturday, as Kravtsov logged 3 assists in the game. And as I've said on other blogs on this site – I don't care what you read or what you listen to. I try to absorb a bunch of different opinions. If you read one person or click one site, it doesn't affect what someone else is doing. However, if you read a jerkoff who worries about the cross-over strides of a teenager, then you may be creepier than a Catholic priest & Pierre McGuire, combined! At the very least, Hermtrans comes off that way! "Cross-over strides". You have to be kidding me.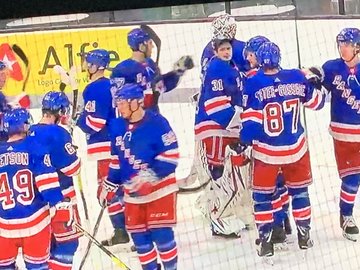 Aside from his casual five-point game on Saturday, in the win over Dallas, Adam Fox has been a stud during this tournament. If there is any weakness in his game to me, it was that he falls down after contact a lot. However, unlike Hermtrans, let me say this about my criticism – he fell down twice, once in each game, after contact. I don't know if that is the modus-operandi on him or what. It could've been two freak things. The ice could be bad. I really don't know. However, I'm telling you this. He fell down twice after contact. That's it! And to be honest, I'm nitpicking a weakness here anyway!
In the two games played, and let's keep that into perspective here, as it is only two games, Fox has been the MVP of the Rangers. What has me impressed me the most, outside of his gaudy stats, is the fact that he seems to have leadership qualities too. The Rangers noticed that too I assume, as he wore the "A" on his sweater in this tournament.
If there is any play I want to give burn to on this blog, it's this one from the game on Saturday. In the first period, after a stoppage, Adam Fox grabbed Kravtsov and bent his ear. This wasn't done maliciously or anything. This was someone teaching. This was someone trying to impart advice. Kravstov then understood what Fox said and the two skated back to the dot for the faceoff. What happened immediately after? Karl Henriksson scored his first goal of the tournament, after assists from Kravtsov & Fox. You couldn't draw this up any better.
My despise of Lundqvist being on this team aside, stuff like this pumps me the fuck up. You saw this developing. Then you saw the Rangers execute. Again, one game, it's the TCT and all that other crap from a preamble, but you can't help to pump your fist, and scream "HELL YEA", after seeing this all go down. For me personally, I almost spilled my beer after this goal!
Let me gush here and get my biases out of the way. When it comes to the number #23, it's a number I hold dear. Growing up, while creating memories as a sports fan, Don Mattingly of the Yankees was my favorite athlete ever. He wore 23. As someone who couldn't stand the Knicks and had a WGN cable package, I loved watching #23, in Michael Jordan of the Bulls, dominate the NBA game. When it comes to hockey, growing up, Jeff Beukeboom was the fucking man. While my "hockey career" was the drizzling shits, I emulated my game after BOOOOOOOOOK's. (They aren't booing Joe, they are saying BOOOOOOOOOOOK!)
I loved watching Jeff Beukeboom play. The guy was a bad mother-effer. While he won't be going to any Hall of Fame or have his number retired or even saved, I loved watching him play. Now in 2019, I have the same feeling for another #23, in Adam Fox.
If you know me, I have an extreme bias for the American players. Even better, Adam Fox not only grew up a Rangers fan, but he's a Long Island guy like me. Sure, I'm 17 years or so older than him and was racing down the streets of Long Island in my 1988 Chevy Corsica when he was kicking out the womb, but still, I wish him the best and I am a fan of his.
I only mention this because Fox is now wearing #23, which I assume he'll be wearing during the season. It's also why I brought up the physical contact stuff earlier on this blog. While Beukeboom and Fox both had the #23 on their backs, that's where similarities stop with them.
During his playing days, Beukeboom was a no-nonsense and rugged type of player. He was a defensive defenseman. Today, the new #23 on the Rangers, in Adam Fox, is the opposite. In fact, along with Tony DeMAGAngelo, Adam Fox was partly the reason for the buy-out of Kevin Shattenkirk. Isn't it funny how the Rangers bought out the high-paid Kevin Shattenkirk, because they had a better, younger and similar player for a much cheaper cap hit? I guess that logic doesn't apply to the goaltender though!
In the games played thus far, Fox has shown an offensive presence. He also did some "powerplay quarterback" work in these games. Again, I know what these games are, but from what we've seen so far from Fox, there's a reason to get excited. That said, the last highly touted college prospect the Rangers signed was Jimmy Vesey, and we know how that went. However, I rather be excited than gloom & doom.
While Fox's five point game in this tournament is as forgettable as my only game-winning goal during my high school lacrosse days (We won the game 17-3, and I scored the fourth goal of the game, ha!) it's obviously a beacon of hope for Ranger fans. Can Fox become the player that Dan Boyle, Keith Yandle and Kevin Shattenkirk weren't for the Rangers? As they say, "time will tell."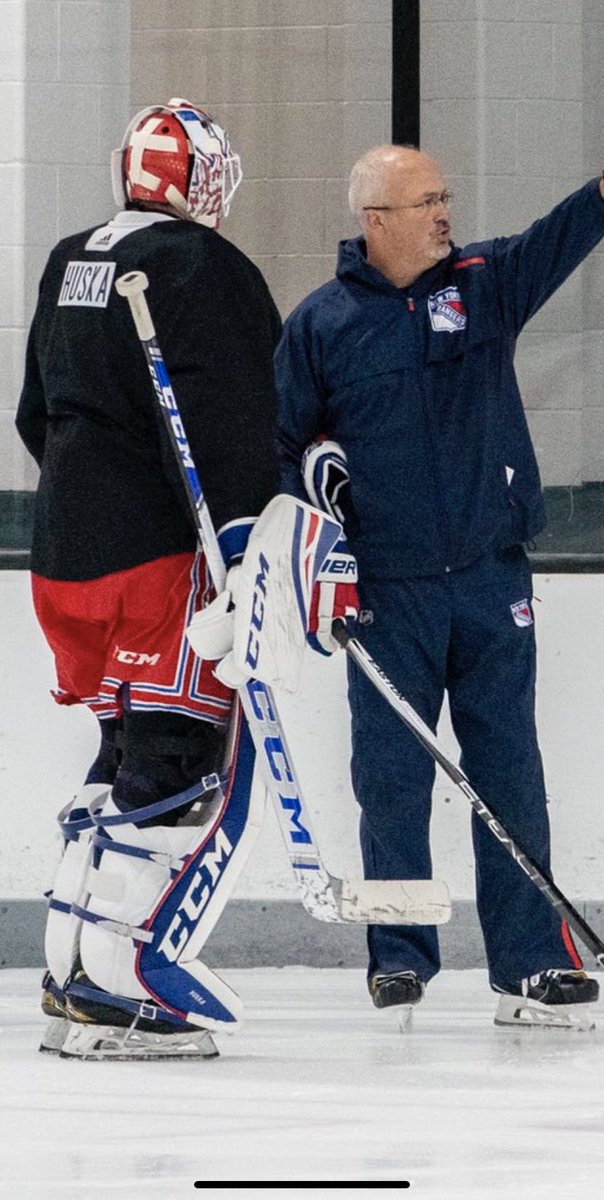 I can't state this enough – in the two games played, Kravtsov and Fox have looked impressive.
Switching gears to a topic I always talk about, let's talk about the goaltenders.
For starters, I was ecstatic to see Benoit Allaire in Michigan. While I don't know if David Quinn is there or not, I know that the Hartford Wolfpack coaching staff has been behind the bench for the Rangers during these games.
You know my points on Lundqvist now, here in 2019. It's not even an issue with his ridiculous contract, terrible attitude or horrible play anymore. Every Hank start and practice takes time away from the Rangers future of the net. Put it this way, every time Hank starts or practices, that's less time for Georgiev and Shestyorkin. If the goal is to make this team a perennial contender in the upcoming years, you're stunting the growth of the goaltender position by allowing Hank to take time away from the kids.
With Benoit Allaire making the trip, it allowed both Huska and Shestyorkin to get valuable time with Allaire. As every goalie who's played under Allaire has said, even the King of Chart Nation himself, in a one Steve Valiquette – "Allaire makes you better." Just ask Cam Talbot and Antti Raanta, who both made life-changing money after limited time with Allaire. Shit, just ask a 7th round draft pick about Allaire.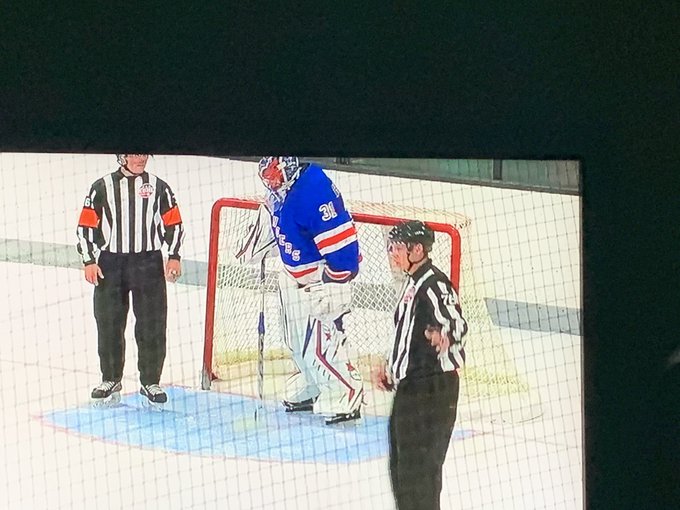 Just like you can't go too crazy about the great performances from Kravtsov and Fox, you can't go too crazy about the so-so performances of Shestyorkin and Huska. I have to get this out of the way, in regards to Huska – he's in an unenviable position. I don't see his future with the Rangers. If Lundqvist ever retires or moves on, and don't hold your breath on that, this team is being groomed for Shestyorkin. If Shestyorkin doesn't pan out, you have Alexandar Georgiev. Huska is fourth on the depth chart, and barring injury or illness, that's probably where he will stay during his Rangers tenure. Even if Lundswiss goes, it's hard to imagine Huska supplanting Georgiev or Shestyorkin. However, that is his problem and not mine!
In these two games, Shestyorkin got the start in the 6-2 loss to Columbus, while Huska got the start in the 7-4 win over Dallas.
Shestyorkin had a nightmare of a game. While I wouldn't pin every goal against him, as the Rangers defense was horrendous and allowed Columbus to have an odd-man rush on seemingly every play, there were a few shots Shestyorkin should've stopped. As I said on the twitt-ah, "Toto, we're not in Russia anymore." Obviously, everyone will talk about the transition to the American game, different rink sizes and all that other jazz, but a goalie is a goalie. Some things you need to stop. Again, it's one game and all that, but a game like this strengthens the case for Georgiev to be the back-up goalie on opening night. Of course, I would have Georgiev as the starter and Shestyorkin backing him up, but the Rangers have this insane game plan of trying to win with what hasn't worked in 15 years. You show them Rangers!
In Huska's game, he was serviceable, but nothing really to write home about. There was a stretch in the second period where the Rangers could do no right and had to rely on their goaltender to bail them out. Instead, Huska blew a two-goal lead, even if the Rangers sloppy play led to that. It's funny, I see the Cult of Lundqvist always saying how Lundqvist is the mentor of these guys when these guys play well. (It isn't true, as Lundqvist only cares about himself.) That said, you don't hear these same people saying how Lundqvist must've mentored them to blow a two goal lead or give up a goal a minute into a period, which Lundqvist has been famously known to do in the last few seasons. Funny how that works!
In closing on the goalies – "there's always room for improvement." Plus, it's hard to judge them anyway, because this Rangers TCT team never played together before, which in turn, leads to sloppy play and the goalies are stressed more. Then again, it's kind of like a "Bar Rescue" stress-test. These goalies were forced to deliver and they really didn't. Again, two games, blah blah blah.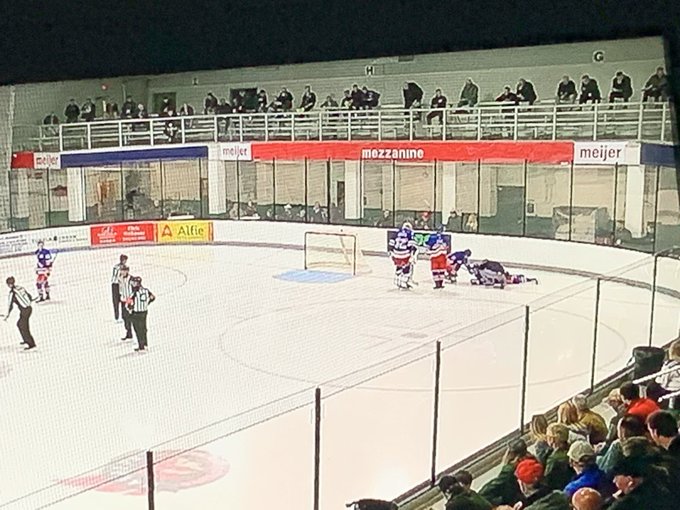 If there is anything newsworthy out of these games, outside of the great performances from Kravtsov and Fox, it is that Yegor Rykov was injured in Saturday's game with Dallas. In a battle of Zuccarello's former teams, Rykov skated hard and fast to break up a Dallas short-handed breakaway attempt. He was successful, but in turn, hit the ice hard. Again, there are no replays or zoom-in shots, so it's tough to see what exactly happened. All I know is that he didn't return to the game, but it's not like I expected him to either, since these games aren't of any significant magnitude.
I hope it wasn't too serious, and I don't think it was, as Rykov was able to skate off the ice under his own power, but it's something to look out for.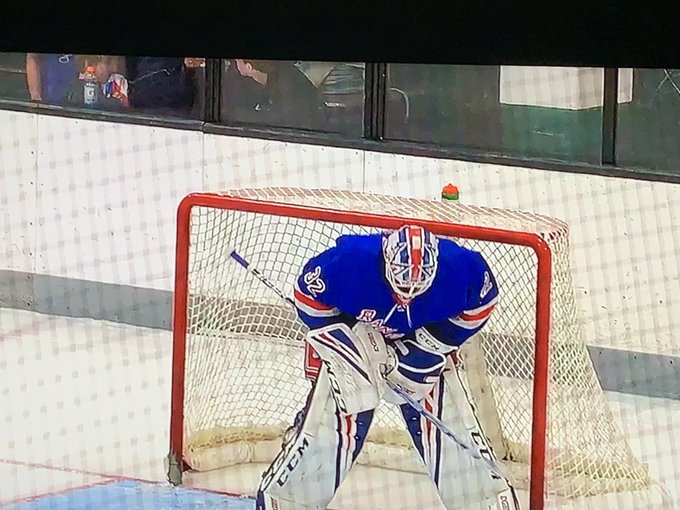 All in all, if you're looking for hockey, this tournament has been fun to watch. It's not a slickly produced event or anything, but if you need a hockey fix and want to get an inside look at the Rangers future, this TCT has been just that.
As it stands, and I'm not 100% on this, but I believe the Rangers are out of the running to win this tournament. The Rangers are in the "TED LINDSAY" division, along with the Blue Jackets, Wild and Stars. CBJ beat the Rangers on Friday and won their game over the Wild on Saturday. Therefore, they have two wins. If the Rangers win on Monday against Minnesota and if Columbus loses to the Stars, I think Columbus would get the head-to-head tie-breaker nod to the championship game on Tuesday. Again, I'm not 100% on this, as the rules/standings/point system isn't clearly stated on the official website of this tournament.
All in all, I've enjoyed my weekend watching these games. The Rangers return Monday, at a shitty starting time of 2:30PM, when they play their final "division rival", when they skate against the Wild of Minnesota. As mentioned in past blogs, I never know my freaking work schedule, so if I'm available, I'll try to recap the end of this tournament. As it stands right now, I leave this topic with this – ADAM FUCKING FOX!
Moving along.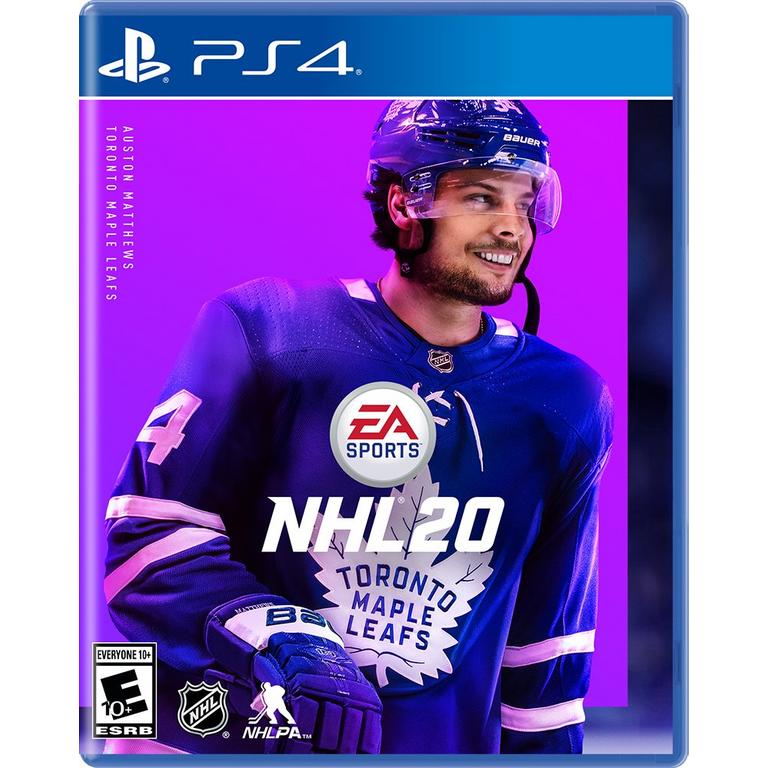 On Thursday night, after a dreadful game of Thursday Night Football, I loaded up my PS4 for a game of "Madden 20". After being whooped by a 12 year old Chinese kid, I decided not to fling my controller across the room. Turns out, NHL 20 was available. After what felt like a 7896756795 hour download, I was able to test out the new NHL 20, a few days before it came out, due to my EA Access membership. (This sounds geekier than a chart boy!) (Also of note, after downloading NHL 20, a 12 year old Canadian whooped my ass. SAD!)
The real reason I bought this game, outside of buying it every year, is that I really wanted to see who EA Sports got for the Rangers Alumni team. A new feature in the game this year, is a feature of the NBA games of old – the alumni teams. At this time, I'll now share with you some of the screen grabs I took from the game. To make things easier for me, I'm using the stuff I tweeted out previously:
Here's the #NYR alumni in @EASPORTSNHL #nhl20 . Of note jersey numbers were changed to prevent duplicates. For example, Brad Park is 42 instead of 2. Bathgate is 29. Stuff like that. pic.twitter.com/dOSJlxeOV5

— BlueCollarBlueShirts (@NYCTheMiC) September 6, 2019
#NYR @EASPORTSNHL pic.twitter.com/4KYbAfxO5S

— BlueCollarBlueShirts (@NYCTheMiC) September 6, 2019
Jean Ratelle looks perfect in this game #NHL #easports #nhl20 @NYRalumni pic.twitter.com/UbLJ4qSqIS

— BlueCollarBlueShirts (@NYCTheMiC) September 6, 2019
#nyr @nyrangers pic.twitter.com/hRL9127ZVW

— BlueCollarBlueShirts (@NYCTheMiC) September 6, 2019
Not a great night for Lundqvist. What a night for Leetch, Graves and Gilbert lol pic.twitter.com/lGU8PPhE6y

— BlueCollarBlueShirts (@NYCTheMiC) September 6, 2019
And here's a video:
The one-timers in this game are smooth. Here's @rodgilbert7 setting up @RonDuguay10 . Who's buying drinks afterwards lol #nyr pic.twitter.com/ELdshQ2Si5

— BlueCollarBlueShirts (@NYCTheMiC) September 6, 2019
I have to say this. If anyone from EA Sports happens to stumble across this blog, please let it be known that I'm in contact with relatives of Frank Boucher, Bill Cook and Ott Heller. In other words, if you want better Ranger legends than Nick fucking Kypreos or Kevin Lowe, let me know. I'll point you in the right direction. I also don't understand why NHL 20 put Gretzky on a Rangers alumni team. That's like putting Marty Brodeur on the Blues alumni team. (I didn't check to see if that was the case.)
It's nitpicking, and I guess they didn't want duplicate numbers on the same team, but does it hinder anyone's enjoyment if Brad Park and Brian Leetch both wore number 2 in this game?
As far as the current Rangers, none of the rookies are in the game. I am assuming they will be DLC or uploaded to the game, providing they make the Rangers roster. In other words, Kakko, Kravtsov, Shestyorkin, Rykov, Fox, etc aren't on the Rangers roster yet. But hey, Brendan Smith is! Again, I have an early copy of the game and I'm sure changes will be made once the season starts.
When it comes to the gameplay, spoiler alert – I suck. I like pressing buttons. I hate all this stick shit. I can't get used to it at all. Like Adam Hermtrans in his mom's basement, I'm better off playing with myself. When I play online, it's just frustrating madness, where every cross ice pass is a goal against me. These fucking teenagers I'm playing against deke against me like it's a god damned all-star game. However, alone and to my own devices, I find enjoyment.
Game-mode wise, I haven't even explored everything yet, but there is a ton of time-consuming stuff to do in this game. As a regular player of this series, I've never felt short-changed. I don't see much of a difference in game play or graphics yet. That said, I guess it's a necessary purchase if I want to do the HUT shit. It just sucks your team doesn't carry over. It really does feel like a money grab. However, if you want to play online with friends or strangers, no one will playing NHL 19 in a week.
All in all, as a casual "gamer", I've had fun with this game and I expect I'll have more fun doing the HUT crap in the upcoming weeks. I just wish the programmers would limit every cross ice pass going for a goal. It feels like NHL '94 with the Jeremy Roenick wraparound.
And I leave you with this, I'm admittedly a mark and excited for the new Rangers roster. I'm even more excited to screw around with the Rangers alumni team. Those were my main reasons in getting this game.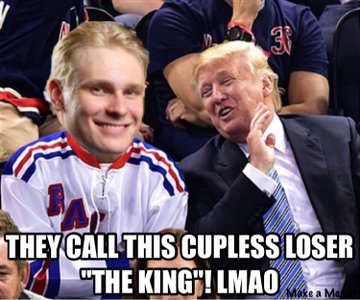 And lastly, before going home here, there have been rumors that Kaapo Kakko will be wearing #45, and not #24, as some originally thought. Does this mean anything? Well it means something to the people who already ordered #24 Kakko jerseys! While nothing is official yet, it is fun to joke and say that Kakko is wearing #45 to support the 45th POTUS, in a one Donald Trump! Here are a few more pics: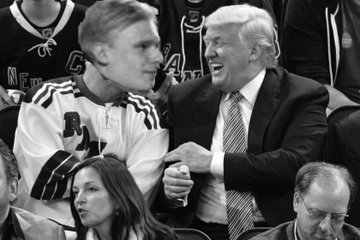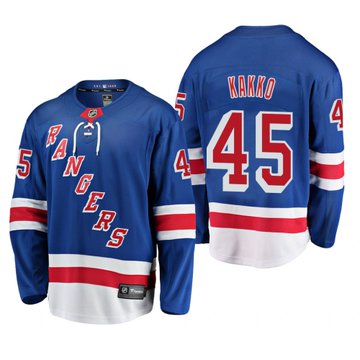 I bring this up for two reasons. One, I saw Ranger fans having a real fight on Twitter about this, as if it matters what jersey Kakko wears. Secondly, as someone who has openly wondered what jersey we'll see more of this season at MSG, Panarin or Kakko, Panarin has had more lead time to sell merch, as he already announced he will be wearing #10 this season. And yes, this is the stuff we talk about in the first week of September.
Oh, and one last thing before going home, this comment had me crying laughing: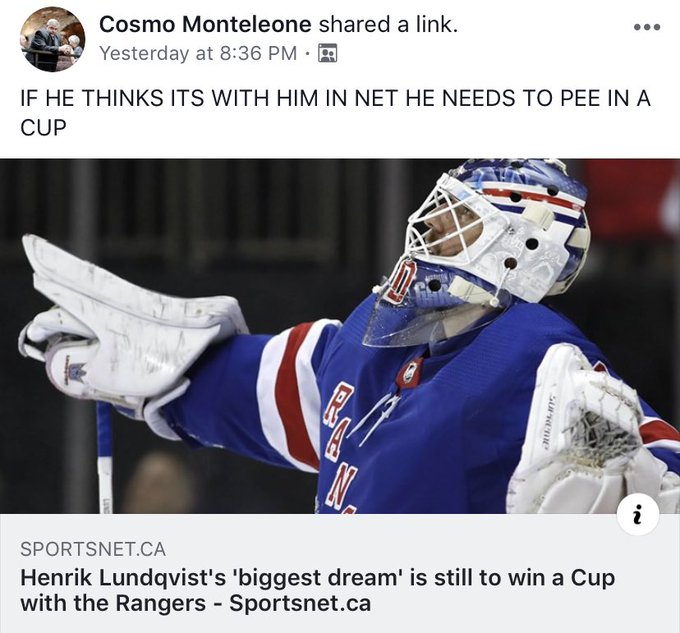 Apparently, Lundqvist is in Chicago right now, for an NHL media event. He is telling everyone how he will be better this season and wants to win a Cup in NY. My advice – pick up a copy of NHL 20.
That about does it for this blog. I'll be back after the conclusion of the TCT or if the Rangers finally make a move on Kreider, DeAngelo or Lemieux.
Until next time, as always, thanks for reading and…
"LET'S GO RANGERS!"
Sean McCaffrey
BULLSMC@aol.com
@NYCTHEMIC on the tweeter machine