Greetings and salutations everyone and welcome to another blog here on BlueCollarBlueShirts.com.
On Saturday night, in Filthadelphia, the Flyers absolutely dominated and out-played the Rangers, winning the game by a final of 4-1. While the Flyers controlled the entire game, it wasn't until the final two minutes of the first period where the game just looked completely lost for the Rangers. The final forty minutes of this game was just a slow morphine drip style of loss for the Rangers. In this contest, the Flyers just had the Rangers number in every way possible.
If you're a stat guy, if there was any stat more important than the final score, considering that this was a preseason game, it was the Shots On Goal (SOG) stat, as the Flyers out-shot the Rangers to a tune of 40 to 19. For those good at the math, that means the Flyers out-shot the Rangers at a ratio that was higher than 2:1.
Of course, as I've been saying throughout the course of these preseason blogs, you can't take overreact to the final scores of these games. As we all know, it's only preseason, the team is trying to find chemistry, they are trying new things out and all that other blah blah blah stuff. That said, with half of these preseason games now over, the Rangers are no better three games in, than when they first started these preseason games last Wednesday night.
If there is any cause for concern (and I'll get more into this as we move along here) this game with the Flyers was the worst game of the entire preseason. Outside of a few players, you didn't see much progression from this team. For those eternal optimists who see the glass as half full, well I guess Rome wasn't built in a day either.
There's not too much to talk about tonight, in regards to tonight's 4-1 loss. If anything, the main storyline in tonight's game was Kevin Hayes, which I'll get into below. However, before getting into Hayes, let me do my normal plug spiel here. In case you missed them, here are my most recent blogs:
---
---
---
---
Last time I'll say this tonight, but I feel I have to stress this – "it's preseason and all that other happy horseshit."
The biggest storyline of this preseason tilt, between these arch-rivals of the Metropolitan division, was that this was the Kevin Hayes "revenge game". I know that it sounds silly to have a "revenge game" during the preseason, but going into tonight's game, Kevin Hayes was full of bulletin board material. And really, I 100% agreed with him and understood where he was coming from.
Prior to the game, Kevin Hayes talked to reporters. His quotes were so newsworthy, that NHL.com immediately did a story, in an effort to promote the game.
Here is what Hayes told reporters today:
"They chose to get rid of me and [forward Jimmy] Vesey, that's their decision. I'm sure it'll come back to them. We'll find out."

"Looking back a year ago from today I was asking for things from New York that they said no to and we went our separate ways in February. I'm ecstatic with where I'm at right now and playing with this group of guys and the team that we have here."

"I don't know if they're good steps or bad steps. That's what [the media] gets to decide. But they're steps, I guess. I have no hard feelings toward them. I loved my time there. I'm happy with where I'm at right now."

"In New York my longest contract was two years. The last three years I was trade bait basically every year."

When asked about his ex-roommates, in Vesey & Skjei, Hayes said: "We were tight. Those are two of my best friends. I grabbed dinner with Brady the other night, talk to Jimmy basically every day."
Before getting into his comments on the Rangers themselves, what I found most telling was how Hayes was kind of upset about the Rangers cutting ties with Jimmy Vesey. It's not like Hayes had to bring up Vesey, but he did so twice.
From listening to Hayes, it kind of tells you that Vesey wasn't happy about his trade either. Nothing against Buffalo, which is a great hockey market, but c'mon, where would you rather live – New York City or Buffalo? Really think about this. If you're in your twenties and got tons of cash to burn, where do you want to party? In the biggest city in the world or a town where the local drunks throw each other through flaming tables every Sunday? (And nothing against those Bills tailgates, but I don't see flaming tables being in Vesey's wheelhouse.)
As I said at the time, I was surprised the Rangers cut bait on Vesey. They just gave up on him. If you're Vesey, you have to wonder what did you do wrong? Why does Buchnevich stay and why is Vesey the one shipped off? (I use Buchnevich here, only because both Vesey & Buchnevich started at the same time.)
If you're Jimmy Vesey, you have to think back. It was just three years ago where Margot Robbie was begging Vesey to come to NY. Susan Sarandon promised him the world. You had local bars offering Jimmy Vesey free drinks for life. Three years later, and Jimmy Vesey is now sitting in a cold Buffalo apartment, with nothing but his shrinkage dick in one hand and a Labatt Blue in the other hand. Like Robert Deniro said at the end of "Casino", "and that's that."
Of course, because Ranger fans like to overreact to everything, the second this story was made public, Ranger fans tore Hayes a new one. I saw many Ranger fans tagging Hayes in tweets telling him how much he sucks and how much his contract sucks. Funny how this stuff never applies to Lundqvist though!
If you're Kevin Hayes, how are you supposed to feel? I 100% understand where he's coming from. He had to fly by the seat of his pants for many seasons, looking for that one big contract to give him financial security for life. The Rangers didn't want to do that for him. Philadelphia did. What is he supposed to say? You think he is going to say something like "I don't want to be here and I wish the Rangers paid me." Fat chance.
When you look at this Rangers roster today, there's really not that many familiar faces in New York for Hayes. Sure, Skjei is a buddy of Hayes, but what about everyone else? Marc Staal and Henrik Lundqvist are still here, but it's not like Hayes, as a forward, had a bond with them or dealt with them hand-in-hand that much.  In addition, Staal & Lundqvist are both older than Hayes and are family men. Hayes is still single, young and a party guy. There's no real bond between Hayes and those guys, as the bond Hayes has with Skjei and Vesey.
Looking down the roster, you have Chris Kreider, who has known Hayes since day one. You also got Zibanejad, who never played with Hayes because both were centers. The only other winger that played with Hayes for more than a year was Buchnevich, but it doesn't seem that Hayes was that tight with him to begin with.
So yeah, there is a lot of turnover on the Rangers roster. This is a business. I don't blame Hayes for feeling like the way he does. The fact of the matter is that Philadelphia knew they would have to overpay to land Hayes and that's what they did. The Rangers didn't see Hayes as a building block of the franchise and I don't think they are wrong either. (Of course Lundqvist isn't a building block anymore, but you know my opinions on that already!)
Hayes isn't the only ex-Ranger employee in Philadelphia these days, as ex-Rangers head coach Alain Vigneault now mans the Flyers bench. However, there wasn't much AV talk going into tonight's game. Maybe that will be saved for AV's MSG return or during the first Flyers/Rangers regular season tilt. In fact, AV wasn't even behind the bench tonight, as he did what he did during his preseason years with the Rangers – he watched from above and allowed his staff, one of the deepest coaching staffs in the league, to run the bench. With the way this game went, AV was free to chew all the gum in the world to his heart's content.
I know I say this all the time whenever the topic of AV comes up and I'll say it again – I thought he got a bad rap here. I still say he's one of the Top 5 Coaches in Rangers history. (I have Lester Patrick, Frank Boucher, Emile Francis and John Tortorella rounding out the top 5.)
To this day, I don't know how one can blame him for the way things went down in 2017-2018. With his track record of making the playoffs every season besides the season the Rangers decided to fix Sather's mistakes, (except the one in net) I thought AV deserved to at least finish his contract out. Don't get me wrong, I like David Quinn too, I just thought AV didn't deserve to be fired. That's all.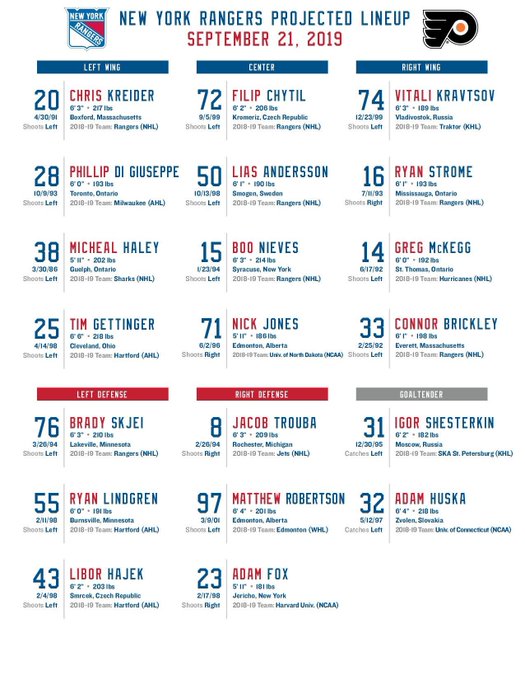 As far as pregame news and notes, there were several. Artemi Panarin, who was reported to be shut down for the weekend, wound up practicing today. He didn't play in the game, but at least he's back on the ice.
The Rangers also made cuts. In fact, in a little pat-on-the-back action here, I predicted these cuts in last night's blog. The Rangers announced the following before this 4-1 loss to the Flyers: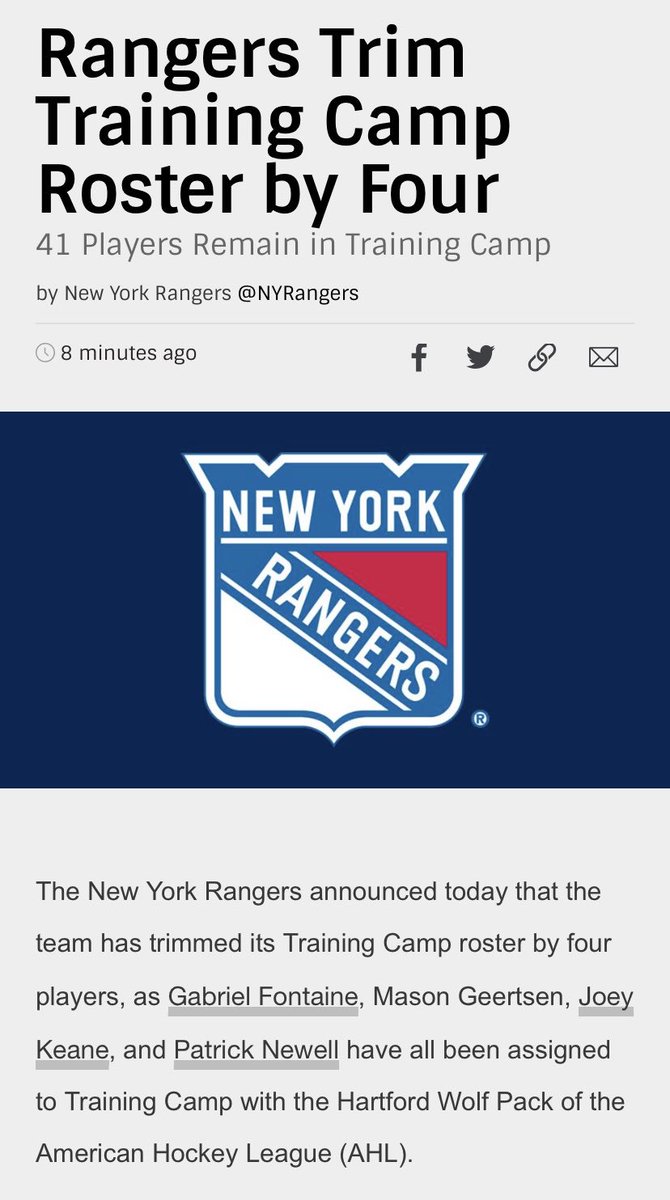 I thought Joey Keane was the most obvious cut, just because he doesn't fit in with Tony DeAngelo back. Mason Geertsen was a trainwreck on Friday, so I figured he'd be a goner. There's just no place for Fontaine or Newell right now, so those cuts also make sense.
In another BlueCollarBlueShirts.com prediction, I 100% expect Phillip Di Giuseppe to be cut between now and the next game. Shit, he may be cut by the time you read this. He was horrible tonight and it's time to say ciao to this stounad.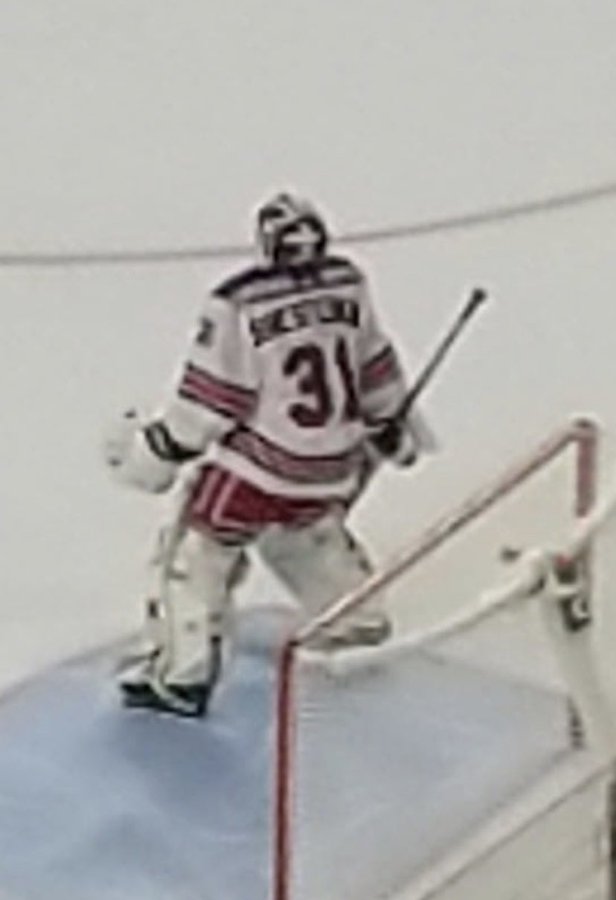 Real quick, since I'm using Jim's picture here, I would like to thank him for his investigative reporting that he did for me. On Wednesday, I reported that 24 ounce domestic tall-boy beers were $14 in MSG. In Philadelphia, you can get the same beer for a dollar less. THESE ARE THE HARD HITTING FACTS THAT YOU WON'T FIND IN THE NY POST!
Oh and make sure to check out Blue Shirt Underground Radio and their Facebook pages for more Ranger opinion. I was cracking up watching a video that Jim posted tonight from the game, where he did on-going commentary from the game. In fact, here's the link to that said video: https://www.facebook.com/jimschmiedeberg/videos/10158894120573574/
Since I posted Jim's video here, I'll spare you my usual rant on Micheletti tonight. Jim pretty much summed it up in his video. "FILIP CHYTIL IS ONLY 20 YEARS OLD SAM!" "OH JOE!"
And lastly, before chiming in on the game itself, here's the gambling segment of the blog. Here's how Vegas saw this game:

It seems like the various books in Vegas couldn't agree. Some books had the over-under at 5.5, some had it at 6. Obviously, I took the under at 6, especially when I saw two great goalies starting, in CZAR IGOR and Carter Hart. With the 4-1 score, I won the bet. Of note, despite the various lines, Vegas was right by making the home team the favorite. After the first period, the result of this game was never in question.
Game time.
Quite frankly, this game just sucked in every way possible. Ranger fans on social media are already in the mid-season doom & gloom game. I won't judge and everyone is entitled to their opinion. That said, the one thing I agree on is this – yeah it's only preseason, but you would like to see the team win one of these games. The most important and the most telling thing to me is this – the team doesn't look any better from where they were when the preseason started. Seriously, outside of Shestyorkin, Ryan Lindgren and Adam Fox, who really benefited in this game?  Maybe Kravtsov?
This game was a complete shit-show. The Rangers only had 9 shots at the half-way point of the game, so that tells you how this was going. The offense was lifeless, and the lone Ranger goal came with only five minutes left in the game, when the Rangers were already trailing 4-0. I guess it's nice Nick Jones potted a goal to break up the Philly no-no, but no one will remember this goal. It's not like this was Kakko's OT GWG from the Traverse City Tournament.
Let me get this out of the way. The detractors of my blog and my opinions will say – "Y DON'T YOU BUREE EEGOR FOR GIVING UP FOR GOALS TONYTE!!!!!?????"
I'll spell it out one more time here – THIS IS A REBUILD. I will take my lumps with CZAR IGOR all season. I already know Lundqvist can get torched every game. I'll take a goalie making $8M less and who is 15 years younger over Lundqvist. To me, the bottom line is this – Lundqvist is not the goalie of the future. He shouldn't be the goalie during this rebuild. I want the Rangers to invest time and coaching into a young and talented goalie, like Shestyorkin or like Georgiev. This way, when this young team starts to put it altogether and peaks, then the goalie will be right with the team too.
I mean really, do you want Kakko and the rest of these young guys to hit their prime and their stride and all of a sudden you have a way out-of-his-prime and 40+ year old Henrik Lundqvist? To me, I want Kakko & these young guns to hit their prime with a goalie hitting his prime too. That's how the Rangers win the Cup. Just staying with Lundqvist is beyond idiotic.
So to be clear on this, I don't mind if Igor gets torched here and there. And to be fair, that's not what happened here tonight. I'm just saying if he has some bad games, I'm fine with it. I'll roll with him as he progresses, knowing that there is light at the end of the tunnel.
As far as Igor's play today, I thought he was great. He made 36 saves on 40 shots, giving him a save percentage of .900. He also made a highlight reel save, on a Flyers 3 vs 0 break.
On the four goals given up, he gave up his first goal after a deflection off his own teammate, in Jacob Trouba. He also gave up two power-play goals, where the Rangers looked baffled.
The cleanest goal against Igor in this game was a goal from Carsen Twarynski, which happened in the second period. Twarynski, on a breakaway, shot the puck off Igor. The puck rebounded off of Igor and Twarynski slapped the puck right down behind Igor and into the net. I thought this was a high stick at first, but on the replay, Twarynski's stick was below the crossbar, as his stick was in a downward motion.
And one last thing here before the Cult of Lundswiss comes out – did you really think Lundqvist would've done better tonight? Do the Rangers win this game if Lundqvist plays? The answer to both of those questions is NO, which means you go with Shestyorkin and you go with Georgiev. BUILD THE FUTURE.
If anyone deserved the "Dan Girardi Award" tonight, it was Ryan Lindgren, who blocked a game-high three shots. And let me do Lindgren a service here. These weren't pucks that grazed by him or hit his stick or anything. Lindgren ate the puck on all three blocks. One block was so bad, that his glove came flying off. You want to get noticed? Stuff like this gets you noticed.
Many people will cry about the Rangers defense tonight, and I get it. After all, Shestyorkin made a bunch of dazzling saves on Flyer breakaways. Shestyorkin also got the opportunity to show off his quick lateral movement with the way the Flyers were dishing the puck. However, when the Rangers offense can't create any sort of puck possession, pull of a set play or come up with any type of offense, it's not always the fault of the defense.
The Rangers had two power-plays in this game before the Flyers had their first crack at it. On their PP's, the Rangers put forth their worst PP effort of the preseason. I really don't know how much of this you can blame on the roster playing tonight. It's five vs four. These are professional hockey players. They just couldn't get much going.
Once the Flyers got their fluke goal (which was a PPG as well) to break up the nil-nil score near the end of the first period, I knew it was over. That was all it was going to take, because the Rangers couldn't muster up anything. Then of course, 90 seconds after this Flyers PPG from JVR, and with 30 seconds remaining in the first period, Hayes scored a back-breaking goal to make the game 2-0. That wound up being the game winner. We've seen this script before.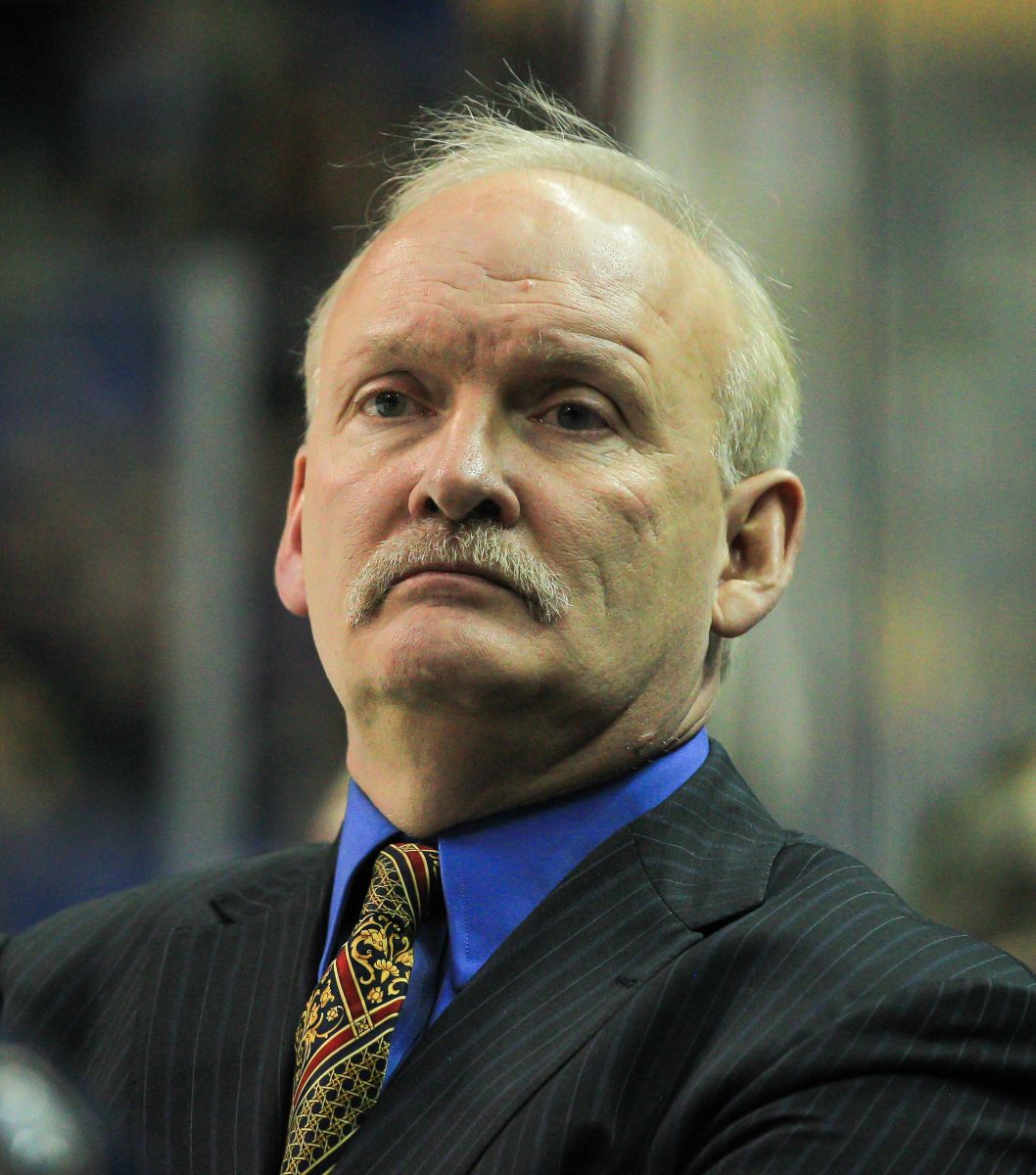 Despite the influx of better defensemen, the Rangers have given up four goals in all three preseason games. I wonder how much of that has to do with Lindy Ruff? I just don't know what he's doing here or why Quinn retained him from the days of AV. I don't see how Ruff is making this team better. I would argue that Jeff Beukeboom was better at the job and had a better connection to the guys when he was here. (Beukeboom was at Hartford when guys like Skjei graduated to the Rangers.)
That said, you can't pin this loss on Ruff either. Sure, the Rangers didn't field their best roster in this game, but for what's out there, they have to be better and you're not going to win many games with only one goal for.
I see a lot of Ranger fans panicking right now. I see Ranger fans already talking about the 2020 draft. Come on now, I don't think this team is that bad. Even with the 0-3 preseason record, these losses aren't the end of the world. I don't even know how you can be upset about the Devils loss on Friday night, when you had five defensemen out there, whom had about 3 games of NHL experience combined.
However, the Rangers need to win one of these games. No one is going to be rah-rah with an 0-6 preseason record.
Personally, I'm on record – I think this team will make the playoffs. I believe in Quinn's coaching style that much. This team will only get better as time goes on. Just look at the Blues, last place in January and holding the Cup in June. While I don't think the Rangers will win the Cup this year, I don't think they are a draft lottery team either. I would expect the Rangers to have a much better record from the months of January-April, than they will in the months of October-December.
The Rangers took 8 penalties in tonight's game, several of which that could've been avoided. The Rangers have to be better disciplined. Nothing was worse than seeing the Rangers take a too many men on the ice penalty in this game, as that was a penalty that plagued the Rangers last season. (I'm too lazy too look it up, but if I recall correctly, they had 13 of those penalties last season.)
Moving ahead, the Rangers return Tuesday night, as they host the Islanders at MSG. The Rangers will have two full days off before this game. I would expect a bunch of cuts. I would also expect us to see better line-ups in the second half of this preseason. Outside of the first game of this preseason, we haven't really seen the Rangers best, which is why I think fans shouldn't be panicking. That being said, you would like to see better results on the ice.
When I think about it, after watching games 2 and 3 of this preseason, what was gained? Igor got a chance to play a full NHL game. Kravtsov got first line minutes. Adam Fox has shined the brightest out of all the Rangers d-men. Trouba has a nice shot. Lindgren is willing to sacrifice himself. Andersson has looked better.
It's preseason, so take these games for what they are.
See you next Tuesday, where I expect Lundqvist will play.
As always, thanks for reading and…
"Let's Go Rangers!"
Sean McCaffrey
BULLSMC@aol.com
@NYCTHEMIC on the twitter