Greetings and salutations everyone and welcome to another blog here on BlueCollarBlueShirts.com. When I last left you, I recapped the first two Ranger games at the Traverse City Tournament. With the tournament now over, I figured I would check in here with my final thoughts on the tournament. In addition, I'll also share and opine on all the latest Rangers news coming out of Rangerstown, USA.
By the time you read this, the 18th "anniversary" of 9/11 is now over. I hate using the word "anniversary" here, because to me, the word anniversary is usually a word used to describe something celebratory. Of course, 9/11 is the complete opposite of the word celebratory. To this day, it is the biggest terrorist attack on American soil to date.
For many of you readers, you are either a New Yorker like me, live in the tri-state area or are transplanted from New York. In other words, we all have a 9/11 story. For us, 9/11 will be a day that we will never forget. We will always know where we were on that day and how we found out about this horrible news.
Previous generations of Americans had the JFK assassination, the bombing of Pearl Harbor and other catastrophic events that they lived through. For some Americans, they lived through all three of these major American tragedies. Not to make light of any other tragedy, but to me, when you think of the worst tragedy in American history, it's 9/11. Perhaps a Hawaiian who lived during December 7th, 1941 would think differently than me here and that would be fair. That said, in my life, nothing was ever worse than 9/11.
When you think about 9/11 in the sports world, immediately after the tragedy, the WWE put on the first public gathering event post 9/11, with an episode of "WWE Smackdown." After that event, in New York, Mike Piazza hit an unforgettable homerun, while the Yankees marched on to the World Series, where Derek Jeter became "Mr. November." For the Rangers, Mark Messier, the ultimate leader and captain that he was, helped to heal wounds in his own way. While the lives lost could never be brought back, Messier was able to help Ranger fans try to regain any sense of regularity and normalcy in their every day lives.
While Messier was the face of the Rangers during this time, he wasn't the only Ranger or Ranger alum to help out during this time. Donations came from everywhere. Former Rangers GM, Neil Smith, was known to show up at NY firehouses and donate supplies. Ranger players (along with other NY athletes) helped and lent their support to both NYPD and FDNY.
Personally, where I was during 9/11 doesn't matter. It's trivial, compared to what happened. We all have a 9/11 story, especially if you lived in NY at the time. What does truly sadden me, is where we are now 18 years later. I don't want to dive into the political realm here, but I can remember 9/12/01 and the months afterwards. Everyone was supportive of our police officers and firemen. You saw everyone wearing NYPD hats. There was a great sense of patriotism and pride among not just NYers, but Americans in general. Fast forward to today, and you have some people who deem the word "patriotic" as a slur. What happened?
Again, I'm not going to dive in too deep here on the topic of politics. However, I can't ignore this. Today, in New York City, we have a corrupt and terrible mayor, who has declared war against the NYPD. How fast we forget.  In the aftermath of 9/11, NYPD officers, who have one of the most thankless jobs in the world and are extremely underpaid, finally were appreciated. It's tragic that it took an event like 9/11 to happen, but it woke up a lot of people. NYPD officers were rightfully lionized as heroes. I also think that then-mayor, in Rudy Guiliani, did a great job of navigating the toughest waters that any mayor faced, in NYC history.
Side-bar here: Does anyone remember how Rudy showed up on "Saturday Night Live", right after 9/11 and told people that it was okay to laugh again? How quickly SNL forgot, as they now viciously make Rudy a butt of many of their jokes today. I guess time goes on, but people shouldn't forget how Rudy Guiliani did a masterful job of keeping NYC together during this terrible time.
While we all know about the immediate deaths during the 9/11 attacks, what is sometimes forgotten are all the lives lost in the years after 9/11, due to the smoke and chemical inhalation that the first responders endured. (To be clear, NYPD weren't the only first responders, as you had other agencies and departments helping. You also had every day civilians helping out as well.)
Today, as retired and disabled officers pass away because of what they went through during 9/11, Mayor Bill Deblasio allows current NYPD officers to get shot in broad daylight, fires cops for doing their jobs, judges cops based on viral videos (without finding out what led to a cop reacting in the manner he or she did) and for the cherry on top, now allows savage criminals to throw water balloons and buckets of water at cops. This is a far cry from when everyone respected our brothers in blue.
In closing on this, while we all know victims of 9/11 and have our own stories from this day, I would ask people to remind themselves of where they were on 9/12/01. While there are bad apples in every field and walk of life, the NYPD aren't the enemy. These men and women protect the biggest city in the world and have to serve a mayor that's against them. They also have to make rash decisions, while buckled under adrenaline during the blink of an eye. How a cop is supposed to determine if someone has a BB gun or a real gun pointed at them, all within a nanosecond, well that is beyond me.
My condolences to anyone who lost anyone in 9/11 and a special thank you to my NYPD friends, NYPD readers and NYPD officers in general.
Let's talk hockey.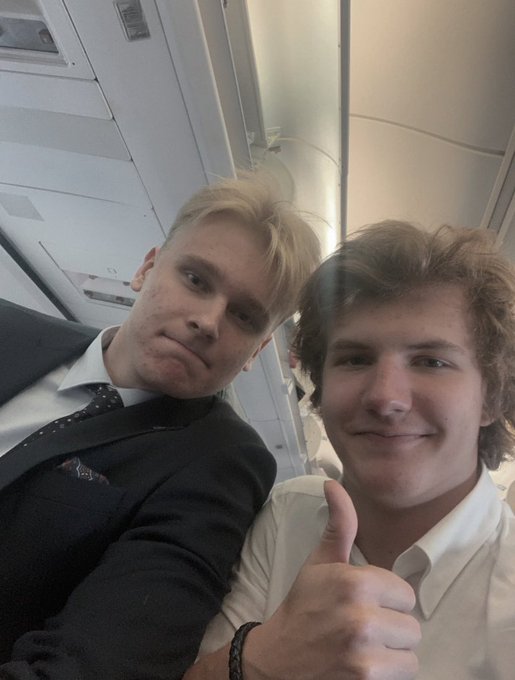 As mentioned at the top of this blog, I recapped the first two days of the Traverse City Tournament already. For that blog, and all my most recent blogs, including my 2019-2020 NHL preview, check out below:
The Traverse City Tournament is complete and the home team won the tournament, as the Detroit Red Wings defeated the Dallas Stars, 6-5, in the first place game on Tuesday afternoon. With the win, this means absolutely jack shit for the Detroit Red Wings.
Okay, okay, okay, let me back-pedal here a bit. Winning the tournament is a nice feather in the cap of the Wings, especially for a team that's in the middle of a rebuild, just like the Rangers. However, at the end of the day, that's all it is, a nice little token. This win doesn't mean anything, at least in the short or long-term future.
In fact, by the time you read this sentence, you probably already forgot who the Wings beat to win the tournament and I just told you who they beat two paragraphs ago!
While the Wings won the tournament, it was Kaapo Kakko making all the headlines, when he scored the game winning overtime goal in the Rangers third game of the tournament, against the lowly Minnesota Wild. I use the word lowly here, as the Wild didn't win one game in this tournament.
If you haven't seen it by now, here's Kakko's goal:
Couple of things here, before getting into the goal itself.
The Minnesota Wild broadcasted this game and sent out their AHL announcers to provide commentary during this game. If you read my last blog, you can imagine how happy I was to have some commentary. While we didn't have replays or lower third graphics, the commentators, in Joe O'Donnell and Dan Myers, were great. They provided a valuable service when watching this game as a viewer. Of note, if I were the Rangers, I would try to snake Joe O'Donnell.
Secondly, the most hilarious thing about this video, is the low-life cheap creeps at the Madison Square Garden Networks, who actually put a MSGN watermark on this video. They didn't broadcast the game because they were too frugal to. They couldn't even send out John Giannone to this tournament, which featured the most heralded class of prospects in Rangers TCT history. MSG is fucking pathetic. From letting Ron Duguay go to this, MSGN head-honcho, in Jeff Filippi, should be embarrassed. I know I am.
Anyway, back to the goal!
On the goal itself, in a vacuum, it's a highlight reel goal. Hopefully, when we look back at Kakko in 15 years, we will be talking about this goal as the goal that started it all. Fingers crossed, this won't be the goal where he turned into Pavel Brendl immediately afterwards!
I've seen some people dissect this goal on social media. Ranger fans can never be happy, and with four cups in 93+ seasons, I get it! The points of contention with this overtime goal was that one, it wasn't an NHL goal and two, this goal was illegal.
If you re-watch the video clip above, you can clearly see Adam Fox set a pick. That's a penalty. There is also the topic of debate about Kakko looping around the net twice. This may work against kids, but it isn't going to work against men in the NHL.
Here's my take – who cares? Kakko did what he did under the rules of this tournament and scored in the best way he could. Fact of the matter is that this wasn't an NHL game and he wasn't playing against NHL talent. HE SHOULD BE ABUSING AND CLOWNING the competition. If he wasn't, there would be a cause for concern.
Of course, you also have douchebags like this: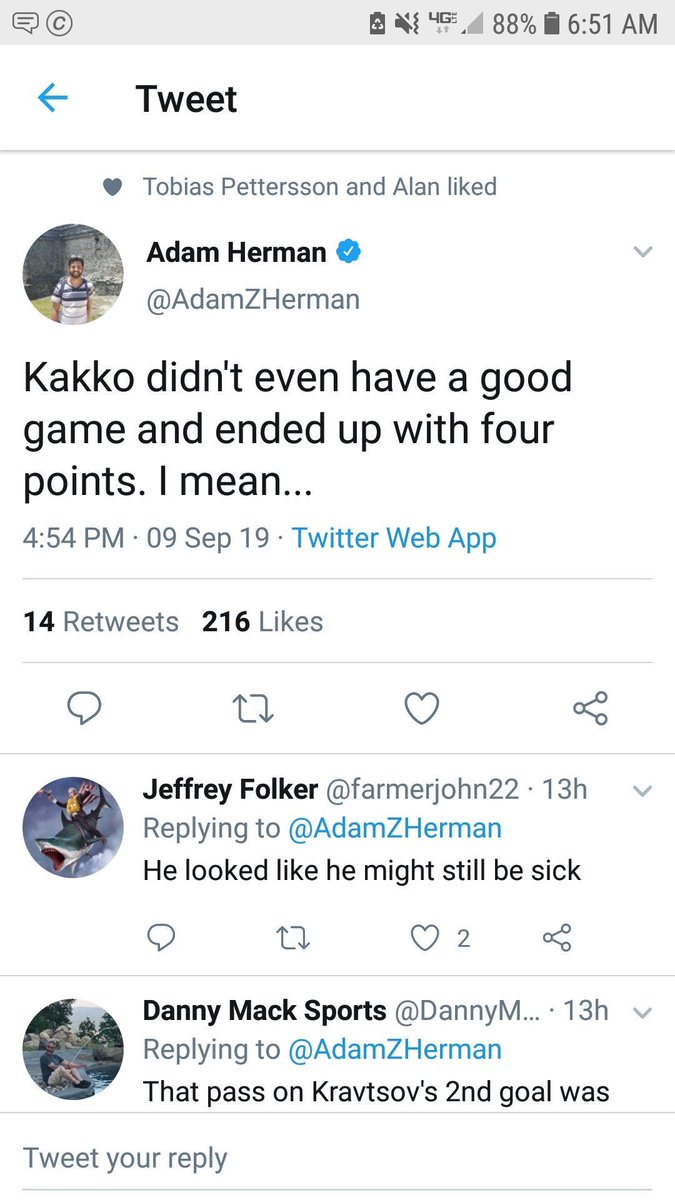 Sometimes, you just have to shake your head at the stupidity of Adam Hermtrans. Going into this game, Kakko was playing in his first game of the tournament. Kakko missed the previous two games because of an illness/common cold. He was also playing with new teammates for the first time. Just because Kakko didn't have 76795785678567678 points in the first two periods, that doesn't mean that Kakko didn't play well. In fact, Kakko was arguably the best player on the ice. If he wasn't the best player to you on the ice, he was at the very least, the third best player on the ice. (You can argue for Fox or Kravtsov here.)
Kakko had a GREAT game in his debut in his #45 Rangers sweater. (More on that in the next segment of this blog.) Before this goal, he set up Kravtsov on two goals, with the second assist being a hell of a bang-bang play:
Another Kravtsov power play goal… another Kakko power play assist. The #NYR pull even pic.twitter.com/rc6bN3jArl

— Shayna (@hayyyshayyy) September 9, 2019
If there was anything "bad" about this win over the Wild, it was the fact that the Rangers didn't win it in regulation. If they won this game in regulation, they would've qualified for the first place game on Tuesday. Again, wins or losses don't matter in this tournament, as it's about the players shining and establishing their roles, but speaking PURELY AS A FAN ONLY, of course you want to see your team win.
However, I'll say this – no one will remember who won this tournament a year from now. Shit, you probably forgot who won already. What you won't forget is Kakko's goal from this game. If you watched this entire tournament like I did, you also won't forget the excellent performances from Vitali Kravtsov and Adam Fox either.
Since the Rangers didn't qualify for the first place game, the Rangers figured there was no point in putting their best foot forward during their fifth place/sixth place game on Tuesday, during their last day in Traverse City, Michigan. With camp opening up on Thursday, 9/12, there was just no reason risking the health of Kakko, Fox or Kravtsov. These three have bigger fish to fry.
In the Rangers last game of the tournament against the Blues, the Rangers went with this squad: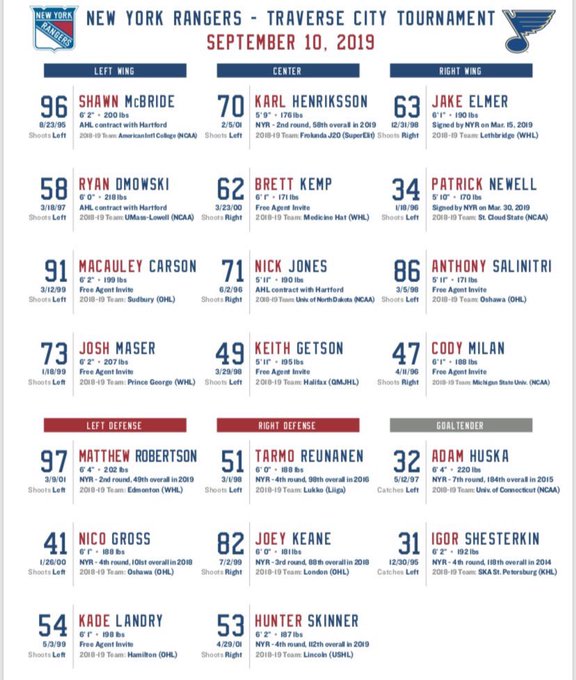 There's no point in recapping this game in full, because I'm sure the majority of the people reading this either don't care or just want to move on. I get it.
Trying to say who impressed me in this game is a reach. No one truly STOOD OUT to me. From watching all four games, Kravtsov, Fox and Kakko were the aces that they were advertised to be. No one else could hold a candle to this trio.
Of the non-trio players, I thought Ryan Dmowski had a good showing for himself. I don't know where he fits in, at least in the immediate future, but after this tournament, I'll be tracking his progress in Hartford. I also thought Karl Henriksson was okay, but again, no where at the level of the aforementioned three amigos.
On the blueline end of things, I really had my eyes on Joey Keane, just because I've heard so much about him. Again, as I said in my last blog, it's tough to really get a grasp on everything, because of the non-production values. That said, in game four, where the big 3 weren't playing, I was tracking Keane more. I didn't see much out of him. You can't judge one player by one game, but he still looks like he needs much more seasoning.
I thought Brett Kemp was serviceable in the tournament, but with salary cap woes and younger talent that is better, Kemp didn't get a Rangers camp invite. I wonder if an NHL team will give him a deal after his showing here?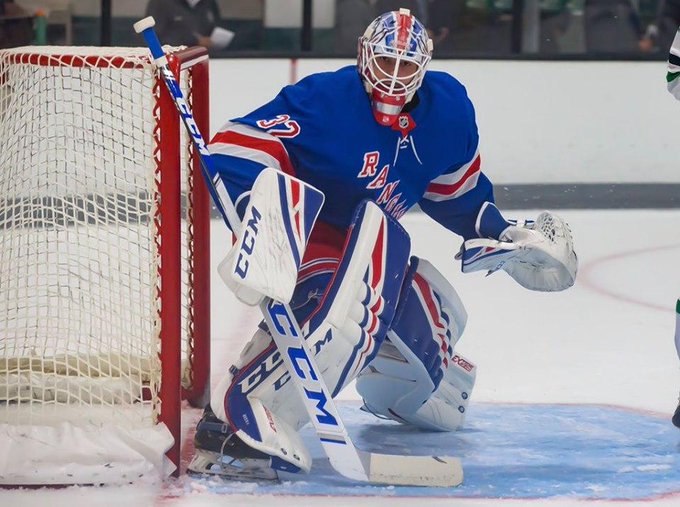 Goaltending wise, Igor Shestyorkin was much better in his second game of the tournament. While the Columbus squad had more experience together than any other team in the tournament, the Rangers team had the least experience of any squad. That said, Igor certainly needed to be better in that first game with CBJ. He settled down big-time in game 2.
For Huska, if you go by the stats, you can argue he was the best Rangers goalie of the tournament. He was pitching a shutout for most of his second start, until things started to implode before the Rangers eventual 5-3 victory over the St. Louis Blues. Of note, I was told by someone who is up-to-date on these prospects and these teams, that the Blues team was the worst team, prospect-wise, in the tournament. In other words, Igor played the most experienced team, while Huska played the worst team in the tournament. This doesn't mean anything, I'm just putting this out there. Plus, to be fair, in his second start, Huska didn't have the luxury of Kakko, Fox and Kravtsov playing in front of him either.
I think it's truly tough to assess the goaltenders here, because if you look at the scores during the tournament, you had a lot of high scores. After all, there were 128 goals scored in these 16 TCT games, which averages out to 8 goals a game.
Worth mentioning, despite being held back from the final game, both Kratvsov and Fox finished with five points a piece in the tournament.  That was good for third overall. Two players from Detroit finished with 8 points. I believe that Kravtsov would've finished with that if he played in the game on Tuesday. Again, this stuff doesn't matter, as we already know what we need to know about Kravtsov. Just giving you the facts here.
All in all, while finishing up on this tournament, I think if you're a Rangers fan, you have to be happy with what you saw. The top three players showed up and delivered. What more can you ask for?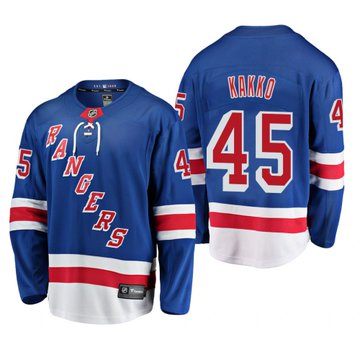 During my last blog, I talked about Kakko wearing the number 45 and how some liberals were triggered about that. You see, by wearing 45, that means, according to these snot-nosed fucks, that Kakko is a racist, a misogynist, xenophobic, homophobic, claustrophobic and probably into necrophilia too!
Without fail, the infamous thing that asked people to attack me at games that I attend, immediately chimed in on this PRESSING ISSUE. (For those who forget, she has asked people to spit at me and attack me at games I attend. Classy broad. Liberalism, the party of tolerance! Keep in mind of this, she hates me because my opinion of Lundqvist is different than hers. That being said, when I first said the Rangers would never win a Cup with Lundqvist in 2015, and everyone got all hissy at me, here in 2019, soon-to-be 2020, I haven't been wrong yet. I'm never wrong after all!)
At this time, I ask you to sit back, pour yourself an alcoholic beverage that isn't a White Claw, and enjoy the deranged thinking of the modern day liberal: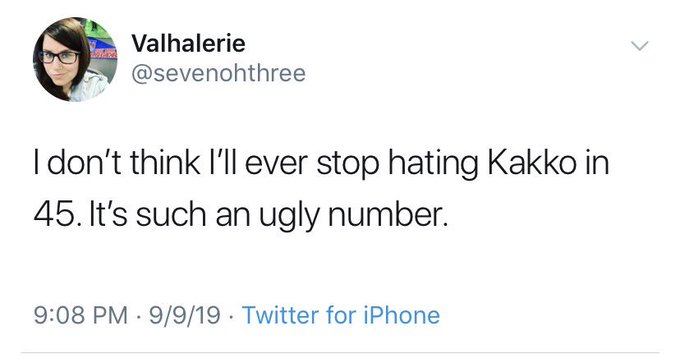 This is also the same thing that took a tragic event such as 9/11 and spun it as anti-Trump thing: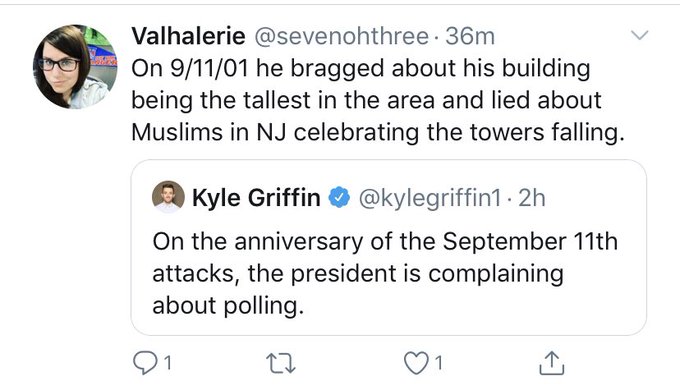 Listen, I don't care how you feel about Trump. That said, I think we can all agree that Trump has/had nothing to do with 9/11. If there was ever a day to put the political crap on hold, it's on the day of remembrance of the 9/11 tragedies/attacks. I can't be any more clear here – RADICAL TERRORISTS were the direct cause of this day that will be remembered in infamy. This wasn't the fault of any American politician. NO AMERICAN WANTED THIS!
I just don't get how people can get bent out of a shape over a jersey number. Was Eric Lindros a Hitler fan because he wore #88? I mean how stupid and silly can you get?
I was discussing this matter with another Rangers hardcore/blogger/podcaster/whatever the fuck he's doing, in Steve Voogel. If a player wears #45 and a liberal equates that as Trump support, does that mean that a liberal bought a Neal Pionk #44 jersey off their Obama phone?
As Steve said, (I want to credit him for his joke and not steal it) does this mean that Sean Avery loved headshots, because he wore #16 in honor of Lincoln? Does this mean that Harry Howell (#3) was into black chicks, because Thomas Jefferson was the third president of the US? Shit, JFK was the 35th POTUS. Someone tell Mike Richter to stay the fuck out of Dallas!
At this time, and in the interest of boredom, and having too much time on my hands, let's look at the rest of the Rangers, in relation to US Presidents:
NOTE: This bit might shit the bed, but I enjoy doing it. As you know, I love history, especially American and hockey history. This stupid bit combines both of my interests! If this bit isn't up your alley, scroll down for the Lemieux & Ranger camp news!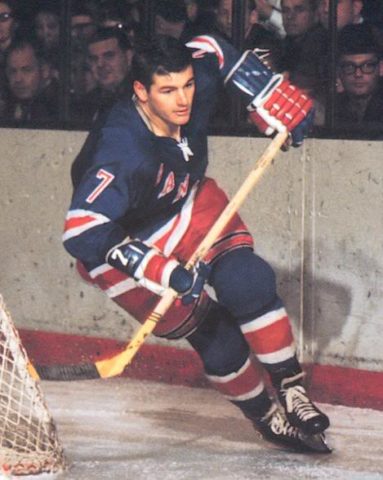 — Eddie Giacomin loved to chop down cherry trees like George Washington.
— Brian Leetch used to love brewing beer with his cousin, Sam Leetch. (Yes that's a John/Sam Adams joke)
— Jefferson/Howell joke.
— Ron Greschner loved his wife's RUM ice-cream. (Double-whammy, this is a shout-out to BSU Radio!)
— Barry Beck enjoyed his Monroe-esque Doctrine of displaying his Rangers manifest destiny.
— Wade Redden, one of the worst Rangers of all time, picked number 6, to honor one of the worst President's of all time, in John Quincy Adams. (JQA was overpaid too!)
— Rod Gilbert/Andrew Jackson joke.
— Steve Vickers was part of Cosmo Kramer's "Martin Van Buren Boys".
— Little known fact: In juniors, Adam Graves was once known as Tippecanoe.
— Ron Duguay too! (Yes, this is a John Tyler reference.)
— Like James Polk, Vic Hadfield didn't get his appreciation from his Rangers country, until many years after his days in the office of Madison Square Garden were over.
— Zachary Taylor died a quick death after some bad fruit. Eric Staal's Rangers career died faster.
— Kevin Hayes is a devout believer in the Compromise of 1850, just like Fillmore was!
— Franklin Pierce was a teetotaler. Don "MURDER" Murdoch chose #14 as a goof, just like how you call a fat guy "tiny".
— James Buchanan wasn't shy from any party or bar. Tanner Glass could finish any bar fight.
— Lincoln/Avery joke
— The man on the $50 bill, in Ulysses S. Grant was known to succumb to his vices. Kevin Stevens was too.
— Rutherford B. Hayes was once President of the United States. Scott Gomez was once a New York Ranger.
— Chris Kreider loves lasagna. (Yes, that's a Garfield the Cat joke.)
— Chester A. Arthur was known for his wild hair, especially his facial hair. The bald Derek Stepan, like Murdoch, chose his number for the goof.
— Nick Fotiu wore #22 and would leave the Rangers. Like Grover Cleveland, he would come back for a second stint.
— Jeff Beukeboom was known for his no-bullshit style, just like Ben Harrison while in office.
— Ryan Callahan had such insight, that he chose #24 because he wanted to play with the Rangers, take off for four years and then come back like Grover Cleveland did. Unfortunately, injuries prevented that.
— Bob Plager felt the Rangers were assassinating his career, which is why he chose #25 to honor William McKinley. Once away from NYR, Plager went to three consecutive SCF's!
— "Walk softly and carry a big stick." While Martin St. Louis wasn't the biggest guy on the ice, no one can forget his big stick and moments during the 2014 playoffs. What a rough rider, just like TR!
— Teddy Irvine was known for his big ass, just like the 27th POTUS, in a one William Taft!
— Colton Orr fought many wars for the Rangers, just like the Great War that Woodrow Wilson presided over.
— Chad Johnson, at 29, decided to honor his corrupt contract by emulating his favorite president, in Warren G-Thang Harding!
— NUMBER 30! Henrik Lundqvist disrespected COOL CAL COOLIDGE, by not holding his cool at all. No word if Coolidge ever broke a rake.
— ONDREJ THE GIANT was a vacuum in net for the Rangers, in honor of Herbert Hoover!
— Antii Raanta deserved four seasons/terms with the Rangers, just like how FDR served four terms for the US.
— I've been waiting for #33 here. THE BUCK STOPS HERE WITH CAM FUCKING TALBOT BITCHES!
— General John Vanbiesbrouck was well liked, just like Ike!
— Richter/JFK joke
— Zuccarello was all about equal rights in the educational system, just like LBJ.
— As VGK players later found out, GEORGE MCPHEE WAS NOT A CROOK!
— Michael Sauer's career was cut short because of concussions. Many thought Gerald Ford, during his time as president, had brain issues as well!
— At 39, Jimmy Carter is going to live to be 100 years old. In 100 years from now, people will still be talking about Dan Cloutier kicking the shit out of Tommy Salo.
— Just like REAGANOMICS, GEORGIEVONOMICS means a better goaltender and at a better price than Henrik Lundqvist!
— READ MY LIPS: Jed Ortmeyer won't raise taxes on the Rangers.
— Brendan Smith once stained the dress of Amanda Borges. Not a true story!
— Some say George Bush Jr. should've never won the 2000 election. Some say that Marty Biron should've never been a Ranger!
— Obama/Pionk joke.
and of course at 45, we have Kaapo Kakko and Donald Trump.
Not going to lie, this bit was probably too long and failed long ago. Can't win them all! At least I educated you on POTUS history. And a little pat on the back here, I didn't have to Google one fucking thing here. I did this all from the top-of-my-head!
And before I depart on this bit, I leave you with my buddy here, in a one Greg Rutherford aka @FIXXSER, the master of all that is hijinx:
Siri Hijinks pic.twitter.com/sjJd8pKyA4

— Fixxser (@Fixxser) September 12, 2019
Thankfully, MOVING ALONG NOW!
As I was working on tonight's blog entry, the Rangers announced the following, late on Tuesday night:

According to the reports, Lemieux signed a one-year deal worth $925,000. Previously a potential hold-out, Lemieux received a $50,000 raise from his qualifying offer. It should also be mentioned, that despite the contract nonsense, Lemieux was participating in optional skates with the team. It was thought that his father/agent, in Claude Lemieux, wanted Brendan to focus on hockey, while Claude handled the negotiations. At the end of the day, this is a win-win for many reasons.
One fan's opinion that I enjoy, in Jennifer Eberhart, of the NYR Bleed Blue Facebook Group, is a big Lemieux fan. I find myself echoing a lot of her thoughts. What she hasn't said yet is this – by retaining Lemieux, the Rangers have a rugged guy who can fight and protect. The Rangers need a guy like this with a bunch of new and young flashy talent on the roster. While I don't expect Lemieux to play on the same line as either Kakko, Kravtsov or Panarin, if someone tries to take a run at one of the three, as Braun Strowman says, "YOU WILL GET THESE HANDS!"
I'm glad the Lemieux saga is over. From all reports, Lemieux dedicated himself to becoming the best hockey player he could be during the summer. Obviously, there is more money and glory in being a scorer than an "enforcer" (it's tough to call anyone a true enforcer in today's NHL) and I'm sure Lemieux would rather be known for his skills on the ice than his fists to the face. That said, on this Rangers team, if Lemieux can provide some pop point-wise, it will only be gravy. As far as this season goes, I think his role will be to make sure no one screws with the new students.
With Lemieux on the books, the last part of the Rangers equation is Tony DeAngelo. With TDA, Fox and Trouba on the roster, the Rangers have more than enough right-handed defensemen to make the buy-out of Shattenkirk easy to accept.
To sign TDA, the Rangers will have to be cap-creative. Obviously, they won't buy out the albatross, known as Henrik Lundqvist. What they can do is send Brendan Smith to Hartford and/or trade Namestnikov. No offense to Vlad the Impaler here, but does anyone really see Namestnikov figuring into the future of the Rangers? I always thought he was a stop-gap kind of guy and I never understood the contract the Rangers gave him to begin with.
TDA, like Lemieux, is fighting for a raise. In a non-salary cap league, the Rangers would've given him his extra $50K-$100K. As it stands right now, I have 646736793643334 times more faith in Gorton than I ever did with Sather. I think Gorton will get it done. To TDA's credit, he's been at every optional Rangers skate and at every team get-together. He has the option to hold out, but I believe something will happen between now and the start of training camp on Thursday.
I will say this – if you're the Islanders, or even the Devils, wouldn't it make sense to offer-sheet TDA? You would put pressure on the Rangers, and in the best case scenario, you could snake a solid piece of divisional talent on the cheap.
The only other player with a ? mark next to their name is Chris Kreider. I've already recapped Kreider's status in-depth on previous blogs.
To be honest, as we sit here on the eve of training camp, I'm surprised the Rangers haven't made a move on Kreider yet. Until they either re-sign or trade him, there will be a "WILL THEY OR WON'T THEY?" cloud around him all season. After these last two off-seasons with Nash, McDonagh, Grabner, Zuccarello, Hayes, Miller, etc; I'm surprised the Rangers are allowing the same shit to go down with Kreider.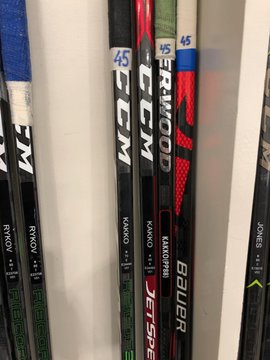 On Wednesday, the Rangers announced their training camp schedule and player assignments. You can read the full article here: https://www.nhl.com/rangers/news/rangers-announce-2019-training-camp-schedule-and-roster/c-309059870
In case you're too lazy to click that link, here's the breakdown:

The New York Rangers will begin Training Camp on Thursday, September 12 at MSG Training Center. All players will undergo medical testing on September 12. Rangers President John Davidson will be available to speak to the media on Thursday at 2:30 p.m. at MSG Training Center.
On-ice sessions begin on Friday, September 13 at MSG Training Center with on-ice testing. The on-ice testing will begin at 11:00 a.m., and players will be available to the media following their respective group's testing session. Rangers Head Coach David Quinn will be available to the media following the final on-ice testing session.

To begin Training Camp, the Rangers' roster is split into three teams. On Saturday, September 14, Team A will be on the ice at MSG Training Center beginning at 10:00 a.m., Team B will be on the ice beginning at 11:45 a.m., and Team C will be on the ice beginning at 1:30 p.m. On Sunday, September 15, Team B will be on the ice at MSG Training Center beginning at 10:00 a.m., Team C will be on the ice beginning at 11:45 a.m., and Team A will be on the ice beginning at 1:30 p.m. On both days, players will be available to the media following their respective team's practice session.

Additional information regarding practice times and morning skates during the preseason will be provided on a day-by-day basis following the opening weekend of Training Camp.

2019 Rangers Training Camp Schedule
Thu., September 12                         

Team Physicals                           All Day

John Davidson Availability          2:30 p.m.

Fri., September 13   
On-Ice Testing                          All Day – begins at 11:00 a.m.

David Quinn Availability              Following on-ice testing

Sat., September 14

Team A Practice                          on ice at 10:00 a.m.

Team B Practice                         on ice at 11:45 a.m.

Team C Practice                         on ice at 1:30 p.m.

Sun., September 15

Team B Practice                         on ice at 10:00 a.m.

Team C Practice                         on ice at 11:45 a.m.

Team A Practice                          on ice at 1:30 p.m.

*Schedule subject to change

PRACTICE TEAMS FOR SATURDAY, SEPT. 14 AND SUNDAY, SEPT. 15
View Full Training Camp Roster HERE. 

TEAM A

16      Ryan Strome

18      Marc Staal

32      Adam Huska

41      Nico Gross

43      Libor Hajek

54      Mason Geertsen

63      Jake Elmer

TEAM B

45      Kaapo Kakko

60      Tom McCollum

64      Vincent LoVerde

72      Filip Chytil

76      Brady Skjei

78      Ryan Gropp

82      Joey Keane

97      Matthew Robertson

TEAM C

14      Greg McKegg

15      Boo Nieves

17      Jesper Fast

21      Brett Howden

23      Adam Fox

33      Connor Brickley

38      Micheal Haley

53      Hunter Skinner

59      Ty Ronning

70      Joe Morrow

71      Nick Jones

80      Francois Brassard
Few things of note here:
For starters, the roster/team make-ups don't mean much. I will say, I find it funny how some people say, "HANK IS HEAR TO MENTOR EEGOR!!!!" Meanwhile, here they are, here on two different squads!
Matt Beleskey isn't part of this as he's being assigned to Hartford. I think that's more of a salary cap thing than anything else. However, where does Beleskey really fit on the big team?
If you look above, while Boo Nieves has traded in his #24 for number 15, Kakko is still wearing #45. Could Lias Jessiman take #24? Realistically, I see Kakko going back to #24. I just hope he keeps #45 just for the jokes. To be honest, I don't give a fuck what number he has. I don't even care what he wears at all, as long as it's a Rangers jersey.
If there is one player to keep an eye on, it's Ty Ronning, who has posted gaudy stats in lower levels. He's a project the Rangers hope succeeds, but they have bailed out on other recent projects, such as Jimmy Vesey and Brandon Halverson. Of note, Halverson, once thought to be the successor to Lundqvist, is currently without an NHL/AHL contract.
Depending on my work schedule, I'll try to chime in with some updates. I'd love to attend one of these practices, but I'm not media, I'm just a fan with some booze and an opinion!
Speaking of booze, it's almost closing time on this blog. I just wanted to share some shirts here that my buddy @FIXXSER recently purchased: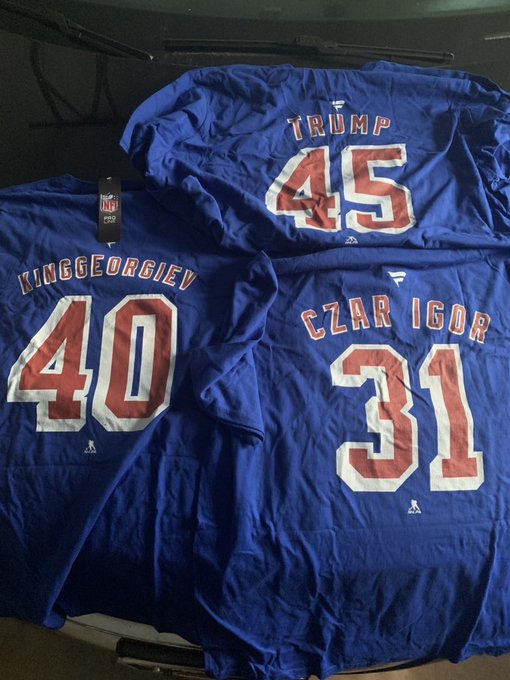 Yes, I'm jealous that Greg has these shirts before me!
That about wraps up this latest manifesto. Until next time, don't get your wiener caught in your zipper!
As always, thanks for reading and…
"LET'S GO RANGERS!"
Sean McCaffrey
BULLSMC@aol.com
@NYCTHEMIC on the tweet-tweet machine