What's up everyone and welcome to another blog here on BlueCollarBlueShirts.com. If you're a regular reader of this blog, you know the spiel by now. I'm working 7 days a week and have a 4:30am alarm clock every morning. I can't dilly-dally too much tonight and have to keep the tangents to a minimum. With that said, let's get into tonight's game, where the Rangers lost to the lowly Ottawa Senators, with a score of 3-2. In my opinion, for the Rangers, this was the most embarrassing loss of the year. I'll get into why below.
Just in case you missed them, here are my most recent blogs:
---
---
---
---
There was no excuse for the Rangers to lose tonight's game. Even if the Rangers came back to tie the game, late in the third, there would still be no excuse for this game to go into overtime. As I've been preaching all season, this team remains consistently inconsistent. I know I sound like a broken record when I say that, but really, it's been the mantra of the season. For every good game this team has, they are just as capable of putting out an odorous 60 minutes.
Just in case you didn't know, here are some facts about these Senators from Ottawa, before the puck drop:
The Senators lost 12 of their last 13 games.
There is talk about breaking up the team and making trades.
Erik Karlsson, the Ranger killer from last season and one of the best defensemen in the league, submitted a list of teams he would break his no-trade clause for.
Speaking of Karlsson, the former multiple time Norris winner & perennial Norris contender, he only has 2 points in his last 13 games.
Senators coach Guy Boucher is on the hot seat. There are rumors about his imminent firing.
Goalie Craig Anderson, after one of the better seasons of his career last year, is playing below par.
Superstar center, Matt Duchene, a player that the Senators thought would help them get over the hump, hasn't panned out.
The Senators played the night before, losing to the Buffalo Sabres.
In other words, after a disgusting and pathetic showing in front of their home fans on Monday night, against the Dallas Stars, (A team that lost three straight and were also on the second game of a back-to-back) the Rangers had the advantages going for them, going into this game with the struggling Senators. In turn, the Rangers made the Senators look like Cup contenders and the Senators didn't need Jean Pageau to do it either.
The Rangers, who will be in a playoff race all season, can't afford to give up points. They were the better team on paper on Monday night, but alas, as we all know, the games are played on the ice. If it wasn't for King Pavelec, the Rangers would've came out empty-handed against Dallas. (However, it seems like many of you prefer ONDREJ THE GIANT better, so I'll use that from now on.)
ONDREJ THE GIANT got the Rangers a point on Monday. It was an important point, considering the deep Metropolitan division I've been talking about all season long. In reality, the Rangers should've showed up and got both points against that Dallas team.
Tonight, the Rangers couldn't even get one point against one of the worst teams in the league. During this "Garden of Dreams" charity drive week, the Rangers only picked up one of a possible four points. SAD! Perhaps the Garden of Dreams can give some of their charity to this Rangers club, as they certainly need it right now. Quite frankly, losing this game was pathetic. While I don't think heads will roll over this loss, the Rangers better hope they can reverse this trend, when they start a back-to-back this weekend.
What really hurts, is despite all the crap Ottawa is going through, the Rangers played like crap on Monday. They should've been recharged and refreshed for this game. They can talk the talk, but as we've seen during this season, can't always walk the walk. While these two recent losses is a team wide thing, one thing that will always irk me is the demeanor of Henrik Lundqvist. I'm sorry, when you watch the whole league and every goalie in it, there is no other goalie that bitches and moans at his own teammates like Lundqvist. This is what bad teams do. They play the blame game. Instead of picking each other up, they pick up their hand and point. As we cruise along in this blog, I'll get into this more.
Before getting into the meat and potatoes of the game itself, I just wanted to plug the Garden of Dreams. I've talked a lot about the Garden of Dreams on this blog before. They do a ton of great work for sick and underprivileged children. We all know the work that Adam Graves does, in addition to the work put in by other current and alumni Rangers.
For a charity that's a shade over 10 years old, (It was founded in 2006) the Garden of Dreams has positively affected the lives of over 350,000 kids. Steve Valiquette, the stat-master himself, dropped that number at the beginning of tonight's broadcast.
To me, this stat is sad and great at the same time. It's sad because I didn't realize how many kids are suffering in our area. 350,000 kids is a lot of people, and when you think about all their families, the amount of people truly affected by the Garden of Dreams has to be over a million.  It's truly great that in just a decade's time, the Garden of Dreams has been able to impact so many lives.
While the phone lines are closed by the time you read this, you can donate to the Garden of Dreams by visiting https://www.gardenofdreamsfoundation.org/
I know the goal tonight was to raise more than the $140,000 raised during the last drive. By the time the second intermission started, they were up to over $50,000. Hopefully they surpassed their goal.
I am aware that donating to charity is different for different people. It all depends on your personal financial situation. However, if you have the means, this is a good charity to donate to. There are many good charities out there, so if you're going to donate to any charity, the Garden of Dreams is just as good as any.
I also want to commend Steve Valiquette and Ron Duguay, for sharing their personal stories during the campaign drive. I had no clue about Vally's kids. As someone who has had close friends & family who have dealt with similar situations, I can relate. I also really appreciated Duguay's passion for the charity. You can see this means a lot to him.
Throughout life, you will meet celebrities or perhaps your "heroes" or "idols". Sometimes, those people are scumbags in real life. For me, when I was running pro wrestling shows, Jake "The Snake" Roberts was the biggest drug addicted dickhead I've ever met. It was like pulling teeth to work with him. It's nice to see that the person you see on TV, in Ron Duguay, is as genuine as it gets. He truly cares and it comes off that way on TV.
And I know I use this joke every time the Rangers have this Garden of Dreams drive, but can someone tell Joe Micheletti that his Garden of Dreams "Guest Announcing" gig was supposed to be a one-time thing?
Speaking of, in the past I've actually won one of these raffles. I won an autographed Mats Zuccarello stick a few seasons ago. While this is all about the charity and winning a raffle is a bonus, wouldn't it be hilarious if I won the "Meet Joe Micheletti" prize package? I'd love to be on the air for a Lundqvist goal allowed and shut Micheletti right down!
As usual, let's go to the ESPN.com box score, and then get to my review of the game:
1st Period Summary

Time
Team
Scoring Detail
NYR
OTT
4:01

Bobby Ryan (2)
Assist: Mark Stone
0
1
Time
Team
Penalty Detail
16:25

Zack Smith: 2 Minutes for Holding
19:24

Boo Nieves: 2 Minutes for Elbowing

2nd Period Summary

Time
Team
Scoring Detail
NYR
OTT
3:57

Michael Grabner (15)
Assists: Mats Zuccarello, Ryan McDonagh
1
1
15:08

Cody Ceci (4)
Assists: Matt Duchene, Bobby Ryan
1
2
Time
Team
Penalty Detail
16:52

J.T. Miller: 2 Minutes for Hooking

3rd Period Summary

Time
Team
Scoring Detail
NYR
OTT
0:08

Zack Smith (2)
Assist: Tom Pyatt
1
3
4:40

Pavel Buchnevich (11)
Assists: Chris Kreider, David Desharnais
2
3
Time
Team
Penalty Detail
No penalties this period
Goaltending Summary
New York Rangers Goaltending

Player
SA
GA
Saves
SV%
TOI
PIM
H. Lundqvist
30
3
27
.900
58:43
0

Ottawa Senators Goaltending

Player
SA
GA
Saves
SV%
TOI
PIM
C. Anderson
29
2
27
.931
60:00
0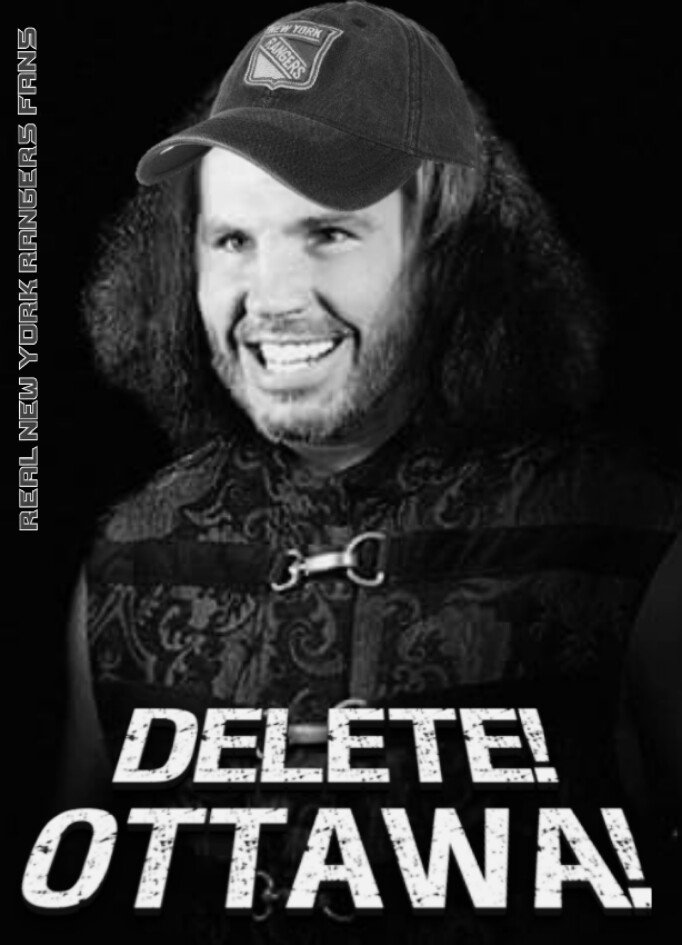 In a game played in an arena so empty and quiet, that you could hear AV's lips smack as he chewed his gum, the Rangers were the team that brought the fight early. However, they could not figure out Craig Anderson. It's amazing, it seems that Anderson always comes up for these games against the Rangers and tonight was no different.
Four minutes in the game, Bobby Ryan would beat Henrik Lundqvist with an elementary wrist shot. 1-0 bad guys.
On the goal, Kevin Shattenkirk made a turnover, just as the announcers were telling us how Bobby Ryan hasn't scored in a while. The pro-Lundqvist crowd will blame Shattenkirk for this goal, but this is one Hank should've had. It's a save we see, routinely around the league, on any given night.
It's funny, when Shattenkirk first signed with NY, his first comments were something along the lines of, "I'm happy to be here and to be playing in front of a high-end goalie like Henrik Lundqvist." Looks like Shattenkirk made those comments based on reputation. While Shattenkirk and the rest of the league are aware of Shatty's defensive lapses, I think Shattenkirk thought Lundqvist would bail him out during these times. He's starting to see what I've been saying for sometime, Lundqvist is on the path down. He's peaked. The prime is over.
It truly is a shame, because what I've really started to notice from not only the fans, but the media themselves, is that no one expects Lundqvist to make the big save anymore. As far as Sam and Joe are concerned, the second a goal is allowed, they are already blaming anyone that's on their monitor, without even waiting for the replay. You will never hear Micheletti say, "That goal is on Lundqvist."
And yes, while this Ryan goal came off a turnover, how do you think most goals are scored? Off of turnovers. Do you blame Ottawa's defense for the Rangers goals tonight?
End of the day – every NHL team is made up of very talented players. Turnovers are part of the game. You just gotta limit them. No team is perfect in the turnover department. The other team is paid to score goals too. However, the Rangers pay the most money in the world for a goalie, in Henrik Lundqvist, to bail them out in these situations, and he's just not capable of that job as he once was. It's a reality and in this hard salary cap era, you're just not gonna win a Cup with this guy. We will all root for it and hope to see it happen, but if you want that parade, we're better off with a cheaper goalie. That, or for the other 30 teams to get bird flu, mixed with the West Nile virus.
1-0 bad guys.
I'll tell you one thing – the Rangers certainly miss Zibanejad and that KZB line. On the Zibanejad front, there is nothing new, from what I wrote in Monday's blog, concerning his concussion. It's just a time thing. He is still skating, but as far as playing, there's no word.
As the game continued, and with the Rangers trying to tie the game, Rick Nash, of course, would come up empty-handed on several opportunities.
You ever see the "Saved By The Bell" finale? I'm probably dating myself a bit here, but this reminds me of Rick Nash: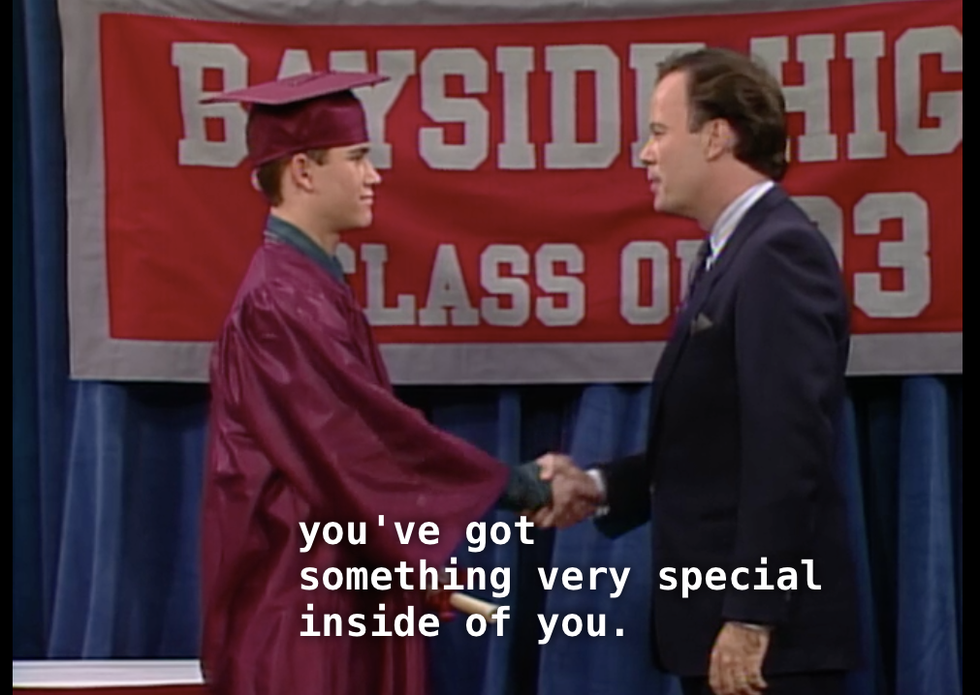 In the final scene of "Saved By The Bell", during Zack's graduation, Mr. Belding says "You've got something very special inside of you. I hope I'm here to see it when you let it all out." I think for Ranger fans, that describes Rick Nash perfectly. We've seen the flashes of brilliance, but as Rick Nash finishes up his huge contract with the Rangers, we just never saw the greatness, nor Nash fulfill his potential.
I mean, how many fucking times can Rick Nash come up short on great looks? He's paid to score goals, and while he's playing great, for the money, his NYR tenure has been disappointing. Again, I've talked about this in the past – I'm aware of his concussion history and how it slowed him down a bit. Concussions or not, the guy has open looks and just can't score. You simply can't rely on Brady Skjei to bounce pucks off of you all the time.
Kevin Hayes continued to enrage Ranger fans in this game. During a breakaway and a clear path to the net, take a guess at what Hayes did:
Took a shot
Scored
Got his rebound
A teammate got his rebound
Drew a penalty for a penalty shot
Was robbed after a fantastic save by Anderson
Stopped short, curled, didn't shoot the puck and turned the puck over to Ottawa
Of course, anything but stopping short and not getting a shot off would've been acceptable in this situation. As you can probably tell, Hayes did just that and the Rangers blew another scoring opportunity. You can't score if you don't shoot.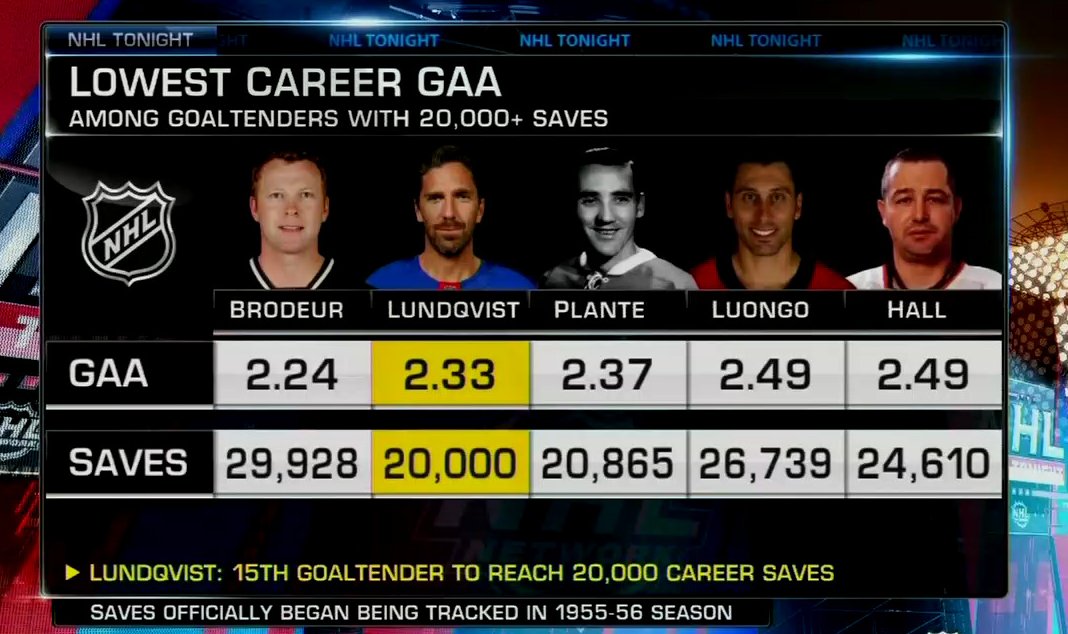 Worth mentioning as well, Henrik Lundqvist notched his 20,000 career save. That's pretty cool if you're a fan of him. However, if you want a Rangers Stanley Cup win, who gives a fuck? When you look at the 15 goalies who have 20,000 career saves, Lundqvist is more on par with Luongo and not like Brodeur, Plante or Hall. Guess what those guys have that Lundqvist and Luongo don't have? In the case of Luongo, at least he has a sense of humor and doesn't throw his teammates under the bus after every goal allowed.
Quick sidebar – is Luongo a future Hall of Famer too? His numbers are right there with Lundqvist. If you're in the camp that Luongo isn't a Hall of Famer, then how the hell is Lundqvist one?
The Rangers would get their lone PP of the game in this period. With Ottawa playing their worst hockey in some time, the Rangers managed to get no shots on goal during the two minute man advantage. You can't make this shit up.
Bobby Ryan, who Valiquette accused of diving & wanted the league to look at him, would arguably embellish an elbow from Boo Nieves, as the period was nearing its close. The Rangers would stop the first half of the Ottawa PP and the teams skated to a 1-0 bad guys lead, as they concluded the first frame of the game.
Michael Grabner would get the Rangers on the board in the second period, tying the game at 1 a piece. Not going to go in-depth here, because I talked about it already, but Grabner is the one to watch at the trade deadline. If he is still a Ranger after the deadline, that means the Rangers are making a playoff push or at the very least, want him back next season. If he's traded, the Rangers are giving up on this season and waited too long, once again, to invest in their future.
How much does it chap the ass of the Islanders, that not only has Grabner delivered for the Rangers, but is their leading scorer of the last two seasons combined? (He's first this year and was one goal shy of first last season.) If there's anything negative of the strong play of Grabner, it's the fact that $7.8M Rick Nash, has a lot of work to do, if he ever wants to catch up to Grabner's goal production.
After killing off the second half of the PP, at the four minute mark of the period, Zuccarello deftly passed the puck cross ice to Grabner. Grabner, who has seen a few empty nets this season, had another empty net, as Anderson was beat and hanging on the wrong goal post. Easy goal for Grabner, which was the result of a beautiful pass from the alternate captain. 1-1.
The Rangers, sensing blood a bit, put some pep in their step, but were perhaps too avid. Instead of going for the simple plays, they were trying to be generous with each other. Grabner was the biggest culprit here, as he passed on going to the net and kept making the extra pass. In reality, Grabner was trying to get his teammates involved in the offense and spread the goal scoring around. Sometimes you gotta be selfish. However, I'm not gonna kill the guy for trying to get the team clicking.
As the game chugged along, "Sloppy Seconds" Phaneuf took a cheap shot at Fast, but there was Shattenkirk to back Fast up. However, no fisticuffs were exchanged. Shattenkirk should've hot-tagged in Sean Avery here. It would've lit a fire under the Rangers ass for sure!
After a stretch of time that featured both teams playing strong defensively, the Senators finally broke through. I don't have the exact stat, but it felt like there was a good five minute stretch there, where there wasn't a shot recorded on either end. With five minutes remaining, this happened:
Ceci scores, Sens up 2-1 pic.twitter.com/p5mPnmgJcO

— Shayna (@hayyyshayyy) December 14, 2017
Obviously, not Brendan Smith's finest moment. However, Lundqvist came out of net a bit and couldn't stop another wrist shot. How did Lundqvist respond? Like this:
Coach Henrik gives Smith a talking to after that last goal against pic.twitter.com/iGZsunqFYf

— Shayna (@hayyyshayyy) December 14, 2017
Listen, despite adding 100 or so pounds since high school through the power of barley and hops, I once was a four sport athlete. Since high school, I've been in the work force and have been in the same career for 10+ years. Whether it's on the field, on the ice or on the job, we are all prone to mistakes. It happens. No one is perfect. However, when we make our mistakes, and we know our mistakes/fuck-ups, we don't need Joe Micheletti's wet dream to get in our face about it. Smith should've got right back in Hank's face and tell him to stop cheating out of net, earn your money and make a fucking stop.
Not for nothing, Lundqvist doing the blame game (He also was crying after the first goal allowed) is not something that picks up a team. If anything, he shows the other team that he's rattled. Do you think Smith planned to lose his stick? And really, who the fuck is Lundqvist to talk to anyone about losing their stick? After all, we fucking do twitter over-unders on how many times Lundqvist will lose his stick a game!
If Lundqvist was playing the way CZAR IGOR SHESTYORKIN is in the KHL right now, it's one thing. However, can you name one other goalie in the league today, that gets in his teammates faces like this? Leave that shit to AV, or in this case, defensive coach Lindy Ruff. Again just another shining example of Lundqvist being a crybaby, that takes no accountability for his own play. It's easier to point fingers.
2-1 bad guys.
Even better, as the period was coming to an end, Anderson would make a bunch of big saves, and a few saves after a few Senator turnovers. Did Anderson get in the faces of his teammates? Did he start crying? Did he start pouting? Of course not.
As the period concluded, the Rangers were in jeopardy of giving away two points they should've had. I truly expected them to come back and win, but it wasn't meant to be.
After a Ron Duguay pep talk in the studio, Henrik Lundqvist once again gave up another early period goal. Look at it for yourself:
And 8 seconds into the third period, the Sens score & are up 3-1. pic.twitter.com/yYoTL90cBc

— Shayna (@hayyyshayyy) December 14, 2017
It only took the Senators 8 seconds to make this a two goal game. I've talked about this before, but I finally hit my breaking point and reached out to Steve Valiquette.
Listen, when it comes to Valiquette, even if you're not a fan of the advanced stats, that's the way the game is trending. As time moves on, you'll see coaches with Joe Girardiesque binders. If you don't move with the times, you will be blown by in the dust. I'm not a fan of the advanced stats myself, but I get why they exist. If it gives a team an edge, how can you ignore it?
I also respect Valiquette's opinion, because he's probably forgotten more about hockey than I'll ever know. Plus, he played the game, while I drink beer & fuck around on "NHL 18" on PS4. He runs an advanced stat data program, which you can find out more about on twitter, by visiting @CSAHOCKEY or by going to http://www.csahockey.com
However, after another early period goal allowed by King No Cup, I had to ask Vally to give me the stats on the goalies who've given up the most amount of goals at the beginning of a period.
I'm telling you, I watch a ton of hockey and I will drink an O'Doul's if Henrik Lundqvist isn't on top of that list. I'm so confident that Lundqvist is at the top of this list, that I bet there is a wide distance from Lundqvist to whoever number 2 is.
Ever since Lundqvist signed the new contract, he's given up a ton of early goals. This isn't a Rangers problem either, because Marty Biron didn't give up these goals. Cam Talbot didn't give up these goals. Antti Raanta didn't give up these goals. ONDREJ THE GIANT didn't give up these goals. This truly is a Henrik Lundqvist thing. I don't know if he is too busy coming up with excuses for his next goal allowed or what, but I've never seen a goalie get beat so early and so often.
Valiquette, on the twitter dot com, said he would try to get me some stats on this. At the end of the day, it doesn't really matter, because the Rangers won't trade Lundqvist anyway, but I just want to know the numbers for my own knowledge. Best case scenario, Valiquette and his merry band of stat nerds, break down why Lundqvist is giving up these early goals, gives the information to Lundqvist or Allaire and this shit stops. It's just too much and in the case of tonight, cost the Rangers a much needed two points.
Zack Smith made the score 3-1 here.
Four minutes later, Pavel Buchenvich breathed life into the Rangers chances, as just like the first goal, he took a great cross ice pass, this time from his fellow Russian speaking comrade, Chris Kreider and beat Craig Anderson. 3-2 bad guys.
I'm drawing a blank here, it could've been Vally or it could've been Duguay, but they were talking a few games ago, about how great passing leads to great scoring. This game tape was evidence of that side of the debate. While the Rangers passing isn't as great as when MSL was here, the Rangers have picked it up a bit.
This would be the last goal of the game.
Whether this is the usual December swoon for Lundqvist or not, for a guy who said "Give me two goals and I got this", this wasn't an inspiring start. Anderson did his job for the rest of the game, and the Rangers made it easy too. There was even one play where Mark Stone pick-pocketed Ryan McDonagh like he was a tourist. It's a shame, because the Ottawa forecheck was so heavy, that you would think that a Ranger would be open for an outlet pass. We would never know.
With time wasting a way, the Rangers would pull Lundqvist and just like their dead powerplay, would see the team come up short on the ensuing 6 on 5. Make no bones about it, as the clock hit triple zero, this 3-2 loss was the most embarrassing of the season. NO EXCUSES, the Rangers let everyone down tonight.
This isn't the first time I've said this, but it's worth repeating again: As time moves on, Lundqvist & AV are looking more and more like Giacomin and Francis everyday.
If there is any consolation in tonight's loss, the Islanders also got creamed and the Rangers remain a playoff team, as they retained their second wild card status. In fact, here are the updated standings:
Up next for the Rangers, a home game against the first place LA Kings on Friday night. After that game, the Rangers will ship to Boston, for an Original 6 tilt on Saturday afternoon. After tonight's debacle, I would go with ONDREJ THE GIANT against LA. If he has a strong game, I'd ride him against Boston. If it's a ho-hum game, then I'd roll Lundqvist out on Saturday.
My work schedule is crazy right now, but since I work 8 blocks from M$G, I try to go to the games after work. If I go to the game Friday, there will probably be no blog. If I don't, I'll try to get something up. In either case, I'll be back Saturday night/Sunday morning, with a Rangers/Bruins review.
While I don't have faith that this team is a Cup contender, this team should be in the playoffs. However, if things remain the same, this team is drawing Tampa in the first round and I don't see the Rangers instilling fear into the Bolts. We're ways away of that talk anyway, so I bid you adieu, I offer my thanks for your readership and I close as I always do, with….
"LET'S GO RANGERS"
Sean McCaffrey
BULLSMC@aol.com
@NYCTHEMIC on the tweeter machine
P.S.: To my copy editor friend Diane, how was my comma game tonight?