What's up everyone and welcome to another blog here on BlueCollarBlueShirts.com. If you're a regular reader here, you know my normal rigmarole. I'm working seven days a week and have a 4:30AM alarm clock every day. I always try to truncate myself a bit, but these blogs still wind up in the 5000 word range anyway! Tonight, I'm trying to keep myself brief, but there's a lot to get into, so let's get into it!
The Rangers, after two horrible losses to the Dallas Stars & Ottawa Senators this week, got the losing taste out of their mouth on Friday night. In a rematch of the 2014 Stanley Cup Finals, a series that will live in infamy for current fans, just as the 1979 Stanley Cup series did with fans from that generation, the Rangers doubled-up the Kings, 4-2. For the Rangers, this was a huge test and a much needed two points.
When you look at this win over a first place team like the Kings, it just infuriates and perplexes you. After the poor showings against Dallas and Ottawa, how do the Rangers come up for this game and beat a tremendous team tonight? It all goes back to this team being consistently inconsistent and showing us why they are the Jekyll and Hyde Rangers.
There's always the theory that the Rangers play down to the competition and play up against the better teams. Rarely, does this team blow anyone out. When you look at the losses the Rangers have had this season, they've lost to some terrible teams. When you look at their wins, they have beaten top teams like the Penguins (I know where they stand now, but they are still the two-time reigning & defending Cup Champs), the Lightning, the Bluejackets and the Devils.
Sure, every game has their own set of unique circumstances, such as back-up goalies, teams playing on a back-to-back, injuries and other factors, but the bottom line is the Rangers have played well against upper echelon opponents. For AV and the Rangers, they need to figure out why they can't play like this against the Ottawa Senators of the world.
I don't mean to be so down after a big win, and trust me, it's a big win, but in the ultra-competitive Metropolitan division, not getting at least a point against crappy teams, could come back and bite this team in the ass come playoff time. However, that's looking ahead, so let's stick with today's win!
Before getting into the hockey stuff, let's do a complete 180 and talk about someone who rarely talks hockey. That would be a one Mr. Mike Francesa himself.
I've been a Mike Francesa listener and fan for as long as I can remember. I'm 35 years old, so in my life, there was never a time where Mike Francesa wasn't on the radio. As a sports junkie, "Mike and the Mad Dog" dominated my childhood & teenage years. As time went on and I entered adulthood, "Mike and the Mad Dog" were now considered pioneers & legends in the sports talk radio and later on, television, fields. For nearly a decade, Mike Francesa became a solo act and remained "NUMBAH ONE" in the ratings, throughout and up to his retirement today.
I know many people can't stand Mike Francesa, but for the faults that people find in him, I find entertaining. Do I really want a vanilla guy who wafers from his opinion? That's not for me. I enjoy Mike's combative style. You don't see too many people as passionate as him and nothing beats a classic Mike Francesa rant. The Giants did Francesa a huge favor with their fiascos this season, and in turn, us Francesa MONGOS, got one last classic Francesa rant. (TANKUS ERUPTUS!)
Today, many people in the sports media are writing their tributes to Mike Francesa. This is a Rangers blog. I don't want to go on and on about Mike tonight, especially with a 4:30AM alarm clock in my future, but I do want to say, Thank You Mike Francesa!
Love him or hate him, Mike Francesa dominated the air waves and was a big factor in creating media jobs in sports. If it wasn't for him and Russo, there aren't these 24/7 sports radio stations and podcast networks, that we have today.
As time moves on, and I've written about this before with the hockey media, we are losing the old guard. In their place, are kids out of college, who are scared to offend anyone and can be replaced by the next pimply faced kid. There will never be anyone in the sports media that can throw around as much weight and have as much clout, as Mike Francesa. When Mike Francesa spoke, not only did fans listen, but so did all the major players in sports. That is now gone, as no one will give a fuck about what the three riff-raffs replacing Mike will have to say. Ditto Michael Kay. Ditto everyone else.
Even in his final days on WFAN, Mike Francesa remained "MUST LISTEN" radio. Whenever the next huge sports story in NY breaks, do you really see yourself running to whatever station douchebag Kay & the human anal wart Rosenberg are on? Of course not! When something big in sports happens, for any sports fan, your first move is to be by a radio (or in this day & age, your phone) and tune into WFAN at 1:00PM. This is when sports fans will miss Mike the most.
As someone who listens to a lot of WFAN, I see my time with the station dwindling. I have no interest in the replacement show, and I find Boomer's show tough to get through. I do like Somers, JJ and Page, but due to my work schedule, it's hard to listen to them. In a perfect world, I would've let a fellow Francesa mongo, in JJ, of "JJ Aftuh Dawk", try to fill the shoes. Trust me, JJ > Bawt Scott, Maggie & Cawlin.
At the end of the day, I hope Sirius does a free promotion, because I would listen to Russo. For many people, it's hard to justify paying for radio, but Russo would be one of the few I would pay to listen to.
I know Mike is planning on returning to the sports world in April, with a new project. Whatever it may be, it won't be the same. However, it's better than nothing, so I'll be waiting. Fingers crossed, I'm rooting for a regular guest spot with Russo. Back Aftuh Dis.
Oh – and to a fellow Rangers fan in MONZ, the work he did during Francesa's final weeks should not be ignored. The show he put together on Thursday was Hall of Fame worthy. All of the greats have great people behind them and Monz was that for Francesa. Now it's time to GET LAWST on this and move on to the Rangers.
To follow up my last blog, Steve Valiquette, true to his word, gave me a chart I politely requested. (And if Steve is reading this, my offer stands, drinks on me, as long as you sample some future Al Trautwig material.) As stated previously, Vally, outside of running a goalie school & being part of the MSG Networks, also runs CSA Hockey.
As you can see from the CSA chart, Lundqvist leads the NHL in giving up the most goals in the first two minutes of a period. I knew I wasn't wrong when I predicted that. Now the conversation turns to, how do the Rangers fix that? I really don't have the answers, because if I did, I'd be Benoit Allaire's understudy and not some jerkoff who fears a 4:30AM alarm clock!
If I had to offer any solution, it would be to to give Lundqvist a shot of Gretzky's Whisky & a Labatt Blue, before each period. Let him calm his nerves. Plus, think about the advertising and endorsement opportunities! Far too often, these early period gaffe goals, have come back and cost the Rangers points.
As we chug along here and approach the game review,  here are my last few blogs, in case you missed them:
---
---
---
---
---
Tonight was a great team win for the Rangers. It's really tough to single anyone out, as I thought Ryan McDonagh, Rick Nash, Kevin Hayes and Mats Zuccarello all played well. While there was some shakiness, as I always say, you got to keep in mind that the other team is paid to play too. In addition, the Kings are no slouches.
For the first time in a while, the Rangers gave a solid 60 minute effort. The powerplay did a great job tonight. The PK performed. The 5 on 5 was strong. Guys who usually don't mix it up offensively, particularly Marc Staal, was up in Quick's face. More impressively, as whole, the team came out aggressive. Even when Henrik Lundqvist put on his Mr. Softie hat and gave up bad goals, the Rangers did not let the momentum change hands. They came out hungry for more.
With the game 2-2 and time dwindling in the third, the Rangers did not have the look of a team that was willing to accept one point. They kept battling and would not be denied. While Nash's eventual game winning goal was probably something Kings goalie Jonathan Quick saves more times than not, it was a goal that was well deserved and the reward for a strong game-long effort, from Mr. Nashty.
It's funny, this blog could've had a much different tone, when it comes to the topics of Rick Nash and the Rangers themselves. Instead of kicking Nash for continuing to fail, Nash finally redeemed himself. Instead of saying the Rangers let this one slip out of their hands, they finished the Kings off with an empty netter. Instead of saying Henrik Lundqvist got rattled after two bad goals allowed, Lundqvist found his composure and held the true Kings off.
Here's the official ESPN.com box score, followed by my period-by-period review:
1st Period Summary

Time
Team
Scoring Detail
LA
NYR
10:23

Chris Kreider (11) (Power Play)
Assists: Kevin Shattenkirk, David Desharnais
0
1
Time
Team
Penalty Detail
8:58

Jussi Jokinen: 2 Minutes for Hooking

2nd Period Summary

Time
Team
Scoring Detail
LA
NYR
3:46

Marian Gaborik (5)
Assist: Jussi Jokinen
1
1
14:43

Kevin Hayes (7)
Assists: Ryan McDonagh, Michael Grabner
1
2
Time
Team
Penalty Detail
6:32

Trevor Lewis: 2 Minutes for Tripping
8:41

Tanner Pearson: 2 Minutes for Holding
11:05

Jesper Fast: 2 Minutes for Interference

3rd Period Summary

Time
Team
Scoring Detail
LA
NYR
7:59

Torrey Mitchell (2)
Assists: Marian Gaborik, Jussi Jokinen
2
2
16:33

Rick Nash (9)
Unassisted
2
3
19:06

J.T. Miller (5)
Assists: Mats Zuccarello, Jimmy Vesey
2
4
Time
Team
Penalty Detail
No penalties this period
Goaltending Summary
Los Angeles Kings Goaltending

Player
SA
GA
Saves
SV%
TOI
PIM
J. Quick
27
3
24
.889
58:57
0

New York Rangers Goaltending

Player
SA
GA
Saves
SV%
TOI
PIM
H. Lundqvist
35
2
33
.943
60:00
0
There was one official and one unofficial announcement, from the Rangers today. The official announcement was that Mika Zibanejad would not be playing this weekend, as he continues to recover from his concussion. By the time this weekend is over, he will have missed 10 games. I don't have to sell you on how much Zibanejad means to this team, but check out this stat. The Rangers are 22% on the PP with him in the line-up, and 10% without him. When you factor what he means to the team in the five-on-five game, the hot KZB line and the fact that he's the number 1 center, a win against these Kings is even more impressive.
The unofficial announcement was that Steven Kampfer was still a healthy scratch. After Hank was crying to Smith during the Ottawa game, I figured that Smith would've been in the press box for this one.  While Smith didn't stand out tonight, Smith would draw a penalty in this game.
It's funny, some overly critical Ranger fans (I guess you could lump me in with those people, although I don't share their opinion on Shattenkirk) call Shattenkirk the next Wade Redden. If anything, it's been Brendan Smith who's been closer to that comparison. For his sake, you hope he can turn it around. If not, this will be the worst signing of Gorton's short tenure as the General Manager of the Rangers.
From the "I always bitch and moan about this" department, the MSG broadcast didn't air the national anthem. We would see what happened on the replay, as it turned out that the sound system went down, and in turn, the Garden faithful sang the "Star Spangled Banner", in acapella. This would've been a great live TV moment, but why show that, when we can see endless commercials about CSEA's Jerry Laricchiuta and that second rate "MAKE LAWYERING GREAT AGAIN" commercial? SAD!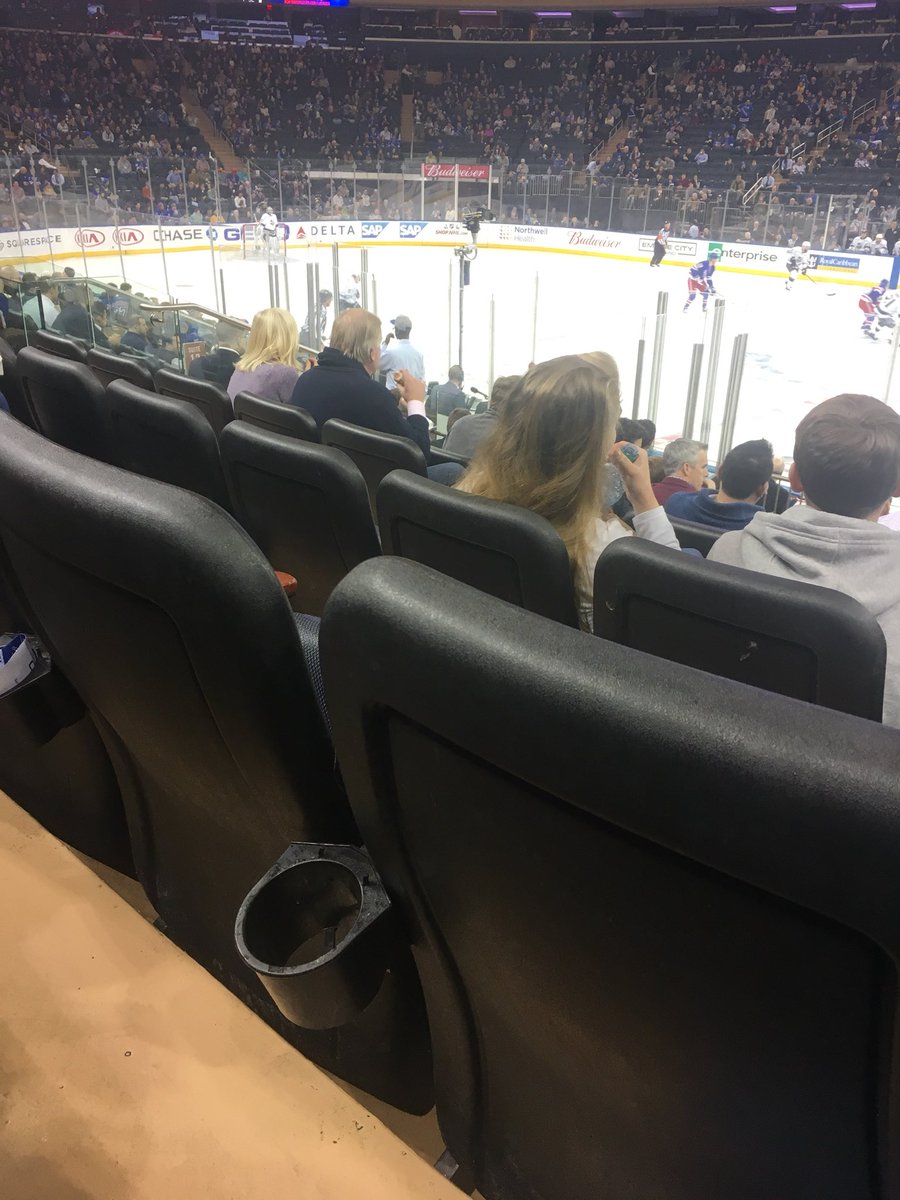 The start of this game saw the Rangers open up hot. However, Rick Nash would miss scoring on three different opportunities. It seriously is at the point where you're just looking where the puck will ricochet to, after a shot off of the stick of Nash. However, Nash kept at it, and it would pay off.
Steve Valiquette, during the intermission, continued his argument (with video evidence) that Rick Nash is one of the lone superstars in the NHL that doesn't get calls. That's debatable, because really, at this point, is Rick Nash a superstar anymore? I know he's paid like one, but his numbers suggest otherwise.
However, Vally showed film of Nash being blatantly slashed, clear as day, on one shot attempt. This happened in front of the ref. No call.
To Nash's credit, he doesn't cry or embellish, which in turn, the referees continue on. Vally and other Ranger fans on twitter, made the case that this has been going on for some time. If that is true, then isn't it AV's job to make the refs aware and for the Rangers to make the league aware? If they have the video evidence, the league office would have to review it and pass a memo to their refs to look for it.
Leave it to Joe Micheletti to make up excuses for Nash, as he took a break from his Lundqvist flesh pipe. Micheletti blamed illegal immigrants, fatwas, the cancellation of "Girl Meets World", Mike Francesa's retirement, expired MSG Sushi and three legged dogs, as the reasons for Nash's woes. It just amazes me that Micheletti makes good money to talk hockey, when there are so many better people out there, including one under MSG's payroll already, in Dave Maloney.
Chris Kreider, guilty as any Ranger for being consistently inconsistent, scored the first goal of the game. The goal was a PPG, after Brendan Smith drew a penalty against Jussi Jokinen. This was one of those goals that if you were a player paid based on performance incentives, you would go nuts. For Kevin Shattenkirk, he's lucky his money is guaranteed!
At the halfway point of the first period, Shattenkirk bombed a shot from near the blue line, and it seemingly took a bounce off a King, then Kreider and right past Quick. Kreider gets the goal, but this was all Shatty here. We've seen Shatty do this a lot during his brief tenure with NYR.
While the PP would get two more cracks, and come out empty handed, during all three PP attempts, the Rangers moved the puck well and more importantly, shot the puck. This goal came off Kreider's screen and to Jonathan Quick's credit, he didn't throw a hissy fit or start finger pointing at his defensemen after the goal.
1-0 good guys.
Check out this stat: Kevin Shattenkirk leads NHL defensemen in primary assists (11) and is tied for first among NHL defensemen in primary points (16) this season. That's what he's paid to do.
The two teams played each other tough after the goal, and eventually the first period expired. While the Rangers goal was the story of the period, Rick Nash had four really good looks. He came up short three times and on the fourth look, didn't even bother.
Interestingly enough, during the intermission interview, Nash was interviewed by Trautwig. Nash laughed his troubles off, and I guess you can laugh all the way to the bank when you're making $7.8M a year. Trautwig said that players that he interviews usually come up big later in the game. Wouldn't you know it, Nash would score the game winning goal for us and for Al "I have a dental plan?" Trautwig.
After a rare Zuccarello slap shot that was denied by Quick, Gaborik put the Kings on the board, at the 3:46 mark of the second period. Check it out for yourself:
In his 1,000th NHL game, Marian Gaborik scored a goal and ruined a potentially pleasing career stat line. pic.twitter.com/C8Cv46ICd9

— Sportsnet (@Sportsnet) December 16, 2017
In what was to be expected for a goal that trickled by Lundqvist, Joe Micheletti literally blamed anything else besides Lundqvist for the goal. He blamed Kevin Shattenkirk. He blamed a Rangers line change. He blamed the forwards for not being aware. The one person, who was not at fault, for a puck slowly dribbling by him, in slow motion speed, was Henrik Lundqvist himself. I am convinced that Micheletti is a robot, that MSG ordered from a Swedish robot company. The freak will never blame Lundqvist for any goal allowed.
Do you remember this pathetic goal allowed, early into a game against the Sabres?

Guess how Micheletti handled that? He credited Lundqvist for getting a piece of it, like it was some magical feat. He then would blame the ice for being bumpy. Seriously, Micheletti has no credibility and needs the Old Yeller treatment. I heard there is a quiet barn in Uniondale these days.
1-1 game.
After the soft goal allowed, and really, these soft goals are why the Rangers can never win 16 games in the Spring, the Rangers would get two separate powerplays, back-to-back. Both PP attempts were strong, but couldn't produce a goal. Skjei was snakebit here, as he had one puck go off the edge of Quick's glove and the other puck take paint off a post.
In what scared me a bit, Jesper Fast would then get called for interference. The Kings would get some looks, but the solid Rangers PK denied a goal. A goal in this situation would've been killer and a true momentum changer.
Immediately after the kill, Kevin Hayes bombed one, right over Quick's shoulder. Take a looksie:
WHAT A PASS, WHAT A SHOT! Ryan McDonagh takes a hit to make a play and Kevin Hayes snipes a BEAUT to put the Rangers back up! pic.twitter.com/JlExSK7MBe

— NHL Daily 365 (@NHLDaily365) December 16, 2017

As stated at the top, McDonagh, who had a great game, took a big hit, but made the pass and there was Kevin Hayes to finish Quick off, with a true goal scorers goal. Of note, Desharnais would come up short in two separate chances. The reason I mention this is because Double D was AV's guy for a shootout with Dallas on Monday.
2-1 good guys. That score would hold, as we hit triple 0 on the second period. For forty minutes, outside of a soft goal from Lundqvist, the Rangers were playing a hell of a game.
The third period, as usual, was asshole puckering hockey. I was rooting for the clock to wind down, because I was having flashbacks to 2014. Leave it to Torrey Mitchell, at the 8 minute mark of the period, to clean up a Gaborik rebound, and beat Lundqvist to tie the game at two all. And how about Gaborik? In his 1000th game, a feat the Rangers honored, he logged two points in the contest.
On Mitchell's goal, Gaborik took a shot, Lundqvist gave up a juicy rebound and Mitchell easily beat Lundqvist. The Lundqvist fanbase, which includes Micheletti, immediately blamed Shattenkirk. Funny enough, on a similar play, they didn't blame Shattenkirk when Shatty stepped back and allowed Lundqvist to make clean save. While this was a rebound goal, if you play Gabby's shot clean, there is no chance for Mitchell to score. However, that's omitted by Micheletti. Instead, Micheletti blamed the defense, the terrible final season of Dexter, Gemma Teller, Bitcoin, the death of AIM, Sean Avery's autobiography, Christmas parties and the Muslims for the goal.
While on the announcers, can someone pass a FYI note to Sam Rosen, to tell him that the name is Boo Nieves and not BOON YVES?
And lastly, on the Mitchell goal, what drove me nuts and heightens my disdain for Lundswiss, is when he popped back up and immediately looked for a defenseman to blame. Rattled and the sign of a poor teammate. You never see him point out and thank his defenseman, which he should've, as they played a great game tonight.
2-2.
At the 16:33 mark, pigs flew, because this happened:
RICK NASH! WHAT A SHOT! Rangers up 3-2 late! pic.twitter.com/DzLZZz0BWE

— NHL Daily 365 (@NHLDaily365) December 16, 2017
After a strong game, Rick Nash finally finished a play and scored. This was similar to the Hayes goal, so perhaps Nash took eye of that.
3-2 good guys.
With time waning, the Kings would pull Quick and after a scary 6 on 5 (Amazing how every other team can run a 6 vs 5, while the Rangers look like me trying to race a Kenyan) Miller would take a pass from Zuccarello and bury the empty netter for the win. 4-2 good guys, your final.
Sorry as I rush to the end here, but it's nearly midnight, not leaving me much time to rest up for work tomorrow.
Updated Standings time:
Do I need to repeat myself? I guess for the new readers I will. THESE STANDINGS WILL CHANGE A MILLION TIMES FROM NOW UNTIL APRIL. However, for the time being, the Rangers are currently positioned the best they've ever been all season. With fourth place in the Metro, that makes them the first wild card. That means shit come April, but for Ranger fans and for people like Larry Brooks, who wrote a whole column today about why the Rangers should trade everyone, do you really see this team breaking up a playoff bound team?
To make it simpler: what's more important to James Dolan? A team winning a Cup 2-3 years from now or a team that generates playoff monies every season? I think you know the answer to that.
Up next for the Rangers – a 5PM matinee Original 6 tilt with the Boston Bruins, in Beantown. The Bruins have played themselves into the 3 seed in the Atlantic, and will be hungry for points.
For the Rangers, I expect Ondrej Pavelec to start and he will look to continue his great play, after two back-to-back 40 save games.
I should be home from work in time to catch the game in its entirety tomorrow. Check back here around 9PM for a recap of that.
Until then, as always, thanks for reading and….
"LET'S GO RANGERS"
Sean McCaffrey
BULLSMC@aol.com
@NYCTHEMIC on twitter
PS: Mike Jurkowski, my work schedule blows. Sorry I couldn't make the game tonight. At least you got to see a good one!
PPS: Diane, I'm sorry. I know I over comma'd tonight!