What's up everyone and welcome to a belated blog, here on BlueCollarBlueShirts.com. After Saturday afternoon's 7-2 loss to the cross-town Islanders, I wasn't exactly in a rush to re-live this game. Instead of coming up with headlines of "Rangers Stomp Out The Bitches of Belmont" or "The Rangers Whip The Horseshit of Hockey", I was was resigned to admitting that the Islanders absolutely raped the Rangers.
Before I get the PC police comments/emails/tweets, let me make this clear. I'm not trying to lessen the meaning of the word "rape" or compare anything real life to this game. I'm obviously using the word to exaggerate the magnitude of the beating the Islanders put on the Rangers. When you really think about it, there's really no other adjective to describe this loss.
If you use the Merriam-Webster dictionary (and kudos to Merriam and Webster, because who thinks to go into the dictionary business?) and go to the word "rape", you'll find the following:
Definition of R
ape
1
: an act or instance of robbing or despoiling or carrying away a person by force
2
: unlawful sexual activity and usually sexual intercourse carried out forcibly or under threat of injury against the will usually of a female or with a person who is beneath a certain age or incapable of valid consent because of mental illness, mental deficiency, intoxication, unconsciousness, or deception.
3
: an outrageous violation
Now look at this 7-2 Islanders ass-kicking of the Rangers:
The Rangers were out-muscled and out-willed, as the Islanders used force to take the dignity and self-worth of the Rangers.
The Rangers looked like they were suffering from a mental illness, a mental deficiency and were perhaps still intoxicated from their Las Vegas trip. The Islanders easily took advantage of these sad "Blew"shirts.
This was the most outrageous loss of the season, in game where you could not make one excuse to explain the piss-poor play of the pathetic Rangers.
Simply put – the Islanders raped the Rangers. Even worse, for anyone who paid to see this game (like yours truly), your wallet, money and time were raped. In fact, as I sit down to write this blog, my ass feels like Joe Micheletti in a Swedish bathhouse.
I normally plug my past five blogs in every blog I do. I'm going to do that here, because I really want to stress the blog I did on the Rangers last game, the loss to the Las Vegas Golden Knights, which took place in the T-Mobile Arena. If you missed my Vegas blog, make sure to check it out below:
---
---
---
---
When I talked about my trip to Las Vegas, I was absolutely blown away by how amazing the experience was. Who would've thought that hockey in the desert, would bring back all the positive feelings I've ever had for the live game experience? However, today's game at M$G, was a stark reminder of the cold & dark reality we live as Ranger fans.
If the T-Mobile Arena is akin to a dream, where you're surrounded by 101 (of age) beautiful virgins, M$G is the arena where you wake up from that dream and realize that you're in a dilapidated studio apartment, with a leak from the ceiling and the remnants of an overflowing toilet at your feet.
In other words, M$G is a fucking SHITHOLE. It's the Haiti of Hockey.
I've never been a fan of M$G since the renovations. Like the airline industry, M$G is one of the last surviving businesses that use the caste system. The rich seats give you five star experience. However, if you're in that dreaded 200's rotunda, you may as well start singing slave songs and hope you can escape the torture that "MASSA DOLAN" gives you, as you try to move around at intermission.
I've probably said this over 25 times during the history of this site, but I will NEVER, EEEEEVVVVVVER, sit in the 200's or 400's AGAIN!
I know this blog is called "BlueCollarBlueShirts", and trust me, I'm not promoting the sushi & kale-flavored wine in the bougias seats, but I can't deal with the back-breaking, OSHA violating, death-trap experience, which is trying to take a leak in the 200's during intermission. I would rather drive home on the LIE, during rush-hour, with the radio station locked on the insufferable Michael Kay & Peter Rosenberg, than try to take a piss and buy a beer at M$G.
The M$G experience is the worst experience I've endured during an NHL game. While I've been fortunate to get good seats by using my "Stubhub Trick" or getting seats from my season ticket holder friend in the lower 100's, from time-to-time, I get seats in the 200's.

In another glowing example of M$G treating their fans like ATM's, this was the highest face value ticket of the season. It was a Saturday afternoon game, featuring the biggest rival, during a holiday weekend. For the Rangers, all they saw were dollar signs, as their exasperated fans dealt with the war that is negotiating yourself through the 200's rotunda.
On an aside, how is this not a fire hazard? Anyone got a hook-up with FDNY or the fire marshal? There is no way the 200's rotunda isn't a fire hazard and/or a death trap. I've seen construction sites get fined for way less. Seriously, if anyone has a hook-up with the FDNY, let me know. Nothing would please me more than seeing James Dolan get hit with a major fine and M$G being forced to rebuild that rotunda.
Whoever designed that rotunda should be burnt at the stake. The bathroom placement, and lack thereof, is poor. The rotunda is narrow and with employees who work as fast as Rosie O'Donnell doing jumping jacks, the second the final horn of a period is blown, the beer lines are already 50 people deep, thus congesting the entire area. Say what you want about Barclays, and that place sucks, but I have never had to deal with the "Walking Dead" zombie experience, which takes place at M$G daily.
In fact, I'm surprised dillhole Dolan doesn't charge even more. I can see it now, "Walk like you're one of the herd from the AMC hit show, "The Walking Dead". Shuffle around aimlessly and find yourself utterly black inside, as you try to get back to your seat. Only $99.99 or $76786789679789678967896789 Garden Bucks!"
I'm already nearly 2000 words in and have only talked about rape and the terrible M$G experience. If you're looking for something positive, google "Magic Johnson" or "Charlie Sheen". However, if you want to see pigs fly or see hell freeze over, continue reading, because I'm going to glowingly praise Henrik Lundqvist. The same Henrik Lundqvist who didn't even start this game.
And just to close on my experience at M$G, I know I've said it time and time again, that I'd rather save my money for road trips than go to M$G, I think I need to start adhering to that self-inflicted policy. The games are getting too expensive. The experience is sorely lacking, especially when compared to other arenas in the league. NYR plays in the biggest city in the world, so they can get away with murder. It doesn't matter how bad they treat their sheep/fans, because bottom line, the Rangers are, and will always be, the most profitable franchise in the league. It's just the way it is, due to all the corporate and tourist money.
Seriously, I Stubhub sniped tickets in the 200's, for $40 over face value. Not quite exactly a score, but much I paid a lot less than others did. I really don't know where the Rangers plan on getting their next generation of fans from, because here I am, a grown adult with a good job, financially secure and without children, yet these games are starting to become a sieve on the bank account.
Of course, I do all this bitching and moaning now, and will probably go to the next home game anyway! Working 7 blocks from M$G is just too much temptation! Hello, my name is Sean McCaffrey and I'm a Rangeraholic.
In my "Report Card" blog, linked above, I said the Rangers would be embarking on their toughest stretch of the season. In game one since the break, the Rangers had their asshole stretched inside and out, by the dreaded Islanders.
Make no bones about it – today's loss was INEXCUSABLE. The lack of effort is truly appalling. You don't come back from vacation and sleep-walk on your first day back. No, you do what the Islanders did, who were also coming off their bye week and play catch-up. The Islanders came out recharged like the Energizer Bunny (Is that reference dated?) while the Rangers came out like the fucking poop emoji.
ONDREJ THE GIANT, also known to his kingdom as simply Ondrej Pavelec, got the start today. I had no problems with this. After all, Lundqvist has a terrible record, head-to-head, with Halak. Furthermore, with the Islanders beat-up and missing players, I think the game against Pittsburgh, on the road, is a tougher game. I would rather see Lundqvist play the tougher teams. By starting 31 here, AV was saving his best goalie for the two-in-a-row Cup Champs, the Pittsburgh Penguins.
In previous seasons, I would get on Lundqvist a lot, for taking the easier start over the harder start. That is why here, I must praise & agree with the decision to sit Lundqvist here, in what looked like the easier game on paper (And let's stress "ON PAPER") and taking the harder job detail in tomorrow night's tilt.
Furthermore, as also discussed in my report card blog, the Rangers, this season, have relied on Lundqvist, A LOT. In fact, Hank is enduring his biggest workload since the the days of Marty Biron as Hank's back-up. You have to lighten the load a little, so I don't expect Hank to play back-to-back games. In addition, Pavelec has been playing well, so I didn't feel out of sorts with him out there.
Granted, today's game was not Pavelec's best effort. It was easily his worst start of the season, but if you're one of those types that blame the defense and AV for every goal Hank affords the other team, then the same logic must apply here.
That said, there were some shots, in today's game, that Pavelec has stopped in previous games. However, while the Rangers would out-shoot the Islanders, 39-37, it was the Islanders bringing the fight all game and getting the high quality shots off. The Rangers just padded their shot total by taking terrible shots. You'd have better success watching Shaquille O'Neal take three point shots, than the shots the Rangers got off in this game.
ESPN box score time, followed by my game thoughts:
1st Period Summary

Time
Team
Scoring Detail
NYI
NYR
6:06

Anthony Beauvillier (6)
Assists: Jordan Eberle, Mathew Barzal
1
0
14:25

Kevin Hayes (10) (Power Play)
Assist: Rick Nash
1
1
16:25

Shane Prince (1)
Assist: Scott Mayfield
2
1
Time
Team
Penalty Detail
1:42

Marc Staal: 2 Minutes for Tripping
10:48

Mats Zuccarello: 2 Minutes for Tripping
13:13

Jason Chimera: 2 Minutes for Slashing

2nd Period Summary

Time
Team
Scoring Detail
NYI
NYR
0:37

Mathew Barzal (14)
Assists: Jordan Eberle, Scott Mayfield
3
1
4:11

Mathew Barzal (15)
Assists: Anthony Beauvillier, Jordan Eberle
4
1
6:51

Anthony Beauvillier (7)
Assists: John Tavares, Thomas Hickey
5
1
Time
Team
Penalty Detail
No penalties this period

3rd Period Summary

Time
Team
Scoring Detail
NYI
NYR
9:05

Mika Zibanejad (14)
Assists: Mats Zuccarello, Ryan McDonagh
5
2
16:06

Thomas Hickey (2)
Assists: Jordan Eberle, Mathew Barzal
6
2
18:55

Cal Clutterbuck (8)
Assists: Jason Chimera, Mathew Barzal
7
2
Time
Team
Penalty Detail
5:20

Adam Pelech: 2 Minutes for Holding
7:02

Nick Leddy: 2 Minutes for Hooking
Goaltending Summary
New York Islanders Goaltending

Player
SA
GA
Saves
SV%
TOI
PIM
J. Halak
39
2
37
.949
60:00
0

New York Rangers Goaltending

Player
SA
GA
Saves
SV%
TOI
PIM
H. Lundqvist
18
2
16
.889
33:07
0
O. Pavelec
19
5
14
.737
26:51
0
Usually, in my game reviews, I give you the blow-by-blow account. However when I go to a game, I watch the game differently. When I watch the game on TV, I tweet live thoughts out, just so I can go back and use them for this blog. Since I'm working 7 days a week and have a 4:30AM alarm clock tomorrow, I don't have the time to re-watch this game on TV, nor do I really want to watch this game again. I'm just going to hit the highlights, I mean lowlights, of this game.
Outside of Vinni Lettieri, once again, the Rangers just refuse to shoot. There was even one play in this game, with the score 5-1 in the third period, where Boo Nieves was wide open in front of the net and instead of taking a shot, he passed for the turnover. Right there and then, I would've stapled him to the bench.
It's funny, in peewee hockey, players are encouraged to pass the puck and engage in team play. However, in the pros, you gotta shoot at the wide open net. You have to mature from your teachings of youth, and take the wide open shot. Only Lettieri seems to shoot with any type of confidence.
Anthony Beauvillier would get the first Islander goal, six minutes into the game, after a great pass from the exiled Edmontoner, Jordan Eberle. However, the Rangers were not discouraged and fought back. Kevin Hayes, who was a game-time decision, scored the rare "Willy Wonka Golden Ticket" powerplay goal, when he knotted the game up, 1-1, at the 15 minute mark of the first.
Two minutes after the Hayes tying goal, the Rangers would be a victim of a double-whammy. An errant Brady Skjei shot was stopped, as it hit Vinni Lettieri in the arm. Lettieri, in pain, immediately skated to the bench. While Lettieri was getting off (Not in a Joe Micheletti getting off on Lundqvist type of way) the puck took a fortunate Islander bounce and there was Shane Prince, skating all alone, as he beat Pavelec. 2-1 bad guys. Of note, despite the pain, Lettieri didn't miss a shift and would get the last NYR shot of the period. Also of note, Skjei shoots the puck like he's mad at the corner boards. That poor Jagermeister logo!
The second period was a complete free-fall and devoid of any true desire.
Matt Barzal, a strong candidate for the Calder Trophy (He currently leads all rookies with 44 points, and tallied five today, with 2 goals & 3 assists) put the nails into the blueshirt coffin. 37 seconds into the period, Barzal, akin to an elusive football kick return, skated nearly 100 feet, untouched and beat Pavelec to make the score 3-1. Three minutes later, Barzal got his second goal, to push the score to 4-1, after another Rangers defensive lapse. With 35 minutes left of game time, and with the Rangers on one of their biggest anemic offensive outputs of the season, the game was over.
For Pavelec, his day was over, two minutes after Barzal's second goal, right before the 7 minute of the second period, when Beauvillier beat him again. 5-1, the Bitches of Belmont. At this point of the game, this happened:
Get ready – here comes the King @HLundqvist30 pic.twitter.com/FqtadXlc50

— NHL GIFs (@NHLGIFs) January 13, 2018
Henrik Lundqvist trying to fire up the team. I love this guy #NYR pic.twitter.com/FFCfzHCwef

— Aegon (@adamjayyy27) January 13, 2018
As you can see from above, with Pavelec giving up five goals on 19 shots, Lundqvist immediately jumped the bench. When I saw this live, I did not see AV give Lundqvist the iggy. All I saw was Lundqvist hopping the bench and talking up his team. I haven't checked the post-game reports, to see if AV made this call or if Lundqvist put himself in, but either way, this beer, that I'm currently drinking, is for Henrik Lundqvist.
Time and time again, I kill this guy for being the most overrated and overpaid goalie in the NHL. You know my diatribes, you know my arguments. I'll spare you here, because you can always check the archives for them.
However, for this particular game, I loved what Lundqvist did. In the past, we've seen this guy berate teammates (as recently as the Arizona game with JT Miller) and we've seen Lundqvist have diva hissy fits. To me, this was the complete opposite of that. In this scenario, here was Henrik Lundqvist, ripping the "C" off of the 27 Rangers sweater, and telling this team to get their dick hard and play.
Unfortunately, Lundqvist's good-will public pep talk resulted with the Rangers doing absolutely nothing. As talked about in the report card blog, this team has been carried by goaltending all season, while the team in front of the goalies come out as clueless as Brendan Fraser in "Encino Man."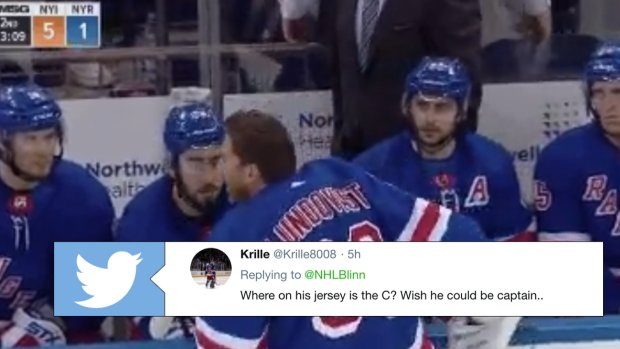 I know my Michelettiesque fandom praise of Lundqvist may turn off some of my loyal readers, but really, how can you bury the guy?
If you want to point fingers, look at the $7.8M Rick Nash, who hasn't scored a goal in dog's age. Look at Captain Ryan McDonagh, having the worst season of his career. McDonagh, and it pains me to say this, hasn't been a great captain this season. I think with McDonagh struggling on ice, it's effecting his leadership role. I'm not going to knock Lundqvist for showing emotion, especially since he's kind of doing it in defense of Pavelec. After all if McDonagh isn't going to do it, who will? Not Mats Zuccarello, who is sitting there as his buddy tries to rile up the troops.
It was easy to tell who was new to M$G today, because every time Nash touched the puck, some fools would "OOH" and "AAH". Conversely, the regular M$G fans were looking for their next beer or to take a piss break. Nash just can not score.
Think about it – I've killed Lundqvist, time and time again, for not playing up to his contract. This season, he's playing up to it, or at least playing the best he's ever played, since signing that contract. Just imagine if Rick Nash did the same. And yes, I'm aware of all the great things Nash does on the ice, on the PK, etc, but $7.8M, you're paid to score goals. There's no ifs, ands or buts about it.
Lundqvist, the lone NYR All-Star and the MVP of the team, shouldn't be forced to speak up, especially in public. Where is McDonagh? Where is AV? Where is my fucking beer?
This wasn't a hissy from Lundqvist. This was a true, final 20 minutes of a movie, rallying up the squad type of speech. Lundqvist, as he's done in net this season, more often than not, gave it his all with this speech. However, just like in net, the team failed to illicit a response. They didn't register shit.
For the first time in a long time, I actually felt empathy for Lundqvist. In the best interest of both parties, he needs to get off this fucking team, and try to win a Cup elsewhere. When I saw him do this, unsolicited, it came off to me as someone who knows the clock is ticking. He's been watching this team and this season, look like a car accident.
There are times in life where we see an accident about to occur, but we're too late to make a save or say something. Whether it's a car wreck, someone tripping, an object about to hit someone or whatever example you want to use, in life, we've seen things that with a split second, the outcome could've been different. For Lundqvist, I think he sees this season and playoff dream, slipping slowly away. If his Captain and Coach are going to just sit there, he feels its up to him to pop off. I don't blame the guy. Not now and not in this season.
Put it this way, you know the Rangers are on the brink of losing it all, when me, of all people, is sitting here and defending Lundqvist.
On Lundqvist, here's his take on the game, courtesy of the M$G Networks:
When you watch this, Johnny G., from the projects in Boonton, brings up what McDonagh said. Save it. You gotta walk the walk and not just talk the talk. Lundqvist has walked the walk and talked the talk this season. I wanted to spare myself the pain of hearing AV saying "we got some good looks", so I didn't check to see what he said after the game.
After two periods, and with Lundqvist taking the ice after his pep-talk, the score remained 5-1.
I attended this game with my friend, who happens to be an Islander fan. If we didn't overpay for tickets and if he wasn't an Islander fan, I might've took the first train out of Penn and finished this misery by watching it on my phone. Instead, I stayed for the final frame, which the Islanders won 2-1, giving the Islanders a 7-2 victory. It's not worth recapping the final period, as the game was over before the period even started.
Quite frankly, this was the most embarrassing and the absolute worst loss of the season. I feel like I've wasted too much of my time on this game already.
Oh, and since I talk about it every game, the Rangers PK was perfect, going 2-2. The Rangers PP got a rare PPG, and they finished 1-3. Of note, the Rangers also had a 5 vs 3 PP in there, and just watched the Islanders dominate the puck. SAD!
Updated Standings Time:
| | | | | | | | | | | | |
| --- | --- | --- | --- | --- | --- | --- | --- | --- | --- | --- | --- |
| Metropolitan Division | W | L | OT | PTS | ROW | GF | GA | HOME | ROAD | L10 | STREAK |
| Washington | 28 | 14 | 3 | 59 | 25 | 140 | 127 | 18-6-0 | 10-8-3 | 6-2-2 | W1 |
| Columbus | 25 | 18 | 3 | 53 | 20 | 124 | 129 | 15-8-0 | 10-10-3 | 4-5-1 | L2 |
| New Jersey | 22 | 11 | 8 | 52 | 19 | 130 | 125 | 12-5-3 | 10-6-5 | 5-2-3 | L5 |
| N.Y. Rangers | 22 | 16 | 5 | 49 | 19 | 130 | 124 | 15-8-3 | 7-8-2 | 4-4-2 | L2 |
| Pittsburgh | 23 | 19 | 3 | 49 | 21 | 130 | 139 | 14-7-1 | 9-12-2 | 6-4-0 | W3 |
| N.Y. Islanders | 22 | 18 | 4 | 48 | 19 | 153 | 160 | 13-5-3 | 9-13-1 | 4-5-1 | W2 |
| Carolina | 20 | 16 | 8 | 48 | 17 | 125 | 136 | 10-5-4 | 10-11-4 | 5-4-1 | L1 |
| Philadelphia | 19 | 15 | 8 | 46 | 19 | 123 | 122 | 11-8-4 | 8-7-4 | 5-4-1 | W3 |
Long season, standings will always change night-to-night, blah blah blah, but a loss tomorrow to the Penguins & a Canes win, would knock the Rangers out of their playoff spot. It doesn't get any easier, as after the Penguins game, the Rangers host another rival and another Metro opponent, when they take on the Flyers. When you look at the bunched up Metro standings, as we all know, every point counts. Just think, two wins could put the Rangers in second place. Two losses has them outside looking in.
Thanks for staying with me in this blog. I had a lot to vent about and I think most of it is out of me. There's not much time to sulk, as the Rangers go to Pittsburgh to play the Penguins tomorrow. I believe KING MATT MURRAY is out, as he has a family issue. It looks like Lundqvist vs Jarry in Steel City, in front of a crowd that may be light, considering the Steelers are hosting a playoff game.
I'm working too many damn hours and don't get nearly enough sleep. If tomorrow is another shit-show, I'm not wasting my time with a blog. I'll watch SHAMELESS and LAST MAN ON EARTH instead. If the Rangers look half-way acceptable, I'll be back tomorrow night, to look at NYR vs PITT.
This was a sad day for Rangerstown.
As always, thanks for reading and despite it all…
"LET'S GO RANGERS"
Sean McCaffrey
BULLSMC@AOL.COM
@NYCTHEMIC on the tweeter gimmick