What's up everyone and welcome to another blog here on BlueCollarBlueShirts.com. This will be shorter than usual, because after my last few blogs about this team, what is really new to say? Plus, I'm still working seven days a week, have my normal 4:30AM alarm clock for work tomorrow and if I can finish this quick, I can sneak in tonight's episodes of "Shameless" and "Last Man on Earth." Without even seeing the episodes tonight, I can tell you that my time would've been better spent watching those shows, than watching another Ranger debacle.
The Rangers, after their most embarrassing loss of the season, just a day ago, followed up that terrible performance with another stinker, this time dropping a 5-2 final to the Pittsburgh Penguins. For the Rangers, the "FIRE AV" contingent of fans got louder and the team looks like a haphazard mess. For the fifth game in row, the Rangers failed to score the elusive third "Papajohn's goal." Even sadder, it's been ten games in a row since the Rangers last scored three goals in regulation. SAD!
The Rangers have now given up twelve goals, in back-to-back games, to two of their most hated division rivals, in the New York Islanders and the Pittsburgh Penguins. Out of the bye week, and with a chance to gain four points and jump in the standings, the Rangers did the complete opposite. Instead of pumping the chest out and thinking about who to acquire at the deadline, fans & some of the NYR media alike, are all full of opinions on who to sell.
I'm on record – I wanted the team to sell during the summer and rebuild. You know my line – "you can't half-way rebuild a house." However, the Rangers chose to continue to go down the road of insanity & still think they can win a Cup with Henrik Lundqvist. With that flawed thinking and team roster construction, the Rangers punted on the idea of a full rebuild. Instead, they are still trying to win now.
Here's the absolute bottom line of bottom lines – the Rangers could move Michael Grabner. They could move Nash. They could explore a trade on McDonagh. They could even pull a sacrilege move and try to trade Zuccarello for assets. However, as long as Henrik Lundqvist and that contract is on this team, the Rangers will not be in a full rebuild mode.
That said – we are seeing Lundqvist get extra crabby and catty this season. The tears are flowing. He's snapping at teammates. He's screaming at refs. He's now even throwing pucks at referees. Perhaps it's all starting to sink in for him and maybe he is starting to realize, albeit way too late, that he needs to go, if he wants that Stanley Cup on his resume. No one will shame him if he did choose to "Ray Bourque" it.
As time goes on, the "F-bombs" I once had for Crosby are slowly fading. In fact, I think the movie "ICE GUARDIANS", which I've reviewed on this site, changed me. Really, after that movie, I started to respect Crosby more. As we age and as players log more years in the league, and really this goes for any sport, you start to appreciate the greats. I was never a Detroit Redwings fan, but I have sought out footage of seeing Gordie Howe and trying to learn more about him. I am not a Canadiens fan, but I've read tons of books on the franchise. I can't say I'm rah-rah about the Leafs or Bruins, but I have enjoyed reading many books on Conn Smythe and Art Ross.
As a fan of the league, growing up, I was enthralled and immersed in the Avalanche vs Redwings feud of the late 90's-early 00's. As an adult and a passion for history, while I will always hate the Flyers, how could you not respect and enjoy the Broadstreet Bullies of the 70's? How could you not appreciate the greatness of the 80's Oilers? The only team and dynasty I have no respect for are the 80's Islanders, because after all, fuck the Islanders! That said, your stupid "POTVIN SUCKS" chants? It's just that – stupid. The guy has as many Cups in his career as the Rangers have in their 90 year history. SAD!
With every passing season, I have more respect for Sidney Crosby. He's one of the All-Time Greats, and like Tom Brady in the NFL, how can you pass on watching one of the greatest of your era perform? The knock on Sid has always been the crybaby behavior. Again, watch "ICE GUARDIANS". I'm not defending Crosby for it, but I understand it. The guy is playing in the pussification era of the NHL. He doesn't have an enforcer like all the other elite scorers before him did. He's forced to play dirty to protect himself. He doesn't have a big brute on his line to make sure there are no cheap shots at his expense.
I find it comical, when it comes to how irrational Ranger fans can be. Of course, by talking positive about Crosby, you'll get the "YOO ARE A FAYKE FAN AND YOO R A GAY" hate tweets or comments. If you can't tell that I'm a diehard Ranger fan, it's not worth my breath to sell you. I root for the front of the jersey, not the back. At the same time, I'm able to appreciate the other teams and the greats that are in the league. It's not insane to think that Crosby is the greatest of this generation. It is insane to think that you can win a Stanley Cup with your goalie as your highest cap hit.
I'm not here to pile up on Lundqvist tonight, nor sing the praises of Crosby. If you're a regular reader here, you know my feelings on both.
However, something really irked me tonight and it was another diva meltdown from King Crybaby. Let me be clear – I don't think he had a bad game, despite the four goals allowed. Could have he been better? For sure. To pin this loss all on him? I can't do that. I just can't stand the bad example he sets for kids with his selfish and sophomoric behavior. For as much as he was a leader on Saturday, even if it failed, he was the complete opposite in this game.
With the Rangers trailing 3-2 in the third period, this happened:
Lundqvist just threw the puck after getting scored on lmao @soIoucity #NHL pic.twitter.com/O96NQUg8HT

— Juice Springsteen (@JuicySteen) January 15, 2018
Here's another angle:
Henrik Lundqvist gets more fed up as each game goes on #NYR
pic.twitter.com/aZBYySOwph

— Rob Taub (@RTaub_) January 15, 2018

If you want the details, here's the quick and dirty. The Rangers, down 3-2, saw Riley Sheahan get pushed into Lundqvist. The puck went off Sheahan's skate which resulted in Lundqvist & the puck going into the net. The ruling on the ice was a good goal. To me, it looked good, when I saw it happen live.
Before Coach AV could say anything, Lundqvist was right back up, crying to the referees. In a moment where he had to be seeing red, he decided to throw a puck at the referee, as a way to protest the call. HOW IS HE NOT EJECTED FROM THE GAME? He didn't even get a penalty. Resident blowjob, Joe Micheletti, who we unfortunately had to deal with tonight, barely mentioned it. IF SIDNEY CROSBY DID THIS – Joe Micheletti would've been writing Donald Trump to get Crosby deported. I'll get to that anal wart, a one Mr. Joe Micheletti later, but he was a cancer on this broadcast. I'd rather Pierre McGuire, who is fighting cancer, on this broadcast than Clueless Joe.
I'm sorry, Lundqvist is just a bitch and gets away with this shit all the time. Whether it's flipping nets, squirting water bottles, slashing innocent women, and now throwing pucks, this is not the actions of someone cool, calm and collected. While athletes should never be role models, to some people, they are. All I know is this – if I was a parent, I wouldn't want my kids to emulate Hank's poor sportsmanship or diva behavior. Save the crying for Dr. Phil.
Ranger fans live in this Lundqvist bubble, where he can do no wrong. I wonder if these people ever venture outside of their safe space to see what others say. I mean just look at a few of these tweets during the game, from non Lundqvist kool-aid drinkers:

Updated after Henrik Lundqvist's seventh consecutive loss to the Penguins: pic.twitter.com/apSzl7dSzQ

— Seth Rorabaugh (@SethRorabaugh) January 15, 2018
Awwww come on. I wanted to see another Lundqvist meltdown. pic.twitter.com/2qkcNHjc3G

— Becky🌼 (@rebeccaleigh423) January 15, 2018

Listen, I get it. Most of you love Lundqvist. But come on, you can't call Crosby a crybaby and act that your Cupless hero isn't a bigger baby. At least Sid has a Cup to cry into.
The biggest takeaway is Lundqvist's recent game history with the Penguins. I know what the standings say now, but the guy just can't beat this upper-echelon team and I still get nightmares from the last time these two teams played in the playoffs.
Plug time.
In case you missed them, here are my most recent blogs:
---
---
---
Gotta speed this along and really, with the effort this team gave, I should just take 20 minutes to do this blog. After all, that's all the Rangers showed up for anyway! Let's go to the ESPN box score, followed by my quick recap:
1st Period Summary

Time
Team
Scoring Detail
NYR
PIT
3:14

Patric Hornqvist (13)
Assists: Carl Hagelin, Kris Letang
0
1
15:17

Michael Grabner (19)
Unassisted
1
1
19:06

Brendan Smith (1)
Assists: Paul Carey, Vinni Lettieri
2
1
Time
Team
Penalty Detail
No penalties this period

2nd Period Summary

Time
Team
Scoring Detail
NYR
PIT
13:15

Dominik Simon (1)
Assists: Brian Dumoulin, Daniel Sprong
2
2
14:30

Phil Kessel (20)
Assist: Conor Sheary
2
3
Time
Team
Penalty Detail
1:22

Mats Zuccarello: 2 Minutes for Hooking Daniel Sprong
4:00

Brady Skjei: 2 Minutes for Holding Carl Hagelin
10:03

Brendan Smith: 5 Minute Major for Fighting Jamie Oleksiak
10:03

Jamie Oleksiak: 5 Minute Major for Fighting Brendan Smith
10:03

Jamie Oleksiak: 2 Minutes for Instigator Brendan Smith (Served by Conor Sheary)
10:03

Jamie Oleksiak: 10 Minute Misconduct

3rd Period Summary

Time
Team
Scoring Detail
NYR
PIT
12:33

Sidney Crosby (17)
Assists: Jamie Oleksiak, Phil Kessel
2
4
18:01

Carl Hagelin (3) (Empty Net)
Assist: Jamie Oleksiak
2
5
Time
Team
Penalty Detail
7:16

Boo Nieves: 2 Minutes for Tripping Evgeni Malkin
Goaltending Summary
New York Rangers Goaltending

Player
SA
GA
Saves
SV%
TOI
PIM
H. Lundqvist
46
4
42
.913
59:57
0

Pittsburgh Penguins Goaltending

Player
SA
GA
Saves
SV%
TOI
PIM
T. Jarry
28
2
26
.929
59:55
0
Before the game, it was announced that McDonagh and Hayes would be scratched from the contest. Hayes is still battling through an injury he suffered in the Vegas game. There was no information about McDonagh's injury. I think Mac has been playing hurt all season anyway. There's just no other explanation for his poor season.
With the injuries, AV rolled out the following:
Nash-Zibanejad-Fast
Grabner-Miller-Zuccarello
Vesey-Desharnais-Buchnevich
Carey-Nieves-Lettieri
Smith-Holden
Staal-Kampfer
Skjei-Shattenkirk
Of note, KING MATT MURRAY, was out, as he was tending to a personal matter. Tonight we saw Lundqvist vs Jarry.
Off the bat, after watching tonight's loss, I want to get this out there – put Grabner and Lettieri on the same line and make it the first line. What do you have to lose? For some reason, AV won't put the team high goal scorer on the PP. At least give me this. The team hasn't scored three regulation goals in 10 straight games. SHAKE IT THE FUCK UP. Lettieri is the only one on this team, with balls, to shoot the puck. Grabner creates so much of his own offense.
I mean, what has Rick Nash done for you? All he's done is remind you of what could've been. Zibanejad hasn't been the same since the concussion. Fast goes in and out, just like everyone else on this team. After these two depressing and abysmal losses, I'd open up with Grabner/Desharnais/Lettieri on Tuesday. Get some speed and offense out there. You're still giving up 30+ shots anyway, so what's the fucking difference? I mean really, with all the constant changes, NYR has given up 30+ shots in 15 straight games. If you're gonna give up all those shots, at least try to match the opponent's shot total. Maybe you'll score a fucking goal once in a while.
You know this was gonna be a tough game to watch when Joe Micheletti opened up the broadcast. Seriously, on the national level, how does Micheletti and Milbury have jobs? Are you telling me that there is no one better? I was going to go on one of my Micheletti rants, but you've heard it before. I just wanted to point out two Micheletti gems tonight.
The first Micheletti brush with retardation occurred when Lundqvist didn't see the puck. The refs didn't see it either. They blew the play dead. Lundqvist's reaction was to look in the net and see if the puck beat him. In turn, Micheletti screamed "WHAT A GREAT SAVE BY HENRIK LUNDQVIST!" You can't make this up.
Later on in the game, Michael Grabner scored on a breakaway. Here's Micheletti: "GRABNER'S SPEED AND STICK SKILLS ARE UNDERRATED." Are you fucking kidding me? It's really what he's only known for! That's why he's on the PK you fucking jerkoff.
Micheletti, who may have mentioned the name "Tristan Jarry" once, made sure to talk about Lundqvist all night. As stated before on this blog, I think my disdain for Lundqvist grows just because of Micheletti's exaggerations and fake news all over every Ranger broadcast. Say it with me one more time – WE WANT MALONEY!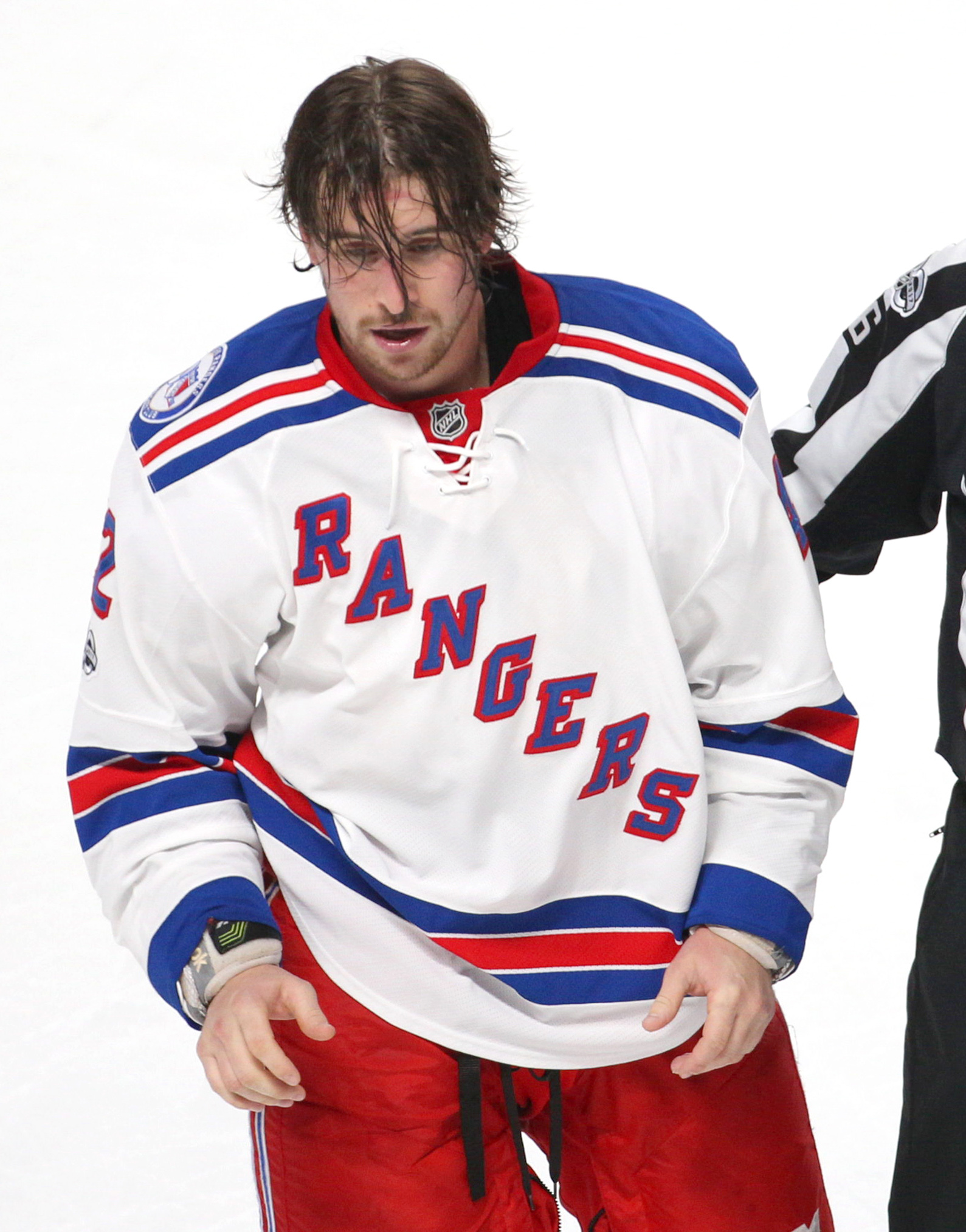 Brendan Smith had an interesting game. He knows he's in AV's doghouse. While he came an assist shy of a Gordie Howe hat trick tonight, the same problems that has plagued his game all season, came to light in this one, early into the first period.
Carl Hagelin, if you recall, the one-time Ranger who wanted to re-sign here, yet was traded in the middle of the night by that snake, SENILE SATHER, for the future HOFer, EMERSON FUCKING ETEM, helped get Pittsburgh on the board first.
Three minutes into the first period, the Penguins were in front of Lundqvist.  Hagelin got a shot off. Hank got his glove on Hagelin's stick and not the puck. You can talk about Hank's poor skills when it comes to playing the puck, but what has regressed tremendously is his rebound control. Anyway, the puck went to Patrick Hornqvist, and he easily beat Lundqvist, with the net exposed. While Lundqvist hasn't been the best on rebounds, Smith could've wrote this blog, with all the time he had when watching this play. He a made a half-hearted effort at the rebound and was outplayed by Hornqvist. If you're one of those people who look to blame anyone but Lundqvist after a goal, look no further than at Brendan Smith here. 1-0 bad guys.
As the game moved along, Jarry would make some good saves, even if Micheletti failed to talk about them. It was funny watching Rick Nash have his typical jackass game, where he does everything right, but can't score. $7.8M folks. That's what makes me laugh when I see NYR fans saying the Rangers need to rebuild and trade Nash at the deadline. What do you think you're getting back for him? He's done nothing to increase his stock value. Any team that trades for him, is just banking that a change in scenery will help him connect the dots. I wouldn't trade much for that risk.
With less than five minutes in the period, Grabner created his own offense, off a turnover, as he streaked down the ice and beat Jarry on the breakaway. 1-1 game, courtesy of the All-Star snub.
In a goal that made you laugh, with under a minute to play, Brendan Smith, playing with the fourth line, took a pass from Vinni Lettieri and beat Jarry. That's one Jarry wanted back. Here's Smith, a defensive liability all night and he's got more goals than the Captain this season. 2-1, good guys. The way the period looked, it could've been the other way.
The Rangers came out like trash in the second period.  They would take two consecutive penalties, one looking like a soft call on Zucc and the other being a blatant holding penalty from Brady Skjei on Carl "EMERSON FUCKING ETEM WILL BE A STUD" Hagelin. The Rangers, to their credit, killed both penalties. They'd kill another in the third, finishing up 3-3 on the PK. Despite multiple clears on the PK, Grabner's name wasn't mentioned by Micheletti. I'll let you guess the one name Micheletti mentioned.
The highlight of the second period saw a rare fight. Check it out:
Oleksiak doesn't like Smith's hit, takes an extra two for instigating pic.twitter.com/Fa63wmUhSn

— Shayna (@hayyyshayyy) January 15, 2018
After Ryan Reaves was crushing Rangers all night, with Marc Staal being his latest victim, Brendan Smith stepped up and floored Reaves. As a result, Jamie Oleksiak chimed in and fought with Smith. The Rangers would get a powerplay out of this.
If you want another reason on why fighting is nearly extinct in this league, here's your exhibit A. We had some physicality and Oleksiak defended a teammate. After an entertaining fight, Oleksiak gets penalized for instigating, despite Smith encouraging Oleksiak to tango. This fight gives the Rangers a PP. You think teams would do this in the playoffs, and risk being down a man? Get rid of the instigator penalty and you will see fights increase.
Anyway, the highlight of the Rangers scoreless PP was Lettieri ripping a blast off the bar. How 1980's Mets of him.
After all this, at the 13 mark of the period, unknown Dominik Simon grabbed a rebound and beat Lundqvist. A minute later, Phil Kessel sniped one past King Crybaby. The Rangers 2-1 lead was gone just like that, as the Pens now led, 3-2. That's all it took.
Going into the third period, down 3-2, while you held on to hope that the Rangers would come back, deep down, you knew it was over. Why kill you with all the misery? After the throwing the puck incident, which ironically, saw the goal overturned, as AV was correct when he thought the puck was kicked in, the Penguins would score two more goals.
Crosby would snipe Lundqvist at the 12 minute mark, essentially ending the game. If you're Lundqvist, at least this puck didn't go off the back of your head or the back of your jersey this time. Baby steps!
The Rangers didn't do themselves much favors. As I said during the game, the Penguins know how to close games. The New Orlean Saints, they are not.
Down by two goals, with two minutes remaining, AV pulled Lundqvist. Carl Hagelin, as we saw him do years before for the Rangers, ripped the band-aid off quick and immediately scored the empty net goal. 5-2, Penguins, your final. Let the "FIRE AV" & "SELL EVERYONE" takes begin.
Updated Standings:
| | | | | | | | | | | | |
| --- | --- | --- | --- | --- | --- | --- | --- | --- | --- | --- | --- |
| Washington | 28 | 14 | 3 | 59 | 25 | 140 | 127 | 18-6-0 | 10-8-3 | 6-2-2 | W1 |
| Columbus | 25 | 18 | 3 | 53 | 20 | 124 | 129 | 15-8-0 | 10-10-3 | 4-5-1 | L2 |
| New Jersey | 22 | 12 | 8 | 52 | 19 | 133 | 130 | 12-6-3 | 10-6-5 | 4-3-3 | L6 |
| Pittsburgh | 24 | 19 | 3 | 51 | 22 | 135 | 141 | 15-7-1 | 9-12-2 | 6-4-0 | W4 |
| N.Y. Rangers | 22 | 17 | 5 | 49 | 19 | 132 | 129 | 15-8-3 | 7-9-2 | 3-5-2 | L3 |
| Philadelphia | 20 | 15 | 8 | 48 | 20 | 128 | 125 | 11-8-4 | 9-7-4 | 6-3-1 | W4 |
| N.Y. Islanders | 22 | 18 | 4 | 48 | 19 | 153 | 160 | 13-5-3 | 9-13-1 | 4-5-1 | W2 |
| Carolina | 20 | 17 | 8 | 48 | 17 | 126 | 140 | 10-6-4 | 10-11-4 | 4-5-1 | L2 |
Up next for the second wild card seed Rangers, a tilt with their most physical rivals, the Philadelphia Flyers. A loss in this game would take the Rangers out of playoff positioning. Right now, I'm reading all these "FIRE AV" and "TRADE EVERYONE" tweets. Save that shit for Tuesday. If the Rangers lose that game against the Flyers, then I think you really panic a bit.
For all the recent losing and bad trends, the Rangers are still a playoff team. For how long is another question, but for right now, they have a playoff berth. You have to hope it's easier to fix the problems from the inside, than wasting half this season and accepting the rebuild you should've done in the summer anyway.
I gotta ask the rebuild crowd, what's the point of a rebuild now? You can't get Andersson up here. You're stuck with some bad contracts. I mean, are you going to send Shattenkirk, Holden or Smith to Hartford for Neal Pionk? And really, wouldn't Grabner make sense on this team next season, especially since he wants to be here? And the pipe dreams of trading Marc Staal? If you can find one team that's in the Marc Staal market, LMK, and I'll get you a beer.
It's a shame, for as strong as the goaltending has been on most nights, the rest of the team has been a letdown. That said, that's the team the Rangers constructed. Despite all evidence contrary, the Rangers continue to go down this road of building around the goalie & thinking that's what it will take to get a Cup.
Overall, this was a lost weekend. If you're looking for a bright side – hopefully for many of you, there's more to life than hockey and you have a good living & good health.
C U Next Tuesday, Micheletti and gang!
As always, thanks for reading and despite it all….
"LET'S GO RANGERS"
Sean McCaffrey
BULLSMC@aol.com
@NYCTHEMIC on the tweet tweet