What's up everyone and welcome to another blog here on BlueCollarBlueShirts.com. I'll tell you right off of the puck drop – these blogs are much easier to do after a game like tonight, which saw the Rangers thrash the Flyers, 5-1. Sure, it's fun to rag on Micheletti and his mouth, which happens to be of Swedish liquid warmth. However, it's much more satisfying to talk about the Rangers after a win, especially after they stick their Blueshirt Bone up the tailpipe of the Philadelphia Flyers.
In a streaky season that's seen many ups and downs, the Rangers were once again on the brink of a ROCKETMAN nuclear meltdown. Similar to the missile alert in Hawaii, the Rangers were able to turn the recent panic attack into FAKE NEWS! That said, one win, just like one loss, doesn't change anything. However, and really more of note, the Rangers were able to stave off all the "FIRE AV" and "REBUILD NOW" talk.
As mentioned ten-fold on this blog, the Rangers will never fully rebuild as long as Henrik Lundqvist is on this roster. When you look at the current NHL landscape, why sell? There's only one dominant team in the Eastern Conference and anything can happen if you can make your way into the tournament in the Spring.
I'm not going to rehash all the negativity that has plagued this team, because after all, you can read all about it, in-depth, in my recent blogs, which you can find here:
---
---
---
---
For the Rangers, this was the second time this season, that with their backs against the wall, the team came up big. Not only for themselves or for the fans (Ha, like they care about us) but for Head Coach Alain Vigneault, the Rangers made a statement in victory. Reminiscent of the 6-4 Halloween Night win over the Vegas Golden Knights, the Rangers just pounced and trounced the dirty Flyers, of Philly, tonight. However, I found this win more impressive for several reasons:
In the Vegas game, VGK, unbeknownst to anyone at the time, were your normal expansion team. They weren't the Western Conference powerhouse that they turned out to be.
Vegas was forced to start their fourth string goalie, in Maxime Lagace, due to injuries to Fleury, Dansk and Subban.
The Rangers were actually one period away from losing the game in Vegas, and were able to mount a huge comeback in the third, against a goalie making his first start.
In the Philly victory, the Rangers gave up a tough goal, then scored 5 unanswered goals, against one of their toughest and most heated division rivals.
The Rangers scored a rare PPG in this game. They also scored their first shorty of the season.
Rick Nash actually scored. Twice. I know, I don't believe it either.
The Rangers brought the pace in tonight's game and never let up. They never looked flat, unlike how they did for nearly 40 minutes in the Vegas win.
It's later in the season, so the games are more dire, especially as we get closer to the trade deadline.
As I've said all season, I have no problem with AV. I get the arguments against him and you're entitled to your opinions too. I'm not the be-all. I'm just another Ranger fan with a loud mouth. However, who else do you want? This guy knows the team and the organization the best, out of any other potential candidate. The only way I would fire AV, is if you moved on from Lundqvist, Nash and Staal and tried rebuilding the entire organization. That I can get behind. To fire AV, mid-season? Eh, I don't see the point. With his track record for success, at least in the regular season, he deserves the chance to bring the plane back up. If it crashes, it should be AV behind the controls.
When it's mattered most, this team has rallied behind AV and played their best hockey. Unfortunately for the Rangers, the one thing that has always plagued them is their ability to be consistently inconsistent. AV & the Rangers must find a way to channel this energy and bottle this style of play, for every game on the calendar.
Sure, some games during the course of an 82 game season, you're just not gonna be at your best. Injuries happen. You get tired. The travel wears on you. However, the Rangers must find this effort the majority of the time, rather than the minority of the time, that they've found it this season. I can count on one hand how many times the Rangers have given a full 60 minute effort this season. SAD!
However, this game wasn't SAD at all. It was anything but. After the Islanders 5-4 victory over the Habs last night, the Rangers found themselves, for the first time since November, outside-looking-in, when it came to the playoffs. As a result of the Rangers win and Isles loss tonight, the Rangers are back to the wild card. Obviously, the Rangers and their fans, won't be satisfied with being the road team, that gets Tampa in April.
We all know the deal. The Metropolitan division is tighter than a jew's wallet when the check for a steak dinner comes. (Larry Brooks called me an anti-semite for using this joke before. If you can't laugh, then readjust your "tighter than a jew's wallet when the check for a steak dinner comes" underwear. IT'S OK TO LAUGH people. WE DON'T NEED TO BE OFFENDED BY EVERYTHING! It's not racist to make stereotypical jokes. I don't need to tell you that I have Jewish friends. I don't need to tell you that I'm circumcised either!)
Points are a premium and the standings will always change. However, a 3 game streak, in either direction, is crucial. If the Rangers can follow this win with a string of wins, they will be a Top 3 seed in the division. Three straight losses has them potentially at the bottom of the barrel. It's just the way it is in the Metro, the greatest and toughest division in the NHL.
It's funny, before this game, on the Twitter machine, I saw fans ranking the Ranger rivalries. I thought @PapaBeez pretty much summed up my thoughts, as he listed the rivalries in order. Here's what he said:
Its going to be the old Patrick division.
Isles
Devils
Flyers
Pens
Caps https://t.co/Q0cHLCdvvY

— Papa Beez (@PapaBeez) January 16, 2018

The more I think about what PapaBeez said, I think I would have to flip the Devils and Flyers. Maybe it's me being a fan of the sport and respecting history, but I don't hate the Devils as much as I hate the Flyers. I kind of respect what the Devils did and after watching/listening to Ken Daneyko on the MSG Networks, maybe I got soft. There's just nothing redeeming about the Flyers. Their fans, for a large part, are tremendous pieces of shit. These are the same fans that attacked a cop and a war hero. If you don't know about that story, check it out here: https://www.nbcnewyork.com/news/local/Rangers-Flyers-Fight-Winter-Classic-Woodbridge-NJ-Police-Officer-Iraq-War-Veteran-136706328.html
For whatever want to say about the NYR/NJD rivalry, I've always found their fans non-threatening. Sure, a good ribbing has taken place and the word "SUCK" is used a lot (not in a Joe Micheletti type of way), but really, the Flyers fanbase are one chromosome short of being 100% human. They are fucking animals. This isn't me being a pussy or being a millennial or anything. When you attack people, fellow Americans, one that's a war hero, over hockey, there is just something wrong with you and you should probably be sent to Guantanamo.
My order of Top 5 Ranger Rivalaries would be this:
Islanders
Flyers
Devils
Penguins
Capitals
Honorable Mentions: The Bruins and Canadiens, two teams that may bump off the Pens/Caps for older fans. Oh and just because, the LA Kings.
In conclusion on this topic, I would just like to eloquently state, "Fuck the Philthadelphia Flyers."
As usual, I got a 4:30AM alarm clock and wasting time on other topics. Let's try to get back on track here and talk about tonight's 5-1 victory over the Flyers. As usual, let's start with the ESPN.com box score:
1st Period Summary

Time
Team
Scoring Detail
PHI
NYR
2:06

Jordan Weal (6)
Assists: Radko Gudas, Wayne Simmonds
1
0
6:30

Rick Nash (10)
Assist: Pavel Buchnevich
1
1
16:50

J.T. Miller (9) (Power Play)
Assists: David Desharnais, Ryan McDonagh
1
2
19:50

Paul Carey (6) (Shorthanded)
Assist: Peter Holland
1
3
Time
Team
Penalty Detail
15:32

Valtteri Filppula: 2 Minutes for Interference of Mats Zuccarello
18:05

Jesper Fast: 2 Minutes for Slashing Jakub Voracek

2nd Period Summary

Time
Team
Scoring Detail
PHI
NYR
10:48

Michael Grabner (20)
Unassisted
1
4
17:28

Rick Nash (11)
Assist: Marc Staal
1
5
Time
Team
Penalty Detail
8:28

Jakub Voracek: 2 Minutes for Hooking Marc Staal
13:50

Brady Skjei: 2 Minutes for Slashing Michael Raffl
18:33

Jesper Fast: 2 Minutes for High-sticking Jordan Weal

3rd Period Summary

Time
Team
Scoring Detail
PHI
NYR
No scoring this period
1
5
Time
Team
Penalty Detail
No penalties this period
Goaltending Summary
Philadelphia Flyers Goaltending

Player
SA
GA
Saves
SV%
TOI
PIM
B. Elliott
21
5
16
.762
40:00
0
M. Neuvirth
8
0
8
1.000
20:00
0

New York Rangers Goaltending

Player
SA
GA
Saves
SV%
TOI
PIM
H. Lundqvist
26
1
25
.962
60:00
0
In my last blog, I did a rant on why I thought Vinni Lettieri should be bumped up to the first line. Tonight, while officially on the second line, he started the game and logged 13 minutes. He was also on the second PP unit. Ryan McDonagh, who was dealing with spasms in Sunday's loss to Pittsburgh, returned to the line-up. Kampfer took a seat. Kevin Hayes, still trying to overcome the injury in the Vegas game, remained out. Boo Nieves, who hasn't clicked after starting off strong, has been sent to Hartford. In his place is veteran Peter Holland, who was acquired in the Adam Cracknell trade. That all said, here's what NYR rolled out, courtesy of NYR reporter, Matt Calamia:
#NYR lines in warmups:
Nash – Zibanejad- Buchnevich
Zuccarello- Miller – Lettieri
Vesey – Desharnais- Carey
Grabner – Holland – Fast

McDonagh-Holden
Skjei – Staal
Smith- Shatty

— Matt Calamia (@MattCalamia) January 16, 2018
The MSG Networks pregame show was a funny one. Of course, Lundqvist was discussed, because after all, what else would you talk about? The talking heads also talked about NYR's lack of scoring but were hush on Rick Nash and his contract. I guess that worked out for them tonight, as Nash had his most productive game of the season.
The highlight of the show? To me, it was when a father was showing his young son a Rangers puck. Al Trautwig said, "Hey Daddy, what's that black thing?" I'll let you write your own punchline.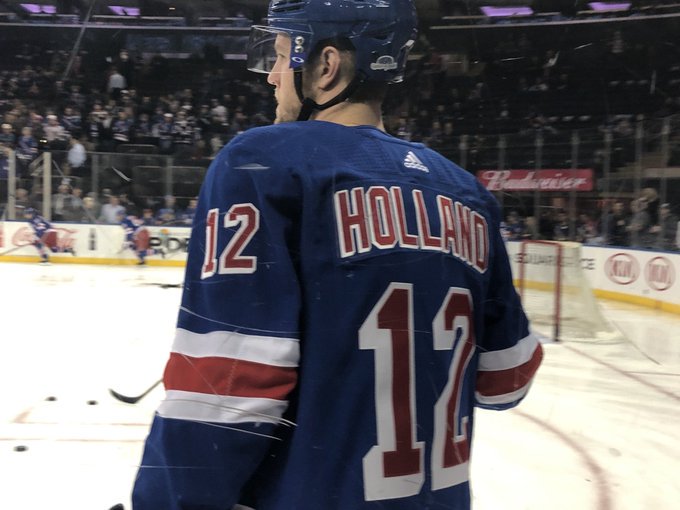 Going into this game, I think we all know what was on the line. A loss could've meant goodbye AV. It could've meant that Gorton would buckle down on looking to trade Grabner and Nash. However, a win tonight, puts things on hold, albeit to the next game. Zed's not dead yet.
The game started off with a kick to the cock, as Jordan Weal tipped in a long shot from asshole Radko Gudas. It was a last second tip-in, and while it's hard to kill Hank here, it was another long distance goal allowed and an early goal at that. While it doesn't count on Hank's "most amount of goals allowed in the beginning of a period" stat, as that stat only counts for the first two minutes of a period, it still was a goal allowed at 2:06. It put the Rangers in quick 1-0 hole. Thankfully, the Rangers would respond and rip off 5 straight unanswered goals.
Anyway, judge the goal allowed for yourself:
A Wealy good redirect 👇 pic.twitter.com/xlMobl3RKd

— NBCSN (@NBCSN) January 17, 2018

Philly netminder, Brian Elliot, played this game like he had an unpaid gambling debt to Rick Nash and the Rangers. The porous Flyers defense did him no favors, as all the Ranger goals came off wide-open looks. It was like the Flyers were having "Nick Holden Appreciation Night."
Four minutes after the Weal goal, the unthinkable happened – Rick Nash finally scored a goal. I've done the "Rick Nash plays great, does the little things well, is a good PKer, plays strong defense, gets to the net, blah blah blah" shit before. Bottom line – he's gotta score goals, and tonight he did just that. Here's his first of the night:
Career goal 426 for Rick Nash. (289 with @BlueJacketsNHL, 137 with @NYRangers). 1-1 vs @NHLFlyers pic.twitter.com/CWP9I7SgGY

— Bucci Mane (@Buccigross) January 17, 2018
1-1 game.
In a game that featured a lot of action, as I believe there was one point where they went 7 minutes without a whistle, the Rangers finally took a 2-1 lead, on a rare PPG. After a terrible PP, which featured the Flyers getting a two on one and Lundqvist stoning Giroux, JT Miller would steal a goal from Ryan McDonagh. Let's go to blog reader and game attendee, Gloria Sturnialo, for the goal:
It's a Power Play Goal!! #NYR pic.twitter.com/Y0Wpg6b0Tw

— Gloria Sturnialo 🌻 (@roscoegg) January 17, 2018

This goal all started because Vinni Lettieri SHOT THE PUCK. He didn't make the extra pass to nowhere. Instead, he fired away. The puck, while it didn't find twine, ricocheted off the boards and into the possession of the Rangers. The Flyers were off-guard and forced to scramble. The Rangers set up their PP offense and boom, there's Miller tipping in a Mac blast.  If Lettieri does the Zucc or Hayes, make the pass and force a turnover shit, then this goal doesn't happen. 2-1 good guys.
The Rangers weren't done yet. After all my griping in the last blog, about the Rangers anemic offense, the Rangers finally broke through. For the first time this season, they scored a short-handed goal. For the first time in 10 regulation games, they scored a "Papajohn's" goal. The fourth line, who were dominant all game, would be a huge factor here, as it was Paul Carey making magic. However, it was Peter Holland, farting under the covers and DUTCH OVENING the Flyers, with some sweet bean sauce. SOAK IT IN MAN:
It's the first shorty!!! #NYR pic.twitter.com/kXeMDqBee2

— Gloria Sturnialo 🌻 (@roscoegg) January 17, 2018
3-1 good guys. The only way this game could've gotten any better is if someone tossed Micheletti's Swedish slurping ass over the bridge!
Let's go to Flyers coach, Dave Hakstol, with his reaction to the first period: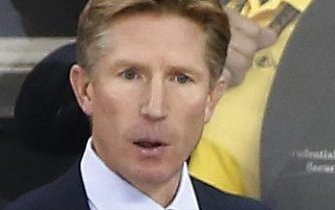 In the second period, the teams tightened up a bit. I'd make my jew wallet joke here, but I think you can finish the joke on your own. The Rangers would eventually turn the tide and made it look like the Flyers were eating Tide Pods. (Look Ma, a topical reference!) At the half-way mark of the period, All-Star Snub and future Steven McDonald Award Recipient, Michael Grabner, buried one:
Grab & go 🚨 pic.twitter.com/hq3lXjRWpH

— NHL on NBC (@NHLonNBCSports) January 17, 2018
4-1 good guys.
Brady Skjei, who seems to average one stupid penalty per game, would get caught again in this one. In fact, the Rangers PK had to kill three penalties and they slayed that Flyer shit. The Rangers PK remains tops in the league. If there's anything consistent about these Rangers, outside of the rebound season Lundqvist is having, it's the Rangers PK.
At the 17:50 mark of the period, pigs officially flew, as Rick Nash got his second goal of the game, to push the score to 5-1. The period would wind down with the good guys up 5-1. For the first time in seemingly forever, the Rangers were blowing someone out. What a time to be alive!
The third period featured Ranger fans watching the clock, as they laughed their way to the finish line. Brian Elliot's night was done, as Hakstol felt YMCA-ish and went "IN THE NEUVY", as he put Michael Neuvirth in. (For my sake, do you get that reference?)
The Rangers would log a paltry 8 shots in the period, but their biggest opponent in this period was the clock. The Flyers looked ready to get their ass down I-95 and drown their tears at Tony Luke's. Maybe all those cheese steaks are going to their ass, because they looked dead-assed tonight.
The Flyers would try to get physical, but the Rangers were too smart to engage with Gudas and the goons. If there was anything that surprised me tonight, it was that Wayne Simmonds, despite his assist, was really a non-factor. In the past, he's been such a Rangers killer. Tonight, like most of the jerkoffs wearing the "P" on their chest, he was absent like a jew waiting for a check after a steak dinner. (Okay, I promise, that was the last one!)
In an uneventful third period, devoid of penalties or high-quality scoring chances, the Rangers finished the job and won the game 5-1. Deep relief here folks. And I'm not talking about the relief I get from using Nupercanial whenever I see Micheletti on my TV.
From the Rangers:
"With tonight's win Henrik is now 1st goaltender in NHL history to earn 20 or more wins in each of his first 13 seasons
And The 1st goaltender in NHL history to earn at least 20 wins in 13 consecutive seasons at any point during the course of a career!
HEN-RIK!"

I'm not going to shit on Hank's parade here, but I'm just gonna give you some facts that were omitted. Hank plays in the shootout/tie era, which helps boost win totals. He's also on this list: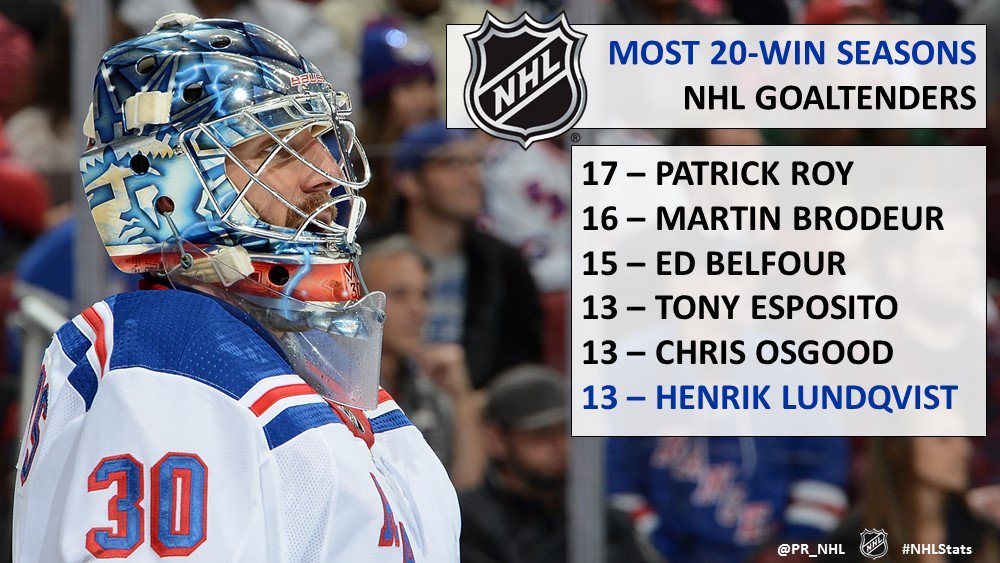 Listen, congratulations to Lundqvist on this milestone. Still doesn't change my opinion on my theory that you can't win a Cup with a Top 5 paid goalie in the salary cap era. It's a theory that's yet to be disproven.
However, for this season in particular, Lundqvist has been at his best since the 2013-2014 season, if not his Vezina season. For all the struggles the Rangers have had this season, Lundqvist hasn't been the issue, as he's been at other points during his tenure as the league's highest paid goalie. (FWIW, this is the last season that he will be the league's highest paid goalie, as Carey Price takes that mantle next season.)
Lundqvist had another solid performance tonight. However, like it or not, his career will be judged by whether he gets that elusive Stanley Cup victory or not. Sure he's a HOFer, but for right now, he's also a Dan Marino. When you judge the All-Time Greats, there's a list for the guys that won and a list for the guys that couldn't get over the hump. For his sake, I hope he gets over that hump and hoists the Cup in M$G.
So what do you take out of tonight's win? Easy, two points in a long schedule. For the Rangers, you hope that Rick Nash's two goals isn't akin to A-Rod hitting a 9th inning homerun in a 13-2 ball-game. You hope that he gets rolling and rides this straight through and into the playoffs. However, I'm a realist and a bettor. I would bet the former and not the latter here. I hope to be proven wrong, but Rick Nash during the tenure of his NYR career, hasn't instilled much faith in me.
The Rangers need to follow this game up with another consistent 60 minute effort. They need to keep finding quality chances. The defense, leakier than the White House, need to continue to shore up in front of Lundqvist. AV needs to keep motivating these guys. Yes, this win was great, but it will be forgotten about by the time the puck drops with Buffalo on Thursday. After the Sabre game, the Rangers embark on their toughest stretch yet – a visit to mile-high Colorado and then the West Coast road trip. There's a lot of points to be had, but it could also be a mudslide. The Rangers must continue to fight and treat every game like a one game playoff.
Updated Standings Time:
| | | | | | | | | | | | |
| --- | --- | --- | --- | --- | --- | --- | --- | --- | --- | --- | --- |
| Metropolitan Division | W | L | OT | PTS | ROW | GF | GA | HOME | ROAD | L10 | STREAK |
| Washington | 28 | 14 | 3 | 59 | 25 | 140 | 127 | 18-6-0 | 10-8-3 | 6-2-2 | W1 |
| New Jersey | 23 | 12 | 8 | 54 | 20 | 137 | 131 | 12-6-3 | 11-6-5 | 4-3-3 | W1 |
| Columbus | 25 | 18 | 3 | 53 | 20 | 124 | 129 | 15-8-0 | 10-10-3 | 4-5-1 | L2 |
| N.Y. Rangers | 23 | 17 | 5 | 51 | 20 | 137 | 130 | 16-8-3 | 7-9-2 | 4-5-1 | W1 |
| Pittsburgh | 24 | 19 | 3 | 51 | 22 | 135 | 141 | 15-7-1 | 9-12-2 | 6-4-0 | W4 |
| N.Y. Islanders | 23 | 19 | 4 | 50 | 20 | 159 | 168 | 13-6-3 | 10-13-1 | 4-6-0 | L1 |
| Philadelphia | 20 | 16 | 8 | 48 | 20 | 129 | 130 | 11-8-4 | 9-8-4 | 5-4-1 | L1 |
| Carolina | 20 | 17 | 8 | 48 | 17 | 126 | 140 | 10-6-4 | 10-11-4 | 4-5-1 | L2 |
As always, forget the Atlantic division. The two wild cards are coming out of the Metro. As you can see, the Rangers are in the thick of things. Do you think Lundqvist, who has a jedi mind control over this coach and management, wants this team to sell? Fuck no. This team is in it to win it.
Rangers return Thursday night at M$G. After that, as mentioned, it's Colorado, then the three game West Coast trip, followed by the ASG. Once the Rangers finish up on the  left coast, against the Sharks, we will have a better idea of who these Jekyll and Hyde Rangers are.
As far as this blog goes, I'll definitely be back after the Buffalo and Colorado games. Looking ahead, doing blogs after the West Coast games will be impossible with my work schedule. I'm gonna stay up and watch the games, but spending two hours on a blog, after the game, is impossible. Maybe I'll just live tweet the games, as usual, and put up quick thoughts on my train ride into work. We'll see.
Anyway, for tonight, this win was extreme joy. I would also like to give a shout out to @FIXXSER and @NYRKELSMADS for their free entertainment, during the clock-watching third period!
See ya Thursday!
As always thanks for donating your time by reading and….
"LET'S GO RANGERS!"
Sean McCaffrey
BULLSMC@aol.com
@NYCTHEMIC on the DOT COM!