What's up everyone and welcome to another blog here on BlueCollarBlueShirts.com. Tonight, the Rangers went to another shootout, their second in a row, in a 3-2 loss to the Detroit Redwings. For the Rangers, while they get the point, this was a blown opportunity for two points.
It's been a hellacious day for me, as my job site had some major issues today. In turn, these next few days are going to be longer than usual days, with more tasks needing to be accomplished. No rest for the wicked indeed! On the bright side, despite having to work this weekend and New Year's Day, (No NYE party or Winter Classic attendance from me) I can smell my Vegas vacation coming right around the corner.
This was a late start, and really, any game that starts after 7PM is rough on my body clock. I only sleep 3 1/2-4 hours a night as it is, so I lose some sleep with these late games. I guess I could skip the blog, but I'm usually wired up after a game, win or loss, anyway.
I gotta try to keep myself short here tonight, as I gotta be up earlier for work than usual, so let's dive right in. There's a lot to discuss.
As always, before continuing, here are my last few blogs, in case you missed them:
---
---
---
---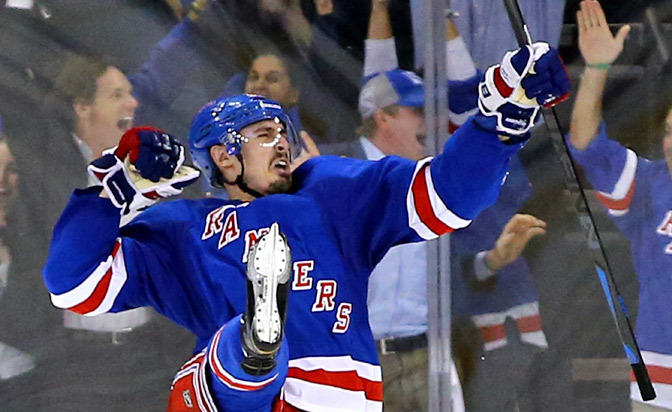 Obviously, the biggest news in Rangerstown this week is the revelation that Chris Kreider has a blood clot. As a result, Kreider, in a best-case scenario, will miss the next 6-8 weeks of the season. However, a best-case scenario is not a guarantee. All one has to do is look at the career of NBA-er Chris Bosh & how his career ended because of blood clots. Not to sound morbid, but 80 years ago, without the advancements of science & medicine that we have today, Canadiens star, Howie Morenz, died of a blood clot.
Here's the official story on Chris Kreider, from NBC Sports:
The New York Rangers announced on Thursday that forward Chris Kreider is out indefinitely after he was diagnosed with a blood clot in his right arm. He's expected to miss 6-8 weeks, according to Larry Brooks of the New York Post.

Kreider left Wednesday night's game against the Washington Capitals in the first period after he began feeling something in his right arm. He was sent to a local hospital to be evaluated and the symptoms persisted.

The 26-year-old Kreider, who has 11 goals and 22 points in 37 games, joins a growing list of NHL players who have dealt with blood clots over the last few seasons. Steven Stamkos, Andrei Vasilevskiy, Kimmo Timonen and Pascal Dupuis are just a few names who have seen their seasons and careers sidelined by the diagnosis.

The Rangers will travel to Detroit for Friday night's game against the Red Wings before returning home for Monday's Winter Classic at CitiField against the Buffalo Sabres.
What really was concerning to me was AV's press conference about the situation. In the press conference, AV said that Kreider felt discomfort before the game and was checked out by NYR doctors. The doctors didn't see anything, so Kreider went about his business as usual. As we'd later learn, the pain got worse and Kreider would be pulled from the game.
On an aside, NHL reporter Dan Rosen took some heat from hockey fans as well. If you recall, during the game, when Kreider was pulled, he insinuated trade rumors. While there was a roster freeze in effect, conceivably the Rangers could've had a potential deal in place and were waiting for the freeze to expire. To me, I thought it was probably a concussion. In either event, Rosen, who started the potential trade rumors, only for this clot to be announced, took his lumps from Ranger fans, for his inaccurate speculation.
Kreider isn't the first NHLer to go through a blood clot and surely won't be the last. Steve Stamkos and Andrei Vasilevskiy, both of the Tampa Bay Lightning, had a similar ordeal. As you can imagine, due to the stress these hockey players put on their legs, blood clots are more common in that area. However, as time goes on, we're seeing more clots in other areas, like Kreider's arm, Kevin Hayes hip (He had his surgery while in college) or like the collarbone of Stamkos.
It's obvious that athletes put more stress and strain on their bodies than the normal person. I just wonder if these clots, which weren't so common years ago, are the result of some sort of supplement or because of the changes in the game itself? Regardless, hopefully these clots can be prevented, as time goes along, through the benefit of medicine & science.
Like every other Ranger fan, I wish Chris Kreider all the best in his recovery. His health comes first. While I do expect him to make a comeback, I just don't think you can say it's a given. The only good thing, if there is a good thing about this, is that it was caught and that these clots are something doctors are now familiar with.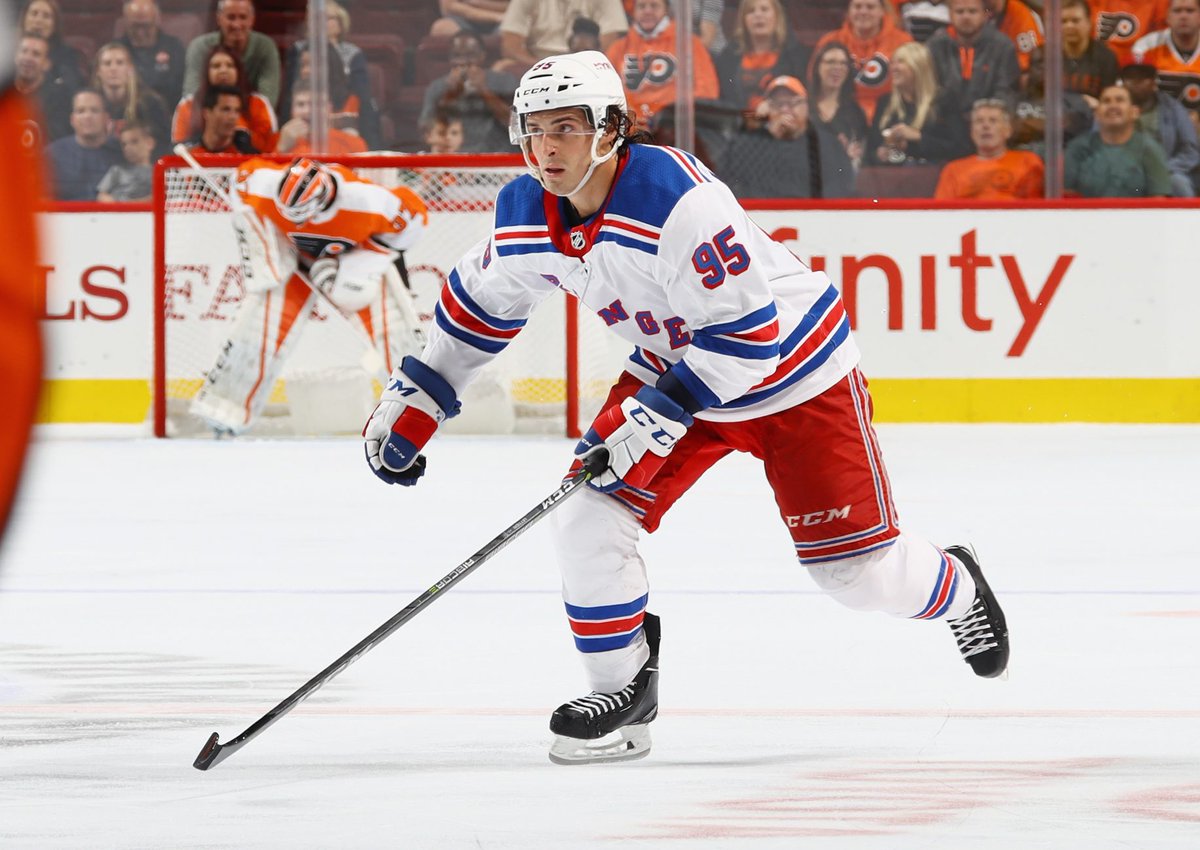 With Kreider out, the Rangers had to keep on trucking and fill out their roster. Finally, Lettieri got the call, as the Rangers made it official on Thursday, with this simple tweet:
OFFICIAL: #NYR have recalled forward Vinni Lettieri from @WolfPackAHL.

Lettieri, 22, has skated in 31 games with the Wolf Pack this season, registering 12 goals and nine assists for 21 points.
Lettieri called this the best Christmas present ever, which some Ranger fans took offense to. After all, he got the call-up because of a life-threatening health condition. I think those Ranger fans overreacted a bit, because after all, Lettieri is just a kid and excited. I'm sure the NYR PR people will talk to him. I wouldn't take Lettieri's comments as a slight to Kreider at all. He is just happy to finally be in the show. While perhaps it was a poor choice of words, cut the kid some slack.
Last season, I was fortunate to attend the last ever NYR/DET game at the Joe. I had a good time during my trip, because I stayed in Windsor, Ontario, rather than in Detroit, Michigan. In case you aren't aware – Detroit is a shithole. Sorry to my fellow Americans who happen to live there, but Detroit is a depressing run down town, that would even make a heroin junkie sad.
That said, with a brand new arena in town, I thought it would revitalize the area. A new arena creates new jobs and since Detroit is a major city, you would figure you would get the corporate dollar pumping their people into the building. That hasn't been the case. I was shocked tonight when watching this game. The building was half empty all night and the arena had the presence of Terry Shiavo. The place was quieter after a white guy makes a black joke in front of his white friends, only to realize a black guy was in earshot and overheard him.
I wanted to know why the Pizza & Wings arena was so quiet. Here's one take, from the local paper: http://www.detroitnews.com/story/sports/nhl/red-wings/2017/11/06/empty-seats-pistons-wings-home-games/107393976/
The whole concourse excuse sounds fugazi to me. After all, who spends all that money and effort on going to the game, only to hang outside the bathroom and $12 beer lines? Cmon man!
I was truly SAD, watching "HOCKEYTOWN USA", look like an Old Western town with tumbleweeds blowing through. A great franchise with a rich history, is reduced to playing in front of a crowd who must think it's Halloween, as they were all dressed as empty seats.
The NYR pregame show was light today, as Vally had the day off and it was Duguay & Pidto. They ran a piece where Micheletti raved about Lundqvist's charity work. When they talked about Lundqvist and charity, I thought they were going to talk about all the players who have scored soft goals and who have knocked him out of the playoffs over the years. I thought maybe they were going to unveil a statue of Jean Pageau or something. However, instead, Micheletti gave Henrik a handjob about charity.
Nothing like an athlete who does charity whenever the red light is on. Sorry, Adam Graves goes above and beyond & you never see a camera there. There are many other Rangers who do charity, but why talk about that, when Micheletti can talk about his spank bank? It's not bad enough we gotta listen to it for nearly 3 hours of a game broadcast, but now it's bleeding into the pregame show. This was sickening.
Even better – do you know what was ignored on the pregame show? KING ONDREJ THE GIANT and his shutout against the Capitals. You can't make this stuff up.
I know I was in a bad mood after a long day at work today, but between Micheletti slobbering like Beethoven the dog about Lundqvist and Sam Rosen trying to sell how Detroit is a great city, I just had it with these two. WE WANT MALONEY!
Oh, and I guess I should say, Lundqvist does do a lot of great things for charity. I know this because I'm constantly reminded about it. I know Micheletti makes me disdain Lundqvist, because of all his exaggerations and hyperbole, but in reality, kudos to Lundqvist for his charity work. He's just no Adam Graves.
Before getting into the game review, as always, here's the official box score from ESPN.com:
1st Period Summary

Time
Team
Scoring Detail
NYR
DET
17:35

David Desharnais (4)
Assist: Jimmy Vesey
1
0
Time
Team
Penalty Detail
1:42

Kevin Shattenkirk: 2 Minutes for Slashing Tyler Bertuzzi
11:06

Trevor Daley: 2 Minutes for Slashing Mika Zibanejad
12:47

Ryan McDonagh: 2 Minutes for Interference of Dylan Larkin

2nd Period Summary

Time
Team
Scoring Detail
NYR
DET
7:46

Andreas Athanasiou (6)
Assist: Dylan Larkin
1
1
Time
Team
Penalty Detail
3:54

Jimmy Howard: 2 Minutes for Delaying the game (Served by Martin Frk)
16:35

Rick Nash: 2 Minutes for High-sticking Dylan Larkin

3rd Period Summary

Time
Team
Scoring Detail
NYR
DET
2:35

Vinni Lettieri (1)
Assist: Boo Nieves
2
1
7:05

Henrik Zetterberg (6)
Assist: Gustav Nyquist
2
2
Time
Team
Penalty Detail
3:51

Martin Frk: 2 Minutes for Tripping Brady Skjei
7:42

Darren Helm: 2 Minutes for Hooking Mats Zuccarello
16:31

Brendan Smith: 2 Minutes for Illegal check to the head Gustav Nyquist
18:40

Marc Staal: 2 Minutes for Hooking Andreas Athanasiou

OT Summary

Time
Team
Scoring Detail
NYR
DET
No scoring this period
2
2
Time
Team
Penalty Detail
No penalties this period

Shootout Summary

Team
Detail
NYR
DET

Shootout GOAL scored by Frans Nielsen on Henrik Lundqvist
0
1

Shootout attempt by Mats Zuccarello saved by Jimmy Howard
0
1

Shootout attempt by Gustav Nyquist saved by Henrik Lundqvist
0
1

Shootout attempt by Mika Zibanejad MISSES
0
1

Shootout attempt by Henrik Zetterberg MISSES
0
1
Goaltending Summary
New York Rangers Goaltending

Player
SA
GA
Saves
SV%
TOI
PIM
H. Lundqvist
35
2
33
.943
64:56
0

Detroit Red Wings Goaltending

Player
SA
GA
Saves
SV%
TOI
PIM
J. Howard
39
2
37
.949
65:00
2
We've seen the Rangers win bad, but exciting games. We've seen the Rangers win good and exciting games. We've seen the Rangers lose good, but exciting games. Tonight, outside of Vinni Lettieri scoring, this game was an absolute kick to the cock. This was a bad game to watch. Put it this way, if you were trying to sell a new fan on hockey, you would make sure that person didn't see this game.
We've seen the Rangers play some exciting games lately, whether it was the slop-fest with Washington or the game with the Devils, which had a playoff vibe. Tonight, with the dead crowd part of it, this game felt like a preseason game. It wasn't particularly good hockey and it wasn't much fun to watch either.
While I hate to keep harping on the crowd, you have to keep in mind, that this is a game featuring Original 6 teams and on a Friday night, where the majority of the population have off of work the next day.  When you see HOCKEYTOWN USA doing the wave, with six minutes left in a tied game, you gotta think that Gordie Howe is rolling in his grave.
I've been hitting this point a lot this season, and no, this isn't another Lundqvist rant. The Rangers PP is fucking awful. How many Scott Arniel rants do I have to go on? The Rangers PP finished 0-4 on the night. This was another game, if the Rangers were able to muster up one PPG, then there is no overtime. There is no shootout. It's a two point win.
Despite no evidence to the contrary, the Rangers think Arniel and this PP will be successful. It's just been costing them game after game, and really, if you can't score PPG's against bad teams, what do you think is going to happen in defensive minded playoff games, against quality opposition?
On the flip-side, the Rangers penalty kill has been elite and has been one of the top PK units in the NHL. If only the PP was just an inkling as good as the PK, we might be in business. It's just a shame that both the Rangers PP and the Rangers PK, are why these scores hit the under and not the over. It's at the point where the Rangers should just decline the PP, because what's the use?
There was even one point in this game, in the second period, where the Rangers had two really good five on five shifts. The Rangers then got a PP and instead of keeping the momentum, wilted like a dog fart on an elevator. Time and time again, this Rangers PP has hurt this team and tonight was no different.
When you look at this shootout loss, when it came to the one-on-one battle, Jimmy Howard was better than "Give me two goals and I got this", Henrik Lundqvist. It cost them the shootout point. Lundqvist had another strong game, but his momentary lapses led to Detroit goals. Howard (37 saves) bested Lundqvist (33 saves) and for Lundqvist, it was another game where he blew multiple leads. In fact, Detroit never led this game at all.
You can't pin it all on Lundqvist, because the PP, as mentioned, was terrible. Rick Nash continued his normal game of having 789678678967896969 chances, yet coming up short, time after time. You all know the deal. $7.8M, you gotta score goals.
The first ten minutes of this game was the same old story for the Rangers. It was a poor start, where the Rangers were out-shot 7-0. NYR wouldn't even get their first shot off in this game, until nearly 7 minutes expired. While Detroit didn't score in this time, the Rangers also didn't give you a full 60 minute effort.
Shattenkirk, who seems prone to this lately, put the Rangers in a tough position, when he took an early penalty. The Rangers elite PK, who finished 5-5 tonight, killed it.
Daley, at the 11 minute mark, would get boxed for slashing Zibanejad, who hasn't been the same player since coming back from his concussion. The highlight of the PP was Lettieri pulling an Ovechkin, as he skated near the dot and went for a blast. Unfortunately, it was a swing and a miss. I was so happy to see him score later in the game, or else his first game would be remembered for this play.
The referees in this game, who would be perfect referees for the WWE, as they sold for all the heel tactics employed by the Wings, gave their first BS Detroit PP of the game when they called McDonagh for interfering with Dylan Larkin. Larkin simply skated into McDonagh, and threw his head back. Ric Flair would envy the bump and sell job Larkin displayed here. These refs would be shot if they dared called this a penalty in a playoff game. Unfortunately, this wouldn't be the worst call of the game.
Despite the Oscar award performance from Larkin, the Rangers would kill the Detroit PP. Of note, Kevin Hayes had a tremendous game and was arguably the best PKer all game.
In a first period largely dominated by the Wings, the Rangers would strike first. After a faceoff, Vesey stayed with the puck, battled and made a picture-perfect pass to David Desharnais. Double D had an easy look, as it was a goal any of us could score, with a beer in each hand. 1-0 good guys. Take a look for yourself:
DO IT ALL JIMMY! Watch as Jimmy Vesey steals the puck and feeds a nice dish to David Desharnais to give the #Rangers the lead. pic.twitter.com/c8bCiYXzWE

— Sportsnet (@Sportsnet) December 30, 2017
The Rangers, who were dominated at the beginning, somehow left the period up in the SOG stat, 9-7 and took a 1-0 lead to the locker room. This game was ugly hockey, and if you didn't mute out Micheletti by then, you were informed that the ice was bad and the boards were lively. He only repeated that sentence 8767867896879679666 times, in between slurps of Lundqvist.
The second period saw the Rangers come out hot. They got two strong shifts from the new fourth line and the 10/13/40 line. Then they got a PP, when Jimmy Howard blatantly kicked his net off the moorings. Of course, Micheletti, who didn't see the penalty, as he probably had his head up Lundqvist's asshole, said Detroit had too many men on the ice. It was clear as day that Howard kicked the net off the moorings, but why let the truth stand in the way of a Micheletti broadcast?
The Rangers would shit the bed, as usual, on the PP. Then, after some questionable defense from everyone's favorite defenseman, Nick Holden, Lundqvist allowed the big bad and scary Andreas Athanasiou to light him up. This was a bad goal allowed. Blame Holden all you want, but this was a routine save anywhere else in the league. Even more confusing, Lundqvist would go on to make some pretty good saves, especially later in the third period, where you could say they were game-saving saves. Instead, something like this goes in and instead of a lead, it's now 1-1 and Detroit has the momentum.
And please – you Lundqvist fans, save me the "WE ONLY GOT A POINT BECAUSE OF HANK" bullshit. Have you seen Pavelec's last three starts, all against better competition than these Deadwings?
Ironically enough, Lundqvist would be called on again, where he did make a tremendous save. It was at this point in the game where Micheletti was on repeat, as every two minutes, he would say something like, "LUNDQVIST, BAD ICE, BOARDS, HANK, HANK, HANK, BOARDS, I NEED TO RUB ONE OUT TO HANK, BAD ICE, BOARDS, BAD ICE, BAD ICE, BAD ICE, I WANT TO HAVE LUNDQVIST'S BAD ICE, ICE, BABY, BOARDS AND DID YOU KNOW LUNDQVIST HAD HIS ASSHOLE BLEACHED FOR CHRISTMAS WITH MY TONGUE?"
No joke – I rather listen to Shannon Sharpe read the phone book than listen to Micheletti ever again.
Gotta rush here, as it's midnight and I gotta be up soon.
After a Rick Nash penalty that was killed by NYR, the teams skated to the locker room, 1-1, after 40 minutes. This was not a good period for the Rangers.
In the third period, at the 2:35 mark, my omen would be fulfilled, as Vinni Lettieri scored the potential game winning goal. Check out the glory yourself:
VINNI LETTIERI SCORES HIS FIRST NHL GOAL IN HIS FIRST NHL GAME! pic.twitter.com/oYVOeMSftC

— NHL Daily 365 (@NHLDaily365) December 30, 2017
Do you know what I love about Vinni Lettieri, besides him sharing a last name with my nieces & goddaughter? His game is shoot first and shoot second. For a team that's all about the extra pass to nowhere, especially from their lefties, the right handed Vinni Lettieri is not shy and will shoot like a redneck. I love it. This team has always needed an offensive injection and Lettieri provides it.  2-1 good guys.
Even better – Lettieri's whole family was at the game. What a moment. Isn't that amazing Suzyn?
Even better part 2 – Lettieri's whole family were not shy for the cameras and let their facials convey their emotions all game. When the Rangers failed in the shootout, you could see their disgust. I found it funny how the MSG cameras didn't pan to them when Lundqvist gave up his bad goals of the evening. It's the NYR/MSG agenda tho!
Oh, and even better part 3 – Tino Lettieri, Vinni's father, looks like an angry Regis Philbin (Credit: BSU Jim.) Check it out:
Vinni Lettieri Dad, Tino, and Vinni's Grandfather Lou Nanne (635 NHL games) react to Lettieri's 1st NHL goal. #LaFamigliaLettieri pic.twitter.com/JbIX4dVQiC

— Bucci Mane (@Buccigross) December 30, 2017
If Lettieri pans out, NYR fans are going to have fun with this guy. Whether it's the "My Cousin Vinni" stuff, saying he looks like the love child of Kreider & Zucarello or saying like he looks like the mobster from the Simpsons, Lettieri could provide a lot of positive moments for the Rangers.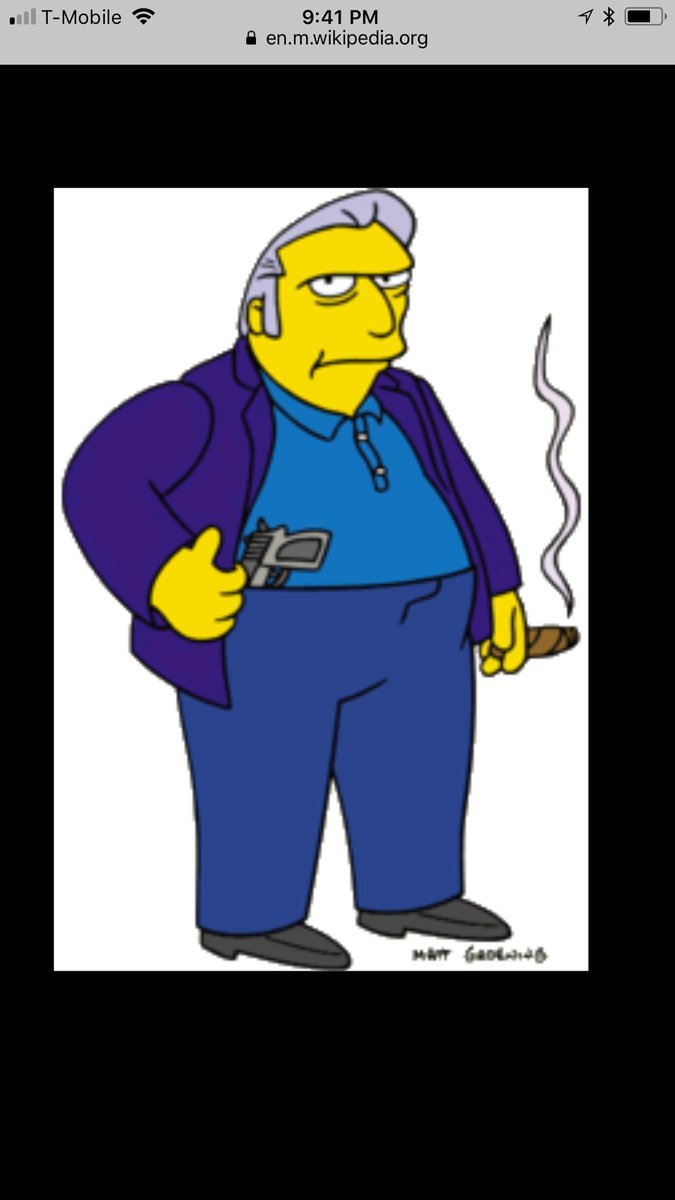 The Rangers would get two more powerplays in this period and as you would expect, did OOGATZ with it.
Henrik Zetterberg would later beat his fellow Swede, after this play, to make the game 2-2:
Another look at Henrik Zetterberg's goal. pic.twitter.com/sb9kAqrUUD

— Kyle M. (@KyleWIIM) December 30, 2017
That's on Lundqvist folks. If he didn't handle the puck like a live grenade, it's a clean save. Give credit to Zetterberg, he's paid to play too, but in a game against a bad team, this goal was the difference between a regulation win and a shootout loss.
Shit got funky like a monkey at the end. Brendan Smith got called for the biggest bullshit penalty you'll ever see, as he was boxed for hitting Nyquist in the head. Replay showed that Nyquist sold a shoulder hit and threw his head back. The refs bought it, hook line and sinker. Imagine if this was a playoff game and this was all the difference in a game?
The Rangers would kill the penalty, but immediately after, to close the period, Marc Staal, like an 80's NYC crackwhore, would get busted for hooking. This was legit. Fortunately, yet again, the Rangers PK, who were the true MVP's of the game, killed the penalty. The Rangers would force the overtime, but would give Detroit an abbreviated PP in the three vs three OT.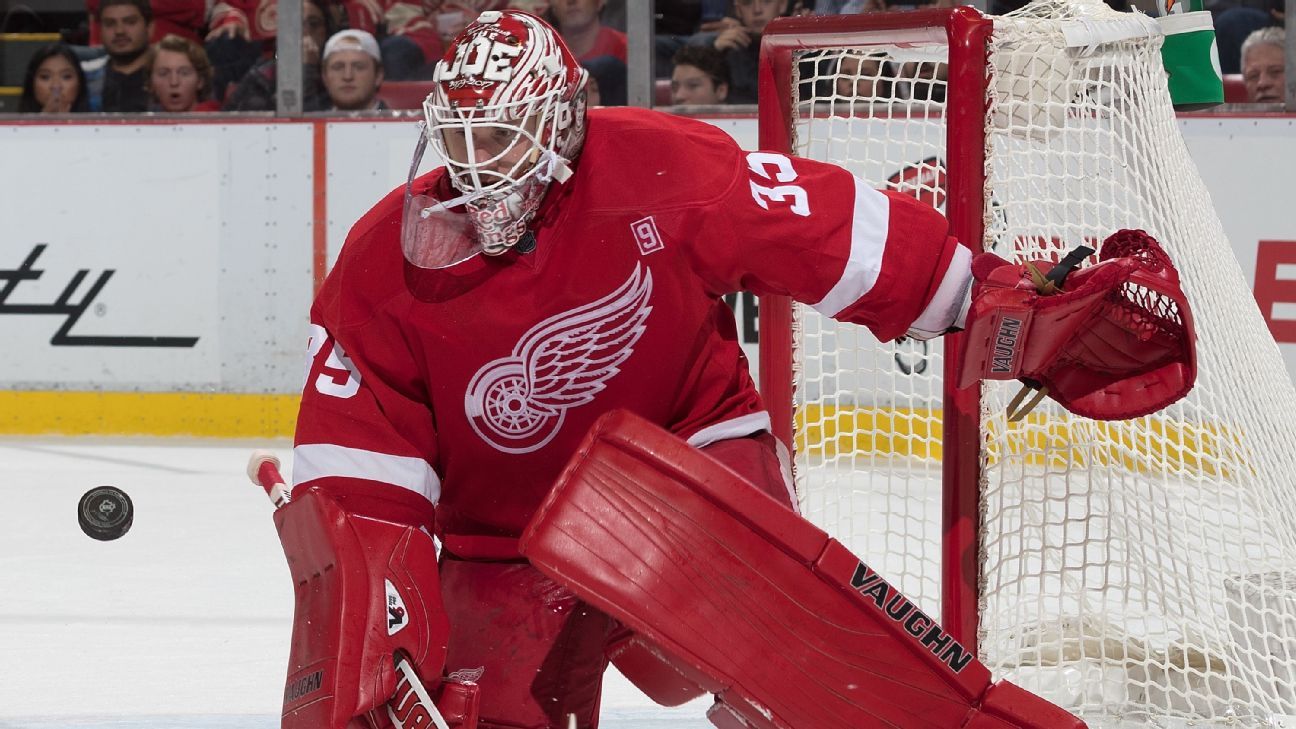 The five minute OT was largely a 4 vs 4 affair, as the Rangers killed the penalty and a whistle didn't come until halfway through. Both teams got bailed out by their defense in the OT and we then went to a shootout. Worth mentioning, the biggest play in the OT was when Brady Skjei got a penalty shot. Howard stopped him, with ease.
In tonight's shootout, AV rolled out Scott Arniel, Jim Ramsey and Kevin Shattenkirk. Oh wait, only one of those are true, and unfortunately, it was Shattenkirk.
The one-on-one game, another one of Lundqvist's glaring weaknesses, coupled along with losing his stick, playing the puck, keeping his composure, etc, was the difference between one and two points tonight. Howard stopped Zucc, Zibanajead and for some reason, Shattenkirk. Again, nothing against Shatty, but when you got goal scorers on your bench, I don't know why Shatty gets the call.
Frans Nielsen would score the lone goal of the shootout and that's all it took. 1-0 in the shootout, 3-2 for your final.
If this was Tampa, I'd be happy with the point. Playing Detroit, and the way the Rangers had two leads, this was a disapPOINTment.
Updated Standings Time. As usual, don't even worry about the Atlantic, the two wild cards will come out of the Metro.
| | | | | | | | | | | | |
| --- | --- | --- | --- | --- | --- | --- | --- | --- | --- | --- | --- |
| Metropolitan Division | W | L | OT | PTS | ROW | GF | GA | HOME | ROAD | L10 | STREAK |
| New Jersey | 22 | 9 | 6 | 50 | 19 | 119 | 108 | 12-5-3 | 10-4-3 | 6-2-2 | L1 |
| Washington | 23 | 13 | 3 | 49 | 20 | 118 | 111 | 15-5-0 | 8-8-3 | 6-2-2 | W1 |
| Columbus | 22 | 14 | 3 | 47 | 18 | 113 | 109 | 14-6-0 | 8-8-3 | 4-4-2 | L2 |
| N.Y. Rangers | 20 | 13 | 5 | 45 | 18 | 120 | 107 | 15-6-3 | 5-7-2 | 5-2-3 | L1 |
| N.Y. Islanders | 20 | 14 | 4 | 44 | 18 | 135 | 133 | 12-3-3 | 8-11-1 | 4-5-1 | L1 |
| Carolina | 18 | 12 | 7 | 43 | 15 | 104 | 111 | 10-4-3 | 8-8-4 | 7-2-1 | W4 |
| Pittsburgh | 19 | 17 | 3 | 41 | 17 | 110 | 124 | 12-6-1 | 7-11-2 | 4-6-0 | L1 |
| Philadelphia | 16 | 14 | 8 | 40 | 16 | 106 | 109 | 8-7-4 | 8-7-4 | 6-3-1 | W1 |
The Rangers remain in fourth place, which is the first wild card. With a game in hand, they are a game away from third, but are starting to see the gap widen between themselves and the first place Devils, which ironically, is another team that beat Lundqvist in a shootout. All these shootout losses add up quick. As I said last blog, look at Pittsburgh. While I wouldn't count them out of it, with all their injuries, maybe it is just one of those seasons. However, for some writers, like Larry Brooks, to discredit what they've done these last few seasons, is just silly to me.
The Rangers have now concluded the 2017 part of the 2017-2018 season. Up next, the Winter Classic, on New Years Day, at one pm, against THE MUCH DREADED AND HEATED RIVALS, THE HOME TEAM BUFFALO SABRES!
As much as I would've liked to attend this game, work calls. I got a TV in my trailer, so I'm going in early, hoping to get everything done, and block out time for this game. If not, I got a DVR. I plan on reviewing this game, so check back here for that.
If you don't know already, I work outside, as I work in construction. It is fucking freezing, as you may be aware of. If you're going, have a good time and bundle up. Sitting on your ass for three hours, in the cold, only to see half the ice, is the sign of a true trooper. Even worse, you have to see the Goo Goo Dolls too!
As always, thanks for reading and….
"LET'S GO RANGERS"
5 days to my Vegas vacation, but who's counting?
Enjoy the Winter Classic.
Sean McCaffrey
BULLSMC@aol.com
@NYCTHEMIC on twitter
PS: Sorry if I have typos or terrible grammar in tonight's blog. In a Michelettiesque fashion, let me repeat myself here and say I am on no sleep, working crazy hours and my alarm clock owns my ass. Thanks for baring with me. LGR!