Are you guys back on an Eastern Time Zone schedule yet? More importantly, did you miss this blog? Ha!
Let me get this out of the way first – this will be a long one. You got a week to read it, as the Rangers don't return until next Thursday night, on February 1st. Can you believe it's almost February? There's a lot of stuff to discuss and I tried to hit it all. Can't wait to hear your feedback when you finish this latest manifesto.
I also want to thank all the loyal readers. This season has been the best for this site, hit/click wise. I really don't care about that shit too much, because if I did, I would break up these long rants/blogs into mini-blogs for more hits/clicks. However, to me, it's cool to see thousands reading one blog, than click-baiting or writing 100 word things for tens of thousands of hits. I've also found with this blog, that I have more of a personal connection to you, the reader, than other Ranger bloggers. That's just my opinion and I've enjoyed interacting with all of you, even my haters. (LUNDQUISS ROOLS!)
That all said, let's roll with the normal intro. There is a SHIT LOAD of stuff to dive into, and maybe I'll come out like Andy Dufresne at the end of it! (Yes, a Shawshank Redemption reference, which ironically, was another great thing about 1994.)
---
What's up everyone and welcome to another blog here on BlueCollarBlueShirts.com. It's been a week since I last posted an entry on this site. As discussed in the 1/20 Rangers vs Colorado Avalanche review, due to my work schedule, there was no way I could review these California games.
My original plan for today's blog was to discuss the West Coast road trip, talk about Alain Vigneault, defend Ron Duguay and chime in with some other Ranger news and opinions. However, as I sat down and cracked open my first New York Ranger Molson Canadian beer and poured my first shot of Wayne Gretzky's whisky, the game was changed due a report from Larry Brooks.
However, before getting into a one Mr. Larry Brooks, let me share with you my last few blogs, in case you missed them or forgot all about it! Here they are:
---
---
---
---
By the time you read this blog, the West Coast trip games will have been forgotten, due to the Larry Brooks story. (Trust me, I'm getting there, I'm just building to the climax! And wow, that sentence sounds like something Micheletti would say to his Swedish sex doll!) I'm not going to recap them in-depth, because by now, you know what happened.
I've been gone the whole week and in that time, the Rangers went 1-2 in California. Compounded with their injury-ravaged loss to Colorado, the Rangers finished their road-trip with a paltry 1-3 record. Instead of building on their two game win streak, after beating the Flyers & the Sabres, the Rangers looked like the team that got crushed by the Islanders & Penguins, when they came out of the bye week.
The Rangers, now at the All-Star break, finished 3-5, after the league mandated bye week. The crushing defeats, on the left side of the country, may have sealed the fate on the 2017-2018 season.
As I talked about in the Colorado blog, I wasn't going to review the California games. After all, these games don't end until after 1AM and I have a 4:30AM alarm clock every morning. However, while I didn't write about them, I watched every game this week. Due to my skill of mastering the art of the "power-nap", I was able to catch all 180 minutes in California. I thought each game had many similarities and at the same time, many differences.
The Rangers should've won the LA Kings game, but as usual, with a two goal lead in LA, Lundqvist blew it & lost the game. In the game against the Ducks, Lundqvist was terrible and was shellacked. He didn't even last a period. In the lone win against the Sharks, the Rangers won a free-for-all, but the goaltending, this time under ONDREJ THE GIANT, wasn't much better. Luckily for the Rangers, Sharks goalie, Aaron Dell, picked the right time to have an off-night too.
The Rangers, as we all know, are battling with their share of injuries and sickness. While they aren't as pillaged and raided, like their Hudson rivals, the NJ Devils; missing Michael Grabner, in the game against Colorado, may have cost the Rangers a point or two. Chris Kreider and Kevin Shattenkirk are gone for the forseeable future, if not for the rest of the season. Marc Staal is back, and while he's having a better season than he's had in the past, he isn't a difference maker for this club. Lastly, Kevin Hayes, who only played one game since the bye week, finally made his return, and was a factor in the win against the Sharks.
Another thing to keep note of is Henrik Lundqvist, who seems to be on schedule for his middle of the season dip. He's blowing leads all over the place and leads the league in most two goal blown leads. He also leads the league in most goals allowed in the first two minutes of the period. He's also given up the most amount of goals, on the first shot faced, this season. I know many of you live in the M$G bubble, but he's not even Top 10 in GAA & isn't sniffing the Vezina this season. That said, the loss against the Ducks was something out of the last three seasons and not the norm from this current season.
During the trip, and with several injuries, the Rangers gave Daniel Catenacci a crack. Just like Peter Holland, Catenacci was serviceable, but not someone who is going to swing the momentum of this team. When Hayes returned at the end of the trip, Cateneacci was already on a plane bound for Hartford.
If there were any bright spots about the California trip, and there weren't many, it was watching Vinni Lettieri. While he continues to come a cunt hair of amassing a ton of goals (He must've hit about 5 or 6 goal posts and crossbars on the road trip) he was the odd scratch in the win against the Sharks. Maybe the Rangers felt he's been playing a lot, especially since Lettieri, along with Tony DeMAGAngelo and Peter Holland, are going back to Hartford, during the week off for the All Star Game.
While it was nice to see Ryan McDonagh finally put a puck or two in the net, for the most part, these losses highlighted the flaws of this team. They have a hard time keeping possession of the puck. They continue to over-pass themselves out of shots/scoring opportunities, with Mats Zuccarello being the biggest offender. Brendan Smith is making the Wade Redden contract look good. The goalies face the most shots in the league. The PP, while it did score, gives the same amount of chances, as the Rangers get, to the the opposing team's PK. Countless times this season, you've seen the Scott Arniel PP, give up odd man rushes the other way.
The newest wrinkle in the systematic struggle of the Rangers, was the decimation of their penalty kill. Going into the West Coast trip, the Rangers were second in the league, when it came to the penalty kill. However, as they boarded their six hour flight back home, the Rangers saw themselves at 15th in the league. In a span of three games, they went from an elite PK to a middle of the pack PK. Sure, that speaks to the razor-thin parity of the league, but it also shows you that when the team loses a strength, all types of shit hits the fan. And that's real shit, and not the bullshit Ron Duguay had to put up with this week. (More on Doogie to come in this blog.)
Let's get to the bomb that was dropped on Rangerstown, like a Blueshirt Hiroshima meets Nagasaki, via the keyboard of Larry Brooks. This was posted on Friday afternoon. You can read the article from its original source by visiting: https://nypost.com/2018/01/26/mcdonagh-nash-zuccarello-rangers-are-ready-to-blow-it-up/
However, just so I have it here, for the purposes of posterity, here it is:
There is no ambivalence within management. The Blueshirts, we're told on good authority, view the Feb. 26 trade deadline as a unique opportunity to refresh the roster and replenish the organization, regardless of where the club stands in relation to a playoff spot.

The mandate, approved (if not established) in the owner's suite by Jim Dolan, is to build a Stanley Cup winner rather than to simply extend a seven-year playoff streak that is in jeopardy.

The objective is to add young NHL or NHL-ready players every bit as much as garnering additional selections in upcoming entry drafts. Teams in the market for rentals generally own picks in the overall 24-to-31 range. You can get a good player toward the bottom of the first round, but generally not a franchise guy even if Boston's David Pastrnak (25th in 2014) might prove a notable exception to the rule. The Rangers are neither plotting nor anticipating a deep dive to the league's nether regions from which it can take years to escape.

The Blueshirts should be able to cash in on Rick Nash, the most attractive rental property on the market. He is the perfect fit for a team seeking to fortify its top six and that wouldn't need him to be a first, or even second, goal-scoring option up front. Dallas, St. Louis and San Jose would appear good matches. Perhaps even Tampa Bay, with Ondrej Palat down for up to a couple of months. All have the ingredients to work a deal for No. 61, who is believed to have submitted his trade-approval list over the summer.

This, too, on Nash, for whom the return based on historical norms should be a legit youngster plus a first-rounder: The Blueshirts can assume up to 50 percent of No. 61's full-season, $7.8 million cap hit.

 

Flipping Michael Grabner — who could be signed as a free agent over the summer if the stars align — could bring back a first-rounder or a young roster player. Nick Holden might be worth a third or a fourth in a league where contenders have no choice other than to bulk up on the blue line. David Desharnais should be able to bring back a fourth or fifth.

Beyond the rentals, the Rangers are prepared to deal Ryan McDonagh and Mats Zuccarello, both of whom are 2019 free agent-eligible and neither of whom seems likely to get a long-term, pricey extension. The trade market for both would by definition be expanded at the draft when essentially every team is in play, but their immediate value might be higher now to a more limited field.

McDonagh is the blue chip here, by far the most attractive commodity on the virtual market. There is no question about it. The 28-year-old should flourish again in a more structured environment in which he would not be expected to carry the enormous burden that's been on his shoulders (and has weighed on him) for the last three years.

What would McDonagh be worth to asset-rich contenders such as Toronto, Boston and Tampa Bay, who would get the captain for two playoffs at the price of a one-and-a-quarter-season cap charge? My goodness, more than a decade ago, a 36-year-old Brian Leetch brought back a first-rounder, a second-rounder and two prospects.

General manager Jeff Gorton should drive a hard bargain here. He should think big and go big and if he is unable to attract a big enough return, he should walk away from the table and revisit the situation at the draft. Clearly, surrendering McDonagh at the deadline would create an immediately unfillable vacancy in the lineup. Everyone understands that. No one is giving away No. 27.

Zuccarello, who just hasn't had the same zip to his game or jump to his step throughout the year, is not in quite the same category as McDonagh, but he too has enhanced value to contenders as a two-for-one-and-a-quarter guy who should yield a significant return.

Now, the Norwegian has an important place in the Rangers room and hierarchy — as obviously do Nash and McDonagh — but the Blueshirts have been standing in place for a while as competitors accelerate past them. Management recognizes that stagnation is not the way to go. If a playoff berth is the cost of taking a step back in order to take two forward, so be it.

That is the new reality on Broadway after the Rangers' pretty, pretty, pretty good from 2011-12 through 2016-17 just wasn't quite good enough to win it all.
To me, in the Henrik Lundqvist era, and to add to that, in the Alain Vigneault era, the best chance either one of these men had at the Stanley Cup, was in the 2014-2015 season. You can check out the archives of this blog, located on the right hand of the site, for my blogs during that time.
During that season, I made it known, that I was 100% for trading Lundqvist and his cap hit. I did my research, saw the way the league was going and realized that you can't win a Cup when your goalie is your top cap hit. Of course, 90% of Rangerstown went crazy. I got all types of feedback from the Cult of Lundqvist, such as the following:
"YOO ARE A FAYKE FAN!"
YOO ARE A GAY FAGGET"
"LUNQUISS IS THE GRATEST PLAYER IN RANGIRS HISTORY"!
"THE RANGERS DON'T EVEN MAKE THE PLAYOFS IF THEY DON'T HAVE LUNDQIS!"
"IT IS NOT HENRAK'S FALT THAT THE TEEM IN FRONT OF HIM SUX."
"GO ROUT FOUR THE EYELANDERS!'
"YOU ARE A STOOPID, IT IS ALL MARK STAHL AND DERRICK STEPPAN'S FAULT!"
You get the idea. Yes, there were was a silent majority of people out there, who thought like me on this subject. However, akin to Trump voter, it's not popular to speak out against the Lord of the Swedes. It's easier to vote for Trump in the privacy of your own voter booth. It's not easy to wear a "MAKE AMERICA GREAT AGAIN" hat in public. Same thing here. I became the face of "YOO DON NO WUT U R EVEN TAKING ABOUT!", because I suggested a world where there is no number 30 in M$G.
At the time, I did get feedback from people who supported the cause. They weren't willing to say anything public, because they didn't want to deal with the Cult of Lundqvist, you know the people that didn't even see Mike Richter play, nevermind could tell you who Dave Kerr was.
For those not familiar with a member of the Cult of Lundqvist, try to picture a young person (usually male), in their late teens/early twenties. Now try to picture them with one less chromosome than a normal person. Now that you have that visual, here is an exclusive look at their brain make-up:
My original Lundqvist article was written in June of 2015. You may be aware – I have wrote countless words about him since! In that time, many of you have come around, and have seen the light. While I wasn't the first fan to openly speak out against Lundqvist, his contract and his piss-poor diva behavior, I was the most open. (My good buddy, Ricky Otazu, who works with many ex-NHLers & who broke the Torts firing, was the first to suggest to move on from Lundqvist.)
As time has moved on from that original article, everything I've said has been proven true. Not one Top 5 paid goalie has won a Cup in this cap era. Pittsburgh, winners of the last two Stanley Cups, moved on from Fleury and rode their hot hand rookie, Matt Murray. Tampa Bay, a Stanley Cup Finalist, moved on from Ben Bishop, and went younger & cheaper with Andrei Vasilevskiy. The result? Tampa is the best team in the league.
Conversely, Carey Price, set to become the highest paid goalie in the league next season, is having a terrible season and the Canadiens aren't even sniffing the playoffs.
As I've always preached, many times to deaf ears, you don't need a high paid goalie to win a Cup in this league. In today's NHL, you need strong depth up the middle and a strong defense. You can win a Cup with a rookie goalie these days.
And yes, I know a Sidney Crosby or a Jonathan Toews, doesn't grow on trees. Not everyone is going to have the defense of LA, Chicago or Pittsburgh either. However, those teams did suck for a while, before rebuilding.
Make no bones about it, the time for the Rangers to rebuild, was after Lundqvist blew that series against Tampa, back in 2015. That was the time to say goodbye and give Cam Talbot the reigns. (Save me the shit about this season, the Oilers have been awful as a whole this year. Plus, Talbot was phenomenal last season, and we are now three seasons removed from 33 wearing Rangers blue.)
I'm not here to blame Lundqvist for everything, but when you demand the most money in the league at your position, you're opening yourself up to criticism. His salary prevented the Rangers from even talking to Stralman, Hagelin and others. However, at the same time, I do place blame on Senile Sather. Dan Boyle? Emerson FUCKING Etem? Come on now.
Anyhoo, when you read the article from Brooks, he specifically names Michael Grabner, Ryan McDonagh, Rick Nash and Mats Zuccarello, as the players allegedly on their way out. Not mentioned in this article at all is Henrik Lundqvist.
Now, I know what you're saying, "Only Sean would take this Brooks article and do another diatribe about Lundqvist." Okay, maybe you're right, but please, hear me out, then judge!
How can Larry Brooks write an article like this and NOT mention Henrik Lundqvist? Is this FAKE NEWS from Larry Brooks, someone who has had his fair share of misses over the years? While I don't think Brooks would print something like this without concrete information, he doesn't name any sources. Additionally, there hasn't been one report or interview from James Dolan, Jeff Gorton, Alain Vigneault, any of the players named or any of the agents representing these players.
I'll tell you what, if I was a real reporter, my first call would be to the names mentioned above. Even if I get a standard "no comment", you have to make that phone call and follow up on the story. There's been nothing of the sort as of yet. I'm not calling Brooks a liar, or that he pulled this story out of thin air, I just thought it was poorly reported and incomplete.
I just don't get how Brooks doesn't examine Lundqvist in this situation. As I've been saying until I'm blue in the face, the Rangers will never embrace a full rebuild as long as Lundqvist and that terrible contract is still here. In fact, Bob McKenzie must agree with me, because he used my question for his segment on the NHL on NBC Hockey Show:
Here's my take, Lundqvist has to go, if the Rangers are to truly rebuild. After all, in a year's time, Lundqvist will be two months away from his 37th birthday. Are you telling me you're going to rebuild around a 37 year old goalie? Come on now!
On the other side of it, if you're Lundqvist, when is enough truly enough? If you remember my George Grimm, "We Did Everything But Win" book review, which you can read by clicking here , I always thought, that when it was said and done, you could do a sequel to that book, using Lundqvist as the main character of the story. Like Eddie Giacomin, it's time to see Lundqvist in a new jersey.
For Lundqvist, if you think this season is a wash, he's 37 by the time the playoffs roll around next year. How many more kicks at the can does he have left? Will his ego allow him to even extend his career by being a back-up?
Unlike when I first suggested trading Lundqvist in June of 2015, there aren't as many potential suitors. Dallas would've always been a great landing spot, but that's off the table now. A current playoff team that could use a good goalie would be St. Louis or Calgary. However, you're not going to get what you could've got back for Lundqvist, if you traded him three years ago.
Keep in mind, Lundqvist has a complete no move clause in his contract and would have to ok any potential trade.
On an aside, it always amazes me, how these basement chart boys, can sit here and tell you how everyone must go, and what you can get back for so and so, yet will never mention Lundqvist. Even resident crab person, Joe Fortunato, who shares the same Swedish sex doll as Joe Micheletti, has admitted he can't look at moving Lundqvist with an unbiased line of thinking.
Guys, really, I know it hurts sometimes, but if you root for the front of the jersey, and not the back, it's easier to look at players as stocks, whenever you try to come up with your winning portfolio scenario.
Here's a scary thought, do you know what would work out for every party? Lundqvist to the Devils. Think about it. IT WORKS FOR EVERYONE!
For the Rangers:
Lundqvist's bad cap hit comes off the books. They can start developing Igor Shestyorkin.
They pick up a few draft picks for their depleted system, from a team deep with picks.
They finally start a full rebuild.
Under the assumption AV stays, he's familiar with Corey Schneider, should Schneider come back the other way. He would be serviceable back-up to CZAR IGOR.
For the Devils:
Corey Schneider is good, but he's inconsistent. With all the injuries the Devils have RIGHT NOW, Lundqvist would be perfect for them.
Lundqvist, while not a winner in this league, is a veteran who could help a young locker room.
Ticket sales and attendance would sky rocket.
For the MSG Networks:
Ratings go up tremendously with Lundqvist on the Devils. That's more ad revenue.
For Ranger fans:
You can still watch Lundqvist locally on MSG Networks.
You can see Lundqvist for pennies on the dollar, at the Rock, instead of the terrible arena M$G has become.
For Lundqvist:
On a contender where they will only get better as he ages.
A team with an improving defense.
Still can live where he lives now in NYC.
Less taxes.
Stronger back-up goaltending.
I know, I know, I know, the Devils, blah blah blah. In fact, I can't think of one time the Rangers and Devils have even traded with each other. I know the Rangers have signed a lot of ex-Devils trash, like Bobby Holik or Scott Gomez, but I can't remember a trade. However, if you're gonna make one, may as well make it memorable. I don't see this ever happening, but just tell me how this doesn't work for both parties?
Oh and not for nothing, but the Islanders could use a starting goalie even more so than the Devils, but I'll leave that alone!
In conclusion on Lundqvist, I'm really interested in his take on this Brooks article. How can he stay here and not win? I think he knows it's time to hop on the saddle and move to the next town. There is no shame in being Ray Bourque.
I warned you this would be long!
If you are to believe Larry Brooks, then you have to think the season is over for the Rangers. Perhaps it's been done, but to me, I still think this team could've been a playoff team, without doing anything to harm their future.
I hate the idea of the rebuild, AT THIS POINT, of the season. I've said it a million times, I would've rebuilt during last summer. Going back, as you know, I would've kept Talbot.
I've always said, you can't half-way rebuild a house. That's what the Rangers did this season. However, it didn't really bite them in the ass, because there is so much parity and flaws in the league, that even while struggling, the Rangers have been a playoff team for the majority of the season. They erased an early slide, were one of the hottest teams in the NHL and then came down, back to Earth, right around the time the calendar flipped to 2018.
Here's a short list of why I'm against a rebuild, RIGHT NOW. Again, to be clear, I was for it last summer and I'm for it this summer. However, RIGHT NOW, at this point in the season, I'm 100% vehemently against it.  My list:
The Rangers had the audacity to raise season ticket prices and debuted tier pricing this season. Never at any point in history, has attending a Rangers game been more expensive. To compound matters, concession prices also went up. Dolan and co. are just dicking your wallet every time you walk into M$G. Even worse, the M$G experience is one of the worst in the league, from fire hazard rotundas, 1000 people deep bathroom lines and 20 minute wait beer lines. Don't forget all the shuttered concession stands and lack of walk-around beer vendors at M$G. M$G, hands down, is the most expensive hockey experience in the league. You're telling me, that NOW, with all the money collected, that it's time to admit what you should've done years ago?
Parity in the league. The Rangers are still in the playoff mix. One three-game win streak, and they are in second place in the division. With only Tampa as the real dominant team in the East (A team the Rangers beat in Tampa) you're telling me that now is the time to give up? Anything can happen in the playoffs. Plus, when I'm saying Lundqvist has been his best since 2013-2014, why would you throw this season away?
You have enough depth for next year. Listen, I don't see Chytil or Andersson, both currently with the Wolfpack, logging 10 games with NYR this season. The Rangers don't want to make them full-fledged rookies or fuck with the cap ramifications by doing so. Next season, these guys should be featured, along with Lettieri, Pionk, Shestyorkin and whoever else. Who knows, maybe Jimmy Vesey is the captain of this team in three years? However, for now, you have enough to contend and still have stuff in the pipeline.
The recent losses can be blamed on injuries. Yes, I know you can't use injuries as an excuse for losses, but you played this season with a hurt Shattenkirk and you're missing Kreider's presence. That's a lot of salary in the ER.
Lundqvist is still here. If you're not trading Lundqvist, trading everyone else is moot. Can't build around a 37 year old goalie.
Dolan's divorce. Are you telling me that Dolan, who never has given a shit about this team, wants to rebuild now? He probably wants this team to miss the playoffs so he doesn't have to give half the playoff revenue to his future ex-wife!
You're a trade away from having a crack at the Cup. Next season, the Rangers can start their full rebuild. However, right now, are you telling me they can't add to to this team, without giving up much to get better? Are you telling me there is no shot that they can make the playoffs?
Rick Nash and Michael Grabner want to be here. Grabner is worth a raise and Nash is worth a decrease in salary. I wouldn't mind both of them back, for reasonable contracts, next season.
Personally, while I'm a Yankee fan, it's hard for me to get really into baseball until it's shorts and flip-flop weather. Then I'm into it until the hoodies and beanies in October. I don't want these next few months to be a ride down the toilet. I want something to root for and I won't have the XFL HITMEN until 2020!
I work so many fucking hours. I work 7 days a week. I sleep four hours a night. You hear me bitch about my 4:30AM alarm clock in every blog. My eyes have bags heavier than Rosie Odonnell's skin tags. Even when the team gets blown out, prior to that, all day long, I have fun looking forward to the game. I have fun doing these stupid little blogs. I have fun talking shit with you guys. This is what I look forward to and with the Rangers throwing in the towel, instead of throwing Micheletti over the bridge, it's SAD!
Listen, I have fun doing the Delorean blogs, via the old DVDs that reader Mike Jurkowski sends me, but I really don't want to be doing that in April.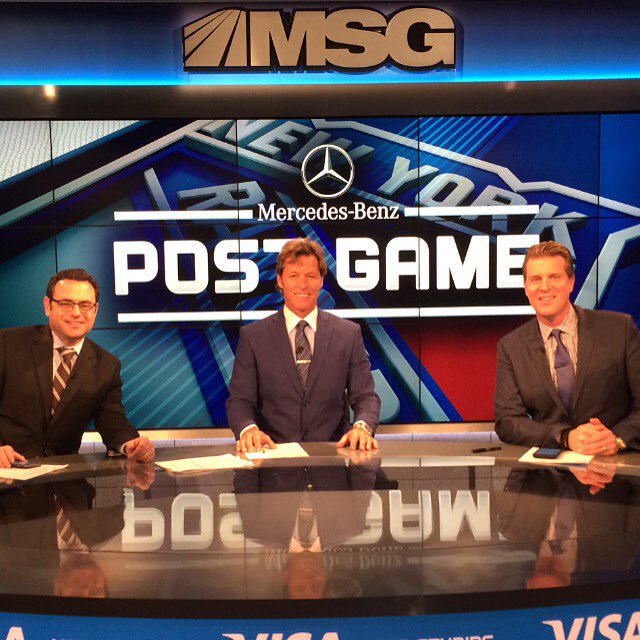 Did you hear about the drama and the liberal fake outrage for Ron Duguay during the West Coast trip? In case you're not familiar, Ron Duguay recapped the Rangers 4-2 loss, to the LA Kings, on Sunday night. Here is what Duguay said, which sparked the snowflakes to shed their crocodile tears:
MSG's Ron Duguay on the officiating in the Rangers' loss to the Kings:

"I think these guys would have been better off doing women's hockey today, because the way they did the officiating, they were kind of soft."

— Greg Wyshynski (@wyshynski) January 22, 2018
Here's the clip:
— Woj (@BryanWojtanik) January 22, 2018

After the commercial, Ron Duguay expanded on his thoughts, knowing the liberal backlash was coming:
Here is Ron Duguay's clarification on that "reffing a women's game" line earlier (forgive the radiator hissing) pic.twitter.com/CAXwAQUBB1

— Greg Wyshynski (@wyshynski) January 22, 2018
Oh and for the record, Greg Wyshynski, the man so offended by Ron Duguay's comments, was at RAW 25 the next night at the Barclay Center. Ironically enough, so was Joe Micheletti:
During Raw, the WWE displayed some of their female wrestlers over the years. Greg, forgetting that he was a staunch member of the women's rights, just 24 hours previous, immediately tweeted to podcast host, Conrad Thompson, "HOW ROLL TIDE DO THESE WOMEN LOOK?" So one night, Wyshynski is utterly appalled with Duguay, so appalled, that the story even got picked up by USA TODAY, (You can read it here: https://www.usatoday.com/story/sports/nhl/rangers/2018/01/22/rangers-analyst-ron-duguay-suggests-officials-womens-hockey/1053220001/ ) and the next day, he is salivating over blondes with tit jobs. Fucking hypocrite.
For what it's worth, Duguay tweeted out the following: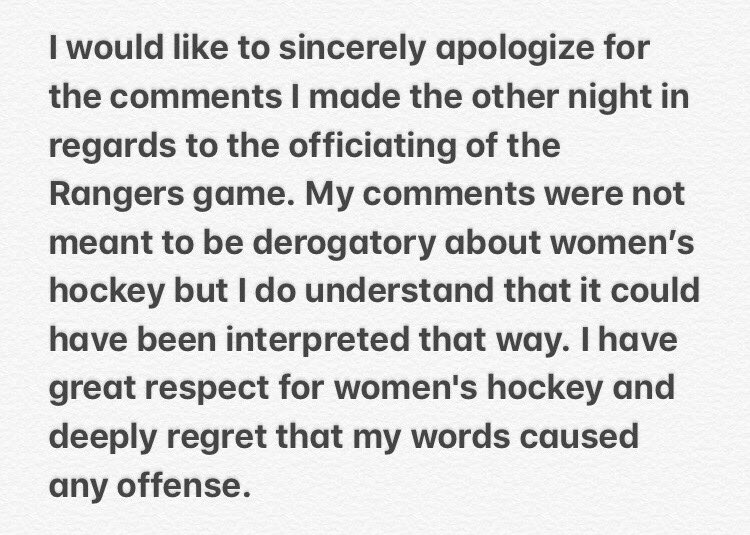 I don't want to give this story more attention that it already has gotten. However, what made me sick, was that the National Womens Hockey League, decided to vilify Duguay too. I'm sure at the end of the day, Doogie will be forced to drop a puck at one of their games, in front of a 100 people, as a token of good measure.
Real quick, let's look at Ron Duguay, in his broadcasting career:
Does more charity work than anyone not named Adam Graves.
Works with children, of all sexes, by donating his time through multiple charities.
Big part of the Garden of Dreams.
Takes a picture with every fan and signs for every fan as well. If you have a bad Ron Duguay interaction, you're lying.
Is very blunt and open in his work. He doesn't sugar coat anything.
In closing on Doogie, I found the fake outrage very disrespectful. In all the articles and tweets I saw from detractors of Doogie, not one mentioned all the charity work Duguay does, which is messed up to me. I really respect these athletes, who donate all their time to helping people. I'm sorry, if you're one of these people attacking Duguay, especially after he explained himself, I sentence you to a rubber room with Joe Micheletti commentary on a 24/7 loop!
I don't know if Duguay reads these manifestos, but if he does, thank you for all your work and let it be known, that not only me, but all of Rangerstown got your back.
Oh, and the fucked up thing about this? Duguay will get raked over the coals for this (Hi @NYRKELSMADS) but Isiah Thomas, the same guy with sexual harassment lawsuits, runs the WNBA Liberty. Go figure.
Almost at the end here, I promise!
Of course, whenever a team is doing bad, the head coach is immediately on the hot seat. #FIREAV is a popular hashtag among Rangerstown, but to me, I'm starting the #EXTENDAV movement.
For everyone who wants AV out, right now, who are you replacing him with? Lindy Ruff, the same guy who's defense is abysmal and brought you Adam Cracknell? Or how about Scott Arniel, the architect behind the non-existent powerplay? Face it, for NOW, AV is the best coach for the team.
Of note, in the Brooks article, there wasn't a peep about who was masterminding this rebuild. Is it GM Jeff Gorton? If so, that means he failed these last few seasons under his watch. Is it Senile Sather, who is the longest tenured GM in NYC sports history to never win? Is it AV, the coach many fans want out? I have to say, if AV was outta here, you think that would be mentioned by Brooks. Then again, his whole article could be fake news and click bait bullshit. Who knows?
What I know is this – Alain Vigneault is one of the greatest coaches in New York Rangers history. Not too many NYR coaches have a Stanley Cup appearance, an ECF appearance and a Presidents' Trophy under their resume. You can't blame him for everything. While I get on him for no Grabner on the PP, how can you blame him when Lundqvist blows leads or when his assistant coaches special teams don't deliver?
Look at the black and white now:
AV has the third most wins in NYR history, with 217. To be fair, coaches from previous eras didn't have 82 game seasons.
AV's point percentage is .618, good for second place all time in NYR history. That's a telling stat.
AV is third all time for playoff wins, with 31 wins. He's four away from having first all time.
If AV finishes the season, he will be third all time for games coached.
Face it, four cups in 90+ years isn't a blueprint for success, but in his short tenure here, AV is a Top 5 coach in NY Ranger history. In no particular order, I would add Lester Patrick, John Tortorella, Frank Boucher and Emile Francis to that list.  Honorable mention goes to Mike Keenan, who while he did have his fingerprints on things, was fortunate to have Mark Messier lead. You still can't take 1994 away from Keenan, and he did what Roger Neilson & Ron Smith couldn't do – WIN A CUP.
Want a recent example of AV's greatness? He staples Miller to the bench after a bad performance against the Ducks. In the next game, against the Sharks, Miller has one of his best games of the season. #EXTENDAV #CHEWGUM
Well that was a fucking doozy today, wasn't it?
I'll give you some time to recover after this manifesto and try to get something up after the All Star Game and before the return game with Toronto. If there is a breaking trade or if Lundqvist fumes about selling, I'll quickly be back.
While a sell job may be imminent, all we can do is cross our fingers, hope for lightening in a bottle and hope this team finds a way. It's too early to talk about Spring Training.
See you on the next one.
Until then, as always, thanks for reading (I really mean that) and….
"LET'S GO RANGERS!"
Sean McCaffrey
BULLSMC@aol.com
@NYCTHEMIC on the tweeter machine