What's up everyone and welcome to another blog here on BlueCollarBlueShirts.com. Tonight, the Rangers were beaten by the Minnesota Wild, 4-1, at M$G. For the Rangers, they are now on a six game losing streak, which is the longest losing streak of the Alain Vigneault era. Ironically enough, it was these same Wild, from Minnesota, that started this Rangers losing streak, over a week ago, when they beat the Rangers 3-2, on February 13th.
I've already given you 13,000 words combined in the past 48 hours. I'm now doing my third blog in as many nights, and I can't lie, I'm a little shot. It's not like I give you 500 words, post a few charts and call it a day! Making things more tedious is that my real life job is now back to 7 days a week. I knew that rare three day weekend was too good to be true. To be clear, I can't complain about making money, it's just that after working 7 days a week for so long, you just need a break. Eh, I'll sleep when I'm dead.
So with 13,000 words already written, back on a 7 days a week work schedule and still having my normal 4:30am alarm clock, I might make history tonight – this might be shortest BCBS blog yet. Let's see where I wind up when I'm done with this puppy.
There's been so much going on in the land of Rangerstown. In case you missed my non-award winning blogs on all the recent events and my game reviews, you can check them out below:
---
---
---
---
---
---
As stated in yesterday's blog, you can't really analyze these games anymore. What you're looking for now is how certain players adapt to different situations. There are tons of variables in any given hockey game, and during this 22 game preview of the 2018-2019 preseason, AV & the Rangers will try to get a head start on next year's quest for the Cup.
Tonight, the Rangers got thumped, to the tune of 4-1, by the Wild. However, that's not the main story. No, to me, the main story was John Giannone's interview with Jeff Gorton. If you didn't see the interview, you can watch it here:
I have the utmost respect for John Giannone, but keep in mind, this is an M$G Networks interview, by an M$G Networks employee. This isn't Barbara Walters. This is a fluff interview and really, I wouldn't be shocked to hear that Gorton had the questions in advance. If you really want to see a Jeff Gorton interview done right, my fee is a case of Molson Canadien and an unused Glen Sather cigar!
Two things stood out the most from this interview. Here they are:
Gorton, while being asked about the Grabner/Devils trade:
"I didn't really know that there was never a deal between the two teams, to be honest with you, but for us, we are trying to get the best deal we could. We had a number of things on the table with Michael and Jersey presented itself and it's someone in Rykov that we really like him, it's a good match. We know him really well from St. Petersburg and having a player there, really comfortable with him and where it's going. It's just worked out that it's Jersey and the first had to come sometime and it did yesterday."
Really? You didn't know that there was never a trade between the Rangers and Devils? Shit, I just wrote about that a month ago. This is why people like Bill Cook and Frank Boucher are ignored by the organization. The people in charge don't know anything about the history. The only thing the dumbass owner knows is that Glen Sather won Stanley Cups in the 80's.
Even worse, this interview wasn't exactly something out of the Woodward and Bernstein school of journalism. This isn't even Peter Parker. This was a pure lesbian interview, as it was a softball game on the M$G networks. (And, yes, for the snowflakes, I know men play softball too. It's a joke. Try laughing instead of being offended.)
Here we are, on the Rangers home network and in a cupcake interview, as my suits are pressed harder than the questions Giannone asked tonight, and here's the General Manager telling us he wasn't aware about a piece of the Rangers/Devils rivalry. What's next, James Dolan asking who Potvin is?
The biggest Rangers news of the night was how Gorton answered Giannone's question of , "Is anyone untouchable?"
Here's Gorton:
"I think everyone is on the table. When you are doing what we are doing it takes a lot of work and a lot of effort and we are going to have to bring in a lot of young players that can play in the game today and we have to look at our best assets and best players. That might hit home with some guys that have been here and had success, we have a lot of guys in that room that have played a lot of playoff games for us. We came close but weren't able to finish it off. It's tough on them right now and we are going through some things but we all believe that this is the right thing to do and the course we have to take and that is why we are doing it."
If you recall, just two weeks ago, Gorton unquestionably made it clear that Lundqvist was part of the upcoming rebuild. Now, when Giannone asked him if anyone was untouchable, Gorton did not name Lundqvist.
I get it, Giannone is an M$G employee, but in a real interview, the follow-up question is, "So are you saying Lundqvist is now on the table for a trade?"
Listen – this interview was good and all, but it was with its filters and it's not like Giannone was going to make Gorton sweat.
I know I wasn't the only person who noticed that Gorton didn't give Lundqvist a pass here, as he did two weeks ago. He said everyone was open for business. Of course, no one in the media will follow up on this, because after all, if the Rangers aren't going to do their job this season, why should the reporters who cover them?
The bottom line is that we will know when Lundqvist is open for a trade, because he will have to waive his NMC. The only team that really makes sense right now, is St. Louis. I just hope this trade eventually happens, because having this egomaniac here, for three more years, doesn't do the organization any favors at all.
Also of note, was how Gorton handled the Nash question:
"I would not want to get into speculation about an individual player, he is not playing and we just think it's the right thing to do for the player and the organization, to take him out of this game and last night and go from there. There is nothing imminent and we continue to do our work and find our deals."
I think we all knew this already. Even if Gorton had a deal for Nash in place, the stakes may have changed, and in favor of the Rangers, as a monster trade was made official tonight.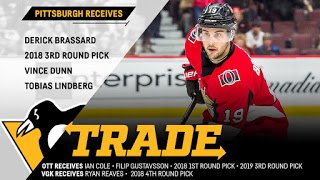 From the Pittsburgh Penguins:
The Pittsburgh Penguins have acquired forward Derick Brassard in a three-team trade with the Ottawa Senators and Vegas Golden Knights, it was announced today by executive vice president and general manager Jim Rutherford.

The Penguins also received a 2018 third-round draft pick and prospect forward Vincent Dunn from the Senators; and the Pens also received prospect forward Tobias Lindberg from the Golden Knights.

Pittsburgh traded defenseman Ian Cole, goalie Filip Gustavsson, a 2018 first-round draft pick and a 2019 third-round selection to the Senators.

Pittsburgh sent forward Ryan Reaves and a 2018 fourth-round draft pick previously acquired from Vancouver to the Golden Knights. Pittsburgh also received prospect forward Tobias Lindberg from Vegas. The Golden Knights are retaining 40% of Brassard's contract over the next two seasons.

Brassard is signed through the 2018-19 season, and he carries an average annual value of $5 million.

Brassard, 30, was Ottawa's fifth-leading scorer this year with 38 points (18G-20A) in 58 games. He is looking to reach 40-plus points for the sixth time in 10 seasons, and exceed 20 goals for the second time. In his last nine games as a Senator before the trade, Brassard had six goals, four assists and 10 points.

Brassard has averaged 19 goals and 48 points over the past five seasons (including this one factored in). Three years ago he had a career-best 27 goals with the New York Rangers.

A 6-foot-1, 202-pound native of Hull, Quebec, Brassard has 55 points (22G-33A) in 78 career postseason contests. He has scored 19 of his 22 playoff goals at even strength. Brassard has double-digit points in four of his five playoff seasons.

Brassard has faced off against the Penguins in each of the last four playoff years, scoring nine goals and 15 points in 24 postseason games against the Penguins.

Brassard was originally a first-round (6th overall) draft pick by the Columbus Blue Jackets in 2006. He has 420 career points (159G-261A) in 702 career regular-season games with Ottawa, the NY Rangers and Columbus.

Brassard has always fared well in Pittsburgh. In 24 career games at PPG Paints Arena, he has seven goals and 17 points (regular season and playoffs).

Lindberg, 22, has eight goals, 10 assists, 18 points and a plus-8 in 48 AHL games with the Chicago Wolves this year. Originally drafted by the Senators in the fourth round (102nd overall) in the 2013 NHL Draft, Lindberg has 25 goals, 43 assists and 68 points with a plus-26 in 148 career AHL contests with Chicago, Binghamton and Toronto. Lindberg stands 6-foot-3, 215 pounds and is a native of Stockholm, Sweden.

Dunn, 22, has split his third professional season between Belleville of the AHL and Brampton of the ECHL. The 6-foot, 190-pound Dunn was chosen by the Senators in the fifth round (138th overall) in the 2013 NHL Draft.
The big story, from a Rangers fan eye, is that Derrick Brassard is now reunited with Carl Hagelin. Two thirds of Team BFF are back together. I mean, if Zuccarello is to be dealt, he has to be asking Gorton to go to Pittsburgh, right?
Couple of interesting notes from the trade:
— Brassard might be going to Pittsburgh's FOURTH line. Talk about a dominant fourth line.
— Vegas is taking 40% of Brassard's cap hit. The reason may be two-fold. It could be a thank you for Pittsburgh hand delivering Marc-Andre Fleury to them. It also could be to keep Brassard out of the West. (Brassard was also rumored to be on Winnipeg's radar.)
— As Ranger fans, we hate Pittsburgh. That said, personally, I respect the smart and the great. I just gotta tip my hat to Pittsburgh GM, Jim Rutherford. Yes, Crosby is there, but there was a long period of time, between 2009 and 2015, where the team couldn't win. Now he has his team set up for their third Cup in a row, which is mighty impressive in the salary cap era.
— With the return Brassard got, you have to figure Rick Nash is guaranteed to give you a first round pick and a prospect.
What also made me laugh, was Sam Rosen tonight, saying, "Eventually Sidney Crosby will just keep getting older." Crosby is younger and a better hockey player than Lundqvist, but that doesn't stop Sam & Joe from rubbing Hank's older and grayer balls every game.
The Pittsburgh Penguins are the New York Yankees, and as Ranger fans, we gotta just gotta pull a Pedro and admit that they are our daddies. They do everything right, whereas the Rangers do everything wrong.
And one last thing on this trade.  I heard some fans saying Pittsburgh is mortgaging their future on this trade. WHAT? The Penguins have won the last two Cups. What future? It's about the now. As long as Crosby and Malkin are still in their prime, they have a shot at the Cup every year. You play to win Cups, not win drafts.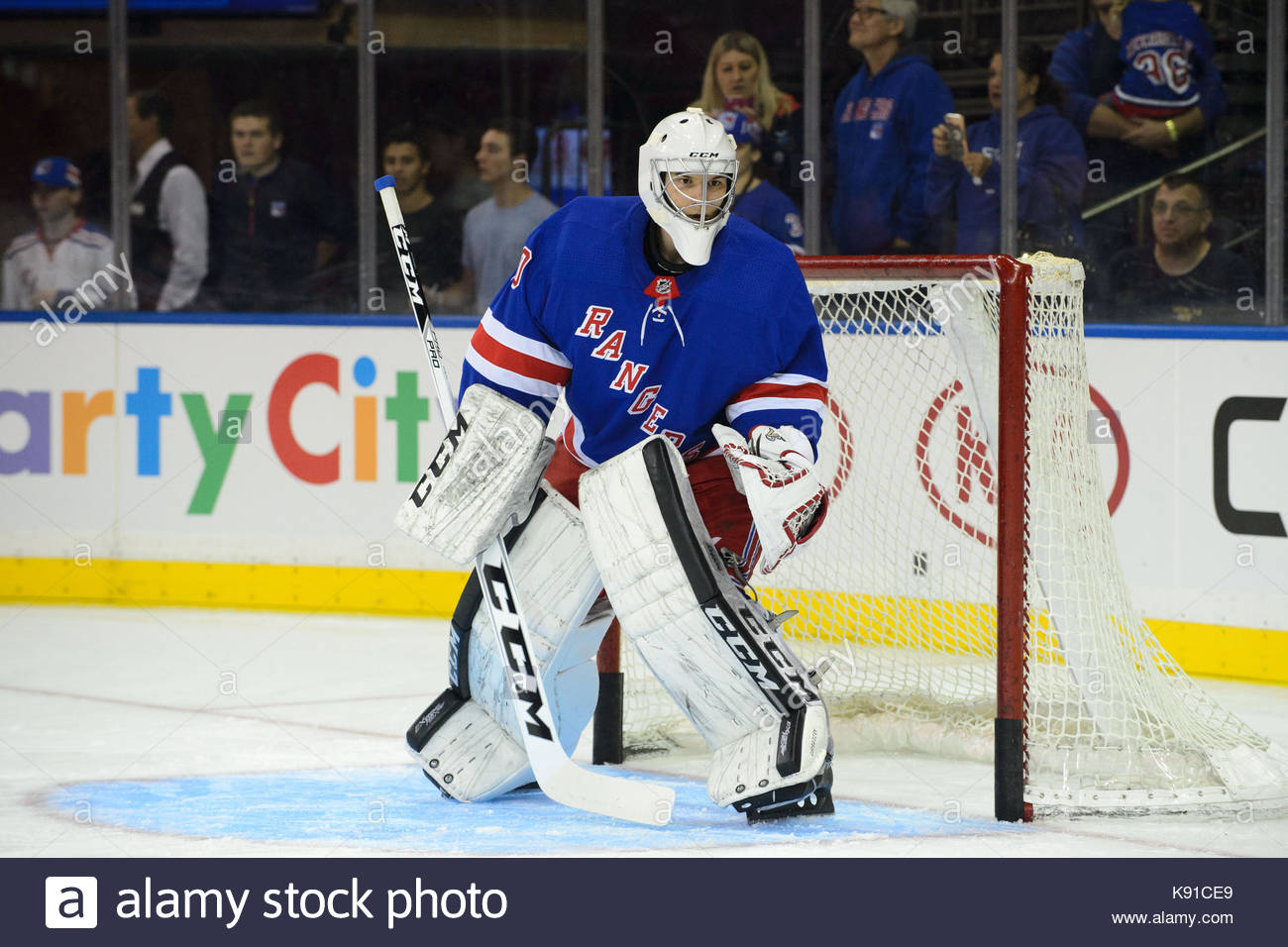 Let's get to tonight's loss. As usual, the ESPN.com box score:
1st Period Summary

Time
Team
Scoring Detail
MIN
NYR
16:06

Mikael Granlund (16)
Assist: Eric Staal
1
0
18:43

Eric Staal (28)
Assists: Zach Parise, Mikael Granlund
2
0
Time
Team
Penalty Detail
No penalties this period

2nd Period Summary

Time
Team
Scoring Detail
MIN
NYR
2:41

Jesper Fast (9)
Assist: J.T. Miller
2
1
Time
Team
Penalty Detail
19:21

Rob O'Gara: 2 Minutes for Hooking Charlie Coyle

3rd Period Summary

Time
Team
Scoring Detail
MIN
NYR
0:52

Eric Staal (28) (Power Play)
Assists: Mikael Granlund, Ryan Suter
3
1
9:22

Mikael Granlund (17)
Assists: Eric Staal, Jason Zucker
4
1
Time
Team
Penalty Detail
5:06

Jared Spurgeon: 2 Minutes for Delaying the game Jesper Fast
Goaltending Summary
Wild

Minnesota Goaltending

Player
SA
GA
Saves
SV%
TOI
PIM
D. Dubnyk
23
1
22
.957
60:00
0

Rangers

New York Goaltending

Player
SA
GA
Saves
SV%
TOI
PIM
A. Georgiev
37
4
33
.892
60:00
0
This was another tough game to watch, as for the second game in a row, the Rangers only mustered up one goal in 60 minutes. Obviously with Grabner now gone and Nash with one foot out the door, you have a better shot of a Blue Shirt Banter chart nerd scoring at a bar, than the Rangers scoring a goal.
Oh, and for the record, I really don't care about the Blue Shirt Banter people, nor rarely read their stuff. I'm really only aware of the stuff people send to me. I guess that site has irked many people recently for three reasons:
— Non stop Henrik Lundqvist love
— Pavel Buchnevich being heralded as the Russian Wayne Gretzky
— The never ending amount of charts, venn diagraphs and distorted statistics made by the use of an abacus and T-Square.
Speaking of Buchnevich, he was a beaut tonight, going wide with 99% of his shots. The only net he hit was the net above the glass. People seem to overrate this kid as a future elite player. While I don't think he's bad, he's as flawed as anyone else on this team. When you look at why the Rangers can't score, he's part of it. I mean in tonight's game, he turned over the puck on a PP, blew a three on two odd-man rush, and shot wide when left alone in front of Wild goalie, Devan Dubnyk.
That said, Buch is in his second year and has missed some time in his first two seasons. I'm sure he'll get better with time, but I think Ranger fans overrate him, which Ranger fans do all the time with their own players.
On the ice, the big story was Chris Kreider returning. He made his impact in the first period, especially during one play where he turned on the jets and used some physicality to get to a loose puck. However, after the first period, whether it's coming back from the blood clot or what, just like everyone else on the team, he was ghost.
I felt this was a similar game to the game from two weeks ago, where the Wild beat the Rangers. It was a stark reminder that the Rangers completely dropped the ball on Eric Staal. I feel like I say that a lot. Again, NYR made him a third line winger, and now, at his natural position as a first line center, Staal is lighting up the league. Imagine where the Rangers would've been this season, or even in the series against Ottawa from last year, with this Eric Staal? I'm not saying they win the Cup, but they also aren't blowing shit up either.
Staal, not good enough for the Rangers, finished with two goals and two assists tonight. Brother Marc, making much more money than brother Eric, finished with a -1 and a turnover.
Adding more fuel to the Jeff Gorton interview fire, was that Alexandar Georgiev got the start tonight. Before the game, AV said that Lundqvist needed more practice with goalie coach, Benoit Allaire. Are you fucking kidding me? There are 20 more games left, what is he practicing for, the IIHF Worlds? Furthermore, the highest paid goalie in the league shouldn't need extensive one-on-one practice time at this point in the season. Then again, this kinda crap is why the Rangers are in the spot they are.
I didn't do my homework here, but has there ever been another Rangers rookie goalie, whose first two games were on a back-to-back? There has to be someone.
I'm all for Georgiev playing the rest of the way, but isn't it funny how with the worst Rangers defense all year, Lundqvist is nowhere to be found? I hope he is traded.
On Georgiev, he made 33 saves on 37 shots. I would hands down put two goals on the defense. The other two, I would've killed Hank for, but then again, Georgiev isn't making $8.5M a year, screaming at his teammates or full of all the silly quotes either.
The second goal, was an Eric Staal deflection, a shot that is stopped half the time. Didn't go King George's way. The fourth and final goal, saw John Gilmour overplay the passer and allowed Mikael Granlund to walk right into the slot and bury one. It's a shot that some goalies stop.
I woudn't say anything was soft tonight, but I know I would've blamed the highest paid goalie in the league for those two. Expectations are different for a rookie making the league minimum. That is why I thought Georgie played well, especially considering he's on the second game of a back-to-back and has the worst defense of the season in front of him.
Eddie Giacomin did an interview in between periods tonight, with the score already at 2-0,  Minnesota. Due to two late goals, the Rangers already looked beat by the time the horn went off to signal the end of the first period. Granlund scored on a defensive breakdown, and beat Georgie on a two on one. Staal would later get his deflection goal.
Giacomin was there as part of the Jean Ratelle night dress rehearsal. I wonder how much Giacomin is getting paid for the weekend? After all, there's this, from "Losing the Edge" by Barry Meisel:
In the second period,  at the 2:41 mark, the Rangers tried to make a game out of it, as Jesper Fast took a perfect pass from JT Miller and easily squeezed it by the right side of Devan Dubnyk. 2-1 bad guys. This would be the only NYR goal of the game.
Like I've been saying, I can't really analyze these games or do the blame game. This is preseason hockey in February. I'm all for the young kids, (not in a Jared Fogel type of way) so to sit here and point out every mistake, it's a futile exercise. The team isn't trying to compete. This is supposed to be learning experience.
After all, we're probably two weeks away from getting Chytil and Andersson up here.  You just hope to see them play well, but this is all about seeing what you have, trying new things and seeing what works. I'm all for it, but at the same time, Henrik Lundqvist and Marc Staal have to go to make this all work.
Of mention, making matters worse with the results on the ice, is Steve Valiquette and Ron Duguay. Both are always so passionate about what they enjoy. Duguay loves this franchise. He roots for a winner and wants to see these guys win. Vally loves the goalies & all his Jetson's advanced stats. You can see it's tough for both of these guys, to put on a smile, knowing that they will be off of TV in five weeks.
Both Vally and Duguay, were hopeful that a turnaround would come, with Vally being more realistic of what the team was. As tough as it is for us, you can see they are disappointed as well. Hopefully Vally continues to work on his Al Trautwig material, as that may be the only highlight of these broadcasts, in the weeks to come.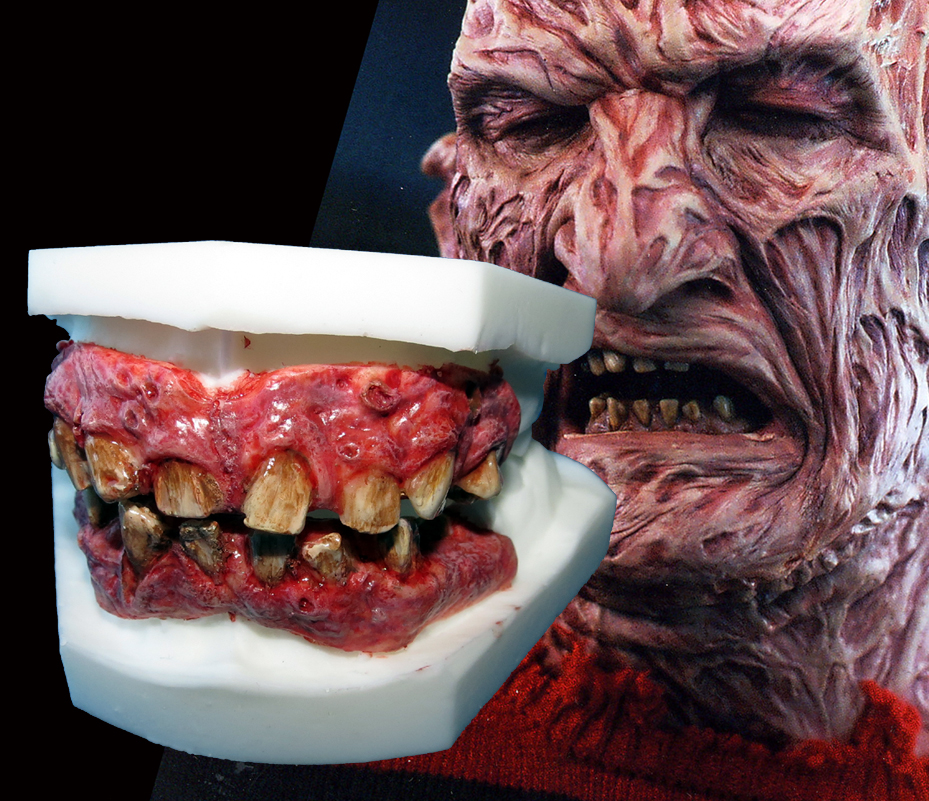 This game was played in front of such a quiet crowd, that you could hear AV smack his lips and throw his gum wrappers on the floor. Georgiev played his best hockey in the second period and the score stayed at 2-1 after 40 minutes.
At the end of the second period, Rob O'Gara took a penalty. Minnesota made the Rangers pay for it in the third period, as Eric Staal scored his 29th goal of the season. 3-1 bad guys. At around the 10 minute mark of the third, Granlund would walk right in and make it 4-1.
While the defense isn't particularly good, what frustrates me the most are the veterans. Zibanejad. Zuccarello. Desharnais. Where are these guys? I'd say the same thing about Kreider, but this is his first game back. It just goes all back to this team being consistently inconsistent and that's a recipe for a losing season.
4-1, your final. Another SAD night at the Garden.
Up next: Jean Ratelle night, on Sunday, as the Rangers take on the Wings at 7:30pm. Too bad this wasn't a day game, as this game goes up against the return of "The Walking Dead", "Homeland" and a WWE PPV.
I'm going to the game on Sunday, and my mindset is to enjoy the history and watch the kids grow. I'm sure Lundqvist plays on this night, which I'm hoping he doesn't. I want to see Alexandar the Great play live!
As far as a blog on Sunday, due to my work schedule, unless I get a hotel in NYC (I do this from time to time, since I can get a hotel for cheap and I can get an extra 90 minutes of sleep before work) it might not get posted until Monday afternoon. We'll see.
I fully expect Rick Nash to be traded from the time I press the "Publish" button until the game on Sunday night. If that happens, maybe I'll do just a quick update. What a busy time to be a Rangers fan right now.
Enjoy Ratelle night.
As always, "Let's Go Rangers!"
Sean McCaffrey
BULLSMC@aol.com
@NYCTHEMIC
PS: Only 4300 words! It's a start!