BREAKING NEWS: As I was putting the finishing touches on this blog, Michael Grabner was traded to the Devils. My thoughts on the Grabner trade have been added at the end of this blog.
What's up everyone and welcome to another blog here on BlueCollarBlueShirts.com. It's time for these blogs to take a different tone, and really, the whole fanbase needs to start watching these games differently. This season is a lost cause. Instead of tracking standings and paying attention to win/loss records, it's time to start focusing on player development.
On Thursday night, in the Poutine Palace of Montreal, the Rangers were beaten by their Original 6 rivals, the Montreal Canadians, by a score of 3-1. For the Rangers, they waved the white flag before the game even started, as they scratched Rick Nash and Michael Grabner from the line-up. These healthy scratches were an admission that both players will be traded imminently.
For those who haven't figured it out, the Rangers scratched both men because they didn't want to take any chances of these players getting injured, thus negating/preventing any potential trade. I'm telling you, if Rick Nash really wanted to remain a Ranger, he would've feigned a concussion two weeks ago!
I did a blog last night, talking all the news and rumors swirling about in Rangerstown. You can check that blog out and my most recent blogs, by visiting these links:
---
---
---
---
---
Obviously, the big news before the game was keeping Grabner & Nash out of the line-up. However, the M$G Networks dropped the ball and omitted part of the story. Rick Nash left Montreal before this game even started. I assume he went back to NY, where he's either getting his affairs in order or waiting by the phone.  Check this tweet out, from reader Sean Manley aka @Wartles on the twitter:
Sean, Nash was placed in a cab for Trudeau airport at 2:00pm. I was at their hotel (Ritz Carlton). Bellman and concierge filled me in.

— Sean Manley (@Wartles) February 22, 2018
Nothing against Mr. Wartles, but I get news and notes sent to me all the time. I double-checked his story and it rung true. Nash wasn't even in Montreal during this game. Again, I can't confirm that he went to New York, but I assume he went home. Maybe he had to get a jump start on cleaning out his locker.
As talked about in my last blog, Henrik Lundqvist, who's been shellacked in Montreal, time after time, was benched for this game. Making his debut, among many other Rangers, was Alexander Georgiev. Unfortunately without Nash or Grabner in the line-up, the Rangers scoring and puck possession was poo-poo. Who knows what would've happened if they played? Instead of his first W, Georgiev went on to set the record for most saves by a Ranger in his NHL debut.
With Nash and Grabner seemingly having played their last game as a Ranger, at least for this season, the Rangers had to do some roster shuffling. Back in the line-up was Paul Carey. Called back up from Hartford was Vinni Lettieri. The Rangers defense now features faces that would get a Catholic priest excited. In fact, here was the line-up in front of Georgiev tonight:
Here's how the Rangers are warming up without Nash and Grabner:

Vesey-Zibanejad-Buchnevich
Miller-Hayes-Zuccarello
Carey-Desharnais-Fast
McLeod-Holland-Lettieri

Skjei-Pionk
Staal-DeAngelo
O'Gara-Gilmour

Georgiev

— Justin Tasch (@J_Tasch) February 23, 2018
As you can see, the Rangers aren't exactly the 1927 Yankees here. I don't even think they could pull off a 2017 Yankees run either.
Last night's blog was a way for me to limit the length of these intros, so I'll keep it short here. I can't say it will be tough to see Nash and Grabner go, but it's not something I'm happy about either. I get the business reasons for it. I just don't like how Ranger fans assume that both of these players are automatically coming back in the off-season. I will concede, I could see Nash coming back. I just don't see Grabner coming back.
In the case of Michael Grabner, he might be able to earn the most amount of money in his career, in this upcoming off-season. This is it. It's his time. It's time to cash in. If he has a monster playoffs, he could raise his potential earnings even more. Unlike Rick Nash, he's never had the huge contract. While he won't make anywhere near what Nash made, Grabner has himself in a good spot to be set for life.
I just love how some Ranger fans expect these guys to take a hometown discount in the off-season, but don't apply that same logic to Lundqvist. It's truly baffling.
I think once Grabner is traded, that's it. Wherever he lands, he should do well. Someone will overpay him and really, it shouldn't be the Rangers.
When it comes to Rick Nash, I could see him coming back for several reasons. For starters, he is set for life. He's been a Fat Cat Ranger ever since he got here. He could retire yesterday and his kids would be set for life. For him, unlike Grabner, he does have roots here. His kids do go to school in NY. He's been living here for nearly 6 years. He likes it here. For him, the money has been made. Now family comes before money (a concept Lundqvist never learned) so Nash might take a paycut to play in a city he now considers home.
And really, what Ranger fan wouldn't sign up for having Nash for 3 more seasons, at $3M-$4M per season? While he's not the most vocal leader, he could very well be the next captain of the Rangers. After all, if Ryan McDonagh gets traded, wouldn't a returning Nash be the perfect candidate as captain of the Rangers? After all, you hear a ton of the young guys always praising Nash.
Next season, the Rangers will be younger than the visitors at the Neverland Ranch. It would be nice to have a responsible adult show them the ropes. I mean who are your veterans next year? Kevin Hayes? What's he going to teach them to do, take bong hits and rip lines? (I'm totally joking and not accusing Hayes of doing drugs, I'm just trying to be funny here.)
Zuccarello might be traded. Zibanejad might not be able to write his own name if these concussions continue. Marc Staal as captain would make me cry. So really, there's gotta be some veteran leadership next year, and Nash, at the right contract, should and could be that guy.
Moving forward on these blogs, it's really tough to analyze these games. We know the season is over and the team has flat out told us, the fans, just that. Now, we gotta look at different faces and how they handle different situations. You gotta remember, with every game now, the team isn't necessarily trying to win. These final 20 games are an early start of the 2018-2019 NHL preseason. AV might be testing guys, whether it's rotating guys on the PP, on the PK or mish-mashing lines, to see who plays well with who.
The goal is no longer winning games. The goal is to develop a new core and new stars. Just think – if things work out, not only will you have Andersson and Chytil up here next season, but you hopefully will have a lottery pick that's ready to play too.
One thing that I've always screamed from my soapbox remains – Lundqvist must go. Tonight was reason #7784578647896578946896893689 on why I've been right about this for years. Here is KING GEORGIEV, making his NHL debut, coming off the flu and who hasn't played in two weeks. Furthermore, in front of ALEXANDAR THE GREAT, is a thrown together shit-show defense from Hartford. The result? Georgiev gives up two goals, both as a result of major defensive errors. Not one goal was his fault, he set a rookie record for saves and kept the team in this game.
It's SAD, I still see the Lundswiss bots saying that "LUNQUISS DEESERVES EVERY DOLLER HE MAYKES. HE CARRYES THE TEEM IN EVERY GAIME." I mean, how can you watch this game and still think that? Here's number 90, Alexandar Georgiev, stopping the Habs all night, with a crappy defense and on the road to boot.
I'm all for every player, whether it be forwards or defensemen, being allowed on this roster, with the sole goal of development. However, by continuing to build around Lundqvist, you're making a mistake. As I always say, you can't halfway rebuild a house. You need to get these goalie prospects working with Benoit Allaire on a full-time basis. It's the only way to grow this team together.
Let's go to the ESPN.com box score, followed by my review:
1st Period Summary

Time
Team
Scoring Detail
NYR
MTL
6:59

Tomas Plekanec (6)
Assists: Paul Byron, Brendan Gallagher
0
1
Time
Team
Penalty Detail
2:30

Logan Shaw: 2 Minutes for Tripping Vinni Lettieri
8:47

John Gilmour: 2 Minutes for Holding Jonathan Drouin
15:21

Artturi Lehkonen: 2 Minutes for Hooking Mika Zibanejad
16:22

Brady Skjei: 2 Minutes for Holding the Stick Phillip Danault
19:46

Neal Pionk: 2 Minutes for Slashing Nicolas Deslauriers

2nd Period Summary

Time
Team
Scoring Detail
NYR
MTL
3:50

Jeff Petry (10)
Assists: Charles Hudon, Nicolas Deslauriers
0
2
Time
Team
Penalty Detail
5:13

Marc Staal: 2 Minutes for Hooking Brendan Gallagher
19:23

Kevin Hayes: 2 Minutes for Hooking Karl Alzner

3rd Period Summary

Time
Team
Scoring Detail
NYR
MTL
17:00

Kevin Hayes (15) (Power Play)
Assists: David Desharnais, Anthony DeAngelo
1
2
18:43

Phillip Danault (8) (Empty Net)
Assist: Tomas Plekanec
1
3
Time
Team
Penalty Detail
4:52

Jordie Benn: 2 Minutes for Interference of Cody McLeod
15:23

Charles Hudon: 2 Minutes for Tripping Jesper Fast
Goaltending Summary
Rangers

New York Goaltending

Player
SA
GA
Saves
SV%
TOI
PIM
A. Georgiev
40
2
38
.950
58:25
0

Canadiens

Montreal Goaltending

Player
SA
GA
Saves
SV%
TOI
PIM
A. Niemi
32
1
31
.969
60:00
0
This was the first game where reality sank in. While we know the Rangers haven't been any good, with Grabner and Nash out, we got our first look at the future. It wasn't pretty. While the Shots on Goal statistic was 41-32, in favor of the Habs, for most of this game, the Rangers were being dominated. At one point, the Habs were out-shooting the Rangers 3:1, with 30 shots, to the Rangers 10, while in the middle of the second period.
Most of this game featured the Rangers inability to clear the puck. I didn't count, but there were at least a dozen times, where the Rangers just could not clear the puck. This put extra pressure on the goalie and with the Rangers fatigued, they gave up so many shots. This also forced some sloppy hockey, as the Rangers took five penalties. Surprisingly, with their two best penalty killers out of the game, the Rangers PK went 5-5 on the night. Go figure.
I found the MSG Networks pregame show to be somber, but at least Steve Valiquette was forced to talk about something else besides making excuses for Lundqvist giving up 4+ goals a game. I kinda felt bad for Ron Duguay, who holds the torch for eternal Ranger optimism. Even he was forced to resign to the fact that the Rangers were rebuilding.
Speaking of the MSG Networks, while in rebuild mode, Jeff Gorton should explore the opportunity of dealing Sam Rosen and Joe Micheletti too. This was their worst broadcast of the season. Listen, we all love Sam and know what he's meant for this team. However, there is something to walking away while on top. Micheletti, who's more of a bottom than a top, has always been terrible. At least he's consistently terrible, unlike the consistently inconsistent Rangers.
I mean, there was a five minute stretch in this game, where these two were just babbling about absolute nonsense. They then would get player names wrong, player origins wrong and just seemed bored to tears to be there. Sam has turned into such a shill, that I can't believe he was still talking about the Rangers playoff chances during the broadcast. It's just time for a break from these guys.
This game started off promising enough, as Lettieri, in his first game back, forced Logan Shaw to pull a Benoit Pouliot, as Shaw tripped Lettieri in the Habs offensive zone. However, the Rangers iced the puck on the PP, until firing off multiple shots in the final 40 seconds of their PP. Somehow, Antti Niemi, playing for the concussed Carey Price, was able to keep NYR off the board.
And really, this was a SAD one for the Rangers. Here's Niemi, with a GAA that's near double digits. The guy has been cast away from two teams this season, as he's already got the pink slip from Pittsburgh and Florida. Of course, despite struggling all season, the Rangers make him look like a great goalie of the Candien's past. Halfway through the game, the Rangers only had 8 shots. I don't care who the Rangers put out there, you gotta fucking shoot on Niemi and by the time the Rangers started shooting, it was just too late.
Oh and how about a round of applause for Georgiev! He didn't allow one goal within the first two minutes of a period, nor allowed a goal in the final minute a period. And that's with a porous defense. Take notes Lundswiss. This is how you get it done.
At the seven minute mark, Rob O'Gara, traded for Nick Holden, picked up where Nick Holden left off:
De Byron à plekanec pic.twitter.com/XZRkAJPh3P

— Nouvellelnh (@NouvelleLNH) February 23, 2018
Not going to lie, at this point of the game, I wished Lundqvist was in net, just because of this:
The evil eye Lundswiss would've given O'Gara would've been epic.
1-0 bad guys. O'Gara is lucky the Rangers are tanking, or I think he would've had his plane ticket to Hartford handed to him after the game.
The Rangers didn't do much in the first period, besides chase the Canadiens around in the same vein that Rocky Balboa chased chickens around.
A controversial play occurred at the end of the period. I gotta give credit due where it's due, and credit to Joe Micheletti, as he did spot this on the broadcast.
The Rangers were called for icing. This was complete bullshit for two reasons. One, Jesper Fast got to the puck first. Two, Niemi came out of net to play the puck. These refs, not giving a flying fuck, called an icing anyway. Then, on the ensuing faceoff, in the Rangers defensive zone, Neal Pionk, gets called for slashing.
In other words, a potential Rangers attack turned into a wraparound period powerplay for the Canadiens. Fortunately, with KING GEORGE in net, the Rangers kept the Habs off the board and prevented the usual late goal allowed by Lundswiss.
1-0 after one.
The second period was more or less the same. It just felt like the Rangers were on a never-ending PK, as they took penalties from the 16 minute mark in the first period, all the way through to the five minute mark of the second period. Then Kevin Hayes would take a penalty, with under a minute to go in the second period, to give the Habs their second wraparound period PP of the game.
The Rangers missed chances at offense all night. Whether it was turnovers, not shooting the puck, being sloppy, whatever, they just couldn't make it happen. One GOOD LOOK, was when Zucc and Hayes attempted a give and go, but Zucc flubbed the shot. Marc Staal, who played deep in the offensive zone tonight, would be five feet from the net, but shot the puck at the corner boards for some reason.
Buchnevich had about a 1000 looks, but Blueshirt Banter's favorite son looked like he was in perpetual fog. In fact, the commie had the game sealing assist/turnover, when he fucked up with Georgiev pulled. Buch shot it right at a Hab. Seconds later, Phillip Danault put the game away with an empty net goal.
Georgiev continued to be strong, but once again, was another victim of a defensive breakdown and another two on one goal, this time with Jeff Petry scoring, at the 3:50 mark of the second period. 2-0 bad guys. However, it would be the last goal allowed by KING GEORGE for the night.
When you look at Georgiev's game, he was fantastic. The two goals allowed were on bad defensive plays. Before the Lundswiss bots kick in and try to call me a hypocrite, keep this in mind – Georgiev makes $8M less than Lundswiss and gave you better production. Like Raanta and Talbot before him, Georgiev is a better cost effective goalie. For a team on the rebuild, it's time to start developing Georgiev, Halverson and hopefully, Shestyorkin.
Later in the period, Georgie would even stone perhaps the next captain of the Habs, in Brendan Gallagher, on a breakaway. Also, don't you love how I already have multiple nicknames for Alexander Georgiev? I also gotta give credit to @RobertRob23 for this one – AFR, ATHLETE FROM RUSSIA!
King Georgie the V would then stop the Habs captain, Max Pacioretty, on a point blank GOOD LOOK. For a guy who hasn't played in two weeks, Alexandar Trebek had all the answers.
Of course, Micheletti had to be Micheletti and credited Lundqvist for tutoring Georgiev. Is this motherfucker high and on the pot? Lundqvist has known Georgiev for all of two weeks. Get the fuck out of here. Micheletti should be sent to Guantanamo Bay.
In an uninspiring, sleepwalking period, the Habs still led, 2-0, with twenty minutes to go.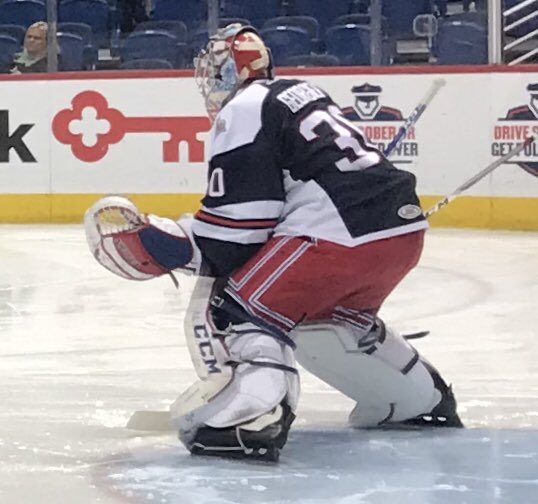 When the third period started, the idea of Antti Niemi getting a shutout had my hemorrhoids flaring like the acne on a horny teenager. Yes, the kids have to grow, but Cody McLeod shouldn't be out there. He makes me miss the days of Adam Cracknell!
And really, unless Lias Andersson can get his shit together, the Rangers need a number 1 center badly. I know the hot take is "THE RANGIZ MUST GET RASMUS DAHLIN", but really, they need a forward who can take over a game. Zibanejad isn't the guy. Ditto Miller, Hayes, Double D or whoever else the Rangers decide to put at the dot.
The Rangers would get four powerplays in this game and I was really wondering if the Rangers would ever score a powerplay goal again. However, as the clock entered the FOXWOODS FINAL FIVE territory, Kevin Hayes would make the game interesting. While on the PP, Hayes looked like he kicked a puck in net. However, in a play that was so fast moving and even on the replay, was tough to decipher, it looked like Hayes kicked the puck, the puck hit his stick and the puck went past Niemi.  It was such a weird fucking goal, but it counted. Even Hayes didn't know what the fuck was going on: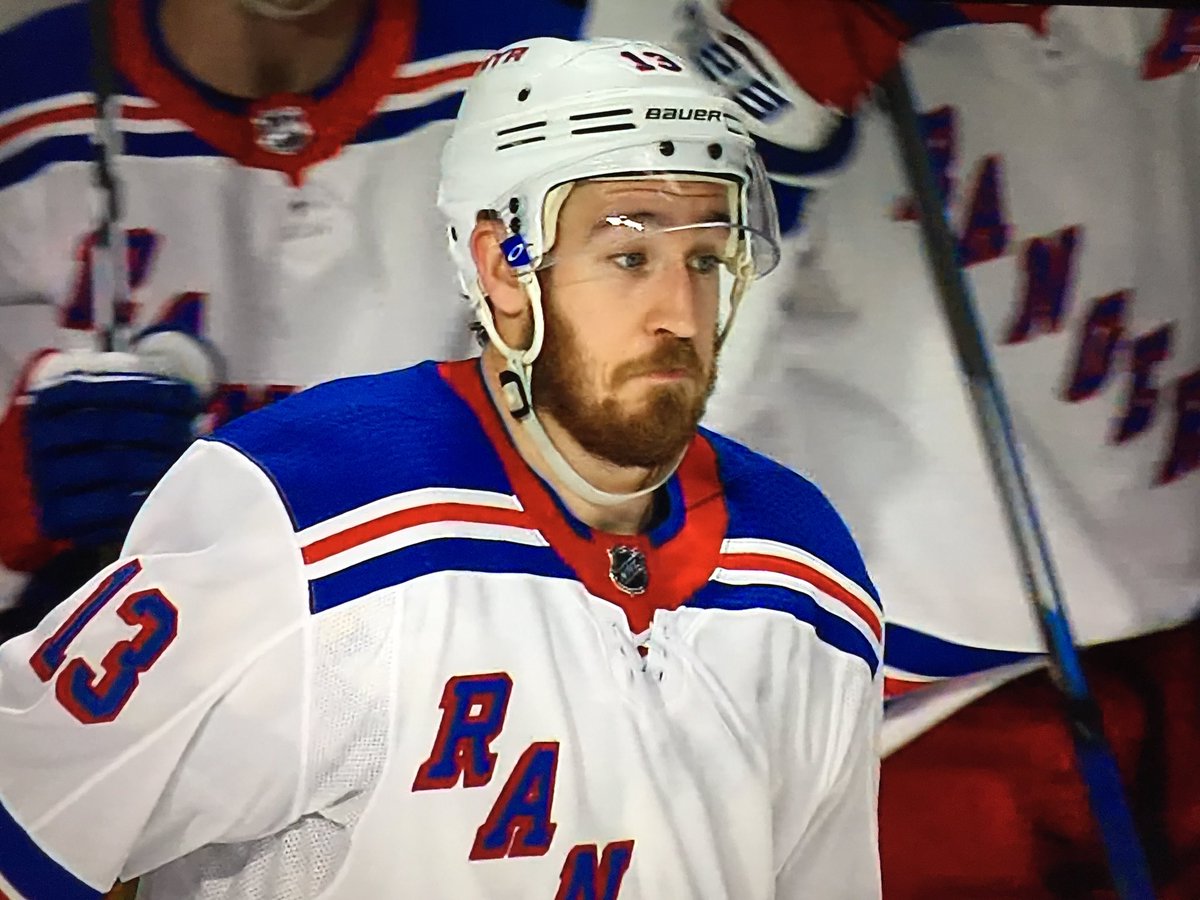 2-1, bad guys. However, what was terrible once again, was the Rangers inability to score one goal, with the goalie pulled. They have yet to tally one 6 vs 5 goal this season. SAD!
As mentioned previously, after a Buch shot that was blocked, Danault sealed the deal with the empty netter. 3-1 bad guys, your final.
For the Rangers, they lost to a struggling Habs team, with their two top stars, Carey Price (concussion) and Shea Weber (who's been shut down for the season) injured. On an aside, you know PK Subban has to be cracking up.
When it comes to the Rangers & Habs, it really shows you the parity and how anything can change in this league. Ironically, starting next season, the Habs will have the highest paid goalie in the league and Lundqvist will move from the highest paid goalie in the league to the second highest paid goalie in the league. Neither team will win a Cup like this.
If there was any good to take out of this game, it was Neal Pionk, who broke up three separate Montreal odd-man rushes. Of course, as talked about all blog, Georgiev was a rock in net.
While O'Gara will be remembered for pulling a Holden, it was the veterans that were disappointing tonight. Zucc, Zibby, Staal, Skjei and Fast were lifeless and didn't look like they were kicking it into a higher gear.
In conclusion on this game, it's all about player development, and hopefully these young kids, especially Georgiev, get more time. In fact, with playoff teams needing goaltender insurance, the Rangers should try to deal Ondrej the Giant before the deadline.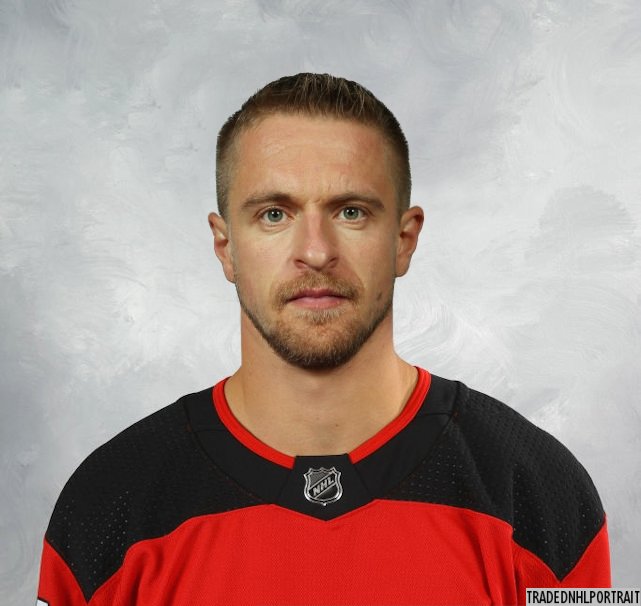 As I was proof-reading this blog for publication, the Rangers made their biggest trade this season, thus far, as they have traded Michael Grabner to the NJ Devils. For every single reporter saying Grabner was going to Pittsburgh, Tampa, Boston, Winnipeg or Nashville, I hope they all can say they were all wrong. NOBODY had Grabner going to the Devils. NOBODY. As of right now, Rick Nash still remains as a Ranger.
Here's the official press release, from the Rangers, on the Grabner deal:
New York Rangers General Manager Jeff Gorton announced today that the team has acquired defenseman Yegor Rykov and a second-round pick in the 2018 NHL Entry Draft from the New Jersey Devils in exchange for Michael Grabner.

Rykov, 20, has skated in 51 games with SKA St. Petersburg of the Kontinental Hockey League (KHL) this season, registering two goals and 12 assists for 14 points, along with a plus-13 rating and 20 penalty minutes. He has established KHL career-highs in games played, goals, assists, points, and plus/minus rating this season. In addition, Rykov helped SKA St. Petersburg win the Gagarin Cup as KHL Champions during his rookie season in 2016-17, and he was selected as the KHL's Rookie of the Week during the Gagarin Cup Quarterfinals and during the Gagarin Cup Finals.

The 6-3, 225-pounder helped Russia earn a bronze medal at the 2017 IIHF World Junior Championship, registering one goal and six assists for seven points, along with a plus-seven rating in seven games. The Vidnoe, Russia, native was selected as one of the Top Three Players on his team, and he tied for first among all defensemen in assists in the tournament.

By acquiring a second-round pick, the Rangers now have eight picks in the 2018 NHL Entry Draft, including five picks in the first three rounds (their own first-round pick, their own second-round pick, New Jersey's second-round pick, their own third-round pick, Boston's third-round pick, their own fourth-round pick, their own fifth-round pick, and their own sixth-round pick).

Grabner skated in 135 games with the Rangers over parts of two seasons (2016-17 and 2017-18), registering 52 goals and 19 assists for 71 points.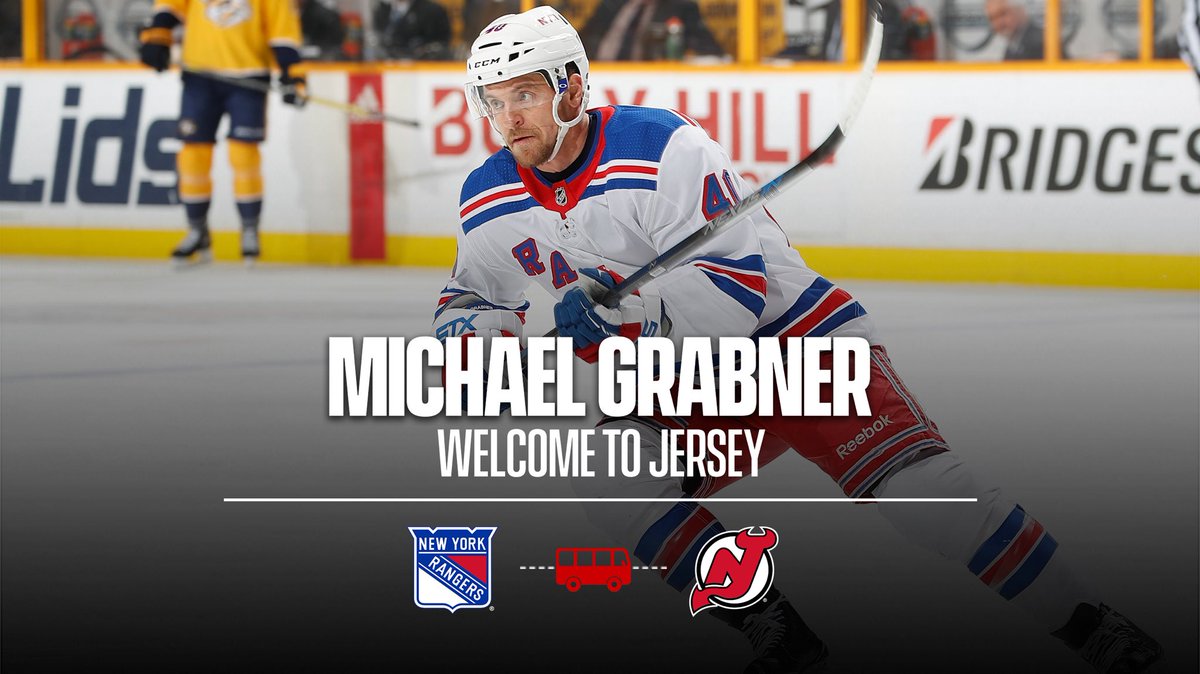 On the flip side, here's the NJ Devils press release on the trade:
Newark, NJ – The New Jersey Devils today acquired forward Michael Grabner from the New York Rangers in exchange for the club's second round pick in the 2018 NHL Draft and the rights to defenseman Yegor Rykov. The announcement was made by New Jersey Devils Executive Vice President/General Manager Ray Shero.

Grabner, 30, has 25 goals and six assists for 31 points in 59 games this season. His goal total led the Rangers and his points total ranked fourth on the team. Of his 25 goals this season, 24 have been even-strength. The 6-1, 190lb., Villach, Austria native is in his ninth NHL season having played with Vancouver, NY Islanders, Toronto and the Rangers. In 532 career NHL games played, he has scored 156 goals, 88 assists for 244 points and registered 92 penalty minutes with a plus-24 mark. He is in the final season of a two-year contract with a $1.65 million average annual value which he signed on July 1, 2016.  

Grabner has represented his home country of Austria in multiple international competitions, including the 2005 World Junior Championships, 2012 World Championships and the 2014 Olympic Winter Games. Before turning professional, Grabner played in the Western Hockey League for the Spokane Chiefs, 2004-07. He notched 129 points, 88 goals and 41 assists, in 180 WHL regular season games and played in the 2006 CHL Top Prospects Game. Born on October 5, 1987, he was Vancouver's first selection, 14th overall, in the 2006 NHL Draft.

Rykov, 20, currently plays for SKA St. Petersburg in the Kontinental Hockey League. He was New Jersey's seventh selection (5th round), 132rd overall, in the 2016 NHL Draft.

This marks the first ever trade between the New Jersey Devils in its 35-year history, and the New York Rangers.
Before getting into my take on the trade, let's go to Arda Ocal, who researched all the players that have ever worn a Rangers, an Islanders and a Devils jersey:
Kevin Weekes, Pat Conacher, Sergei Nemchinov, John Vanbiesbrouck, Joel Bouchard, Vladimir Malakhov, Mike Dunham, Mike Mottau, Arron Asham, P.A. Parenteau… and now Michael Grabner. #NJDevils #Isles #NYR

— Arda Öcal (@ArdaOcalTV) February 23, 2018
Isn't it funny, how a few blogs ago, I suggested that the Rangers and Devils should look into trading with each other? Of course, I wanted the Rangers to move Lundqvist there, not their top goal scorer of the last two seasons!
Taking the Devils out of the equation, this is a great trade for the Rangers. The only thing that sucks, is that yes, it's the Devils. It's really going to suck when the Devils wind up in the ECF this season.
I'm happy for Michael Grabner. At least he doesn't have to move, as Newark is only a 15 minute train ride from M$G. He can still hit WoHop after games,  if he desires!
It hurts losing him, because he's been the best player the Rangers have had, statistically, during these last two seasons. As I stated at the top of this blog, before the trade, I don't know if Grabner comes back. Staying in the area helps the case, but if I'm him, I wanna get paid when I can.
It's sacrilege, as a Ranger fan, to root for the Devils. However, if we have a Devils/Penguins playoff series, I'm rooting for Boyle and Grabner. Plus, Kenny Daneyko is a nice guy. Fuck Super Mario!
So Grabner goes to being at Jean Ratelle night on Sunday, to being at Patrik Elias night on Saturday. Shit, if I'm off of work, I might just go to see Grabner's debut too!
This trade is great for the Rangers future. It also shows me that Gorton is going late 1990's Detroit Redwings on us, and loading up on the Russians. It sure beats investing in soft Swedes. Of note, the prospect the Rangers got, in Yegor Rykov, plays for the same KHL team that CZAR IGOR does, in SKA St. Petersburg.
Of note, there's also this:
The Rangers now have eight picks in the 2018 NHL Entry Draft, including five picks in the first three rounds (NYR 1st, NYR 2nd, NJD 2nd, NYR 3rd, BOS 3rd, NYR 4th, NYR 5th, NYR 6th). #NYR

— NYR Stats & Info (@NYRStatsInfo) February 23, 2018
With all these picks and prospects, you gotta think that if NYR doesn't win the lotto for the number one overall, perhaps they are thinking of trading for it.
Thanks for everything Michael Grabner, and good luck.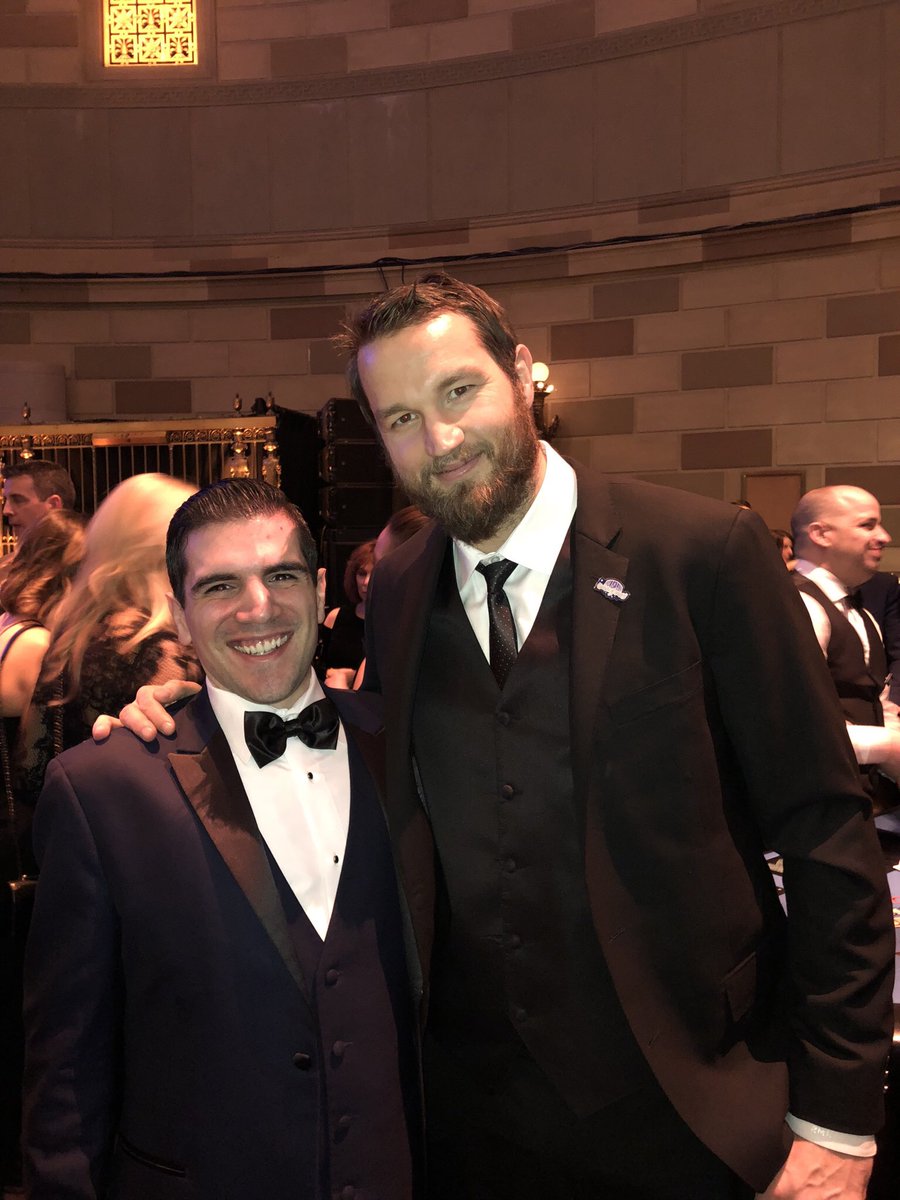 There are many diehard Michael Grabner fans out there, that will be upset with the trade, especially since it's with the Devils. There are many more fans, like @Vincenzo99 , that will have to toughen up when their favorite player, Rick Nash, "has been acquired" by another team.
As I always put out there with my anti-Lundwiss rhetoric – it's about the front of the jersey, not the back. The Holden and Grabner trades are wins for the Rangers. The more they can get back, the faster they will become a Cup contender again. Nash should bring in the biggest haul, if not McDonagh, if McDonagh is to be traded.
As I put the finishing touches on this 5000+ word manifesto (I planned to do a short blog tonight, but the Grabner stuff changed everything) the faster the Rangers can get out of this season, the better. It just sucks that we have to wait until the MLB playoffs for the NHL season to kick back up again.
With 21 more games to be played, there are only three things to worry about/look forward to. They are:
Jean Ratelle night.
Steven McDonald Award night, and with all the trades, it seems Lundswiss will get this by default.
Developing the rookies for next season.
It's gonna be tough watching the playoffs this season. Let's just hope that another Ranger goes to Tampa, so it's easier to root for them.
Despite my seven-days-a-week work schedule ending,  I still gotta be up at 4:30 am and it's fucking 1:00am right now. At least it's Friday. Shit, I couldn't sleep anyway if I tried, as this Grabner news has me all jerky.
See you tomorrow after the game against the Wild. Fuck it – start Georgiev tomorrow too!
Oh and P.S. check out @FIXXSER on twitter for his live video blogs on the Grabner trade. Nothing beats LIVE FROM THE DINER!
As always, LET'S GO RANGERS!
Sean McCaffrey
BULLSMC@aol.com
@NYCTHEMIC on the tweeter machine