What's up everyone and welcome to another blog here on BlueCollarBlueShirts.com. As you read these words, I'm currently winding down my last night in Tampa, Florida. Due to Daylight Savings Time, by the time I finish this manifesto, it will be time to get to the airport for my 6:00AM flight. It seems like I can never get away from these 4:30AM alarm clocks!
After a Tampa thumping on Thursday night, the Rangers took the quick flight south, to take on the Florida Panthers. After sweeping the Florida trip in November, right before the clocks went back an hour, now, here in March, with the clocks going ahead, the Rangers had their clocks cleaned in Florida.
In tonight's 4-3 loss to the Florida Panthers, the Rangers were much more competitive than in the loss to the Bolts. It's all relative, as the Bolts are a Cup contender, while the Panthers are clawing, (pun intended) for the second wild card. In fact, this game was decided by the shootout, which saw the two oldest goalies in the league do battle. At the end of it, it was Florida Panther goalie, Roberto Luongo, out-dueling his fellow NHL AARP member, in Henrik Lundqvist.
This blog will be shorter than usual, as I had a long day today and I have an early flight tomorrow. It's been a fun few days in Tampa, but it's time to get back to the full-time grind again.
Speaking of my trip in Tampa, in case you missed my last blog about my time at the Amalie Arena or any of my recent blogs, you can check them out below:
---
---
---
---
---
Before tonight's Rangers game, my friends and I took in the NY Yankees 10-3 Spring Training win over the NY Mets. If you ever have a chance to attend one of these spring training games, go for it. I had a blast and the ballpark is extremely fan-friendly. The only knock on the place is that while these games are played in a Florida zip code, the ballpark is priced like they have a (212) area code phone number.
No joke, fitted hats were going for $55. 16 oz beers were $12. Hamburgers were $13. Water was $5. However, the Yankees know what they have. NYers come down for these games. Transplants await this time of year. They know people will pay these insane prices. Compounding matters, the Yankees, unlike the Rangers, actually win championships. You don't mind paying more for a winner.
While the Yankees were laying the smackdown on the Mets, 10 minutes away, this was happening:
As far as news/notes, there are a few minor things. Of note:
— Kevin Shattenkirk, who made the trip to Florida, wound up not playing in either game. No update on his status.
— Chris Kreider, who was pulled from the game with the Bolts, after crashing into the boards, was back in the line-up tonight.
— David Desharnais was scratched from the line-up due to kidney stones. Ouch.
Let's get right into this game with the Panthers. After all, I still have to pack my bags! As usual, here's the official ESPN.com box score:
1st Period Summary

Time
Team
Scoring Detail
NYR
FLA
19:45

Jonathan Huberdeau (22) (Power Play)
Assists: Vincent Trocheck, Keith Yandle
0
1
Time
Team
Penalty Detail
4:18

Cody McLeod: 5 Minute Major for Fighting Micheal Haley
4:18

Micheal Haley: 5 Minute Major for Fighting Cody McLeod
12:37

Mackenzie Weegar: 2 Minutes for High-sticking Vladislav Namestnikov
17:52

Rob O'Gara: 2 Minutes for Interference of Michael Matheson

2nd Period Summary

Time
Team
Scoring Detail
NYR
FLA
8:13

Frank Vatrano (3)
Assists: Jonathan Huberdeau, Vincent Trocheck
0
2
13:11

Mats Zuccarello (12)
Assists: Neal Pionk, Ryan Spooner
1
2
Time
Team
Penalty Detail
16:23

Paul Carey: 2 Minutes for Interference of Micheal Haley

3rd Period Summary

Time
Team
Scoring Detail
NYR
FLA
0:17

Mika Zibanejad (20)
Assists: Chris Kreider, Jesper Fast
2
2
1:02

Jamie McGinn (10)
Assists: Jared McCann, Alex Petrovic
2
3
7:25

Kevin Hayes (20)
Assists: Ryan Spooner, John Gilmour
3
3
Time
Team
Penalty Detail
No penalties this period

OT Summary

Time
Team
Scoring Detail
NYR
FLA
No scoring this period
3
3
Time
Team
Penalty Detail
No penalties this period

Shootout Summary

Team
Detail
NYR
FLA

Shootout GOAL scored by Mats Zuccarello on Roberto Luongo
1
0

Shootout attempt by Jonathan Huberdeau MISSES
1
0

Shootout attempt by Mika Zibanejad saved by Roberto Luongo
1
0

Shootout GOAL scored by Aleksander Barkov on Henrik Lundqvist
1
1

Shootout attempt by Ryan Spooner saved by Roberto Luongo
1
1

Shootout GOAL scored by Vincent Trocheck on Henrik Lundqvist
1
2
Goaltending Summary
Rangers

New York Goaltending

Player
SA
GA
Saves
SV%
TOI
PIM
H. Lundqvist
35
3
32
.914
65:00
0

Panthers

Florida Goaltending

Player
SA
GA
Saves
SV%
TOI
PIM
R. Luongo
37
3
34
.919
65:00
0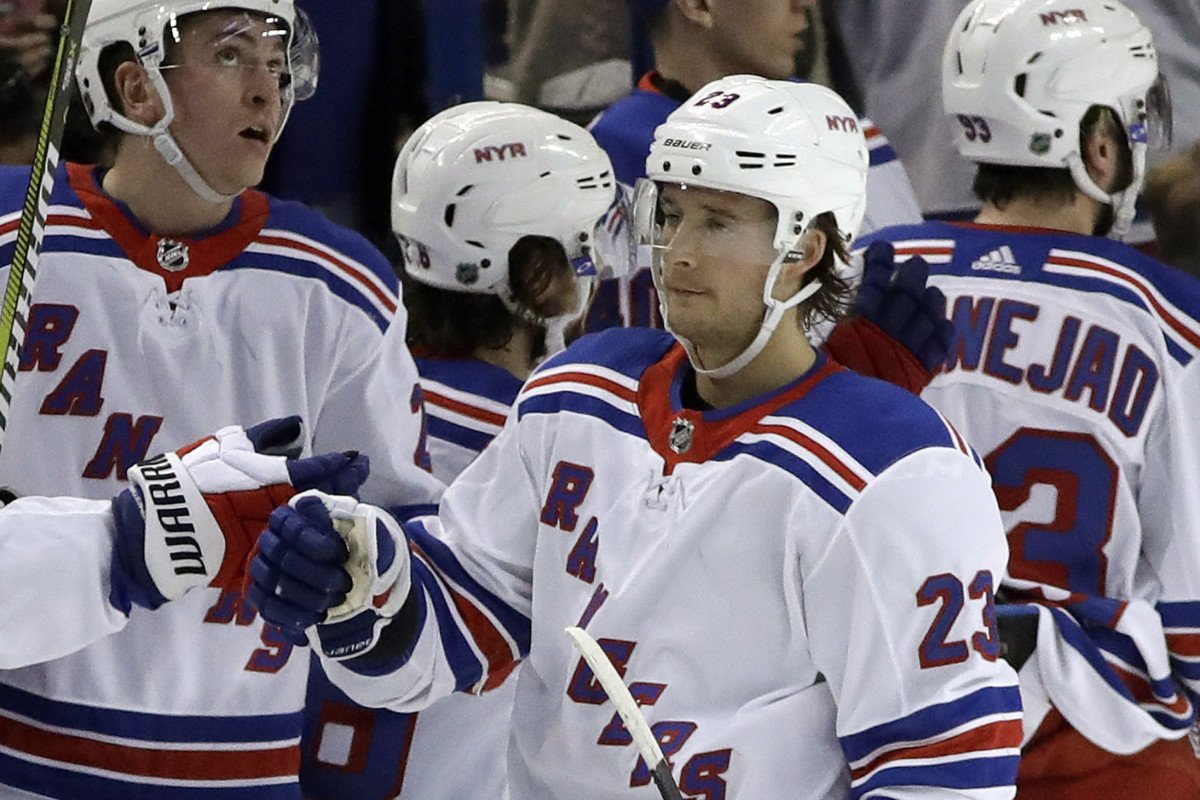 The sweep, over the teams from Western Canada, feels so long ago. Since that sweep, the Rangers have now dropped three straight, losing to the Jets, Bolts and Panthers. While the Rangers still have a chance at the playoffs, you have a better of chance of being struck by lightening, while holding the winning powerball ticket in your hand.
If you had no rooting interest in tonight's Rangers/Panthers game, this was a great game to watch. Even as a Rangers fan, this was a fun game to take in.
That said, if you were just watching this game, without a dog in the fight, you didn't have to subject yourself to the frustration and the common trends, that have plagued the Rangers all season.
This game was action-packed, full of near-chances, saw both teams play physical, had a heart-wrenching three on three and as a cherry on top, was decided by a shootout.
I've done the shootout debate before, so real quick, because this always comes up after the Rangers have a game decided by a shootout  – I don't mind it. My only beef with the shootout is that it shouldn't be deciding medal games. I have no clue why the IIHF & the Olympics allow shootouts to determine outcomes in their games. You wouldn't end any other major championship with a gimmick contest.
The international game aside, for a regular season game, no one wants to invest three hours in a tie, so I'm fine with the shootout. This isn't the playoffs, so you can't have these guys playing all night long during the course of an 82 game grind.
And really, the Rangers have the highest paid goalie in the league. If you were to believe Lundqvist was worth his salary, then you would think he'd have a winning record in these things. However, Lundqvist hasn't been worth his money since the day he signed his new deal. Watching him get beat by all three Florida shooters tonight was just laughable. (Yes, I know Huberdeau didn't score, but he had Lundqvist beat.)
#NYR in warmups: Kreider-Zibanejad-Fast, Spooner-Hayes-Zuccarello, Vesey-Namestnikov-Buchnevich, McLeod-Holland-Carey.
Staal-Pionk, Skjei-DeAngelo, Gilmour-O'Gara.
Lundqvist.

— Brett Cyrgalis (@BrettCyrgalis) March 10, 2018
As you can tell from above, the Rangers shifted their lines around. The successful Hayes/Fast/Spooner line was broken up, as Fast and Zuccarello were flip-flopped. That McLeod/Holland/Carey line gives me palpitations, wicked gas and the feeling of a prostate exam being administered by Andre the Giant.
For some reason Henrik Lundqvist continues to start these games. You know my argument  & thoughts already. Why the hell is this guy still playing? Alexandar Georgiev needs the starts. You need to see what you have with King George.
Really, there's only reason for the Rangers to start Lundqvist – they want to add to his compiling list of records. He's 5 wins from 30 wins for the season. Outside of the shortened lockout season of 2012, Hank has had a nice stretch of 30+ win seasons in his career.
There's no reason or excuse to start Lundqvist in this game. Then again, this team will continue to build around their cupless goalie. They just will never learn.
Prior to puck drop, the M$G Networks ran a package on the Hartford Wolfpack, specifically featuring Lias Andersson and Filip Chytil. It's only a matter of time, as we begin the countdown to their call-ups.
It's funny, in the Jets game, I complained about M$G Networks running three separate packages on Lundqvist. I guess they can't run that Vancouver footage all the time, so for once, the M$G Networks focused on something else. In turn, I found this segment on the Wolfpack & these players, not only to be useful & informative, but also well done.
This game started out like so many other Ranger games – with Joe Micheletti, engorged with blood below the belt, fawning over Henrik Lundqvist. As usual, Micheletti started making up saves.
No joke – Micheletti was raving about Lundqvist making a save (the puck went way wide) and what graphic did the M$G Networks air immediately after? The shots on goal stat, which read, NYR 4 – FLA 0. Seriously, if the Rangers are going to rebuild, they should show Sam & Joe the door too.
With the Rangers coming out hot to start the game, Cody McLeod got into an unnecessary fight with Micheal Haley. The Rangers also controlled the puck at the time of the fight, so this fight halted any type of potential offense. For his efforts, McLeod also lost the fight. Why McLeod remains with this team is beyond me. Reminder: Vinni Lettieri, who should be part of this rebuild, remains in Hartford. Furthermore, if you wanted some toughness, the Rangers should've kept Tanner Glass.
For as much as Henrik Lundqvist is the talk of New York, one goalie who has had a similar career, is Roberto Luongo. To me, Lundqvist is a hands-down future Hall of Famer. In the case of Luongo, I believe he's a future HHOFer too, but it may take more convincing.
Henrik Lundqvist has had the luck of playing in the biggest city in the world. He has the franchise wrapped around his finger, so in turn, has spent 13+ years with the club. Roberto Luongo has played in dead markets his whole career.  Originally drafted by the Islanders during the Spano era, Luongo spent the bulk of his career in Vancouver and in Florida. In an east coast centric media, it's tough for left coast time zone athletes to get the burn that they deserve.
Just imagine if these two flipped teams. Would Lundqvist be talked about non-stop? Probably not. Would Luongo have a bigger presence and name in this league? Most likely. You can't ignore this fact – some athletes are just products of their environment.
In this game, Luongo outplayed Lundqvist. In perhaps a fitting ending, when it came down to the two longest tenured goalies in the NHL, it was Luongo, and not the much more heralded Lundqvist, picking up the win and two points for his team.
Luongo was tested frequent in the first period, but he was able to keep the Rangers off the board, turning away all 15 shots.
In a game where Denis Potvin was in the building, it was surprising that in front of a crowd, that was mostly in blue jerseys, there wasn't a "POTVIN SUCKS" chant, or at least a "POTVIN SUCKS" chant that was loud enough to make TV. However, I'm sure you'll hear a few drunk jackasses chanting it on Monday night, in a meaningless game against the Hurricanes.
Mats Zuccarello, who would later on in this game become the benefactor of a deflection goal, missed several chances at the net tonight. Ditto Vladdy Namestnikov. There was one point in this game where the camera panned on Vlad the Impaler and he looked like a SAD PANDA. Vlad went from contending to the Cup to wallowing in the mire. On the flip, JT Miller was making it rain in MONS VENUS, while Vlad saw his team lose again.
After watching Lundqvist desert them on Thursday night, the Rangers defense seemed more aware of their surroundings. They played better defensively and in turn, used defense to create offense. However, Luongo was solid in the first.
The officiating was very soft tonight, as we saw soft penalties in this game. While only three penalties were called all game, the stuff that was called was stuff that you would go insane about if it was called in a playoff game.
During the Rangers lone powerplay, they had "GOOD LOOKS", but like a bad porn star, just couldn't finish. What more can I say about the PP this season? Fire Arniel.
In an exciting first period, it seemed like both teams would go to the locker room, tied at 0-0. However, Lundqvist, who holds the dubious distinction for giving up the most amount of goals in the first two minutes of a period, as well as giving up the most amount of goals in the final minute of a period, couldn't close his legs late. Jonathan Huberdeau, who had a monster of a game, put the Panthers on the board first, with 14 seconds left in the first period:
Huberdeau goal, career-high 60th point: pic.twitter.com/sqJMR6W2nE

— Cats On The Prowl (@Cats0ntheprowl) March 11, 2018
1-0 bad guys. On the goal, it was a PPG, due to a bad interference penalty from Rob O'Gara. Still, Lundqvist needs to close his legs. He isn't selling his five hole in the red light district. That said, how ironic is it, that a red light goes off every time Lundqvist opens his legs?
In what has turned into the Rangers specialty this season, they refuse to hit the net on most of their shots. It seems that most shots find themselves landing on the corner boards. You saw a lot of that in this game, and while it would be nice if Lundqvist could live up to his "Give me two goals and I got this" bullshit, it would be nicer if the Rangers didn't blow as many scoring opportunities as they do.
In the second period, both teams were evenly matched. However, at the 8:13 mark, Frank Vatrano made Lundqvist make faces:
It took @Frank_Vatrano less than 40 minutes to get that first goal in red. 😼👊 #NYRvsFLA pic.twitter.com/EI1E7Dk2Aj

— Florida Panthers (@FlaPanthers) March 11, 2018
Remember what I've been saying in my last few blogs about what type of players are scoring against you? I don't have a problem if McDavid sneaks one by you. I don't care if Stamkos beats you. However, in another trend for Lundqvist, here's BIG BAD FRANK "WHO" VATRANO, scoring his first goal as a Panther and his third of the season. Lundqvist has provided many good feelings for many third & fourth liners this season.
This goal was similar to the Kunitz goal on Thursday. Lundqvist is out of position and forced to make a diving save. Instead, he's beat and that's that.
2-0 bad guys.
And really, save me the defense shit. Save me the "It's Michael Del Zotto's fault, no I mean it's Dan Girardi's fault, no I mean it's Nick Holden's fault" stuff. Roberto Luongo had to deal with traffic in front of him all game and was able to keep his cool. Many Ranger fans need to leave the state of denial and move on to acceptance. It's time to move on from Hank.
Five minutes later, the Rangers would finally get on the board. Ryan Spooner made a great play defensively, got the puck to his man and Neal Pionk fired away. Zuccarello touched the puck and maybe because he's short, this deflection wasn't ruled a high stick. A good bounce for the Rangers, as this play made the score 2-1.
With the game now being a one goal game, the game got more physical. While it wasn't like the series with Montreal from last year, this did lead to some exciting hockey.
Huberdeau would look for his second goal of the game, but US Steel made the save for Lundqvist.
To close the period, Kevin Hayes and Aaron Ekblad got into a shoving match. No penalties were called.
After two periods, the score remained at 2-1, bad guys.
It's getting late, so I gotta go into fast-forward mode here!
The third period started off with two quick goals.
17 seconds in, Zibanejad tied it:
.@MikaZibanejad on the backhand for his 20th of the season. pic.twitter.com/aLdLjxyMq1

— NHL GIFs (@NHLGIFs) March 11, 2018
Lundqvist, who seemingly has given up more goals immediately after his team scores, was right on schedule, as he gave the lead back to the Panthers, less than a minute after:
Jamie was McGinn it to win it tonight. #NYRvsFLA pic.twitter.com/oEAjO4dE98

— Florida Panthers (@FlaPanthers) March 11, 2018
3-2, bad guys. Of note, Micheletti blamed anyone but Lundqvist for all three goals.
As the game went along, Kevin Hayes, who has really stepped up his play since the trade deadline, beat Luongo with a great shot, to tie the game at 3-3. You can see that Hayes is trying to shoot more. He's also been more aggressive on the forecheck and not giving up on plays.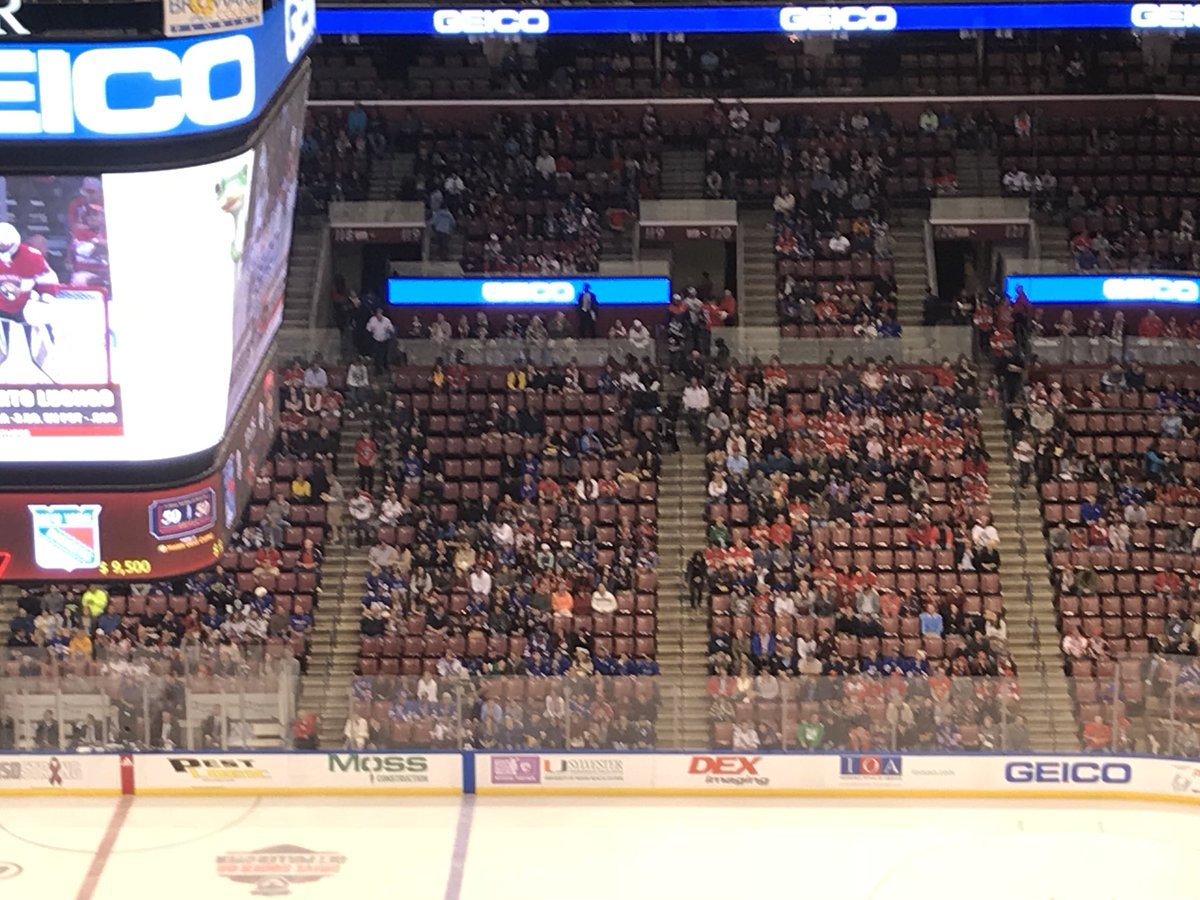 With the game 3-3, and the Panthers really needing points, as they chase a playoff spot, the Panthers seemed ok to get to the overtime. Also of note, Keith Yandle had a monster of a game. He's on pace for his second best statistical season of his career. Isn't it funny to see how Yandle and Eric Staal are doing these days? But hey, don't worry Ranger fans, we have Henrik Lundqvist!
The teams would finish the period tied. In the 3 vs 3 OT, both teams got chances, with the Rangers out-shooting the Cats, 5-2. As usual, the usual suspects of Zibanejad and Zuccarello, shot wide at open nets. I'm sure if someone had the time, you could make an hour long video of all the misses from these two.
In the shootout, Zuccarello would score, after making a beautiful move, so beautiful that Luongo's jock was in the rafters. However, Luongo would then shut down Zibanejad and Spooner.
On the other end of the ice, Huberdeau would out-deke Lundqvist. Fortunately for the overrated goalie, Huberdeau lost control and just missed. However, Barkov and Trocheck did not, as they both easily beat the highest paid goalie in the league.
Here's the game winner:
.@trocheck_89 comin' in CLUTCH to get the #Cats a franchise record eight straight home wins. pic.twitter.com/4OxQNb17Tx

— Florida Panthers (@FlaPanthers) March 11, 2018
4-3 Panthers, your final. I'm surprised Micheletti and Vally didn't blame a deflection and a screen, for the shootout goals allowed by their hero.
It was also comical watching the crybaby goalie making his pouting faces and slamming his stick. Listen, it was ok when Paul O'Neill would have these breakdowns with the Yankees, because after all, he WON. Lundqvist is just a sore little loser who can never win the big one. He has no one to blame but himself. I just hope for the day that he takes his 3.00 GAA and waives his NMC.
Sorry for going shorter than usual here, but I wanted to get this blog up before my flight, which is in a few mere hours.
For the Rangers, this season has been a lost cause. These seasons will continue to be lost causes with Lundqvist here. It's a shame too, because it's not that hard to rebuild these days. After all, look at Vegas. Look at the Devils. Look at the Flyers. In this age of parity, you just gotta be smart with your cap.
I'll be back Monday night, with a look at the Canes/Rangers. I also want to share some thoughts about the KHL controversy in Russia.
Until then, thanks for reading and as always…
"LET'S GO RANGERS"
Sean McCaffrey
BULLSMC@aol.com