What's up everyone and welcome to another blog here on BlueCollarBlueShirts.com. It's good to be doing this blog from NY again!
The Rangers defeated the Carolina Hurricanes, 6-3, on Monday night. For the Rangers, while they still have a 1% chance at the playoffs, this was a good game, in what is most likely a lost season.
There are fans out there in RANGERSTOWN who are actively rooting for this team to lose. Their theory is that with more losses, the Rangers have a better shot at the number 1 overall pick, come draft time. I've talked about this in-depth already. I just can't root for the team to lose. In addition, for fans rooting for the team to lose, you better hope that Lundqvist plays every game here on out, because you're not going to lose many games with KING GEORGE in net!
There are many problems with rooting for failure/tanking. You don't want to create a Cleveland Browns atmosphere, where losing is acceptable. A bigger problem is that with all the young kids here, these games, ever since right before the trade deadline, are pretty much a jump start on next year's preseason. These games are auditions for some. For others, it's a way to showcase your stuff in a contract year.
Three early candidates to make the 2018-2019 team, based on their play from this "extended preseason", are Ryan Spooner, Neal Pionk and Alexandar Georgiev. Are you really rooting for these guys to fail right now? Screw that. I'm rooting for these guys to succeed. It's not like the Rangers have been a master of draft wizardry anyway. After all, you have Beavis Sather and Gorthead saying they still want to build around Henrik Lundqvist and his contract. They could draft Wayne Gretzky in his prime and they still won't win a Cup with that strategy.
I know when the team loses, it turns people away from watching the games. Just based on social media alone, I see a lot of fans not talking about the games anymore. Tonight's woeful crowd hammered that point home. It's a shame, because fans are missing out on some of the future stars of tomorrow. Then again, it's tough to justify an expensive night out at M$G, when the team is looking to get out of this season and into the summer.
Before moving along, here are my last few blogs in case you missed them:
---
---
---
---
---
In a rare occurrence, there wasn't much news in between the loss to Florida and tonight's game. Things have slowed down tremendously since the trade deadline and as the team looks forward to next season.  The biggest news is that David "Kidney Stones" Desharnais, was back in the line-up. That meant Peter Holland would go back to being scratched.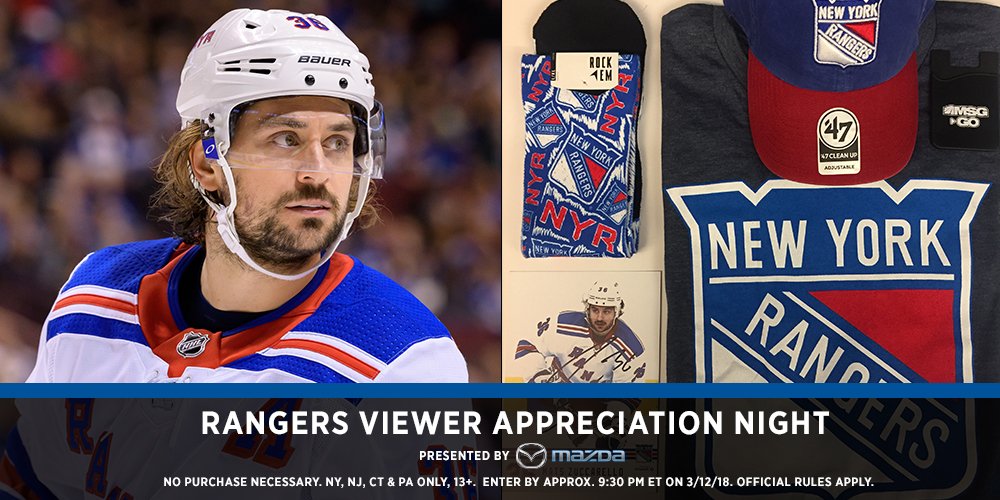 There's a lot of good stuff to talk about with this game, so let's get into it. However, as usual, let's take a look at the ESPN.com box score first:
1st Period Summary

Time
Team
Scoring Detail
CAR
NYR
9:06

Mats Zuccarello (13)
Assists: Mika Zibanejad, Neal Pionk
0
1
14:32

Teuvo Teravainen (20)
Assists: Brett Pesce, Sebastian Aho
1
1
Time
Team
Penalty Detail
6:14

Trevor van Riemsdyk: 2 Minutes for Tripping Brady Skjei
18:08

Victor Rask: 2 Minutes for Hooking Vladislav Namestnikov

2nd Period Summary

Time
Team
Scoring Detail
CAR
NYR
1:52

Jimmy Vesey (13)
Assist: Pavel Buchnevich
1
2
7:48

Lee Stempniak (2)
Assists: Jeff Skinner, Derek Ryan
2
2
11:51

Vladislav Namestnikov (22) (Power Play)
Assists: Mika Zibanejad, Pavel Buchnevich
2
3
Time
Team
Penalty Detail
8:35

David Desharnais: 2 Minutes for Holding Victor Rask
11:45

Noah Hanifin: 2 Minutes for Slashing Ryan Spooner
15:29

Chris Kreider: 2 Minutes for Holding Justin Faulk

3rd Period Summary

Time
Team
Scoring Detail
CAR
NYR
8:23

Victor Rask (13) (Power Play)
Unassisted
3
3
12:15

Jimmy Vesey (14)
Assist: Pavel Buchnevich
3
4
17:23

Mats Zuccarello (14) (Empty Net)
Assist: Ryan Spooner
3
5
19:36

Jimmy Vesey (15) (Empty Net)
Assists: Mika Zibanejad, Jesper Fast
3
6
Time
Team
Penalty Detail
6:55

Mats Zuccarello: 2 Minutes for Hooking Brock McGinn
Goaltending Summary
Hurricanes

Carolina Goaltending

Player
SA
GA
Saves
SV%
TOI
PIM
S. Darling
21
4
17
.810
58:24
0

Rangers

New York Goaltending

Player
SA
GA
Saves
SV%
TOI
PIM
A. Georgiev
44
3
41
.932
60:00
0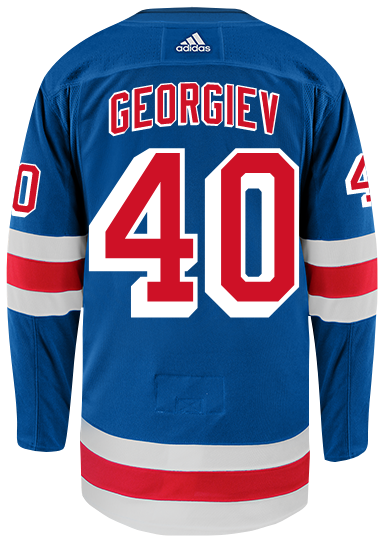 It was announced before the game that Alexandar Georgiev, aka AFR, (Alexandar From Russia, a play off of OAR from the Olympics) aka ALEXANDAR THE GREAT, aka KING GEORGE (Remember, you don't need to win a Cup to earn the "King" moniker in NY) would be starting. With the Rangers dropping three games in a row, LORD & SAVIOR, Coach Alain Vigneault, went to his stopper, ALEXANDAR THE GREAT. In turn, AFR rewarded AV with a 41 save effort, in the Rangers 6-3 win.
To me, this was a more impressive win than the Lundqvist 50+ save win over Vancouver, which the M$G Networks runs on a loop. After all, Georgiev didn't blow a three goal lead. He didn't give up 4+ goals. Furthermore, he beat a divisional opponent, in the Carolina Hurricanes. These are the same Hurricanes that are in striking distance of a playoff spot. This isn't a win over the cellar dweller Canucks.
It is funny, before this game, the fake news NYR media were running articles about how this team needs Lundqvist to make 40+ saves to win games. It's ridiculous. Even after Georgiev's win tonight, the M$G networks and some of the reporters circled back to Lundqvist. Let me, your original RANGERS TRUTHER, give you the facts here. Feel free to double check my work here, just like how I check the crap that spews out of the mouths of the "Lundqvist can do no wrong" media.
— Alexandar Georgiev makes $792,500, which is nearly $8 Million less than Henrik Lundqvist.
— In his four starts, Georgiev has a better save percentage and goals allowed average than Lundqvist. Yes, it's a small sample size, but Georgiev, like Lundqvist, is facing 35+ shots a start.
— The Rangers play better in front of Georgiev. The counter-argument is that "Waa, waa, waa, the team always plays better in front of a young back-up, because they rely on Lundqvist to carry them." That would be FAKE NEWS, because ever since Talbot took over during Lundqvist's injury from three seasons ago, the team has always played better in front of a goalie that isn't Henrik Lundqvist. Keep in mind, Talbot started a huge stretch of games. Then when Lundqvist was struggling, Raanta started a huge stretch of games. In those games, the team played much better than when Lundqvist was in net. Now you're seeing the same thing, this time, with a rookie goalie. So this isn't just a "back-up" thing, they just play better when Lundqvist isn't there. Face it – Lundqvist is aging and declining.
— The team is more relaxed when Georgiev starts. If you notice, ever since the losing piled up, right around the time the Winter Classic ended, Lundqvist screams, berates and cries at his team all game. When things don't go his way, he whines about the coach to the NY Post, deserts his team and sobs to himself in the locker room. Classic egomaniac behavior.
— You get more offensive production out of your defensemen. With Lundqvist not moaning and groaning, these defensemen aren't afraid to go up ice more and forecheck.
— With Georgiev, the team is a better functioning unit. They aren't on edge. They aren't on their heels. They aren't scared about messing up. They can play their game and play to their natural talent. They don't have to worry about being reprimanded by the diva goalie. They can do their thing and use their instincts. They can listen to Coach AV and not have a dueling coach shouting directions at them from the goal.
— The defense, while sketchy and prone to bad plays, can rebound after said bad plays. Instead of hanging their head low after Lundqvist pulls an ego trip on them, after a bad play, the team holds their heads high and continues to fight. The team blew three leads tonight, but after each goal, the team continued to fight and regained the lead. They then closed the game and saw their confidence grow, as Georgiev buckled down in crunch time.
— During these last few seasons, only Lundqvist gives up the bad timing goals. Lundqvist leads the league in most amount of goals given up in the first two minutes of a period and the most amount of goals allowed in the last minute of a period. Tonight, Georgiev gave up 0 goals in these time intervals.
— A key moment of team solidarity was late in the third period, with the score 4-3 Rangers. Georgiev made a bunch of huge saves to keep Carolina from tying it. After the whistle, the team, led by Brady Skjei, all skated to Georgiev and rallied behind him. When is the last time you've seen the team display this behavior with Lundqvist? They usually skate away from him, because they don't want to hear his shit.
— With another 40+ save performance, Georgiev continues to prove my theory correct. You can't over pay a goalie in this league. You can win with a cheaper and younger goalie. Pittsburgh and Tampa have been doing it in the East all season.  Even if Lundqvist was posting numbers from his prime years, you're still not going to win with that contract in this salary cap era.
— The person who deserves Lundqvist's money? Benoit Allaire, who is making a rookie in Alexandar Georgiev looking like a seasoned pro. Allaire's last two back-up goalies are now starters in this league. You don't need Lundqvist and that stupid contract when you have Allaire here.
Tonight's pregame show was better than most, because since Lundqvist wasn't starting, the M$G Network staff were forced to talk about someone else. I'm surprised the M$G Networks crew still haven't made the point about Ryan Spooner effortlessly replacing Grabner on the Hayes line, nor have they mentioned that Spooner has more points than Nash and Grabner combined.
Replacing Lundqvist in the player highlight package was another bad contract, in number 18, Marc Staal. Marc Staal said, and I quote, "You want to stick around as long as you can." So much for waiving that NMC.
Sam and Joe, before the game, said they were all for all these new defensemen playing. They said they want to see them develop. Pretty funny, considering they also want Lundqvist to start every game. I guess developing new players only applies to every position, besides the goalie.
Here was the line-up for tonight's win:
#NYR in warmups:
Kreider – Zibanejad – Fast
Vesey – Namestnikov – Buchnevich
Spooner – Hayes – Zuccarello
McLeod – Desharnais – Carey
Staal – Pionk
Skjei – DeAngelo
O'Gara – Gilmour
Georgiev

— Matt Calamia (@MattCalamia) March 12, 2018
I know that I'm reaching a DEPORT LUNDSWISS broken record here, but why McLeod remains on this team, while Lettieri is in Hartford, is something I just can't answer.
This game started off like many other Ranger games – with the opposing team on offense. Carolina would out-shoot the Rangers, 10-9, in the first period, but most of their chances came early in the frame.
If you know me in real life or just from what you read on these blogs, you know that I really don't put much stock in these silly charts or advanced stats. After all, these advanced stats are all objective.
For example, early in this period, Jimmy Vesey was 2 feet away from Canes goalie, Scott Darling. Darling had the net sealed off and Vesey had a bad angle. However, Darling, who made the elementary save, would have this save recorded as a "High Quality" (HQ) save. Vesey gets a HQ shot here, which helps his Corsi, Fenwick, Dr. Howard, Dr. Fine, Dr. Howard. (Yes, that's a Three Stooges reference. I'll save my rant on Three Other Stooges, the Lundqvist Splooge Stooges, in Hartnett/Micheletti/Fortunato for another blog!)
John Gilmour, who had a Scott Norwood Hat Trick tonight (Three wide right shots), saw all three of his shots recorded as "HQ" shots. While Darling doesn't get a save stat on any of these (The puck needs to go to the net and not to the Jagermeister ads on the corner boards) for Gilmour, he gets a HQ shot recorded. So by shooting the puck in the corner or into the safety net, Gilmour helps his silly advanced stat numbers.
These are just two examples. This goes on around the league, so it's easy to see why I don't put faith into this crap. Do you know what I put my stock into? The play on the ice. I don't need a basement-made spreadsheet, an abacus, a T-Square, or a scientific calculator to tell me how a team or player is doing. The old eye test is good enough for me.
Here's another prize pack for you, this time featuring a player card signed by @@HLundqvist30! RT this for a chance to win. 👏 #NYR #LGR pic.twitter.com/6boBxAyoZy

— MSG Networks (@MSGNetworks) March 12, 2018
As you can tell from above, the MSG Networks were giving out free prizes all night. I really wanted to win this Lundqvist prize pack, just to make the Lundswiss bots cry! Yes, I am a heel!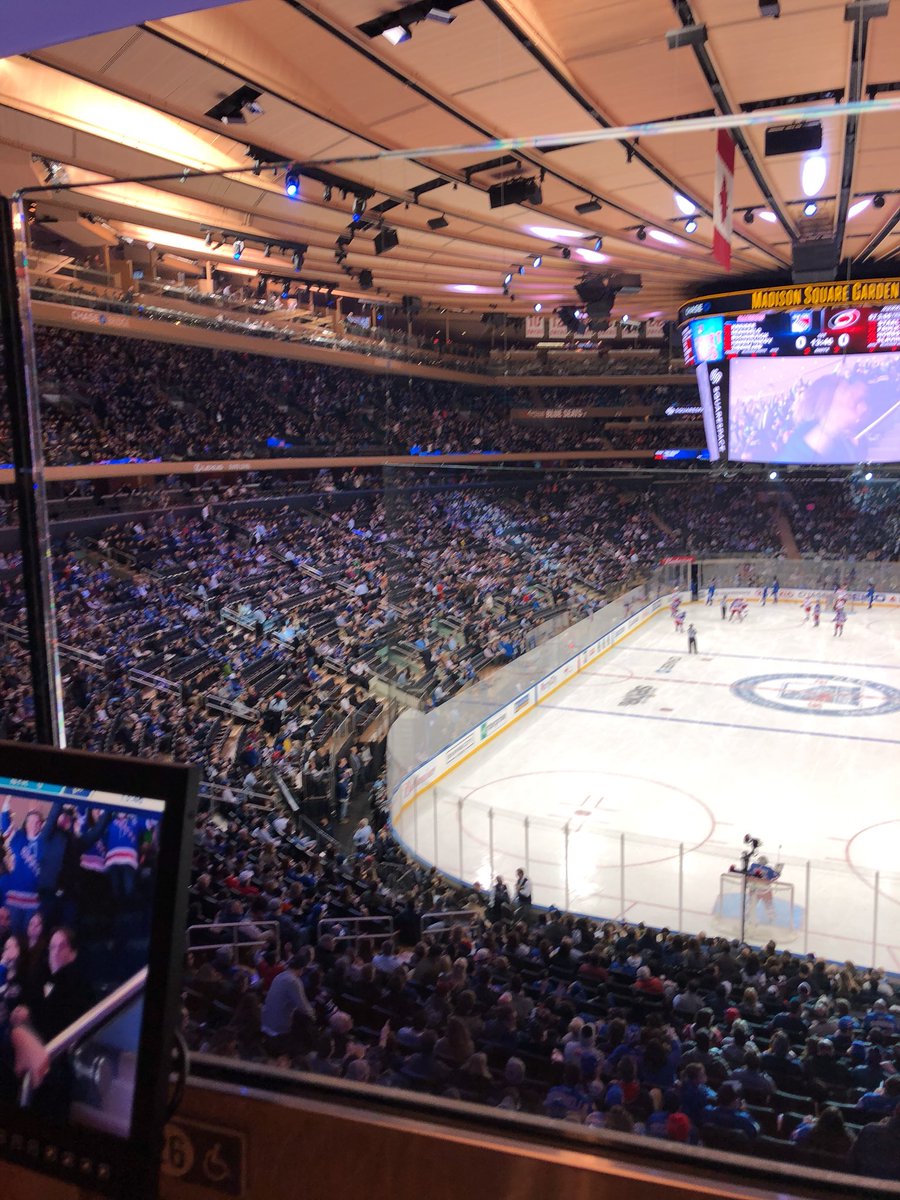 The Rangers had a lot of trouble putting the puck on net tonight, but I guess that fact will be lost in a 6-3 win. I mean "STONES" himself, in David Desharnais, missed an easy one too. The Rangers also got two powerplays in the period, but both attempts were futile.
As I tweeted out before the game and have said on this blog, the defensemen really play better offensively when Lundqvist isn't there to chastise them. That was evident on the first goal of the game:
Mats Zuccarello makes it 1-0 #NYR pic.twitter.com/8P3xzpH8Hx

— Rob Taub (@RTaub_) March 12, 2018
Pionk blasted one, Zucc took the rebound, and boom, 1-0 good guys. Another helper for Pionk and this was Zucc's third goal in as many games.
In a play straight from the "OUCH FILES", Brock McGinn would take a puck right to the cock. Watching him skate to the bench was painful. Joe Micheletti said the puck hit him "in the left leg", when it clearly hit him in the third leg. It's too bad the M$G Networks doesn't have a proctologist on staff, because someone needs to remove Micheletti's head from his ass.
At the 14:32 mark of the period, Teuvo Teravainen scored his 20th goal of the season:
TEUVO TERAVAINEN MAKES IT TEUVO TIME! TURBO BATS ONE HOME! 1-1! pic.twitter.com/0XqZSQP7lN

— NHL Daily 365 (@NHLDaily365) March 13, 2018
This was a weird bang-bang type of play. I see Lundqvist giving up this same type of goal and for nearly $8M less, you can't blame Georgiev here. 1-1.
The Rangers closed the period on a PP, but didn't do anything in the final 1:48 of the period, thus giving them a 12 second powerplay to start the second.
After twenty, 1-1 at the Garden.
In the second period, the Rangers struck after their PP expired. At the 1:52 mark, Buchnevich (3 assists tonight) off the faceoff, found Jimmy Vesey with a perfect cross ice pass and Vesey finished the job. Vesey sorta redeemed himself here, after passing up a wide open shot on the previous power play. Hereeeeeeeeeeeeee's Jimmmmmmy:
PAVEL BUCHNEVICH FEEDS JIMMY VESEY WITH AN UNREEEEEAL SETUP! 2-1 RANGERS! pic.twitter.com/ls5FlmWyls

— NHL Daily 365 (@NHLDaily365) March 13, 2018
2-1 good guys.
Even better, unlike Lundswiss, Georgiev wasn't beat immediately after a Rangers goal.
A scary play occurred after the Vesey goal, as Tony DeAngelo banged up his leg and/or ankle badly:
Tony Deangelo – hockey guy (walked off the ice with one leg) pic.twitter.com/Zjy2zXGUTG

— Amazin Mets (@los_mets) March 13, 2018
Despite DeAngelo trying to stand up and moving like Lieutenant Dan from "Forest Gump", the refs did not stop the play. The Rangers had to help DeAngelo off the ice. DeAngelo wouldn't return and is scheduled for an MRI tomorrow. Rough injury and an unfortunate turn of events, for a player trying to improve his game on the big stage.
At the 8 minute mark of the second, former Ranger Lee Stempniak, tied the game. Of course, it's another ex-Ranger goal at M$G. It's just to be expected. On the goal, John Gilmour sat there watching. However, Georgiev didn't blow up at Gilmour, like the way Lundqvist screams and has his period in these situations. Instead, everyone remained calm and the game continued. 2-2.
The Rangers would get a powerplay at the 11:45 mark of the period, when Noah Hanifin was busted for slashing. 6 seconds later, the Vladislav Namestnikov put some stink on it and got his first goal as a Ranger:
VLADISLAV NAMESTNIKOV TIPS ONE HOME TO MAKE IT 3-2 RANGERS! pic.twitter.com/76AM1dBPjL

— NHL Daily 365 (@NHLDaily365) March 13, 2018
3-2 good guys, off another goal scored after a faceoff.
The Rangers closed the second period on defense. Unlike Lundqvist, Georgiev kept Carolina off the board in the final minute and the Rangers took their 3-2 lead to the locker room.
The third period got a little hairy, with Carolina taking a quick 7-1 shot advantage. Zuccarello, at the near 7 minute mark, would get boxed for hooking. Victor Rask would then score on a deep blast, while on the PP, to make the score 3-3.
And I'll save my critics their breath – Yes, Georgiev blew three separate leads. Yes, I would kill Lundqvist for that. However, Georgiev is paid nearly $8M less, is in his fourth start, wasn't beat on anything bad and has a whole career in front of him. He's not the highest paid goalie in the league. Additionally, the team did not give up, nor did he throw a hissy fit after allowing a goal.
At the 12 minute mark of the period, Jimmy Vesey scored the best looking goal of his young career:
JIMMY VESEY SCORES HIS SECOND OF THE NIGHT! pic.twitter.com/kwkSQ1rZeR

— NHL Daily 365 (@NHLDaily365) March 13, 2018
WOW. What a beautiful shot and finish from Vesey. And for Scott Darling, he might need some Preparation H on that one, cause his ass got burnt. 4-3 good guys.
As the game approached the segment of the game, formerly known as the "FOXWOODS FINAL FIVE" (Good advertising slogan, because I still refer to the final five minutes of the game as FOXWOODS), Georgiev was called on to make more saves. I mean just look at the game he had, compared to Scott Darling:
Shots On Goal
And people say this team needs Lundqvist. HA!
History happened after Georgiev's saves. The Rangers scored their first empty netter of the season. Then, immediately after, they scored their second. Zuccarello would make the score 5-3, at the 17:23 mark. Yes, the Canes pulled their goalie that early. Then, with under 30 seconds remaining in the game, Vesey got his first hat trick of his career:
JIMMY VESEY FINISHES THE HAT TRICK! RANGERS UP 6-3!

🎩🎩🎩 pic.twitter.com/UWaY3GESMB

— NHL Daily 365 (@NHLDaily365) March 13, 2018
Talk about great team work. With the net still empty after Zucc's goal, the Rangers fed both Zucc and Vesey, as they wanted to get these guys the hat trick. Vesey got it and really, he deserved it after this game. His first goal was a perfect finish. His second goal was a thing of beauty. This ENG just sealed the deal for him. After all, can you really do back flips if Zucc got the hat trick, with two empty netters on his stat sheet?
6-3 your final, in a complete team win for the Rangers. Start Georgiev against Pittsburgh. After all, how many times do you want to see Sidney Crosby bounce a puck off the back of the head of Lundqvist for a goal?
Two players in this league, that I like to watch & respect, are Alex Ovechkin and Marc Andre Fleury. Neither player has ever had any Ranger affiliation, outside of playing them all the time.
Both players, on a night where Lundqvist watched a rookie have a monster game, set career milestones. For Ovechkin, he scored his 600th goal. For Marc Andre Fleury, he recorded his 400th win, which puts him 30 wins behind Lundqvist.
Couple of things here. For Fleury, to me, he's a slam dunk Hall of Famer. It may take some convincing, but three Stanley Cups and 400 wins – how is that not HOF material?
After all, Lundqvist is a no-doubt about it Hall of Famer, despite never winning a Cup. Lundqvist has 430 wins, a career 2.36 GAA (That number will continue to rise as he continues to play, especially on a rebuild team) and a career .919 save percentage. Fleury, who got his 400th win in his 728th game (Lundqvist did it in 727 games), has a career 2.56 GAA and a .913 save percentage. Granted, Fleury played in front of better teams, but with these numbers, how can you argue that Fleury isn't a Hall of Famer?
Another slam dunk Hall of Famer is Alex Ovechkin. Like Lundqvist, he was also a victim of Fleury's Penguin teams and also has no Cup to his resume. However, as time goes on, it will be easier for Ovechkin, as a forward, to get a Cup, than Lundqvist. After all, Ovechkin may have the opportunity to "Bourque" it one day, where in the case of Lundqvist, those same options aren't there for a starting goalie and I don't see any team taking his salary as a back-up.
All three of these players are first ballot Hall of Famers to me. However, Lundqvist is 3+ years older than these two, meaning that when it's all said and done, I see Fleury and Ovechkin finishing up with better careers than Lundqvist. So much for that "GENERATIONAL TALENT" argument.
Speaking about Fleury's ex team…
Up next for the Rangers, is a prime time battle with the Penguins, who are looking to win their third Cup in a row this season. If it was up to me, I'd ride Georgiev. After all, let's see what he has against an elite team in this league.
From there, the Rangers get two days off and it's off to St. Louis, where I'll also be. I'm excited to see the Budweiser brewery. There's also that Arch shit too!
See ya Wednesday night.
As always…
"LET'S GO RANGERS"
Sean McCaffrey
BULLSMC@aol.com
@NYCTHEMIC on twitter