Miss me?
What's up everyone and welcome to another blog here on BlueCollarBlueShirts.com. Once again, I have to thank everyone for making my last blog, that 10,000 word manifesto from Tuesday, the most read blog on the site all season! Whether you agree or love to hate read, it's nice to see that people put the time and energy to read these blogs that are as long as"War & Peace".
After all, with all the hockey blogs out there, do you want to read the same narrative and same style everywhere you go? At least here, you know this product is 100% unique, written by a fan for the fan and I'll never beg for your money. I mean, can you imagine donating to someone's Patreon, just so they can tell you "IT'S NOT HANK'S FAULT, THE REASON HANK NEVER WON A CUP IN 13 YEARS IS BECAUSE OF NICK HOLDEN AND AV!" Child please!
Due to the Vancouver game starting at 10PM and my work schedule, I wasn't able to check in after the win against the Canucks. Just in case you missed anything, here are my most recent blogs, in case you need to play catch-up too:
---
---
---
---
---
---
There's so much to talk about since my last entry here on BlueCollarBlueShirts.com, so let's get right into it. However, in a twist, let's look at the most recent news – the Rangers are five points out of a playoff spot, with 18 games remaining. With the Rangers 3-1 victory over the Calgary Flames, the talk about the tank is put on hold. Instead, I'm starting a new hashtag – #BUILDTHETENT, as in the tent that has appeared on 33rd & 7th avenue these last few seasons.
Just to give you the visual, here are the updated standings after the Rangers Friday night win over the Flames:
| | | | | | | | | | | | |
| --- | --- | --- | --- | --- | --- | --- | --- | --- | --- | --- | --- |
| Metropolitan Division | W | L | OT | PTS | ROW | GF | GA | HOME | ROAD | L10 | STREAK |
| Washington | 36 | 21 | 7 | 79 | 33 | 198 | 191 | 22-9-2 | 14-12-5 | 4-4-2 | W1 |
| Philadelphia | 34 | 20 | 10 | 78 | 32 | 190 | 182 | 16-10-6 | 18-10-4 | 8-1-1 | L1 |
| Pittsburgh | 36 | 25 | 4 | 76 | 34 | 212 | 198 | 23-8-1 | 13-17-3 | 6-3-1 | L3 |
| New Jersey | 33 | 24 | 8 | 74 | 29 | 191 | 196 | 17-12-3 | 16-12-5 | 6-4-0 | L2 |
| Columbus | 32 | 27 | 5 | 69 | 26 | 170 | 180 | 19-11-2 | 13-16-3 | 5-4-1 | L1 |
| Carolina | 29 | 25 | 11 | 69 | 26 | 174 | 195 | 16-11-6 | 13-14-5 | 4-4-2 | W2 |
| N.Y. Islanders | 29 | 29 | 7 | 65 | 26 | 211 | 234 | 16-12-4 | 13-17-3 | 3-6-1 | L5 |
| N.Y. Rangers | 29 | 30 | 6 | 64 | 26 | 186 | 207 | 18-12-4 | 11-18-2 | 3-6-1 | W2 |
Let me get this out of the way first – YES, I'm jumping ahead. However, if we're going to play "what if" scenarios, I rather "what if" about the playoffs, rather than busting out a scientific calculator and figuring out the Rangers odds at the number 1 overall pick. I'm not the chart guy, but if I had to reckon, I'd reckon hard, and I'd reckon that the Rangers have a better shot at the playoffs than landing the number 1 overall pick.
Just look at the teams ahead of them, which admittedly, is everyone in the Metropolitan division and one team in the Atlantic division, in the Florida Panthers (68 points). Right now, the second and final wild card spot belongs to Columbus, whom have 69 (heh-heh you said 69) points. That's the spot I'm looking at right now.
And yes, save me the argument about how likely it is that the Rangers would get spanked by Tampa in a first round series. However, imagine that possible upset?
With the team the Rangers currently put on the ice, a playoff berth would be a win. They are no longer the perennial playoff powerhouse, which is a team that wins a few rounds and then watches Hank sulk at the end of it. No, they can be the 2017 Yankees, who grab a spot, and perhaps make a little noise. A playoff berth for this current club is a win. Entering the 2018 playoffs would give some of this young blood some experience and something to build on, as this franchise allegedly rebuilds. (I don't accept the term "rebuild" as long as Lundqvist, Staal and their contracts are here. I've outlined this before already in previous blogs.)
For guys like Gilmour, Pionk, DeAngelo, Namestnikov, O'Gara, Spooner and <gasp> Georgiev, some NYR playoff action under their belt would do them good. I don't think I have to sell you on that.
While I know all the rage is about defenseman Rasmus Dahlin, who is the front-runner to be the number 1 overall pick in the draft, there is no guarantee the Rangers get the first round pick, nor is there any guarantee he pans out. Plus, the Rangers need a SCORER. They haven't had anyone who could score goals since Jagr, and you have to go way back to the 70's, to find a Ranger draft pick that could score goals on a frequent basis. Furthermore, it's not like the Rangers have made a living via the draft anyway. Especially with Senile Sather's slimy fingerprints on things.
So no, I'm not on the tank bandwagon. I love the Yankees, but come on, I'd rather much watch the Rangers in the Spring.
Just take a real deep and close look at the teams fighting for the second wild card. Those teams are:
— The Florida Panthers, who pose no real threat.
— The New York Islanders, who are on a free fall so bad, that you really have to wonder if Tavares will continue to be a part of this mess come the summer.
— The Carolina Hurricanes, who despite high hopes, have become a victim of their own division.
— The Columbus Blue Jackets, once tops in the division, are now gripping onto the final spot like old dental glue on a decade-old denture.
If you look at the top four teams in the Metro (obviously the top three teams are a lock for the playoffs and without a doubt, the first wild card is coming out of the Metro too) it's not inconceivable that either the Devils or the Penguins slip a bit. While both teams reloaded near the deadline (Devils picked up Grabner from NYR & Maroon from EDM, while Pitt picked up Brassard from OTT) both teams have goalie issues. Schneider just returned for the Devils, so he will be a little rusty. For the Penguins, Murray is out with a concussion. If their 8-4 loss to Boston is any indication, the more than equipped Pittsburgh offense will have to go 1980's Oilers on their opponents. That means winning the 5-4, 6-5 and yes, the 8-4 games!
While thinking about the Rangers as the second wild card may be a pipe dream, isn't it better to watch these final 18 games with some sort of hope, rather than bandwagoning for Tampa? Don't get me wrong, the second the Rangers are mathematically eliminated from the playoffs or eliminated from the playoffs, I'm going to ride the Lightning all the way. After all, I'd love to see Cally, Girardi and McDonagh get a Cup. However, more importantly, I'd like to see the Rangers get another first round pick.
All I'm saying is this – realistically, do the Rangers make the playoffs? Probably not. However, it's much easier to root for them to try. Who wants to root for losses? If Henrik Lundqvist can keep up the type of performances that he's been displaying in Western Canada, the playoffs shouldn't be out of the question. That said, I'd hold my breath on that, because as we know, he's been consistently inconsistent, just like anyone else on the team.
When I left you last, the Rangers lost an OT game, on Jean Ratelle night, to the Detroit Red Wings. On Wednesday night, the Rangers beat the Canucks, 6-5 in OT. Lundqvist made 50 saves on 55 shots and of course, the Lundswiss bots were in full force.
I'm not going to recap that whole game, but all I'll say is this – I just can't rah-rah a guy, who blew a 3-0 lead to a bad team and then would blow two more leads in the game. Is the Rangers defense not up to par? Of course. That said, that's why you pay Lundqvist the most money in the world to do what he does.
It all goes back to my original point. It's the drum I've been beating for three years. You just can't win a Cup with a Top 5 paid goalie in this new salary cap era NHL. While it's popular for the under 25 crowd to say "LUNDQUISS CARRYES THIS TEEM EVRY GAYME EVER PLAID!" or the creepy "WEE DONT DEESERVE YOU HENRYK LUNDQIST", the reality is, if you built this roster differently, you may have won a Cup or two already.
I will go to my grave thinking that if the Rangers rode Talbot in 2015, they would've won the Cup that season. Watching Matt Murray these last two years (Got the nod over Fleury) and watching this years eventual Vezina winner, Andrei Vasilevskiy (High priced goalie Ben Bishop got traded, despite a SCF and ECF appearance) cements my theory for me.
If you're going to react to Hank's performance in the win over the Canucks, then what is tonight? To me, this win over the Flames may have been Hank's best win all season. (I still go back to that win over Tampa from November, just because Tampa is the best team in the NHL.)
Hands down – Lundqvist was phenomenal tonight. I'm sure my words will get ignored by the Lundswiss bots, because after all – every story needs good and evil. Just like Al Pacino's "Michael Corleone" character from the "Godfather", or someone like "Tony Montana" from "Scarface", someone has to be the bad guy. With my pro wrestling background, I have no problem being the heel for the fans that fawn over every Lundswiss wet fart.
Then again, like "The Walking Dead", what if the story flips the script and it's revealed that Negan, and not Rick Grimes, is the hero in this tale? When you look at my opinions and blogs, have I ever been proved wrong on the topic of goalies? Last I checked, Hank is Cupless, the Rangers are a mess and Hank will go down as a Dan Marino/Karl Malone type, and not as a champion.
Reality check – Hank had one above average game against the Canucks (I can't forgive blowing a three goal lead against a bad team) and had a masterpiece tonight. However, take those two games out of the equation, and you have this:
Speaking of tonight, let's get into tonight's game, before hitting a few random news and notes, including the Ryan McDonagh story. As usual, here's the ESPN.com box score:
1st Period Summary

Time
Team
Scoring Detail
NYR
CGY
4:07

Kevin Hayes (18)
Assist: Ryan Spooner
1
0
16:39

Brett Kulak (2)
Assists: Michael Frolik, Matthew Tkachuk
1
1
Time
Team
Penalty Detail
0:27

Brady Skjei: 2 Minutes for Hooking

2nd Period Summary

Time
Team
Scoring Detail
NYR
CGY
0:56

Pavel Buchnevich (14)
Assists: Chris Kreider, Neal Pionk
2
1
10:48

Ryan Spooner (10)
Assist: Anthony DeAngelo
3
1
Time
Team
Penalty Detail
1:47

Brady Skjei: 2 Minutes for Hooking
12:01

Mikael Backlund: 2 Minutes for Cross checking
19:40

Chris Kreider: 5 Minute Major for Fighting
19:40

Travis Hamonic: 5 Minute Major for Fighting
19:57

Dougie Hamilton: 2 Minutes for High-sticking

3rd Period Summary

Time
Team
Scoring Detail
NYR
CGY
No scoring this period
3
1
Time
Team
Penalty Detail
2:13

Brady Skjei: 2 Minutes for Interference
7:54

Mikael Backlund: 2 Minutes for Cross checking
Goaltending Summary
Rangers

New York Goaltending

Player
SA
GA
Saves
SV%
TOI
PIM
H. Lundqvist
51
1
50
.980
60:00
0

Flames

Calgary Goaltending

Player
SA
GA
Saves
SV%
TOI
PIM
J. Gillies
27
3
24
.889
56:49
0
I thought it was really cool that the Flames opened up the rink for fans to watch both the Flames and the Rangers practice. You will never see NYR do that at M$G.
Before diving into the game, here are a couple of pictures that reader/friend Bob Groder took from the practice:
If you recall, before the Rangers were forced to have an open practice this season, because NBC needed footage, it were the Calgary Flames, who held the last open practice in Manhattan. For a team mired in controversy about a new arena and possible relocation, I hope it works out for them. They are truly fan friendly.
The MSG pregame show was an interesting one tonight. I don't know why I get emails about this, but I feel like I need to remind readers of this – I like and respect Steve Valiquette. While I'm not a stat/chart guy, because I haven't seen one chart that factors in human emotion, fatigue, passion, will to win, the 82 game grind, back-to-backs, nagging injuries, etc, there is a place for his analytics. However, just remember, you can't spell analytics without "ANAL" and I just feel that many fans that preach these stats, are just that – assholes!
Superbowl winner, Coach Jon Gruden, recently did an interview, where he said something akin to "People need to leave the basement. Games are won on the field." Listen, I'm just a guy who enjoys beer and watching sports, but I will tend to gravitate to Gruden's line of thinking than people who think you can win any type of sporting event with a spreadsheet. When it comes to hockey, the game is just too fast paced to start busting out charts. This stuff works better in a slow moving game like baseball, which is why Joe Girardi had a binder that was as big as all my blogs printed out.
I think Vally's CSA service, (https://www.csahockey.com) is a valuable TOOL for coaching staffs, but not an end-all. You will never win a Cup with charts. You need emotion, drive and guts, and that's just not in these charts. However, as a complementary tool? Sure, it can't hurt to have this stuff around.
The reason I bring up Vally is that I thought he said something interesting tonight, when previewing Flames goalie, Jon Gillies. Vally said for an NHL goalie to be successful, he must play 200 AHL games.
Vally isn't an idiot, so while I questioned his statement, I also know that in the TV business, you only have a certain amount of time to make a point, before moving to the next topic. (Unfortunately for me, every next topic on the MSG Networks is Lundqvist, whether it be Lundqvist at casino night, Lundqvist making 50 saves with his blown leads being ignored, Lundqvist on the new team in front of him, Lundqvist on his prostate exam where they found the heads of Fortunato,  Hartnett and Micheletti, Lundqvist on split ends, Lundqvist on the war in Iraq, Lundqvist on Baldwin's Trump impression, Lundqvist on the Rocky movies, Lundqvist on the homeless, Lundqvist on is a hotdog a sandwich, Lundqvist on global warming, Lundqvist on Carl's death on Walking Dead, Lundqvist on Carly Simon's "You're So Vain", Lundqvist on cutting the cord, Lundqvist on pineapple pizza, Lundqvist on DACA, Lundqvist on "Kevin Can Wait" killing off Donna Gable, Lundqvist on lack of screen time for Chris Roach on "Kevin Can Wait",  Lundqvist on Trump's wall, Lundqvist on Pink Floyd's Wall, Lundqvist on the hit single "Wonderwall", etc.)
Anyhoo – while I thought the "every goalie must play 200 games in the AHL" statement was off, I knew that if Vally wrote an article about this, he would be able to explain himself better. On twitter, he did, as he said other leagues count. He specifically named the Swedish league, because if he didn't, Lundqvist would have Vally's job. Of course, the KHL, where CZAR IGOR plays, (and where Vally once played) was ignored. Remember the mantra: "THOU MAY NOT SAY ANYTHING THAT MAY QUESTION LUNDQVIST'S JOB AS STARTING GOALIE OF THEE NY RANGERS."
By the time we got to the game itself, I had enough about hearing Lundqvist. However, his number 1 cheerleader, Joe Micheletti, was beyond brutal tonight. I'm surprised, and did I stop counting after 8, that Micheletti didn't mention Lundqvist's birthday 50+ times.
I swear – I think part of my disdain for Lundqvist, besides the fact that he hit a woman, throws tempter tantrums, got Torts fired, held the team up for money, is a shitty teammate, flips nets, smashes sticks, throws pucks at refs, gets embarrassed by Crosby, can't win a Cup, chokes in big games, deflects blame on others, etc; is because of Micheletti's game-by-game fawn and gawk job. Seriously, the Lundqvist admiration and daily squirting by Micheletti overpowers the hormones of a male teenager seeing a naked woman for the first time.
There was even a period in this game, where I thought Micheletti was going to rip the throat out of the official statistician, for not giving Lundqvist extra saves. He kept whining about Lundqvist not getting credit for more saves. Then, towards the end of the game, where Lundqvist was approaching Richter's 53 save record, Micheletti just started flat out making up saves. He just has no credibility on the topic. You're better off with Ray Ferraro from TSN, as he can talk about Lundqvist, and any other player for that matter, with objectivity and without bias.
There's just no thing as a routine save.  Every save is god gift's to hockey. When Lundqvist gets hammered, it's the fault of everyone else. Oh, and if you're that fan who saved up your money for the high ticket prices at M$G and decided to boo, you're worse than Satan, Hitler and Hillary Clinton combined.
I truly believe that if say, Kenny Albert & Dave Maloney were the TV duo, I could tolerate the bad Lundqvist contract. When you have Joe, and now Sam, acting like Lundqvist is a Derek Jeter in this city, it's laughable and FAKE NEWS.
I get it, hometown announcers have to lay it on thick, but the shit that Micheletti lays down is enough fertilizer to last a farmer a thousand lifetimes. We need more Keith Hernandez and less pom-poms.
And I hate to say it, but Sam Rosen's best days are long gone. At one point in this game, he compared Lundqvist to "THE DOMINATOR", in a one Dominik Hasek. I know that as fans, we sometimes overreact to one game, but for the paid professionals to forget the first two months of 2018, and still talk about Lundqvist like it's 2012, it's just silly. He had a great game. But guess what, he's paid the most in the world to have a great game every night! I can't take away what he did tonight, I just wish to see it more frequently, especially when you factor in that we're living in the salary cap era.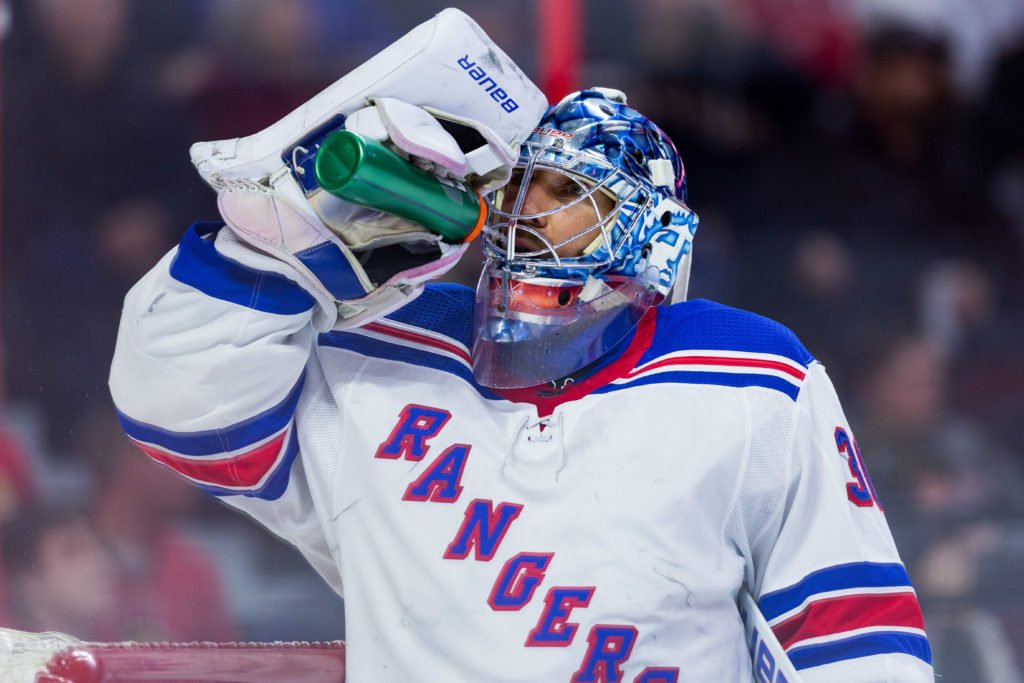 I'm becoming a hypocrite, because I slam these announcers for not talking about anyone else. I'm doing the same thing. My apologies!
The Rangers, off their win over the Canucks, entered their second Western Canada city, and took another two points. Tonight (by the time you read this) the Rangers can go for the sweep, if they can get past the Edmonton Oilers. For a team that was once a bottom 5 of the league team, a win over the Oilers has you looking at the standings again. Shit, after two wins, I'm already crossing my fingers for playoffs!
With the Blown-Apart Rangers in full effect, we, as Ranger fans, have had to learn a lot of new names and a lot of new faces. I still have to Google on how to spell Vladislav Namestnikov correctly. I'll just go with VLAD THE IMPALER, as it's much easier to spell!
While Vlad had a monster first game for the Rangers, in the win over Vancouver, (1 G, 1 A) it's been Ryan Spooner catching the eyes of RANGERSTOWN. In three games, he has 1 goal and 6 assists. Rick Nash who? I kid, I kid. However, while I don't expect the points to remain at this rate, if he can at least be an offensive threat, this trade is a total win-win. In fact, as I said when the trade was made, I thought it was a win for the Rangers. If Spooner pans out? It's a homerun. I'm sure the T-Shirt guys are already working on SPOON MAN shirts. Let's hope they don't get hung out to dry like Chris Cornell. (Oh relax, it's a joke.)
After what felt like a parody of a pregame show, which included omitting the National Anthems from the broadcast, so we could watch Hank's 50 saves against Vancouver (Of course, the three goal lead and three separate blown leads weren't included in the video package) the puck dropped in Calgary. The Flames, teetering around a playoff spot, found themselves at a disadvantage with back-up goalie Jon Gillies in net. It's amazing the Rangers didn't double digit his ass, as it seemed like his iron made more saves than him. In fact, Gillies would hear the fortunate ring of 5 goal posts and 1 crossbar.
Ryan Spooner, who looks just as comfortable here, as Rick Nash currently looks in Boston, started the game off with a fast shot. However, 27 seconds into the period, Skjei, like a meth-addicted prostitute, would be called for a cheap hooking. Soft penalty called here. Seriously, while it didn't bite the Rangers in the ass, like Marv Albert with a prostitute, the refs have to realize that the fans pay to see the players and not the zebras. This isn't a deodorant commercial – keep your arms down.
The Rangers, despite no longer employing Michael Grabner or Rick Nash, would kill the penalty. In fact, the PP units on both teams went 0-3 on the night. I thought the Flames had the better PP, but Lundqvist made several huge saves to keep a PPG off the board. The Rangers just looked like they were dicking around at times. I hope the Martin St. Louis as assistant coach rumors are true, because Scott Arniel needs to be fired based on his lack of production with this PP.
Four minutes into the period, after a faceoff shot, Kevin Hayes scored his fourth rebound goal of the season:
RYAN SPOONER GETS THE PUCK TO THE CREASE AND KEVIN HAYES JAMS IT HOME! 1-0 RANGERS! pic.twitter.com/LdBZPARXqL

— NHL Daily 365 (@NHLDaily365) March 3, 2018
I don't know if this was a set play or not (I'd assume it was), but Spooner created offense and Hayes finished it. 1-0 good guys.
After this play, the fourth lines took the ice, and we saw Glass check McLeod. I was hoping for a Glass/McLeod fight all night. While we'd get a "fight" (it was more like two drunks falling down on the ice that we currently have here, on the streets in NY) between Kreider/Hamonic, we didn't get a brawl like I wanted. Then again, if I got what I really wanted, Tanner Glass would've challenged Hank at center ice!
On Tanner Glass, he did seem more offensive oriented in this game. I'm sorry, I'm a Glasshole and PRO GLASSIAH. I wish he was still here. You're telling me McLeod is better? Cmon man/woman/transgender/Micheletti person.
Spooner, who would later pick up an assist, also set up Fast with a "GOOD LOOK" (trademark credit to Alain Vigneault) but Fast couldn't finish. Seriously, Spooner, albeit in three games, is flourishing in a new jersey. All of a sudden, Fast/Hayes/Spooner is the new GAG line!
Interestingly enough, NYR may have to make a decision on Hayes and Spooner. With Namestnikov's contract expiring, along with Hayes and Spooner, who do you keep? All may get $4M each on the open market. Will NYR invest $12M+ on these three?
At the 16:39 minute mark of the period, I groaned, as we saw the usual routine from Lundqvist – a dropped stick (he dropped his stick four times in this one) a bad rebound, a lead blown, a temper tantrum, and yelling at his teammates. You know, rinse, wash, repeat.
Here's Big Bad Brett Kulak's second goal of the season:
BRETT KULAK WALKS INTO OPEN SPACE AND SLAMS IT HOME TO TIE IT FOR THE FLAMES! pic.twitter.com/01JuuFkE2a

— NHL Daily 365 (@NHLDaily365) March 3, 2018
Lead blown, 1-1 game, where the score remained after twenty minutes of play.
The first minute of the second period was wild. Lundqvist lost his stick, Neal Pionk made a strong play on D, Lundqvist made a good save and on the other end, Mr. Corsi, Pavel Buchenvich himself, squeaked a goal past Gillies. Here's the goal:
PAVEL BUCHNEVICH! RANGERS LEAD 2-1! pic.twitter.com/r4z10YQDz7

— NHL Daily 365 (@NHLDaily365) March 3, 2018
2-1 good guys.
As this period went on, Lundqvist approached 30 saves. Alain Vigneault, before the game, said he wanted to limit Lundqvist to 40 shots. That's some game plan. I'll say here – the Rangers, when they decided to make Lundqvist the biggest cap hit on the team, embraced a style of play where you'd have to rely on the goalie more than other teams. It doesn't mean he should get a gold star for beating a non-playoff team. We needed this type of effort against LA in 2014 (instead of blowing two goal leads left and right), in Tampa in 2015 (giving up touchdowns all over the place) and in Ottawa in 2017 (blowing two goal leads every fucking game.) When Lundqvist finally retires (I can't wait) you won't remember this game.  You'll remember what he did in the playoffs.
In a hard fought period, Spooner would score to make the game 3-1. It would be the last goal of the game, and it wound up being the insurance goal. Take a looksie:
Ryan Spooner scores his first goal as a Ranger. He now has 7 points in his first 3 games with the team. pic.twitter.com/w5JsCoBKaf

— TheRenderNHL (@TheRenderNHL) March 3, 2018
That is some pass from Tony DeMAGAngelo.
3-1 good guys.
The Rangers would continue to fight the good fight, but continued to hear the metallic ding, time and time again. Of note, Peter Holland was in this game, because apparently he's more important to the rebuild than Vinni Lettieri, who is on a Wolfpack team falling apart, due to all the call-ups.
Sam Rosen, bringing the pain, made some dumbass comments, as he praised Cody McLeod's play and said Ruff has done a great job with his defense. Apparently, Micheletti is rubbing off on him.
Both teams would kill a penalty in this period, before Kreider and Hamonic hugged each other and fell down for a 5 minute major. As the period expired, the score remained 3-1, NYR.
The third period was a fast moving affair, and seemed to move quickly, as half the period expired, with the score still at 3-1.
Lundqvist was the star of the third period, making 19/19 saves, as Micheletti's throbbing dick blew the Saddledome roof into North Korea.
In this period, Buchnevich would have a "GOOD LOOK", but couldn't beat a back-up goalie on a breakaway. CORSI? FENWICK? BUELLER?
As we approached and got into the time formerly known as the "FOXWOODS FINAL FIVE", Lundqvist turned it on and denied several Flame opportunities. They burnt out. Get it? Har har har.
The Flames would pull their netminder, but unlike the Canucks on Wednesday, the Flames couldn't find the 6 vs 5 goal. Of note, the Rangers couldn't find the empty net either, and with Grabner gone, they are probably going to have to sweat out these types of situations more times than not.
Lundqvist and more importantly, the Rangers, held on. 3-1 your final, two points collected and one playoff dream remains alive.
By now, you may have heard that Ryan McDonagh wrote an article, talking about his time with the Rangers. You can read it here: https://www.theplayerstribune.com/ryan-mcdonagh-thank-you-new-york/
What was interesting, was that McDonagh talked about his friends and thanked other players. Henrik Lundqvist's name was not on either list. However, as fans started talking about Lundqvist's omission, the article was updated and BOOM, Lundqvist's name was in the player mentions, not the friend mentions.
I know I wasn't the only one who caught this, but it goes back to what I said all along, I don't think McDonagh ever appreciated Hank's crybaby games.  I just don't think they ever had that friendship Richter and Messier had. This does fall on Lundqvist a bit, as he doesn't seem to be the most personable guy on the team, which in turn, I think has hurt the Rangers.
When you look at contemporary goalies, to this day you see Fat Marty palling it around with his ex Devil teammates and Marc Andre Fleury chilling with his Penguin and VGK teammates. I'm not saying you need to play a late night game of Parcheesi to connect with someone, but there is something to having good chemistry in a Cup run.
I'm truly going to miss McDonagh. I don't think he'll ever be back. Deep down, I wish he was a career Ranger, or at least logged 10+ seasons with the team. Seeing him go just sucks. Since he was injured during his final weeks here, I don't think it's truly sank in just yet, that we won't see 27 in blue anymore. To be honest, it kinda sickens me that Marc Staal has outlasted both Girardi and McDonagh, only because he had the worst contract of the three. I don't think Staal has been particularly bad this season, but knowing that 5 and 27 are gone, and 18 is here, it gives me that "I just mixed whiskey with vodka with milk with White Castle" feeling. Pure queasiness.
I know I said it last blog, but why not again – Thank You Ryan McDonagh.
As we get to the homestretch here, how about this:
Shesterkin finished the 2017-18 KHL regular season with a 24-2-2 record, along with a 1.70 GAA, a .933 SV%, and 7 SO. He tied for third in the KHL in shutouts, ranked fourth in GAA, and ranked sixth in SV% this season. #NYR

— NYR Stats & Info (@NYRStatsInfo) March 2, 2018
200 AHL games my ass!
Just as a recap, CZAR IGOR not only has a KHL Gagarin Cup (Russia's Stanley Cup), but he also has an Olympic Gold Medal. KING!
As I've always said, if the Knicks had a star Russian, Dolan would ok a buyout. It's time to afford that same luxury to Igor. The sooner he gets here, the faster we can rebuild.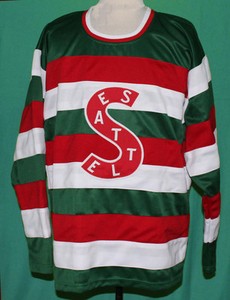 If you didn't know it already, Seattle will join the NHL, after the eventual fourth lockout under the watch of Gary Bettman.
By the way, did you see this:
NHL Seattle season-ticket drive reaches 25K sold in one hour https://t.co/40y8seTOXx

— NHL on NBC (@NHLonNBCSports) March 1, 2018
The unnamed potential Seattle NHL franchise sold 25K season tickets in an hour. Maybe they can help the Islanders sell tickets? Seattle, a once great city in the PCHA days, looks to play for the greatest prize in hockey, once again. If Vegas is any indication, Seattle should get off to a strong start and will also force the NHL to realign. I have many opinions on a future NHL realignment, and once Seattle is a reality, I'll talk about it then. All I'll say for now is that Detroit must be moved back to the West!
It was reported on Thursday, that the Maven, Stan Fischler, would be retiring at 86 years old. You can read the story here: https://www.newsday.com/sports/media/stan-fischler-the-hockey-maven-to-retire-from-television-1.17020044
Fischler, a NY hockey mainstay, covered the Rangers, Devils and Islanders, during his 50+ years of reporting.
It was through the books of Stan Fischler, that I was introduced to Frank Boucher. If the Rangers were to ever do the right thing, and honor Frank Boucher, Stan Fischler is the last living link as a hockey person who knew Boucher.
I've written before about how I thought the M$G Networks dropped the ball with Fischler. I know Fischler may not think that, but for all the dumb shows M$G has aired over the years, like the "JB Smoove Show", a perfect show would've been the M$G Vault, with Fischler talking about old hockey games.
Another hockey wrong that should be righted? It's time to induct Fischler into the Hockey Hall of Fame.
Good luck to Fischler, who plans on traveling to Israel to live with his son in his final years. It's tough to picture the NY landscape of hockey without him.
Just throwing this out there – does anyone know where I can get the above graphic turned into a patch? It would be a perfect patch for my McDonagh Bolts jersey!
I was going to close with my thoughts on a recent Larry Brooks article, but I'm already 6000+ words in and it's 3AM. I'll save it for tonight/tomorrow. Speaking of….
Up next for NYR: a chance to sweep Western Canada, as the Rangers play the Oilers. Alexander The Great has already been announced as the starter, so we won't get a Lundqvist/Talbot match-up.
I'll talk more about this tomorrow, but what a disappointment the Oilers have been this season. As much as it pains me to say it, and as much as it will bring glee to my haters, Cam Talbot has had an awful season. However, we'll chat more about that on Saturday night.
For the Rangers, if there was ever a game to play fast and loose, this game with the Oilers may be it. While we won't know shit until the season is over, imagine if this was the game where the Rangers sky rocketed themselves to the playoffs, while the Oilers gave up two points here…and eventually got another number 1 overall pick?
Thanks for reading, see you tomorrow!
As always…
"Let's Go Rangers"
Sean McCaffrey
BULLSMC@aol.com
@NYCTHEMIC on tweeter