What's up everyone and welcome to another blog here on BlueCollarBlueShirts.com. As I write these words, it's currently 2AM, as the Rangers just beat the Edmonton Oilers, with a final score of 3-2. I did drink a Red Bull today, (as well as about 15+ Molson Canadians) so hopefully I have enough energy to finish this manifesto before tapping out to fatigue!
I did a long blog last night, after the Rangers win over the Flames. In that blog, I also recapped all the news of the week. I know things sometimes get lost on the weekends, so in case you missed last night's blog, or my previous blogs, here they are:
---
---
---
---
---
---
Make this tweet go viral please! Alexandar Georgiev winning dance💙❤️ @alexandergeorgiev pic.twitter.com/AVzviUIHdQ

— Mrs.Reedus (@ninaxoxox97) March 4, 2018

As you can tell from the video above, Alexandar Georgiev was excited about picking up his first NHL win tonight. I'd say act like you've been there before, but hey – he's never been here before. In turn, let me send my congratulations to ALEXANDAR THE GREAT, on this career milestone.
In the business of sports, if a new player is doing well, that means a roster spot is taken from another player. I hate to be the bearer of bad news, but in the limited sample size that we've seen from KING GEORGE, I don't see how you bring back ONDREJ THE GIANT. I mean, Pavelec isn't going to be here next year, so why dick around? Keep feeding the Bulgarian-Russian the starts.
The best case/win-win scenario for every party involved? The Rangers waive Pavelec and Pittsburgh, who's suffering tremendously, due to Matt Murray being out with a concussion, picks him up.
I talked in-depth in my last blog about the Rangers and the playoffs. Tonight's win takes that hope closer to reality.
This Western Canada road trip started with JT Miller on a plane to Vancouver. By the time the plane landed, Miller had to turn around and fly to Tampa. The Rangers also traded their captain, in Ryan McDonagh, but since he's been hurt for a while, I still don't think it's truly sank in just yet.
When the Rangers were unpacking their bags in their Vancouver hotel, it seemed that the franchise, the media and the fans themselves, were all resigned to this being a lost season. I mean, how couldn't you? There was just a black cloud over M$G and everything looked grim.
While I'm aware this could all come crashing down very quick, the Rangers are undefeated since the trade deadline. Without a doubt, the New York Strangers have plenty to smile and laugh about, as they make their way home.
I'll tell you one thing – the flight coming home will certainly feel a lot faster & be more upbeat than the loooooooong and tense flight to Vancouver. Listen – no one is saying the Rangers are unbeatable or are even a contender. What they are is exciting and playing with a passion. The Rangers made a lot of mistakes in these three games, but at the end of all three games, they found a way to win. In turn, Ranger fans are now looking at the playoff standings again, and not looking at the cellar standings for a draft pick. Talk about a roller coaster of a season.
What makes the Rangers so interesting right now, perhaps than any other point during the Alain Vigneault era, is the unknown. In previous seasons, the regular season was just a grind and a necessary evil, before the playoffs began. If the Rangers were going to make a trade, they were going to make a trade to improve their Cup chances.
For the first time in a long time, the Rangers now feature a roster full of players looking to earn jobs, money and playing time, not just for this season, but for next season too.
The new faces, such as Namestnikov, Spooner and McLeod will all be free agents. The young baby faces, such as Rob O'Gara, John Gilmour, Neal Pionk and Alexandar Georgiev, are all trying to increase their worth and playing time for next year. Then you have someone like Kevin Hayes, who says he wants to stay in NY, but the Rangers can move on from him this upcoming off-season. Looking further down the roster, you also have the big question of what to do with Mats Zuccarello. He wants to be here, so he doesn't want to give the Rangers a reason to move on.
In turn, the Rangers are now a team of individuals playing their balls off to earn ice time and to increase their wage.  They aren't the fat cats of past Ranger teams, because most of these guys haven't made that big money yet. Sure, you got Marc Staal and Henrik Lundqvist signed to ridiculous contracts, but for the most part, many players on this team are looking forward to having their best days yet to come.
You always hear about underdog teams having that "no one believed in us" mantra. While I wouldn't say that exactly applies here, with these Rangers, no one believed, as little as a week ago, that they could make the playoffs. They still might not, but the dream isn't dead yet. I just can't put the "no one believed in us" label on this team, because after all, there was so much turnover and it's not like this team has been playing together, as a unit, for any significant stretch of time. That said, they did put together a sweep of Western Canada and earned their first three game win streak of 2018.
And yes – while I'm aware that if it weren't for the Coyotes, that the Canucks, Flames and Oilers would all be at the bottom of the Pacific Division, it is still no small feat for a road team to sweep this trip. You're dealing with shitty weather, a three hour time change, back-to-back games, tons of travel, etc. When you look at a team like the Rangers, these three wins are impressive, especially since their season was swirling around, like a loose turd in a toilet.
I got topics to hit at the end of this blog, so let's get right into the game itself. As always, let's go to the ESPN.com box score:
1st Period Summary

Time
Team
Scoring Detail
NYR
EDM
0:54

Chris Kreider (12)
Assists: Mika Zibanejad, John Gilmour
1
0
Time
Team
Penalty Detail
1:48

Zack Kassian: 2 Minutes for Boarding

2nd Period Summary

Time
Team
Scoring Detail
NYR
EDM
5:43

Connor McDavid (30)
Assists: Matthew Benning, Cam Talbot
1
1
7:51

Mika Zibanejad (19) (Power Play)
Assists: Pavel Buchnevich, Mats Zuccarello
2
1
9:07

Paul Carey (7)
Assists: Cody McLeod, David Desharnais
3
1
16:48

Ryan Nugent-Hopkins (17)
Assists: Connor McDavid, Andrej Sekera
3
2
Time
Team
Penalty Detail
6:00

Cam Talbot: 2 Minutes for Delaying Game – Puck over Glass (Served by Pontus Aberg)

3rd Period Summary

Time
Team
Scoring Detail
NYR
EDM
No scoring this period
3
2
Time
Team
Penalty Detail
4:33

Neal Pionk: 2 Minutes for Hooking
17:33

Marc Staal: 2 Minutes for Cross checking
18:42

2 Minute Bench Penalty for Too Many Men on the Ice (Served by Michael Cammalleri)
Goaltending Summary
Rangers

New York Goaltending

Player
SA
GA
Saves
SV%
TOI
PIM
A. Georgiev
37
2
35
.946
60:00
0

Oilers

Edmonton Goaltending

Player
SA
GA
Saves
SV%
TOI
PIM
C. Talbot
34
3
31
.912
59:21
2
If you're a regular here, you know my thoughts on the MSG Networks personalities. Sam Rosen, a legend, is slipping to me. Micheletti is just unbearable. I wouldn't mind Dave Maloney and Kenny Albert taking their jobs, but I don't see it happening for many reasons, such as Albert being too successful with everything else he does.
Ron Duguay has been the constant here, for over a decade. Valiquette, who joined the team several seasons ago, is a good hire, because he gives you the goalie's perspective. I like the way these two play off each other at times and this broadcast highlighted that. (I feel like Phil Mushnick here, but instead of burying everyone, I'm complimenting these two!)
What I really like about Duguay, is no matter what, he's always rooting for the team to win. Obviously, he's not a fan boy, but he gives you that fan boy perspective, and there is nothing wrong with that. Just read this blog – I'm totally fan-boying it up. I don't want a tank. I'm pro #BUILDTHETENT , as in the Rangerstown playoff tent, that we've seen at 33rd & 7th, these last few seasons.
I understand why some fans may want the team to tank, but really, this draft doesn't feature a slam dunk elite scorer, which the Rangers need. In addition, this isn't the NFL – finishing last doesn't get you the number one pick.
Unlike recent drafts, there is no Auston Matthews. There is no Connor McDavid. Instead, the number 1 overall pick will most likely be Rasmus Dahlin, a defenseman. The Rangers have enough defensemen prospects and they just traded one of the best defensemen in their 90+ year history.
If Ron Duguay represents the blue collar beer drinker (no wonder why I enjoy his work) then Steve Valiquette is the guy drinking bougias French wine and eating kale chips. I don't mean that as an insult. What I mean is that he's more new age and more realistic. He's on top of the new trends like a hipster at a Whole Foods store opening.
I talked last night about how Valiquette said a goalie needed to play 200 AHL games before becoming a full-timer in the NHL. I also have to add that I missed the post-game show last night. Vally did include the KHL as a developmental league, in the same way he talked about the AHL and the European leagues.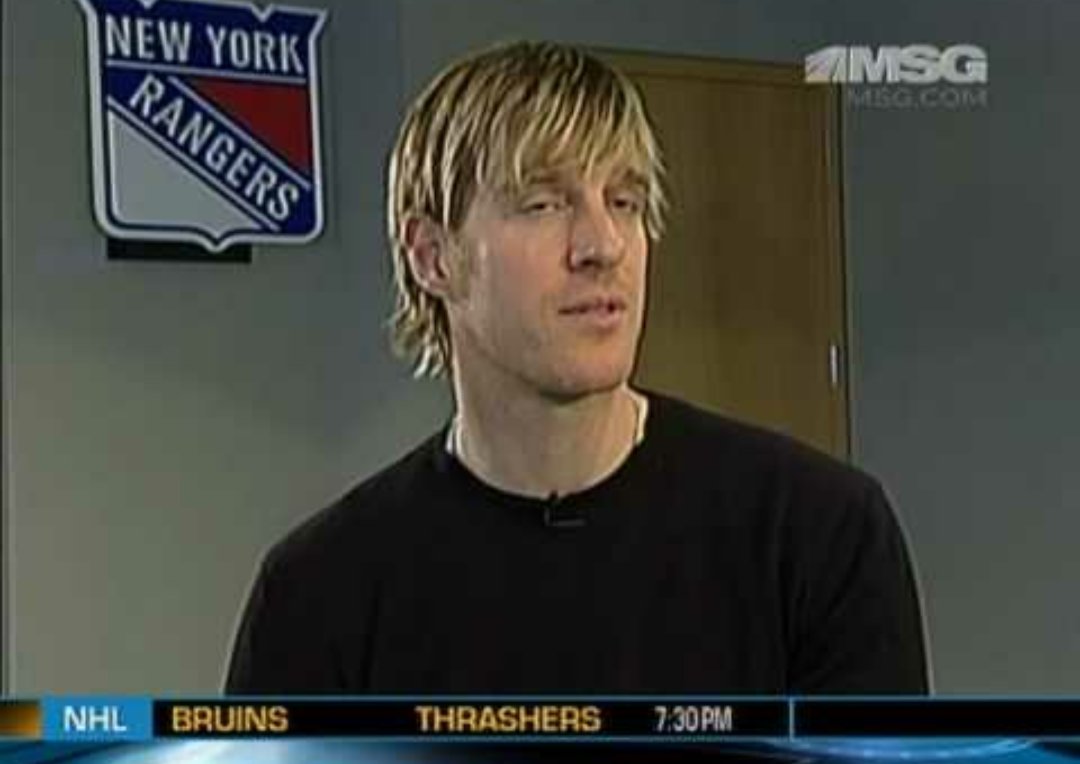 Tonight, Alexandar Georgiev got the start. Before the game, Ron Duguay felt good and was hoping/predicting a  Rangers win. Vally was more hesitant and wouldn't say the Rangers had a shot in this one, because of his numbers and charts. What happened in the game? Despite one soft goal, Georgiev had a beast of a game. This is why I don't put too much faith into these charts/data. I get the use and how they can help out, but none of these charts factor in the will to win, passion, emotion, blah blah blah – you know my spiel already.
Now, one game doesn't make a goalie. I mean last night, while Joe Micheletti was buying Lundqvist a diamond engagement ring, I was saying, "what about Hank's other starts in 2018?" That said, in his limited sample size, Georgiev has accepted the challenge. Will he improve or falter? Time will tell.
On the broadcast and on twitter, Vally conveyed that Georgiev still needs more work in the AHL. To me, you can't discredit Vally's opinion, because obviously, he played the game, knows all these advanced numbers, has his own stats company and knows the goalie position. However, I think Benoit Allaire is your x-factor here. After all, the last two NYR back-ups are now starters in this league. For a team on a rebuild, if you're going to wait one more year with Igor, why not give Georgiev time with the greatest goalie coach in the world today?
If you really want to see how valuable Duguay and Vally are to a broadcast, just watch an Islanders or Devils game on the M$G Networks. They just can't compare. Plus, on the NYR broadcast, you got Trautwig's teeth as comic relief, so how can you go wrong!?!?
Whenever the Rangers play the Oilers, my twitter blows up from people I don't know. If Talbot gives up a goal, I get flooded with "TALBOT SUX YOO R A STOOPID IDOT!" tweets.
Let me get this part of the blog out of the way quick – Talbot is having a bad season. I'm not making excuses for his season, but to me, here's why he's having a bad season:
— He's coming off the longest stretch of games that he's ever played. In the Spring of 2016, he set records, enroute to posting a shutout in the IIHF Gold Medal game. From there, he started 73 games for the Oilers, then started every playoff game in the 2017 playoffs. For a guy who was a back-up, he saw his work load increase tremendously.
— He had twins at the beginning of the 2016-2017 season. Two kids will change your lifestyle and training. There's an adjustment period and obviously, his priorities change.
— He didn't have his normal off-season training, because of the new members of his family. Instead of getting his normal work in, he was dealing with his new life.
— He's a focus of scouting reports. Now that he's a bonafide starter with a 100+ starts under his belt, he's no longer an after thought. This is where he misses Benoit Allaire, who could help with the adjustments.
— His defense got significantly worse and so did the team in front of him. The Oilers, as you saw tonight, have been BAD. I think Talbot is more on edge and doesn't let the game come to him like he did last season or like he did with the Rangers. Every game is a bigger battle than fighting parents at aToys-R-Us for the last hot new toy on X-Mas eve.
Again, I'm not making excuses for Talbot, I'm just trying to explain his struggles.
Of course, because I'm the Talbot guy and people hate that I've been right and never been proven wrong when I said Lundqvist would never win a Cup with that contract, I get a ton of messages when Talbot gives up a goal.  Let me address this one last time, or until the Rangers play the Oilers again!
What is lost among the people who don't agree with me, is that I never said Cam Talbot would have a better career than Henrik Lundqvist. What I said was that he was the better goalie for a team trying to win a Stanley Cup. He's the better VALUE. You know my arguments on Lundqvist and his contract, and if you're new here, just read the last 4 years of this blog.
When talking with Steve Valiquette about Alexandar Georgiev, he had the same opinion as me – Benoit Allaire may be able to rush Georgiev's development. Vally said, "Allaire is such an outlier as a coach, he could absolutely speed the process up. I went from a career AHL SP% of .909 to .935 in 7 months with him during 04/05 Lockout. Blew my mind."
Talbot got limited time with Allaire, and at the time, was making less than a $1M a year. The Rangers, the best they've ever been since the 1994 run, could've used that extra $7M to get offensive help. Granted, Talbot would eventually get a raise, but he wouldn't be a $8.5M cap hit. My same argument would later apply to Antti Raanta, although Raanta was never on a Rangers team that was deep as the Rangers teams that Talbot was on.
When you have a guy like Benoit Allaire, who can bring the best out of goalies, you don't need to make your goalie your top cap hit. You're better off giving Allaire the $8.5M, let him mold a goalie and use the money on either a top scorer or on an elite defenseman.
You know my tired spiel – "Not one top 5 paid goalie has ever won a Stanley Cup in the hard cap era." Talbot was great during his limited time here, and he would've only gotten stronger with Allaire. You can not say Lundqvist is a better value for a team trying to win a Cup.
To me, Talbot was better than Henrik Lundqvist last season. The stats don't lie. Talbot is having a bad year this season, and as a fan of his, I can only hope he gets in front of this slide and rebounds with a great season next year. He's capable of it. After all, he was fourth in the Vezina voting last season.
When you look at the Lundqvist era, the best the Rangers ever did was when Lundqvist was out 30% of the season with an injury. Just like the way the Penguins rode Murray and how the Lightning went with Vasilevskiy over Bishop, the Rangers had two opportunities to get a better value in net, first with Talbot and later with Raanta.
With the way Lundqvist was against the Lightning in 2014-2015 (he got creamed in every regular season start and gave up two touchdowns in their playoff series, thus needing a Game 7 that the Rangers lost) there was no way he was going to beat them in that that 2015 playoff series. I truly think the Rangers should've rode the hot hand and that was with Talbot.
I don't want to spend too much time on this, because I have probably written a million words on Lundqvist vs Talbot, but in conclusion, I will always be a fan of Talbot's play and the person off the ice. I admittedly am not a fan of Lundqvist. While he's a future HHOFer, I don't appreciate his on-ice antics, hitting the Islander girl with his stick, his contract negotiations, the way he got Torts out of here, etc and I also don't think you can win a Cup with him and his contract. I truly believe he's a product of playing in NY. I mean, look at a guy like Shane Doan. Yea, you may know the name, but he would've been a bigger name if he played in NY. Now what if Lundqvist was stuck in the desert? Would he be as popular as he is today?
Final words on this, at least for now – IN CAM WE TRUST, IN HANK WE BUST! BOOYA!
The Oilers and Rangers, linked together ever since 1994, are currently two teams in a similar position. However, the Oilers are the more disappointing of the two teams.
Expectations were high for the Oilers this year, and for whatever reason, they are near the bottom of the league standings. Predicted by nearly everyone to make a Stanley Cup run, the Oilers may wind up with another number 1 pick this season. The Oilers were supposed to be a team on the rise. For the Rangers, while they peaked, they were the ones able to blow it up at the trade deadline. While the Oilers made a few moves (moving Maroon being the biggest move) they weren't able to create space & grab picks the way the Rangers did.
What both teams have in common is that there are large pockets of the fan base that want their coach fired. For every "FIRE AV" tweet or Facebook comment you may read, there are 10 times more "FIRE McLELLAN" postings. Unlike Jeff Gorton, 99% of the Oiler fan base wants General Manager Peter Chiarelli on the unemployment line. With the way Taylor Hall has been this season, you can understand the sentiment of the Oiler fan.
Going into this game, I didn't know what to expect. On one hand, I could see Connor McDavid eating this Rangers defense alive. On the other hand, the Oilers have looked so disinterested at times, that I could see the Rangers pulling it out. At the end of the day, both of these things happened and the Rangers just added one more loss, on a long string of losses, on the Edmonton Oilers W/L record.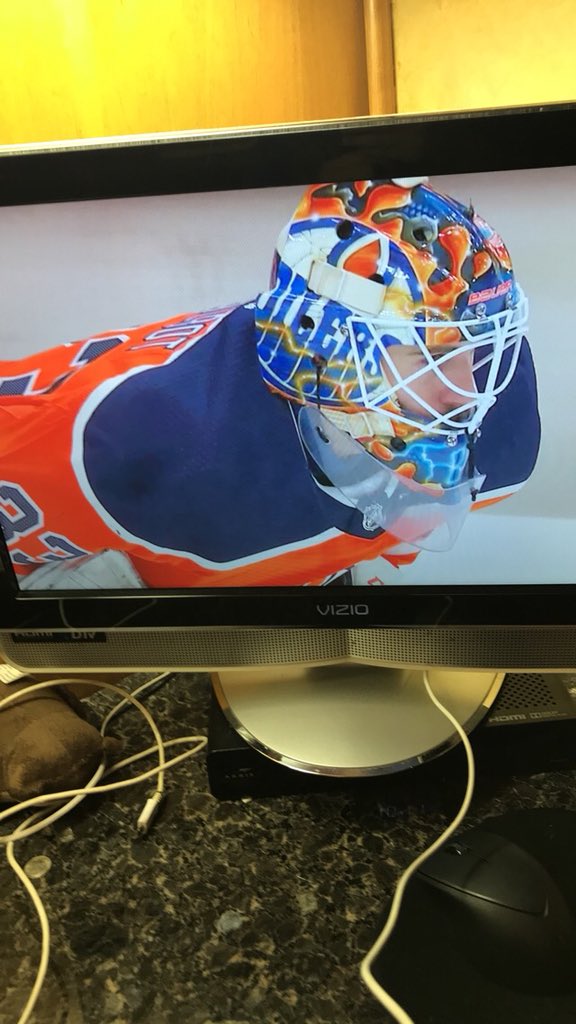 The Rangers, who gave up 50+ shots in consecutive games, changed the trend tonight. They dominated the shot battle for the first two periods, before allowing Edmonton to out-shoot them, 15-4, to give the Oilers a final 37-34 shot advantage. In turn, Georgiev made 35 saves and that final third period was no walk in the park.
Usually, with a back-up goalie, you see defenses shore up a bit. However, with these Rangers, how could you expect that? It's comical, so comical, that even Alain Vigneault and Marc Staal are joking about it. It's easy to joke about it when you're winning games, but for a guy who may be coaching for his job, I wouldn't be publicly laughing about it.
The first period was all Rangers. I was shocked about how disinterested the Oilers looked. They are the ones with a lot of big contracts, unlike these new Rangers. The Rangers seemed hell bent on spending time in the Oilers defensive zone and the Rangers did just that.
Georgiev wasn't tested until later in the first period, as he would only have two saves in the first 8 minutes of the game. For a team known as the "Orange Crush", the Rangers were squeezing the Oilers to a pulp.
The story of the game was the Rangers fourth line, of McLeod/Carey/Desharnais. I hate to praise McLeod, because it means the Rangers will keep him here. Again, for a team rebuilding, I don't know why Lettieri is in Hartford.
The Rangers fourth line deserved a cowboy sized 76374674737849639 gallon Broadway Hat for their effort in this game. They even played a lot against Edmonton's top line, featuring McDavid/Draisaitl/Lucic. That's a tough task for any line in the NHL, never mind the mish-mosh Rangers fourth line.
Henrik Lundqvist, who leads the league with the most amount of goals given up in the first two minutes of a period, saw his former understudy, in Cam Talbot, give up another early goal. I don't have the stats in front of me, but Talbot isn't too far behind Lundqvist this season, when giving up early goals.
Chris Kreider was the benefactor of some poor Edmonton defense, and with only 54 seconds expired, got the Rangers on the board first:
.@ChrisKreider n'avait toujours pas marqué depuis son retour d'une blessure.@MikaZibanejad s'est chargé de régler ça avec une savante passe! 👇 pic.twitter.com/inqE6brzsM

— LNH (@LNH_FR) March 4, 2018

For Ranger fans, they are used to seeing these type of goals scored on Lundqvist. 1-0 good guys.
Before there was any settling down, the Kasshole, Big Kass, in a one Zack Kassian, was called for boarding, 1:48 into the game. Just a dumbass penalty, as it happened in the Oilers offensive zone and he was away from the puck. This put the Rangers on the PP, which of course meant Georgiev had to make a big save!
Both Talbot and Georgiev would make great saves in this game, but they would each give up a bad goal.  For Talbot, he's struggling with a bad defense. For Georgiev, he's a rookie. It's excusable. For the Oilers, what wasn't excusable was Cody McLeod having his best game all season. He constantly got to the net and it left the Oilers befuddled.
In perhaps a statement of the Oilers season, on a scoring opportunity, Rob O'Gara stopped Connor McDavid. It's been that kind of year for Edmonton.
As the period progressed, Georgiev would rob Drai-Day on a cross ice look. Georgiev moved laterally like no other goalie on the Rangers this season.
An annoying point in the period was when Micheletti fawned and gushed over Lundqvist for five straight minutes. The same Lundqvist who wasn't playing in this game. This is the type of stuff that drives me nuts. Micheletti can't just talk about the game or give us any facts on Georgiev. He's too busy fluffling his Swedish boy toy. It's also an indictment on Hank's season, that when he does put together a rare excellent game, Micheletti has to constantly remind us.
What Micheletti didn't mention was how much better the Rangers were playing without the crybaby on the ice. Sam Rosen, who didn't realize what he said, was shocked about how calm and how poised Georgiev was all game. That's because Sam is used to Lundqvist flopping around and dropping his stick every 5 seconds. When Georgiev, in the face of pressure, was cool, calm and collected, Rosen's world was blown.
This is no secret – the Rangers, more times than not, play much better when Lundqvist isn't around. The team isn't on edge as much, nor do they look extremely nervous when Georgiev or Pavelec is out there. With Lundqvist on his throne on the bench, the Rangers don't have to worry about the goalie screaming, crying and sulking after every play. Shit happens. The other team is paid to play too. Goalies will have to make tough saves. It's part of the game. With Georgiev out there, the Rangers didn't have to worry about being lambasted by an overpaid egomaniac. In turn, the Rangers played a somewhat calculated game of tranquility.
In a first period owned by the Rangers, NYR 1, EDM 0.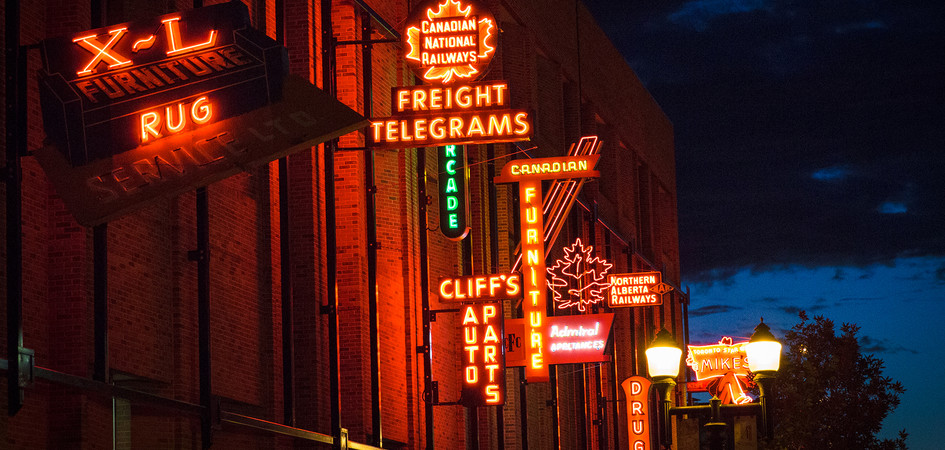 I've been to Edmonton before, two seasons ago, to see the final NYR game at Rexall. From all accounts, this new arena in Edmonton is amazing. It even has a casino. While the Neon Light Museum won't draw me back to Edmonton, hockey & a casino will!
The second period saw Edmonton wake up a bit, namely in the form of Connor McDavid. With the Rangers fourth line still out-dueling McDavid and co., McDavid got a puck luck/scorer's goal:
CONNOR MCDAVID. THIS IS UNREAL, GREAT SHORT SIDE SHOT FINDS TWINE! pic.twitter.com/VvNQgGX0OB

— NHL Daily 365 (@NHLDaily365) March 4, 2018
1-1. Goal is on Alexandar the Great, but hey, if you're gonna get beat on a bad goal, at least have the best player in the world get it on you.
Immediately after, after dealing with Ranger pressure all game, Cam Talbot shot a puck into the rafters when attemping to clear a puck. This put the Rangers on a PP. With 9 seconds left on the PP, Mika Zibanejad gave the Rangers the lead again:
MIKA ZIBANEJAD BANKS ONE HOME! 2-1 RANGERS! pic.twitter.com/VnPVH5NqeC

— NHL Daily 365 (@NHLDaily365) March 4, 2018
2-1 good guys.
At this point in the game, NYR ran their season ticket commerical, where they begged for you to give up your left arm, right testicle and 100% of your bank account.
Speaking of, it's a hard time to be a NYR season ticket holder right now. With the All For One gimmick, you're over paying for your tickets. The Rangers already said that if they miss the playoffs, they won't raise ticket prices, which are already the highest priced tickets in the league. If the Rangers make the playoffs – watch out, because they are going to rape your wallet like Bill Cosby with a handful of pills.
Listen, I'd love the Rangers to win the Stanley Cup this season, but is it probable? I wouldn't bet on it. However, if they make the playoffs, that's more games the season ticket holders have to pay for, and at inflated prices.  So if the Rangers make the playoffs, the season ticket holders would have to pay for a failed Cup run and for tickets for next season, which will be higher priced. I think you can see who wants this team to tank now.
A little over a minute after the Z-Bad PPG, Cody McLeod fired a shot at Talbot. Paul Carey tipped it, and boom 3-1:
PAUL CAREY TIPS ONE HOME OFF OF MCLEOD'S SHOT! 3-1! pic.twitter.com/u0lW1cMXsb

— NHL Daily 365 (@NHLDaily365) March 4, 2018
3-1 good guys. Senile Sam, and I say that with love, called this a goal for Jim Carey. I mean, I get it. After all, Joe Micheletti calls every game like this:
With this goal, I felt more excited about this team than any other point in the season. I don't want to discredit McDonagh, Nash or Grabner, but with nothing to lose and everything to play for, the Rangers are trying to be Cinderella and who doesn't love an underdog story?
The Rangers would have a chance to make this game 4-1, when Vesey and Zucc were on a two on one. However, Vesey passed the puck right to Oscar Klefbom, rather than challenging Talbot. Immediately after McDavid did this:
NUUUUUUUUUUUUUUUGE!

RYAN NUGENT-HOPKINS! OILERS WITHIN 1! pic.twitter.com/23EmXZQNPU

— NHL Daily 365 (@NHLDaily365) March 4, 2018
With this perfect pass from McDavid, I'm reminded of what Marty Brodeur said at Patrik Elias night – "you don't want to waste your prime years." McDavid better hope Edmonton figures this all out.
3-2 good guys and that was the score as the Rangers were 20 minutes away from their first 3 game win streak of 2018.
Highlight of the intermission? Steve Valiquette going double agent on us, and speaking in Russian. Apparently, he picked up a thing or two during his KHL days. He basically wished Georgiev good luck.
The third period saw some questionable officiating and it didn't go the Rangers way. Neal Pionk would be called for a soft penalty. Then the Rangers were called for icing, when it looked like the puck was dumped from the center line.  That's the third game in a row with a questionable icing/non icing call.
Let's see what AV thought about the bullshit call:
The Rangers kept dumping and chasing in the third period, but the Oilers were able to spend a lot of time in the defensive zone, of the fatigued NY Rangers. Towards the end of the period, and with the game on the line, a tired Marc Staal cross checked McDavid. With 2:30 of game time remaining, this would essentially give the Oilers a 6 vs 4 look to close the game. However, a minute later, the Oilers screwed up their line change and were called for too many men on the ice. Oilers PP negated, due to sloppy coaching/management.
The Rangers, who really miss Michael Grabner in these situations, were able to sweat out the final minute and escape with the 3-2 win. For two teams, linked since 1994, it's a tale of two teams going in different directions. Who would've thought that with the best player in the league, it would be the Oilers in a more dire situation?
Big save by Georgiev to preserve the lead. pic.twitter.com/iy2tlzSKDZ

— NHL GIFs (@NHLGIFs) March 4, 2018
Not every save was pretty for Georgiev tonight, but at the end of the day, for over $8M less, he did the job. Imagine what you could do if you moved on from Lundqvist? Hello Tavares!
Updated Standings Time:
| | | | | | | | | | | | |
| --- | --- | --- | --- | --- | --- | --- | --- | --- | --- | --- | --- |
| Metropolitan Division | W | L | OT | PTS | ROW | GF | GA | HOME | ROAD | L10 | STREAK |
| Washington | 37 | 21 | 7 | 81 | 34 | 203 | 193 | 23-9-2 | 14-12-5 | 5-4-1 | W2 |
| Philadelphia | 34 | 20 | 11 | 79 | 32 | 196 | 189 | 16-10-6 | 18-10-5 | 7-1-2 | L2 |
| Pittsburgh | 37 | 25 | 4 | 78 | 35 | 215 | 200 | 24-8-1 | 13-17-3 | 7-3-0 | W1 |
| New Jersey | 33 | 24 | 8 | 74 | 29 | 191 | 196 | 17-12-3 | 16-12-5 | 6-4-0 | L2 |
| Carolina | 29 | 25 | 11 | 69 | 26 | 174 | 195 | 16-11-6 | 13-14-5 | 4-4-2 | W2 |
| Columbus | 32 | 28 | 5 | 69 | 26 | 172 | 184 | 19-11-2 | 13-17-3 | 4-5-1 | L2 |
| N.Y. Rangers | 30 | 30 | 6 | 66 | 27 | 189 | 209 | 18-12-4 | 12-18-2 | 3-6-1 | W3 |
| N.Y. Islanders | 29 | 29 | 8 | 66 | 26 | 213 | 237 | 16-12-4 | 13-17-4 | 2-6-2 | L6 |
All of a sudden, with 16 games remaining, the Rangers are three points away from a playoff berth. The Rangers also have games left with everyone in the division too, so really, they control some of their fate. They can prevent teams from advancing while making their own ascent to the top. While a second wild card may mean a first round Tampa thumping, who knows, maybe Tampa slips and Washington gets the first seed? I wouldn't mind Washington in the first round. Then again, maybe the Rangers somehow grab the first wild card and draw Philly. I like those odds even more.
If there is one thing we know, it's that we don't know shit. Anything can happen in this league of parity. What just makes me laugh is that the Rangers, who said they are rebuilding, are currently ahead of the Islanders, who are "going for it." If you're an Islander fan, there's only one word to describe your situation – SAD!
The best thing about this blog is meeting new people. One of them is Travis Jackson, who hooked me up with this swag at a recent event he was at. Getting to know the readers, the way you get to know me through these blogs, has always been a thrill.
While I'll never beg you for money or for tickets, like other Ranger blogs/sites, what I will ask for is this – if you have any old Ranger playoff games, from before 1980, let me know. Sooner than later, it will be DELOREAN TIME (check the top of the site for my old school game reviews) and I'm going to need some material!
It's time to wrap this up. Rangers return Tuesday night, with a home game against the Winnipeg Jets. The Jets will be a tough out, as they are playing well this year and out of no where, just added Paul Statsny. It doesn't get any easier after that, as the Rangers then travel to Madison Square Garden South, as they take on the New York Lightning, in Tampa. I'm making the trip down to Tampa for that one, as I want to see this game live and I have friends down there. Plus, I need some vacation time from work, especially after this insane 7 days a week stretch!
I'll be back Tuesday night. Until then, as always…
"Let's Go Rangers"
Sean McCaffrey
BULLSMC@aol.com
@NYCTHEMIC on the tweeter