What's up everyone and welcome to another blog here on BlueCollarBlueShirts.com. As I write these words, I'm hoping for my last 4:30AM alarm clock of the week. I was supposed to fly to Tampa on Wednesday night, but my flight was canceled, due to the impending snowstorm. Now, my flight is scheduled for Thursday morning. If it doesn't take off, I'm just going to ask for a refund and go back to work. Speaking about going back to work, let's talk the Rangers tonight.
After sweeping Western Canada, the Rangers returned home on Tuesday night. With a chance to go on a four game win streak, the Rangers got a dose of reality, as they were shutout by the Jets, to a tune of 3-0.
For the Rangers, this was a frustrating game. You can't accuse anyone on the team for a lack of effort. While the Jets are the better team, that's not exactly the sole reason for their victory tonight. The Rangers had multiple chances to hang as much as a 5 spot, on Jets back-up goalie Steve Mason, but the story of the game was the Rangers inability to get pucks on net.
The two even strength goals scored by the Jets, (the third goal was an empty netter) came off the stick of an elite superstar, in Patrik Laine. As I always say, if you're gonna get beat, you might as well get beat by the best player on the team. Far too often, we have seen Henrik Lundqvist surrender bad goals to a random no-name fourth liner. Usually those type of goals are the first ever goals scored for that random no-namer. In tonight's loss, Lundqvist got beat, twice, by one of the best players in the NHL.
Are these goals "Lundqvist's fault?" Depends on how you look at it. They were clean shots from Laine. However, don't forget, the other team is paid to score goals too. If anything, it proves my theory that you gotta build around an elite scorer (usually a center) than around a goalie.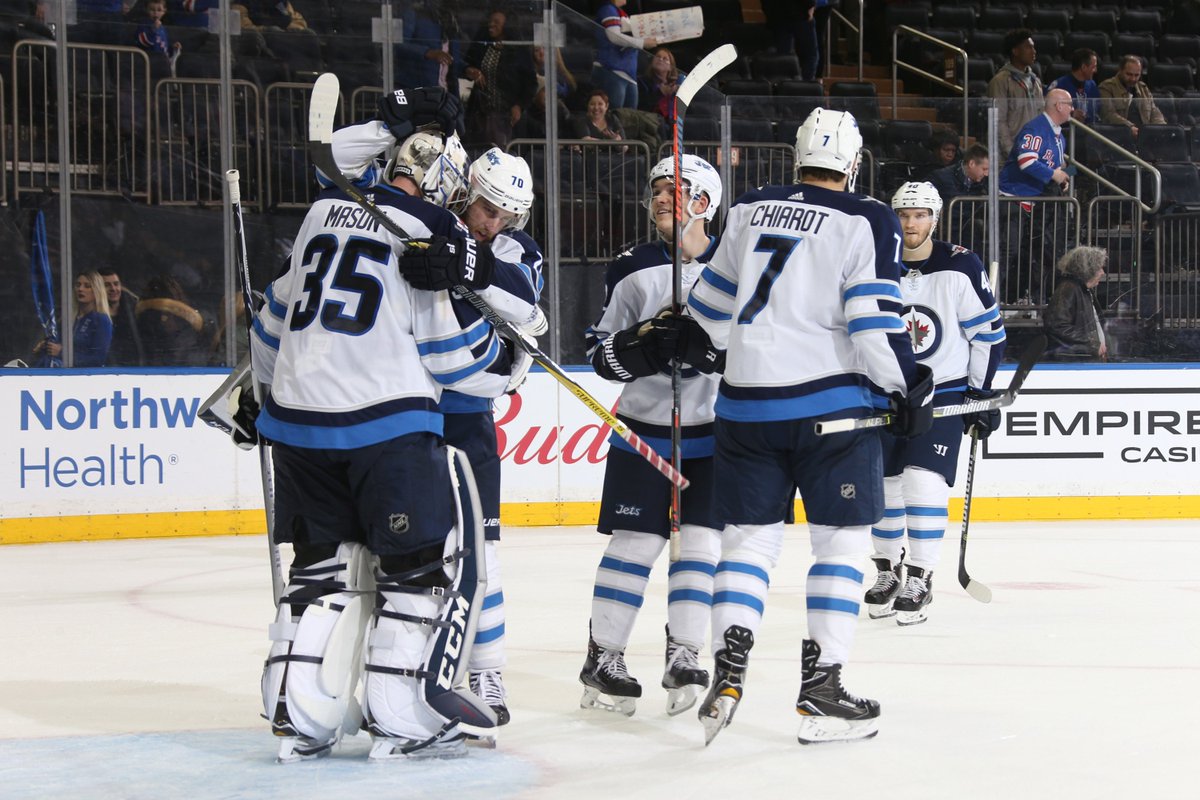 As was evident tonight, Jets goalie Steve Mason looked off and lost all game. However, Mason got a shutout via an ass-backwards performance. It was the superstar scorer, that carried his team to victory. When you're expecting to win a Cup, with your goalie being your biggest strength, well, if that ever happens, that will be the first time that's ever happened in the salary cap era.
When you are shutout, you can't sit here and pile up on your goalie for the loss. The real story of the game was the Rangers inability to put pucks on net, especially against a goalie who hasn't played in two months and who looked as lost as a tourist in Times Square. Time and time again, the Rangers had multiple opportunities to score goals, but for whatever reason, the Rangers seemed happier to aim at the Jagermeister ads at the corner boards. Pavel "Mr. Corsi" Buchnevich and Brady Skjei have been the biggest offenders of putting rubber marks on the corner boards all season. Even worse, after shots that were more horrendous than the TV ratings of the Oscar's, the puck is turned over & the other team jets (pun intended) up the ice.
Before moving along with this game and with some Rangers news & notes, here are my last few blogs, in case you missed them:
---
---
---
---
---
---
Prior to the game, the M$G Networks spent 29 out of 30 minutes on Henrik Lundqvist. I shit you not. Despite 8-10 new faces on this team, all the M$G Networks could talk about was Henrik Lundqvist and his two games in Western Canada. Of course, all the bad games of 2018 were ignored, as well as blowing a three goal lead to Vancouver.
The pregame show, designed to give you a preview of the upcoming game, did not talk once about Georgiev, the most recent victor in net for the Rangers. Also omitted was the Rangers signing of Ty Ronning (more below), Zibanejad out of the game due to the flu, the Ranger lines, the Rangers defensive pairings or anything Jets related, outside of "PATRIK LAINE IS GOOD AT THAT HOCKEY!"
The M$G Networks ran three different packages on Henrik Lundqvist like it was a Yankeeography special. I guess when he has a good game here and there, you have to keep beating that dead horse, because it doesn't happen as often as it should, especially when you consider that he's the highest paid goalie in the league. Worth noting – left out of the video package was the fact that the Canucks and Flames aren't playoff teams.
Yes, I don't like Lundqvist or his contract, but it's stuff like this that brainwashes a generation of fans. It's also a poorly produced pregame show, because you have all these new faces and stories to tell, but instead, the M$G Networks narrative is to feed you the same line of shit that Lundqvist is the greatest goalie ever OMG! It's amazing how Lundqvist's stats, when compared to other goalies in the league, are conveniently left out of these video packages too.
For those wondering, Lundqvist's .916 save percentage is good for 17th in the league. For shits and kicks, Antti Raanta, making $7.5M less, is 7th in the league, with a save percentage of .924. Of note, Raanta's Coyotes are one of the worst teams in the league.
It gets better. Raanta's 2.43 GAA is good for 8th in the league. The faux King? His rock solid 2.88 GAA is good for 28th place overall in the league. How fucking regal.
A big problem, when it comes to Lundqvist, is that the M$G Networks leaves out a lot of the facts, so you have a generation of twitter fans that have formed this Lundqvist cult. Through the mouths of Trautwig, Valiquette, Pidto and everyone else who produces these packages, the M$G Networks are like David Miscavige, with these Lundqvist culties having the IQ of a Scientologist.
The real shame in all of this? Ryan Spooner is having an amazing start to his Rangers career, but you wouldn't know it from the fake news M$G Networks. Another angle that the M$G Networks could've ran tonight, is how Spooner has fit in well with Hayes & Fast, who lost Michael Grabner on their line. But hell, why talk about that, when they can talk about one game in Vancouver from nearly a week ago? SAD!
I'll close with this – challenge everything you read and hear. That applies to this blog. Feel free to fact check me. Everyone has a narrative and M$G's narrative is to paint Lundqvist as a Vezina contender, when his numbers are Rick DiPietro-esque! I'm just a Rangers TRUTHER!
I'm a little pressed for time tonight, so let's go into the game review, followed by some news/notes. As always, let's start with the ESPN.com box score:
1st Period Summary

Time
Team
Scoring Detail
WPG
NYR
19:04

Patrik Laine (36)
Assists: Paul Stastny, Dustin Byfuglien
1
0
Time
Team
Penalty Detail
2:15

Matt Hendricks: 5 Minute Major for Fighting
2:15

Cody McLeod: 5 Minute Major for Fighting

2nd Period Summary

Time
Team
Scoring Detail
WPG
NYR
11:01

Patrik Laine (37)
Assists: Ben Chiarot, Joe Morrow
2
0
Time
Team
Penalty Detail
18:22

Blake Wheeler: 2 Minutes for Cross checking

3rd Period Summary

Time
Team
Scoring Detail
WPG
NYR
19:26

Patrik Laine (38)
Assist: Blake Wheeler
3
0
Time
Team
Penalty Detail
5:52

Bryan Little: 2 Minutes for Slashing
5:52

Mats Zuccarello: 2 Minutes for Roughing
If you want to call it BREAKING NEWS, the biggest news before the game was that Mika Zibanejad was out. He has the flu. Seriously, with all the time the Rangers have missed with the flu and other ailments this season, they should inject some of Joe Micheletti's blood into these guys. I mean, after all, when was the last time Joe Micheletti missed a broadcast? For all the shit I say about him (And if you can't figure it out already, I would say 90% of it is comic relief for these blogs) the man just doesn't miss games. He probably had a perfect attendance record in high school too!
With Zibanejad out, David Desharnais, scratched there for a bit, goes from the press box to a first line center. When I do the epitaph blog on this season, talking about why the Rangers failed this season, the first thing to talk about is the lack of center depth. While time will tell, at least in year one, the Stepan/Raanta trade backfired.
Obviously, while it wasn't the best idea to keep Stepan with the money he's making against the cap, perhaps you could've got more in a trade with another team or at the very least, draft someone who was NHL ready this season. Oh, and don't even try to convince me other wise – Raanta was the better value than Lundqvist this season. This whole team would be different if they saved the money at net and put it elsewhere.
Here were the lines for today's game:
#NYR lines (no Zibanejad)
Kreider – Desharnais – Buchnevich
Vesey – Namestnikov – Zuccarello
Spooner – Hayes – Fast
Carey – Holland – McLeod

Skjei – Gilmour
Staal – Pionk (Shattenkirk rotating)
O'Gara – DeAngelo

— Matt Calamia (@MattCalamia) March 6, 2018
As a whole, this wasn't a bad game for the Rangers, as much as it was a game of missed opportunities. The Jets are an upper-echelon team in the NHL and these young Rangers hung with them. They just couldn't find the net.
Very early into the game, Cody McLeod, whose line was amazing in the win over Edmonton, got into a spat with Matt Hendricks. Check it out:
McLeod and Hendricks drop the mitts. #NYR #GoJetsGo pic.twitter.com/GtPT61ejAn

— Justin Starr (@JStarr02) March 7, 2018

For some reason, Micheletti started talking for a good two minutes about how the wives of McLeod and Hendricks were good friends. He just kept repeating himself over and over. Maybe he is close with them and attends tupperware & Swedish sex doll parties with them. I don't know, but it just came off creepy and he just wouldn't let it go.
Brady Skjei had a very Skjloppy and Skjhart inducing game. He's another one of these Rangers, that have been very hit or miss. This was one of his worst games, on both ends of the ice. He had trouble clearing the puck and akin to a kid pissing his name in the snow, he seemed content on writing his name, via rubber, on the white boards behind Mason.
It was just agonizing all game, watching the Rangers shoot horrifically wide on Mason. It was even worse watching Mason get puck luck. Seriously, this Mason jar was ready to topple and crack at any minute, but the Rangers, like a failed porn star, just couldn't finish.
The new Hayes/Spooner/Fast line (Who you wouldn't know if you watched the pregame show) had two really, and I quote AV here, "GOOD LOOKS", but Fast went high on one puck and Hayes was stopped on another. Whereas I thought the Rangers fourth line was the best line in the win over the Oilers, I thought this line was the best line tonight. However, that doesn't say much.
Later on in the period, the Rangers would get the fortune of a freak accident from the Jets, as Blake Wheeler and Mark Scheifele collided into each other. As the game progressed, Scheifele was in so much pain that he didn't return in the third period. Even down a star player, the Rangers couldn't capitalize. Take a look at the collision for yourself:
Wheeler and Scheifele collide in the neutral zone. #NYR #GoJetsGo pic.twitter.com/F4G0sDpYOv

— Justin Starr (@JStarr02) March 7, 2018
The Rangers first best chance at a goal happened late in the first. While in the Jets defensive zone, Mats Zuccarello juked and jived his way from the face off circle, made his way around the net and went for a wrap-around. This looked like a sure fire goal, but Mason was bailed out by an errant stick of a Jets defender. What should've been 1-0 good guys, was quickly forgotten, as the Jets recovered.
This is a goal Zucc should've had, but instead of a 1-0 lead, it was a "what if?" Soon thereafter, with under a minute to go, Laine sniped Lundqvist:
Patrik Laine with that 🔥 release. 😱 pic.twitter.com/ZSy5kr0P6o

— Sportsnet (@Sportsnet) March 7, 2018
1-0 bad guys. Who would've known then, that would be the game winning goal? Especially with Steve Mason in net? SAD!
On the goal, I could bury Lundswiss here for giving up another end of the minute goal, and while I do put blame on him, sometimes the best goal scorers in the league are just going to beat you.  What irks me is just the timing of it. For a guy that the M$G Networks raves about incessantly, Lundswiss leads the league in blown leads, most goals given up in the first two minutes of a period and most goals given up in the final minute of a period. These are not stats I want from the highest paid goalie in the league.
What could've been 1-0 Rangers, was now 1-0 bad guys. Of note, the US Women's team was in the house. You could see the slobber trickling out of Trautwig when he had to interview them later on!
After some Valiquette razzing on Al Trautwig, (Seriously, if Vally ever makes a Freddy Krueger teeth joke at Al, I'll buy him a beer at M$G prices and give him $25 in Garden Bucks) it was time for the second period.
Despite an impressive debut, I thought Vladdy Namestnikov had a blah game tonight. There was a play in this period, where he lazily turned the puck over. My fat ass could've walked and made the takeaway.  It was just another example of a dumb and unnecessary pass, that took the Rangers out of their offensive end.
It was also at this point in the game where Sam Rosen started raving about the clubs of Ybor City and when JT Miller scored another goal for Tampa. For some reason, I don't see Rosen clubbing it up in Y-Bor. Furthermore, how many goals does Miller put on Lundqvist on Thursday? 3? 4? 50?
Rosen, who has gotten on my nerves a lot this season, perhaps due to his senility and dementia, started raving about Dustin Byfuglien. The same dirty Byfuglien who cross checked Miller in the neck several seasons ago. I know these guys don't have the passion or a memory of the common fan (In Rosen's case, I think his memory is going altogether) but come on, these guys have carefully researched notes provided to them, by pimply faced interns that are saddled with student debt.
Mason, hardly a Rubik's Cube, as he was beatable all game, smiled as Chris Kreider, later on in the period, missed a wide open net. Time and time again, the Rangers had a chance at the equalizer, but tripped on their own dicks.
Then, with half the period gone, Laine sniped Hank again:
Laine reaches a new career-high in goals in a season with this one, his 37th of this season! 💥

🚨: @PatrikLaine29
🍎: @BChiarot7
🍏: @JMorrow7 #GoJetsGo #WPGvsNYR pic.twitter.com/7k6dHrBKtP

— Winnipeg Jets (@NHLJets) March 7, 2018
2-0 bad guys. I use my argument here that I made after the first goal. Top scorers will beat decent goalies and if you're gonna get beat, you as well get beat by the best. Unfortunately, the Rangers couldn't beat the Jets back-up goalie, for one measly goal. SAD!
The end of the period had a few whacky plays. Buchnevich got rocked by a hit and his helmet went flying. M$G Networks didn't provide a replay or alternate angles of the hit. 89 and his Corsi went straight to the bench. I immediately thought he had another concussion, but he was back out there at the end of the period and played in the third. However, if you see "Upper Body Injury" next to his name on Thursday, this would be why.
Zuccarello, who could've matched Laine's hat-trick in this game, missed another opportunity. Zucc was left WIDE OPEN. The net was bigger than Lundqvist's bank account. The ghost of Lester Patrick could've scored this one. However, Zuccarello choked and with Mason jumping to the other side of the net, instead of putting the puck in the 3 feet of open space provided, Zuccarello shot it right into Mason's pads. You can't make this shit up. Mason got bailed out, once again, from the opposition.
Prepare to get mad:
Another Grade 'A' chance for Zuccarello. Can't find the back of the net. #NYR #GoJetsGo pic.twitter.com/b1TDBTq3qs

— Justin Starr (@JStarr02) March 7, 2018
Making things worse, Buchnevich would turn the puck over twice and shoot wide again.  The Jets took their 2-0 lead to the locker room, as we awaited the third period.
The third period saw the Jets clamp down defensively. However, the Rangers would have two more "GOOD LOOKS." Zuccarello would miss another attempt and the Hayes/Fast/Spooner line came up short. This period really showed the difference between a thrown together team in the Rangers and a well oiled unit from the Jets. The Jets just did everything crisper and with more precision.
The Rangers would finally get shots on net, but for Mason, it was like a shortstop fielding Spring Training grounders. There wasn't much of a challenge. You can't even say Mason was hot tonight – the Rangers were their own worst enemy.
In the final three minutes, the Rangers pulled Lundqvist. For 2:30, the Rangers couldn't get anything together. Somehow, Arniel still remains. With 34 seconds left, Laine sent a 100 foot shot down the ice and found the empty net. Hat trick, 3-0 Jets, game over. Who knows, maybe that shot goes in even if Lundqvist was in net.
You're not going to win many games if you don't score. Trying to pick up points by hoping for a 0-0 regulation score isn't going to work. For the Rangers, this was a huge missed opportunity. It doesn't knock them out of the playoffs just yet, but some wind was let out of the sails.
Here's the updated look at the standings:
| | | | | | | | | | | | |
| --- | --- | --- | --- | --- | --- | --- | --- | --- | --- | --- | --- |
| Metropolitan Division | W | L | OT | PTS | ROW | GF | GA | HOME | ROAD | L10 | STREAK |
| Washington | 37 | 21 | 7 | 81 | 34 | 203 | 193 | 23-9-2 | 14-12-5 | 5-4-1 | W2 |
| Pittsburgh | 38 | 25 | 4 | 80 | 36 | 219 | 203 | 25-8-1 | 13-17-3 | 7-3-0 | W2 |
| Philadelphia | 34 | 21 | 11 | 79 | 32 | 197 | 193 | 16-10-6 | 18-11-5 | 6-2-2 | L3 |
| New Jersey | 34 | 25 | 8 | 76 | 30 | 199 | 203 | 18-13-3 | 16-12-5 | 5-5-0 | W1 |
| Columbus | 34 | 28 | 5 | 73 | 28 | 180 | 187 | 20-11-2 | 14-17-3 | 5-4-1 | W2 |
| Carolina | 29 | 27 | 11 | 69 | 26 | 178 | 204 | 16-12-6 | 13-15-5 | 2-6-2 | L2 |
| N.Y. Islanders | 29 | 29 | 9 | 67 | 26 | 216 | 241 | 16-12-4 | 13-17-5 | 2-5-3 | L7 |
| N.Y. Rangers | 30 | 31 | 6 | 66 | 27 | 189 | 212 | 18-13-4 | 12-18-2 | 3-6-1 | L1 |
When the Rangers beat the Oilers on Saturday, they were three points out of a playoff spot. Since then, the Bluejackets won their last two games. Now the Rangers find themselves 7 points out of a playoff spot. Is it over? Most likely, but I'm not giving up hope just yet. There are still 15 games left and 30 points available. We've seen teams get hot at the right time and while the Rangers probably don't have it in them, I can't sit here and root for them to lose like other fans. I get the draft pick stuff, but as outlined in other blogs, no draft pick this year is a guarantee.
I just want to hit a few Rangers news/notes before going home here.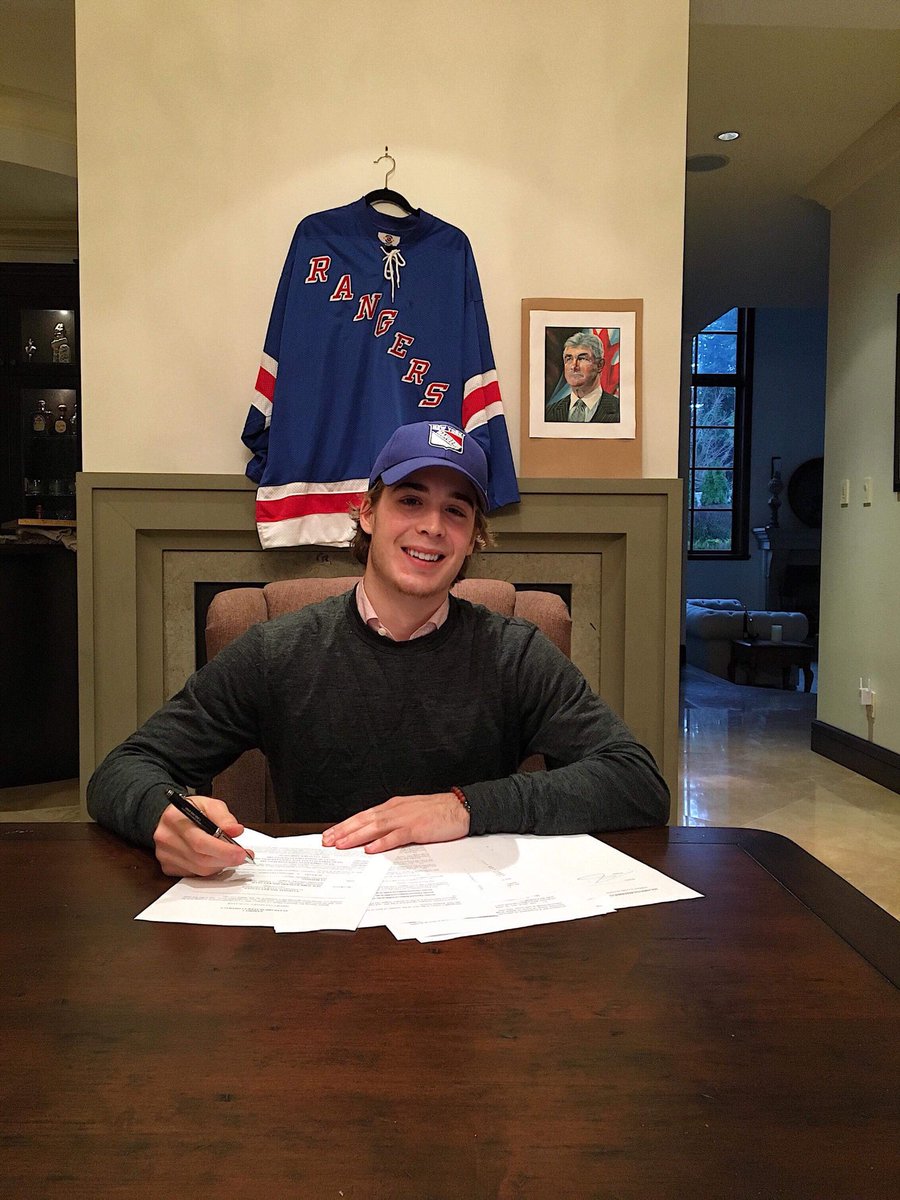 From the Rangers:
New York Rangers General Manager Jeff Gorton announced today that the team has agreed to terms with forward Ty Ronning on an entry-level contract.

Ronning, 20, has skated in 64 games with the Vancouver Giants of the Western Hockey League (WHL) this season, registering 55 goals and 22 assists for 77 points, along with a plus-11 rating and 36 penalty minutes. He has established WHL career-highs in several categories this season, including goals, points, plus/minus rating, shots on goal (313), game-winning goals (eight), and power play goals (15). Ronning ranks second in the WHL in shots on goal and is tied for second in the league in goals in 2017-18. In addition, Ronning leads Vancouver in goals, points, shots on goal, plus/minus rating, power play goals, shorthanded goals (two), and power play points (21), and ranks second in game-winning goals this season. Ronning established the Giants' single-season franchise record in goals in 2017-18, eclipsing the previous single-season franchise record of 48 (Evander Kane – 2008-09). He has recorded three hat tricks and has posted 15 multi-goal games thus far in 2017-18. Ronning registered a WHL career-high 11-game goal/point streak from Oct. 28 to Nov. 22, recording 19 points (14 goals, five assists) during the stretch.

The 5-9, 172-pounder has skated in 279 career WHL games over five seasons (2013-14 – 2017-18), all with Vancouver, registering 121 goals and 90 assists for 211 points, along with 101 penalty minutes. Ronning has tallied at least 50 points in each of the last three seasons (2015-16 – 2017-18), and he has recorded 30 or more goals in two of those three seasons. He also represented the WHL at the 2016 Canada Russia Series and recorded one assist in two contests.

Ronning skated in 12 games with the Hartford Wolf Pack of the American Hockey League (AHL) last season following the conclusion of his junior season with Vancouver. In his 12 contests with Hartford in 2016-17, Ronning recorded two goals and three assists for five points, along with six penalty minutes and 23 shots on goal. He tallied his first career AHL assist/point while making his AHL debut on Mar. 24 vs. Providence, and he registered his first career AHL goal while skating in his second career AHL game on Mar. 25 vs. Bridgeport.

The Burnaby, British Columbia, native was selected by the Rangers in the seventh round, 201st overall, of the 2016 NHL Entry Draft.
Ronning is putting up video game numbers in the WHL right now, and while the WHL isn't the NHL, how can you not give the kid a shot? Ronning will be one to watch during preseason next season.
Ronning would later go on to say that he wouldn't sign with anyone but the Rangers, as they were the only team to give him a shot. I'm a sucker for that shit, as I love the guys who want to be here. Someone else who shares that sentiment is Kevin Shattenkirk. Speaking of Shatty…
In news that would've made you really excited before this game, it was reported that Kevin Shattenkirk is close to returning. For some reason, Shattenkirk was rumored to play as soon as Thursday, against Tampa, but it was ruled that he might not play, due to the weather in NY. WHAT?
I have no clue what that last sentence means. Alain Vigneault actually said that the weather affects Shatty's return. How does a snow storm, and an earlier flight out of NY, have any bearing on Shattenkirk's knee? Does Shattenkirk have a clause in his contract that states that he must watch "Wendy Williams" and "The Price is Right" from his home and not on a team plane? Even worse, I didn't see any reporters challenge this report, so as fans, we're supposed to take that bad weather is a reason for a player not playing. I don't get it.
I mean, really, I guess it means the Rangers need a few extra hours to determine if Shatty can play and those hours have now gone away, since the Rangers have to get out of town because of the snow. Even so, Shatty can't fly with the team and at the very least, sit in the press box if he had to? Insane.
The Rangers go to M$G South on Thursday, for a battle against the Presidential first place Bolts. As talked about at the top of this blog, I plan on being there. Unlike Shattenkirk, the weather is truly a factor regarding my presence at Amalie Arena!
If I can fly out Thursday morning, I'll be there and do a blog Friday morning about the game, as I plan on going out after. If I get snowed in, I'll have a blog up immediately after the game. If you care about my whereabouts, just follow me on the twitter!
On the ex-Ranger front, Ryan McDonagh is rumored to be scratched from this one, as he's not ready to return. We'll see. JT Miller, Dan Girardi, Anton Stralman and Ryan Callahan will all be in the Tampa line-up.
Of note, this is my fourth road trip in a row marred by bad weather. In other words, if you want snow, book a flight for me!
See ya Thursday night/Friday morning. I'm not giving up yet. Shit, I just booked a trip to St. Louis next week!
As always…
Let's Go Rangers
Sean McCaffrey
BULLSMC@aol.com
@NYCTHEMIC on the twitter machine