NOTE: This blog is 10,000+ words, so buckle up, get a drink, grab a seat and enjoy. There was just so much to discuss and I really tried to make this shorter. I hope you read all of it and I await your feedback. LGR!
What's up everyone and welcome to another blog here on BlueCollarBlueShirts.com. While the calendar says there are still several more weeks of Summer left, for all intents & purposes, once the Labor Day Weekend concludes, the summer also concludes.
School is now back in session, the NFL is about to kick off their season, the days are getting shorter while the nights are getting longer and before you know it, you will be trading in your shorts & t-shirts for pants & hoodies. For now, let's all say goodbye to the Summer of 2018, and let's all welcome the 2018-2019 NHL season with a hearty "hello, how ya doing?"
While we are still less than a month out from Opening Night, which takes place on Thursday, October 4th, when the Rangers host the Nashville Predators, I think it's safe to say that most Ranger fans are not heading into this season with high expectations for the Blueshirts. Anyone talking about a Rangers Stanley Cup playoff run or about a parade right now (and trust me, there are people talking that way) is simply delusional.
When I hear or read from fans or other writers talking about the Rangers trading for big name Player X or trading for big name Player Y, (With Player X being Panarin and Player Y being Karlsson) I have to wonder what those people are thinking. Did the summer sun fry their brains?
For the first time in the Henrik Lundqvist era, an era that started 13 years ago with Jaromir Jagr as the face of the Rangers, the astute Ranger fan can't expect a playoff run. It's a surreal feeling. It's a weird feeling. It's an acceptance of an unfortunate reality.
No fan or team wants to go into a season thinking that they have no crack at the Cup. However, if Ranger fans can display a word that will pop-up again later in this blog, which is "PATIENCE", then the 2018-2019 season may one day be remembered fondly as a season that was a stepping stone to a Cup. Then again, these are the Rangers and we all know their history!
For the first time in 13 years, going into the season, there will be no bravado or playoff hope from Ranger fans. Sure, we will watch the team and root for the team & players in different ways (I'll explain what I mean by that as we move along on this blog) but a playoff spot, a spot that Ranger fans were accustomed to for the majority of this Lundqvist era, seems to be a pipe dream. And really, for the Rangers, making the 2019 playoffs is not the best thing, long-term, for a team going through a rebuild.
That said, one thing to keep in mind while reading this blog is this – for the franchise, it is my opinion that the team is better off putting the franchise into a key position at the draft, rather than chasing a wild card seed. However, for the players on the ice during the 2018-2019 campaign, they do not care about the future of the franchise and nor should they.
The current roster wants to be at their best. They want to win. They aren't invested in a draft. They aren't sacrificing their bodies and a year of their career, just for a draft. The eyes of the players will always be on the playoffs. No player on this team has the "rebuilding" mindset, that some fans or people in management may have.
Think about it – why would any current player want a young draft pick to supplant them and take their job & money? Hockey is a business and for these players, a new player means just someone else jockeying to take food off their table. So while Ranger fans may agree with me when I say "I hope the Rangers bottom out and land Jack Hughes in the draft", the players on the 2018-2019 roster have the complete opposite mindset.
If you've been following my blogs all summer-long or have been following me on Twitter, @NYCTHEMIC , you pretty much have an idea of how I feel about the Rangers, as we head into this 2018-2019 season. In short, I am all aboard on the game plan of an all-out rebuild. I am all-in on the Rangers being a major player in the 2019 NHL draft, rather than crossing my fingers and hoping for a wild card spot in the playoffs. That said, for this to be a full-blown rebuild, I believe that youth needs to be in net, just as I favor youth & giving a new face experience at defense, rather than sending out Marc Staal. We'll get into this as we move along.
In today's blog, I am going to flesh out some thoughts and preview the 2018-2019 season. I will also explain my new take on the hot-button topic of Henrik Lundqvist, as he goes into the next chapter of his career.
For those who took the summer off from hockey, and I don't blame you if you did, as usual, I'm going to link my most recent blogs in case you missed them. In my prior blogs, I have talked about the latest Ranger transactions, so if you haven't checked them out yet, check them out here:
---
---
---
---
---
---
---
---
---
---
Going into this 2018-2019 season, Ranger fans are currently enduring the longest period of time, without meaningful regular season hockey, since the 2003-2004 season and the ensuing 2004-2005 NHL lockout. Think about that. What that means, is that for the better part of 15 years, the Rangers were a perennial playoff contender.
Prior to the "blow-it-up" 2017-2018 season, in the Henrik Lundqvist era, the Rangers have missed the playoffs only once, which happened during the 2009-2010 season. If you recall, the Rangers lost Game 82 of that 2009-2010 season, in a shootout, to miss the playoffs by only one point.
In other words, since the 2004-2005 lockout, up until last season (and if they wanted to, I think the Rangers, if they didn't concede the season and blow up the team, had a shot at the second wild card) the Rangers have been playing meaningful hockey ever since Henrik Lundqvist came to town. For 12+ seasons, during the Lundqvist Era, every regular season game was important.
Now I know what you may say – "You're the guy who hates Henrik Lundqvist and his contract." Let me give you my view, before we press on.
I have never denied that Henrik Lundqvist was, with the key word being "WAS", an elite goalie. Really, until Alain Vigneault came around, Henrik Lundqvist carried some pretty bad-to-mediocre teams to the playoffs, especially when Senile Sather ostracized Jaromir Jagr out of NY. I am not looking to discredit the work of Tom Renney, John Tortorella, or the players that played along Lundqvist during this period of time, but this is no secret – Lundqvist was the bedrock of those teams.
As I talked about in another blog, if I had this blog/outlet going for 8+ years, you would've seen plenty of blogs with complimentary comments on Lundqvist. However, I didn't. I had other things going on in life. In turn, this blog has given you a different opinion than the usual rah-rah stuff that you see from Ranger fans about Lundqvist.
Over three years ago, I explored the answer to the question of "Is Henrik Lunqvist overpaid?" You can read that blog here: http://doinow.com/the-decade-long-saga-of-henrik-lundqvist-my-final-words-on-king-contract-why-lundqvist-is-overpaid-when-lundqvist-soured-me-will-the-rangers-ever-win-with-hank-and-his-cap-hit-examining-the-nhl/
To some Ranger fans, questioning Henrik Lunqvist is sacrilege. Those same fans ignore the fact that the Rangers have traded or moved on from nearly every legend under their employ, since the Great Expansion of 1967. Furthermore, the Rangers moved on from these players when there wasn't a salary cap to worry about either!
Whether it was Messier, Leetch, Graves, Giacomin, Ratelle, Park, Bathgate, Howell, Hadfield or nearly anyone else, the Rangers have moved along from the majority of their legends, with Mike Richter and Rod Gilbert being notable exceptions. (Keep in mind, Richter was left unprotected in the 1998 Expansion Draft and was drafted by Nashville, only to re-sign with NYR as a free agent. Furthermore, if Richter stayed healthy, he may have been traded like Leetch and Graves.)
For modern day Ranger fans, when I get into these online arguments about trading Henrik Lundqvist, my statement has always been, "If you can trade Brian Leetch, you can trade Henrik Lundqvist."
I make no bones about it, nor would I ever argue the importance of Lundqvist to this franchise. He carried this team through some lean years. However, to me, people are putting their head in the sand if they are saying that Lundqvist carried the team in the Alain Vigneault years. It's simply not true.
As mentioned on this site about 6786960187175873817857 times, during the AV years, both Cam Talbot and Antti Raanta posted similar or better numbers than Lundqvist and for 1/8th of the salary. In a salary cap driven league, that is huge. This is not only a Rangers thing. This is league wide.
Every season, since the institution of this new salary cap, we are seeing back-up goalies getting starting jobs all over the league. Just look at last season alone! Both Andrei Vasilevskiy and Connor Hellebuyck, once back-ups with their original team (TB & WPG respectively) wound up as candidates for the 2018 Vezina Trophy. More importantly, both goalies saw their teams reach the Conference Finals. If that's not enough for you, must I remind you of the career of Matt Murray?
The bottom line is this – the disparity among elite, good, serviceable and bad goalies is tighter than ever. I've mentioned how the eras always change, but since the lockout shortened season of 2012-2013, when all the present cap rules went into effect, the teams that are winning the Stanley Cup are the ones who aren't anchored down by a bloated goalie contract.
To this day, not one Top 5 paid goalie has won a Cup in this salary cap era. It is why I was so infuriated with the way Lundqvist handled his contract negotiations. You don't need a goalie taking 12-13% of the cap, especially when goalies making $1M a season, are routinely posting better numbers around the league than their overpaid counterparts.
And if you have any reservations about this, don't take my word on it. Check out "The Hockey News". Check out the "NHL Network". Check out "TSN". All of these organizations/media outlets have Lundqvist currently ranked in the mid-to-high twenties, when it comes to top goalies in the league today. This is all stuff I predicted and stated years ago. Every prediction I made about the Rangers and Lundqvist has come true. Even some of my harshest critics are finally coming around on this issue.
When I first suggested the Rangers move on from Lundqvist, people couldn't fathom that idea. If the Rangers moved on from Lundqvist when I suggested it, we wouldn't be in this current rebuild phase. Who knows, the Rangers may have even won the Cup in 2015 if they kept Talbot as the starter. Before you get your panties in a wad, look what Pittsburgh did with Murray vs Fleury. And yes, I know who Sidney Crosby is. I also know that Lundqvist was completely owned by Tampa in that 2014-2015 season, gave up goals from the blue line and gave up back-to-back touchdowns, in that 2015 ECF.
Furthermore, save me the Game 7 stuff. If you don't lose three games and if you were able to protect leads, (which he's paid the most in the league to do) you don't need a Game 7. After all, the Rangers were paying the most in the league for goaltending,which they thought was their ultimate insurance policy. There should have never been a Game 7 in 2015. But alas, I digress, as usual!
Of course, as usual, I'm spending a lot of time on Henrik Lundqvist on this blog.  He's still the highest paid player on the team. He's still the player the team revolves around. He's still the player the team will cater to, even if it derails their chance at a Cup. However, I'm here to tell you this too – for the first time since his new contract went into effect, his cap hit no longer means anything. Sure, I have all my jokes and all that, but Lundqvist's huge cap hit, for this 2018-2019 season, no longer means anything.
In other words, while I may still make a KING CONTRACT joke or two, for the first time in this blog's existence, Lundqvist's cap hit means nada, at least here, in this 2018-2019 season.
In the 2014-2015 season, the season I thought the Rangers should've won the Stanley Cup, the salary cap was $69M. In the 2018-2019 season, the salary cap has jumped up over $10M, as the cap is now $79.5M. While the salaries of NHL players are the lowest among the four pro sports in America, this $10.5M increase, over a four year period, isn't shabby. You would like to see it increase more, and that's something for the next CBA.
Pretend the Rangers aren't in a rebuild mode and were chasing a Cup in 2018-2019. Even if Lundqvist, whose stats are now comparable to, if not sometimes worse, than goalies getting $1M-$2M a season, was still a $8.5M cap hit goalie, with an extra $10.5 of cap space, it isn't that big of a deal as it used to be. We are now in the back-end of Lundqvist's contract, but three long years still remain.
For the first time in the salary cap era, Henrik Lundqvist's contract is no longer an issue, it is Henrik Lundqvist himself that is the issue. His play has slipped, his attitude has soured and if you look at Lundqvist without bias, for a team rebuilding, it makes no sense start a weathered goalie of 14 seasons, while kids, some nearly half his age, skate in front of him. The Rangers should be developing a new goalie, so that new goalie grows with the team in front of him. This way, everyone is ready for a playoff run at the same time, whether it be in 2, 3, or 5 years.
With the Rangers in a rebuild, to me, all the salary shit is thrown out the window. That's why I was laughing when I saw people arguing the contracts of Spooner, Namestnikov and Hayes. Like "The Rock" always said, "IT DOESN'T MATTER!" For the Rangers, the most important thing for them this season, is to groom and to develop new talent. That's it. Sure, you'll have a few veterans here or there, but the kids need time to play. If a veteran is overpaid a million here, a million there, it just doesn't matter anymore.
At the time of this writing, the Rangers have nearly $6M of cap space for the 2018-2019 season. So if you feel that some veterans are overpaid, does it really matter? This is not a Stanley Cup competing team. The goal of the 2018-2019 season should be to build a new core and to build a new era. The goal shouldn't be to compete for a first round knockout.
In fact, and I'll expand on this shortly, if the Rangers are players in the 2019 Playoffs and not in the 2019 NHL Draft, I would consider the season a failure. (Sorry cock-eyed optimists, even if the Rangers make the playoffs, I don't see them winning the Cup. They need to be in the Jack Hughes running, not running to the golf course after the first round of the playoffs.)
I've said this before, and it bears repeating for new readers – I hate that contracts are such a big issue. The sad reality is that they are. You can't avoid talking about it, because teams have to make moves because of the salary cap. The NHL has the smallest cap in all of pro sports in America and their cap rules are the strictest. It's why you can't watch any NHL show or read any NHL rumor, story or news item about a player, without that player's cap hit being mentioned. It is what it is, for better or worse. (Most likely worse.)
I've read a million things from Ranger fans and writers alike, some stuff being sane, some stuff being bat-shit crazy. I gotta say this, with the Rangers having their longest layoff in 13 years, Ranger fans are stir-crazy right now. I think that's why some of these fans want the Rangers to be in the mix with a big free agent, because by the time the puck drops for the 2018-2019 season, it will be the first Ranger game in six months, and the first "meaningful" Ranger game since the Winter Classic. Remember the Winter Classic? Remember Ryan McDonagh? Remember Rick Nash? Remember Michael Grabner? Remember JT Miller? Remember Nick Holden? Memories.
We all know that New York isn't a town that displays a great deal of patience. Whether it's waiting in lines, getting a pack of smokes, getting gas, commuting to work or the way we feel about our sport teams – as NYers, we are always on the move. We are about hustle and bustle. Patience is for the weak. However, like a good poker player, as Ranger fans, we must find it in ourselves to find patience and accept the stuff that we can not change.
When you look up and down the league, the teams that have been winning Cups, like Washington, Pittsburgh, Chicago and LA – all of these teams were in the NHL doldrums for a significant period of time. Aside from not overpaying for goaltending, all of these teams built their teams through the draft. Sure, free agents were added along the way, to bolster and tighten these line-ups, but these Cup winning teams were largely homegrown. For the Rangers to create a new core and to enter another era of perennial playoff runs (and hopefully a Stanley Cup) the Rangers must have the patience to build these teams through the draft. Trying to patchwork a team of free agents isn't going to get the job done.
Furthermore, the Rangers are the most profitable franchise in the NHL. That could work against them, if you believe in rigged drafts. Unlike the ALLEGED (always have to use the word ALLEGED here) rigged 2005 draft, where Pittsburgh, a team in bankruptcy, was gifted Sidney Crosby, the Rangers don't need a gift to save a franchise. It's the complete opposite in NY. The Rangers can fail and fail and fail again, they can raise ticket prices to the moon and they can charge $20 for a 12 ounce beer, but at the end of the day, MSG will be sold out. It's in the NHL's best interest to see a franchise player land in a dead market, rather than in NY, because the NHL doesn't have to worry about the Rangers relocating, going bankrupt or playing in front of empty crowds. It's not like they are the Islanders.
By now, you have to be wondering where I'm going with all of this. I mean, I'm 3000+ words in already! I just wanted to set the table before I magically pull the table cloth and wow you!
If you read my past blogs or other Rangers news sites, you're familiar with Henrik Lundqvist and James Dolan talking playoffs, while Jeff Gorton & David Quinn are talking about rebuilding, even if the latter duo doesn't use the word "rebuild". I think that's going to be a topic that people butt heads on all season. The organization, at least the front office, needs to have a unified front on this position of rebuilding. This is again, where I have to talk about Lundqvist. (And this will be the last lengthy Lundqvist diatribe of this blog, and I'll look at the other players on the team. I know I'm spending a lot of time on Lundqvist, but with this team, how can't I?)
We all know and have heard that Lundqvist wants to win a Cup in New York. Unfortunately, money meant more to him, so when the Rangers were at their best during the Lundqvist era, they couldn't get the complete help that they needed. Furthermore, Lundqvist has regressed since his peak, which was the 2011-2012 season. It wasn't a free-fall regression, but it was a regression nonetheless. You could argue that the 2011-2012 Lundqvist wins a Cup in 2014 and in 2015. However, it wasn't meant to be. Now, as we go into the 2018-2019 season, most reputable hockey media outlets have him ranked as the 25th best goalie in the league today.
Lundqvist, who was offered a chance out of town at the 2018 trade deadline & to chase a Cup elsewhere during the twilight of his career, decided to refuse his right to waive his No-Move-Clause. Lundqvist then told the media that he was committed to the team & whatever growing pains lay ahead. How admirable, except it really doesn't benefit the Rangers to have Lundqvist on the roster. This isn't even a salary cap thing anymore. Now it's about playing time.
It is in the Rangers best interest to do whatever they have to do to remove Henrik Lundqvist and Marc Staal from the roster. While these two players are the most expensive players on the club, it's not about shedding weight from the salary cap, it's about opening up two key jobs for the future of the organization.
By moving on from Lundqvist, you allow Alexandar Georgiev to get his feet wet and to get a full NHL season under his belt. Even if Georgiev gets beat up a bit, it's not the end of the world because you have Igor Shestyorkin most likely coming in next season. The Rangers, who had strong back-up goaltending during the AV era, doesn't need strong back-up goaltending this season. In fact, the Rangers would be better off with me in net. That would certainly ensure the Rangers the best odds, come NHL draft ping-pong ball time.
The same logic applies to Marc Staal. The Rangers have an abundance of youthful defensemen, but they have Marc Staal, long past his prime, still on the roster. What is the point of playing Marc Staal in 2018-2019? If you need veteran presence, you have Kevin Shattenkirk, and maybe Brendan Smith. The Rangers have many defensemen locked up. Let the kids play, and let evolution take its course. The strong will survive, the weak will go to Hartford.
Seriously, why give Marc Staal a shift this season? He isn't part of the long term answer. He won't be part of the future. He will not be part of the next phase of Rangers. His era, like Lundqvist's, should be over.
Away from Staal, the Rangers also have a lot of money and years committed to Brendan Smith, Brady Skjei and Kevin Shattenkirk as well. All of these men will play this season. However, with Staal, that's 2/3rds of the defense accounted for. You can make the argument that three of these four names (Skjei the lone exception) will not be part of the next era of Rangers.
In other words, barring injuries or trades, the Rangers have an abundance of young D-men that will not get NHL experience this year. I don't agree with that.
Of course, let's also not forget that Brady Skjei, the recent recipient of a 6 year/$31.5M overall contract, will be a major figure for the Rangers & will have a lot of pressure on him this season. I talked about Skjei and his new contract, in detail, in a prior blog. Whether the Rangers jumped the gun or if you feel the timing was right, no matter how you feel about the deal, the Rangers are certainly invested and predicting that Skjei can be the face of the Rangers defensive core. The Rangers are hopeful that Skjei can be the defensive foundation for a new perennial playoff era of Ranger teams.
With four of the six jobs seemingly locked up, fighting for the last two defensemen roster spots in 2018-2019, are the following:
Neal Pionk, who probably makes the team and is the closest thing to being a lock, without being a lock, for the team.
Tony DeAngelo, who is borderline on making the team. He seems like a rebuild project and it might be better for the Rangers to invest in someone fresh, rather than someone who has been bounced around a lot, for his age.
Frederik Claesson, who probably makes the team because he's Swedish and the Rangers have hard on's for Swedes.
Sean Day, who probably doesn't see the inside of the Rangers locker room.
Rob O'Gara, who last season, made Mike Kostka look like a stud.
Steve Kampfer, who Lundqvist didn't like thus probably goes to Hartford.
John Gilmour, who might make the team, even if he looks like he has to present his "Erupting Volcano" project at a middle school Science Fair the next day.
Libor Hajek, who is probably starting the season in Hartford.
Ryan Lindgren, considered a good prospect, but with Hajek, probably starts off in Hartford.
When you look at this defense, this isn't exactly the 1927 Yankees here. That's why whoever is in net for the Rangers, is going to get grayer and whiter than Eddie Giacomin ever did.
Again – for a team in a rebuilding phase, I'm not confident about having four spots already determined. You have to trade Staal ASAP.
Coming from my perspective that the Rangers should do whatever it takes to put them in the position to draft a hopefully elite center in Jack Hughes, during the 2019 NHL Draft; the 2019 NHL trade deadline should see the Rangers be a topic of much discussion. Akin to the 2018 NHL trade deadline, it would behoove the Rangers to shed some older players for draft picks.
I've talked about this before, and again, for newer readers, if I were the Rangers, I would try to pull a Sam Pollock.
For those not familiar with the reference, during the 1970-1971 season, Pollock, then the GM of the Montreal Canadiens, made deals with the bottom feeders of the league, to strengthen his chances at getting the number 1 overall pick in the 1971 NHL Draft, a draft that featured the elite Guy LaFleur. Pollock dealt with the Seals and the Kings, and would eventually land LaFleur as he planned & hoped. In turn, the Habs, who already were the best team in the league (They won the Cup that season), would go on to win five more Cups in the 1970's, with LaFleur being a key asset.
While GM's are a little bit more savvy today than the GM's of the expansion clubs of 50 years ago, the Rangers hold some key talent which can be used to strengthen their position at the 2019 NHL Draft. To me, the big fish is Colorado's number 1 draft pick, as they hold Ottawa's number 1 pick, as a result of the Matt Duchene trade. Ottawa, on paper, should suck next season. Colorado, who made the playoffs last season, could benefit from the addition of a Mats Zuccarello, a Kevin Hayes or a Chris Kreider. Why not explore a trade there?
Tampa Bay, aka Rangers south, may also look for more help as they are going through what the Rangers did at the beginning of the decade. They have the talent, they just haven't put it all together yet. How many more ex-Rangers can Tampa employ? Can the Rangers snag another draft pick from Tampa?
Come the NHL deadline of 2019, I can see the Rangers shipping out many 25+ year old talent. It's the best thing for the future. Once again, we go to Henrik Lundqvist!
You may have heard by now, if I was the GM of NYR, Lundqvist would've been gone a long time ago!
I think the 2019 NHL trade deadline may potentially see my dream become a reality.
Lundqvist, who is already coming off his worst season, statistically, is going to be plagued by perhaps the worst defense during his tenure with the Rangers. Furthermore, the Ranger forwards aren't instilling fear in anyone either, and you may see many games where the puck possession is 2:1, in favor of the opposition. I don't think it's out of line to envision Lundqvist with a GAA of over 3.00 and a save percentage under .900, come the deadline.
Will Lundqvist ever "Ray Bourque" it? Time will tell. Injuries around the league may determine that.
It's funny, the NHL Network, specifically Dan Rosen, basically echoed my thoughts:
What I found extremely humorous, was that Rosen, who looks like he's morphing into the Miss Piggy Thanksgiving's Day Parade float (I can say that, because I'm big too) tried to "Twitter Shame" me, for saying that Lundqvist was surly, cranky and not much of a team player during the 2017-2018 season. Fast forward to now, and he's saying the same thing I was saying all last season.
Lundqvist might be saying all the right things now and how he's "all aboard" for a rebuild (Don't forget, like many delusional Ranger fans, he's also talking playoffs too, and if he couldn't win 16 games in the spring with the teams he had before, how is he winning 16 games in the Spring of 2019?) might reach his boiling point, come the deadline.
What if Toronto goalie, Frederik Andersen, falters or gets hurt this upcoming season? Toronto is a team that wants to make a playoff run in 2019. What if another playoff team has goalie issues, whether on-ice or with injuries? Would Lundqvist embrace a trade to a contender? Obviously, the Rangers would have to eat some of the salary in a trade, akin to the way the Coyotes did when they traded Yandle here, but as I've established previously in this blog, the salary cap isn't an issue for the Rangers right now.
The Rangers have plenty of prime-time games this season, and with Alex Ovechkin winning the Stanley Cup, Lundqvist is the only big name from his era, to have not won a Stanley Cup. You can easily predict that the "NHL on NBC" guys will mention this factoid about 25806735645789450 times during their Ranger broadcasts this season.
How many times, during the season, will Lundqvist hear about himself not winning a Cup and how he may never win a Cup? It's gotta wear and tear on the Swede. If Lundqvist's numbers look like a pile of shit, even if it's no fault of his own, will the on-ice frustration that he's previously displayed, finally make him accept a move?
While I have wanted Lundqvist off this team for some time now, but deep down knew it wouldn't happen, for the first time ever, I can see Lundqvist wearing a different NHL jersey becoming a reality. And really it's a win-win situation for all parties.
You look at a team like Pittsburgh during their recent Cup victories. While Murray took the starting job from Fleury, Fleury was there as a reliable hand and won a bunch of playoff games too. In that same vein, Lundqvist would be a nice insurance policy for a contender, especially if the Rangers would eat a majority of the salary.
Who knows? For the first time ever, "Lundqvist Watch 2019" may be coming to an NHL Trade Deadline near you.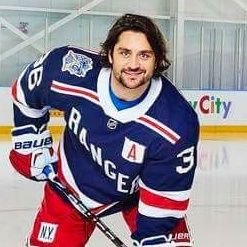 Mats Zuccarello, and whether he remains with the Rangers past the trade deadline, will be something to watch this season as well. I don't know of anyone who didn't want to keep Zuccarello four years ago. Now, Zuccarello is in the last year of his four year deal. Damn, time flies.
I've talked about this before, (I feel like I've used this sentence a lot on this blog, but when these blogs run 67567567567578455 words, I'm bound to repeat myself) you can make the argument that Mats Zuccarello is the second most popular Ranger (Lundqvist first, obviously) since the lockout.
I recently did a twitter poll asking who was more popular during their time with the Rangers – Zuccarello, Dubinsky, Avery or Callahan. Zuccarello won the poll, and in an overwhelming fashion. In another poll, the Blueshirt Radio Underground guys & their fans (Give them a listen at Blueshirt Underground Radio , as Jim & Eddie do a great job & I truly respect their fandom, dedication and work) had a debate discussing the popularity of Zuccarello vs Callahan. Once again, Zucc won that poll/debate too.
When it comes to Zucc, what he has, and what the other fan favorites didn't, are the overwhelming number of female fans. He's a player that men respect and a player that women love. Also to keep in mind, when guys like Avery, Callahan and Dubinsky were around, Lundqvist was still at his height/peak. He was still selling jerseys. Now, the Rangers are giving Lundqvist jerseys away:
Just saw this @NYRangers FB ad: "Cheer for your boys in blue from the best seats at The Garden. And, when you purchase a full, half or 11-game plan in the lower bowl, you'll receive a Henrik Lundqvist jersey." Or you could not go to one of those games & buy the jersey yourself…

— Scotty Hockey (@ScottyHockey) August 27, 2018
Zuccarello also has a friendly, chantable name. It's easy to chant ZUUUUUUUUUUUUUC, which is why it's usually one of the first chants you hear at a Rangers road game in market with many NY transplants, such as Florida, Carolina, etc. Every Rangers fan respects his grittiness. Like a Theo Fleury, Zucc, despite his size, isn't afraid to mix it up with the bigger behemoths of the league. Fans love that.
Henrik Lundqvist and Mats Zuccarello, who just put on their "Henke & Zucca" charity game, may host this game, as two different players, wearing two different NHL jerseys, next summer. Let's face it, for as good as Zuccarello is in his role with the Rangers, he's not irreplaceable either. Again, my mind wonders to Tampa, but really, he would be a good rental for any club with playoff aspirations. As Ranger fans, we tend to overrate our own players (every fan base is guilty of this) but I can see getting back a second rounder for Zucc, if not a first rounder, if Zucc is part of a package.
Again, Cup winners, and their nucleus, are built through the draft. Just look at the Capitals, who just won the Stanley Cup. Nicklas Backstrom, Madison Bowey, Travis Boy, Andre Burakovsky, John Carlson, Christian Djoos, Shane Gersich, Philipp Grubauer, Braden Holtby, Evgeny Kuznetsov, Dmitry Orlov, Alex Ovechkin, Chandler Stephenson, Jakub Vrana, Nathan Walker and Tom Wilson, were all Washington Capital draft picks. Sure Brooks Orpik (Free Agent), Devante Smith-Pelly (Free Agent) and TJ Oshie (Trade) were major players in the Caps run too, but for the most part, the Caps were built through the draft.
Of course, the Rangers being the Rangers, they usually go against the grain when it comes to emulating what works. Teams are winning Cups with elite forwards, so the Rangers build around a goalie. Teams are winning Cups with deep drafts, so the Rangers trade away all their picks under Sather, that is, when Sather isn't bombing every draft he was ever part of. (For more on that, check out this blog: doinow.com/62618)
Zuccarello, like Lundqvist and Staal, represents the old guard, the Emile Francis 2.0 Rangers, who did everything but win. (Credit: George Grimm.) As much as it may pain Ranger fans, like the Rangers who were dealt at the 2018 trade deadline, it's in the best interest of the Rangers to move on from Zucc too.
Another polarizing figure on these 2018-2019 Rangers and someone who may be subjected to trade rumors, is Chris Kreider. Kreider, as a result of all the 2018 trade deadline moves, now finds himself as one of the longer tenured NY Rangers.
To me, Kreider may be in the same boat that Ryan McDonagh was in last season. With 18 months remaining on his contract, the Rangers, who knew they weren't going to lock down McDonagh to a big money deal, decided to move on from Captain Mac and ship him to Tampa. Fast forward to now, by the time the 2019 trade deadline comes along, Kreider will have 18 months on his deal.
Kreider, no longer that kid that was subjected to the wrath of Tortorella, will be 28 years old by the time the 2019 playoffs start. He's not a young pup anymore. We have a feel of who Kreider is. The word potential was always thrown around a lot with Kreider. Now it's time for the word reality. If CK20 wants to chase a Cup in NY, he still has the time to do it, if he can stomach the rebuild. For the Rangers, how many players do you want to keep from the old guard, before stripping it all down like they are chop shop, and try to build anew?
I think the Rangers, as of right now, don't know what to make of Kreider. His play in the first half of the season will determine his fate. Will Kreider finally be consistent or will he remain that player who has a few great games, but then you have to check the box score to see if he even played?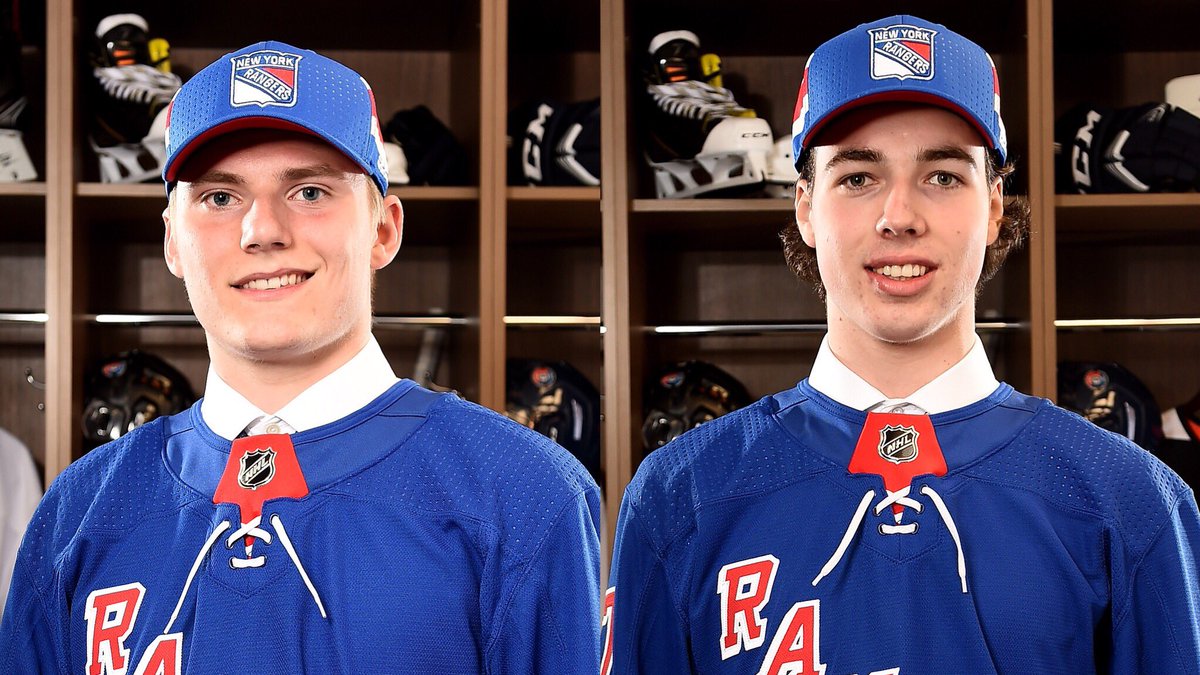 For most of this blog, I've been talking about the Rangers trading some of their bigger names, with the hopes of getting good draft picks and building a new core. Now, let's look at some of the players who will hopefully become that new core. Of course, if you know me, I don't do the projected lines crap, at least not until preseason is over anyway, but without a doubt, Andersson and Chytil should be in the line-up, come opening night.
The Rangers fired Coach Alain Vigneault, seemingly minutes after the 2017-2018 season ended. I have already given my thoughts, in-detail, on this firing already. For those who don't know, I wasn't a fan of this, because I feel that AV was one of the best coaches in the history of the Rangers. Furthermore, the 2017-2018 season wasn't AV's fault, as the team was decimated by injuries, gave up by February and their number 1 star, had the worst season of his career.
New head coach, David Quinn, who I believe was hired to coddle this team and give out participation trophies in this era of millennials, is being promoted as this guru of player development. Of course, that poses the question of "what happens when this core develops and Quinn can't get them over the hump?" It's a question to be answered down the line and not now.
The two key players during the 2018-2019 season, at least in terms of development, will be the pride of the 2017 draft, in Filip Chytil and Lias Andersson.
In true Rangers fashion, the Rangers drafted Andersson as the 7th overall pick of the 2017 NHL draft, with the hopes that he would be NHL ready. He wasn't. The Rangers also drafted Chytil, 21st overall, in that same draft. After a strong preseason, Chytil made the cut for opening day, but would only last 6 periods in the NHL, before his return at the end of the 2017-2018 season, when the season was long done for the Rangers.
The jury is out on the 2017 draft and we won't know what's what for another 3-5 years. However, the goal is for Quinn to develop these players and hopefully the Rangers have some cornerstones for their future. With 2018 draft pick, Vitali Kravstov, and goalie CZAR IGOR Shestyorkin finishing up their last season in the KHL during the 2018-2019 season, the Rangers hope to add these these two "youts" to a new nucleus, come next season. In other words, the 2019-2020 season will be more anticipated at this time next year, than this 2018-2019 season, at least in the eyes of a Rangers fan.
Again, patience will be a key word. I don't expect Andersson and Chytil to dominate the league. What I want to see are both players being exponentially better, come April of 2019, than where they are now. They need to play. If they stink for a few games, they shouldn't be scratched. If they slump for a period of time, you have to still run them out there. This season should be all about getting these kids time and experience, even if the team is worse for it. After all, the goal of this season should be to land Jack Hughes in the 2019 NHL draft anyway.
When it comes to the Rangers forwards of 2018-2019, we pretty much know who will be playing. We know that Chris Kreider, Mats Zuccarello, Filip Chytil, Lias Andersson, Pavel Buchnevich, Ryan Spooner, Kevin Hayes (as mentioned in a previous blog, is another player that will probably shipped at the deadline), Vladislav Namestnikov, Jesper Fast, Jimmy Vesey and Mika Zibanejad, will compromise 11 of the 12 forward spots on the roster.
While I previously talked about which Ranger forwards could be traded at the deadline, (Kreider/Zuccarello/Hayes), another forward to watch will be Jimmy Vesey. Pavel Buchnevich, who some Ranger fans treat like he's the second coming of Wayne Gretzky, will get plenty of opportunity to shine. While Vesey & Buchnevich joined the club during the same season (2016-2017), it seems the Rangers are willing to give Buchnevich more room for error than Vesey, whom is two years older than the Russian. With Vesey's contract expiring at the end of the 2019/2020 season, the Rangers may be willing to move on.
Mika Zibanejad, signed through the 2021/2022 season, is a player I would get rid of as soon as possible. I talked about why in prior blogs, but in short, he's concussion prone. That may make me seem callous and cruel, but even with Zibanejad's long history with concussions, I don't think he'll ever be a true number 1 center, which is what the Rangers thought they were getting when they shipped off Derrick Brassard for Zibanejad. The Rangers have a logjam of young centers, so I would rather play the fresh kids, and see what you could get back for Zibanejad, before his "Stepanesque" no-move clause kicks in for the 2019-2020 season.
Spooner and Namestnikov, acquired from 2018 playoff teams in the Boston Bruins and Tampa Bay Lightning, respectively, both return to the Rangers, as each got a two year deal from the club this summer. To me, they are veteran bodies, used to flesh out the roster. Some fans and "experts" have high hopes for these two, but to me, I think they are just passing through.
Jesper Fast, who like Kreider, finds himself as one of the longer tenured Rangers, is a $1.85M cap hit during this season and in 2019-2020. If his level of play continues to elevate, Fast, who turns 27 on 12/2, should be in line to make life-changing money. Fast, like many of the veterans on the roster, could help a playoff team and with his cap hit, he is easily affordable. Fast may find himself at a crossroads with the Rangers.
So who is the 12th man? To me, if I was running the team, I would give the job to Vinni Lettieri. After all, I'm the only person in the world to have his jersey:
I was a fan of Vinni Lettieri from day one of the 2017-2018 preseason. Ditto Neal Pionk. That's why I was shocked (and I even wrote at the time last year) that both Lettieri and Pionk were omitted from the opening night roster. Both would play with the team later on in the season.
In the case of Lettieri, he played in some meaningful games during the 2017-2018 season, but after shenanigans with Brendan Smith in Hartford, Lettieri was ostracized, and never to return. (As of this writing, 7+ months after their incident, not one member of the NYR media got the full story. It's a shame that we live in the biggest market in the world, but we have piss-poor reporters, who would rather suck the teet of Dolan, than risk doing their jobs and reporting on a story. I mean really, nearly 6 months after his firing, these pathetic mousy NYR reporters, still haven't logged a quote, much less an interview, with Alain Vigneault.)
However, I'm not the coach, so Lettieri is not a lock for the 2018-2019 roster. Besides Lettieri, fighting for the 12th forward spot on the roster, during the preseason will be:
Cody McLeod, who is probably the favorite for the job, despite his inclusion on the roster making no sense for a team rebuilding.
Peter Holland, who like McLeod, I'm surprised the team retained.
Matt Beleskey, who at 30 years old and with a crappy contract, is a player the Rangers should try to move ASAP.
Steve Fogarty, who seems hit or miss.
Boo Nieves, who may find himself the odd man out, with the Rangers having their four centers seemingly locked down.
Ty Ronning, who is most likely slated to play in Hartford for the time being, but may be in the line-up on Opening Night, come 2019-2020.
What should be noted, is that whoever wins the 12th forward spot and plays on opening night, may not make it with the club until the end of the season. Furthermore, with potential trades at the deadline, many of the young guys, who will be passed over and sent to Hartford to start their 2018-2019 season, should get NHL playing time, after the trade deadline.
As outlined, we pretty much have an idea of who will be on the team on opening night. If you're of the thinking that Pionk makes the team, that leaves one defenseman spot open, as Skjei, Shattenkirk, Staal and Smith will take the other four spots. There's a twelfth forward spot to be had too. If there are any roster spots that may be a complete lock for the 2018-2019 season, it is the goaltending.
Obviously, Henrik Lundqvist is the starter on opening night, even if he was too scared to play in the home finale last season. (Lundqvist wanted no part of Tampa, and Tampa hung 6 goals on Ondrej Pavelec, enroute to a 7-3 victory.)
When it comes to the back-up goalie, Alexandar Georgiev, who played well over the course of ten games (9 starts) should win the job. It's his job to lose. Challenging for the job in 2018-2019 will be Marek Mazanec (no NHL experience) and Dustin Tokarski, whose biggest claim to fame is being the goaltender that replaced Carey Price in the 2014 ECF.
Brandon Halverson, once heralded to take the throne from Lundqvist, also remains in the mix, but his stock has tumbled with each passing season, that it's hard to envision him getting out of Hartford.
Of note, last year's back-up goalie, KING ONDREJ THE GIANT, remains unsigned in the NHL. A former starter in the league, I'm surprised no one has picked him up yet for a back-up job. He's only 31 years old, so it's not like he's done yet either. I'm sure he will eventually land with someone. As mentioned in a prior blog, not that it matters, but for the same money, I'm surprised the Rangers signed Tokarski, rather than bringing Pavelec back.
As you know by now, I would've traded Lundqvist long ago. As outlined above, a Lundqvist trade could still happen. What is often lost when talking about the goaltending with the Rangers, is Benoit Allaire. He's the only goalie coach in the league that has seen his last two back-up goalies become starting goalies and making big & life-changing money, in Cam Talbot (EDM) and Antti Raanta (ARZ). You can also make the case that he turned a 7th round draft pick into the highest paid goaltender for a few seasons. (Carey Price becomes the highest paid goaltender in 2018-2019, with Lundqvist now becoming the second highest paid.)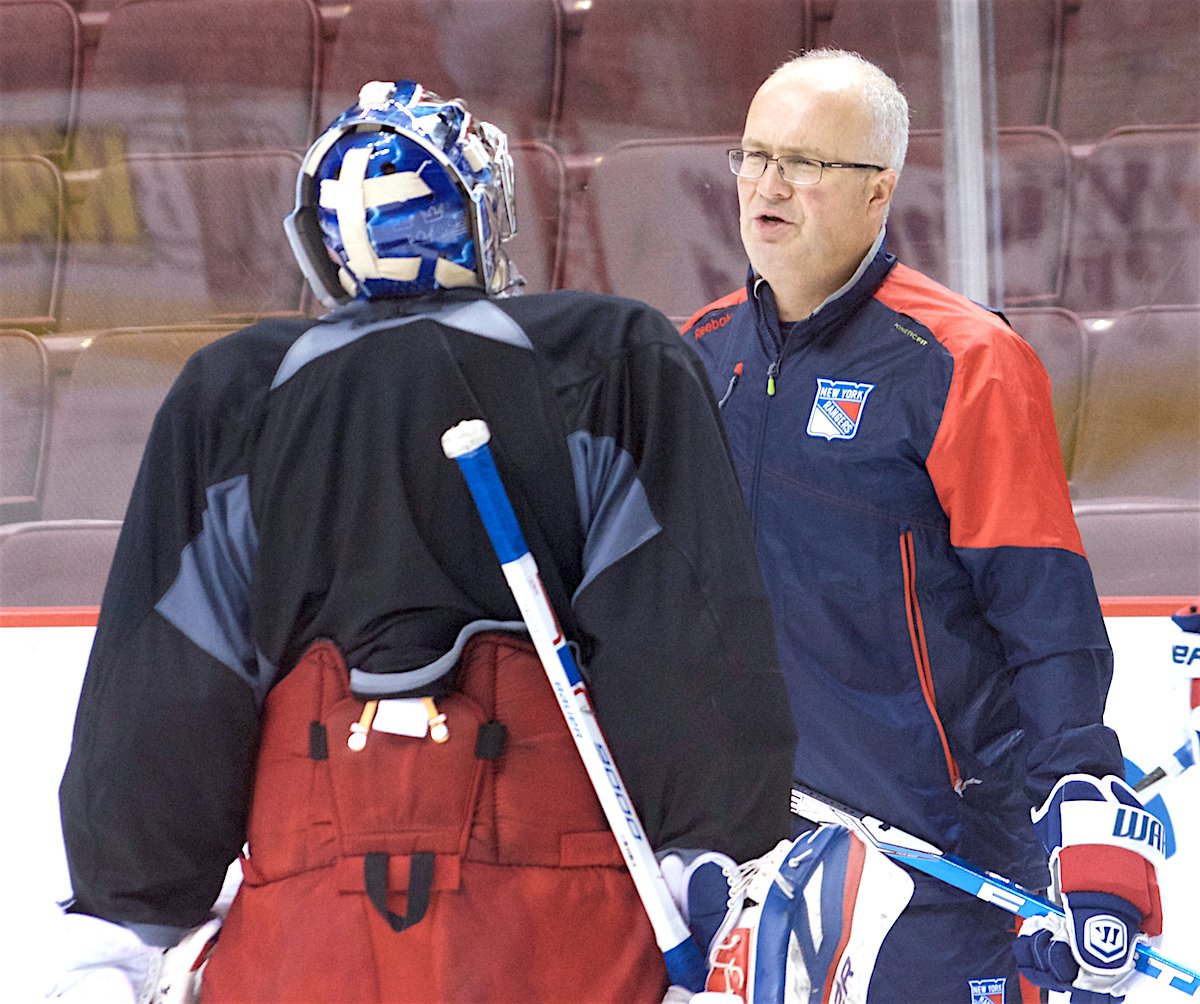 I have argued in the past that the Rangers should've made an attempt to buy out Igor Shestyorkin's contract. We know that if the Rangers were the Knicks, this deal would've been approached and most likely done, a while ago. What concerns me about Shestyorkin, is that he's Russian and doesn't speak English. Fortunately, he's a goaltender, so he just has to do his job, whereas, next season, someone like Kravtsov, will really need to pick up the language, especially if the Russian speaking Chris Kreider is no longer here.
If Lundqvist was to be removed from this team, I would envision Georgiev as the starter. Let's see what he has. In all reality, he should be getting half the starts this season, just so the Rangers can see what he can do over the course of season.
With the Rangers drafting another Swedish goalie in the 2018 NHL Draft (Olof Lindbom) and with the other goalies in the system, if Lundqvist was gone, the Rangers would have the chance to evaluate their AHL goalies. Will Halverson ever be an NHL caliber goalie? It's tough to judge him based on his work in Hartford, because the defense in Hartford was worse than the defense on the big club, during 2017-2018.
We've already seen the Rangers cut ties with recent goalie prospects, in Mackenzie Skapski and Magnus Hellberg. (Ironically, Hellberg, after a year in China, is backing up Shestyorkin in the KHL, so the Rangers will be aware of what Hellberg is doing in 2018-2019. You know the Rangers will be watching Hellberg, with their tongues out, since they have a never-ending erection for Swedish players.)
I think it's in the Rangers best interest to let Allaire work with the young goalies in the Rangers system, and see who can become a building block as the Rangers enter the next decade. As it stands now, it looks like the Rangers could have a Russian goalie 1-2 punch, with Shestyorkin and Georgiev, perhaps as soon as 2019-2020.
The Rangers, who will send out their youngest team in years, behind a new coach in David Quinn, have only one true goal to me – get the number 1 pick in the 2019 NHL Draft. Obviously, that's easier said than done, and will take some ping-pong ball luck, but it serves the team no purpose to be a team fighting for a playoff spot.
Right now, you have people talking about the Rangers trying to go after Panarin or Karlsson. Neither makes sense for this season. After all, you can get Panarin, in free agency in the summer of 2019. Why give up prospects for him? Why trade for a player that could take you out of the draft lottery?
Patience, patience, patience. That's the motto this season. It's going to be tough for Ranger fans, especially the ones who weren't alive or can't remember the last dark era, which ran from 1998-2005. Unlike the last dark era, where fans went into the season with the hopes of a Cup run, we know what this 2018-2019 season is all about – educating young talent by giving them NHL experience.
I'm pulling for Quinn. I really am. I will never agree with the AV firing, but Quinn is here, and there is nothing I can do about it. All I can do is hope he does well. I wish him nothing but success.
What concerns me about Quinn, is that he was the head coach of a monster college program, with Boston University, but never won a Frozen Four. If AV had to be fired, as I talked about in-depth previously, I would've rather Patrick Roy. Keep in mind, Quinn was so bad as an NHL assistant with Colorado, that he was fired. In the next season, Colorado made the playoffs and Roy won the Jack Adams award that season.
My biggest concern with Quinn, is that besides not understanding how to read a map or having any basic concept of geography, which ironically, sums up how the Rangers do their drafts, is that he's being hired to be an after-school babysitter. Even worse, this isn't his team, nor will it be, as long as Lundqvist is here. Do you think this new coach is going to call out Lundqvist when Lundqvist has his hissy fits? Tortorella and Vigneault brought deep resumes to this club, yet Lundqvist was able to get both coaches fired. Quinn is no dummy, and will play the game, even if it means that he doesn't have 100% control of every roster decision.
You see what the NY Giants are doing with their new GM & HC, and to me, this will never be Jeff Gorton's team as long as Sather is here. I think Lundqvist has too much power and I think the team kowtows to him too much. In my opinion, for Gorton and Quinn to be at their most successful, Sather and Lundqvist, two faces that ultimately failed, need to go. You can't say you're all about change, yet cling to the past. I feel that Gorton & Quinn will remain handcuffed a bit and for them to truly be free, you must move on from past failed experiments.
As I've always said on these blogs, in regards to Lundqvist and Sather, the definition of insanity is doing the same thing over and over & expecting different results.
As we wind down and approach the Rangers 2018-2019 season, I have no expectations for the team. This team, that once had a Stanley Cup playoff window, saw that window get slammed shut long ago. In hindsight, while the Rangers dicked around in the 2016 and 2017 playoffs, the only true chance at the Cup was in 2015. They failed. It sucks. It happened. Nothing you can do about it.
When it comes the Captain of the 2018-2019 New York Rangers. My opinion remains the same. I just don't see the need for one and I feel naming a captain seems forced. I talked about this situation in full detail already. You can read my thoughts the captaincy here: http://doinow.com/8618/
Every one reading this enjoys the team differently. I do these blogs to vent and have fun. Away from the blogs, the Rangers are my escape from the mundane reality of working. It's a hobby, and maybe I get too carried away with it!
Even with my prediction of the Rangers finishing last in the Metropolitan Division (as you'll see in my eventual NHL 2018-2019 season prediction, in a blog coming soon) that will not slow my fandom or my road trips. Going into this season, my buddies and me already have booked a trip to Carolina, Colorado and Arizona, as these are three arenas we will cross off our bucket list this season. We will also do our annual Montreal trip, which will be our sixth trip there. I could never afford these Montreal trips in my twenties, but now in my thirties, going to Montreal to see the Rangers with my friends is my favorite time of the year. The only sad thing about Montreal, is that they got rid of their goal song, my favorite non-NYR goal song in the league:
Going into this season, all I want to see is the kids develop. If Lundqvist is horrible, that helps the team, long-term.
As far as my gripes with the team, all my gripes are of the off-the-ice variety. They are:
— The lack of disrespect for Frank Boucher and his family. Fucking retire his number already. Ditto Bill Cook. Check my past blogs or the Frank Boucher menu tab on this site for more.
— Ticket prices. I do okay in real life and my Stubhub trick works. However, that doesn't work for the family of four, who need to purchase their tickets ahead of time. I really wonder who will be attending these games 20 years from now. Kids of today will not have the same bond with the team that my generation, and generations before me, did.
— Vic Hadfield having his jersey retired. Sorry guys, just because he was the weakest player on the GAG line, that doesn't mean your jersey should be retired. Frank Boucher, Bill Cook, Bun Cook, Emile Francis and Lester Patrick all deserve the honor before Hadfield. I know this isn't Hadfield's decision and the Rangers are trying to squeeze some pennies out of GAG line merchandise, but this is revisionist history. The GAG line never won a Cup and the Rangers continue to ignore others who deserve this honor more. For more on this, visit: http://doinow.com/rafters/
— Speaking of honoring ex-players, here's my reminder to you, that the Rangers are the only Original 6 team without a statue to honor an ex-player. Pretty pathetic and cheap when you think about it. Even a team with a 25 year history, like the Tampa Bay Lightning, have multiple statues. I would nominate St. Adam Graves for "statuehood."
— There have been no changes announced by the MSG Networks, in terms of coverage for next season. I'm hoping Lundqvist gets traded, just to see Micheletti's head pop off, like a water being thrown on a cartoon robot.
That wraps up my New York Rangers preview for the 2018-2019 season. Feel free to pop off with your opinions in the comments section, via email or on twitter. I gotta say, the email response I get from these blogs is tremendous. Some of you write responses longer than the blogs themselves, which is truly a feat!
As far as the next blog, I have several books to review and will also feature a complete NHL 2018-2019 season preview and predictions blog.
Win or lose, tank or playoffs, as always…
"LET'S GO RANGERS!"
Sean McCaffrey
BULLSMC@aol.com
@NYCTHEMIC on twitter