Note: I'd be remiss if I didn't address the tragedy in Florida. It is a shame and purely sickening. I don't think there is any right response, politically or personally, to this, as emotions are all over. I just want to say that I feel bad for the victims, especially the coach/guard who died saving children. When you read this blog, I hope this is an escape from the reality we live in. For all my bitching, moaning and nuttiness on these blogs, these blogs are meant to be a venting tool for me and an entertainment tool for you. For as bad as our Rangers are, it is nothing compared to what's going on in the world. I thank you for spending time with me by reading this manifesto, as you take time out of your day to take a time-out from reality. If your biggest problem is the W/L record of your hockey team, you're ahead in life. If you're reading these words, like me, you are also fortunate in life. Let's Go Rangers.
---
What's up everyone and welcome to another blog here on BlueCollarBlueShirts.com. Perhaps for the last time in a while, this will be the last time I have to remind you about me working seven days a week and having a 4:30am clock every morning. Friday, 2/16, ends my 3 straight months of working that insane schedule. Let the 40 hour work weeks commence!
Due to my crazy schedule, I haven't gone on as many road-trips as I would've liked to this season. I still did pretty good, getting Montreal, Tampa and Sunrise in. I did take a mini-break from my nutty work schedule, when I went to Vegas for four days. However, I had grander plans for this season. Now, with not too many games left, is it worth going on the road for this team? The answer – a resounding YES!
Of course, I want to see the team win on every trip I go on, but I also love traveling and seeing how other people live. So if the Rangers are gonna suck, I'm gonna go down with the ship too. I'm currently looking at St. Louis, Washington and Carolina, as places to check out. If anyone knows anything about the St. Louis market, please contact me. I'm looking to see if there are any casinos that are nice & cheap to stay at and that are relatively close to the arena.
However, tonight's blog isn't about my work schedule or destination road games. No, tonight is far more depressing than my work schedule. Tonight it's about the Islanders embarrassing the Rangers, to a tune of 3-0.
Let me just share you some mind-boggling stats after tonight's loss to the fish sticks, courtesy of @Rtaub_ on twitter:
–#Isles move to 13-3-0 in their past 16 against the Rangers

-Jaro Halak goes to 13-1-0 all time against Henrik Lundqvist

-Move to 5-0-0 vs NYR since moving to Barclays Center

-Have won 10 of the last 11 meetings with the Rangers

— Rob Taub (@RTaub_) February 16, 2018
Rob claims that Halak is 13-1 all time against Lundqvist. I think that stat is off. I am pretty sure it's something like 14-3, when you count international play. If anyone has the correct stat, send it in and I'll make the correction on my next blog entry.
Just because I need to vent and because these Rangers are terrible, let me reprint something I wrote during my first ever experience at Barclays.
TOP 10 REASONS WHY THE BARCLAY CENTER IS THE WORST ARENA IN THE NHL
The sight lines. Anyone who has been here will tell you that this is the worst arena to watch hockey in. Some seats are facing one way, while your head is facing another. Half the building offers "obstructed view" seats. For the money you will pay, why not just watch it at home, where the only obstruction is the beer can in your face? Who wants to watch a game where you have to jump up and down, squirm and wrench your neck to see anything? Plus, while you're doing that, the person in front of you is doing the same thing, so then you have to adjust to what he/she is doing too. In 2016, with all this technology we have, whoever designed this layout for the Islanders should be arrested for robbery and fraud.
---
The scoreboard is offside. Maybe Islander fans will say, "yea, but does that really matter?" Yes it does. At a game, when the scoreboard is offside it sometimes screws with your peripheral vision a bit. If you have OCD, this will drive you wild, because you can never be centered. It looks bush league and is completely amateur.
---
The dead space. The building has no clue what it's trying to go for. You have a section that looks like it came out of the "Midieval Castle" in Lyndhurst, NJ. We watching hockey or are we jousting? You got another section with just black and gray walls. Why? It looks like a fucking auto garage
---
The SUV in the front row. I don't even know what automaker is sponsoring that truck in the front row, nor do I care enough to google it to find out, but whatever the Islanders are being paid to have that thing there, it is not enough. The vehicle looks like it came off a used car lot to begin with. Is it worth losing out on ticket sales and creating potential new fans who could've sat in those seats? The car being there really looks like a minor league promotion, not a NATIONAL Hockey League event. I would rather see a statue of John Spano there than this.
---
The rap music. Enough already. I get it, you play in Brooklyn now. Not everything in Brooklyn is rap music. People appreciate other things. Listen, I like to see girls with fat asses too and wouldn't mind doing that "Big Pimping" and spending G's thing, but it doesn't fit with the family friendly Islander brand.
---
The Nets integration. I guess the rap music is part of that too, but from changing the color of the jerseys, all the Nets plugs, the venue making the Islanders looking a guest crashing on the couch, etc; the Barclay's is telling you that the Islanders are the red-headed step-child of the building. I've been to more Ranger games than I can remember, and a handful of Knick games, but at both events, I knew the Knicks and the Rangers owned this house. The Islanders are living in their mothers basement at the Barclay.
---
No more Icelander girls! I mean really? It was nice seeing the girls skate in between play and then ordering your meal from them at Hooters after the game.
True story, a girl I knew in college, you know, the University of Nassau Community, was an Icelander girl/Hooter server/student. Don't know what she's doing today, since that was 15 years ago. If you're reading Christine, thank you for filling out my bowling score sheet. Which brings me to another true story. To get my degree from the highly esteemed University of Nassau Community, I had to go to summer school and get 6 physical education credits. My classes were karate, bowling 1 and bowling 2. My final exam for bowling 1, I just can't remember. Maybe it was returning your shoes to the clerk. Bowling 2 I remember. We had to fill out our own bowling score sheet without the use of the computer. For whatever reason, I kept fucking it up, so this Icelander/Hooter Girl/fellow alumni of mine, filled mine out for me. The things that you remember.
---
The whole e-ticketing system. I know this is league-wide, that you can't scan your Stubhub or SeatGeek tickets at the door. Maybe because I know I can go to the Hotel Pennsylvania across MSG or even Staples down the block to print tickets, but the Barclays fouled this all up. First off, the Office Max across the street won't let you print tickets. Why they refuse that money, I do not know. So what you have to do is go to a random black guy on the corner with a printer hooked up to a blue tooth, and pay him $5 a printout, versus the 30 cents charged everywhere else. I give the guy credit, it's a good idea to make money. He had a line longer than a Sonic restaurant opening. At the same time, the guy was giving people the wrong printouts too. The Barclays has a place where you can print Ticketmaster tickets inside. Why not include a Stubhub center too? It's easy money.
---
Concession stand prices. I know we are in NY and all, but the prices in Barclays were worse than MSG. The Barclays should not be the highest place in the league to get a hot dog and a beer. They are trying to draw people from the area to go to games. They want the Long Island fans to take the LIRR to the games. I'm fortunate where I have a decent income, where I can afford to spend a bit, but for a family, the Islanders have turned their back to you.
---
The atmosphere of the building. It just doesn't feel like you're at a hockey game. Even the truest pure blood Canadian would wonder if he was really watching a professional hockey game here. You're just distracted. The whole place looks minor league. It might even be less than minor league. I mean, they don't even give out the free t-shirts to the kids or anything. The Islanders even have a whole wall dedicated to something called DraftOps. I don't know what the fuck DraftOps is, I'm assuming it's like FanDuel or Draft Kings. While Draft Kings and FanDuel ads are annoying, at least I know what it is and know they are successful. DraftOps seems like the bootleg version, which I guess, really sums up the whole Barclay hockey experience.
---
If you've been following this blog, I've tried to stay optimistic about the chances of the team. After all, April to October is a long time to go without Ranger hockey. Who wants to wait until October? However, after tonight, it's time to start dusting off the Yankee jerseys. In case you haven't been following this blog, here are my last five updates:
---
---
---
---
---
There's so much to say about this loss, but there's also not much to say. What I mean by that is, what don't you know already? The team is built all wrong, there are too many injuries, AV's decision making is questionable, there is no sign of life and for whatever reason, Halak may hate Lundqvist more than I do.
Seriously, any time Halak takes his spot on the ice, once he gets a good look at the beady and cowardly eyes, of the woman abusing Henrik Lundqvist, there is just a fire that enrages within. I don't know if Halak has a horseshoe up his ass or a voodoo doll of Lundqvist, but whenever these two lock horns, Halak plays the game of his life.
Keep this in mind- before this game, the Islanders never a had a shut out this season. They have the worst penalty kill in the league. They give up the most amount of shots per game. They are giving up 4-5 goals on a nightly basis. However, for whatever reason, it's the Islanders, no matter how bad they might be at the time, that get up for these games against the Rangers. It is the Rangers, reminiscent of the "Fat Cat" Rangers of a bygone era, that seem happy to land on their ass. After all, they have that fat wallet to land on.
And yes, before you write in to tell me "half the team is young and from Hartford", I'm specifically talking about getting amped up for a game. If a 7-2 rape job, just a month ago, isn't going to get this team pissed off, what will?
As mentioned in prior blogs, there seems to be a lot of news in-between games. While there was some news on Wednesday, it wasn't much. Here's the quick and dirty:
Kreider and Buchnevich are back in red non-contact jerseys. Kreider is thought to be 2-4 weeks from returning. If the Rangers are out of it by that time, I don't see any reason for him to come back this season. Better off being 100% and not risking any potential health issues.
McDonagh submitted his no-trade list, meaning he told the Rangers the 10 teams he would accept a trade to. If McDonagh is to go, I hope he goes to Tampa. If the Rangers aren't going to be in the playoffs, I'm riding the Tampa Rangers bandwagon. Can you imagine? Half of the Rangers 2014 defense would be on that team, plus the last two Ranger captains.
Let's get to this horror show.
As usual, the ESPN.com box score, followed by my ranting and raving review:
1st Period Summary

Time
Team
Scoring Detail
NYR
NYI
4:53

Josh Bailey (15) (Power Play)
Assists: Mathew Barzal, Nick Leddy
0
1
Time
Team
Penalty Detail
4:42

Brady Skjei: 2 Minutes for Tripping Jordan Eberle
12:30

Adam Pelech: 2 Minutes for Tripping Mats Zuccarello

2nd Period Summary

Time
Team
Scoring Detail
NYR
NYI
15:06

Jordan Eberle (20)
Assists: Nick Leddy, Mathew Barzal
0
2
Time
Team
Penalty Detail
3:13

Dennis Seidenberg: 2 Minutes for Holding David Desharnais
7:23

J.T. Miller: 2 Minutes for High-sticking Adam Pelech

3rd Period Summary

Time
Team
Scoring Detail
NYR
NYI
3:57

Thomas Hickey (3)
Assists: Mathew Barzal, Anthony Beauvillier
0
3
Time
Team
Penalty Detail
13:18

Jordan Eberle: 2 Minutes for Hooking Jesper Fast
Goaltending Summary
Rangers

New York Goaltending

Player
SA
GA
Saves
SV%
TOI
PIM
H. Lundqvist
35
3
32
.914
59:58
0

Islanders

New York Goaltending

Player
SA
GA
Saves
SV%
TOI
PIM
J. Halak
50
0
50
1.000
60:00
0
The Rangers were beat by the Islanders, 3-0, on Thursday night. While I'd love to go on another Lundswiss diatribe, the truth of the matter is this – you can't win if don't score. I give Halak all the credit in the world, and while he did get some puck luck along the way, he did his job.
When it comes to Lundqvist, it was the usual. He gave up an easy and soft goal early. He would get stronger as the game went on, but in these close games, these soft goals have been the difference. Just look at the last game against the Wild. It just goes back to being consistently inconsistent.
That said, to put this L on Lundqvist, would be a stretch, and that's coming from me! As stated, only Jaroslav Halak can't stand Hank more than me!
However with a big task in front of him, Halak got the job done. You can't sit here and say "Halak was lucky." The bottom line is this – if the Rangers were a playoff team, you'd chalk this loss up to "the Rangers ran into a hot goalie." However, for a team fighting for a playoff spot, against a rival that recently just trounced them, this loss stings more than ever. If this was last season, and the Rangers lost 3-0 to the Panthers, due to a Roberto Luongo 48 save shutout, you'd say "Good game Luongo, let's forget about it and move on to the next game." However, it's the Islanders, it's Halak and this is a Rangers team that looks like they don't give a flying fuck anymore.

I really dislike going to the Barclays, unless I can see a game at center ice for cheap. That's not going to happen for a Ranger game. I'm just not going to pay inflated prices to sit in obstructed view seats or in those perilous steep seats in the upper bowl.
That said, I was debating about going to this game, using the Stubhub trick. However, I wanted to see who the goalies would be, before parting with my money. Once I saw Halak vs Lundqvist was announced, I stopped checking the Stubhub app and the LIRR schedule, picked up some beer and plopped on the couch. A wiser decision was never made.
Going into this game, I wanted to see Alexandar Georgiev get the start. I refuse to pay crazy money to see Lundqvist play, because I've had enough. If ALEXANDAR THE GREAT got the nod, I would've went. However, when I see Halak vs Lundqvist, I've been beaten out of my money more times than I'd like to admit. Being that the game was at Barclays, I didn't want to deal with the incessantly annoying Islander fans on the train home, especially since I knew Halak would out-duel the faux King again.
By skipping the cost of a game ticket, a pre-game meal, booze and the LIRR fare, I wound up saving myself $300 tonight. For half of that, I got my brand new McBackup jersey. I'll get more entertainment and fun out of that jersey, than anything that happened in this game tonight!
Here were the Rangers paltry lines for tonight's shit show:
#NYR Lines & Pairs #NYRvsNYI
Nash – Zibanejad – Zuccarello
Grabner – Hayes – Miller
Vesey – Desharnais – Fast
McLeod – Holland – Lettieri

Skjei – Pionk
Holden – DeAngelo
Gilmour – Sproul

Lundqvist

— RNYRF (@RNYRF) February 15, 2018
I know I've said it a million times already, but let me say it again – CODY MCLEOD MUST GO! Seriously, this was another game that I had to check the box score to see if he even was on ice. His 9:43 of playing time must've came with an invisible cloak on, because he was unseen tonight.
I bring you this story, once again. Yes, Tanner Glass had a bad first season with NYR. However, do you remember when he was first called back up to the team, during the 2015-2016 season? He was fighting with every Islander on the ice and sparked the team up. He was a man possessed. Maybe he was a desperate man, a man playing for a job, playing for his financial future and playing for his family. Whatever it was, he showed up and went balls to the wall. What has McLeod done? Get whooped a few times and watch his teammates get concussed left and right?
This was a game where Cody McLeod had to go after the Islanders.  With his team looking as tired as a drunk with sleep apnea, (I'm speaking from personal experience here!) Cody McLeod needed to inject himself into this, like a needle going into the ass of Barry Bonds. Instead, he looked as flat as a broken whoopie cushion and smelt like one too.
END THIS MCLEOD EXPERIMENT NOW! SHUT IT DOWN!
Listen, no one has defended Alain Vigneault from the #FIREAV train more than me. However, there was so much that pissed me off tonight, that I wish the media would ask him these questions:
Why the fuck is Vinni Lettieri, a pure shooter, stuck on a line with Peter Holland and Cody McLeod?
Why did you start Henrik Lundqvist against a guy who's owned him his entire career?
WHY THE FUCK IS MICHAEL GRABNER STAPLED TO THE FUCKING BENCH DURING EVERY FUCKING POWERPLAY, ESPECIALLY AFTER HE GOT 20 SECONDS OF POWERPLAY TIME LAST GAME AND GOT A FUCKING POINT ON IT?
Sorry for the capslock, but I needed to get that out of my system like a fucking tapeworm.  This Grabner not on the PP stuff is infuriating to me.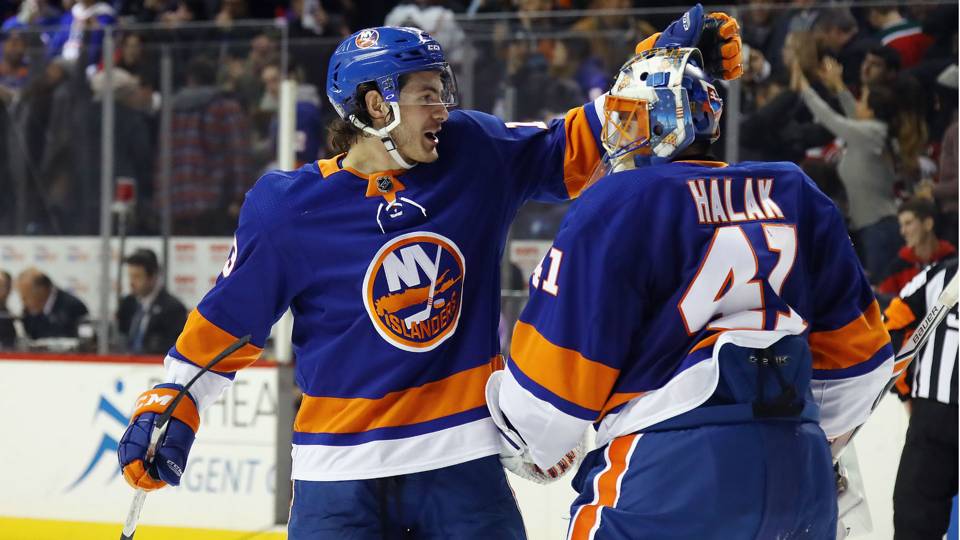 This game started off kinda well for the Rangers. As a fan, you get pumped for these games, so when Lettieri is trying to create offense with a 40′ shot and Nash is feeding Zucc with a gorgeous pass, you jump up a little more than usual. However, Halak wouldn't have it.
Five minutes into the game, instead of the usual two, Lundqvist would be beat on a soft goal. Who would've known, that this pedestrian Josh Bailey shot, would be the eventual game winning goal:
JOSH BAILEY OPENS THE SCORING UP FOR THE ISLANDERS! pic.twitter.com/A0AZJckUNQ

— NHL Daily 365 (@NHLDaily365) February 16, 2018
While this was a PPG for the Isles, as a result of a Skjei tripping penalty, this was a shot that needs to be stopped, especially considering the Rangers pay Lundqvist the most money in the world at his position.
However, this goal wasn't the story. To me, the reaction of a one Joe Micheletti was.
I couldn't find the Rangers feed of the goal, but you can trust me when I tell you this – MICHELETTI ACTUALLY BLAMED LUNDQVIST FOR THE GOAL. Yes, I had to check to see if Rosie O'Donnell and Amy Schumer were flying outside my window too! Micheletti actually put the goal all on Lundqvist. He even said, "there was no deflection on that, that was a clean rising shot from Josh Bailey."
For all burying of Micheletti I do on these blogs, I have to give him credit here. Then again, maybe Lundqvist rebuffed Micheletti's Valentine's Day advances? Either way, Micheletti called this play what it was a – a bad goal allowed by Lundqvist.
However, in Pigs Flying Part II, I must say, I can't blame Lundqvist for this loss, as the Rangers did not score. Yes, Halak turned it on, but for a team struggling in the goals allowed department, and with three separate powerplay opportunities, this loss is on the Rangers offense, or rather, lack thereof.
I'll spare you another Zibanejad rant, but as you may know, he's not the same player since his concussion, nor is he a true number one center in this league. In this league, you win Cups with strong center play and Zibanejad would be a great third line center for a Cup contending team. With these Rangers, he's just another example of why this team just isn't any good this season. And yes, the concussions are part of it.
The Rangers would get their first of three powerplays in this period and did nothing with it. They would go 0-3 on the PP, against the league's worst PK unit. Why Grabner sits is beyond me. To me, easily, Grabner on the bench has cost the Rangers a ton of goals this season. But hey, at least David Desharnais gets time!
For as much as I give Micheletti credit for calling out Hank after the Bailey goal, Micheletti came right back down to earth when he said, "This was the type of game I expected Sam." What type of game was that? The lifeless Rangers sleepwalking? Halak being superior to Lundqvist? The powerplay not working?
At the end of one, 1-0 bad guys. I thought this tweet summed it up best:
If henrik gives up 1 halak gives up 0, id henrik gives up 5 halak gives up 4, thats just how this goes with them. As soon as the islanders signed halak iknew we wede going to lose every matchup

— Nick M (@monaco_nick) February 16, 2018
The second period was a tale of two cities. The first ten minutes saw an aggressive Rangers team challenge Halak repeatedly. Then, at around the ten minute mark, the Rangers just faltered. They looked as perky as Kurt Cobain with a bag of heroin. The Isles turned it on and from that moment on, the Rangers never had a chance.
I can't make this up. Early in the period, Dennis Seidenberg was penalized. The Rangers went on a PP. What ensued you may ask? The Islanders, you know, the worst PK unit in the league and led by future Maple Leaf, number 91, J. Tavares, dominated. They had a few shots on Hank. Then, the Rangers would get a three on two chance, with a wide open look, but then two Islanders skated right to the puck, stopped a scoring chance and moved the puck up ice. You know what this is? This is the Islanders getting up for the Rangers. I knew I should've went to the Marilyn Manson concert in Huntington tonight. I'd rather see that freak show than this freak shit on ice!
The Rangers were just dead, like a fish out of water. I mean, there was a play in the second period, where there were two slow moving pucks. Even my fat fucking ass could've got to them. Instead, the Rangers watched, as the Islanders hustled, prevented a Rangers clear and continued to work on their attack. I would've benched everyone on the ice after this.
We had the quote of the year during this period:
"Holden helps out his goaltender" – Sam Rosen 2/15 8:30pm #nyr

— BlueCollarBlueShirts (@NYCTheMiC) February 16, 2018
Sam Rosen said this during an Islanders attack. Lundqvist was out of position and three Rangers clogged the net. However, despite Holden being one of them, he, nor the overpaid goalie, could prevent the score from going to 2-0 after this:
Anyone order some extra sauce? pic.twitter.com/BxbjQpsRUW

— NHL GIFs (@NHLGIFs) February 16, 2018
Jordan Eberle marinated King Crablegs after some sauce from Matt Barzal. 2-0 bad guys.
At this point, I thought the Rangers needed some shock, some spark. If AV didn't trust in KING GEORGE, he should've turned to KING HONDA SUV, which like Georgiev, was parked during this game.
After forty minutes, 2-0 Isles. I don't think any Ranger fan envisioned a comeback. That's how bad this season has been.
The third period was a feeble attempt of making a game out of it.
Oh, and if I'm an Islander fan, I would do the following:
BEG, BEG, BEG that the Islanders keep Barclays around, just for these games against the Rangers.
Place monster bets on Halak to beat Lundqvist, then double-down your winnings and bet on Halak to get blown out in his next start. I mean really, is there any fan that doesn't think Halak gives up 4+ in his next start?
Early in the third, the Isles signed, sealed and delivered a loss to the Rangers. Here's a goal, that only Lundswiss could allow:
All the @NYIslanders goals have been pretty tonight and this @thomas_hickey14 one is no exception. pic.twitter.com/1QxgmiB1Ni

— NHL GIFs (@NHLGIFs) February 16, 2018
Thomas Hickey, off of the skate of Double D and through the legs-looser-than-a-Thai-hooker of Henrik Lundswiss. 3-0 bad guys and that's your final.
Oh, and the Rangers had a goal taken away in this period, but it was such a blatant kick, that it really meant nothing in the grand scheme of things.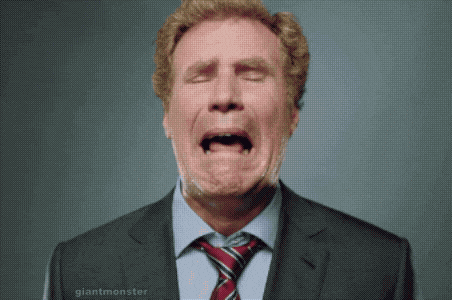 It's over. Done. Kaput. Blow it up.
This game was sadder than Claire Danes crying herself through a typical episode of "Homeland". Thinking the Rangers will do anything this season is just as crazy as a one Carrie Mathison.
I'm not going to lie, despite my words, I'm hoping deep down, this team goes on a 15 game win streak or something and gets to the playoffs. That's me being delusional though. It's going to be tough not seeing the "RANGERSTOWN" tent on 33rd & 7th this year.
I don't know what else to say. This loss is as disappointing as it gets. I know there are a lot of injuries, but Zibanejad, Nash, Zucc, Hayes, Fast, etc, where are these guys? They know the rivalry. In a battle of will, the Islanders won it and signed the death deed of the Rangers shot at the playoffs.
Updated Playoff Standings, as if:
| | | | | | | | | | | | |
| --- | --- | --- | --- | --- | --- | --- | --- | --- | --- | --- | --- |
| Metropolitan Division | W | L | OT | PTS | ROW | GF | GA | HOME | ROAD | L10 | STREAK |
| Washington | 33 | 17 | 7 | 73 | 30 | 181 | 167 | 20-8-2 | 13-9-5 | 5-2-3 | W1 |
| Pittsburgh | 33 | 22 | 4 | 70 | 31 | 185 | 175 | 22-7-1 | 11-15-3 | 8-1-1 | W3 |
| Philadelphia | 28 | 19 | 10 | 66 | 27 | 169 | 167 | 14-9-6 | 14-10-4 | 5-3-2 | L1 |
| New Jersey | 29 | 20 | 8 | 66 | 25 | 173 | 176 | 16-10-3 | 13-10-5 | 5-5-0 | W2 |
| Carolina | 27 | 22 | 9 | 63 | 24 | 160 | 174 | 15-9-5 | 12-13-4 | 6-3-1 | L1 |
| Columbus | 29 | 24 | 4 | 62 | 23 | 154 | 162 | 17-10-1 | 12-14-3 | 3-6-1 | L1 |
| N.Y. Islanders | 28 | 25 | 6 | 62 | 25 | 197 | 214 | 16-10-4 | 12-15-2 | 4-5-1 | W1 |
| N.Y. Rangers | 27 | 26 | 5 | 59 | 24 | 166 | 178 | 18-10-3 | 9-16-2 | 3-7-0 | L2 |
If you're over the age of 27, you probably remember your first car, especially if you brought a used one like I did. Like a used car, the Rangers were reliable for many years and gave us many miles. However, like a used car, the Rangers have broken down. It's past the part of rebuilding/repair. Now, as someone with more money, it's time to own a new car. It's time for the Rangers to get rid of everyone and buy a new team. That means see ya Hank, see ya Mac, see ya Zucc, see ya Staal, see ya Nash, see ya Kreider. I would still keep Grabner though.
And yes, since I got some comments about this – yes, "See Ya Zucc." I know he's a fan favorite. I love the guy too. But he's better suited as a third line winger on a Cup contender. 1 goal in 25 games. The fact that he's the team point leader shows you how silly the second assist stat is and is a true indicator of where NYR is in the standings.
The biggest problem is this – the Rangers won't get rid of Hank and Hank won't leave. The only solution is to keep Lundqvist on the bench, until you embarrass him into waiving his NMC. There will not be a true rebuild if you're keeping the highest paid contract on your team and the highest paid goalie in the league, on the team.
If you're truly a Rangers fan, this isn't about one last rebuild for Lundqvist. It's about accepting this core has FAILED and it's time to move on.
Speaking of moving on…
The Rangers travel to Canada's capital on Saturday, in a tilt between two playoff teams that hoped to have better fortunes this season. Instead, both are in rebuild mode. I'll be back after that game.
Until then, while it sucks, you take the good with the bad.
"Let's Go Rangers."
Sean McCaffrey
BULLSMC@aol.com
@NYCTHEMIC on twitter