What's up everyone and welcome to another blog here on BlueCollarBlueShirts.com. If there is anything to take out of this Rangers 5-1 win, over the Sabres, it's that I wish I could've wrote more blogs, with this tone, during this season.
For the Rangers, while many of the bad things that have plagued them this season were apparent in this game, such as their propensity to give up a ton of first period shots, the Rangers were able to weather the storm and layeth the smackdown, all over the candy asses of the Buffalo Sabres. Why I decided to rip off "The Rock" right now, I don't know. As you know, once these games are over, when I start these blogs, I have no outline or know what references I'll make. So be happy with the "The Rock" reference, you jabroni!
The Buffalo Sabres, with 58 points, are at the ROCK BOTTOM (sorry, I'll try to stop) of the Eastern Conference. So when you read this review and look at this game, keep that in mind. Additionally, the Sabres played the night before. That said, it's nice to see the Rangers raise their eyebrow at their questionable Winter Classic rivals and then drop the people's elbow, right on the crest of the Buffalo Sabre jersey. (Okay, no more Rock stuff.)
In case you're new here (and really, as this miserable season closes, I'm surprised that I'm getting new eyeballs right now. I'd expect more readers if the Rangers were marching into the playoffs, as that is the time when fan interest rises) or if you missed my last blog, here's my most recent stuff:
---
---
---
---
---
If you're a regular reader here, you know I will always follow up on stories. A few blogs ago, I talked about the Rangers touting their tickets sold number, despite playing in front of a half empty arena, like it was an Islanders playoff game. Tonight, despite trying to sell "All For One" tickets, the Garden did look like a sell out, at least on TV. The Rangers and M$G claimed a sell out, and to me, it looked like one. Don't ever say I don't give you both sides of every story!
After the loss to the Flyers on Thursday, there wasn't much news and notes that I haven't already previously discussed. Shattenkirk still wants to return. To me, if he wants ice time, he's better off just playing in the IIHF Worlds, because what's the point of rushing back to this lost regular season?
Andersson and Chytil are rumored to be called up for Monday's tilt against Washington. Once they are called up, they are expected to play out the rest of the season. If the Rangers need help packing the bags of McLeod and Holland, feel free to contact me. My contact info is at the end of this blog.
Speaking about packing bags, let me update you on everyone's favorite overrated and overpaid goalie, his Highness himself, a one Henrik Lundqvist.
Before puck drop, Alain Vigneault held a press conference with the NYR media. When asked about shutting down Lundqvist for the remainder of the schedule and taking the "L" on this season, Vigneault laughed for a good two minutes and said that there was no way he was going to tell Lundqvist that.
Yes, in case you're new here, I'll be fair and let you know that I'm not a Lundqvist guy. However, most of you know that already!
Watching AV giggle like a jackass, as he giggled so hard that a fucking wad of big chew gum fell out of his hole, was infuriating to me. This just goes to show you, that he has no control over his egomaniac goaltender.
As I've stated before – can anyone tell me how Henrik Lundqvist fits into a rebuild? Can anyone tell me how the numbers of Lundqvist benefits this team? Can anyone tell me why they would want an older and more broken down product than a newer and better product? And the biggest question of all – when will NYR realize that they can keep changing the cast all they want, but as long as Lundqvist is the star, that they'll never win a Cup?
So let me be the first to offer AV my services. You need someone to tell him that he's done for the season? You can email me at BULLSMC@aol.com or contact me at twitter at @NYCTHEMIC . If you slide into my DM's, I will give you my direct phone number, so I can do your job for you. Even better, I'll do the job of Jeff Gorton too and tell Lundqvist that it's either the bench next season or he waives his NMC!
Oh, and let's talk about the Lundswiss bots. They are infuriated by AV all season long. They want AV fired. They want a frog stuffed in AV's ass, like it's a Vito Spatafore whacking. (Speaking of Vito, Joe Gannascoli, the actor who portrayed Vito, lives two minutes away from me. I run into him from time-to-time, and like many of us, he's a big NYR/NYG/NYY/WFAN 660 fan. It's always refreshing to see celebrities, or people that we know from TV, be cool in real life. Joe is aces in my book.)
Oh yeah, my point.
Many citizens of RANGERSTOWN want AV out of here. However, AV bends over backwards (Like Vito, HA!) for Lundqvist. He caters to every whim and demand, of his primped up diva. If AV really was coaching for his job, he would've benched Hank long ago. He would've rode Talbot in 2015. He would've rode Raanta in 2017. He would've kept Hank on the bench after the deadline. Face it Hankholes – AV is the perfect coach for Lundqvist, because he is controlled by him. You think Torts would put up with this shit? You think Keenan would take kindly to Lundqvist running to the locker room?
It was Lundqvist, confirmed by his buddy Sean Avery, in his "ICE CAPADES" memoir, that ran Torts out of town. In return, the Rangers got Alain Vigneault, a man who can win games and is a good soldier. However, these Rangers needed a general and they didn't have that when the team was at its best, during these last few seasons.
A stronger willed coach would say, "Lundqvist is done for the year. It's time to see what we have for the future." Instead, AV showed cowardice and fear, when approached about pulling a Chris Hansen, and telling Lundqvist, "Why don't you take a seat over there?"
Even when Lundqvist doesn't play, I'm given material. After all, tonight's broadcast on the M$G Networks, made sure to let you know, that despite only knowing him for a month, that "Lundqvist is mentoring Alexandar Georgiev." I'm sure. Not mentioned is how Georgiev is actually good, with or without Lundqvist having a conversation with him. Not mentioned is how Georgiev is better this season. Not mentioned is how Georgiev is calmer in net. Not mentioned is how Georgiev handles the puck better. Not mentioned is how the team plays better in front of him. You get my point.
Speaking about Lundqvist, you know, the highest paid goalie in the league, I have to admit, I had to wipe the tears out of my eyes, after reading this Facebook post, from the "Blueshirt Underground Radio" group:
Moving along, as I got one more news item to hit, and then it's all about this Pulp Fiction job on the Sabres.
Jim Cerny, formerly of the Rangers, now writing for The Sporting News, caught up with Ryan McDonagh this week. You can read Cerny's interview with McDonagh here: http://www.sportingnews.com/nhl/news/ryan-mcdonagh-interview-new-tampa-bay-lightning-defenseman-reflects-on-trade-time-with-new-york-rangers-nhl-deadline-memories-/ntll8f1z80sv17wnzpugorbla
I'll save you my Cerny vs Borges debate, as I've been there, done that. I still can't believe that people got offended when I said "I'd rather a qualified man talking sports, than an unqualified woman talking sports." Oh, the humanity!
I really enjoyed Cerny's interview with McDonagh. There's a lot of great questions and quotes in that interview. One thing that particularly caught my eye was this:
Leave it to the ex-Captain, Ryan McDonagh, to confirm my suspicions and validate my opinions!
As the conductor of the "TRADE LUNDSWISS" train, very often, I'm tagged in a million tweets, from the faithful Lundswiss bots, telling me how "HENRIK LUNDQUISS CARRYED THE TEEM IN THE 2014 PLAYOFS!" When I bring up that it took 7 games to beat a crappy Flyers team, with several of those games featuring a back-up goalie in Ray Emery or when I mention how Chris Kreider taking out Carey Price, in the ECF helped, both of those points are always ignored. Another one of my talking points is that it was Martin St. Louis, and not Henrik Lunqdvist, that the team rallied behind, when they knocked out Pittsburgh.
In his short time here, I was all about Martin St. Louis. I think I was one of the first nuts to buy his jersey the second the trade happened. I'll never forget what MSL meant during that Cup run. If the Rangers won the Cup that year, the Cup would've been remembered as the Frances St. Louis Cup. However, Lundqvist couldn't hold a two goal lead in any game against LA, and we know how that series ended.
The 2014 Rangers were very much like the 1979 Rangers, as both had Cinderella runs, but couldn't get it done at the end. (For the record, neither the 1979 or 2014 team, were heavily favored, like the 1994 Rangers) Where the 1979 and 2014 Rangers differentiate, is that the 2014 Rangers were in every SCF game. They really could've won it that year. In the 1979 Cup run, the Rangers stole one game, then got hammered the next four games, against one of the best dynasties in the history of the NHL, in the Montreal Canadiens.
I always felt that MSL, who was the X factor in the Rangers series win over the Penguins in 2014, had his career cut short. After a disappointing 2015 playoffs, MSL retired. I thought the Rangers could've got another year out of him. However, the Rangers weren't offering him a deal, and MSL, happy to live his life in Connecticut, wasn't interested in playing anywhere else. While there were rumors about joining the Devils, MSL decided to retire.
I hope that Ranger fans remember MSL in the same fondness that I do. I truly think Ranger fans do. If you recall, during the NYR 90 celebration, from last year's home opener, when MSL was the last name announced, the place erupted. I'm hoping now, moving forward, that for a team rebuilding, the Rangers call on number 26 once again, this time as the assistant coach. In other words, see ya Arniel and let MSL run this powerplay.
Thank you Marty!
Game time.
As usual, the ESPN.com box score, followed by my ramblings:
1st Period Summary

Time
Team
Scoring Detail
BUF
NYR
16:29

Chris Kreider (15)
Assists: Mika Zibanejad, Jesper Fast
0
1
18:02

Jimmy Vesey (16)
Assist: Mats Zuccarello
0
2
Time
Team
Penalty Detail
No penalties this period

2nd Period Summary

Time
Team
Scoring Detail
BUF
NYR
3:59

Neal Pionk (1)
Assists: Jimmy Vesey, Kevin Hayes
0
3
8:45

Mika Zibanejad (27) (Power Play)
Assists: Chris Kreider, Neal Pionk
0
4
14:47

Jimmy Vesey (17) (Power Play)
Assists: Ryan Spooner, Kevin Hayes
0
5
Time
Team
Penalty Detail
8:23

Jordan Nolan: 2 Minutes for Holding
9:17

Peter Holland: 5 Minute Major for Fighting
9:17

Marco Scandella: 5 Minute Major for Fighting
10:25

Chris Kreider: 2 Minutes for Holding
13:28

Jack Eichel: 2 Minutes for Slashing

3rd Period Summary

Time
Team
Scoring Detail
BUF
NYR
15:26

Sam Reinhart (20) (Power Play)
Assists: Kyle Okposo, Ryan O'Reilly
1
5
Time
Team
Penalty Detail
4:50

Ryan Sproul: 2 Minutes for Hooking
14:13

Mika Zibanejad: 2 Minutes for Tripping
15:33

Jordan Nolan: 2 Minutes for Hooking
Goaltending Summary
Sabres

Buffalo Goaltending

Player
SA
GA
Saves
SV%
TOI
PIM
R. Lehner
12
4
8
.667
28:45
0
L. Ullmark
11
1
10
.909
31:15
0

Rangers

New York Goaltending

Player
SA
GA
Saves
SV%
TOI
PIM
A. Georgiev
44
1
43
.977
59:57
0

A. Georgiev (Rangers – G): Saves: 43, Save Pct.: .977


J. Vesey (Rangers – LW): Goals: 2, Assists: 1



N. Pionk (Rangers – D): Goals: 1, Assists: 1
The final score reads Rangers 5, Sabres 1, but to look at the score, and think of this game as a 60 minute blueshirt domination; that would be wrong. In fact, it were the Sabres that were all over the Rangers, but it was Alexandar Georgiev's 21 first period saves, that kept the Rangers in this game.
Far too often, we've seen Lundqvist get beat in the first two minutes of a period and/or in the last minute of a period. (He leads the league with most goals allowed in both of those time intervals.) We've seen Lundqvist get edgy, like a chain smoker awaiting the results of a pregnancy test, and he starts flailing around all over the place. He comes out of net, wets his pants and then starts screaming at everyone on the ice.  With Georgiev, you don't get that.
As I've said in prior blogs, you can never tell the score by looking at Georgiev. The Rangers could've lost this game 5-1, and Georgiev would've remained stoic and heroic, as he was cool, calm and collected, forcing Micheletti to get erected. (That's a sentence you won't find in another blog or ever hear Walt Frazier say. Oh, and that's called a blog CALLBACK!)
For 60 minutes, through shakiness and quakiness and during periods of domination and celebration (That's more Frazieresque) Georgiev remained on top of his game. He never got nervous. He didn't overplay any puck. For as bad as this defense is (I counted three different times on TV, where Marc Staal was screening him on shots, and who knows how many more times he screened Georgiev off-camera) Georgiev was relaxed as someone who swallowed 10 vicodins. Like someone on 10 vicodins, even the biggest Lundqvist supporter around, in Joe Micheletti, was forced to drool and slobber.
So when you see 5-1, and think, eh, the Rangers kicked their ass, you can't forget that Georgiev's 21 first period saves (43 total) was a huge factor in tonight's win. If it wasn't for a Sam Reinhart deflection PPG, with under five minutes to go in regulation, Georgiev would've added the shutout to this monstrous performance.
Going into this game, as much as I like to joke about the Sabres being the arch-rival of the Rangers, such a rival that they were the home team during the Winter Classic, it's truly amazing to see how much the Rangers roster has changed since that game. Gone are Nash, McDonagh, Miller, Holden and Grabner. Shattenkirk is also out with injury. I mean, right there, that's nearly $30M of player contracts, not on the ice, in this game. Instead of veterans that played in the Winter Classic, tonight, the Rangers had rookies like Georgiev, Sproul, Gilmour & Pionk on the ice.
The Rangers, during the pregame show, ran another story on Stan Fischler. I'll talk more about Fischler at the end of this blog. However, one funny thing here, was when Al Trautwig told Fischler that he loved empty arenas. I didn't know that Trautwig was an Islander fan!
Also of note, before this game, the annual FDNY vs NYPD took place, with FDNY winning 5-4 in a shootout. I was told the game was a sell out. This game was played in front of heavy hearts, in light of the recent passing of FDNY's Micheal Davidson. While I like to joke around and be over-the-top on these blogs, when you hear what happened to Davidson, it really makes all this Rangers stuff come off as so meaningless. My condolences to the family and friends of Davidson.
The first period saw Georgiev tested repeatedly. He started the game with a huge O'Glove save on O'Reilly. Picking up where they left off, the new Kreider/Zibanejad/Fast line, continued to show their chemistry. If there is anything to cross your fingers over, it's for hoping that this KZF line continues to dominate in 2018-2019.
As the first period went along, Marc Staal remained dreadful, screening his goalie several times. When I saw McLeod and Holland on a rush, I was reminded about where NYR was in the standings. Within four minutes, Georgiev already logged 9 saves. If Lundqvist was playing (last time, I swear), it would've been 9-0 Buffalo! Really, it was hard to decipher which team played the night before. At this point in the game, I was hoping AV would give some caffeine gum to to his players.
After Georgiev denied all comers, the Rangers finally put it together and scored two goals within 90 seconds, as Kreider scored at the 16:29 mark and Jimmy Vesey scored at the 18:02 mark. Both goals were similar, as the puck moved cross ice and the Rangers finished. Check out these bang-bang, and ever so sweet goals:
MIKA ZIBANEJAD FEEDS CHRIS KREIDER WITH A GORGEOUS PASS AND KREIDER SLAMS IT HOME! pic.twitter.com/VLPncm0gkS

— NHL Daily 365 (@NHLDaily365) March 25, 2018
1-0, good guys.
#Rangers' Jimmy Vesey makes no mistake wide open right at the #Sabres' doorstep. pic.twitter.com/SW01ud5b8q

— Sportsnet (@Sportsnet) March 25, 2018
2-0 good guys, and because I love this GIF, let's look at the Henry Hill reaction of Jimmy's goal:
Jimmy!!!!! #nyr pic.twitter.com/ppGbAEwBCe

— BlueCollarBlueShirts (@NYCTheMiC) March 24, 2018
Despite being out-shot 21-10, once the period ended, the Rangers took a two goal lead into the locker room. At this point in the game, they scored on two straight shots on goal. Who would've known that there would've been two more to add? Then again, how about this prediction:
I smell a three goal #nyr second period

— BlueCollarBlueShirts (@NYCTheMiC) March 25, 2018
How rare is it that the Rangers score three goals in a period? However, after seeing the first period, I felt it in my beer gut. I predict it, and once again, another prediction rings true. If only I could legally live bet these in-game predictions!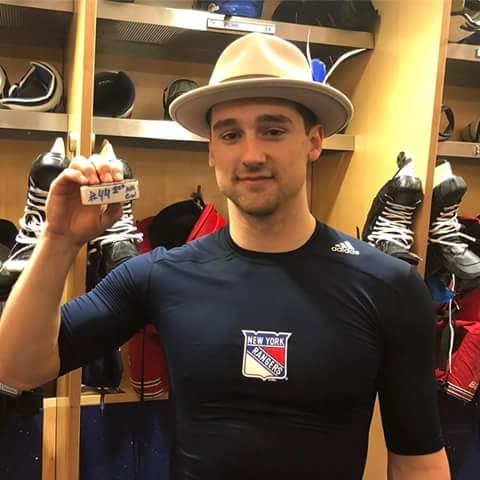 I have come up with a theory on Brady Skjei. I believe that he secretly has a sponsorship with Jagermeister, since all of his shots wind up hitting those Jagermeister ads in the corner boards!
One defenseman that isn't shy to shoot on net, is Neal Pionk. After racking up the assists this season, since his call up, Neal Pionk finally scored his first goal, of his young career. If you're going to score your first NHL goal, you might as well make it look good and Pionk did just that, at the 3:59 mark of the second period:
NEAL PIONK SCORES HIS FIRST NHL GOAL! RANGERS LEAD BY 3! pic.twitter.com/I5htZcvvvl

— NHL Daily 365 (@NHLDaily365) March 25, 2018
3-0, good guys.
At this point in the game, you had to feel bad for Buffalo goalie, Robin Lehner. He had no shot on either of these goals.
After the swishing and dishing (Walt Frazier is in my mind again tonight), I tweeted this out:
All these great assists tonight means that #nyr will keep on making the extra pass no matter what.

— BlueCollarBlueShirts (@NYCTheMiC) March 25, 2018
This prediction would come true, as the Rangers kept making the extra pass. One particular play saw Peter Holland, wide open and right in front of the net, give up a scoring opportunity and turn over the puck on a dumb pass. However, this ineptness wouldn't prevent a rout.
Twenty seconds into a powerplay, which happened after a holding call on Jordan Nolan, the red-hot Mika Zibanejad, scored another Rangers PPG, good for his 27th goal of the season. 30 goals is looking good right now for #93. Here's DJ Z-Bad, putting the good guys up 4-0:
Video: BUF@NYR: Zibanejad nets Kreider's pass for PPG
At the 8:45 mark of the game, with the Rangers up 4-0, Robin Lehner was pulled. You couldn't blame him on any of these goals, but it was four straight Ranger shots on goal, that sent the red lights off. Of note, when Lehner was pulled, he went to the bench and put his hat on. I wasn't used to that. I've gotten accustomed to a goalie being pulled, then that goalie crying, pouting and shouting, as he goes to the locker room, and abandoning his kingdom.
Also of note, Pionk got an assist on Zibby's goal. The man is just collecting points the way the Lundswiss bots collect Pokemon.
After an unnecessary Peter Holland and Marco Scandella fight, the Rangers would get another PPG, this time from Jimmy Vesey. Here's Vesey's second goal of the contest:
JIMMY VESEY GETS HIS SECOND OF THE NIGHT! RANGERS LEAD 5-0! pic.twitter.com/PjywYkbAiE

— NHL Daily 365 (@NHLDaily365) March 25, 2018
5-0 good guys. With five goals, there was no way King Georgiev was losing this one.
With the Garden elated, the Rangers took their 5-0 lead into the locker room. Too bad there wasn't a mercy rule in this one.
Oh and for entertainment purposes, here's my boy Ricky Otazu, on this game:
@NYCTheMiC @travjax71 @GardenFaithful pic.twitter.com/2susXhzKnQ

— Ricky otazu (@unclevols2) March 25, 2018
And sorry Ricky, I hate to correct you, but Georgiev makes 1/8th, not 1/2, of what Lundswiss makes!
The third period was a drill, as the Rangers did their Mariano Rivera excercise and closed out the game.
The highlight of the period, aside from Georgiev stoning Eichel time and time again, was Trautwig's interview with Fischler before the period even started. Here it is:
"This hockey ain't so bad…" – @StanFischler#NHL https://t.co/NJ6K77Ytux

— MSG Networks (@MSGNetworks) March 25, 2018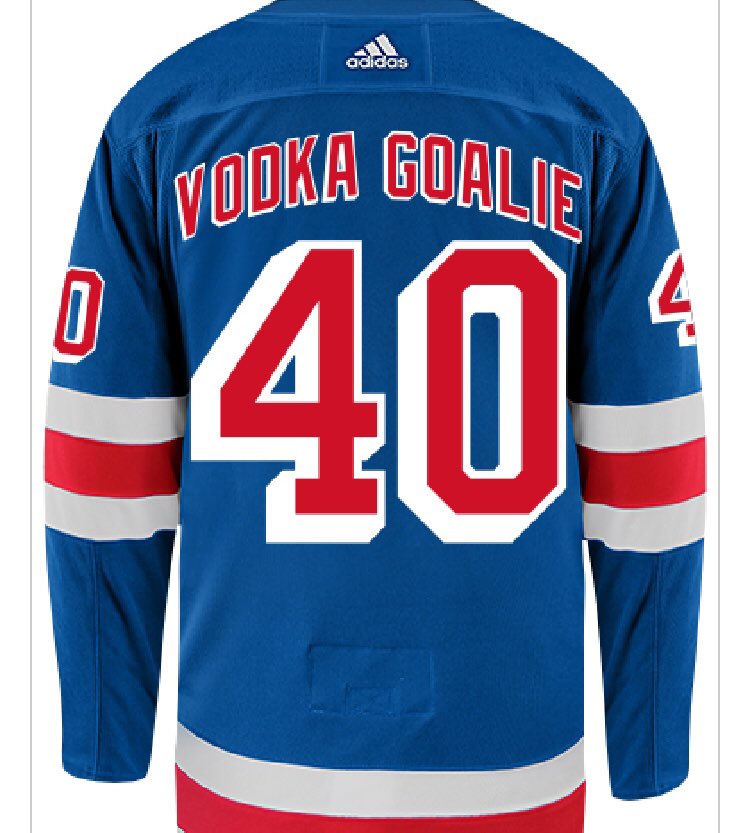 With the Rangers in "get-this-game-over-with" mode, the only thing worth watching for, was the hopes that Georgiev would get a shutout. It wasn't meant to be, as at the 15:33 mark, Sam Reinhart (whom I now hope burns in hell) scored a PPG, off a deflection. 5-1 good guys.
With the shutout now gone, the attention shifted to Jimmy Vesey, as fans hoped he would get another hat trick. That didn't happen either. However, when you win 5-1, shutouts and hat tricks are just the cherries on top.
The funniest part of the third period was Sam Rosen, who was senile as ever. He started doing ad reads in the middle of the game. He had to be reminded that Dan Girardi was on the Lightning. The best part of the Sam Rosen show, was when he read a HOOTERS ad. You haven't lived life until you hear Sam Rosen talking about HOOTERS.
At 85+ years old, I still think Stan Fischler is as sharp as ever. For Sam Rosen, I can't say the same. I really hope Rosen retires soon, as there is something for retiring on top, rather than retiring as a parody of yourself.
The Rangers would get another PP in this period, but they were happy to lay back. When it was all over, 5-1 was your final. Two points for the good guys.
Quick parting shots, as it's getting late and I have to be up at 4:30AM for work tomorrow:
— Stan Fischler is a true legend. I'm going to miss his stuff. He's writing at least one more book, as he is currently working on his memoirs. That's a must-buy. Like Steve Valiquette, who mentioned how much he enjoyed Fischler books on the broadcast, I have always enjoyed reading Fischler's books too. Fischler is the one that put me on to Frank Boucher. It's a shame the Rangers never did more with him. I know I've talked about this 65675678567857575 times on this blog, but the Rangers, despite their fake lip service now, dropped the ball with Fischler and his knowledge. On an aside, I've met Fischler countless times over the years, and he's always been fun to talk to. Of note – he also agreed with me. Richter > Lundqvist!
— On Lundqvist, now that the game review of the blog is over, let me ask you this question. What would you prefer next season? Henrik Lundqvist, at 36 years old, at $8.5M, or John Tavares, not even 30 years old, at $8.5M? You get my point? While Tavares is probably a long shot, come the off-season (Tavares will be a free agent) just imagine an elite center, with this team. The Rangers are way under the cap next season, have an influx of youth coming in and seem to have something with Georgiev. You can't have a bunch of teenagers on this team, so the Rangers will be in the market to spend. I'm telling you, this rebuild won't be a long process, but it has to end with getting rid of Lundqvist and Staal too.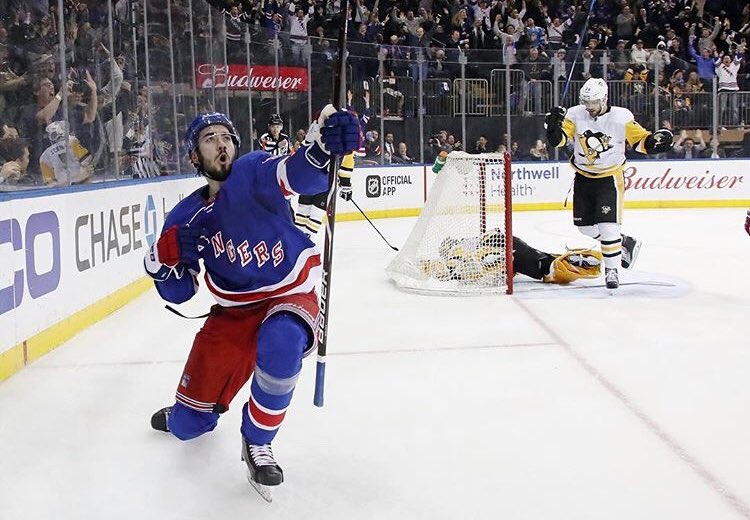 It's time to put a bow on this one. For some reason, the next game takes place at 7:30PM. As Monday needs to be extended any longer! The next two games feature Washington as an opponent, so after the Rangers play the Caps on Monday, they take the quick flight south to play the Caps again on Wednesday. After that, it's the last home game of the season with Tampa and then four straight road games against Metro opponents. This schedule would've been more exciting with NYR in the playoff race, but you knew that already.
As I've been saying for some time, until Georgiev has a bad game, I'd keep riding him. After all, if this is a rebuild, the smart thing to do is to see if Georgiev has the chops to be a starter. You will only find that out by riding him. So far, he's looking good. Just like Lundqvist, many moons ago, Georgiev may be a diamond in the rough.
See ya Monday night. Until then, as always, thanks for reading and "Let's Go Rangers!"
Sean McCaffrey
BULLSMC@aol.com
@NYCTHEMIC on twitter (Hit me up AV if you need someone to shut down Lundqvist for the season and for good!)
PS: Shout-out to Jen of the New York Rangers Maniacs Facebook group. Not only is she the moderator of that group, I consider her a friend & enjoy our time-from-time intermission phone calls. In the off-season, I'm going to do a blog about the female fans in RANGERSTOWN. I recently read something stupid, from a young idiot, where he equated all female fans to "puck bunnies." That moron, who I won't give buzz to, couldn't be more wrong. I recently did a list of female blog readers in a previous blog, and those are just the ones I quickly mentioned. There are many astute female NYR fans out there. While I'm not afraid to give my political opinions on this blog, I'm also willing to step up for my female NYR fan brethren. Wait, is it sisterren? Either way, there are many diehard female NYR fans in RANGERSTOWN. What I haven't seen, at least with my own eyes, is a female Rangers blog. I hope to see one of those next season, written without the charts and spreadsheets. After all, we don't need any more "unfortunato" takes out there! LGR!