What's up everyone and welcome to another blog here on BlueCollarBlueShirts.com. Tonight, the Rangers lost their second straight game to the Capitals, losing 3-2, in overtime. For the Rangers, with the playoffs out of the conversation, this overtime loss stings more than usual. By getting the loser's point, the Rangers hurt their odds at getting the number 1 draft pick. However, as I stated in prior blogs, these 2017-2018 Rangers, the athletes on the ice, do not care about your wishes for a tank. These guys are playing for money, pride and ice time next season. They are not hoping to lose, nor are they hoping to lose their job to a fresh faced teenager in 2018-2019.
In the case of the returning Henrik Lundqvist, a strong effort was marred by his usual negative trends, trends that have plagued him ever since choking the Stanley Cup in 2014. In this game, Lundqvist hit all his usual notes and he hit those notes right on key. Lundqvist would blow two leads, give up a goal in the final minute of the period (He leads the league in most goals allowed in the final minute of a period) and would also give up an early goal. Stop me if you've heard this one before – Henrik Lundqvist leads the league when it comes to most goals allowed in the first two minutes of the period. How majestic! How royal! What a King! Roll out the red carpet to the golf course!
The golf course scenario has me thinking. (Uh oh!) I wonder what happens when Lundqvist plays golf? I can see it now. Lundqvist is playing against some young kid, a kid who is making minimum wage at a CVS or by working at a lemonade stand. On the 18th hole, Lundqvist has a two stroke lead. The kid goes par and all Lundqvist has to do is play it safe. Of course, what happens is that Lundqvist triple bogey's the 18th hole and is the laughing stock of the clubhouse.
Once the game is over, at the "The 19th Hole" bar, there you will find Joe Micheletti, who is fanning Lundqvist down with a big leaf, like he's a Hawaiian native. A few bar stools over, there's Steve Valiquette. Vally, ever so confidently, is telling his fellow golfers, that according to his computer data, Lundqvist had a 88% chance of botching the 18th hole, due to traffic on the LIE, sunspots, and a bad blade of grass on the royal road of the greens.
After a few Arnold Palmers, Lundqvist returns to the locker room. There he bumps into John Giannone.  When Johnny Boy asks Hank "what happened out there?", Lundqvist blames Martians, the smell of the grass, Larry David's complaining, photosynthesis, Mormons, Stormy Daniels, Micheletti's hair doll, Roseanne Barr, Pokemon, Pete Rose not being in the HOF, United Airlines, Daylight Savings Time, too many "King of Queens" reruns on TBS, the killing off of Donna Gable on "Kevin Can Wait", Dancin' Larry not knowing how to salsa, coconut water, people who wear white after Labor Day, the #METOO movement, Brutus "The Barber" Beefcake, Al Pacino's performance in "Jack and Jill", the abundance of Adam Sandler movies on Netflix, Drew Carey already logging 10 years as host of "The Price is Right", Sean Penn and Dan Girardi. John Giannone then nods his head in approval and Lundqvist goes to the bank, with his ski mask on, as he pulls highway robbery, and cashes his last check as the highest paid goalie in the NHL. Next season, Carey Price will take over as the highest paid goalie in the NHL. Ironically, this is the very same Carey Price, whom teed off in same foursome as Lundqvist.
Before talking about tonight's loss, which despite losing 3-2 in overtime, was an exciting game to watch, let's hit the news that occurred after the loss on Monday.
Oh and just in case you missed any of my recent blogs, including the blog on Monday's game with these very same Washington Capitals, check out below:
---
---
---
---
---
There were several news items that occurred on Tuesday. Starting off, Alexandar Georgiev was sent back to Hartford. Here's the press release from the Rangers:
New York Rangers General Manager Jeff Gorton announced today that the team has assigned goaltender Alexandar Georgiev to the Hartford Wolf Pack of the American Hockey League (AHL).

Georgiev has appeared in 10 games with the Rangers this season, posting a 4-4-1 record, along with a 3.15 GAA and a .918 SV%. He made his NHL debut on Feb. 22 at Montreal, becoming the first Bulgarian-born goaltender in NHL history and the first goaltender of Russian nationality to appear in a game with the Rangers in franchise history. Georgiev stopped 38 of 40 shots he faced in his NHL debut against the Canadiens, establishing a franchise record for saves by a goaltender in his first NHL game. In addition, he became the first goaltender in Rangers history to make 30 or more saves in each of his first five NHL starts.

The 6-1, 180-pounder has appeared in 31 AHL games with the Wolf Pack this season posting a 12-11-6 record, along with a 2.97 GAA, a .908 SV%, and 2 SO. In his last nine AHL appearances prior to being recalled by the Rangers on Feb. 10, Georgiev posted an 8-0-1 record, along with a 1.76 GAA, a .948 SV%, and 2 SO, and he has made at least 40 saves in three of the nine appearances. Georgiev also ranked fifth among qualified AHL rookie goaltenders in SV% this season at the time he was recalled by the Blueshirts.

Of note, Alexandar Georgiev won his overtime game in Hartford tonight.
Obviously, I'm not a fan of Georgiev being sent to the Wolfpack. This isn't a Lundqvist thing either. You can't tell me how you're trying to rebuild and want to give the kids a chance, as you're doing with Chytil, Andersson, Gilmour, Pionk, O'Gara, etc, and then send Georgiev down. It's one of the reasons why I get so pissed about McLeod being with the team, at the expense of Vinni Lettieri.
For the Rangers, I'm assuming they want to allow Ondrej Pavelec the opportunity to get more time, as an audition for another team, before this season ends. While noble, this doesn't benefit the team at all. Pavelec won't be back next season and the Rangers don't owe him anything. As you'll see in Gorton's comments below, he felt good about Georgiev's limited run. However, what benefits this team for next season – giving Pavelec a mercy start or two, or continuing to give Georgiev experience?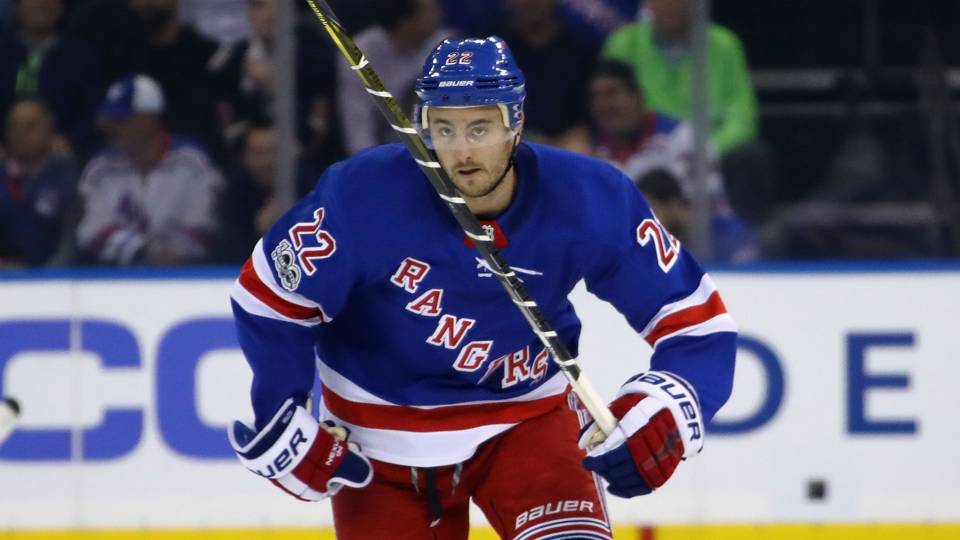 In the same press release as the Georgiev news, the Rangers pulled a Jon Taffer, and officially "SHUT IT DOWN", with the "it" being Kevin Shattenkirk. Here's the press release:
Kevin Shattenkirk's first season as a Rangers is over.

General Manager Jeff Gorton said on Tuesday that while the blueliner has not suffered a setback during his rehab from knee surgery in January to repair a meniscus tear, he and the organization felt it better for him to not push to play in one of the final six games.
"With Kevin he's not 100 percent yet and as we're getting closer to the end of the season, we just made a decision as an organization to shut him down and not have him play any games," Gorton told reporters on Tuesday. "That doesn't make sense for us right now."

Shattenkirk finishes the season with five goals and 18 assists for 23 points in 46 games.
Gorton basically said what I've been saying all along. It makes no sense to bring Shattenkirk back for this lost cause. If Shattenkirk wants to play meaningful games, let him play in the IIHF Worlds. From there, hopefully he has a strong off season and makes a monster return next season.
Speaking of Gorton, here is what he said to the media on Tuesday, concerning Alexandar the Great and Shatty:
On Georgiev being sent down, "that was the plan once we had both of our NHL goalies healthy. Hank is ready to play and we thought to get him back playing. He has done real well and acquitted himself real well and been a good find and good story and he will continue to go down there and play."

On Shattenkirk, "just keep rehabbing, getting him healthy, getting a good summer of training and get him ready for next year."

On Georgiev, "We've seen a lot of good things from him. I'd hate to say we have made any decisions for next year but he has certainly put himself in the conversation."
Before tonight's game, it was announced by NHL reporter Tom Gulitti, that Lindy Ruff wasn't with the team. Apparently, at Tuesday's practice, Ruff stepped on a puck, fell down and smashed his head on the ice. Alain Vigneault told the media that Ruff needed stitches and was diagnosed with a concussion. That's a nasty spill.
While the obvious joke is to say the the Rangers defense has looked concussed all season, it's hard to joke about concussions. Ruff is expected back behind the bench on Friday, against Tampa. I hope he is. After that, I can then start hoping again that he won't be behind the bench in 2018-2019.
Let's get to game. As usual, the ESPN.com box score:
1st Period Summary

Time
Team
Scoring Detail
NYR
WSH
12:42

Kevin Hayes (22) (Power Play)
Assists: Jimmy Vesey, Brady Skjei
1
0
19:27

Andre Burakovsky (10)
Assists: Nicklas Backstrom, T.J. Oshie
1
1
Time
Team
Penalty Detail
10:59

Nicklas Backstrom: 2 Minutes for Roughing
13:25

Rob O'Gara:
13:44

Tom Wilson: 2 Minutes for Tripping
15:57

Brady Skjei: 2 Minutes for Slashing

2nd Period Summary

Time
Team
Scoring Detail
NYR
WSH
No scoring this period
1
1
Time
Team
Penalty Detail
6:50

Filip Chytil: 2 Minutes for Hooking
9:50

Neal Pionk: 2 Minutes for Tripping
14:50

Michal Kempny: 2 Minutes for High-sticking
14:50

Michal Kempny: 2 Minutes for High-sticking

3rd Period Summary

Time
Team
Scoring Detail
NYR
WSH
10:35

Ryan Spooner (12)
Assists: Lias Andersson, Brady Skjei
2
1
18:55

Lars Eller (18)
Assists: Nicklas Backstrom, Evgeny Kuznetsov
2
2
Time
Team
Penalty Detail
2:37

Jay Beagle: 2 Minutes for Holding
4:21

John Carlson: 2 Minutes for Roughing
4:21

Jimmy Vesey: 2 Minutes for Roughing

OT Summary

Time
Team
Scoring Detail
NYR
WSH
0:38

Evgeny Kuznetsov (25)
Unassisted
2
3
Time
Team
Penalty Detail
No penalties this period
Goaltending Summary
Rangers

New York Goaltending

Player
SA
GA
Saves
SV%
TOI
PIM
H. Lundqvist
33
3
30
.909
60:36
0

Capitals

Washington Goaltending

Player
SA
GA
Saves
SV%
TOI
PIM
B. Holtby
37
2
35
.946
60:09
0
Tonight's game was broadcast on the NBC Sports Network, meaning that this was the second game in a row that we were deprived of the M$G Networks & their crew. For the first time that I can recall all season, JOE MICHELETTI was not on the broadcast. Calling the game were John Forslund and Mike Milbury. In between the benches was the ever-so-creepy Pierre McGuire. There was no celebrity co-host for tonight's contest. After the Susan Sarandon fiasco, I'd be surprised if NBC revisited this idea. That said, with this game in the Washington D.C. area, I was hoping that Hillary Clinton would've taken a puck to the pant suit!
Without Joe Micheletti's voice being heard in tonight's game, I lost my comic relief outlet! Bring back Joe!
While waiting for this game to start, I was reminded that the Yankees, as well as the rest of baseball, open up tomorrow. This is the first time, in a long time, that the Yankees started their season, while the Rangers were playing meaningless (if you don't count draft positioning) games. To quote Joey Lawrence, "WHOA!"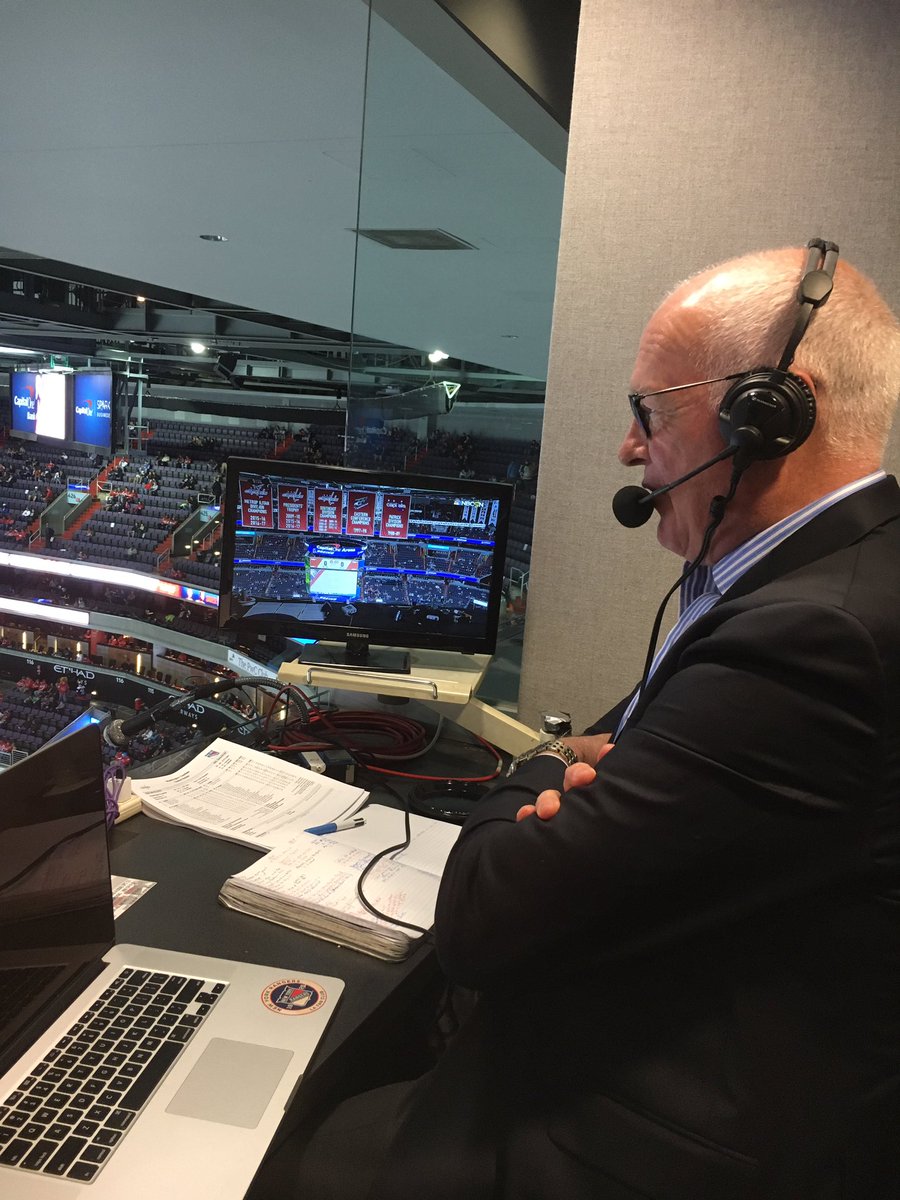 Tonight's game with the Caps was the 77th game of the season, meaning that there are only five games left. (One home game against Tampa, then four straight on the road with Carolina, NYI, NJD and PHI.) For the first time since the dark ages of 1998-2004, the Rangers will play a stretch of games, while out of playoff contention.
In the newspapers and online, you will read a lot of facts and figures about the Rangers accomplishments, in this Lundqvist (and AV, to an extent) era. To me, I'm dubbing this era as the "Emile Francis 2.0 Era". Yes, this is the first time since the 2009-2010 season, that the Rangers have missed the playoffs. In that 09-10 season, the Rangers missed the playoffs after losing in Game 82. And yes, in addition, the Rangers have played the second most amount of playoff games since Lundqvist entered the league. (The Rangers have played 129 playoff games. The Penguins played the most amount of playoff games, with 157 and will add to that total this season.)
However, the bottom line remains this – the Rangers never won the Cup. That's all that matters.
Plus, when you really look at the Rangers, in this "Emile Francis 2.0" era, their runs really don't match up with other teams. After all, Detroit and St. Louis had 24+ straight playoff appearances and that was without the highest paid goalie in the league! For all the playoff runs the Rangers had, every single one of them ended in disappointment. There is no 1994 hat in this era, an era that will unfortunately continue, as it looks like the Rangers have no plans from moving on from Lundqvist.
Oh and for the people who want AV fired, I just don't see it happening. I would take the underdog odds, and say that AV remains here next season. I mean, whatever you want to say about him, and most of you readers aren't wrong, the guy is one of the most successful coaches (W/L wise) in NYR history. For a team that's only won four cups in 91 seasons, he's had a better track record than most.
The short and skinny of this game was like the majority of Lundqvist starts this season. The Rangers played well enough to win the game, but came up short. Lundqvist gave up back-breaking goals, at the worst possible times, and that was the difference between a win and a loss.
While I know everyone will just say "YOU'RE ONLY BLAMING LUNDQVIST FOR THE LOSS", that isn't the case. The Rangers had multiple chances to win this game, despite Lundqvist's trademark faults at the normal time intervals.
The Rangers went 1-5 on the PP, with one of those PP's being a four minute man advantage. The team missed wide open shots. The team hit the crossbar on numerous occasions. Caps goalie, Braden Holtby, who is struggling this season (NBC made sure to hammer that point home about 9767896789467896237896 times) looked lost at points. However, the Rangers couldn't get that pizza goal, as the third goal never came. While it would be nice to see Lundqvist not fall apart in the beginning and at the end of the periods, he was strong in between. The team in front of him just couldn't CAPitalize (get it?) the way they should've.
That said, we know this is a rebuild, so to get hung up about the loss is silly. You just have to find positive things to take away from the loss. You already know that Lundqvist will never win a Cup or come up big in crunch time. However, you're learning that Neal Pionk has all the potential in the world. You're giving Chytil and Andersson time. You're watching that Zibanejad/Fast/Kreider line grow. You're seeing Kevin Hayes scoring some goals.  So for every misplay from a young gun, you have to hope it's a learning experience and believe that the greater good is in the rebuild. However, if Lundqvist and Staal are here next season, you're just delaying a full rebuild.
This was one of the rare games where Alex Ovechkin didn't score on Lundqvist. Ovi, owner of 603 goals and five goals away from 50 this season, tried his damndest to add to his totals. Don't forget, out of the 603 goals Ovechkin has, Lundqvist has given up more goals to Ovi than any other goalie. (And yes, that is because of Lundqvist's tenure in the league.)
While I'm rooting for Tampa Bay to win the Cup this season, for reasons I've already stated (The ex-Rangers & the Rangers get a first round draft pick) I'd have no problem if the Caps pulled it off. I don't see it happening though. That said, out of all the players currently in the league, who deserves a Cup more than Ovechkin? He does everything right and is a model citizen on & off the ice.
Tonight's first period was the complete opposite of the abomination from Monday. In a rarity, the Rangers actually out-shot someone, as they out-shot the Caps, 18-8 in the period. The Rangers looked ready to play.
After some early shakiness, which featured Lundqvist dropping his stick, (I wish there was a real stat for that, as I don't know any other goalie that loses his stick more) Lundqvist settled down and recorded 7 straight saves. On the other end of the ice, Holtby, a Vezina winner two seasons ago, played strong. Lundqvist would finish with 30 saves, in comparison to Holtby's 35 saves. While I would say both goalies played strong, this game could've also been a 5-4 game, easily. Both goalies owe their goal posts a steak dinner.
Kevin Hayes, already one of the longest tenured Rangers on this team, will be someone interesting to watch in the off-season. I see the argument for keeping him. I also see the argument for moving on from him. If it was up to me, if the money was right, I'd keep Hayes. The potential is there and far too often, the Rangers cut bait on someone before they get the chance to fully develop.
At the 11 minute mark of the first, Nicklas Backstrom was called for elbowing Zibanejad in the face. Upon review, it looked like Backstrom was hit, thus sending his elbow into Zibanejad. In other words, this was unintentional. This wasn't a good game for the referees at all tonight, and it might have cost Lundqvist a win and the Rangers two points. I'll get to that later.
On the ensuing PP, the first of five different powerplays, the Rangers would get their lone PPG of game, at the 12:42 mark, from Kevin Hayes. With Vesey and Skjei assisting, this was a rare All-American NYR PPG. Check it out:
WE HAVE A GOAL, LADIES AND GENTS!

Kevin Hayes gets the @NYRangers on the board first 🔥🔥🔥 pic.twitter.com/uK46rOvMbt

— NHL on NBC (@NHLonNBCSports) March 29, 2018
Originally, this wasn't called a goal. While the play continued on the ice,  the goal horn went off, signaling that goal came from either Toronto or from the video review in-house. Delayed goal or not, a goal is a goal and Kevin Hayes made it 1-0, good guys.
A fun part in this period saw Jesper Fast on a line with Lias Andersson & Filip Chytil. Playing defense were Neal Pionk and Marc Staal. Guess who doesn't belong? On the ensuing play, the Michigan man himself, Evgeny Kuznetsov, earned himself a penalty shot. Instead of going for the Michigan on Lundqvist, (If that happened, I would've laughed so hard until every last tear was out of me) Kuznetsov gave Lundqvist a break, overskated and flipped a puck into Hank's glove. This was like watching a line drive being hit to a perfectionly positioned infielder. The score remained 1-0, good guys.
After Skjei took his usual dumb penalty of the game, Neal Pionk flashed some brillance on the PK:
Neal Pionk is good pic.twitter.com/xuowaIvYR1

— Shayna (@hayyyshayyy) March 29, 2018
Later on in the game, Neal Pionk, in a meaningless game remind you, stepped in front of an Ovechkin slap shot from the circle and blocked the shot. Talk about a gamer.
Neal Pionk, once again, had a fantastic game. He was playing strong on both ends of the ice. He was an absolute beast out there and it's a shame he'll never get the chance to play with a healthy Ryan McDonagh. When I tell you Pionk was amazing tonight, take my word for it and keep that in mind when you get to the end of this recap..
As we approached the final minute of the game, Lundqvist was gonna Lundqvist, as he gave up another goal, with under a minute to go in a period, with Andre Burakovsky as the latest benefactor:
We're all tied up!

Andre Burakovsky finds the back of the net to close out the first period. pic.twitter.com/0zE0AYY69s

— NHL on NBC (@NHLonNBCSports) March 29, 2018
You know what was SAD and BAD about this goal? No, it's not the fact that Lundqvist was beat yet again, through the legs, with under a minute to go. No, what was upsetting was that I was agreeing with Mike Milbury. Milbury said Lundqvist had to have this one and that it was another goal through the legs of Lundqvist. You never hear the M$G guys blame Lundqvist.
Even worse, later on in the broadcast, Milbury made a strong argument about trading Henrik Lundqvist. Milbury was so convincing, that John Forslund who disagreed with him at the beginning of the argument, wound up agreeing with Milbury after Milbury stated his case. It was like Milbury was reading one of these blogs. It really just makes no sense for Lundqvist to be here. He failed. Time to move on.
Speaking of failing, after giving up a terrible goal, it was now 1-1, as the teams hit the locker room.
I know I have brought up my preseason blogs recently, but if you go back, you'll see that I was raving about Pionk then and how I thought he should've made the team. I wonder what would've happened if he made the cut? You might've been talking Neal Pionk, as the Steven McDonald Award winner.
Speaking of the Steven McDonald Award winner, the award will be given out on Friday, when the Tampa Rangers take on the New York Rangers, in the last home game of the season. (That's if you don't count The Rock or Barclays as home games.) You know my deal, I just hope anyone but Lundqvist wins. This is a fan popularity vote, so it's going to come down to Hank or Zucc, with Jesper Fast possibly dark-horsing it. If I had to put money on it, my money is on Zucc to win it, but I'd like to see Fast get it.
The second period saw the Capitals pull some Rangeresque moves. They would have multiple odd man rushes, but fancy passed themselves out of scoring opportunities. Zuccarello also made a nice move in this period, but hit the crossbar, one of many from both teams tonight. I also enjoyed seeing Fast get physical, as he laid a Capital out with a big hit.
The Capitals, who have one of the best looking powerplays in the league, went 0-3 tonight, but a lot of that had to do with crossbars too. There was one PP in this period, where Ovechkin was shooting all over the place, like he was a kid on crack playing Grand Theft Auto. It was bombs away, and he too, would find iron.
While the second period SOG stat finished with Washington 13 – Rangers 9, this largely felt like an all Caps period. The biggest disappointment of the period saw the Rangers get a four minute PP, when Michal Kempny drew blood on Cody "Where's Lettieri?" McLeod. The biggest missed opportunity was when Pionk fed Zibanejad for a one timer, but instead of immediately shooting it, Zibanejad fiddled around with the puck, giving Holtby enough time to laterally slide over and make the save.
What hasn't been lost in all of this losing, is the Rangers effort. They played the Caps tough, and the score remained 1-1, as we headed towards the final frame.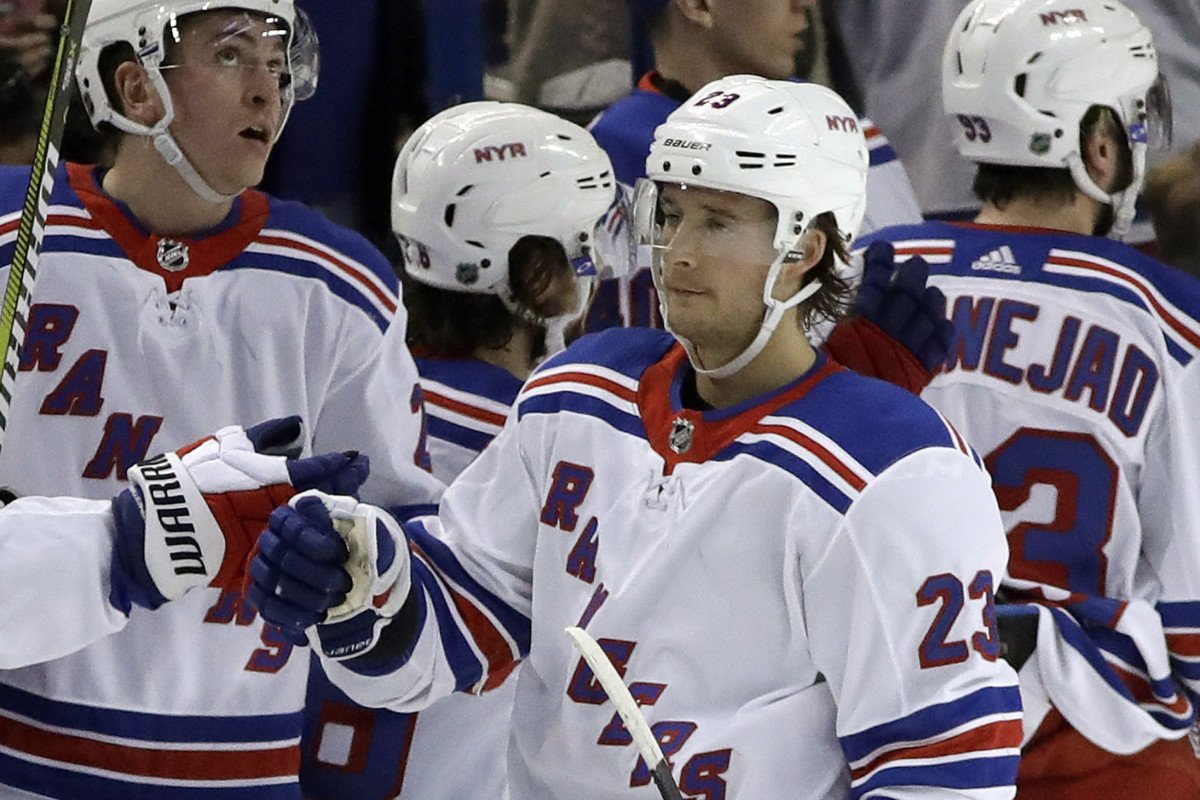 Once again, the Rangers would find the iron in this period, this time after a Zucc blast, which Vesey tipped right into the post. No puck luck tonight.
In a competitive period, Ryan Spooner broke the 1-1 tie, at the 10:35 mark of the third, with this one-on-one effort:
Ryan Spooner's 🚀 of a go-ahead is our #ShotOfTheNight, presented by @JagermeisterUSA! pic.twitter.com/CbbVH9yDwP

— NHL on NBC (@NHLonNBCSports) March 29, 2018
I hate to credit Mike Milbury again, because I'm not a fan of his, but he blamed Holtby for the goal. Unlike Sam and Joe, Milbury was consistent and honest in his takes tonight. 2-1 good guys.
As the clock wound down, all I saw on NYR twitter was how Lundqvist was having a "VINTAGE" game. I wonder if those fans realize, that when they say that, that implies that Lundqvist doesn't have strong games the way he used to. However, this "VINTAGE" game turned into a "USUAL" game for Lundqvist, as he would give up two straight back-breaking goals, in the eventual loss. It's a shame too, because Lundqvist was strong for 58 minutes tonight. However, it's a 60 minute game. (Or in this case, 60:38.)
Yours truly, the conductor of the "TRADE LUNDSWISS" train, the RANGERS TRUTHER and the world renowned LUNDQVIST WHISPER, predicted what was going to happen, once again. Here's what I said, with four minutes remaining in the game:
Caps setting themselves up for a 6 v 5 goal #nyr

— BlueCollarBlueShirts (@NYCTheMiC) March 29, 2018

Do I even have to tell you what happened? Here's Lars Eller, with only 65 seconds to go in regulation, with Holtby pulled:
LARS ELLER GETS WIDE OPEN RIGHT IN THE PAINT AND REDIRECTS ONE HOME! CAPITALS TIE IT LATE! pic.twitter.com/m3uy45boV2

— NHL Daily 365 (@NHLDaily365) March 29, 2018
2-2.
Of note, before the goal, Holtby was making his way to the bench. Before he could get off, a Capital came on the ice. This should've been a penalty for too many men on the ice, but for whatever reason, it wasn't called. This was blatant as it gets. In the grand scheme of things, for this game in particular, it doesn't matter. However, in reality, what if this was a game that determined playoff seeding? Even worse, what if this was a playoff game? The refs shit the bed here.
What pissed me off a bit, were the millennial NYR twitter fans, blaming Pionk for the goal. Keep in mind, Pionk doesn't even have 20 games under his belt and was an absolute monster out there, all game long. He blocked shots. He made moves to the net. He fed his teammates for "GOOD LOOKS". He did it all. You can't say you're about a tank or about a rebuild, and then rake Pionk over the coals for this.
In the overtime, Washington didn't make us wait long, as a routine shot beat the highest paid goalie in the league. Here's Kuznetsov, sending the "Rock the Red" crowd home happy:
EVGENY KUZNETSOV CIRCLES AROUND AND SNIPES ONE HOME! CAPS IN OT! pic.twitter.com/57Vc6bk3F1

— NHL Daily 365 (@NHLDaily365) March 29, 2018
Can't blame Pionk for that one. This one falls on the egomaniac goaltender. 3-2 Caps, in OT.
All in all, good effort, but not enough.
What infuriated me after the game, was the diva bitch goalie, blaming everyone but himself for the loss. That's vintage Lundqvist. Here's the baby:
.@HLundqvist30 on the game-tying goal and his thoughts on #NYR's performance in Washington. pic.twitter.com/F7BMFt2D9a

— New York Rangers (@NYRangers) March 29, 2018
What a leader. How is this guy supposed to be the face of another rebuild, when at the first sign of struggle, he immediately throws his teammates under the bus? Who would want to play for this guy? For as much as you hear "it's a team game", Lundqvist is the first one to ask for a pat on the back & all the credit after a win, but the first to give the middle finger to his team and point his finger at everyone else for a loss.
Even if you want to blame Pionk for the tying goal, what about the first goal that went through Hank's legs? How about the game winner? Once again, Hank just buries his team. Fuck this guy. I hope he goes and plays for Team Sweden in the IIHF Worlds and in the interim, Donald Trump builds a wall around Sweden. DEPORT LUNDQVIST!
This Rangers season hasn't gone the way that the networks and the schedule makers had hoped. After all, the Rangers had a lot of prime time games this season, against divisional opponents. These last two games were NBC prime time games, with the thought that these two teams would be jockeying for playoff seeding. Furthermore, look at how the Rangers schedule ended/ends:
Blue Jackets (divisional rival/Torts)
Flyers (long-term rival)
Sabres (WINTER CLASSIC REMATCH)
Capitals (divisional rival)
Capitals (divsional rival)
Bolts (Eastern Conference rival/Girardi & Callahan)
Hurricanes (divisional rival)
Devils (long-term rival)
Islanders (most heated rival)
Flyers (long-term rival)
While I think many of us thought the Rangers were a playoff team this season, even if they were one and done, no one could've predicted what happened this season.
As far as this blog goes, I'm not sure if I'm going to review the Tampa game or not, as I plan on going to the bar and having a fun time. With a game 24 hours later, it will just be easier to recap the Carolina game. I'm actually debating about going to the EMPIRE CASINO party on Saturday, since I have an itch for the WILLY WONKA slots. Maybe I can find a fellow degenerate to drive me, as I do plan on drinking if I go!
Looking further ahead, I plan on attending one of the NYI/NJD/PHI games. I don't care if this team sucks, I love the team and I want to see these kids grow. I just refuse to overpay to see them get blown out by Tampa. I have a better time away from M$G anyway.
Check back here Friday, maybe I'll do a blog. If not, I'll definitely have something up Saturday night/Sunday morning, after the Carolina game.
5 more games, and then it's all the off-season blogs. Of note, I can't wait to start doing the Delorean blogs again. Those are my favorite to do, and based on last summer, they were a hit with you guys.
See you this weekend.
Win or lose, as always, thanks for reading and "LET'S GO RANGERS!"
Sean McCaffrey
BULLSMC@aol.com
@NYCTHEMIC on twitter
PS: LET'S GO YANKEES