What's up everyone and welcome to another blog here on BlueCollarBlueShirts.com. Can you believe, that after you're done reading this, that there is only one more of these game review manifestos left? Despite everything that occurred this season, it's finally sinking in now, that the Rangers, at least for this 2017-2018 season, are done. In less than 48 hours, the Rangers won't skate again, until six months have passed.
I mean really think about it. After the Philly game on Saturday, you will have the NHL playoffs & eventually the NHL off-season, where the Rangers should be major players. After that, you have July 4th, Labor Day, the September Jewish holidays, the start of the NFL season, kids going back to school, Columbus Day, and many more events, taking place between the game with Philly on Saturday and the next Rangers regular season game.
Life is different for everyone. Do you know where you will be in six months? For me, I know where I'll be – at M$G, awaiting the start of another stressful season from our beloved Blueshirts!
The Rangers dropped a 2-1 decision to the Islanders on Thursday night. This is a weird loss to process. After all, the loss helps the Rangers odds in the NHL draft. However, losing to the Islanders, no matter how you feel about a perceived "tank" or wanting the best possible pick in the draft, is nothing to do back-flips over. Losing to the Islanders just sucks.
While yes, at the end of this game, a loss does help the long-term future of the franchise, even if it's just by a few percentage points, I can't say that I was happy about this loss, like how other Ranger fans were. I'm not calling out Ranger fans who rooted for a loss. I'm just saying that's not me. I just can't root for the team to lose to the fucking Islanders.
With the 2-1 Islander win tonight, I can't accuse the Islanders or the Rangers for tanking. Despite both teams being better off losing, both teams tried their best. After all, the Islanders started the Halak Ness Monster, in Jaroslav Halak. In response, the Rangers started ONDREJ THE GIANT. If the Rangers wanted to assure themselves of a loss, they would've started Henrik Lundqvist, as he has terrible numbers against the Islanders these last few seasons. Additionally, Halak has outplayed Lundqvist in nearly every game they've both been on the ice together.
For those who forget, Halak is 13-1-0 against Lundqvist, in NHL play. If you include international games, I believe the record is 14-3-0. In other words, with Halak and Pavelec in net, both teams were trying to win.
I know every Ranger fan is all about getting over this season and getting to the draft, but here are some bothersome stats, after tonight's 2-1 loss:
Halak, most likely done with the Islanders after this season, finishes 11-3, as an Islander, against the Rangers.
Islanders have now swept the season series in two of the last three seasons.
Ever since the Rangers Presidential season of 2014-2015, the Islanders are 14-3 against NYR.
In the last twelve games between these heated rivals, the Isles are 11-1.
So yea, I know all about the draft, but I really wanted the win tonight.  To see this feud become so one-sided, in recent years, gives me the bubble guts. My stomach feels like I tried the seafood menu at White Castle.
Going into this game with the Isles, I was debating about attending. However, to go to a game at Barclays, your seating options are limited, providing that you want to see the entire sheet of ice, for the entire game. The ticket prices were kind of ridiculous too. I just couldn't justify spending $100+ for a ticket, $25 and two hours of my life on the terrible LIRR, and another $100+ for beer. Plus, this game was the last broadcast on the M$G Networks, (more on that to come) and I kinda wanted to see the crew one last time.
Oh, and because I'm an Islander hater (Shocking to some people, but this is true – I hate the Islanders more than I hate Lundswiss!) let me re-run my infamous thoughts on the Barclays.
TOP 10 REASONS WHY THE BARCLAY CENTER IS THE WORST ARENA IN THE NHL
The sight lines. Anyone who has been here will tell you that this is the worst arena to watch hockey in. Some seats are facing one way, while your head is facing another. Half the building offers "obstructed view" seats. For the money you will pay, why not just watch it at home, where the only obstruction is the beer can in your face? Who wants to watch a game where you have to jump up and down, squirm and wrench your neck to see anything? Plus, while you're doing that, the person in front of you is doing the same thing, so then you have to adjust to what he/she is doing too. In 2016, with all this technology we have, whoever designed this layout for the Islanders should be arrested for robbery and fraud.
---
The scoreboard is offside. Maybe Islander fans will say, "yea, but does that really matter?" Yes it does. At a game, when the scoreboard is offside it sometimes screws with your peripheral vision a bit. If you have OCD, this will drive you wild, because you can never be centered. It looks bush league and is completely amateur.
---
The dead space. The building has no clue what it's trying to go for. You have a section that looks like it came out of the "Midieval Castle" in Lyndhurst, NJ. We watching hockey or are we jousting? You got another section with just black and gray walls. Why? It looks like a fucking auto garage
---
The SUV in the front row. I don't even know what automaker is sponsoring that truck in the front row, nor do I care enough to google it to find out, but whatever the Islanders are being paid to have that thing there, it is not enough. The vehicle looks like it came off a used car lot to begin with. Is it worth losing out on ticket sales and creating potential new fans who could've sat in those seats? The car being there really looks like a minor league promotion, not a NATIONAL Hockey League event. I would rather see a statue of John Spano there than this.
---
The rap music. Enough already. I get it, you play in Brooklyn now. Not everything in Brooklyn is rap music. People appreciate other things. Listen, I like to see girls with fat asses too and wouldn't mind doing that "Big Pimping" and spending G's thing, but it doesn't fit with the family friendly Islander brand.
---
The Nets integration. I guess the rap music is part of that too, but from changing the color of the jerseys, all the Nets plugs, the venue making the Islanders looking a guest crashing on the couch, etc; the Barclay's is telling you that the Islanders are the red-headed step-child of the building. I've been to more Ranger games than I can remember, and a handful of Knick games, but at both events, I knew the Knicks and the Rangers owned this house. The Islanders are living in their mothers basement at the Barclay.
---
No more Icelander girls! I mean really? It was nice seeing the girls skate in between play and then ordering your meal from them at Hooters after the game.
True story, a girl I knew in college, you know, the University of Nassau Community, was an Icelander girl/Hooter server/student. Don't know what she's doing today, since that was 15 years ago. If you're reading Christine, thank you for filling out my bowling score sheet. Which brings me to another true story. To get my degree from the highly esteemed University of Nassau Community, I had to go to summer school and get 6 physical education credits. My classes were karate, bowling 1 and bowling 2. My final exam for bowling 1, I just can't remember. Maybe it was returning your shoes to the clerk. Bowling 2 I remember. We had to fill out our own bowling score sheet without the use of the computer. For whatever reason, I kept fucking it up, so this Icelander/Hooter Girl/fellow alumni of mine, filled mine out for me. The things that you remember.
---
The whole e-ticketing system. I know this is league-wide, that you can't scan your Stubhub or SeatGeek tickets at the door. Maybe because I know I can go to the Hotel Pennsylvania across MSG or even Staples down the block to print tickets, but the Barclays fouled this all up. First off, the Office Max across the street won't let you print tickets. Why they refuse that money, I do not know. So what you have to do is go to a random black guy on the corner with a printer hooked up to a blue tooth, and pay him $5 a printout, versus the 30 cents charged everywhere else. I give the guy credit, it's a good idea to make money. He had a line longer than a Sonic restaurant opening. At the same time, the guy was giving people the wrong printouts too. The Barclays has a place where you can print Ticketmaster tickets inside. Why not include a Stubhub center too? It's easy money.
---
Concession stand prices. I know we are in NY and all, but the prices in Barclays were worse than MSG. The Barclays should not be the highest place in the league to get a hot dog and a beer. They are trying to draw people from the area to go to games. They want the Long Island fans to take the LIRR to the games. I'm fortunate where I have a decent income, where I can afford to spend a bit, but for a family, the Islanders have turned their back to you.
---
The atmosphere of the building. It just doesn't feel like you're at a hockey game. Even the truest pure blood Canadian would wonder if he was really watching a professional hockey game here. You're just distracted. The whole place looks minor league. It might even be less than minor league. I mean, they don't even give out the free t-shirts to the kids or anything. The Islanders even have a whole wall dedicated to something called DraftOps. I don't know what the fuck DraftOps is, I'm assuming it's like FanDuel or Draft Kings. While Draft Kings and FanDuel ads are annoying, at least I know what it is and know they are successful. DraftOps seems like the bootleg version, which I guess, really sums up the whole Barclay hockey experience.
---
Before continuing on with this depressing game (isn't it ironic, that one of the most depressing days of the season, here on 4/5/18, fell on the anniversary of the deaths of Layne Staley and Kurt Cobain?) here are my last few blogs, in case you missed them:
---
---
---
---
As far as the news before tonight's game, McLeod was ruled out. Zuccarello, thought to be done for the season, returned to the line-up. Everything else remained status quo.
The real action at the Barclays today wasn't between the Rangers and Islanders. Far from it. The news from Barclays, that dominated the headlines, was UFC star, Conor McGregor.
I know many of you readers are like me, and watch MMA, whether it be UFC, Bellator or both. By now, you probably heard what McGregor did at Barclays today. If you haven't, here's one of the million reports about the McGregor incident, courtesy of Dave Meltzer of the Wrestling Observer: (https://www.f4wonline.com/ufc-news/conor-mcgregors-wild-ufc-223-media-day-255011)
The Conor McGregor crazy train made a stop in Brooklyn, NY, Thursday at UFC 223 media day and the ramifications for that visit might be more significant than he planned.

According to reports that Ariel Helwani received, McGregor and his entourage arrived at the Barclays Arena shortly after media day had wrapped up. As the fighters were leaving the arena and getting into a van, McGregor and team had some words with several of the fighters that resulted in McGregor or part of his entourage throwing a chair through one of the van's windows.

According to Helwani's sources, Michael Chiesa, who is scheduled to face Anthony Pettis on Saturday night, suffered a laceration — but it's unclear if that changes his status for Saturday. Footage of that aftermath has also surfaced.

Helwani said he was told the van also had Khabib Nurmagomedov in it, someone that has positioned himself for a McGregor fight if he can win this Saturday night. Footage has surfaced showing McGregor throw a bike rack backstage, but it's unclear if this was before or after the van incident.

According to reports, teammate Artem Lobov has been removed from the card.

Dana White told reporters the incident "was the most despicable thing in UFC history" and that a warrant is out for McGregor's arrest and he's unable to leave the city. However, ESPN's Brett Okamoto said that ABC News reported that a warrant has not been issued yet.

Okamoto asked White if he still wants to be in the McGregor business. His reply: "Would you?"
As I was working on this blog, there's even more coming out of this McGregor story. Again, from the Wrestling Observer:
Conor McGregor's backstage antics after the UFC 223 media day Thursday have resulted in three fights being scrapped from the card for various reasons.

Earlier in the day, Dana White told reporters that McGregor teammate Artem Lobov was removed from his fight against Alex Caceres that was scheduled for the Fight Pass prelims. There will be no late replacement for Careers.

On Thursday night, Ariel Helwani reported that a PPV main card bout between Michael Chiesa and Anthony Pettis was canceled partially due to various cuts Chiesa suffered when McGregor threw a dolly through a van window Chiesa was sitting in.

On Twitter, Chiesa alluded to a state commission decision not allowing him to fight and that he'd like to fight Pettis on June 9th.

ESPN's Brett Okamoto reported earlier that Chiesa had multiple small cuts on the bridge of his nose and hairline and that his hospital visit to treat the cuts threw off his weight cutting routine.

Okamoto and MMA Junkie reported Thursday night that a flyweight bout between contenders Ray Borg and Brandon Moreno is also off the show. Borg got pieces of glass in his eye that began to give him problems after the incident.

McGregor and his entourage gained access to the backstage area of the Barclays Center Thursday in an effort to get to Khabib Nurmagomedov and chaos ensued.
I know this blog is supposed to be about the Rangers vs Islanders game, but this is my blog and I'll blog if I want to!
While I feel that McGregor's antics today were a way to draw heat and eyeballs to him, he gave the sport a black eye. I thought some of the stuff was exaggerated, especially when UFC President, Dana White, said that he had a warrant out for his arrest and that he was grounded from taking any flights. The NYPD would contradict White, and would only say that they wanted to speak with McGregor.
Now, knowing that he's cost the UFC three different fights, on a show that already had their main event compromised due to injury, I can't say this is a "work". He injured several people and there will be a ton of lawsuits coming out of this. For a guy who is worth over $100M and just had a son, this reckless behavior is puerile, uncalled for and disgusting. For all the attention he's brought to the sport, he set back the sport a few years today.
MMA, largely due to the UFC, is a sport that has struggled to achieve mainstream acceptance and being allowed in different States. While UFC started in 1993, it's been in the last decade, where UFC and MMA really exploded. Led by fighters such as Chuck Liddell and Randy Couture, the sport went from a niche PPV-only sport, to a sport you see on network television. A new crop of stars emerged after the mid-2000's stars, with McGregor and Ronda Rousey becoming the new faces of the sport. With Rousey now finished and in WWE, where McGregor's antics would be better served, McGregor is the lone household name that UFC still has.
During the peak era of McGregor and Rousey, MMA did record TV ratings and PPV buys. They also got over a major hurdle – the barring of MMA in New York. In 2016, the New York State Athletic Commission rescinded their ban of MMA and allowed MMA into the State. UFC held the first NY sanctioned show, in November of 2016, at Madison Square Garden, where McGregor knocked out Eddie Alvarez, to become a double champion.
Fast forward to today – McGregor besmirched the sport and all the hard work that UFC did to get MMA accepted in the huge NY market. I don't know what the ramifications will be, concerning the NYSAC, but for the MMA detractors, in NY, McGregor gave them their "I-told-you-so-moment."
So while the Rangers and Islanders were in their respective locker rooms, getting ready for this game, the MMA media swarmed the UFC and White, at the Barclays. It was a crazy day in Brooklyn for sure, with golf-bound NY hockey clubs, getting bounced off the back page, once again.
The true shame in all of this? McGregor didn't take a fist to the face of Lundqvist! (Come on, you knew I had to be setting up a Lundqvist joke in here somewhere!)
ESPN.com box score time:
1st Period Summary

Time
Team
Scoring Detail
NYR
NYI
4:25

Kevin Hayes (25) (Power Play)
Assists: Brady Skjei, Mats Zuccarello
1
0
Time
Team
Penalty Detail
2:53

Thomas Hickey: 2 Minutes for Hooking

2nd Period Summary

Time
Team
Scoring Detail
NYR
NYI
4:55

Thomas Hickey (5)
Assist: Mathew Barzal
1
1
7:27

Anthony Beauvillier (21)
Assists: Andrew Ladd, Brock Nelson
1
2
Time
Team
Penalty Detail
2:04

Rob O'Gara: 2 Minutes for Holding
14:21

Anders Lee: 2 Minutes for Slashing

3rd Period Summary

Time
Team
Scoring Detail
NYR
NYI
No scoring this period
1
2
Time
Team
Penalty Detail
4:19

Shane Prince: 4 Minute Double Minor for High sticking
7:09

Ryan Spooner: 2 Minutes for Slashing
Goaltending Summary
Rangers

New York Goaltending

Player
SA
GA
Saves
SV%
TOI
PIM
O. Pavelec
22
2
20
.909
58:35
0

Islanders

New York Goaltending

Player
SA
GA
Saves
SV%
TOI
PIM
J. Halak
35
1
34
.971
60:00
0
The M$G Networks crew, consisting of Pidto, Duguay and Valiquette, have had the hard task of trying to make these games watchable. I understand that's a tough job and I've been watching them talk about different things, as we hit the end of the road here.
Valiquette drove me nuts on this broadcast. Okay, that's an exaggeration. In reality, I disagreed with his opinion! (For new readers, I really enjoy the work of Doogie and Vally, with my only real criticism being that Vally can't talk about Lundqvist objectively, because he looks at Lundqvist as his friend/ex-teammate.)
Vally had the audacity to say that Lundqvist was a Top 10 Goalie in today's NHL. Well he's certainly the top paid. A quick look at the NHL goaltending stats will you show that Lundqvist is a middle of the pack goalie this season, and really has been, for some time. You know my arguments on Lundqvist already, so I'm not going to rehash everything here.
It's not like Lundqvist is a Connor McDavid this season. What I mean by that is, if the Rangers and Oilers were both playoff teams this season, McDavid would be a slam dunk for the Hart Trophy. Since the Oilers aren't a playoff team, McDavid is still in the running, but the award should go to someone like Taylor Hall of the Devils. In the same vain, if the Rangers were a playoff team, Lundqvist wouldn't even come close to sniffing the Vezina, which is SAD, considering his salary cap hit and all.
I had this funny exchange with Valiquette, the last argument I'll have with him for this season. While I think one day he'll be a coach somewhere, as he has much more to offer to the game than just an analyst, I do enjoy busting his chops in the present day! I hope we get Vally back for at least one more season, before he goes on to bigger and better things. (And I wouldn't consider my exchanges with him or anyone else as "trolling". After all, you know my name, my picture appears on this blog and I've met many of you in real life. I put a face and a name to my opinions. In other words, I'm not anonymous or hiding behind a fake twitter handle.)
Here's the exchange:
Lmao @VallysView calls Hank a top ten goalie in the league. Oh man. No mention of where Raanta is and his stats. #nyr

— BlueCollarBlueShirts (@NYCTheMiC) April 5, 2018
Don't LYAO. You will need that later to sit down and enjoy your @MillerLite. Check https://t.co/2g66Wdgbf3 because @ARaanta31 is #1 on our list!!

— Stephen Valiquette (@VallysView) April 5, 2018
You know me too well. pic.twitter.com/8dYRRngho3

— BlueCollarBlueShirts (@NYCTheMiC) April 5, 2018
Hahahahahahah!!!!!

— Stephen Valiquette (@VallysView) April 5, 2018
Credit to where credit is due – Vally (like many of the TV talking heads across the NHL) will back up their opinions, as long as you're not a fucking asshole. I mean, did you see the stuff with Anson Carter today:
Maybe I was dealing with a personal issue involving the health of a family member…. so trying to publicly shame me without knowing what's up is a reason why I'll NEVER speak to you, CKWX or SN 650 ever again!!! So please don't send anymore requests ✌🏽 https://t.co/UZyhv4GJQS

— Anson Carter (@AnsonCarterLA) April 6, 2018
The original tweet, from reporter Rick Dhaliwal, of Canada's Sportsnet 650, was Dhaliwal whining about Carter not taking his calls for a quote about the retiring Sedin brothers. Dhaliwal has since cowardly deleted his baiting/shaming tweet and hasn't issued an apology. Good for Carter, for verbally bitch slapping this guy back.
For fucks sake, I'm 4500+ words in and haven't even talked about this putrid game yet. I guess I might as well get the Raanta stuff all out of me, since there's only one more game review manifesto left!
Speaking of my Raanta exchange with Valiquette, check out this article, which was posted tonight, from ArizonaSports.com:
The Arizona Coyotes have agreed to a three-year extension with goaltender Antti Raanta worth roughly $4 million a year, according to 98.7 FM Arizona's Sports Station's John Gambadoro.

Raanta was slated to become an unrestricted free agent this offseason. He has a salary of $1 million this season.

Gambadoro reported on Monday the Coyotes had offered Raanta a multiyear extension.

Despite minor injuries at the beginning of the season and a setback due to a car accident, the 28-year-old has appeared in a career-high 46 games this season. Raanta's 2.24 goals against average is the third-best mark in the NHL and his .930 save percentage is tied for the second best.

Since Jan. 1, Raanta is first in the league in save percentage (.942) and goals against average (1.83) among goalies who have played at least 15 games. He is tied for second with three shutouts.

Arizona acquired Raanta and center Derek Stepan in a draft-day trade that shipped defenseman Anthony DeAngelo and the seventh overall pick in the 2017 NHL Draft to the New York Rangers.

General manager John Chayka said recently that Raanta's recent body of work was large enough to prove he could be a No. 1 goalie. Once the Feb. 26 trade deadline passed, talks heated up.

Raanta's agent, Kevin Epp, told Arizona Sports last month there was interest on both sides to get a deal done rather than test the market.

"When they traded for him it was to be the No. 1 and then obviously the injury and the setback was difficult for everyone," Epp said. "It's easy for teams and organizations to sour on a guy because they are not getting the results but it's not really based on merit. Getting injured, I don't think anybody planned that. It's great that they stuck with him and it's even better that he's come back strong and healthy and almost started like it was a new season."

Epp said Chayka just wanted to be sure Raanta wanted to stay in Arizona before pursuing a deal.

"He wanted to make sure that Antti wanted to stay a part of the Coyotes and do what they're doing and build with them," Epp said. "I said 'yeah, nothing has changed from our end.' He wanted to make sure we were on the same page. He didn't want to try and keep a guy and then he signs somewhere else."

Epp acknowledged how few opportunities there are for goalies to become starters.

"Especially on a young team where you feel like it's your team," Epp said. "For him, 'they got me to be the guy and I'm going to grow with this team."
Real quick, since I know I'm going long here – I was a huge fan of Cam Talbot and was his biggest advocate when he was with the Rangers. I was a Talbot fan ever since his days with the Whale/Wolfpack.
When Raanta got here, I wasn't sold. However, Raanta's strong play and attitude grew on me and by the time Raanta became another "WE MUST BUILD AROUND LUNDQVIST" victim, I was sad to see him go.
Now, here in the present day, Raanta, who is second in the league in GAA and third in the league in save percentage, and with a shot at finishing at first overall in both categories, by the time the season ends on Saturday, has become a bonafide starter in the NHL. Congratulations to him. I wish it happened as a Ranger.
Guys like Talbot (this bad season aside) and Raanta, have proved my theory – you don't need a top paid goalie to win games in this league. Don't even get me started on Vasilevskiy and Murray!
Let's finally get to this game, shall we?
If you couldn't tell from my long preamble before getting to the game review portion of the blog, there isn't much to say about this game. It's very rare that a Rangers vs Islanders game is a bore and a chore to watch. Neither team has anything to play for right now, aside from ping-pong ball positioning and in the case of both teams, a loss is more beneficial than a win. Making this game more dreary and drab was the fact that Barclays was mostly empty. The abundance of empty seats and black tarps were blatantly apparent.
The lone highlight of the game was watching Stan Fischler receive his last honor from a tri-state area hockey team. I've talked about Fischler a lot already on this site. In short, he will be missed and he's a living legend.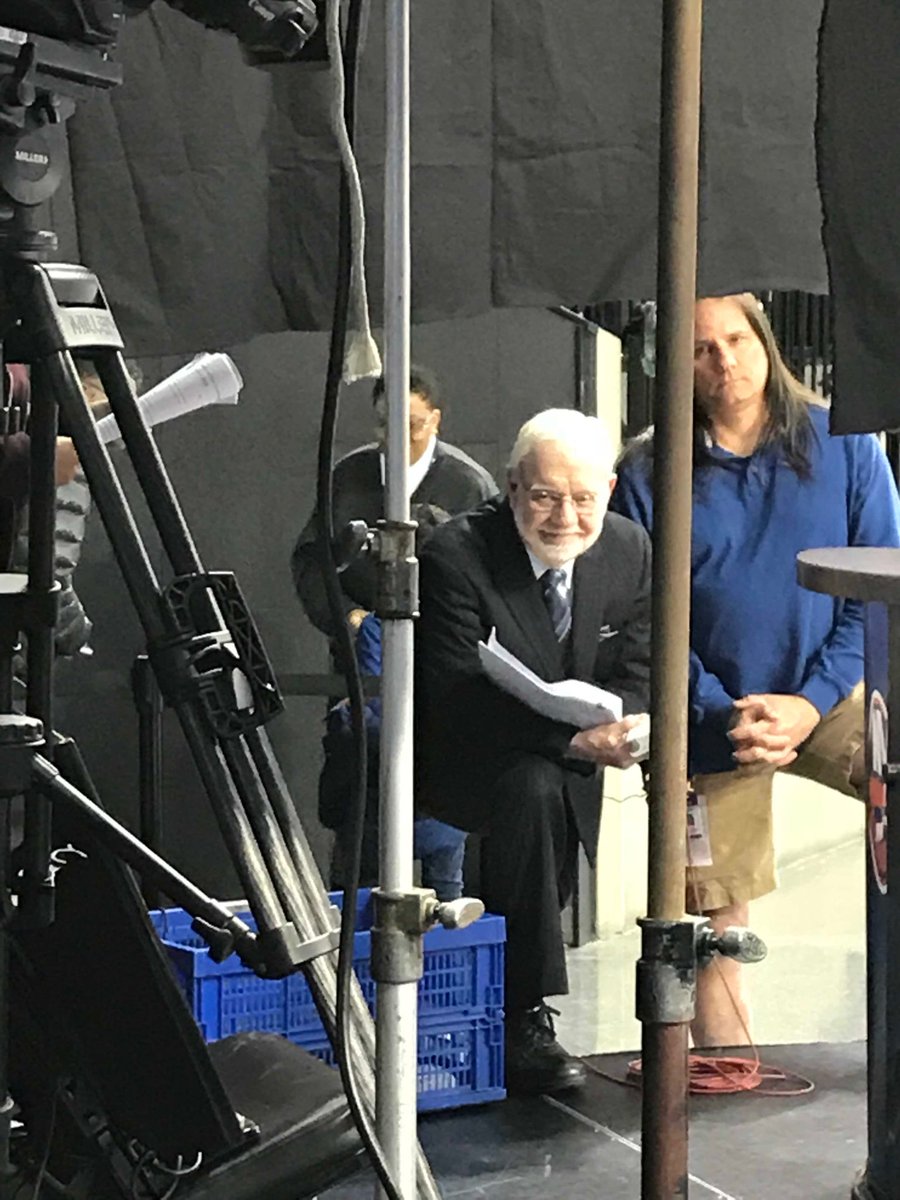 Very often, I have mentioned that one of the best & exciting games that I've ever seen live, was a Rangers vs Islanders game, from April of 2013. In that action-packed game, Dan Girardi scored an OT goal, at the Coliseum, giving the Rangers a 1-0 victory. At that time, both teams were jockeying for playoff positioning. Fast forward five years later, this game tonight was the complete opposite. This latest NYR vs NYI chapter was a sleep-walking affair, with both teams, long dead and buried, from any chance at the playoffs, skating with no pulse to be found.
It's not like the players were pure crap tonight. Far from it. Halak and Pavelec played well. This game just felt very pedestrian and everything felt paint-by-the-numbers. There were no risks. There were no fights. There was no animosity. There were no balls. Intensity and passion weren't around. It just felt like everyone was mentally fried and checked out.
Even with this Rangers loss, the Rangers can take solace and consolation that they are still in a better position for next season than the Islanders. After all, the Rangers have long since accepted the inevitable and put themselves into a position to compete next year. For the Islanders, they may lose franchise center, John Tavares and get nothing in return. They are also in building limbo. If you are looking at next season, despite no moves being made in this off-season just yet, the Rangers are in much better shape than their baby brother.
Let's quickly recap this game, because really, there isn't much to say. The whole game felt like a minor league preseason event.
Kevin Hayes opened up the scoring, at the 4:25 mark of the game, by rebounding a high and wide Brady Skjei shot off the glass, and shelving the puck past Halak. Here's the goal:
In a news item from the "SAD" department, there's this:
Two Rangers centers have tallied 25 or more goals in one season (Mika Zibanejad and Kevin Hayes in 2017-18) for the first time since 1996-97 (Mark Messier and Wayne Gretzky). #NYR

— NYR Stats & Info (@NYRStatsInfo) April 5, 2018
You can't win games if you can't score goals, and that's been a huge problem for the Rangers in key games.
1-0 good guys. Sadly, despite scoring with 55+ minutes of game time remaining, the Rangers would be held off the board for the rest of the game. In other words, with Halak making 34 saves tonight, he's now made 83 saves on the last 84 NYR shots he's seen. SAD!
The Rangers, prone to giving up a billion shots in every first period, only gave up 8 shots to the Islanders in this first period. Must I rehash how this team always plays better when Lunqvist isn't around? Perhaps Lundqvist should learn something here? These guys play better when you're not screaming and crying all game at them.
A funny part of this first period was when Sam Rosen was reading copy for the MSGGO app. As if you're watching any more games this season on that app.
There was a period of time in this first period, where Pavelec was called upon to make a few saves, as the Rangers couldn't get out of their own zone. Zuccarello took the "fuck it" icing, and the Rangers would clear the puck on the ensuing faceoff.
Ryan Sproul got a lot of ice time, logging 21:17. I feel that the Rangers wanted/want to see what they have with him, hence more ice time. I still don't see how Sproul fits into the plans of next season.
In a slow and dry period, 1-0 Rangers, after one period of play.
The second period was very much like the first, but despite only five shots allowed by the Rangers, the Islanders scored two goals.
If you're looking for anything positive from this period, or perhaps this game as a whole, Neal Pionk continued to shine. Even when shorthanded, Pionk had no problems shooting the puck, which is a refreshing sight to see, considering the Rangers issues with the extra pass to nowhere in these situations.
The Islanders would score both their goals, 2:30 apart from each other, with Hickey scoring a deflection goal at 4:55 and Anthony Beauvillier scoring at 7:27. Here are the goals:


2-1, bad guys.
The rest of the game saw Halak, who deserved the first star of the game (Anthony Beauvillier got it) just deny the Rangers time and time again. If Halak played every game the way he plays the Rangers, he'd be one of the greatest goalies in NHL history.
On the first goal, the Hickey goal, it was debatable if Anders Lee touched the puck. In fact, he was named the goal scorer, only to have the goal given to Hickey in the third period. If the goal stood for Lee, it would've been his 40th of the season. Anders Lee has 39 goals? What the fuck? He's come a long way since Shannon "Hulk" Hogan:

Oh, and that following Hogan/Lee video comes from an app called VINE. Remember Vine? RIP, we hardly knew ye.
At the end of two periods, and with my twitter timeline filling up with tweets about the "Jersey Shore", it was 2-1 Islanders. One more period of NYR M$G Networks hockey remained.
John Tavares, a player that the Rangers and any team with Cup aspirations could use, was very much talked about all game.
Like many, I don't see him returning to the Islanders next season. As Valiquette said on the broadcast, if he was going to stay, it would've been a done deal by now. Now, whether Tavares comes to the Rangers or not, that's a whole different story. How much does he value living in NY? How much does he value living in his native Canada? How much does he value a Cup?
I know sports are a business, and what I'm about to say would never happen, but if I was in the position of a John Tavares, I would sign a one year deal, on the cheap, with a team like Pittsburgh, Nashville, or another Cup contender. I would try to get my Cup out of the way. Obviously, that won't happen. You can't risk a career threatening injury. Plus, for pro athletes, they have a short shelf life to make money to set themselves up and their families up, for life.
I'd love to see Tavares as a Ranger. I'm hearing numbers as high as $10M for 7 seasons. Is he worth that? If he gets you a Cup within three seasons, I think we'd all sign up for that. Plus, you know the NHL will be locked out again after the next CBA. Furthermore, the cap will be higher as time moves along.
I know the Rangers are all about a rebuild, but if Tavares was agreeable, are you really going to say "WE GOTTA REBUILD" or "TANK TANK TANK!" Fuck no. If you can land Tavares, you sign him. I'd even throw the C on his sweater.
Deep down, I think Tavares to NYR is a pipe dream, a fantasy if you will. While I think he does leave NYI, I see him landing in Toronto or with another Canadian franchise. The Rangers best bet is to hope that he loves playing in NY, wants security at both the home where he lives and the home where he plays, and wants to be a face of the league. A star in NYC, gives you more weight than playing on the small ponds that the Islanders play on. Just ask Henrik Lundqvist, who has had his reputation and star power inflated, as a direct result of being a product in NYC. If Hank was in Arizona, do you think anyone would give a fuck about him?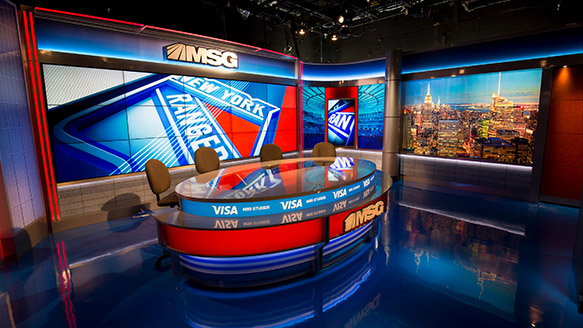 The third period was "Let's get this season over with" hockey. No one is risking life or limb out there. Why should they?
Shane Prince would get a double minor for high sticking O'Gara. On the four minute PP, the Rangers, just like the four minute PP they got several games ago, did nothing with it. Actually, this PP was worse, as the Rangers took a penalty while on this PP, thus negating the four minutes of a man advantage.
As the time nicked down in the game, the Rangers pulled Pavelec. Same old story here – the Rangers would not get their first 6 vs 5 goal of the season. SAD!
There's really not much more to say about this game. It was a futile exercise. If this was a game of any importance, the Rangers would've been bag skating on Friday, the day before their game with the Flyers.
As we near the end of this blog, let's give a big thank you to the M$G Networks guys, specifically, Ron Duguay, Bill Pidto, Dave Maloney, John Giannone (From the projects in Boonton), Steve Valiquette, Kenny Albert and Sam Rosen. I'd like to give a bigger thank you to Al Trautwig and Joe Micheletti, because without them, I lose 90% of my jokes on this site. I really hope you guys don't think I hate Micheletti – he's just easy cannon fodder for me. That said, he needs to slow down on the Lundqvist slurping!
I know I've said this before, but it bares repeating – no other broadcast in the league, is as good as the NYR broadcast on the M$G Networks. Is Sam Rosen senile now? Perhaps. Do we all want to slug Micheletti in his face? Sure. Would it pleasure me to see Al Trautwig go to an elite dentist? Of course. However, they are our guys. It's okay if we break their balls a bit. Even deeper, when you look at the production of these broadcasts, such as the camera people, the game directors, etc, and while I can't rattle a laundry list of names, like Micheletti did on tonight's broadcast, there's none better. We are fortunate, that while the team may suck, at least the production values don't.
Game 82 is this Saturday, as the Rangers travel to Philadelphia. Philly will be trying their best, as they jockey for better playoff seeding. In goal for the Rangers will be Henrik Lundqvist, who will be treating this game as a tune-up for the IIHF Worlds/Consolation/NHL Loser's tournament. Of note, it was announced that Buchnevich will be playing for Mother Russia in this IIHF tournament as well. As I've said before, the IIHF Worlds is a tournament for up and comers. When you see established NHLers playing in it, it's just SAD.
I'll talk about the future of this blog after the Philly review on Saturday. I got plenty of "DELOREAN" material to get to this season, as well as a few book reviews. As stated before, despite requests, I won't be reviewing Tampa Bay games, in the same way I do these Ranger reviews. It would come off forced and fake.
While I will be ripping off the tags of my McDonagh Lightning jersey on Saturday night, I can't truly say I'm a fan of the Bolts. I'm rooting for them all the way, for many of the same reasons you guys are. A Bolts Cup win is a first round pick for the Rangers. Plus, with the current player pool going into the tournament, I would love to see McDonagh and Girardi get a Cup. Sorry Brassard, there's no shot in hell I'm rooting for the Pens.
If Tampa doesn't win it, and I know this will sound sacrilege, I hope the Capitals win. Ovechkin is one of my favorite players in the league, and no other superstar deserves a Cup more than him. Conversely, I will be actively hating on the Devils, Bruins, Flyers and Penguins!
See ya Saturday, for the last game manifesto of the season. I can't lie to you here – blog hits have been down these last two weeks, as fans have checked out on the season, thus meaning they aren't seeking out more misery, via the written word, about their favorite team. A big thank you to all that remain reading.
As always…
"Let's Go Rangers!"
Sean McCaffrey
BULLSMC@aol.com
@NYCTHEMIC on twitter
PS: BREAKING NEWS – Conor McGregor is in police custody!!! I'd chime in more opinions, but I already tortured you with 7000+ words tonight! See ya Saturday!