So, how's your Spring going?
What's up everyone and welcome to another DOUBLE BLOG here on BlueCollarBlueShirts.com. It's been nearly 2 1/2 weeks since I last checked in with an update. In that time, just like many of you, I've been engrossed by the NHL playoffs. As I start this blog, this has been the third night since the playoffs started, to not feature a playoff game. It's been a wild month of games.
As of this writing, there's only one more playoff game left, before we go to the Conference Finals. In other words, for the slow readers or the quick shitters who read this on the throne, you got some time to get through this. I await your feedback. Let's roll.
I gotta tell you, just watching these playoff games, with no real skin in the game (I'll talk more about my faux Bolt and Golden Knights fandom later in this blog) it's been a blast. It's nice to watch hockey without being so riled up that you write a 10,000+ word blog on why the Rangers will never win with Henrik Lundswiss. It's fun to watch the games as a fan of the sport, with no stress involved. It's also been fun to watch some of the best goaltenders, who make no excuses, do battle.
As you may know, my normal Ranger blogs tend to go long and take a little work, so it's great to sit back, RELAX (that's a key word here) and enjoy the best teams in the NHL give it their all, in the best playoffs in all of sports. While it sucks the Rangers aren't one of those teams, I've accepted their terrible 2017-2018 season and just enjoying the NHL playoffs as a whole.
If you follow me on the twitter (@NYCTHEMIC) or a regular reader of these blogs, you know my feelings on who I want to win the Cup. I'm ALL IN on the Tampa Bay Lightning. Personally, I have friends who live in Tampa, I love that arena, they are a fan friendly organization, they do everything right off-the-ice and I'm a huge fan of the city as a whole. If I could make the money I make up here down there, I would move in a heartbeat.
As Ranger fans, if you're all about what benefits the Rangers, there is simply no other team to root for.  Tampa winning the Cup is what benefits the Rangers the most, as the Rangers will then get Tampa's first round pick. As a bonus, you get to root for three long time NYR veterans, that really embody the word "warrior", in a Ryan Callahan, in a Ryan McDonagh and of course, in an "IRON MAN" Dan Girardi.
For many other Ranger fans (not me personally) there are many diehard JT Miller-Maniacs out there. Miller is also skating with the Bolt on his chest. You also have Anton Stralman, who every Ranger fan respects. To this day, many of us Ranger fans rue the day that Senile Sather decided to move on from Stralman, in favor of Dan Boyle. Just one of the many bone-headed moves Sather made, in a long list of perpetual ineptness and failure.
For the purpose of this blog, I'm going to get all the Rangers stuff out of the way first. There isn't that much of it, because after all, the team is just biding time until the NHL draft. As of this writing, the team still doesn't even have a coach yet, which would lead one to think that the Rangers are currently eying a coach that's currently in the playoffs. And when I say playoffs, that also includes the AHL playoffs, as rumored candidate, Sheldon Keefe, is still alive with his Toronto Marlies.
Before getting into the meat and potatoes of this blog extravaganza, as always, here are my previous blogs, in case you missed them or forgot what the hell I said last time:
---
---
---
---
Let's recap all the latest news and developments in Rangerstown, since my last blog on 4/21/18.
The biggest news, since my last blog, was the Rangers landing the 9th overall pick in the 2018 NHL draft. For all the talk about tanking and the silly #TANKSZN or #TANK4DAHLIN hashtags, barring a draft day miracle, which would also have to include an abundance of stupidity from the Buffalo Sabres, Rasmus Dahlin won't be a New York Ranger.
Speaking of the Buffalo Sabres, the team that landed the number 1 overall pick in the draft lottery, have you checked out the latest NHL TV ratings? Check out these stats, released by NBC:
(Oh, and keep in mind, these are NBC's ratings, not the NHL's ratings. That means these ratings are only based on United States markets and do not include TSN's Canadian market ratings.)
First Round Ratings:
| | | |
| --- | --- | --- |
| | | HH |
| Rank | Metered Market | Rating |
| | | |
| 1 | Pittsburgh | 2.54 |
| 2 | Buffalo | 2.11 |
| 3 | Nashville | 1.62 |
| 4 | Boston | 1.21 |
| 5 | Providence | 1.05 |
| 6 | Tampa | 1.03 |
| t7 | Columbus, OH | 0.93 |
| t7 | Ft. Myers | 0.93 |
| 9 | Washington DC | 0.92 |
| 10 | Denver | 0.91 |
And now, here are the latest TV ratings: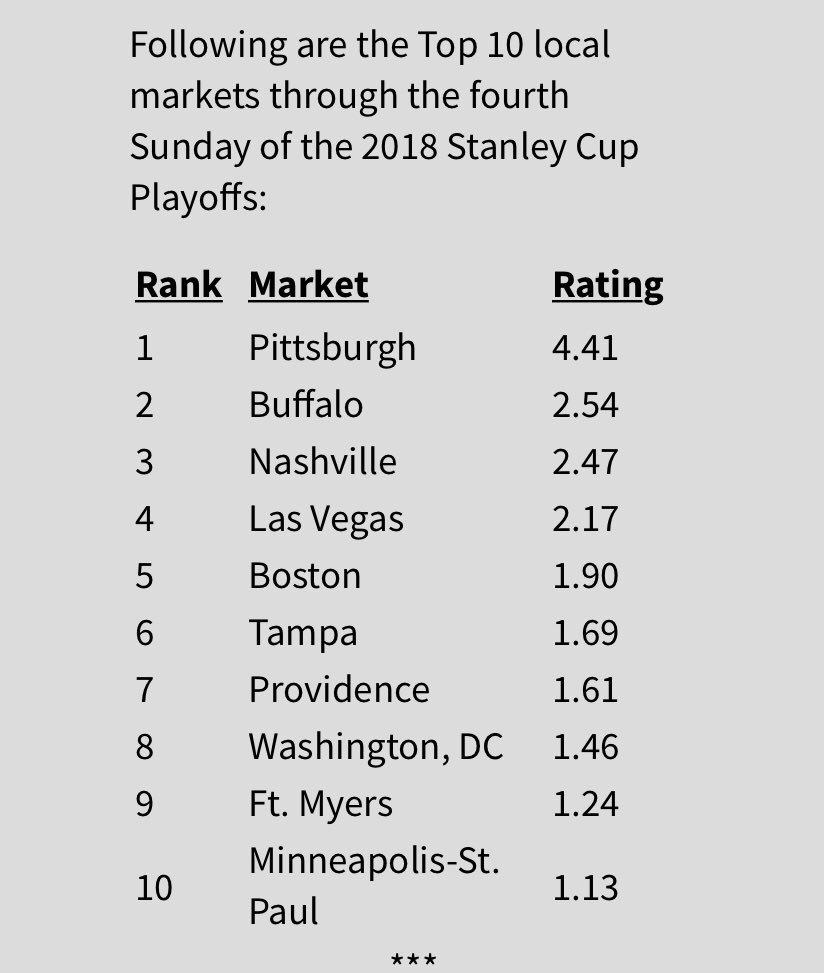 In other words, Buffalo, despite being a failure this season, was still the second biggest market, in the United States, to watch the NHL playoffs. Keep in mind, Buffalo is a hop and a jump away from Canada, a short while from Toronto and is the home of many Canadian transplants. Furthermore, with its long and icy winters, hockey is big in Buffalo.
When you look up and down the list of NHL markets featured on these lists, most of these markets feature teams that are still alive in the NHL playoffs, with the exception of Minneapolis, which is a hockey city anyway.
If you're looking at this like a Rangers fan & believe in conspiracy theories, you might say, it's better if the NHL rigs the draft to put a big star in the world's largest market. While I wouldn't put rigging drafts past Bettman, (There's nothing you can say that will have me buy that the Crosby draft wasn't rigged for Pittsburgh, as it was the best thing for the league at the time) why would Bettman rig a draft in favor of the Rangers?
Think about it. You still have loyal suckers plunking down insane prices for season tickets. You have morons who accept the shitty conditions at the new M$G. You have poor souls, who don't mind being squished the whole way, during their 30 minute excursion from their seat to the urine soaked floors of the bathroom. Despite no winner in what will be 25 years next season, and featuring the worst owner in all of sports, the Rangers still remain the most profitable franchise in all of the NHL. In other words, the Rangers are healthy and Ranger fans are suckers – they will buy anything, including the theory that you can win a Cup with a broken down 37 year old Cupless goaltender.
If you are Bettman, and have this TV ratings data in front of you, it is in the NHL's best interest to make Buffalo a contender. Whether Bettman rigged this draft or not, I do not know. However, most likely he didn't, since Buffalo had the best odds going into the draft. That said, Buffalo having a prime time pick is good for the NHL. Buffalo is a huge market for the NHL. Having a winner in Buffalo would only increase profits, which isn't only good for the Sabres, their fans and management, but good for the entire NHL as a whole.
Oh, and look where the Las Vegas market is. It's the fourth largest market right now, TV ratings wise. More on Vegas to come. After all, this was supposed to be the Rangers section of the blog!
Where was I again? Ah yes, the Rangers and their feeble #TANKFORDAHLIN #9 overall draft pick in the 2018 NHL draft.
For the Rangers, the ping pong balls didn't go their way. If you're an optimist, at least it didn't go the way of the Islanders either. If you're a cock-eyed optimist, at least the Rangers are in a much better situation than the Islanders. However, if you're a realist, this latest misfortune, for a team that's never had a number 1 overall pick in the NHL entry draft, was just the latest "what could've been."
It's tough to predict what the Rangers will do here. Will they keep their #9 overall pick, or will they try to trade up? If the Rangers do try to trade up, what players are they packaging in a hypothetical deal? Zuccarello?
It's hard to go too crazy about the draft until the playoffs are over. I don't want to make up a ton of different scenarios, just for the sake of making up "what if's". The fact is this – the ping pong balls failed the Rangers and now they will have to get creative if they want a better talent in this year's draft.
As teams go by the wayside, via playoff elimination, two familiar names are now free agents. Those men are Michael Grabner and Rick Nash.
Give it up for the Devils – the Devils ineptness devalued Grabner. Because of the Devils, Grabner's stock is worth way less, than when he originally left the Rangers near the trade deadline.
Grabner, speaking through the lines, has made it pretty clear that he won't be returning to the Devils next season. I think that was made pretty clear when he was a healthy scratch in the last three games of the Devils season. The Rangers may have traded him to the Devils, with the hope of a return, by doing him the favor of not having to uproot his family.
There will be some critics of Grabner saying that he's an "AV guy". I don't care what guy he is. Grabner had 27 goals when he was traded and should've had 35+, however, he never got any PP time with the Rangers.
A Grabner return would mean the Rangers would have to figure out their logjam of forwards, between Namestnikov (who I think is a goner), Spooner, Hayes, Vesey, Zuccarello (I don't want to see it happen, but I feel that he's next to go) and Matt Beleskey.
What Ranger fan wouldn't want Grabner back at $2M-$3M per year, for two years? Not saying that happens, but it would be much easier to re-acquire Grabner now, due to the Devil's handling of him. If Grabner was on fire with the Devils, there would be no shot in hell of a Rangers reunion.
When Rick McLaren Nash was first traded by the Rangers, I understood why. Furthermore, I fully expected Nash to return and at a team friendly deal. Put it this way, when Nash and Grabner were dealt, I thought there was no shot at a Grabner return and thought it was highly likely that Nash would return to NY. Now, I see it as the other way around.
We all know the story of Rick Nash. He's a great two way player, great defensively, does the little things, hustles, is streaky on offense, great on the PK, moves the puck well, can individually beat anyone when he's on his game, a well respected teammate, a model citizen on and off ice & a big body in front of the net on a PP. However, there's also the dark side, the A-Rod side if you will, where in the playoffs, Rick Nash disappears. There was also that $7.8M AAV contract, a contract that Rick Nash will never see again.
His finish in Boston was akin to the Rangers finish in the 2016-2017 playoffs. In 12 playoff games for the Rangers last year, Nash finished with 3 goals and 2 assists. In these current playoffs, for the now ousted Bruins, Nash finished with the same 3 goals and 2 assists in 12 games.
Just to put Nash's lack of  playoff production into perspective, in the Rangers two best years, of the recent runs, the 2013-2014 season and the 2014-2015 season, Nash finished with 3 goals in 25 games, during the Cup run of the 2014 playoffs. The next year, in the 2015 playoffs, arguably featuring the best Rangers team of this century, Nash finished with 5 goals in 19 games.
Elsewhere in the league, Jake Guentzel, of the Pittsburgh Penguins, at 22 years old, potted 13 goals in 25 games during the 2017 playoffs. In this year's playoffs, Guentzel finished with 10 goals in 12 games. For those keeping track, Guentzel is a $734,167 cap hit. Rick Nash is 10 times more than that, with his $7.8M cap hit.
Granted, Guentzel has been a playoff freak and Glen Sather has given out some of the worst contracts in hockey (Wade Redden, Henrik Lundqvist, etc) but when you look at Nash's contract and production, it's a bad deal. Just like in any sport, athletes are judged by what they did in the playoffs. No one ever fondly reminisces about great regular season players.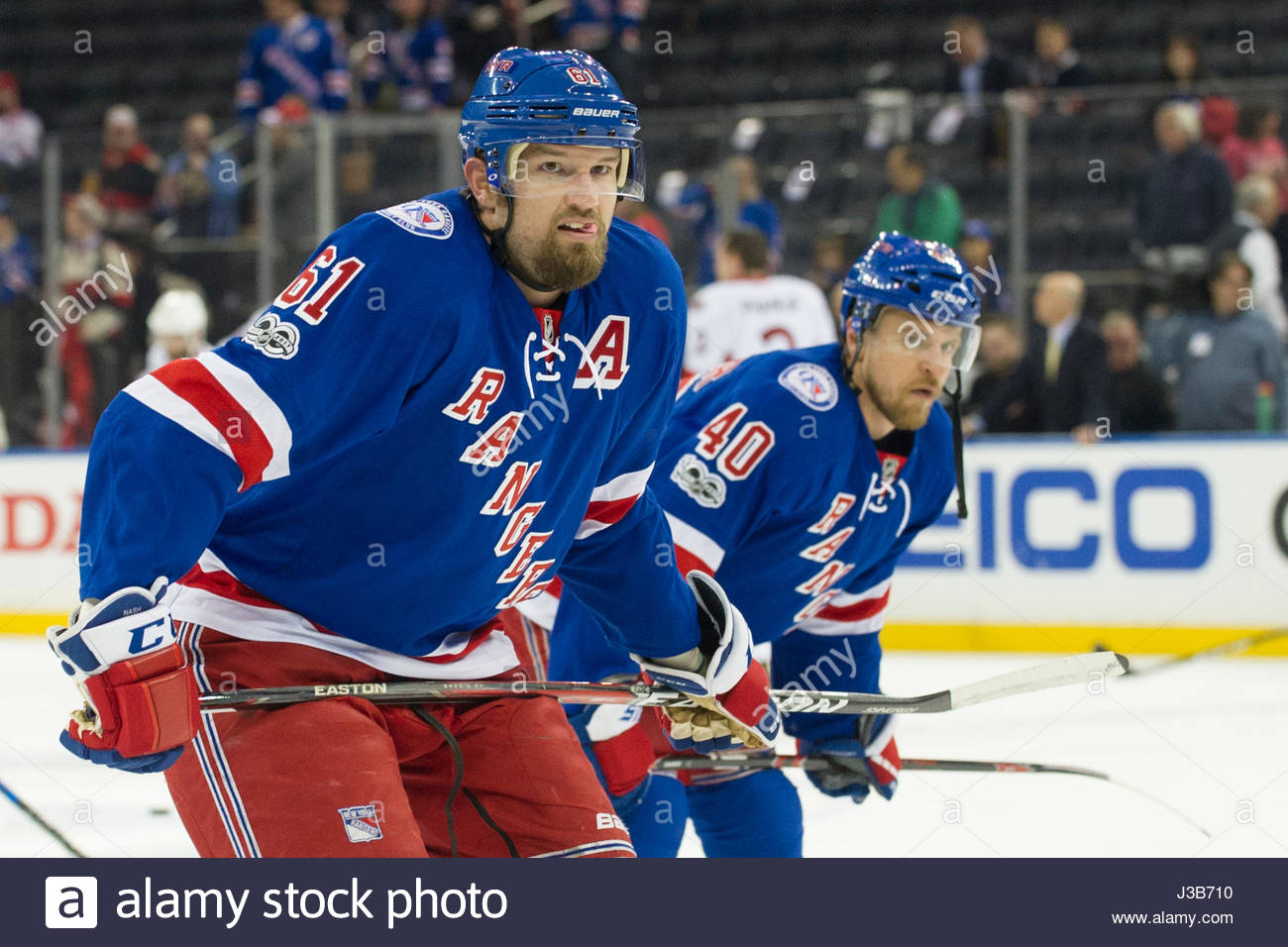 In Boston, Nash got another concussion. With what we know about concussions today, we know that Nash is liable and prone to getting concussions, through no fault of his own. While it's not fair to put the "damaged goods" label on him, a GM has to consider Nash's health history before offering him a deal.
The biggest problem with the Rangers is they are publicly telling you one thing, such as how they are going to rebuild and start all over. However, from the moves they are making and talking about, they are doing anything but rebuilding.
Put it this way, for recently rebuilt teams, like the Blackhawks & Kings of a few years ago, or the current teams of today, such as the Flyers, the Devils, etc, where was it in their game plan to give a 37 year old goalie the most money in hockey? Where was it in their game plan to talk to a 35 year old guy who hasn't played in the NHL in 5 years? Where was it in their game plan to keep a defenseman, that provides no offense, at $6.9M?
Forget my gripes about Henrik Lundqvist and his terrible contract. Ditto Marc Staal. IF YOU ARE REBUILDING, HOW DOES A DEAL FOR A 35 YEAR OLD ILYA KOVALCHUK MAKE SENSE?
I mean, you got Dan Blysma telling the NY Post that the Rangers are feeding you a line of shit. Steve Valiquette, whose interview I included in my last blog, pretty much said the same thing, albeit in a kinder way.
And let's not forget – Lundqvist is telling everyone, as usual, that this is a WIN NOW team. WIN NOW and REBUILD aren't peanut butter and jelly. They are oil and water. It's like drinking a shitload of beer and trying to finish your night off with a bottle of CASA MIGO's TEQUILA (which I've been told, has no burn.) It makes no sense.
I've talked about John Tavares on this blog before. While this may be an exaggeration, it's not foolish to think that he is the key on what the Rangers do next season. Put it this way, if the Rangers somehow land Tavares, you damn well know the rebuild is off.
Henrik Lundqvist, despite my problems with him as a fan and thinking he's overpaid & overrated, I can not call him an idiot. He's far from it. He's actually one of the smartest players in the league. After all, he has the largest market in the world fooled. His Cupless ass still has a franchise bowing down to him. He's manipulated the majority of the fanbase, so much so, that many fans would rather root for him to win a Cup with the Rangers, than see the Rangers win a Cup without him. So yeah, Lundqvist is no fool.
Sometimes things and the planets align. As I was writing this blog, the NY Post just ran a story on Lundqvist and Tavares. Here's Lundqvist on a possible Tavares signing:
"He's a great player, there's no question about it. Of course, if he would like to play for us, that would be big. I have a lot of respect for him as a player. He's done a great job so many years."
Obviously, what do you expect Lundqvist to say? He's not gonna say "fuck that wack ass Islanders bitch." Of course Lundqvist is going to praise Tavares. Let's just hope there is no contract tampering here!
As I've said a billion times and something I've beaten my drum to death on – you need a top center to win a Stanley Cup in today's NHL. The Rangers haven't had a top center since Mark Messier. Furthermore, Tavares is also a leader and could fill the void that the Rangers currently have with their captaincy.
I know I'm on record already – you can't win a Cup with a Top 5 paid goalie. Next season, Lundqvist will be the second highest paid, as Carey Price's new deal kicks in and knocks Lundqvist down a peg. Make no bones about it, the best chance Lundqvist ever has at winning a Cup in his career, providing he doesn't try to Ray Bourque it, is with John Tavares in a Rangers jersey. John Tavares, as a Ranger, flips the whole script.
Put it this way, if you land John Tavares, you're not worried about progressing some guys. Even someone I like a lot, in Vinni Lettieri, may get stuck in Hartford for another year. However, if you land Tavares, and you're still preaching that "WE GOTTA WIN FOR OUR GOALIE" crap, you're certainly not rebuilding.
If the Rangers can get Tavares, they become a destination team with Cup hopes again. Bring back Grabner and Nash. Take a chance on Kovalchuk. Make a play for whoever else.
Let's face it – this is NY. Unless you're perfect, like the Giants were when Eli Manning first got here or how the Yankees were these last few seasons, a rebuild is tough to swallow in NY. Just talk to Knicks fans.
Plus, when you look at a team like Vegas, like the Jets, like the Devils, like the Flyers, etc, it's not that hard to be out of the playoffs one year and be fighting for the Cup a year later. While it's tough for me to see the Rangers ever winning a Cup with Lundqvist, perhaps a Tavares signing, giving the Rangers a true number 1 center, would change all that, especially if Tavares can lure other great players to take less money for the chance at the Cup.
For our sake, as Ranger fans, let's hope that Tavares is done with the Mickey Mouse games with the Islanders and ready to step into the big pond. As Lundqvist knows, Tavares completely changes the make-up of this team and for the better.
While Gorton has tipped his hand on Kovalchuk, one thing he hasn't tipped his hand on is what to do with the Rangers draft pick. (It's amazing I went on a Grabner/Nash/Tavares tangent, when I started talking about the draft lottery!)
Anyway, here's Gorton on the pick:
On having the ninth pick, "disappointed, you go to the lottery, hope you are holding a ticket that has the potential to go into the top three or possibly the first overall in the draft. It happened moments ago, so you are disappointed but at the same time we have a top-ten pick, last year we had a top-ten pick and we did quite well. We are comfortable in that area, we like the players, we think there are a number of really good players in the first round and happy with three first round selections and we move forward. In the short term, sitting in the chair, and when you find out you fell one spot it's disappointing but at the same time we move on and go with our three first round picks."
I'll tell you what, I found Gorton's honesty to be refreshing. He's disappointed, just like we are. What could've been a magical night, turned into a "blah" night through no fault of Gorton or the Rangers.
I don't watch the other leagues around the world regularly and as stated, have no clue if the Rangers will try to trade up. So really, outside of what the experts (Bob McKenzie really) say, I have no clue who the Rangers would take at number 9. I shall wait this out.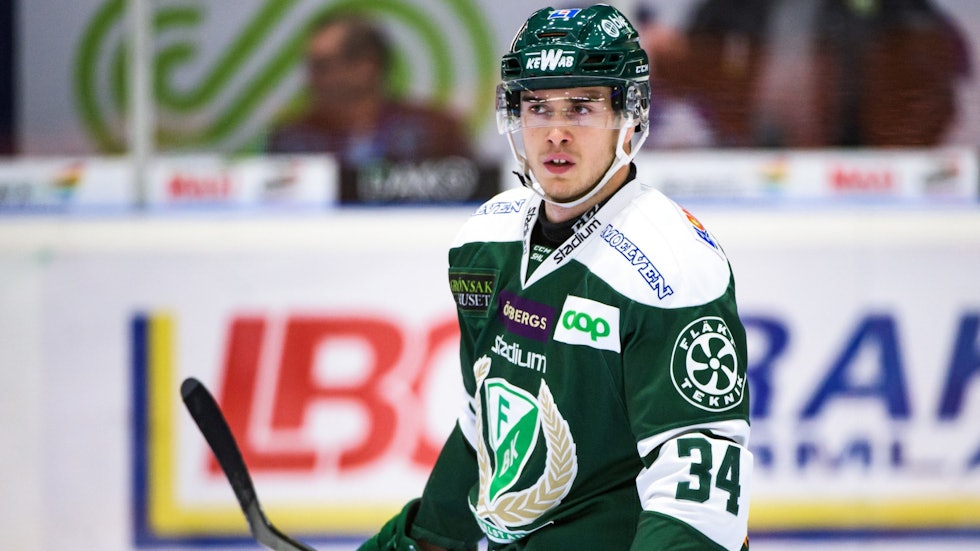 The Rangers also signed two new players last week. Of course, they had to sign another soft Swede, this time in Michael Lindqvist. From the Rangers:
 He established SHL career-highs in several categories in 2017-18, including goals, assists, points, and plus/minus rating.

Lindqvist ranked second in the SHL in power play goals (10), ranked sixth in the league in points per game (1.03), tied for sixth in the SHL in goals, and tied for 15th in the league in points this past season.

Among SHL players who skated in at least 20 games in 2017-18, Lindqvist ranked first in goals per game (0.61).

In addition, among SHL players younger than 24 years old, Lindqvist ranked second in points per game, tied for third in goals, and tied for fourth in points during this past season.
The Rangers then moved over to Finland, where they signed Ville Meskanen. Again, from the Rangers:
He established Liiga career-highs in several categories in 2017-18, including games played, goals, assists, points, and plus/minus rating.

Meskanen was the only player in Liiga who tallied at least 40 points and was assessed four or fewer penalty minutes during the past season.

He ranked third in Liiga in goals, tied for sixth in power play goals (nine), tied for eighth in the league (min. 20 games played) in points per game (0.92), and tied for 15th in the league in points in 2017-18.
Hartford looks like they will be busy next season. For a little shit hole city, where the majority of the city looks run down, akin to a city from "The Simpsons" with a failed monorail, there sure is a lot of international flavor there.
That pretty much wraps it up on the Rangers, as they dinker around and wait until the draft and then it's on to free agency. They are still coachless. If Sheldon Keefe is the guy, the Rangers could be waiting for a while. Other candidates, like a Jim Montogomery or a David Quinn, have already locked deals elsewhere. As mentioned in prior blogs, with the delicate and emotionally fragile Henrik Lundqvist still here, there is no way the Rangers are looking for a taskmaster.
In prior blogs, I mentioned how only Larry Brooks of the NY Post was talking about John Tortorella being fired from Columbus. Well, the Blue Jackets have been out of the playoffs for nearly two weeks now, and Torts remains.  A face that would've felt like a retread, was Barry Trotz. However Trotz's Capitals finally got over the hump and for the first time in the Ovechkin era, have made the Eastern Conference Finals. Let's talk playoff hockey!
The two greatest players of the post lockout to pre-McDavid generation, to me, are Sidney Crosby and Alex Ovechkin. Some may argue for Patrick Kane, Jonathan Toews or whoever else, but in my opinion, no two players have been as great and as consistent, as Crosby and the Great 8.
Let me get this out of the way first – with the Penguins finally losing a playoff series, for the first time in three seasons, my hat is off to them. I know, I know, I know – it's sacrilege as a Rangers fan to praise the Penguins. But hell, when have I ever gone with the grain?
I envy the Penguins. They did everything right. They moved on from Fleury and went young in net. They hit a homerun in Guentzel. They make good moves at the deadline.
When the Penguins first lost, I saw Islander fans chirping about how they are the last team to win 3+ Cups in row. (They would finish with four in a row.) To me, that is misleading. After all, the Islanders weren't punished for winning. They weren't forced to give up a Hall of Fame goalie in an expansion draft. They weren't squeezed by a salary cap.
It is tough to win a Stanley Cup in the salary cap era. It's even tougher to repeat. No team has ever won 3 Cups in a row in this era. For a team to win Cups, while you need a strong center, you also need great role players. Due to the Penguins success, they lost guys like Nick Bonino, Ian Cole, Chris Kunitz, Marc Andre Fleury, Ben Lovejoy and countless others. While individually, outside of Fleury, no one screams difference maker, but for a team make-up, the Penguins lost a lot. Fortunately for the Penguins, they were able to patch up the holes.
To me, the Penguins just ran out of gas. Their star, Sidney Crosby, has been playing more games than anyone.  He won gold in the 2015 IIHF Worlds. He won gold at the World Cup of Hockey in 2016. He won two straight Stanley Cups. That's a lot of hockey year round. You could argue that shaky officiating cost them a game in the series, but really, that would be a stretch.
To me, for the first time ever, the Capitals were hungrier. To the Capitals credit, for the first time in a long time, they didn't have the burden of being the Presidents' Trophy winners. The expectations weren't as high. They were playing loose and with house money. It paid off.
As a Ranger fan, I just hung my head in shame, as I saw fellow Ranger fans throwing parties and doing back flips over the Penguins elimination. Trust me, I'm happy the Penguins lost too, but many Ranger fans have Yankee fan mouths, despite a history like the NY Jets.
For all those people who whine about Sidney Crosby being a bitch, go watch "Ice Guardians", you might change your mind. I also find it funny that these same people will talk about Crosby being a bitch and a crybaby, but in the next sentence, will rave about Henrik Lunqvist. There isn't a bigger diva crybaby in hockey than Henrik Lundqvist! At least Crosby has the hardware. All Hank has is a bottle of shampoo and some new watch that he's hawking on twitter like Billy Mays.
I'm not trying to be a Crosby apologist here, I'm just saying, as Ranger fans, to sit here and say "CROSBY SUX", is just foolish.
Looking at the Capitals, the team that will play my favorite team of the last 6 weeks, in the Tampa Bay Rangers, the Caps weren't supposed to be here. Forget the fact that they were down 0-2 to Columbus, this is a team that resigned to the fact that they blew their shot at the Cup once and for all, just last season. They went all in last season and FAILED. In turn, draft picks went bye-bye, a rental like Shattenkirk left, Alzner went to Montreal, Williams went to Carolina and a once strong core, winners of multiple Presidents' Trophies, seemed kaput.
In fact, the Capitals went into this season like a kid going into a test, knowing he/she didn't study for that test. They were hoping to wing it, but kind of accepted failure. Even if they did make the playoffs, they knew how it would end:
Furthermore, it seems that Carl Hagelin was the Caps kryptonite. After all, the Capitals haven't beaten a team with Carl Hagelin on it since 2011. Hagelin, who's won two Cups with Pittsburgh, was on the Penguins team that the Caps finally bested.
The Capitals weren't supposed to leave the second round. The story of Alex Ovechkin was always, "Hall of Famer, couldn't get out of the second round." Now, Ovechkin will see the "Eastern Conference Finals" print on the ice, for the first time in his career.
As someone who is a diehard Ranger fan, but has no problem enjoying watching the greats, I've always liked Ovi. As you get older in life (I'll be 36 next month) the things that you respect and value change. As a 12 year old fan in 1994, I didn't give a fuck that Adam Graves worked with so many charities. As a 36 year old man-child in 2018, I appreciate the hell out of Graves for what he does. It's also why I like Ranger killers like Ovechkin or like a PK Subban. These guys are great for the sport. They are great ambassadors. I'll root against them when they play the Rangers, but I respect them.
It's just a shame, well at least for me personally, that the one year the Caps do make the ECF and the Rangers aren't in the playoffs/eliminated, I can't even root for Ovi to win. After all, as the number one bandwagon fan of BOLT NATION, I'm rooting for the Caps to be burnt by the Lightning!
I've been sucked in and engrossed by this season's playoffs. With the Rangers out of it, I find myself watching every game and getting hooked into every story line. The Bolts and Vegas have my interest the most, with the Caps run right behind them. In the rear, is the Nashville vs Winnipeg series, which will feature a Game 7 on Thursday night. Whoever wins that game, I'll be rooting for them to lose to the Knights!
What Winnipeg has done has been impressive. I don't think many fans gave them a shot, as they were kind of like Toronto, a young team on the rise. However, Winnipeg is rolling and have a chance to dethrone last year's Western Conference Champions, in the Nashville Predators.
Going into Game 7, I have no clue who wins. Who really does? That's what makes the NHL playoffs so exciting. You don't know what the hell is going to happen, unlike the terrible NBA playoffs. I know some fans hate the format of the NHL playoffs, because you lose good teams early, but that's what makes the NHL playoffs great. Do you really want first round sweeps up and down the board? I enjoy the division battles in the first round. I think it just makes the games that much more intense.
If anything, I would champion a division realignment, which will most likely happen when Seattle enters the league. Teams like Carolina and Columbus would benefit tremendously by getting out of the current division they are in.
While on the Predators, if they are to lose to Winnipeg on Thursday, who had the more disappointing season – Boston or Nashville? In the case for Boston, they gave up a lot and were embarrassed in five games to the Bolts. For Nashville, this would be a step back, and they would look like the current Sharks or Rangers – a team that got to the Cup, failed and can't get back.
One must not forget that Boston is an old team, and while they do have some young talent, there are many players on that team whose best days are behind them. By trading their youth for a Cup run now, they could be in trouble next season. In the case of Nashville, the Predators have one of those "top 5 paid goalies", and you know my feelings on that. Bring on Game 7.
Back in January, I visited Vegas to see the Rangers vs the Knights. The blog from that game, with the whole Vegas experience can be found here:
I don't want to come off as big leaguing anyone, but really, you have to go to a Vegas home game to truly appreciate what the hell is going on there. As I said back in January, I was expecting to walk into a building full of Ranger blue and hearing "POTVIN SUCKS" all night. Instead, Vegas fans brought it. Judging by the TV market ratings, listed at the top of this blog, Vegas is becoming the new Hockeytown, USA.
I love everything about the Vegas Golden Knights, because they do everything right. Forget the team on the ice. They are involved in the community. They are innovators and ahead of the curve. The marketing department has wisely shipped free VGK swag all over Europe and Asia, in an effort to turn international fans into VGK fans. That's fucking genius. After all, Vegas is a huge destination city, so why not create new fans? In reality, VGK is creating new customers for life.
Everyone likes a feel-good story, and the VGK are just that. Save me the "the fans and team haven't suffered for years, so they don't deserve it" blah blah bullshit. You can also put a lid on the "they had a playoff spot handed to them, because of the expansion draft" shit.
Face the facts. Not one person or expert had VGK in the Western Conference Finals. Before the season started, really, only fans picked VGK to even make the playoffs. The only ex-player/expert I saw pick VGK to make the playoffs was Cam Connor, on his Cam Connor podcast, which you can find out more about here: https://viewfromthepenaltybox.com/
I mean, are memories short? Do you remember this:
Never forget pic.twitter.com/r4l5tVVJ8X

— Vegas Golden Knights (@VegasGKNation) May 7, 2018
The people that are currently saying that VGK had an easy road right now, were also the same people saying Vegas would suck for a few years.
Oh, and to show you that I'm an idiot too, here's what I wrote about Vegas in my NHL 2017-2018 preview blog, back in September of 2017:
VEGAS GOLDEN KNIGHTS – I have read several fans say the VGK will be a playoff team this year. Wishful thinking. While the VGK are the best expansion team ever (at least on paper), talent wise and because they play in a diluted NHL, they won't make the playoffs in their first year. It takes time to build a team and create chemistry. Perhaps if Vince McMahon was running the league and not Gary Bettman, VGK would qualify for the tournament. It's in the NHL's best interest for VGK to succeed, especially with the Raiders coming to town soon. I expect Oscar Lindberg to have a career year. MAF will miss winning, but with everything he's gone through & the way he's handled everything, I'll be rooting for him. However, if you want to place a sure bet in Vegas, put your money on MAF not hoisting the Cup for the third year in a row. Will he get his fourth Cup in Vegas? I would bet on that happening before Lundswiss raising a Cup!
My response, in the present day? How about a picture I made several years ago!
I mean, who would've thought that Fleury had a better shot at the Cup than the Penguins?
I've never been happier to be more wrong about Vegas. The team has lifted the spirits and united a city, that was mired in tragedy, after the mass shooting before the season started. What could've been a damper to the team and the city, just made Vegas and the Knights that much stronger.
After my trip to Vegas, I connected with many Vegas fans in person and on twitter. I've had a blast reading their daily takes on the team. It has to be so exciting to be a real fan of the team. While it may suck for fans of a Pacific Division team (if Talbot's Oilers were playing VGK in the WCF, I'd be rooting for Vegas to fail!) if you're just a fan of the game and have no team to root for, how do you not pull for the Knights?
On the ice, the Knights have been exciting to watch and just keep making history in every game. The way Fleury has been playing is Conn Smythe worthy. The team truly plays the team game, with guys like William Karlsson, Nate Schmidt, Alex Tuch, Johnathan Marchessault, and James Neal sticking out. They have a home guy, waving the Vegas flag, in Derek Engelland. Whether it's blowing teams out or winning tight OT games, what Vegas has done is nothing short of amazing.
I know some fans are upset that Vegas is in this spot, as they feel Vegas had to "earn it", which I guess means years of failure. I know some fans are so negative, that they think the hometown support that the VGK currently has, will go away once they have a few losing seasons. Who knows what will happen down the road? All I know, is that right now, Vegas is the most exciting team to watch in the entire NHL.
Maybe it's the pro wrestling in me, but I love crowd energy. Nothing beats being in a building and feeling the electricity of buzzing fans flowing throughout your whole body. It's a fucking rush, that no drug or drink could ever capture. For the fans of Vegas, who spend good money to go to games and have taken to this team like fish in water, I can respect and appreciate that. I just wish it was my Rangers playing right now!
While I'm rooting for Vegas to make the SCF, it's only because I wouldn't mind using my tax refund for a Vegas vacation, to see my Tampa Bay Rangers go for the Cup…
I saved the best playoff team for last.
With no shame at all, I have adopted the Tampa Bay Lightning as my favorite team of the Spring. I've gone over the reasons ad-nauseam and if you want to criticize me for going all out by supporting one of my favorite players in Ryan McDonagh, then so be it. You enjoy the game the way you want, I'll enjoy watching my TAMPA BAY RANGERS, wearing this in style:
As talked about up top, I tend to like the warrior type of players, more so than the flashier ones. Maybe that's my personality or perhaps that's me living vicariously through these guys as entertainment, and as an escape from reality. In my shitty athletic career, which fuck, is nearly two decades ago, I was a stay at home defenseman with poor skating skills. I was a guy who only played high school basketball, for the sole reason to box out and get rebounds. (I loved Dennis Rodman, and while everyone enjoyed scoring, I enjoyed throwing elbows and padding rebound stats.) In baseball, I enjoyed the art of the bunt and small ball, rather than trying to smack a fly ball for a deep out.
When it comes to watching hockey, the guys who dive in front of pucks, shut down offenses and break their fucking ass, are the guys I enjoy watching. That's why guys like Ryan Callahan, Dan Girardi and Ryan McDonagh are some of my favorite players to watch. Granted, I was drawn to these guys because they were Rangers, but I love their style of play. When it comes to Stralman and Miller, the other two ex-Rangers on this Bolts team, while I rooted for them, I can't say I had the same connection to them, like I did for 5, 24 and 27.
Like many of us, I enjoy being proven right. I've said it in this blog several times and I've said it a million times in the past – you need a top center to win a Cup and you can't make your goalie a Top 5 paid goalie. You look at Tampa and what do they have? They got Steven Stamkos, one of the best centers in the league. They moved on from the high paid Ben Bishop and gave the reigns to back-up Andrei Vasilevskiy.
Speaking of KING V-SKIY, isn't it amazing that 2/3rds of the Vezina candidates are former back-up goalies? Yet, the Rangers will still build around Lundswiss. Alas I digress.
Maybe that's why I like this Tampa team so much. Not only can they get the Rangers a first round draft pick and not only do they have 5 ex-Rangers, they just built their team the way I would've, if I was an NHL GM.
If I was an NHL GM, my first move would be to build around a center. If that meant sucking for years, until I could get one in the draft, so be it. I would then build up my defensemen, just like Tampa did, in Hedman, Girardi, Stralman, and McDonagh. All four D-men could play Top 2 minutes anywhere in the league. I would then flesh out the rest of my roster, with the thinking of leaving enough room to have a strong fourth line, like the Bolts do with Callahan/Kunitz/Paquettte. I would look for some youth, the way Tampa GM Steve Yzerman did, when he wisely gave up on Jonathan Drouin and traded him for young stud defenseman, in Mikhail Sergachev. Finally, I would look for a halfway decent goalie on the cheap, just like the Bolts did. As I write this out, I have just had an epiphany on why I like this Bolts team so much!
As a Ranger fan, look who the Bolts have drawn in their three playoff rounds. The Devils, a team as Ranger fans, we all despise. Up next, the Boston Bruins, a team forever linked with the Rangers due to the Espo/Ratelle/Park trade and because of the Milbury incident. Plus, as New Yorkers, we hate all teams from Boston. Now, the Bolts draw the Capitals, one of the Rangers weaker rivalries, but a rivalry nonetheless. While I can't say I hate the Caps the way I hate the Isles, the Devils, the Flyers, the Penguins, the Kings, etc, I don't want to see the Caps win the Cup at the expense of the Vegas Golden Knights, much less my newly beloved Tampa Bay Rangers!
The Bolts have given Ranger fans something to root for in these playoffs. If you can't get behind it, and I know some Ranger fans who want the Caps to win, because they respect Ovi (and I get that) then so be it. However, I'm all about being the BlueCollarBOLTShirt.
By now, you know all about rat face Brad Marchand and him licking players throughout the playoffs. Ryan Callahan was his last victim. It only took three times, before the NHL stepped in and threatened Marchand with a suspension. Diseases, transmitted by saliva, seemingly were okay with the NHL. If it wasn't for the media condemning Marchand, I think the NHL would've allowed this to continue. Keep in mind, this is the same league the ignores concussions.
Quick aside on the concussions, check out former Ranger, Dan Carcillo on twitter @CarBombBoom13
Carcillo has written many thought provoking tweets about CTE and was recently engaged in a war of words with NBC's Jeremy Roenick, on the subject. I've written about concussions before and it's great to see Carcillo stand up and champion this cause. I hope Carcillo gets in touch with Chris Nowinski and his research. I know Carcillo is aware of the Daniel Bryan stuff, currently going on in the WWE too.
Marchand, akin to a heel pro wrestler, has been antagonizing players and trying to provoke penalties, by licking players. It's a mental mind game from a mental midget. I'm all for getting under people's skin and trying to come up with new ways to rile up the opposition, but this is unsanitary, and quite frankly, disgusting. There should be no room for it in the NHL. Thankfully, the Bolts blasted the Bruins in 5 games, and now Marchand can lick his way all the way home. That, or he can help out DJ Khaled's wife out:
Looking at the Caps vs the Bolts, this should be a good series. What scares me, as a diehard Bolts fan of 6 weeks, is the special teams. The Bolts PP looked like something out of the mind of Scott Arniel. In other words, it was bad. Don't let the numbers fool you – two of the PP's goals were with asterisks. One was a Stammer empty netter and the other was a 5 vs 3. When you look at the Caps PP, it's one of the most lethal PP's in the league. No matter what you do, you know where Ovi will wind up.
Speaking of Ovi, and his elite play in this year's playoffs, I think the Bolts have the slight edge here. After all, McDonagh and Girardi know a thing or two about shutting Ovi down. Oh, and speaking of the ex-Rangers, how ironic is it that Girardi and Miller have the last two GWG's for the Bolts?
And please, when comparing past Ranger failures to this Tampa team, save me the "IT WAS AV'S FAULT" shit. AV didn't blow every two goal lead he ever had in a playoff game. The Bolts built their roster wisely and spent money correctly. The Rangers did not.
I touched on Carcillo and his movement to get the NHL to recognize CTE. There was a scary hit in Tampa's Game 5 win over the Bruins, when Miller absolutely floored and sent David Backes to La-La-Land. It was a clean hit, but one of those hits that you knew left some damage. I just wanted to include what Miller said, as I saw some fans call Miller dirty for the hit. I have never known Miller to play dirty, and this was just one of those unfortunate imperfect collisions.
Before closing on the Bolts ass kicking of the Bruins, I got two more things here. Let's go to Steve Valiquette and his fancy charts:
CSA Playoff Update: Official Shots, Scoring Chances, Expected Goals, and Season Averages from Game #5 @NHLBruins at @TBLightning. #NHLStats #ShotQuality pic.twitter.com/gW4mPkFRip

— Clear Sight Analytics Hockey in Clear Sight (@csahockey) May 7, 2018
Steve says: "Chances = Goals and Goals = Wins. Tampa deserved to win the series. The shots on goal were very close favoring Tampa 118 to 109 in Games 2-5. However, the Quality Scoring Changes heavily favored Tampa 53 – 36 in those games. Specifically in Games 2 & 3."
That's great and all, but these charts, they don't give you passion, heart, emotion, drive, the intangibles and everything else that makes us human. I get the advanced stats, but really, what can you about it in-game? It's not like the NFL or MLB, where the game is slow and you can adjust your coaching on the fly. Hockey just moves too fast.
Oh and let me be clear, I understand the fancy stats can help you prepare for a game, but once the game is in motion, all that shit flies out the window to me.
To me, the unheralded MVP of the Bolts/Bruins series was none other than former Rangers Captain, Ryan Callahan. I don't know what his fancy boy stats were. I don't know if he wore Corsi or Fenwick underwear. What I do know, is the guy broke his ass out there, was all over the place, created plays, forced turnovers, kept the puck near Rask and that entire fourth line were a huge strength for the Bolts.
Make no bones about it, (that's such a weird expression, but we all understand it) guys like Palat, Point and of course, KUCHEROV, were, and to quote Donald Trump, "YUUUUUUUUUGE." However, and now to quote Bolts Captain, Steve Stamkos, guys like "Callahan, McDonagh, Girardi and Kunitz all led and helped us win." Can't argue with the Stammer there.
Oh and before moving on, let me get one "last lick", (Get it? Har, har, har) at Marchand. Here he is after the loss to the Bolts:
Brad Marchand is not happy about being eliminated in 5 games by Tampa. pic.twitter.com/uWUqSt7Vxu

— Hockey Central (@HockeyCentraI) May 6, 2018
Bolts vs Caps is going to be a fun series. My pick, and yes, heart is involved here, I'm going with the Bolts in 6.
Vegas gets Nashville or Winnipeg. Keep in mind, after the last VGK layoff (nearly a week after the sweep over the Kings and Game 1 with the Sharks), VGK dominated and won Game 1, by the tune of 7-0. By the time Vegas starts their WCF series, 6 days will have passed.
And for the sake of prosperity, my Oilers vs Penguins SCF pick, that I made in September, looks like a bunch of poo.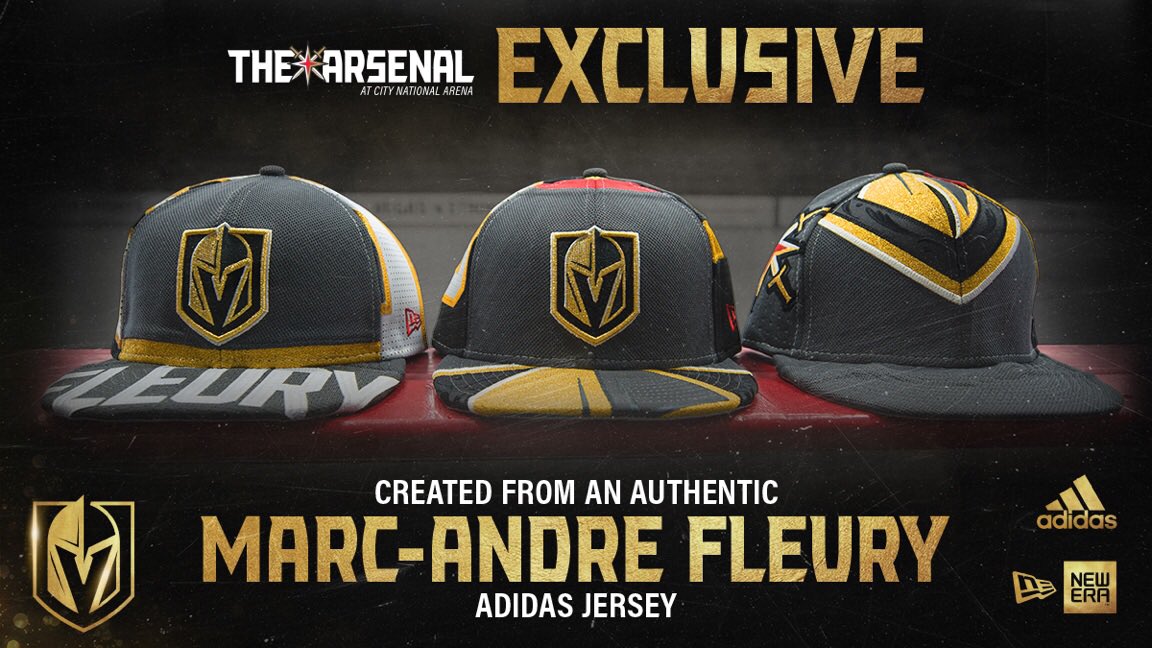 And finally, for our last topic today, did you see the rant that John L. Chapman went on? On Tuesday, from his @JohnLChapman account, Chapman tweeted this out:
Chapman would tweet this graphic out several times. After a lot of responses, filled with vitriol, in his direction, he quickly deleted all his tweets. So much for standing by your opinions.
I found this funny, because in the past, I have commented on how I thought the Rangers made a huge mistake by going with Amanda Borges over Jim Cerny. Of course, some people called me misogynistic for suggesting that, GASP, Borges wasn't qualified for the job. This has nothing with Borges being a woman, it had everything to do with that she has no hockey experience and Cerny knows the sport inside out.
Just to compare, I think it's ridiculous that Bart Scott has a radio show in NYC. The man knows nothing about baseball and NYC is a baseball town. Luckily, Mike Francesa is back and to save the day! So going back to my original argument on Borges, it's not a woman thing, it's a not being qualified thing.
There are many female hires in sports, that are hired just because they are female. Sex sells, we get it, so it's good for TV. Anyone who thinks otherwise, is keeping their head in the sand. Some of these young female hires, does take away from the hard work, that knowledgeable female reporters/columnists have done in the field. When you think about women who know their sports, in New York, we have Kim Jones, who is just tremendous. For all my jokes, Suzyn Waldman also knows her baseball inside and out, even if she has a voice that's equivalent to a prostate exam. Tina Cervasio, who cut her teeth with the Knicks, now has a major national network outlet. These women are all assets to their employers.
When it comes to AJ Mleczko, she knows her hockey. For Chapman to single her out, was just ridiculous. I just wanted to share you my responses with Chapman, which were sent his way before he deleted his tweets:
Someone isn't a fan of @AJMleczko – Chapman forgets that casual fans watch the playoffs, so stating obvious or elementary things isn't a negative. Her male counterparts do it all the time. too. She's not just a random female hire like you see around sports, she knows her stuff. https://t.co/T0hVhkSg8W

— BlueCollarBlueShirts (@NYCTheMiC) May 8, 2018
I mean, Chapman is going to kill AJ, but not a peep about Susan Sarandon or the full time shrill, Joe Micheletti? https://t.co/9jVLpUJjju

— BlueCollarBlueShirts (@NYCTheMiC) May 8, 2018
I thought Borges was a worthless hire because she doesn't know hockey & replaced someone who did (& w/sources) in @JimCerny . @AJMleczko actually knows her NHL & is better than Milbury & Micheletti.Chapman is way off. You wanna call someone out for lack of knowledge,AJ isnt that.

— BlueCollarBlueShirts (@NYCTheMiC) May 8, 2018
And people called me sexist for saying Borges was a bad hire. Has @JohnLChapman ever seen Pierre lick Crosby like his name was Marchand? Has Chapman ever seen Micheletti get so engorged when talking about Lundqvist that he has to get a new pair of pants? https://t.co/jOMzQ5k1m9

— BlueCollarBlueShirts (@NYCTheMiC) May 8, 2018
Can't single out AJ as an incompetent hire by @NHLonNBCSports when you have the worst GM of the modern era under payroll, a Penguins splooge stooge and the insufferable Joe Micheletti. https://t.co/6930cuxV4s

— BlueCollarBlueShirts (@NYCTheMiC) May 8, 2018
When Ranger fans fake outraged at me for criticizing Borges, I took their heat. I believed in what I said. Chapman just deleted his whole tweet and has blocked people for replying at him. So much for a debate.
As I said in my tweets, when you look at NBC, AJ Mleczko is the least of NBC's worries. I would've liked to see a similar graphic on the worst GM of the modern era, in Mike Milbury. I would've liked to see how many times Pierre had to be pulled out of the asshole of the Penguins. I would've liked to know how many times Micheletti broke his zipper by talking about Lundqvist or how many times he said the word "deflected" on a broadcast.
AJ Mleczko, who is doing the Jets/Predators series, has been fine to me. Is she saying some basic stuff? Of course, which announcer doesn't? This is the time of the year where casuals tune in and you want to build that audience. After all, you already have the hardcores watching no matter which Tom, Dick or Joe Micheletti are on the air.
I bring this up, because I figure, if I slammed Borges for being a weak hire, I should give equal attention to a woman who is doing her job right. Plus, as a DIEHARD TAMPA BAY LIGHTNING FAN of 6 WEEKS, I'm in a good mood, and I won't let negativity bring me down! Since I won't let negativity creep in here, that means no more Ranger thoughts for the rest of this blog!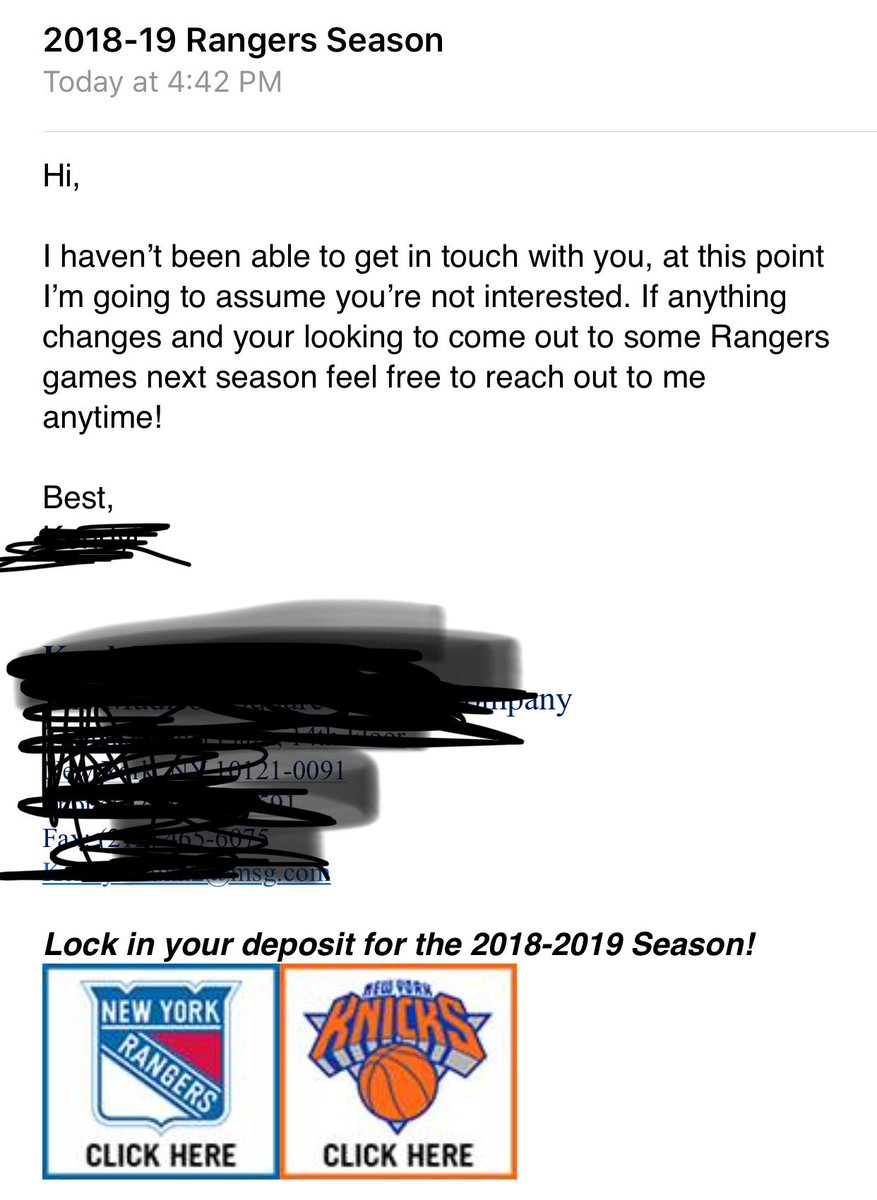 As we hit the end here, I just wanted to share that email above, that reader Joe Tuckman sent in. I'm telling you, the Rangers are going full boar in their attempts to separate you from your money, as if they are a carnival barker looking for their next mark. I'll tell you what though – if the Rangers land Tavares, these ticket hawkers should have no problem filling seats next season.
For Ranger fans looking for a fix outside of these manifestos, I just wanted to share some things with you:
I always mention the Cam Connor podcast. Another great podcast that I enjoy is "Blueshirt Underground Radio". You can also listen to the show live and call-in. For me, I like listening it on iTunes when I get the time. You can find out more about the show and their schedule by visiting: http://www.blogtalkradio.com/blueshirt-banter
Oh and don't let the "Blueshirt-Banter" throw you off. There is no love for Pavel Buchenvich's "intoxicating heat maps". However, they, did get Gerry Rafferty for a thrilling rendition of "Baker Street", featuring the lovely new lyric of "BA-BA-SHAMPOOEY!"
If you like light-hearted and comedic fan-takes, the podcast is for you. It's not nerded up at all.
Another name you're probably familiar with, if you are familiar with the Book of Face, is Ted Kalamaras. Ted is the one always shilling signed merchandise and meet & greets. Ted announced his latest event, which will take place in Atlantic City on July 15th. Go to him for the full details, but I believe for $99, you get to drink and hang out with Matteau, Duguay, Valiquette, Barnaby, DeAngelo and featured guest, Neal Pionk.
With that guest list, I could do a whole SNL parody skit! I can imagine Duguay with a gaggle of women on each arm, while Valiquette whines about his advanced stats charts not helping him solve the algorithm of the Willy Wonka penny slots. Watch Barnaby and DeAngelo get into a brawl, after DeAngelo tells Barnaby that it's time to Make America Great Again and threatens to get Barnaby deported. Quietly seated during all of this, is Matteau, who has signed a picture of the Game 7 goal pic for the 475485784075844075485845409th time. As Matteau greets another fan, he mutters to himself, "You know I did other things in the NHL too, right?"
And lastly, with Neal Pionk drawing the most attention, Pionk looks at the beautiful beaches of Atlantic City, and wonders about the beaches of Tampa Bay. After all, it would be a dream to play with Ryan McDonagh, Anton Stralman and Dan Girardi!
For more on the event, contact Ted at celebritytrips@yahoo.com
Well that was a doozy today! This is what happens when I take a break, there's just so much to get into!
As far as the next blog, unless the Rangers do something (which I don't foresee during the playoffs, but they could hire a coach) the next blog will be after the Conference Finals. Then again, who knows, if I get the itch, maybe I'll do a brand new Delorean blog!
As always, thanks for reading, and until June 30th…..
"LET'S GO TAMPA BAY RANGERS!"
Sean McCaffrey
BULLSMC@aol.com
@NYCTHEMIC on the twitter machine